Ezoic just launched one of our most exciting products yet  —  Humix. 
Despite it being brand-new, we're already seeing some incredible results from publishers who have begun using this tool for their site: at the time of this writing, Humix has gained over 30+ million video plays across the network since launching this past month alone. In the past 30 days, over 150 Ezoic sites have doubled their EPMV or total revenue since adding Humix to their site!
Humix is Ezoic's global video network that allows publishers like you to increase your site's traffic and revenue through displaying network videos on your site, as well as allowing you to share your own videos across other publisher sites. It's a direct response to the overwhelmingly popularity of video across the internet, and yet another tool publishers can use from Ezoic's full suite of website tools made specifically to help you build a more successful site.

We've created several resources, trainings, and videos on what Humix is, and you can see more of those resources here. But now that you have access to Humix, the biggest question is here:
How can you use Humix to grow your site?
Suffice to say, there are numerous ways you can grow your site  —  your traffic, revenue, authority  —  through this tool. Here's how to start using Humix to grow your site's revenue.
Why Humix is the Superior Video Platform for Publishers
The popularity and value of video content is widely expected to rise steadily through the decade, and video content helps increase overall revenue earnings as much as 49% for content creators  —  suffice to say, video is extremely popular for both viewers and creators.
There are a plethora of video platforms available for content creators to use to upload videos, build an audience, and increase revenue  —  YouTube being far and away the most popular with an enormous 75% market share in the video platform arena. Although video content creators can become eligible for revenue share on these platforms, they have to create videos to earn income; publishers get virtually nothing from sharing others' videos (except giving the original content creator and the video platform revenue, which I'm sure they're pleased to receive).
Humix turns this entire construct on its head by allowing publishers like you to earn revenue share even if you don't create videos yourself.
You read that right. 

Let me explain. Humix works by auto-populating relevant, high-quality videos on your site as video placeholders (either empty/unassigned or auto-inserted) augmenting your content with video (currently the most popular form of content). You don't even need to find the right videos; Humix does that for you through advanced AI machine learning, scanning your site for the best possible video placement to increase user experience. Best of all  —  you become eligible for revenue share, sharing the revenue equally between you, the original content creator, and Ezoic. 
For video content creators, Humix is an incredible tool to maximize your revenue sharing by inserting your videos into other highly-trafficked publisher sites, giving you significant revenue share without marketing or trying to get others to promote your work. 
For publishers who aren't video creators, Humix allows you to insert relevant, high-quality videos on your site and gives you revenue share for doing so! It's a complete win-win available exclusively through Humix, adding another income stream simply by adding the tool to your site. 
We created Humix for both video and non-video publishers to tap into the massive popularity (and income) of video content, and both benefit greatly from using it. It's fast, easy-to-use, and available now.

The Two Main Strategies to Earn Revenue Through Humix
The best strategy of using Humix to earn revenue for your site is twofold; first by creating and uploading videos on the platform, second by allowing Humix videos to be inserted in your site. 
The first strategy benefits all video content creators, and one of the first of its kind in the marketing space. Simply upload your video to the platform (ensure all descriptions, tags, and information are set upon uploading so the Humix algorithm can determine what kind of video it is) and allow the platform to insert your videos on other publishers' sites. 
For example, if you create videos on personal growth or self-improvement, Humix will identify other popular personal growth-oriented sites and insert your videos accordingly on that site. This will allow your video to get more views and earn you more revenue share.
While other popular video platforms like YouTube offer revenue share for your videos, you're entirely dependent on the platform's algorithm and building a subscriber base (which is a huge undertaking). Even then, it's very common for channels with large subscriber bases to get an extremely small subscriber-to-viewer ratio! This is due to several factors outside your control, like the YouTube algorithm and regular viewers who choose to remain unsubscribed. Humix helps by directly inserting your videos into other popular sites without you needing to market your channel or build a following.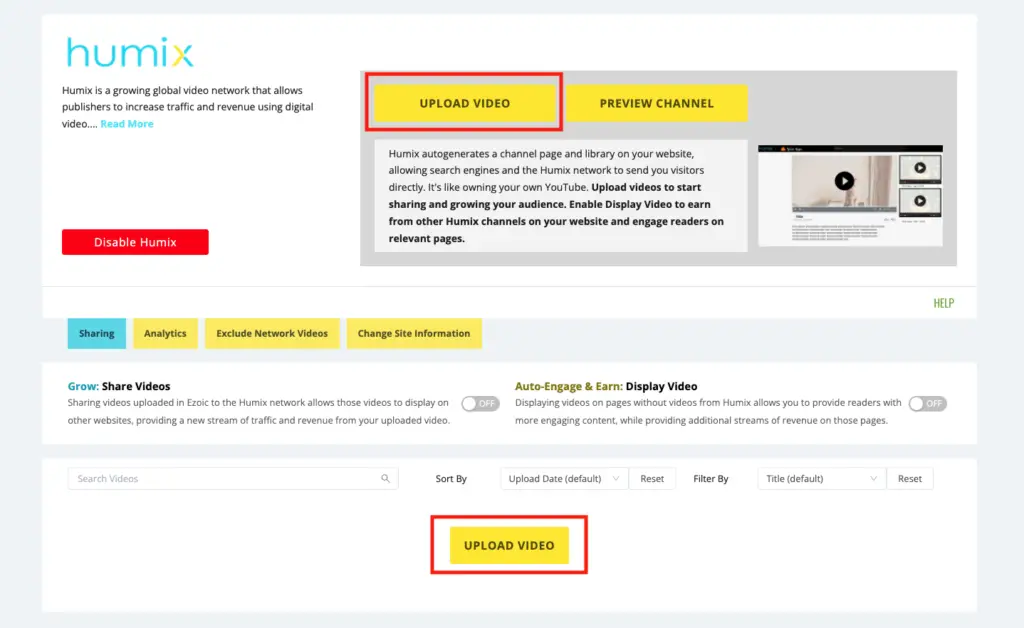 The second strategy to earn revenue through Humix is by enabling Humix videos to be inserted into your site, through the Auto-Engage and Earn feature. Essentially, you allow Humix videos to fill video placeholders that are empty/unassigned or auto-inserted based on the display setting a publisher turns on/off after enabling Engage & Earn. If you have manually added a video placeholder and assigned a video, Humix will not overwrite or add to play next. Humix only works with empty/unassigned placeholders or when they have allowed auto-insert.
The Humix system checks your site, title/description keywords, and metatags and determines what your content is, then scans the Humix global video network for relevant, helpful, contextual videos that could benefit your site's content, then smoothly inserts them in the most optimal placeholders on your site.
This means that you can continue your current content strategy, posting your articles and publishing content your readers already love and are accustomed to. Humix then augments your content by automatically inserting highly-relevant videos to your posts and increases your site's usefulness and ultimately the holy trinity of Google's overall site assessment metric: E.A.T. (Expertise, Authoritativeness, and Trustworthiness)…all automatically done through Humix!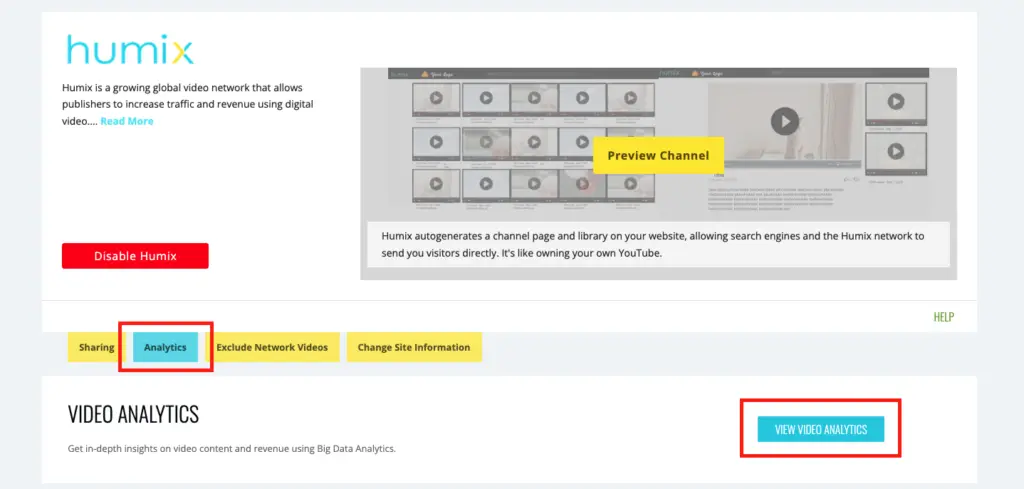 Long-Term Site Growth Through Humix
Over the years, content strategy has changed; social media platforms constantly change their entire user interface to stay on top of these trends. In response to the rising popularity of TikTok and BeReal, Instagram unabashedly incorporated near-identical features similar to these platforms to their app. YouTube incorporated YouTube Shorts for similar reasons. Google is constantly updating their algorithm to provide better search results for queries. The internet marketing landscape is always changing to fit user trends and preferred methods of consuming content.
Humix is a direct response to the massive popularity of video content, and it allows publishers like you to incorporate video content without needing to actually create videos yourself, or market the videos you do create. This is integral to long-term site success and growth, giving you full advantage of using video content while minimizing the work required to do so  —  all while giving you a significant new income stream.
The early reports of Humix have been stellar, and are only expected to improve as more publishers begin using the platform to upload videos and insert videos into their site. Humix allows publishers to continue to adapt to the latest internet trends by capitalizing on the current (and rising) popularity of video content by taking away the video marketing work from you, allowing you to focus on your site's long-term success and content creation.
Ezoic has myriad other tools to help with this, ranging from SEO tools to advertisement enhancement features to site speed acceleration. But Humix stands alone as one of the most helpful, lucrative, and easy-to-use video tools available to content creators today  —  just log in your dashboard, incorporate Humix to your site, and watch as your site continues to grow.