Leap provides everything from optimization features to diagnostics so that websites can pass Core Web Vitals.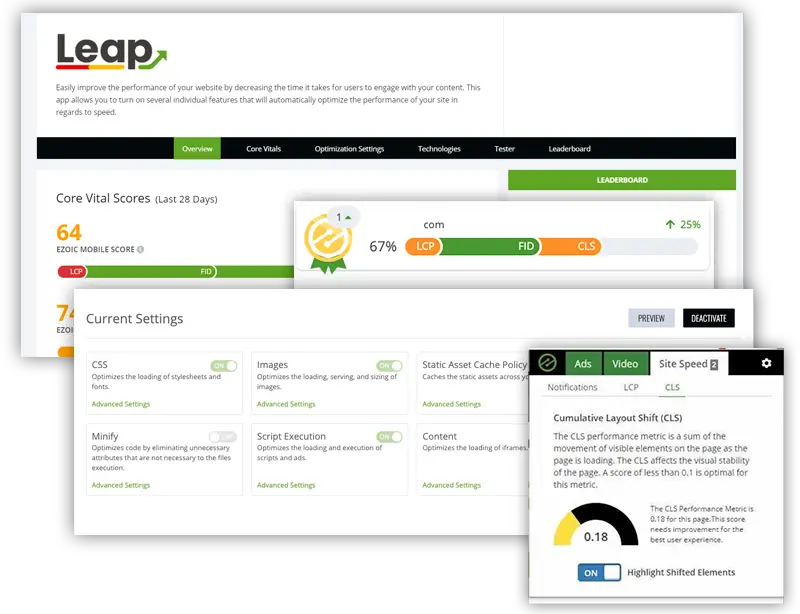 Learn from the
thousands

of
publishers

passing

Core Web Vitals
using Leap.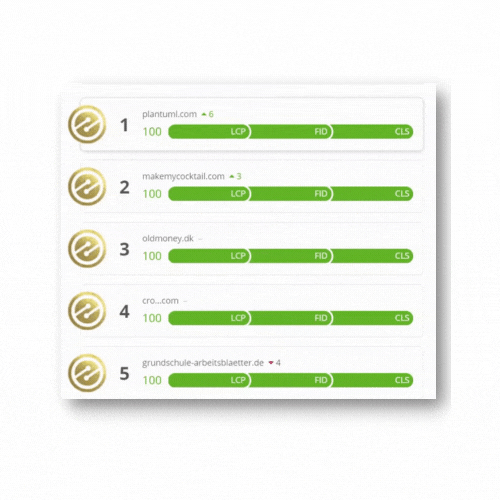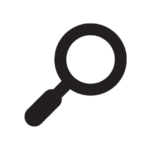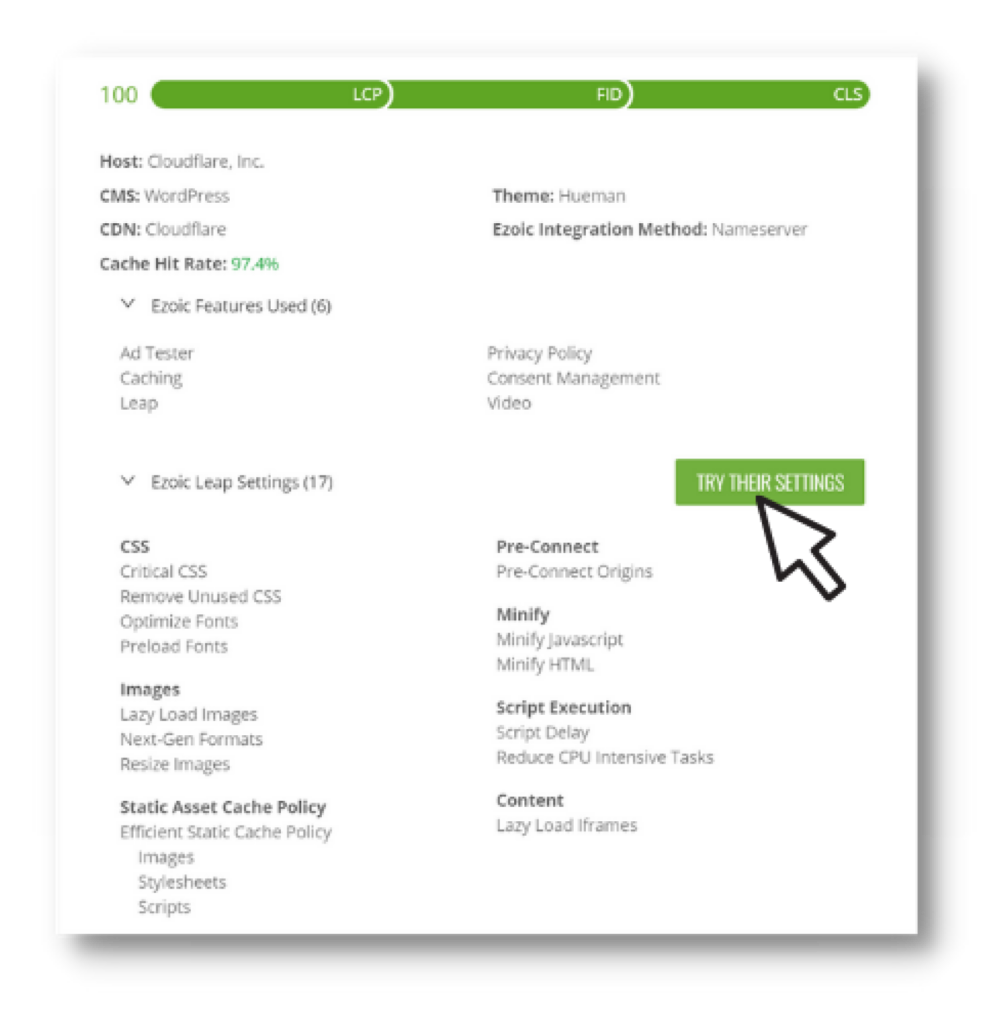 A Single Platform For Core Web Vitals
Built for publishers
Allow visitors to load pages instantly by using Ezoic Cloud to serve NEW Core Web Vital Friendly Ads via our lightning-fast server-side Ezoic Edge technology.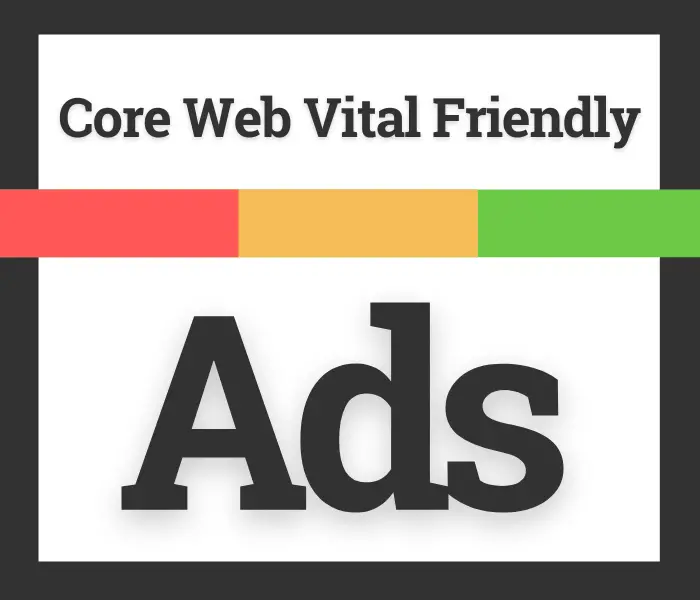 Performance for real visitors
Eliminate Guessing. Remove the complexity of addressing the root causes of poor Core Web Vitals metrics using Ezoic Leaps actionable diagnostic tools to perfect metrics for real users (the way Google does)!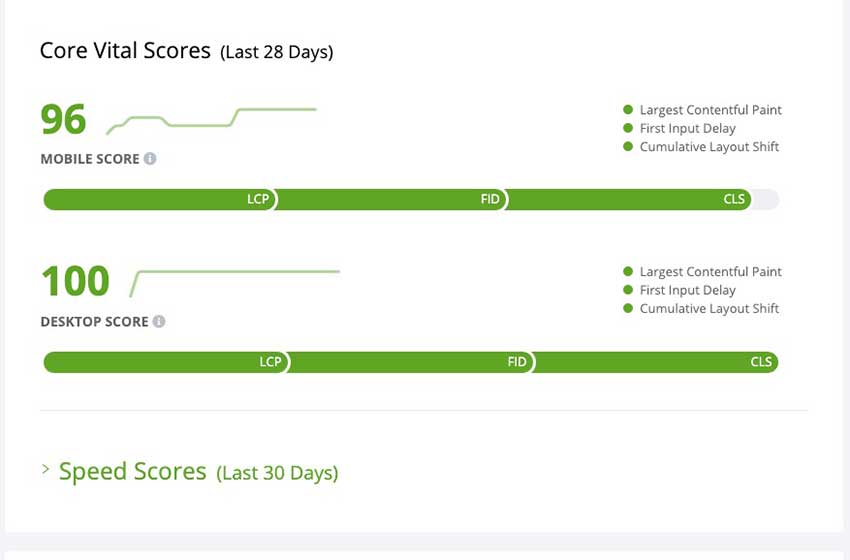 Simplify site speed and cut costs
Optimize everything from code to content using Leap's features designed to eliminate the need for costly, 3rd-party technology and plugins. The average site is able to remove 3.5 "optimization" features, technologies, or plugins, saving them $250 per year when using Leap for free.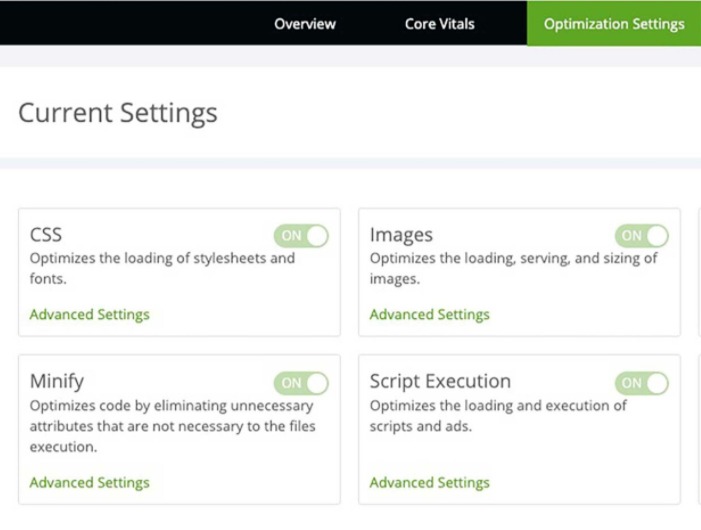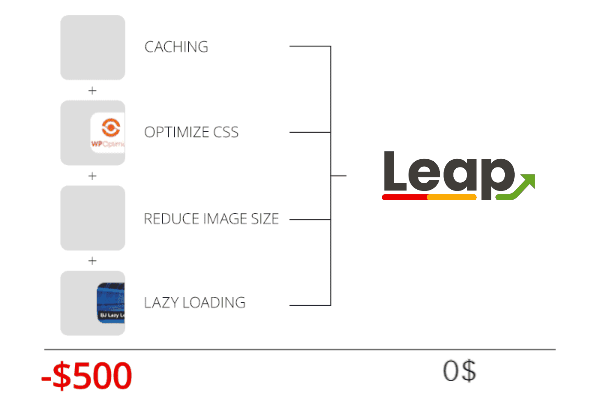 Save Money By Using A Single Toolset
Plugins, non-specific server features, and scripts on pages is not how sites should optimize Core Web Vitals
No other speed tools, plugins, or features needed
Remove unnecessary and expensive tech
Includes tools that make optimizing easy
Monitor your site the way Google measures it
Evaluate plain-language recommendations 
Educate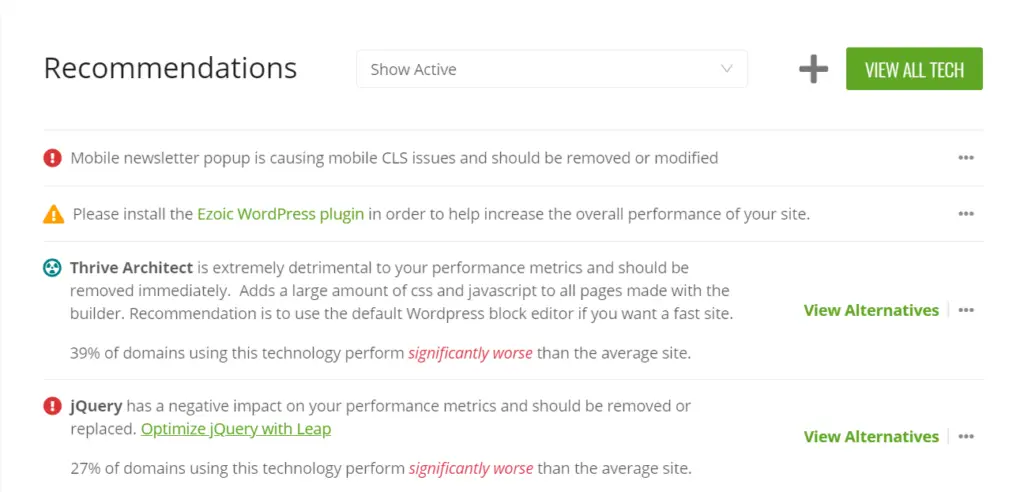 Learn how your technologies impact your site and make informed choices
Optimize

Choose your own settings or have Leap setup automatically
Test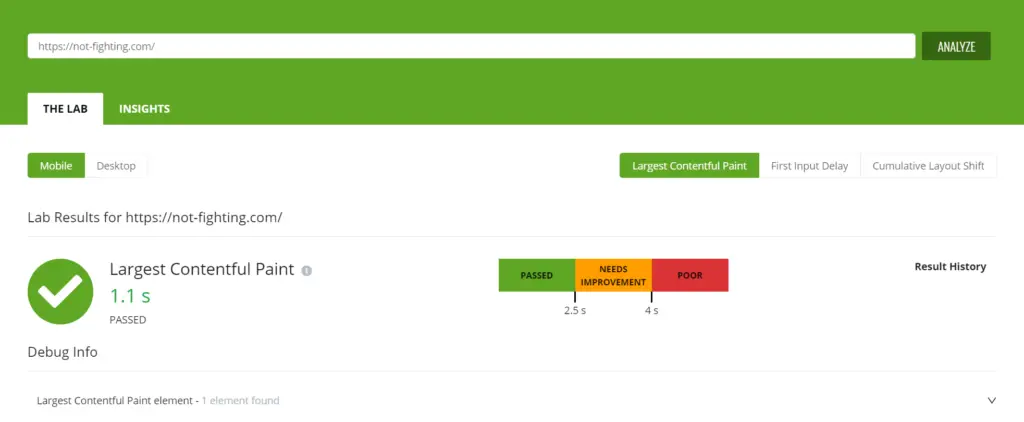 Understand and see how each change you make brings you closer to better performance
Succeed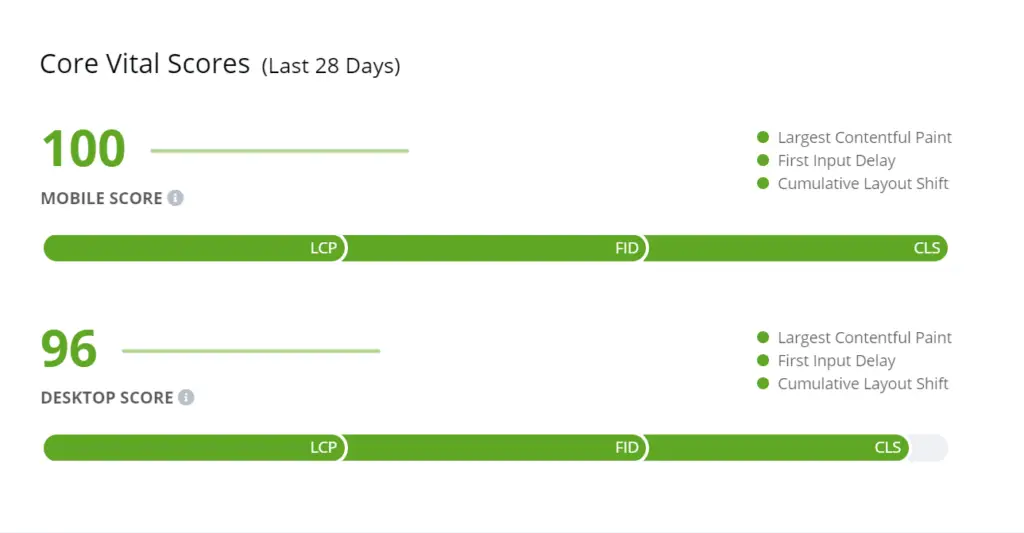 Monitor your accomplishment with confidence so you can focus on what matters most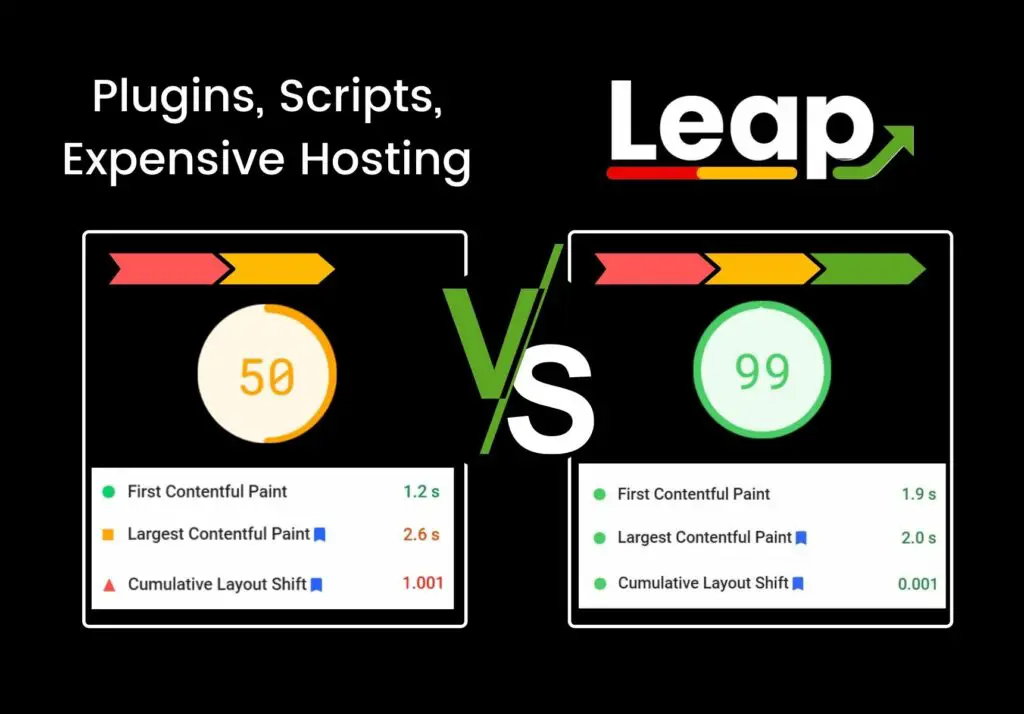 Improve Core Web Vitals & Visitor Experiences
A good "score" on a page speed test in Lighthouse or PageSpeed Insights may still not mean getting passing Core Web Vitals in field data (what Google uses in their Page Experience measurements).
Leap provides tools to ensure passing field data
See what tech other sites are using
Identify where pages fail Core Web Vitals
Deliver spectacular experiences to readers
---
Leap + Ezoic Cloud = Fast
Ad Serving Without Ezoic Cloud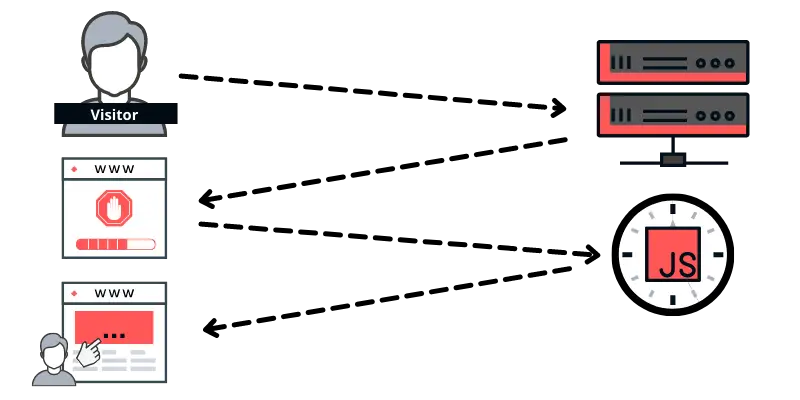 Visitor requests page, host responds, ads use javascript to call the ads, the ad call returns and the page loads
Server-Side Ad Serving via Ezoic Cloud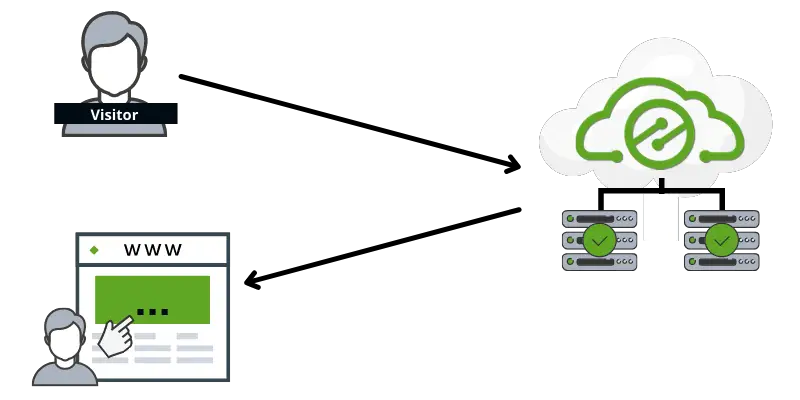 Visitor requests page and Ezoic Cloud responds with the page and ads allowing all the content to load for the visitor
---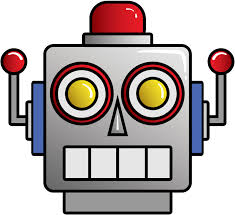 "Leap has helped me Pass Core Web Vitals while improving my site's performance and my visitor experience. They put a lot of work into making Leap a stellar product."
– Tyler K. (Owner & CEO, RPGbot.net)

Fast FAQs
When will Leap be available to all publishers?
Leap is now available to all publishers! Leap provides the information and education that publishers need to start optimizing their sites for Core Web Vitals right away and is supported by a powerful set of optimization features.
How much does Leap cost?
Leap is 100% free for Ezoic Monetization customers. Our robust toolset works perfectly with our new Ezoic Cloud to deliver Core Web Vital Friendly ads.
Can I pass Core Web Vitals while displaying ads?
Ezoic Cloud works with Leap to deliver server-side ads along with the entire page via the new Ezoic Edge so that everything passes Core Web Vitals. This feature is limited to sites integrated with Ezoic Cloud and unavailable anywhere else.
Will sites have to pay to access any Leap features?
No. Ezoic Leap will be free to Ezoic Monetization users. Sites using Leap that are not showing ads from Ezoic's Ad Tester can use Leap free with an Ezoic Pro subscription.
What will happen to Ezoic's Site Speed Accelerator?
We are replacing the Site Speed Accelerator with Leap when Leap launches.
What will happen to sites using the Site Speed Accelerator?
Any and all features available inside the Site Speed Accelerator will be available and enhanced, so any sites using these features will automatically have Leap enabled for them with applicable features turned on for them.
What will happen to those using paid Site Speed Accelerator+ features?
Sites using paid "+" features will no longer need to pay when Leap launches and will simply have reoccurring charges canceled. Any customers paying annually will be offered a prorated refund, or the option to be credited for new products or services in the future. Any "+" features used will be turned on when Leap is launched.
Will Ezoic Leap be different from the Site Speed Accelerator?
Leap is designed to help publishers get passing Core Web Vitals and better website performance metrics. While previous speed technology available from Ezoic focused on features that allowed sites fast load times and scores, we found websites needed direction, insight, and help taking action as badly as they needed these features.
Leap is an entire toolset built to identify what is causing poor performance metrics and load times and deliver both the technology and information to improve it.
Leap will allow sites to compare their speeds and technologies to fast sites using Ezoic, and will provide data on everything from hosts to CMS technologies that will allow sites to identify potentially faster alternatives.
I use WordPress, what will I need to use or do to ensure Leap works for my site?
In most cases, Leap will mean getting more out of less.
WordPress sites have become used to using plugins and host settings to improve load times.
Leap provides a far more universal and sophisticated solution that generally means getting rid of plugins and unnecessary tech/features (and probably saving a lot of money!
Our advice to most sites using WordPress is to disable all caching features at CDNs and hosts (usually costing sites money), deactivate caching or speed optimization plugins (more $$$ saved), and to ensure that the site's theme isn't minifying, lazy-loading or deffering any code.
Sites can also save money by disabling image optimization plugins, because Leap does that too, only better!