When someone decides to enter the world of digital publishing as a website beginner, it can be pretty daunting. Knowing where to start and what steps to take can feel like a huge undertaking. One thing we have realized through writing this Next Generation of Content series is that ChatGPT was absolutely made for this task. ChatGPT can't necessarily code complex topics or drive your traffic for you, but it can absolutely provide you with starting points. 
In this blog, we will focus on how to use ChatGPT for new websites. These tips will specifically apply to folks who are looking for ways to get their websites off the ground. However, this content (and some of our other content in this series) may apply to other website owners, too. You can see everything in the series here.

Follow along for 10 ways to use ChatGPT for new websites or website beginners.
1. Website Setup Guidance
Getting started with your website can be overwhelming. ChatGPT can guide you through the process, from choosing a domain name to selecting a web hosting provider and content management system.
2. Technical Support
As a website owner, you're bound to encounter technical issues. ChatGPT can help you troubleshoot website errors and provide guidance on website setup, design, and functionality. For example, it can explain how to install a WordPress plugin or optimize your website for mobile devices. 
3. Website Design Tips
A well-designed website is crucial for engaging your audience. ChatGPT can offer website design tips and best practices, such as how to choose the right color scheme, typography, and layout for your website. It can also suggest ways to improve website usability and user experience.
It can also help you learn how to use ChatGPT for web development. We have a whole blog on that topic here. 
4. Marketing Advice 
Effective marketing is essential for driving traffic to your website. ChatGPT can offer marketing advice and strategies for promoting your website, such as how to use social media to drive traffic, how to create effective email campaigns, and how to optimize your website for search engines.
We have a couple other blogs on similar topics that you can find linked here: using ChatGPT for email and using ChatGPT for social media. 
5. Useful Tools and Resources
There are many tools and resources available to website beginners, but it can be hard to know where to start. ChatGPT can recommend website builders, plugins, and analytics tools that are best suited for your website. It can also provide links to tutorials, articles, and other resources to help website beginners learn more about website development and management.
6. Content Ideas
ChatGPT can suggest content ideas for website or content creator beginners who are struggling to come up with ideas. It can analyze your website's content and suggest topics that are related to your niche or industry.
This is perhaps the most useful of all of the things ChatGPT can do for you. Do not underestimate how much time this can save you and how much it can help you to just brainstorm ideas. You can, for example, ask ChatGPT to come up with an outline for a blog. Or, you could even give ChatGPT notes that you already have and ask it to summarize them into a blog or a paragraph or any other type of document.
7. Editing and Proofreading
ChatGPT can help edit and proofread content to ensure it's error-free and easy to read. It can suggest changes to improve grammar, spelling, and clarity.
For example, if you're not sure about a certain paragraph, you can post it and ask if there are any run-on sentences. Another thing ChatGPT can do in line with grammar is translation – if you're curious about getting a page, email, or social media post up in another language, it can help you do just that.
8. Website Monetization Strategies
ChatGPT can recommend website monetization strategies for website or content creator beginners who are looking to earn income from their website. It can suggest different advertising and affiliate marketing programs and help beginners decide which ones are best suited for their website.
9. Audience Engagement Tips
ChatGPT can provide tips on engaging with your website's audience, such as how to respond to comments and how to encourage social media shares. It can also suggest ways to build an email list and send engaging newsletters to subscribers.
10. Analytics Insights
ChatGPT can provide analytics insights to help website or content creator beginners understand their website's traffic and audience demographics. It can help you understand website performance, user behavior, and suggest ways to improve website performance based on data analysis.
This is one way that can also be improved when you use ChatGPT's API. It can only help you with advanced analytics when you plug ChatGPT's capabilities into other tools via plugins or API. 
Wrapping it all up: ChatGPT for new websites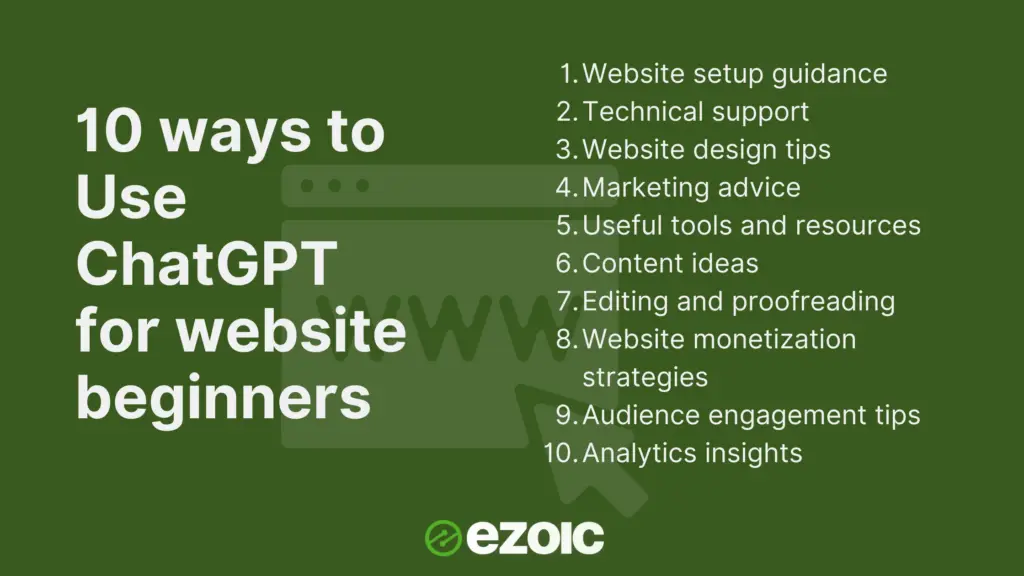 If you're someone starting out on a website today, you have a huge advantage over someone starting out even a year ago. ChatGPT is going to entirely change the way we interact with the internet and create content, and if you're smart, you can use that to your advantage.

ChatGPT is likely to only continue to increase in functionality in the coming weeks and months. If you feel like paying for GPT4, this has even more capabilities for idea generation, image generation and more. 
In summary, ChatGPT can be a valuable resource for website beginners and content creators. With its guidance and support, you can improve your website's content, grow your audience, and increase your website's performance.
For more similar content, here are some other blogs we'd recommend: