At Ezoic, one thing we always aim to do is celebrate and support our customers. Our 70,000+ publishers across all content verticals continuously help us to see what is happening industry-wide so we can continue evolving for the future of the web with new Ezoic tools. 
No matter what niche your site is in, or what size your site is, the new tools we've been developing serve a purpose in getting your site to its fullest potential. We understand there is no "one size fits all" solution – there are countless ways to use these tools, and the approach you take in your own personal dashboard is unique to what your website needs.
For that reason, in today's blog, we're highlighting one publisher who represents a great example of using Ezoic for his sites' needs. We'll walk you through the ways he has chosen to use new products to advance this websites' goals. 
Below, get to know more about Daniel Faria, owner of santuariolunar.com. Faria's site is a collection of websites about Goddesses around the world and about paganism in general. 
More about Daniel Faria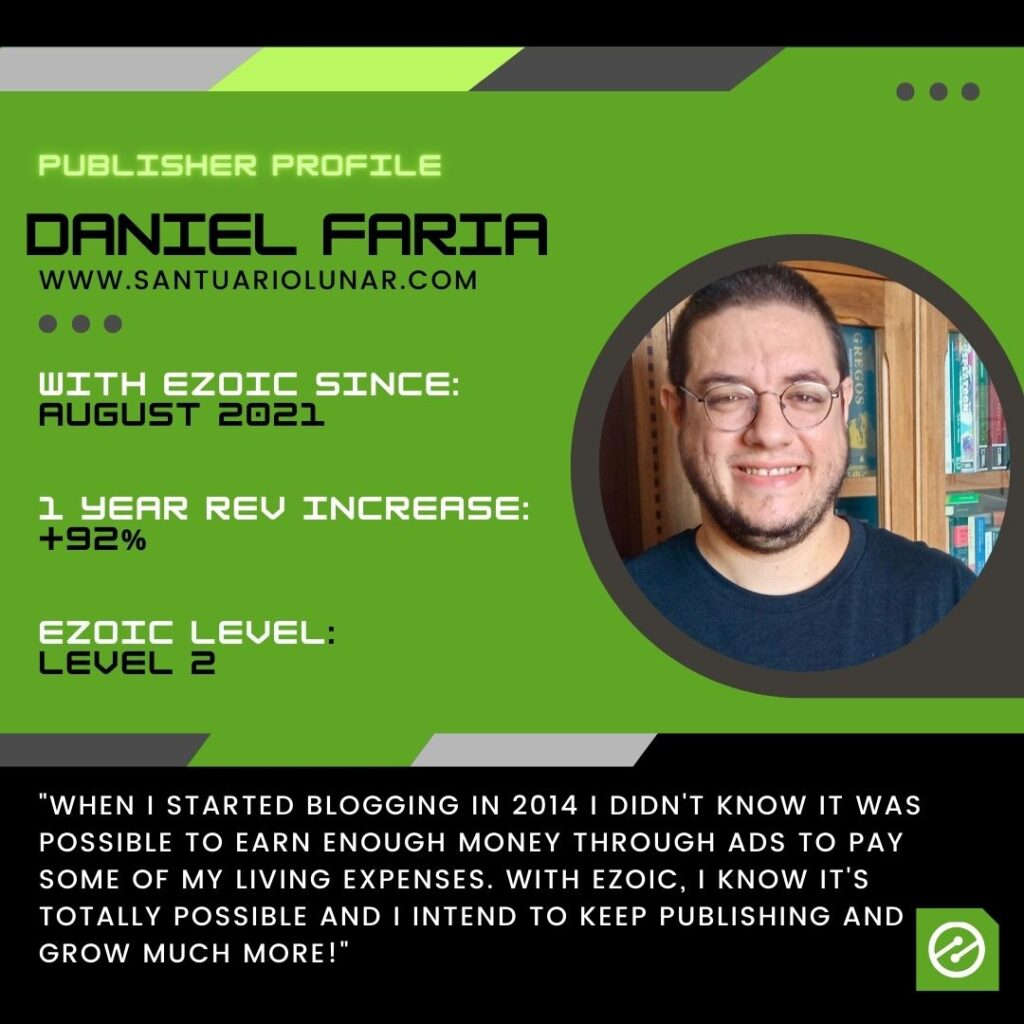 Daniel Faria is from Rio de Janeiro, Brazil. He owns three websites that are all using Ezoic and he aims to be a full-time publisher soon. He started santuariolunar.com in 2014 and fell into publishing when the site saw success he didn't expect. The site was originally started as an entirely Brazilian Portuguese-language website, and has grown to have multiple domains. He also has a YouTube channel where he has expanded his content efforts, but now aims to move his video content onto Humix (more on that later!).

His website(s) are very interesting to browse. For anyone with a niche interest in mythology or different deities, Santuario Lunar presents countless articles and entries on different goddesses and more. Since it's October, you might enjoy browsing the portion of his website dedicated to "Spells and Witchcraft" (his most popular category this month according to Big Data Analytics!).
Faria's journey with Ezoic & Ezoic Tools

In summary, Faria said this about his experience with Ezoic: "When I started blogging in 2014 I didn't know it was possible to earn enough money through ads to pay some of my living expenses. With Ezoic, I know it's totally possible and I intend to keep publishing and grow much more!" 
Since then, Faria has only grown his sites. Besides the revenue that has allowed him to focus on publishing as a job, and to upgrade his equipment to produce higher-quality content, Ezoic has given him tools that save his time and simplify his publishing process.
We'll focus on three main tools: Humix, Flickify, and Leap.
Ezoic Tool #1: Humix
Faria's YouTube channel reached a whopping 40,000 subscribers. But as sometimes happens with YouTube, his channel reached a plateau because of YouTube's algorithm. 
"YouTube, however, simply decided to kill most of my videos," Faria said. "It's very frustrating! When Ezoic started with Videos, I uploaded all the ones I had. Then Humix started as part of the Trailblazer program and the Shared Network became available. Now, my videos have a second chance to shine!"
He also had another YouTube channel for a different site of his, Simpatias Fortes, and the earnings are steadily decreasing despite having 10,000 subscribers. 
However, Humix has entirely turned things around for him: "The same videos were uploaded to Humix and now they are making 3x more than they are making on YouTube! I believe this is just the beginning!"
Ezoic Tool #2: Flickify
Faria is using Flickify to save time and produce more content. He's already using Flickify to convert articles into videos, which he then plans on sharing exclusively in the Humix network.
His strategy is to eventually convert every single blog post into a video with Flickify. 
"This way I'll be offering users both the written articles and videos, so if they are tired of reading they can simply watch and listen to the content."
Faria understands his audience, and understands that many people like a mix of video and written content. He believes that Flickify will do a lot for publishers in this respect.
Ezoic Tool #3: Leap
Faria's websites also use Leap for site speed. His user experience was a puzzle he couldn't crack before using Ezoic.
"Before LEAP, I used to spend hours and hours trying to solve problems related to speed and user experience," Faria said. "After LEAP became available, I simply tried a few combinations until I found the best one. Never had problems with speed and UX again!"
Wrapping it up: How you can use this case study for your own needs
Daniel Faria has a variety of websites across niches and this is the strategy he has come up with for his own website. From our perspective, we see certain advantages of these products and have a vision for how they could be used. However, we recognize that every publisher is different. 
Our aim in this blog is to show one way a publisher can use a mixed bag of Ezoic tools to optimize their websites. For more content about Ezoic NEXT tools and different deep dives into how publishers have used our content, check out the blogs below: