For far too long, the narrative surrounding digital publishing has been that in order to perform well and rank high, your site must be raking in enormous amounts of traffic or feature huge amounts of content. But this simply isn't true anymore. Sites of all sizes have a plethora of new strategies at their disposal to grow and develop their site. This article will cover one key method to increase your site's ranking in results by specifically focusing on increasing your site's authority in Google's eyes.
Watch the below video for a quick tutorial on how to increase topical authority on your site to drive more traffic by Ezoic publisher Dan Richardson, or catch a summary of the tips in the blog.
Dan Richardson is a digital publisher and SEO consultant. Prior to working on websites full time, Dan spent 8 years working for SEO agencies and 2 years doing SEO in-house. Over the years, Dan has worked on sites in a wide variety of niches with a strong track record of improving organic traffic across a broad range of sites.
What is topical authority? 
You may be familiar with domain authority or author authority, two popular metrics used by Google to gauge the trustworthiness of a site. Topical authority is a similar concept, but applies to a site's authority over a narrower area within a niche. Topical authority relies on how much trust Google is able to place in your site's ability to answer a question about a certain topic. This authority can be built by making sure your site answers a wide range of queries within a specific topic, and that it has more volume of content on this topic than another site.
To illustrate this, let's think about two separate sites. Site A focuses on pets in general, with sections about dogs, cats, fish and other common household pets. Site B focuses only on dogs, and therefore has many more articles about dog-related topics. When it comes to a query about foods that dogs can eat, Site B has more topical authority, because Google trusts it more with dog-related queries.
Notice here that the first search result for a query about dogs is a site devoted to dog-related content. This website likely has high topical authority surrounding dogs.
Why should I aim to build topical authority?
There are a couple reasons this is worth your time. First, it is cheaper than focusing on getting links. In order to get links, many sites resort to paying for them (which is against Google policy and puts your whole site at risk to get blacklisted by Google). Second, even if a site pays for these links, it is extremely difficult to get more links to your page or domain than a large site is already getting. In that sense, focusing on topical authority can elicit more results, more quickly, than focusing on links.
How do I build topical authority?
The first place to start is with keyword research. The aim here is to build a strong content cluster. You can start with low competition keywords for smaller sites to see quick successes, but this doesn't mean that you should avoid high competition keywords in your efforts to build topical authority.
An example content cluster from the Content Marketing Institute.
To start this process of finding keywords or queries around which to build a topical cluster, here's how Dan starts in our example.
He has an extension that shows keywords' search volume, but you can also look up keyword search volume and find other queries using other keyword research tools, such as Moz or SEO Surfer. 
If you start with the beginning of a common query, you can work from there to find a whole spread of similar queries suggested in your search bar. To think of examples like this, think of common questions someone might have in your niche. For instance, if your site is about gardening, why not zero-in on a specific plant and the range of questions people might have about it? Typing in "Are Majesty Palms…" could lead you to a whole slew of other questions readers might have about that plant. You can become Google's go-to for questions about all things Majesty Palms.
Next, employ the "alphabet soup" method to find even more keywords to target in your topic cluster. The way this works is starting with the first part of your keyword, then going in alphabetic order and adding a, b, c, d, e and onwards after the first part of your keyword.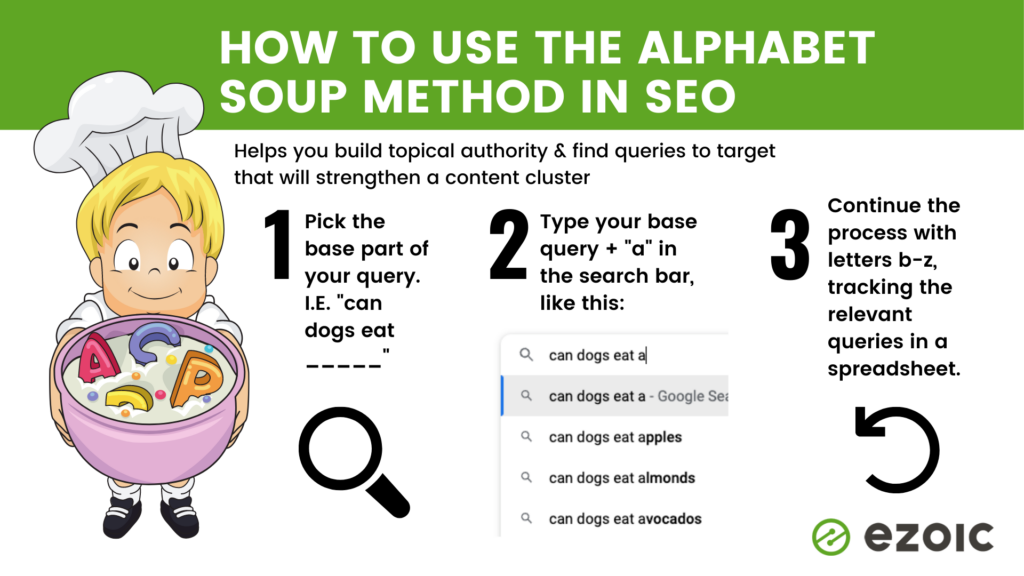 "Are Majesty palms a…" elicits keywords like: "Are majesty palms annuals" and "Are majesty palms toxic to animals" and so on. You'd then type in "Are majesty palms b…" and see other queries to target, such as "are majesty palms bad for cats," "are majesty palms bad for allergies," and so forth.
[add graphic on alphabet soup method)
Writing in a way that demonstrates solid topical understanding/knowledge
So we've covered finding keyword clusters you can take control of to build your topical authority. But once you have those keywords, how do you show Google that you're the best site to answer the question?
For this, you're going to want to make sure you know what else people want to know as it relates to the query you're targeting. If you were targeting "Are majesty palms toxic to cats," here are other questions you'd want to make sure you answer, located in the "People also ask" section.
Next, within your article, show how well-researched your content is by adding links to relevant sites or pages. A note here: do not link to a competing site's article on the same topic, or Google might think you are rewriting their content.
Some other things to keep in mind
In addition to the benefits we've covered so far on topical authority as a smart strategy for your site, we should also note that building topical authority on one cluster can help you gain credibility for a closely-related topic. For instance, if you become the Majesty palm expert, it won't be a stretch for you to gain authority on content about other house plants.
Next, you can utilize internal linking to your advantage. Do this by picking an article that is relevant to another article you have and linking to it within your site. Ultimately, this will help Google to understand the relationship between your various pages. 
If you want to outrank big sites, topical authority is one way you can do it that may just elicit more results than other SEO optimization techniques. The overarching goal you're aiming to achieve is to signal to Google that you are the site to answer specific queries within your niche. 
Have you tried building any topic clusters? How did it help your site? Let us know in the comments.
For other ways to optimize your site's SEO or outrank bigger sites, check out some of these previous Ezoic blogs: