Ezoic has had multiple new products released within the last few months that publishers may be unaware or unsure of how to use. All of these products are specifically designed to give publishers the right tools to enhance UX, increase revenue, and improve site speed.
Thousands of publishers integrated with Ezoic are using one of these new products and have seen great success and improvements to their website's performance. One such publisher is Yoann Bierling, who owns ybierling.com.

Below, we'll take you through his journey and how he has used Ezoic's Video Player, Tag Tester, Leap, and Ezoic Cloud to improve metrics across the board.
Beginning a website and integrating with Ezoic
Yoann Bierling started his website, ybierling.com, in July 2010. The site originally started out as an online CV but has grown to be a curated guide to global digitalization.
When Bierling first started out, he was using WordPress, Google AdSense, Google Analytics, and travel payouts widgets. In 2018, Bierling migrated ybierling.com to a self-developed CMS.
At the end of 2018, Bierling was contacted by one of Ezoic's sales representatives while she was using ybierling.com's flight comparison engine. After hearing about Ezoic's Ad Tester, it wasn't long until Bierling integrated ybierling.com with Ezoic. Since then, he has also integrated multiple of his other sites with Ezoic.
Ezoic develops and releases new features
Ezoic has released multiple new features since Bierling integrated nearly three years ago. These new tools not only provide publishers with robust new ways to enhance their publishing experience, these products also assist with an increase in revenue, traffic, and site speed.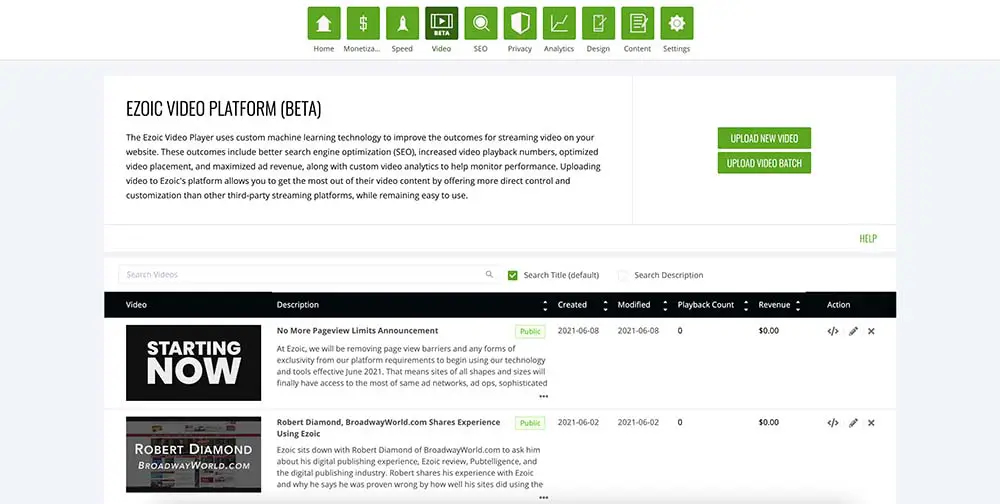 Ezoic recently released its new Video Player tool. The new product allows publishers to serve, host, and monetize video content, all in one place. This gives complete control of UX and revenue to publishers.
Ezoic's Video Player is also different from other video services because Ezoic's machine learning technology chooses when and where to serve the Video Player based on how it will affect visitors.
Ezoic also recently released its new SEO tool, Tag Tester. Tag Tester is a unique tool that allows publishers to try and optimize page titles for URLs using artificial intelligence. Optimizing titles is important because search engines rank titles with relevant content higher, making title tags a crucial part of how sites appear in search results.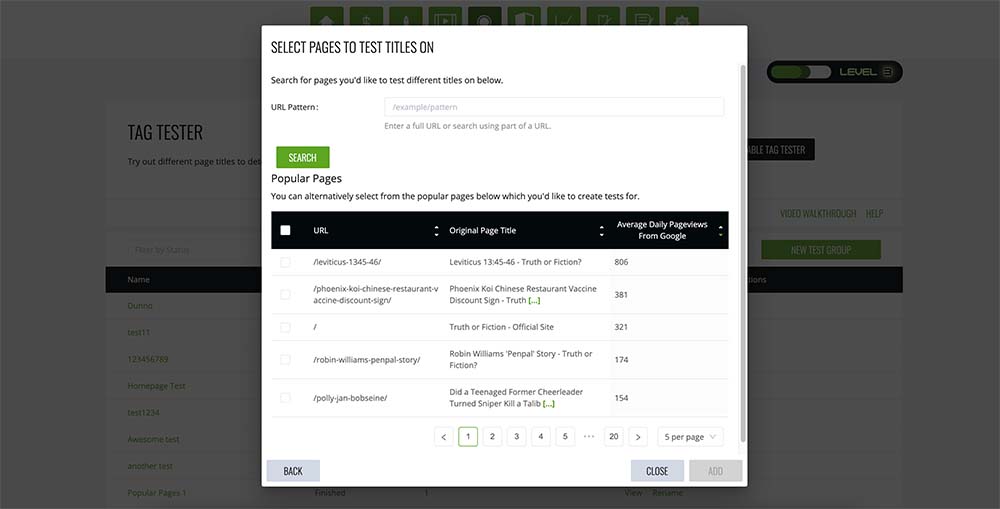 Tag Tester eliminates the need to A/B test titles and allows publishers to test multiple titles for multiple articles all at once. Then, once the testing is over, the title with the best score will be shown in search results.
We announced earlier this week that Leap is now available to all Ezoic customers. Leap was specifically designed to increase site speed and improve Core Web Vitals, which Google recently announced will now be a contributing factor in rankings.
Leap is different from other site speed tools and plugins because it includes everything your site could possibly need to optimize site speed, all without bloating your site with unnecessary code or plugins.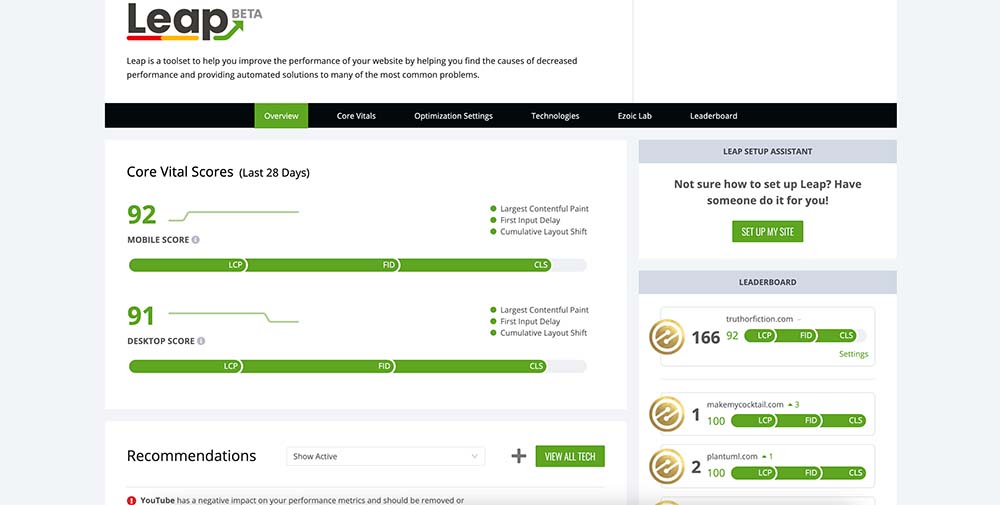 In the dashboard, publishers are given optimization suggestions, shown technology performance rankings, provided site speed settings from other sites, presented Core Web Vital scores, and much more. Publishers can even have a Leap specialist set up their website with Leap to get the best possible results.
Most recently, Ezoic announced Ezoic Cloud, which provides lightning-fast service to pages, ads, and content fast enough to pass Core Web Vitals. This includes server-side ad loading and bidding, and allows publishers to get rid of unneeded technologies, scripts, and plugins.
Bierling integrated ybierling.com to Ezoic via nameservers, which makes him Cloud-integrated. Bierling's websites enjoy the benefits of the Ezoic Cloud, including DDOS protection and advanced security, server-side edge delivery of ads and pages, and click-fraud, ad penalty, and bot protection.
Anyone who is Cloud-integrated, which includes nameserver and Cloudflare integration, will also enjoy these unique benefits.
How Ezoic's newest products increase revenue, traffic, and site speed
Bierling began using each of these products as soon as they were made available to publishers.
Bierling enjoys using the Video Player because it has encouraged him to create more videos and get better results with them, in addition to helping him update old articles that were not ranking so well anymore.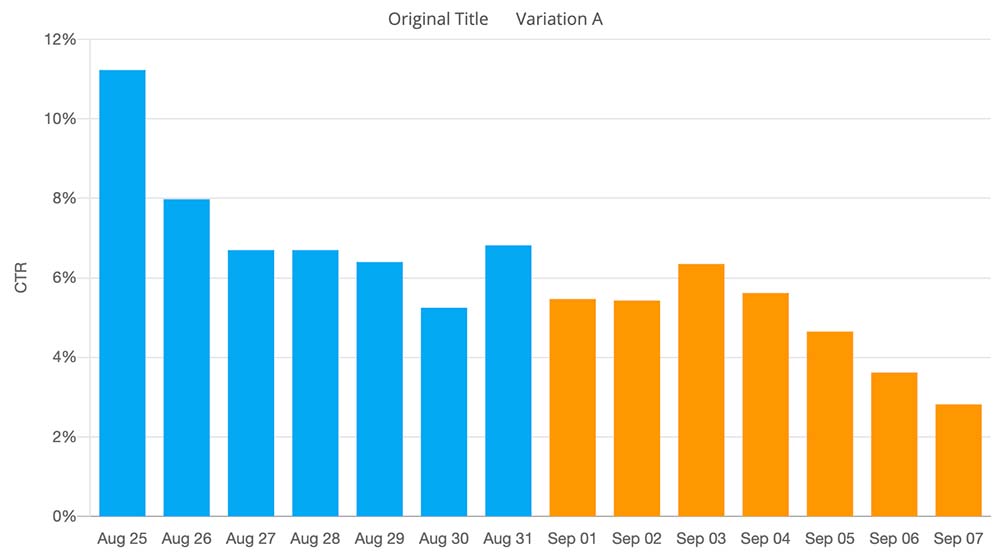 The Tag Tester helps Bierling make more informed choices about the titles of his articles and how to choose titles that work better for his content. Articles have seen total test scores improve anywhere from 7% to 615%, meaning more page views and better ranking, bounce rate, click-through rate, and session count.
Looking more closely, after implementing Tag Tester in November 2020, Bierling's website saw improvements in visits and page views; since then, visits have increased by 252% and page views have increased by 244%.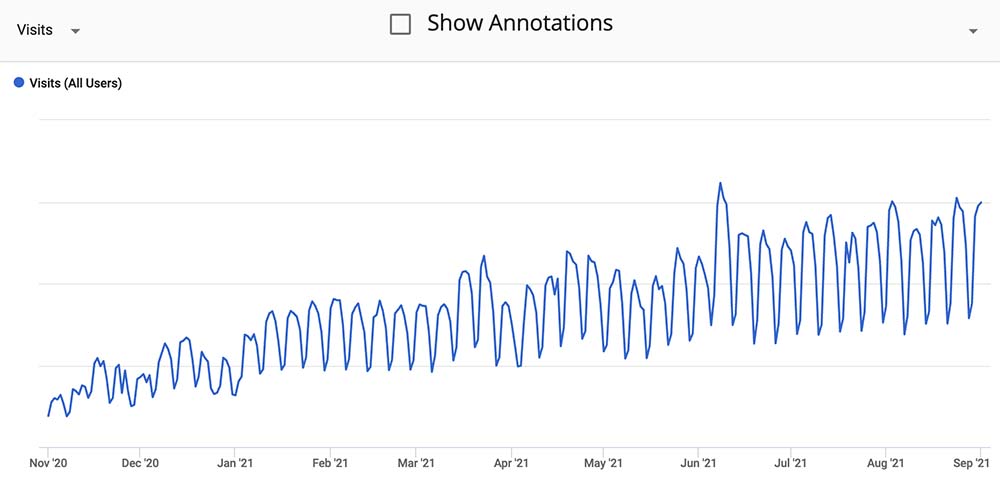 Ezoic's Leap site speed and Core Web Vital product has helped Bierling improve all of his websites' site speed metrics; he even was able to get all of his sites to reach 100% on all metrics in Google Lighthouse, even with ads displayed.
"I have been working tirelessly for years to improve my self-built CMS to be as fast as possible, and Leap solved in one click a lot of the issues I've had trouble solving myself, such as optimizing CSS and reducing page size," said Bierling.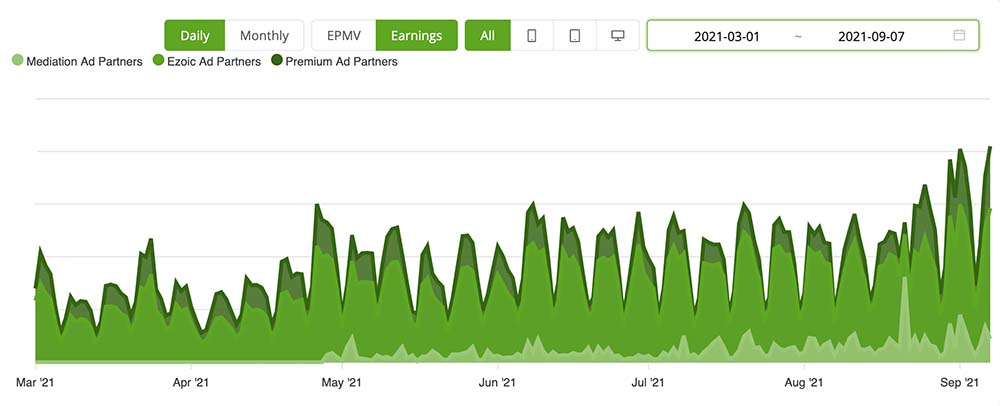 After implementing Leap, Bierling noticed a 33% site speed increase compared to his other non-Ezoic sites that were using the exact same CMS on the same hosting accounts. This led to a month-over-month visit increase of about 20%, which directly translated into a similar revenue expansion; since implementing Leap, ybierling.com has experienced an 80% increase in revenue.
Improve metrics across the board
Bierling has integrated multiple sites with Ezoic now and uses one of these newer features on all of them. These unique products allow him to make more informed decisions and better manage the many needs of these websites.
In general, Bierling is supportive of Ezoic.
"It's a great company with a fun staff that really does what it can to help its customers. I feel less isolated as an independent publisher," said Bierling.
Every publisher can benefit from Video Player, Tag Tester, and Leap. We encourage current Ezoic customers to try out these new products, and for those who are interested in them to sign up for Ezoic here.
In addition to this article, we also recently announced more information surrounding these features, so read on to explore all the latest with Video Player, Tag Tester, and Leap.