It can be hard to navigate the world of SEO tools when there are so many options out there, all of which claim to drastically improve site metrics and rankings. 
Ezoic has actually developed an SEO tool that makes a difference for publishers. The Ezoic Tag Tester allows publishers to try different page titles for URLs and shows the one that performs the best. Ezoic conducts sophisticated testing on title variations and determines which improves SEO performance the most.
We recently added even more elements to how our machine learning optimizes; based on hundreds of thousands of new tests. Sites using the tool long-term have seen increases of 20-30% in their search traffic as a direct result of using Tag Tester. Below, we'll look at why testing titles is so important to SEO and review two websites that use the Ezoic Tag Tester to improve SEO.
For more information on what title tags are and how to write a great title tag for SEO, visit this blog.
Why testing title tags is important
So why is testing content titles important for SEO? It has been found that most of the title tags in Google mostly or exactly match the keyword they rank for. However, there is evidence to show that getting higher rankings on the first page is only slightly affected by using a keyword in your title tag.
Title tags are crucial for search engine results pages (SERPs), social media sharing, and user experience. They are what search engines are reading, what people will see if your website is shared on social media, what shows up as the title on a browser tab, and the first impression a visitor has of your website; it can compel a user to visit your site or skip past it to the next search result.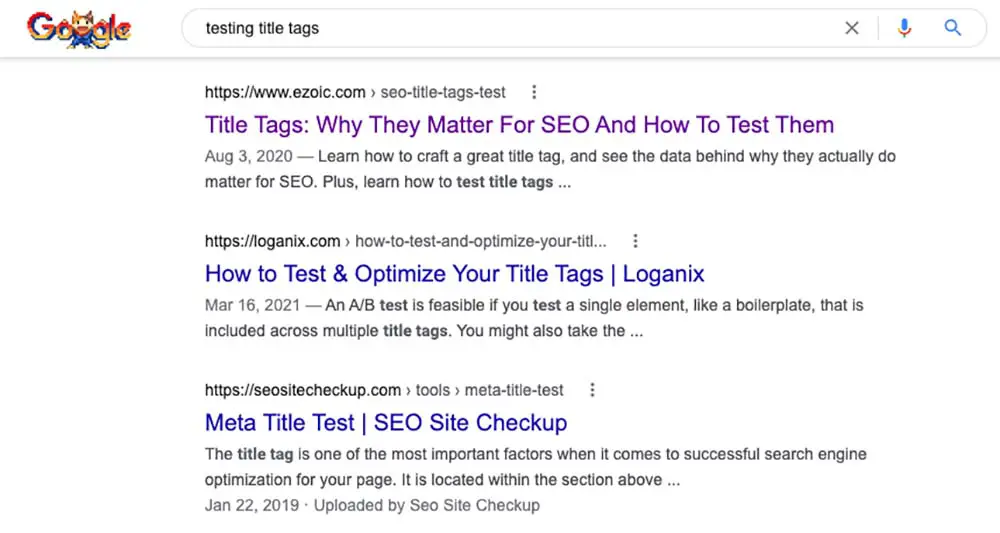 It's also important that your title tag accurately represents your content. Google has been known to rewrite page titles in search engine results if the algorithm detects that the title does not reflect the content. This is partially to prevent publishers from keyword stuffing their titles, but also is in place to try to cater to user's search and improve click-through rates.
How the Ezoic SEO Tag Tester works
In short, the Ezoic Tag Tester uses machine learning to improve SEO by displaying title tags that improve rankings. The tool makes it easy to test which titles get indexed in search engines, thus promoting more traffic to your content.
Historically, testing title tags was limited to A/B testing, which takes a lot of calculating and includes guesswork on when Google has crawled and re-indexed your updated title tag. The Tag Tag tester makes it easy to move past A/B testing and try a variety of titles.
Ezoic's machine learning performs consecutive variation testing on the title variations you provide for your content and determines which one improves SEO performance the most. This title will be automatically implemented once there is a result.
To start using the Ezoic Tag Tester, enable it in the SEO tab of your Ezoic dashboard.
Once Tag Tester is enabled in the SEO tab of the Ezoic dashboard, you can create a test group for the pages you want to test titles on. Pages can be added to the group through search or in a section called Popular Pages.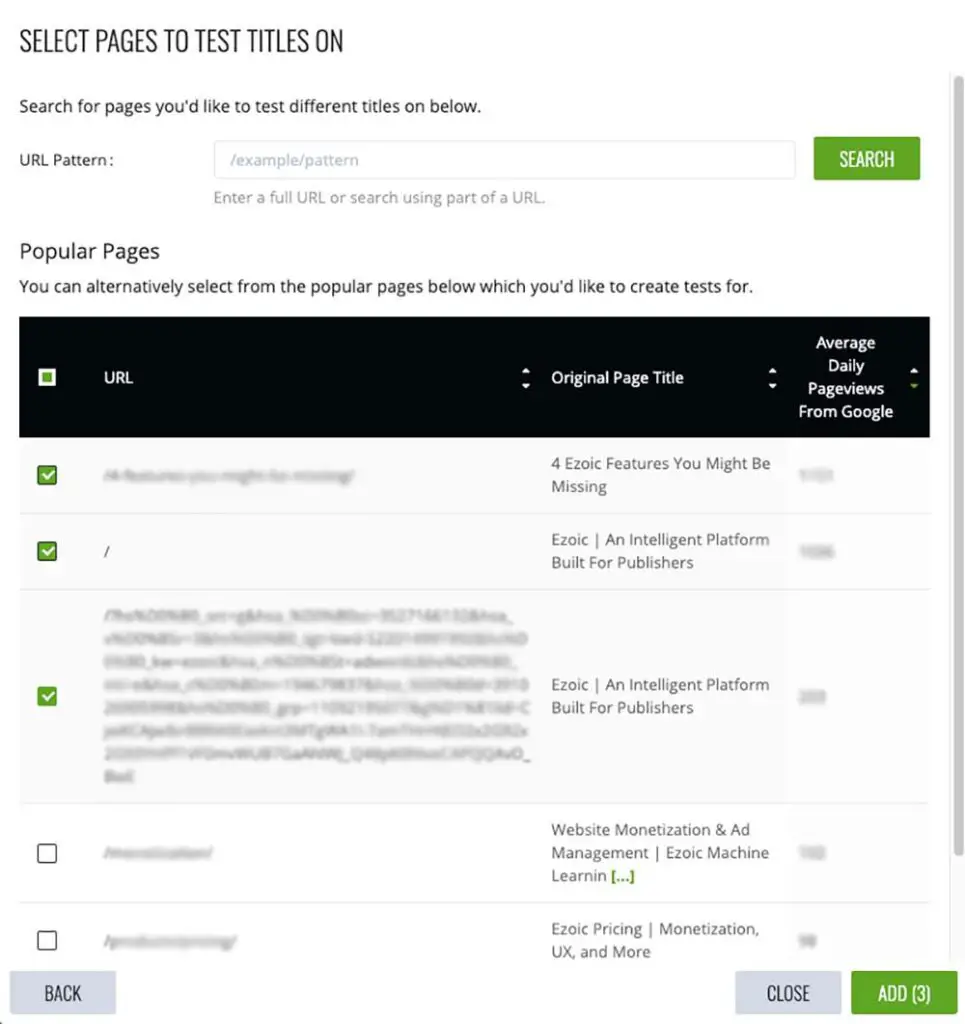 Once you choose the pages, you can choose variations of your title that you want to test.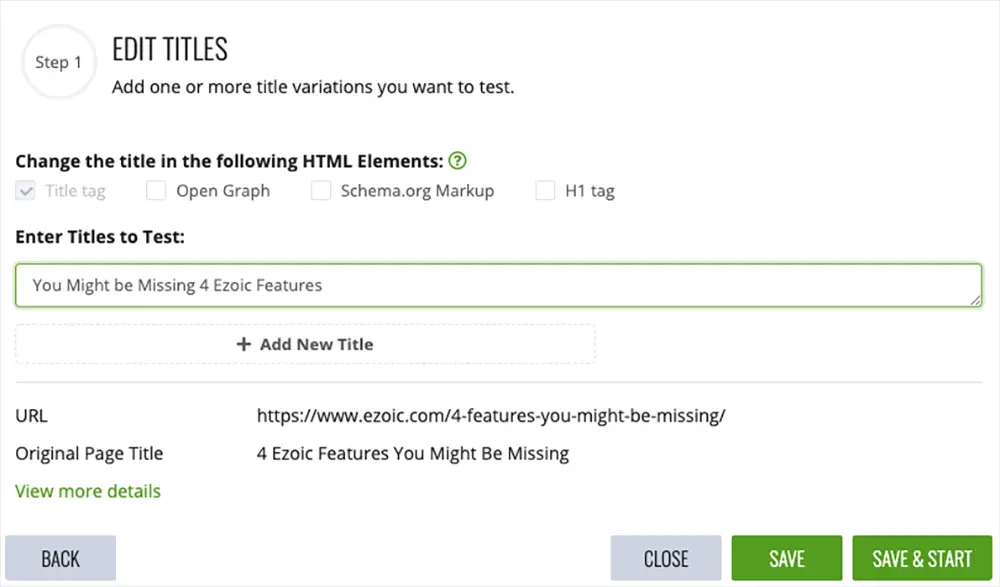 Testing takes two weeks to obtain enough data to provide the score Ezoic uses to rank the best title. Test results can be viewed to see how well certain titles performed, whether that is the original title or one of the variations you created. You can see, by percentage, how much better one title performed over the other and see the results over time.
Metrics like average pageviews per visit, average ranking, bounce rate, click-through rate, session count, and total score can be viewed for each test.
If you would like to use a different title than the one that scored the highest, it is also possible to switch titles within the Tag Tester.
Why Ezoic's Tag Tester is the ultimate SEO tool
As all publishers know, SEO is vital to a website's success. Picking the right title is one of the easiest things you can do to improve site metrics and rankings.
Ezoic's artificial intelligence shows which title performs across important metrics that matter to ranking in Google Search. After analyzing the titles tested, Ezoic takes the title with the best total score and displays it as the title of the URL instead.
With the Ezoic Tag Tester, publishers can pick as many titles as they want to test against the original title of any page on their site. There is no longer a need to A/B test and guess which title will perform the best — Ezoic does the work for you.
To learn how to properly set up your tests, make sure to visit our support page.