We all know that video is a huge potential gold mine if you can figure out how to get it right. However, many people struggle with knowing just where to start. For many people, the idea of editing videos is challenging, and the idea of being on camera is even more daunting.

Lucky for you, there are some easy tips you can follow to create a "Faceless" YouTube Channel, or video strategy in general. We'll also zero in on tips that make it easy for you to put these videos together without extensive editing expertise. In this blog, we will guide you through four easy tips to create a "Faceless" YouTube channel or video strategy, as well as give you ideas for creating these videos that don't require an expert video editor. 
First of all, though, what is a Faceless YouTube Channel?
What is a Faceless YouTube Channel?
What we mean by "faceless" is simply creating videos in which your face doesn't need to appear. Whereas some social media influencers create makeup tutorials or tell stories that very much require their on-screen presence, there are many opportunities for "faceless" videos. 
This could look like screen recordings, videos of scenery or videos shot from your perspective, informational slideshows and more. 
Here are some examples of Faceless YouTube channels:
Gaming channels
ASMR videos
Tutorial videos
Travel videos
You can view even more successful examples here.
Tip #1: Pick a "Faceless" topic with a lot of potential content
When we talk about creating a faceless YouTube channel or video strategy, we are talking about creating something that ideally can last for more than just one video. You'd want it to have a sort of common theme and have a number of videos you can create easily without needing to have yourself recorded.
For example, if you know that you could pretty easily produce informational videos relating to your website's niche, that would be a really good place to start. If you don't cook already, however, you probably aren't going to want to start cooking now for your faceless channel.
Tip #2: Make sure you can make your videos as long as you want
One thing about faceless videos is that you can hopefully create content that lasts a long time. And why do you want it to last a long time? More time on screen means more opportunity for ads to play.

If you haven't heard of the "Lofi Beats" YouTube video and animated character who goes with it, you should check it out. While this content of course requires a little bit of music know-how, the visuals that accompany this video are extremely minimal and the video goes on for over three hours.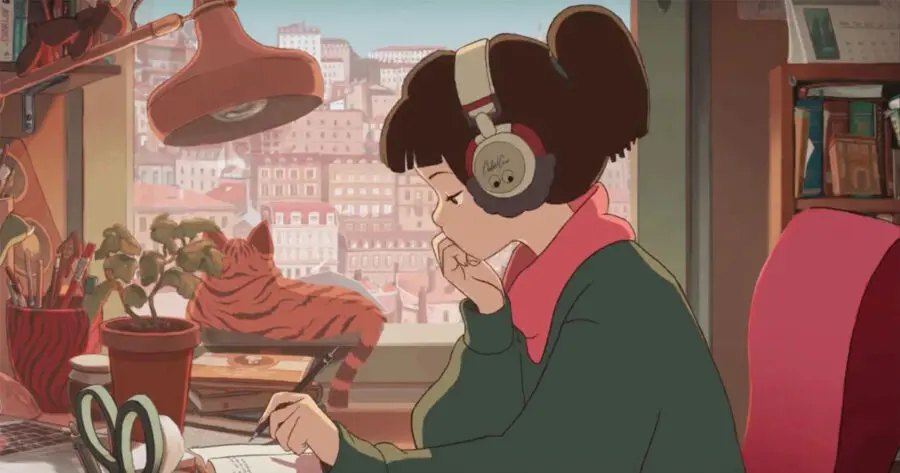 Three hours is not a realistic length for most videos of course, but do keep in mind the principle that the longer the video, the more revenue you can earn. This goes for Humix as well. For instance, a video that requires a ton of editing to produce a simple one-minute product might not be the best long-term strategy.
Tip #3: Find a sustainable way to create and edit your videos
Even though you've eliminated the difficult aspect of having to be on-camera, don't underestimate the effort that goes into creating faceless videos. You'll want to nail down a consistent, clean and easy way to put your videos together.

For instance, if you're a gamer, maybe all you need to do is record your screen. However, if you're posting informative videos, maybe you'd want to try out some simple software options that help you put together videos with ease. For instance, Flickify will convert your already written content into video with zero effort on your part, so this could be a huge win for those looking to transform their blogs into videos quickly. There are also other tools like Canva Pro that allow you to export slides and add music and transformations to them.
Furthermore, you could even try out some of the AI avatars who appear in videos on your behalf if that's your speed. These technologies, like Synthesia.io for example, have life-like avatars that appear on screen and recite a script that you feed them.

There are also the typical video editing softwares like Adobe PremierePro or Apple iMovie that you can try out. 
Tip #4: Figure out smart ways to build your audience
Once you have your content strategy, how are you going to get eyes on it? First, you'll want to know some characteristics of the audience you have, or the target audience you want. It will be important to create your content with them in mind so that they find it entertaining and appealing. A couple things to know about your audience: you can get higher revenue on your videos depending on where your views are coming from. Your audience's age also matters – adult viewers will earn you more money because they have more purchasing power.

Second, know that YouTube can take a long time to amass a following that lets you monetize videos. Be in it for the long haul and post consistently. Share your videos to other social platforms, tell your existing audience about them via email, or more. We also recommend trying out uploading your videos to Humix for another bonus way to get an audience and eyes on your content. Humix will not only get eyes on your video content, but will also send traffic to your website. 
Wrapping it all up: Creating a profitable faceless YouTube channel
In 2023, you don't have to be a professional on-screen personality to earn money for your video content. If you have written content, you can transform that content pretty easily into videos of various lengths to monetize it. It helps to have a long-term strategy that you can replicate with ease, and to identify a gap in content that viewers will be interested in.
For more blogs about video content: