The Levels expansion we've implemented at Ezoic recently has raised a number of questions.
After the Levels announcement, we've had an overwhelming flux of new customers and sign ups for those looking to monetize their website with Ezoic.
Often, prospective publishers are wondering what onboarding is like with Ezoic – who you're communicating with, what they're expected to know, how long everything takes and every other concern.
We'll talk about site requirements, Ezoic specialists, and communities to turn to so you're never left with an unanswered question.
What are Ezoic's requirements?
A really common query is – what are the conditions that my site must meet to be approved for the Ezoic platform? If this is something you'd like to explore, then look no further!
This article will outline all of the conditions that our Platform Quality team consider when approving a site for Ezoic and discuss your ongoing relationship with the Ezoic team.
Site size and quality

Ezoic no longer imposes pageview limits upon new sign-ups.
Removing the previous threshold of 10,000 monthly visits to use Ezoic's Monetization features has allowed us to eliminate the long-running narrative that as sites grow they somehow qualify or earn a chance to work with higher-paying advertisers from different ad networks or third-parties that have historically excluded them.
This has no grounding in how the ad ecosystem works and only exists because these parties have not wanted to bother with these sites until they thought they could generate a profit from them. In reality, this is theater and cheap marketing.
However, sites that are smaller than we previously allowed to use the platform will have a new onboarding experience similar to the ones we did with our pilot Access Now program.
In terms of quality, there's a long running list featured here in our support community that gives a rundown on what your site is and isn't allowed to possess. It's important to read this along with Google's policies as Ezoic must be in compliance.
As a Google Certified Publishing Partner, we require all content to be original, constructive and enticing. You can find more information about these quality guidelines by clicking here. 
Another great piece relevant to quality that you can read up on is how to write quality content that ranks on Google.
Specialists and support
In Acces Now and Level 1, we encourage you to primarily use the collaborative learning communities like our Twist channel to search for your question.
The Twist channel is your go-to community where you'll be in a group onboarding setting.
If you don't see your question, please start a new thread. Our team members in Twist are eager to help you!
Once you reach Level 2, you'll have access to a dedicating onboarding specialist whose role is to educate you further in the world of publishing, placeholders, site speed, content, EPMV, Big Data Analytics, and much more.
When you advance into the VIP echelon of Ezoic Levels, you will have access to onboarding engineers as well as real-time experts on Slack.
For more info and to look at additional benefits visit our compare levels page.
Levels
Since we've touched on Levels a few times, here's a chance to boast about our program.
The Levels are our way of distinguishing publishers. It's a system based on your website's monthly visitors and revenue, that assigns a level to everyone.
Right now, you are able to see your current level in your Levels dashboard to see what sort of support corresponds with your website.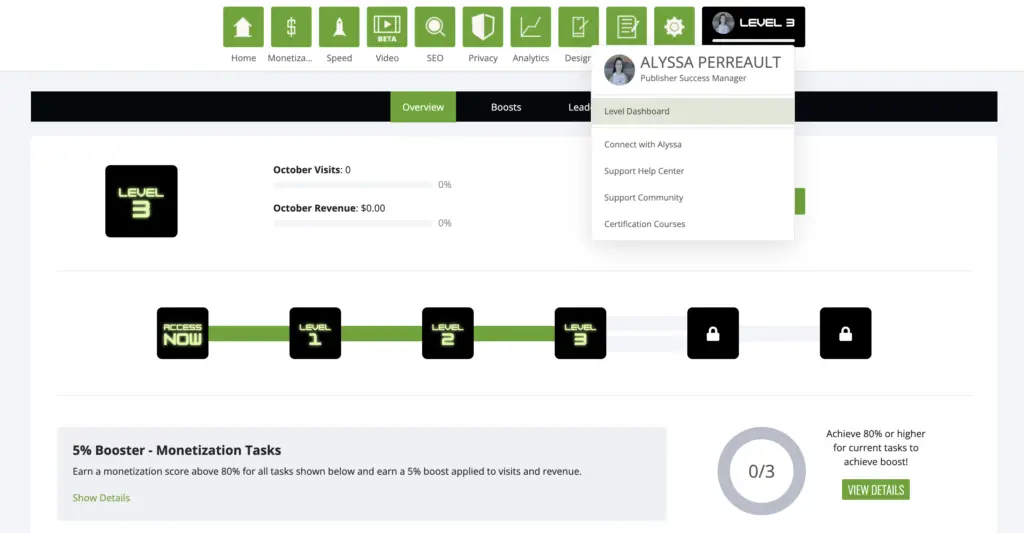 In the case for this publisher, being in Level 3 they have a dedicated Publisher Success Manager to connect with.
Ezoic's communities
Regardless of where you are on your journey into digital publishing, just know that Ezoic is there to support you and give the most up-to-date info and updates as well as gain your feedback to build the platform to its best.
As we've proclaimed before, when you grow, we grow. That's why we're committed to giving you the best experience possible and giving you a guide when you may need.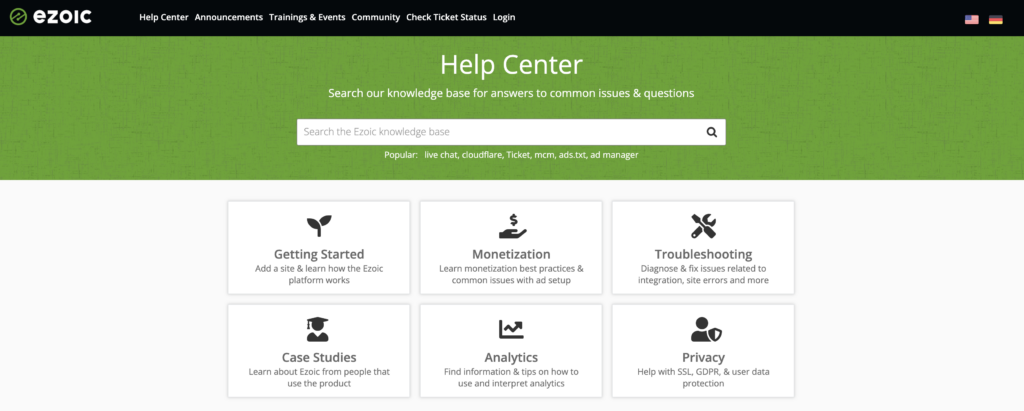 If you have any further questions be sure to leave a comment or reach our knowledge base or Ezoic community to see if your question has already been answered.
In any case, we have learned that every publisher and website is different which is why we offer our expertise and transparency for sites of any size to continue growing.
I'll drop one more resource! A quick video guide to why Ezoic AI should be used on all sites displaying ads.