Being a digital publisher has never been more complicated. There's more for website owners to be concerned about than ever before — site speed, GDPR/CCPA, privacy, monetization, video, Google updates…and the list continues to grow.
Despite all of the complications of digital publishing, there is still one rule that holds true: Content is King. While all of the aforementioned requirements of operating a website are still important, producing quality content continues to be the most effective way to rank in search results.
However, it's not always enough to just write "good" content; how your content is structured can have a big impact on how well it does in search results. Here you will find five easy, yet effective ways to organize and format your content to give your website the upper hand. 
How to choose a title
How else you can make your introduction more engaging
How to break up content with images and H2s
How to structure content
How to close out your content
To see a quick round up of these points, watch this video:
How to choose a title for your content
One of the most important things you can do for your content is to create a main title that is both direct and true to what your content is about. The title and introduction should briefly but also clearly relay what you will be discussing in the article. You want something that is intriguing but not overtly click-baity to target your audience.
You may think that with being broad, you can capture an umbrella of people who may be looking for information on a particular topic, but visitors are more likely to click on an article that they know specifically answers a question. It should also be a relatively specific question that you can provide the answer to and shouldn't be too broad because there is too much competition out there; your website will more easily get lost in the mix.
Almost all titles and headers should be researched ahead of time so you can pointedly target a specific problem you want to help someone solve. This is best done through keyword research.
Keyword research is vital to picking an effective title. We have multiple resources available on our blog on how to properly conduct keyword research, including a great presentation by Doug Cunnington from our virtual Pubtelligence in 2020.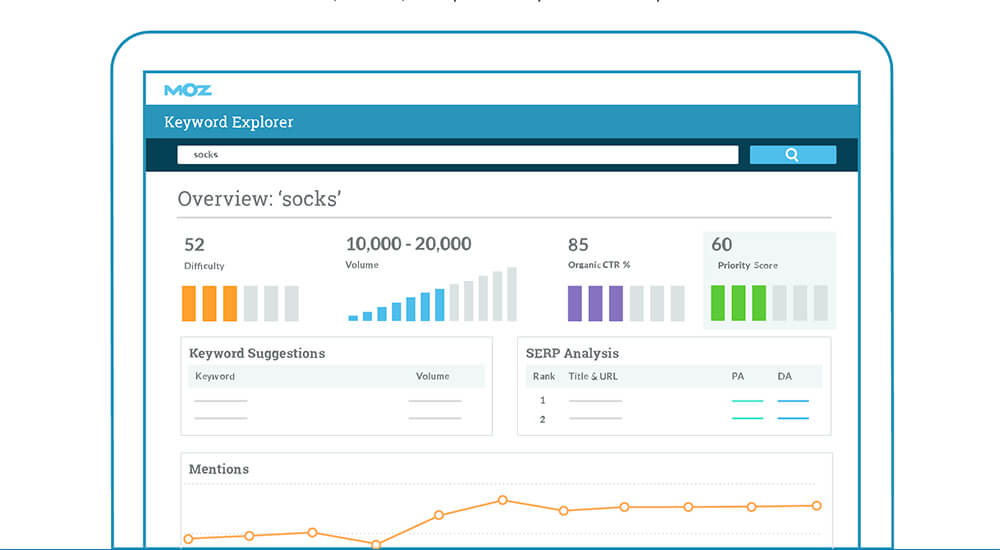 Two great tools for conducting keyword research are SEMrush, Moz, or SimilarWeb and typing in a keyword.
For this example, we will be using the keyword 'touring bike.' 'Touring bike' is too broad of a keyword to try to rank for; in SimilarWeb, the search volume is 38,080. There is a very slim chance I'm ever going to rank for touring bike.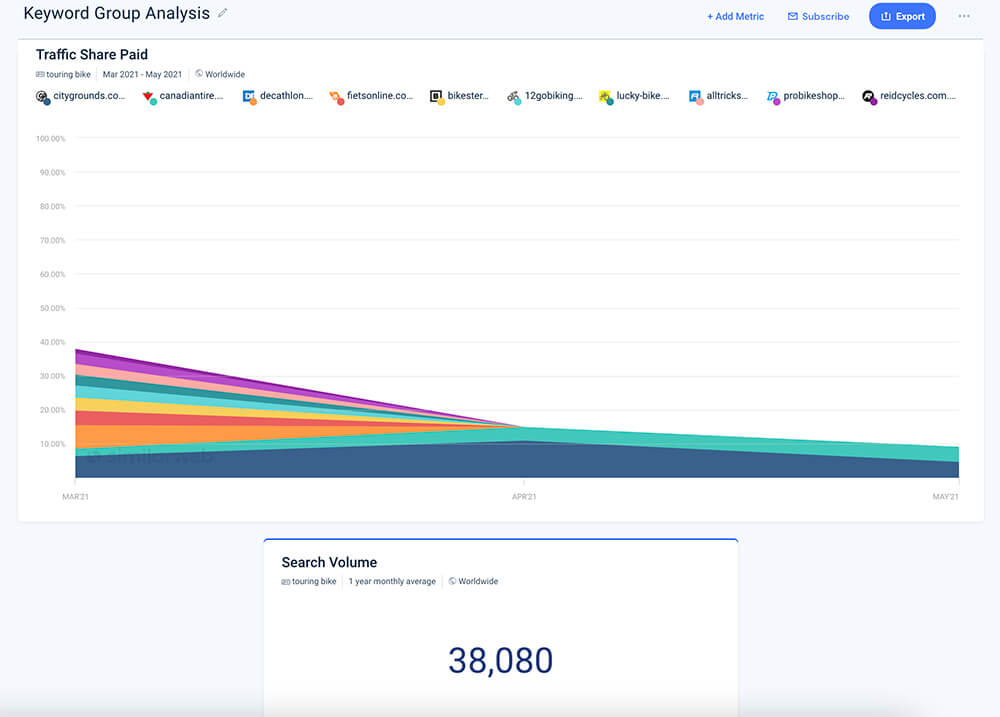 However, there are plenty of related keywords and phrases that we can try to rank for using 'phrase match' or 'related keywords' with lower search volume.
Phrase match allows us to see what people are actually typing into their search browsers that are related to the topic 'touring bike.' For example, 'what are touring bikes' has a search volume of only 620. This would be a good longtail keyword to target.
You can even use multiple phrase matches within one single piece of content. Some good ones to choose from in this list might be ones related to the different types of touring bikes, such as 'steel touring bikes,' 'titanium touring bikes,' and 'gravel touring bikes.'
Another way to find title ideas is to type in a query to Google and see what it tries to auto-fill with, as this will be what people are searching in Google. For 'touring bikes,' there are 'touring bikes under 1000,' 'touring bikes for beginners,' and 'touring bikes for short riders.' Alternatively, search the word 'touring bikes' and look at the 'people also asked' section. Here, we can see 'which bicycle is best for touring' and 'what is the difference between a road bike and a touring bike.'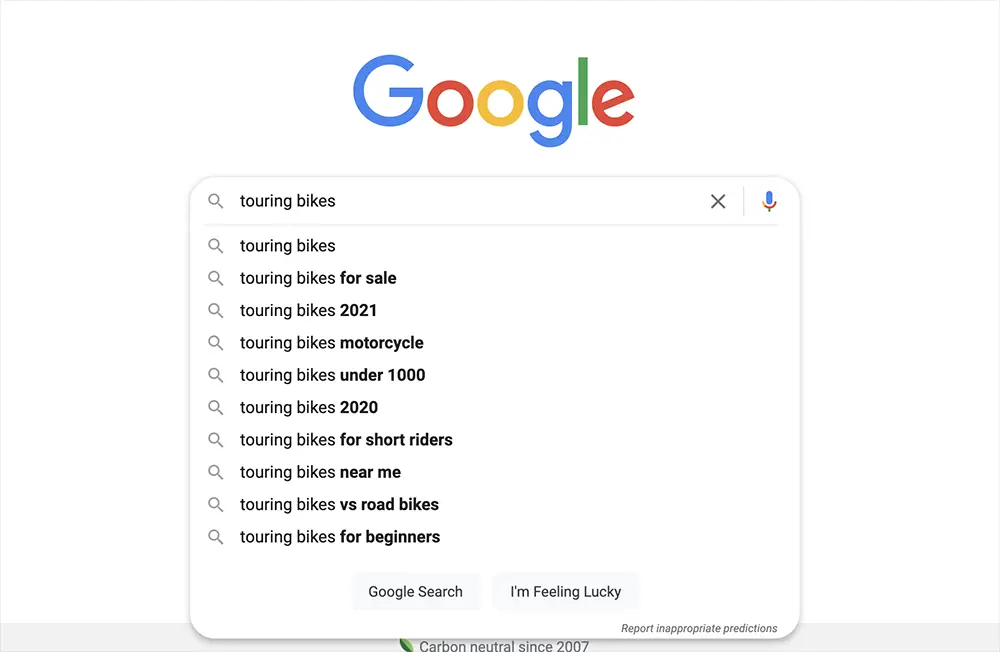 After you know what your overarching topic is, you can use this same approach to create the H2s within your content as well.
Keyword research for rich snippets
Proper keyword research can also get you to rank for a rich result, or rich snippet, in Google. These snippets are considered 'position zero.'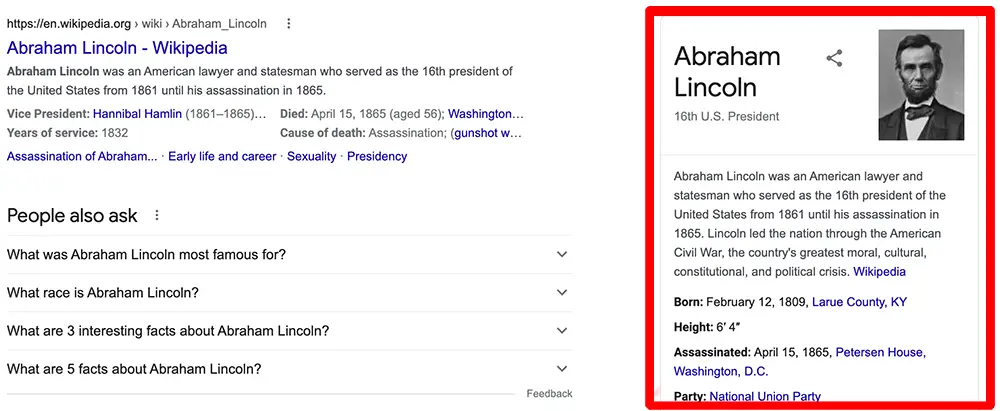 Make sure the topic you choose has some rich results for queries about it already. This will ensure your topic is popular enough to have rich snippets and it can give you some ideas on some topics you can write about.
To appear in a rich snippet, first select a topic you can ask multiple questions about and then provide succinct answers.
The types of questions should typically start with:
How to…
How does…
What is…
What can…
There are many similar variations you could also use. These types of titles work especially well when you're targeting a specific question or query in search results. Most times, you'll then use the broader keyword topic you want to cover right after the 'how to' part of the title.
Using our previous example, we would use something like 'What touring bike is best for women?'
The main point with the title and H2s is that you want to be asking a specific question that you can then answer succinctly. By using these questions to create your H2s and guide your content, your content is more likely to appear as the search result that answers that question.
How to make your introduction more engaging 
Bulleted or numbered lists should be used right after the title or after the introductory paragraph. Not only is this good for when Google crawls your website, but also gives users a quick summary of what is within the content and in what order they can find it. Lists allow viewers to quickly understand if your content answers their question and ultimately keeps them from bouncing immediately.
To finish your introductory section, you can also link the visitor to other content you've written that may also help them answer similar questions. You may go through your older content and find that you have information on your website that they might find more valuable than what you're providing in this newer content. Linking inside of your newer content can help you drive more pageviews per visit and also prevent bounces from your website.
How to break up your content
When you're finally ready to write your content, there are two main ways to break it up to open up your ability to rank for specific queries and garner more organic traffic just from your content structure: H2s and images.
H2s allow you to post variations of the title and related questions; if the article is titled 'what are the best touring bikes for women,' then some H2s might be 'what are the best touring bikes for men' or 'what is the best touring bike for beginners?'
H2s are meant to give readers a way to know what is coming up next while breaking up and organizing the content. It also provides a flag for search engines that something is important and the content following it is going to provide an answer or important information.
Content should be organized in short paragraphs under H2s. Try to avoid big blocks of text that readers have to sort through. The easier it is to navigate through your content, the better user engagement you will have.
You may be asking, what about H3s, H4s, and H5s? They are far less important for SEO and garnering rich snippets but they can help break content up if you think it provides a better experience for the reader. However, it is usually best to just stick to H2s. If you need multiple different subheaders to break up all of your content under an H2, it may be best to write another article on that specific content so you can really get detailed on it.
Images are the second way you can break up content and are nearly as important. Images should, however, be relevant and helpful, and not just something that is thrown on the page.
Images are a good way to draw the reader's eyes to a point you're trying to make and help them find answers to questions if it is relevant to the image. Images can also be used as a way to illustrate a point you're trying to make.
You want to use alt text in your image to potentially show Google that this is an image related to the H2 sections it's placed in. Your alt text should generally be aligned with the H2 heading that is directly above it, which will also increase the chances of it ranking for a related snippet.
How to structure your content
At the beginning of your article or blog post, the first sentence or two after the header should answer the question posed in the header, and answer it succinctly. This not only helps the reader, but makes it more likely that your content could end up in a rich snippet.
After answering the question directly, you can use the rest of the following content to go more in-depth around that topic. Structuring your content this way will keep users from bouncing quicker because they have the answer to their question immediately; the majority of people will want context on why and keep reading.
Answers should also be as objective as possible and publishers should try to not be agenda-driven in your content, but informational. People usually want to read unbiased, helpful content, and not a perspective.
As mentioned before, H2s should be used to break up your content and be a part of your content structure. You can determine your H2s exactly the same way as the title: through asking questions in Google and keyword research. The 'people also ask' suggestions can give you ideas for headers but also allows you to see what users' search results are trending on that specific topic.
Broad questions and keywords are going to be hard to rank for because there are plenty of websites who answer something simple, like 'what color is Saturn.' If I want to write something on the colors of Saturn, I can use the H2s to answer more specific Saturn color questions and will be more likely to rank for those specific queries. For example, a good H2 or title to try to rank for is 'what colors are the rings on Saturn.'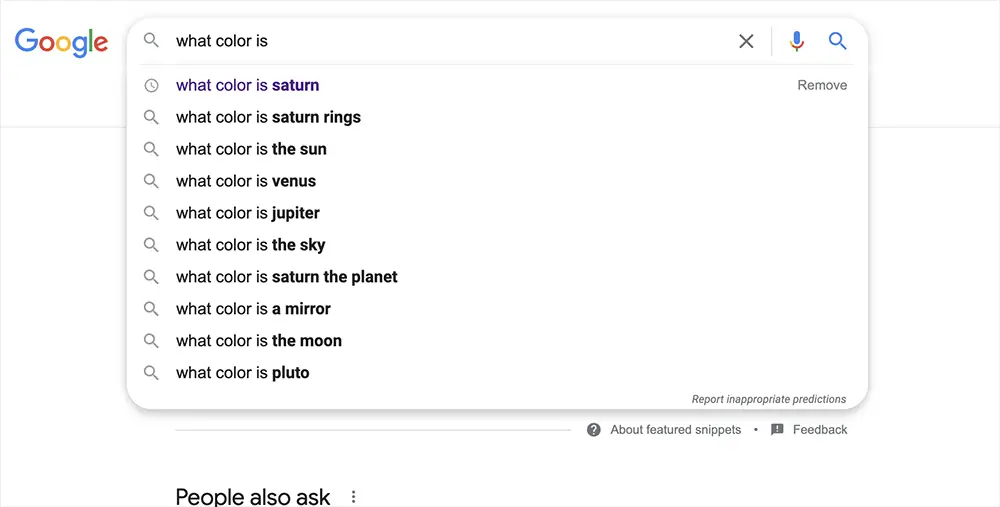 Not all H2s have to be questions, but asking and answering questions is very important to being able to dynamically target queries that could allow you to immediately rank in the top position of Google search.
How to finish your content
To finish up your content, you should try to summarize what you just went over as best you can. It is also really important to try to include a link at the very end of the article as a final recommendation to another page of your site; this will keep readers on your site longer and link them to relevant information you may have already written.
Lastly, if you have a comments section on your site, prompt readers to leave a comment. It can be cumbersome to moderate the comment section, but comments can lead people to spend more time on your pages, ultimately making your content rank higher. People like to feel connected or in a sort of community, and the comment section can be a great way to make readers feel that way. It also gives users a chance to ask you questions that you can then answer, and interact with your readers. The comment section can be a good way to see what your readers are thinking and asking about, which then can give you new content ideas.
Structuring your content the right way is not only a benefit to your readers, but it can affect the way you rank in search results. Even getting the right title through keyword research can make a huge difference. You can also use keyword research to decide what your H2s should be and for rich snippets, or 'position zero.'
Bulleted or numbered lists in the introduction will help the reader know what the article is about and also is noticed by search engine crawlers. They can also help break up content, along with H2s and images. Images should be relevant to the article and bring something to the table—not just a filler.
Make sure that at the end, you summarize the article and add links to other relevant content you've written, and consider adding a comment section to boost content engagement.