What is Google Analytics 4?
Google Analytics 4 is the latest version of the Google Analytics platform.
To help digital publishers and business owners better ROI from marketing efforts for the long term, Google has created a new, more streamlined Google Analytics that builds on the foundation of the App + Web property they introduced in beta last year.
Customer-centric measurement vs. measurement fragmented by device or by platform
Measurement fragmented by device or platform is the type of measurement that Google Analytics eliminates with its latest version (4).
Google Analytics 4 uses what Google calls "multiple identity spaces". These multiple identity spaces are made up of marketer-provided User IDs and unique Google Signals from users opted into ads personalization.
But what does this mean?
It means that you'll get a more holistic view of how users interact with your digital property.
For example: Let's say you're an e-commerce publisher and sell products. With Google Analytics 4's customer-centric measurement, you'll be able to see if a customer first discovers your business on the web, and then downloads your app later on and makes a purchase there. With previous versions of Google Analytics, measurement fragmented by devices likely would not have been able to identify that it's the same user who went on the web first, but then converted (made a purchase).
Google Analytics 4 simplifies reporting
The goal of Google Analytics 4 was to help business owners get a better understanding of their customers across the entire lifecycle. Google says that based on feedback they received, they re-organized and streamlined reporting to help find marketing insights based on the part of the lifecycle they are in (acquisition > conversion > retention).
For example: You can visualize what channels are driving new customers in the "user acquisition report"." Then, you can access engagement and retention reports to understand what actions these users (or customers) are taking, and whether they are retained after converting.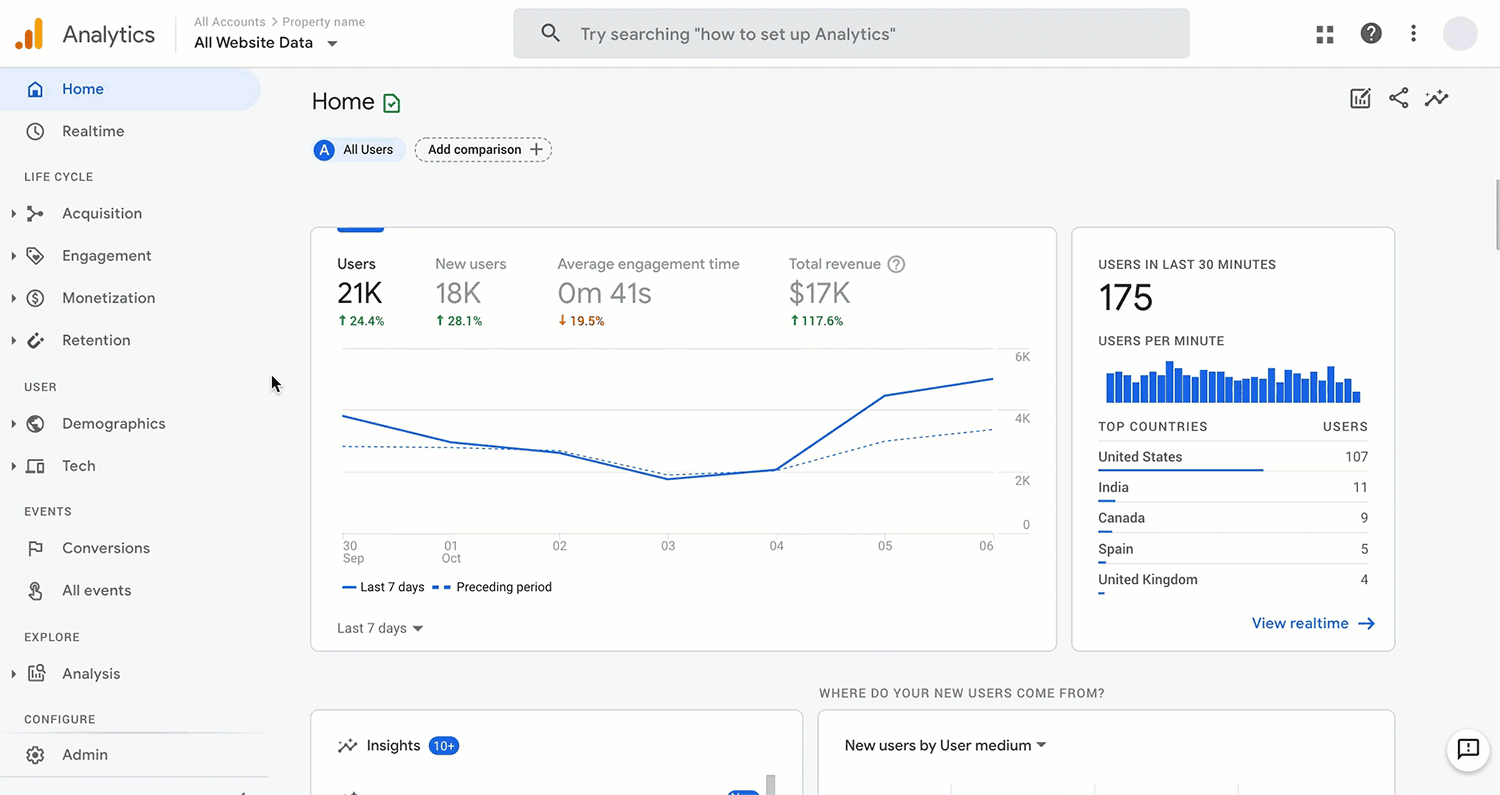 Additionally, there are new integrations across Google's marketing products that are designed to improve the ROI of your marketing efforts.
There's enhanced integration with Google Ads, to help better engage your audience with more relevant experiences. Also, Google has met some of the longtime requests within this latest version of Analytics.
Because GA 4 can measure both app and web interactions together, reporting can include conversions from YouTube engaged views that occur in-app and on the web. Seeing these conversions from both YouTube and Google in one place simplifies the reporting process compared to previous versions.
Built for a cookie-less future
Google Analytics 4 was built in mind with the fact the future of user tracking is constantly changing. How will Google adapt to a future without tracking cookies?
Google plans to use modeling to fill in the gaps where tracking data may be incomplete. Additionally, they offer enhanced data controls for digital properties to manage their data:
Anonymizing IP Addresses for your property
Controls to disable some or all data collection
Setting data retention periods (I.E. how long you want to hold onto user-level and event-level data)
Controls to select what data you share with support teams and Google
Controlling ads personalization for your entire Analytics property (By geography, by event type or user property, for individual events or sessions)
Removing data from Analytics for any reason (for individual users or entire properties)
Advanced machine learning predictive models improve insights
With Google Analytics 4, Google applies advanced machine learning models and automatically alerts you when it discovers significant trends in your data. Here are some capabilities of these features:
If products are seeing a rise in demand, you will get an automatic alert (since that's a significant trend the machine learning detects)
The AI modeling calculates churn probability. This helps website owners to understand how to efficiently invest in retaining existing customers
Predictive metrics (based on the AI models) on the "potential" revenue you could earn from a certain customer base. This helps you better understand why some groups act (or spend) differently than others
Below is an example of churn probability in the "Analysis" module.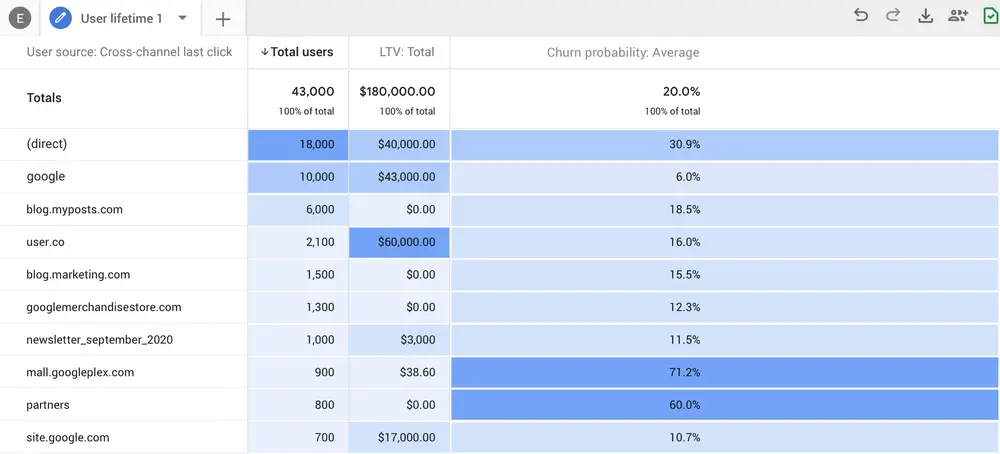 How to implement Google Analytics 4
Google Analytics 4 is now the default experience for new properties who sign up. But, Google advises existing properties to create a new property. Then, upgrade to the latest version (GA 4) through that new property.
To accomplish this, go into your Analytics admin area. Once there, you need to click "create property". When you name the new property and save it, you will have an option to "Upgrade to Google Analytics 4". Just make sure to select the "existing property" that you just created and named before upgrading.


Creating a new property allows business owners to start collecting data and benefitting from the latest innovations as they become available. All while keeping your current Analytics implementation intact.
Note: It may take some time for the new data to propagate on this new property.
Conclusion
Google Analytics 4 offers more granular data insights and controls across the board. But it's important to remember that for digital publishers specifically, there's still a lot of important data unavailable with this latest version.
For example, it's impossible to tie all this user data in Google Analytics to site revenue. The only way to tie GA data to revenue is if you have Analytics 360, which comes at a whopping price tag of $150,000.
This is why Ezoic created Big Data Analytics—an intuitive tool that allows publishers to tie data to revenue for your website. Additionally, you can view user engagement and revenue across metrics like content categories, article length, post authors, and much more.
Do you have any questions about Google Analytics 4? Let me know in the comments.