The right tools and resources can make a world of difference when it comes to digital publishing. There are hundreds of thousands of tools to choose from covering everything from SEO to security to video, and it can be hard to know which ones are valuable.
So how do you choose which news to follow and which tools to use?
We asked industry experts what their favorite plugins, news sources, and tools were that keep them on top of the digital publishing world and their websites.
What is your most valued WordPress plugin?
Choosing the right WordPress plugins can be vital to the performance of your website. As all plugins slow your site down, it's important to choose the right ones. Below are the most valued WordPress plugins by our digital publishing experts.
Yoast
SEO plugin designed to get more visitors from Google and Bing, attract more visitors from social media, and increase readers' engagement
Contact Form 7
Manage multiple contact forms, and customize the form and mail contents with markup.
TablePress
Create tables that can be embedded into posts, pages, or text widgets with short code.
W3 Cache
Improves SEO and user experience by increasing website performance and reducing load times through a CDN
Updraft Backup
A backup plugin to backup files and database backups into the cloud; easily restore with a click
Ad Inserter
"Ad Inserter. I use it for ad placements, displaying disclosures, and putting special offers in posts," said Shawna Newman of skipblast.com.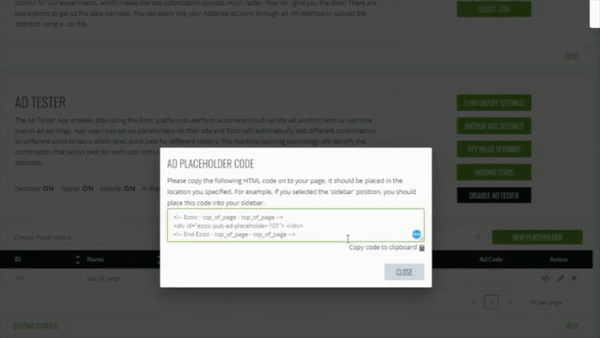 The ad management plugin can be used to insert ad codes at optimal positions, with options to insert opt-in forms, header scripts, Javascript, CSS, HTML, PHP, analytics, tracking, or advert code.
Rank Math
SEO plugin that provides SEO tools to improve SEO and attract more traffic
Thrive Architect
A website design plugin with templates and drag-and-drop features, pointedly at business websites
Pretty Links
Plugin that shortens, cloaks, shares, and tracks affiliate links
Where do you get your industry news?
These industry experts get their news from all over the web, though many turn to Search Engine Journal and Search Engine Land. They cover similar topics; Search Engine Land focused on digital marketing, advertising technology, and the martech world, while Search Engine Journal covers topics on search news, and guides for SEO and the marketing community.
Diggity Marketing was another popular industry news source. The site touts information on SEO techniques, tips, and methodology, run by an SEO specialist. They also offer information on link building and provide SEO outsourcing and coaching.
Quite a few respondents also look to Ahrefs' blog for information. Ahrefs is a data-driven marketing toolset with an index of backlinks, keywords, and content. The blog offers SEO and marketing advice through detailed tutorials, case studies, and opinion pieces by marketing and industry experts.
A few respondents said they look to Google News to get their industry information. While the site offers news about nearly any topic you could think of, its search capabilities allows you to narrow down news on specific topics. The same amount of industry experts also use Twitter to get their information.
Among other notable industry news sources include Ezoic, SEO Roundtable, FE International, YouTube, Authority Hacker, Reddit, Facebook, Newsletters, Affiliate Lab, and SMX.
What tools do you use to create or outsource video?
There were some popular video outsource tools amongst respondents as well. Canva was one of the most popular; the versatile tool provides users with templates, drag-and-drop features, and audio that make it easy to make professional-looking videos.
Another highly used video tool amongst the industry experts was Camtasia, a screen recorder and video editor. Camtasia also comes with templates for those who don't want to or don't know how to create videos from scratch. Other features include a music library, interactive quizzes, and PowerPoint integration.
Adobe Creative Suite was also a popular response. The suite allows easy integration between its products, like Photoshop, illustrator, and After Effects. Its video editing tool, Adobe Premiere Pro, is a timeline-based tool used by professionals and amateurs alike. With video effects, transitions, titles, audio library, graphics, animation, and more, the product is one of the more superior video editing tools out there. It can be a bit of a steep learning curve, but the versatility of the product makes it more flexible than some of the other video editing tools out there.
Other video tools by these publishers include ActivePresenter, Wave.video, Animoto, Valher Media, Ecamm Live, Filmora, Screencast-O-Matic, Powtoon, iMovie, and YouTube's editor.
Where do you share content online?
By far the most popular places these industry experts share content is YouTube and Facebook Groups, followed by Twitter and Pinterest.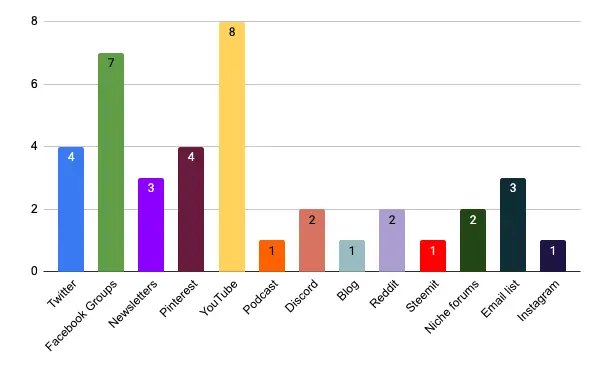 Are there any paid publishing tools or services you would never give up?
Some tools these publishers can't live without, including campaign tools, social media management, project management, hosting, and SEO.
Campaign Monitor
This easy-to-use email marketing and automation tool includes email templates or designs with drag-and-drop features and allows complete customization. The templates are also responsive to mobile, so email campaigns look good on every device.
Tailwind
This social media scheduling tool makes it easy to post at optimum times and gives recommended hashtags to drive Instagram marketing. The tool also provides simple Pinterest pin designs and scheduling. Tailwind is just available for Instagram and Pinterest.
Active Campaign
Active Campaign is an email marketing service that provides email marketing, marketing automation, and CRM tools for eCommerce, digital businesses, and B2B companies.
Click Up
Click Up is a free people and projects management suite, though it has a paid version with more tools and storage. The tool makes it easy to keep track of to-do lists, projects, docs, spreadsheets, emails, events, reminders, goal tracking, and more.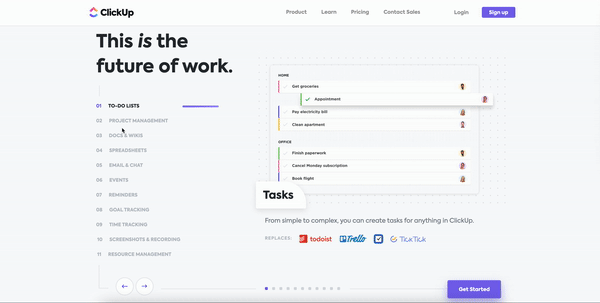 "I think they've done an excellent job building a complete management system for publishers," said Morten Storgaard, who owns multiple sites, including godownsize.com.
Ahrefs
Ahrefs has multiple tools to help with SEO, including a site explorer, keywords explorer, site audit, rank tracker, content explorer, and SEO toolbar.
SocialBee
"SocialBee is a really helpful tool. Not so much for publishing, but focused more on sharing content across social platforms," said Ron Stefanski, who owns prisoninsight.com and bengalcatclub.com.
Aweber
This free email marketing software has paid features that make it easy to have unlimited subscribers, email sends, and list profiles. The tool has AI-powered email templates to easily create branded emails and landing pages, and touts a free template library and automation.
Kajabi
This business platform makes it easy to create, sell, and scale online businesses through online courses, membership sites, and coaching. The tool provides templates and analytics to see how your business is performing.
WPX Hosting
WPX Hosting offers a free CDN, SSL, site speed optimization, site transfers, daily malware detection and removal and site fixes.
Semrush
This platform offers solutions for SEO, content marketing, competitor research, PPC, and social media marketing. The tool is used by over 7,000,000 marketers across the globe.
What do you focus on most to improve organic traffic?
Publishers had a wide variety of answers to what gets their website more organic traffic, but the winner was clearly creating content around niche or long-tail keywords.