Ezoic's video platform is a big piece of our toolset with gives added benefits. Publishers may not have discovered how it's utilized and all it can do for your site so we're here to show you.
This video tool has quietly been in the Ezoic library of products and features but we're giving a more in-depth breakdown.
Today, you will learn how to use the platform and its benefits for your site, as well as see a real example of how it helped a publisher grow.
We'll dig into analytics from Dan Richardson, the publisher behind Pigeonpedia to see his success after implementing video.
Why the video platform is valuable
Have you considered incorporating video into your website or brand? We've chatted with a number of publishers who wish they could expand themselves more with video production.
But just like anything, if it's a world you're not familiar with, you'll be left to do your own research on what's the best way to do it or the right place to host it.
It's certainly can be a time-consuming venture and may be all for naught if you're not getting the traction you want or if you haven't met the requirements to monetize on platforms like YouTube.
Ezoic intelligently provides features for uploading, testing, inserting videos on different pages, and indexing them in search engine results. 
In the end, we're helping improve SEO, increase your video views, get traffic from your videos that are indexed, and maximize ad revenue.
How to host video with Ezoic
Let's quickly walk through how to get started.
Here is what you'll see in your Ezoic dashboard. Simply select Upload New Video, work in a batch (upload multiple videos by an MRSS file), or import videos from an existing YouTube channel if that's an option for you.

Next, you're brought to the configuration screen where you upload the video and input the other information about the video that will help it rank in search, including a title, description and keywords.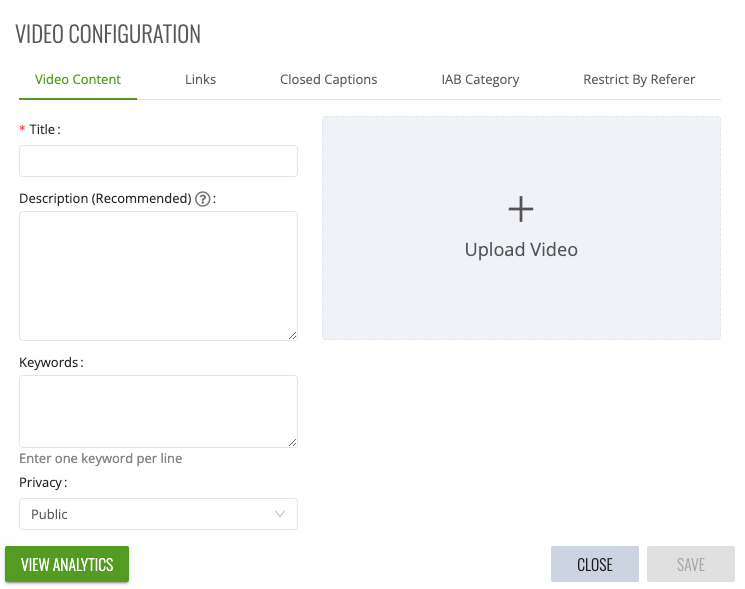 After uploading, you have the opportunity to create playlists or add videos to existing playlists, as well as style to your specifications. You're able to adjust placement, colors, and add any custom CSS.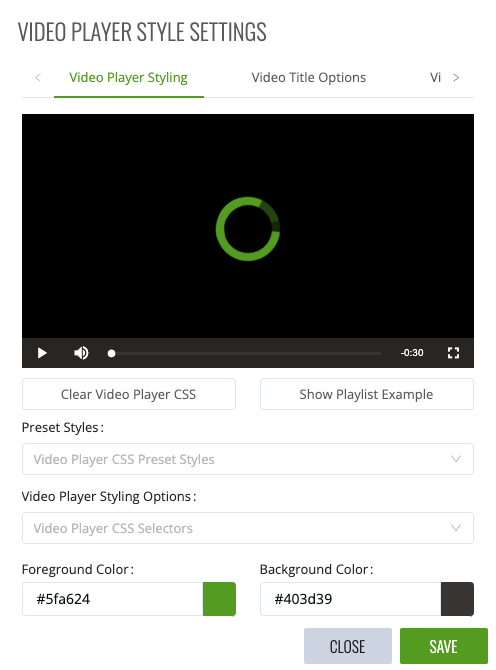 Below, there's also a section to add your own video placeholders to your site. This enables you to add your video to any page, change its size or location, or replace it with another one of your videos later.
Simply create a placeholder using the Chrome Extension, select which video you want to display, and Ezoic will do the rest.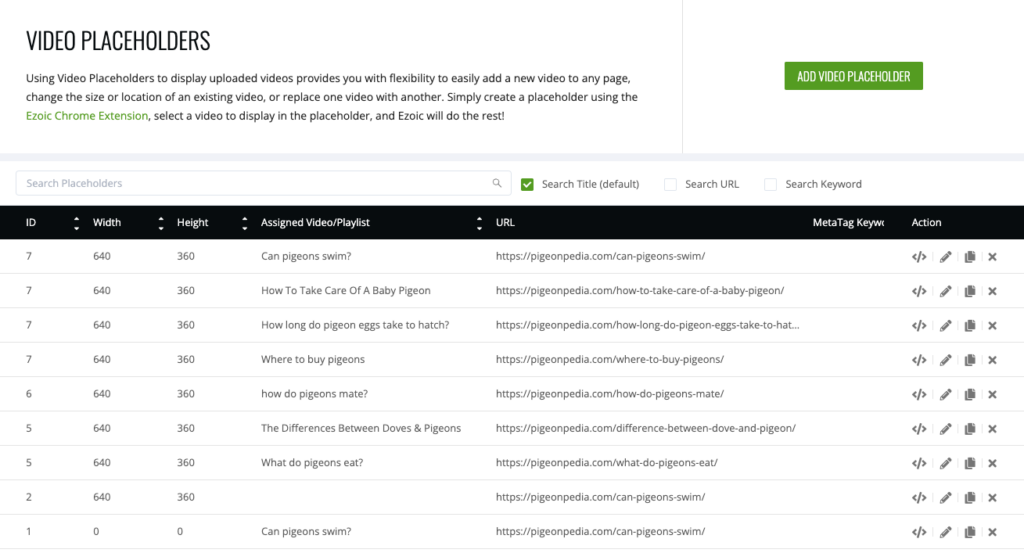 Growth from Pigeonpedia
Dan Richardson owns and operates pigeonpedia.com. Learn more about Dan and his publishing tenure with Ezoic at his publisher profile page.
Dan's journey with Pigeonpedia and Ezoic started only last year in September 2020. Since his start, he's seen a huge increase in revenue, EPMV, visits and pageviews alike.
Pigeonpedia started using the Ezoic video player and platform about 6 months ago in May of this year.
We compared these last 6 months' revenue and EPMV to the previous 6 months' data in Big Data Analytics.
What we found was that when Pigeonpedia had their video library built up, they were seeing even more success in their monetization.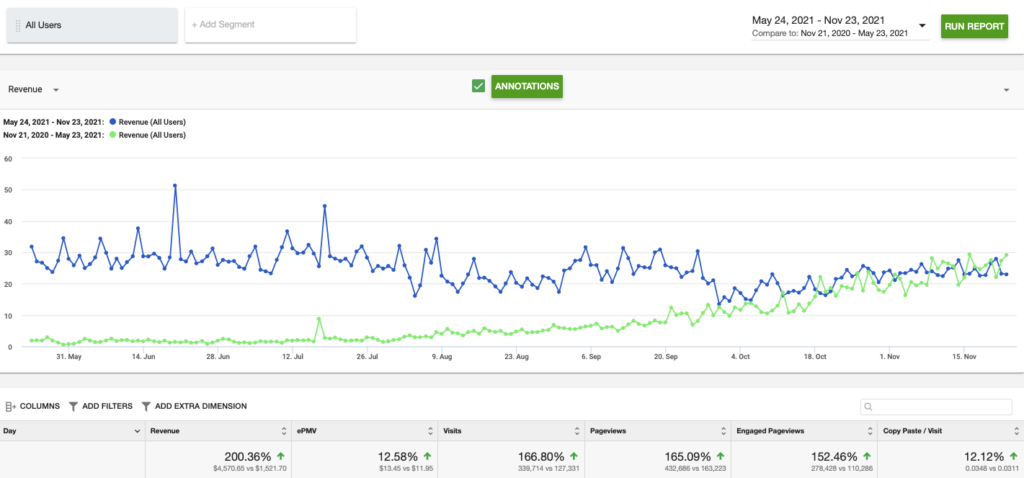 From the time after Dan implemented video onto his site, his revenue increased 200%. That level of growth is incredible! Other important metrics like his EPMV, visits, page views, and more also increased over this period.
Uploading video to Ezoic's platform allows you to get the most out of their video content by offering you more direct control and customization than other third-party streaming platforms, while remaining easy to use.
Once you upload all your videos, they'll appear in your dashboard.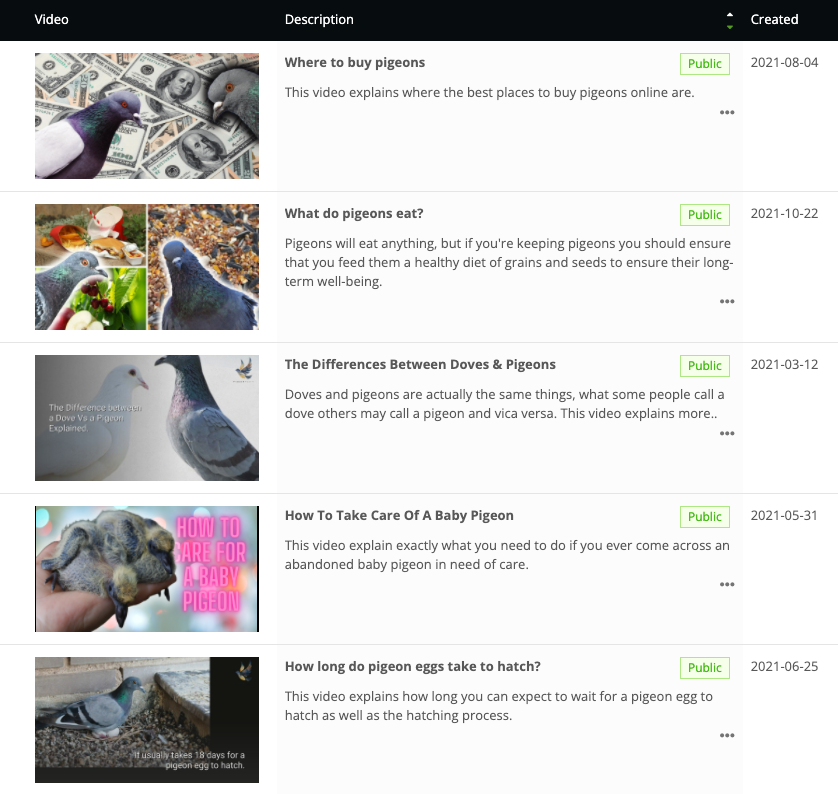 Between just 7 videos that Dan uploaded, the video play count has risen from 0 to over 100k in the short amount of time the videos have been on the platform (May to November 2021).

Additionally, in Big Data Analytics, you can see the impressive number of visits and page views associated with video.
You can find all of this info and more in the Video tab in Big Data Analytics.
Kickstart your video strategy
If you haven't started making video content, now is the perfect opportunity. Anything that can add value to your audience and puts your content front and center on the screen is a smart place to start, and a fantastic way to augment your site.
While it is difficult to know where to start, there are many approaches you can take to getting this content produced. For instance, it may be your first instinct to dismiss yourself as an on-camera personality. But you, like many others, could use a different video model.
You could also employ anything from slideshows, to compilations, or history, as a way to showcase your knowledge in the space and expand your presence. Videos do not need to include you on screen for them to include valuable information that will rank in search.
Free video editing software and platforms like iMovie, Windows Movie Maker, and now Canva make it easy to get started.
A strong premise is to use your blog posts as scripts and then make engaging videos from them.
Or conversely, if you've already made videos, you can counter the process and create blog posts from them.
Things get interesting when you pair video with a website as a complement.
Speaking broadly, video is a great asset for people who own a site. When looking at your site from an SEO perspective – when people search in Google, your video will show for keywords that it's ranked in.
So get out there and begin your journey making video content — and let us help you do it!
Ezoic video in a nutshell
Publishers using Ezoic video have seen success in getting more traffic to their website and growing their ad revenue through hosting video directly on our platform.
Having your videos hosted and indexed in search engines is a major benefit you can only get from Ezoic. Once visitors are on your page, our AI ensures they get the best experience and increases the price of your ad inventory.
We'll have more exciting features to add to this platform soon, so get started now and stay tuned!
For more info drop us a comment, or visit the Ezoic video page.