Welcome to Publishing Pulse, your weekly source for industry updates in online publishing. Stay informed about the latest trends and breakthroughs in the ad ecosystem, content creation, SEO, and monetization. 
If you prefer to listen to industry news, you can tune in to The Publisher Lab Podcast. New episodes are released weekly on Thursday. 
Google's New Feature: A Game Changer for Publishers?
Google has incorporated a new section within its search results labeled "From publishers you follow." As of now, this feature isn't universally accessible and might still be under beta testing. 
Results in this new section appear to only generate from sources web users follow in Google News. To leverage this new addition,  publishers will need to prompt their visitors to follow them on news.google.com to receive timely updates, potentially disrupting affiliate marketing and ad revenue for publishers.
In a parallel development, Google has unveiled its Search Generative Experience (SGE) technology.
Powered by AI, SGE is designed to provide answers to on-page search queries. This innovation has sparked concerns among publishers, who anticipate that the integration of SGE could result in a sharp decline, ranging from 20% to 80%, in organic search traffic, according to Adweek. 
In light of these changes, publishers are strategizing to mitigate the forecasted decline in traffic. They are exploring avenues to establish direct connections with their readers, devising content that challenges AI imitation, and modifying their search authority to resonate with SGE. 
On this week's episode of The Publisher Lab Podcast, host Tyler Bishop shares what could be a silver lining for many publishers in light of this new change.
"If you make content that Google likes, they'll show it to your audience. What if you make content that your audience would love, but Google doesn't rank it? It sucks, and it's one of those things where it disconnects you from the one thing that potentially allows you to grow, which is making content that's on demand." Tyler says about the new feature, "and now you can benefit from the same thing that YouTubers have, which is developing subscribers. You can get the people that want to come to your site specifically." Listen to the full episode here.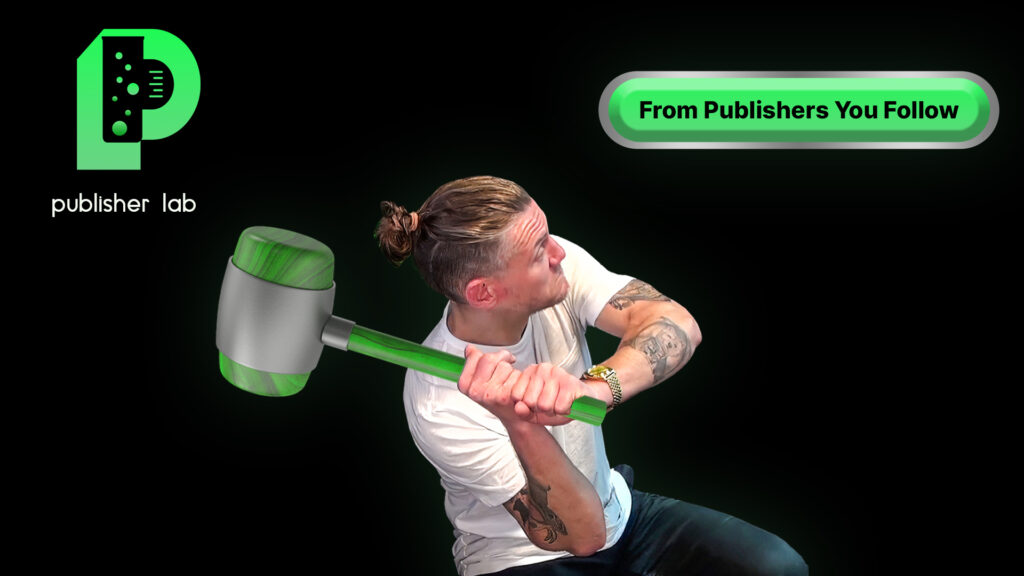 Generative AI Uptake Surpasses Smartphone Growth Rates
The rapid adoption of Generative AI technology has surpassed even the rate at which smartphones and tablets were embraced. Media companies are actively exploring and sharing their endeavors with AI, and platforms like ChatGPT have significantly influenced the business landscape. 
Since its introduction in November 2022, ChatGPT is on track to amass an impressive user base of 77.8 million within a span of two years, according to Emarketer reported by Search Engine Journal. One of the primary drivers behind this swift adoption is the ease of accessibility: users can leverage the technology without the need for additional hardware.
Meanwhile, there's a growing discourse on the legal aspects surrounding AI. The News/Media Alliance is at the forefront, championing the cause of equitable AI compensation. However, the U.S. has already started to see legal disputes related to AI, shedding light on the intricate challenges of balancing innovation and rights. 
That said, media enterprises hoping for imminent legal measures to shield their copyright interests might find their expectations unmet. The trajectory suggests that regulatory responses might not be as immediate as some hope.
Threads Daily Active Users Plummet 
Brands are confronting challenges with the social app "Threads" as it witnesses a dramatic drop in user engagement. According to Adweek, the application has experienced a nearly 80% reduction in its daily active users. This decline has led to growing concerns for businesses and marketers who invested resources and efforts into this platform. 
The diminishing user base suggests that people may be overwhelmed with the influx of social apps and are showing signs of digital fatigue. Brands are now reassessing their strategies and considering diversifying their presence across different platforms to reach their target audience effectively.
Our hosts on The Publisher Lab point out on this week's episode that this decline was predictable, as Instagram and Twitter serve different purposes for users.
Twitter (X) Makes Ad Revenue Sharing More Accessible to Creators
Twitter (now X)  has made changes to its eligibility criteria for its advertising revenue-sharing program, making it more accessible to a broader range of users. The platform has reduced the requirements, allowing more creators and publishers to benefit from the revenue-sharing model. 
This move aims to encourage more content creators to participate actively and earn from their content, promoting richer engagement on the platform. X's decision aligns with its broader strategy of incentivizing and retaining quality content creators.