Welcome to Publishing Pulse, your weekly source for industry updates in online publishing. Stay informed about the latest trends and breakthroughs in the ad ecosystem, content creation, SEO, AI technology, and monetization. 
If you prefer to listen to industry news, you can tune in to The Publisher Lab podcast. New episodes are released weekly on Thursday.
Google Helpful Content Update: How Was AI Content Impacted? 
AI-generated content is text produced by software, offering benefits in scalability and efficiency. While Google and third-party tools can detect this content using NLP algorithms, Google's primary concern is content quality, not the creation method. Its "helpful content update" values content tailored for specific audiences, showcasing expertise and addressing user intent.
Quality is paramount; Google doesn't automatically penalize AI-generated content but will penalize low-quality content. The C.R.A.F.T editing framework, emphasizing clarity, optimization, visuals, fact-checking, and trust-building, can enhance AI-produced content.
On this weeks episode of The Publisher Lab podcast, guest host Terrence Timmons brought up the possibility of an "arms race" between tools detecting AI-generated content and the continuous improvement of AI. He believes that as AI content becomes more helpful, it will eventually dominate content consumption. Zach Ashmun added that we are currently in a transformative period and wondered how future generations will perceive this time.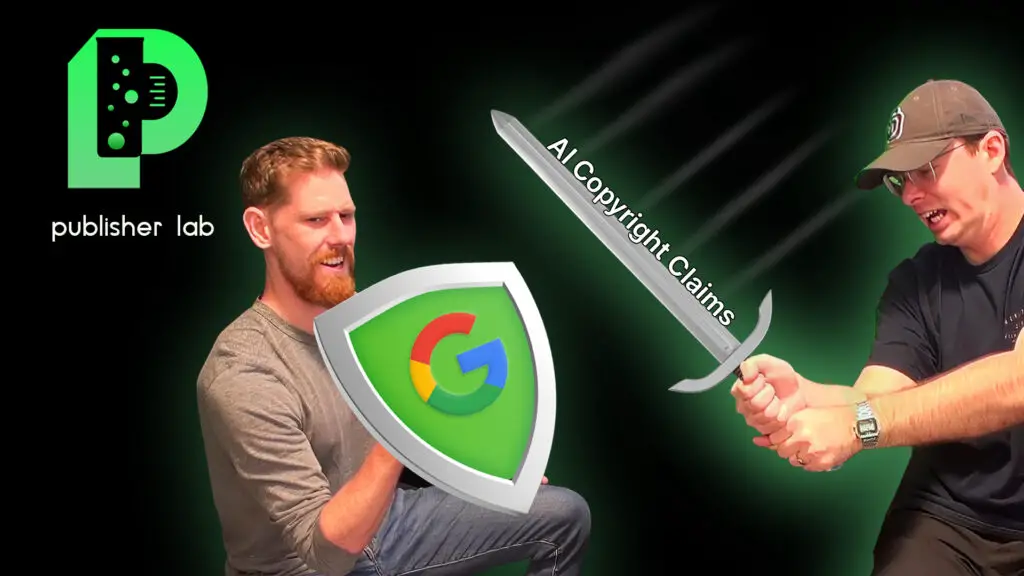 They discussed the potential for a more fluid and interconnected way of consuming content, where devices respond to user input and fulfill their needs.
As AI becomes more central to content creation, Google advocates for its ethical use combined with human oversight. The search giant's stance is clear: quality content, whether AI-generated or not, will be rewarded, but it must adhere to quality guidelines and avoid manipulative tactics like keyword stuffing. 
Google-Extended Policies Don't Prevent GenAI from Accessing Site Content
Google-Extended, a token in robots.txt, is designed to prevent Google from using site content in AI projects. However, it doesn't prevent AI-generated responses in the Search Generative Experience (SGE). Google views SGE as part of its search experience, suggesting using regular search directives to manage it.
This means that even if a website uses Google-Extended, their content can still appear in SGE. Blocking Googlebot entirely isn't a viable solution for most. Therefore, site owners should know that Google-Extended doesn't stop their content from being featured in SGE's AI-generated answers.
Our hosts on The Publisher Lab explained that publishers often have to compromise by allowing Google to crawl their sites to maintain traffic from search results. We also mentioned the trend of fewer clicks going to non-Google sites and the need for publishers to make their content unique and helpful in order to stand out from competitors.
Google Stands By GenAI Users Amidst Copyright Controversies
If accused of intellectual property violations, Google announced it will defend users of its generative artificial intelligence systems in Google Cloud and Workspace platforms.
This pledge aligns with similar commitments made by companies like Microsoft and Adobe.
Google's policy applies to software, including its Vertex AI development platform and Duet AI system, used in Google Workspace and Cloud programs.
The indemnity does not cover situations where users intentionally create or use generated output to infringe others' rights.
Lawsuits related to generative AI have primarily targeted companies owning the systems rather than individual end users.
AI defendants argue that using training data from the internet falls under fair use according to U.S. copyright law.
Historic Move: Graysky to Launch as Bluesky's First Third-Party App for Mobile
Graysky, a third-party app enhancing the Bluesky experience, is launching on iOS and Android. The app offers additional features like GIF support, inline translations, and the ability to view everyone's likes.
It stands out with its feeds-first layout and unique UI that takes users directly to their selected feed. While the iOS version is up for preorder, the Android version will be released soon. Initially free, Graysky plans to introduce a subscription for advanced features in the future.
Innovation in Content: Kobie Fuller Blends Blogging with Generative AI
Kobie Fuller of Upfront Ventures is pioneering an innovative approach to blogging, utilizing generative AI for enhanced interactivity.
Instead of traditional blog posts, Fuller's idea revolves around AI-powered conversational interfaces, transforming content into interactive micro-topics. His experimental website, Kobie.ai, uses GPT-4 and chatbots to simulate AI-driven micro-conversations based on blog posts.
The system structures conversations using an AI representation of the blog author and incorporates quizzes to aid content understanding. While still in its early stages, this method offers an alternative, engaging way to consume long-form content using AI.