Welcome to Publishing Pulse, your weekly source for industry updates in online publishing. Stay informed about the latest trends and breakthroughs in the ad ecosystem, content creation, SEO, AI technology, and monetization. 
If you prefer to listen to industry news, you can tune in to The Publisher Lab podcast. New episodes are released weekly on Thursday.
Google's October Broad Core Update 
Google's third significant core algorithm update of 2023 started in October and will take about two weeks to complete. This follows earlier updates in March and August 2023. While Google advises against drastic changes if rankings drop post-update, it encourages website owners to review provided questions and be aware of possible shifts in future updates. Alongside this core update, an October 2023 spam update is also rolling out, which could influence search rankings. Previous updates in 2023 and 2022, as well as other algorithm tweaks, can further affect search results.
In this weekend's episode of The Publisher Lab podcast, our hosts Manny and Tyler delved into the recent Google core update and its implications for digital publishing. They acknowledged the online panic that often ensues after Google updates but emphasized the importance of not hastily following advice without solid data.
Our advice to publishers is to focus on the content that their audience wants rather than solely relying on Google. It's crucial to look at the people your content is for, rather than just focusing on Google. I suggested looking at year-over-year data and using search console to analyze rankings and traffic.
 "Focus on the people that your content is for. I've never seen that lead someone astray," says Tyler. Blindly following advice from the internet without solid evidence can lead to self-inflicted harm, which can be more damaging to publishers than Google's updates themselves.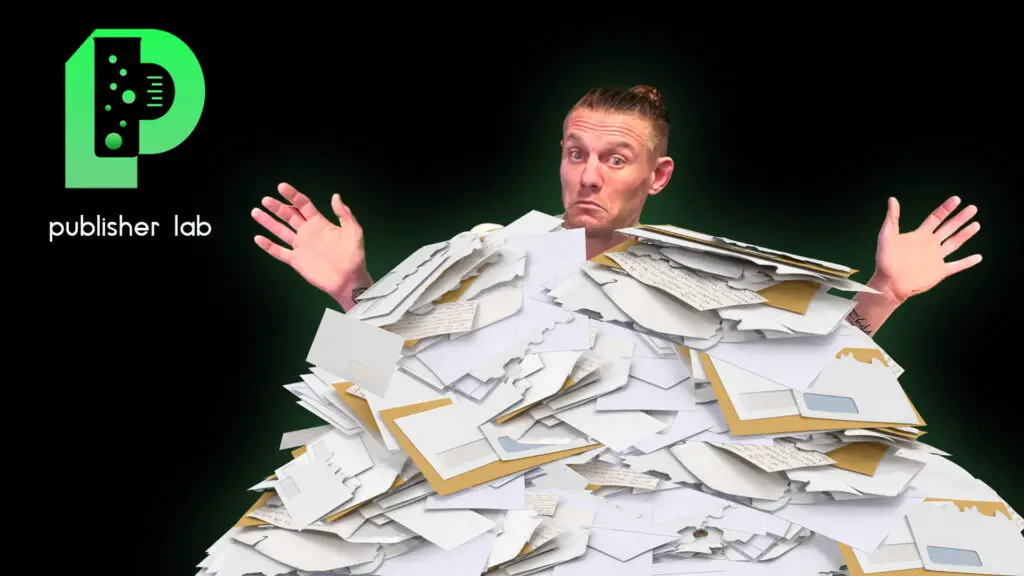 Gmail Plans to Crack Down on Spam 
In 2024, Google will introduce stricter measures for bulk email senders on Gmail to combat spam and unwanted emails. Senders dispatching over 5,000 emails daily to Gmail users will be mandated to authenticate their emails and offer a quick unsubscribe feature. 
Such emails must be authenticated as per best practices, and unsubscription requests should be processed within two days. Additionally, Google will set a definitive spam rate limit, potentially restricting inbox access for high spam culprits. These updates, aimed at enhancing Gmail's defense mechanisms, will be developed in collaboration with industry peers like Yahoo.  
"Despite the challenges in identifying and stopping AI bots that send out mass emails, I appreciate the effort to standardize email practices for more accountability and adherence to existing laws," says Tyler. However, he also expressed skepticism about Google's intentions, considering their dominance in the email market and reliance on advertising revenue. 
Google Denies Replacing User Queries for Profitable Ones
Wired recently claimed that Google tweaks search queries to boost profits, altering them without user consent to deliver different results. However, Google's Danny Sullivan and Ginny Marvin refuted these allegations. 
Sullivan stated on Twitter that the ad system doesn't affect organic search results, explaining that Google aims to understand better and match query intentions for relevant results. Marvin added that while advertisers can control where their ads appear based on keywords, this process doesn't influence organic search outcomes.
The Messenger Embraces AI to Boost Reporting Integrity
The Messenger, a news publisher, has partnered with AI company Seekr in a deal spanning several years and millions of dollars. This partnership will utilize Seekr's proprietary tool to help The Messenger's journalists reduce bias in their articles, marking an effort to provide non-partisan news. The tool, integrated into The Messenger's system, will rate stories on their political inclination and trustworthiness, with scores visible to readers. Although the collaboration aims to attract advertisers desiring a balanced audience, it does not address the broader challenge of brand safety that often impacts premium publisher content.
Cashing in on AI – Big Tech Falls Flat 
Tech giants like Microsoft, Google, and Adobe are investing in generative AI tools capable of producing content, such as memos and code. However, these tools are expensive to run due to high-end server and chip requirements. 
To offset these costs, companies are introducing pricier AI-backed software upgrades. While some firms opt for simpler in-house AI solutions to cut costs, users are unhappy about the high prices of generative AI. Although the current cost is high, companies anticipate a decrease in the future with technological advancements. The profitability remains uncertain, leading to cautious investment and exploration of different pricing strategies. Despite these challenges, the increasing valuations of AI companies indicate optimism in the industry's potential.
This week, Tyler introduced a new segment of The Publisher Lab podcast where he highlights innovative technologies, starting with a generative AI product called Pico Apps. We encourage publishers to consider making their content more interactive and valuable to their audience.