Welcome to Publishing Pulse, your weekly source for industry updates in online publishing. Stay informed about the latest trends and breakthroughs in the ad ecosystem, content creation, SEO, AI technology, and monetization. 

If you prefer to listen to industry news, you can tune in to The Publisher Lab Podcast. New episodes are released weekly on Thursday.
Bing vs. Google: The Ongoing Search Engine Showdown
Microsoft Bing has been striving to establish a firmer grip in the market, even with its latest AI enhancements. While Microsoft suggests they are carving out a niche from Google's vast market share, the prevalent data doesn't corroborate this stance. An interesting observation is the rise in Bing's AI chat feature. However, Google's AI  might indeed pose a formidable challenge, potentially overshadowing Bing.

For Bing to remain competitive, it is essential to channel efforts toward innovation and set itself apart from conventional search platforms. Publishers, on the other hand, should prime their content for platforms like ChatGPT and employ rich markup to ensure web optimization.
The Intricacies of AI Art and Copyright
The next topic under the lens was the intricate domain of AI-generated art and its copyright implications. There has been a lawsuit where artists claim that AI models, having been trained on their stock photos, ended up duplicating their content. This leads to pertinent questions: Is it feasible to copyright AI-created art? And what is the method through which AI reproduces content, considering its foundational training? According to a U.S. court in Washington D.C., "A work of art created by artificial intelligence without any human input cannot be copyrighted under U.S. law."
Safeguarding Content in the Digital Realm
In today's digital era, content creators face challenges in safeguarding intellectual property, especially with platforms like YouTube and Universal Music Group offering expansive visibility. YouTube, recognizing AI's transformative potential, has partnered with the music industry, including Universal Music Group, to foster innovation while ensuring artist protection. This collaboration birthed the "Music AI Incubator," inviting global artists to participate in AI experiments. Furthermore, rights management technologies, such as Content ID, have evolved to protect and monetize creators' work. Sir Lucian Grainge of Universal Music Group underscores the need for a balanced approach to AI in music. Platforms like YouTube are pivotal in harmonizing innovation and protection in this AI-driven landscape.
More Turmoil at X as Brands Pause Ad Spending 
Recent controversies and shifts at X (previously Twitter) are raising eyebrows among advertisers and users. Nineteen brands found their advertisements positioned alongside a verified pro-Nazi account, prompting significant backlash. Brands like NCTA and Gilead took immediate action, suspending their ad spend on X, despite the platform's promise of protecting brands from inappropriate content. CEO Linda Yaccarino is facing an uphill battle, with X's advertising revenue dropping by 50% and its ongoing struggle to fend off competitors. On the heels of this, the company's decision to introduce a paywall for XPro (earlier TweetDeck). has met with discontent, particularly among the marketing community. As X navigates these hurdles, its future direction and brand trust remain in the balance.
Instagram's New Ad Layout: A User Annoyance or Revenue Generator?
A change in Instagram's ad format has also sparked debates. The platform has now merged sponsored posts into a consolidated screen. Some critics argue that this move might deter users, potentially affecting metrics like click-through rates and overall advertiser returns. However, the real success gauge should be whether this alteration proves lucrative for Instagram, even if it compromises user experience to some extent.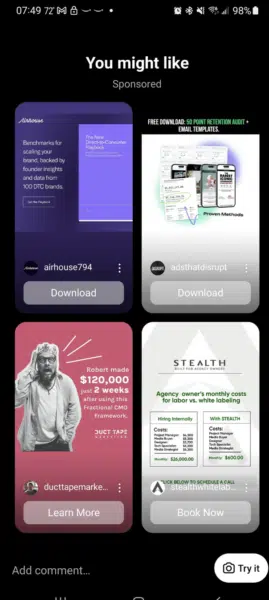 Conclusion
The publishing realm is witnessing a seismic shift, compelling industry players to recalibrate their strategies. From understanding AI's burgeoning role to navigating evolving copyright frameworks and ensuring robust content protection, being proactive is imperative. This article aims to furnish readers with an understanding of these dynamics. Stay connected for more insights into the publishing arena.

The insights shared in this article provide a glimpse into the evolving world of publishing, and readers are encouraged to stay tuned for more discussions on "The Publisher Lab" podcast. You can listen to this podcast anywhere you can find podcasts or watch it on YouTube.