Understanding the importance of Core Web Vitals is difficult. Knowing how to improve these scores is an even more daunting task.
The Core Web Vitals are a set of metrics related to speed, responsiveness, and visual stability, to help site owners measure user experience on the web. 
With Google's recent core web vitals update that rolled out earlier this month, we've seen sites' performance change in a number of ways.
The weight of user and page experience will be a contributing factor more than ever now in Google's search rankings. While this may seem discouraging, fear not as everyone will be in the same predicament. 
Today, we're detailing how two publishers with different circumstances and tenure with Ezoic were able to increase their core web vitals in different areas. We'll be showcasing what you would see in Leap from Ezoic.
How did they do?
Before the update, we had seen scores that needed improvement. To help out publishers, we've given Leap all the intuitiveness you would hope for and expect. It's filled with information, assistance, links, recommendations, and more, because we feel education is fundamental in this space.
We recorded scores in early May in preparation to see how people were affected by the update. Across the web, we've seen a mixed bag of results – perhaps slightly skewed by those with a louder voice expressing their displeasure with any losses in SEO or rankings. With that said, let's highlight those who performed better.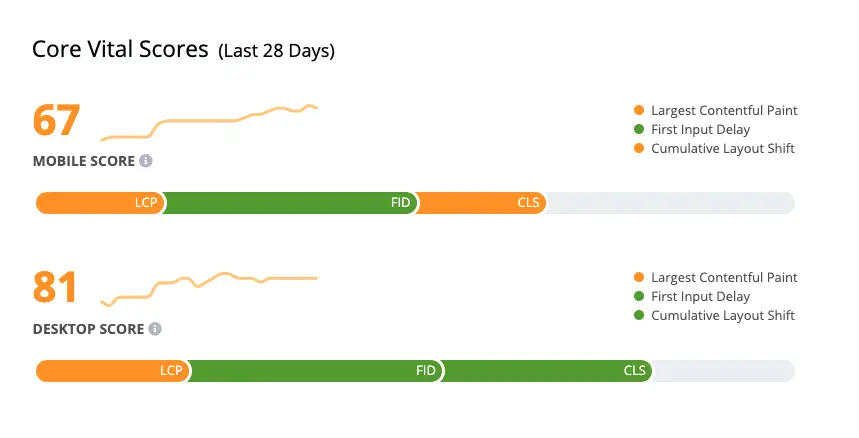 Above is the current score of a publisher who has been with Ezoic for almost 2 years.
In May, they had a mobile score of 57 and a desktop score of 72. More importantly, we helped get a Cumulative Layout Shift out of the red on mobile. On desktop, we improved their CLS from yellow to green.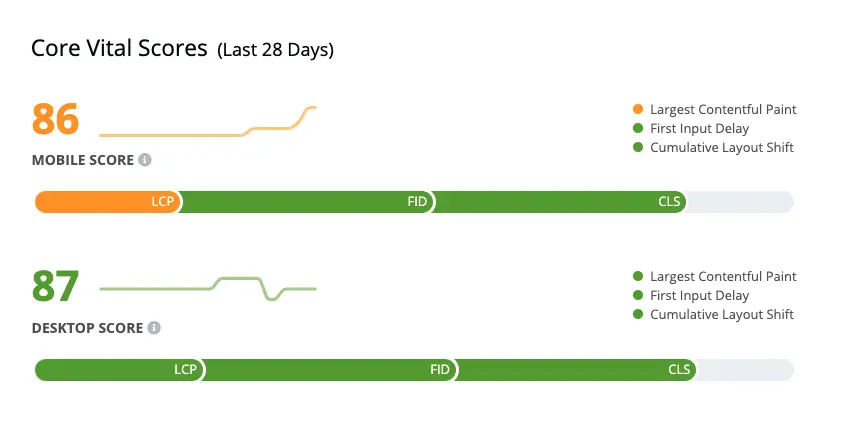 For the next site above, their previous scores were 79 for mobile and 84 for desktop. This particular publisher has only had their site live with Ezoic for less than 6 months and already having tremendous growth while updating best practices.
Why Leap is the best for site speed
With Leap, our free toolset, you can improve the performance of your website by finding the causes of decreased performance and providing automated solutions to many of the most common problems.
You can't improve what you can't measure. That's why Leap gives insights into all the Core Web Vitals with recommendations to improve your scores.

For example – you can fix your slow loading times from jQuery by turning on the Core jQuery Feature Preload. When everything is working to its best abilities, you'll see the "Optimized by Leap" Tag above.

Here's another recommendation that should be fixed immediately inside a Leap dashboard. A teal or "toxic" emblem signifying an issue.
A new feature being rolled out is that as publisher of any size, you'll be able to view field data as well as lab data if your site has no field data.
Additionally, you'll have access to the leaderboard consisting of other sites using Leap. In here you'll be able to see top performing sites and what Ezoic features, hosts, CMS, settings, and plugins they're using. With a click, you have the ability to adopt the settings of another user to see how your site performs.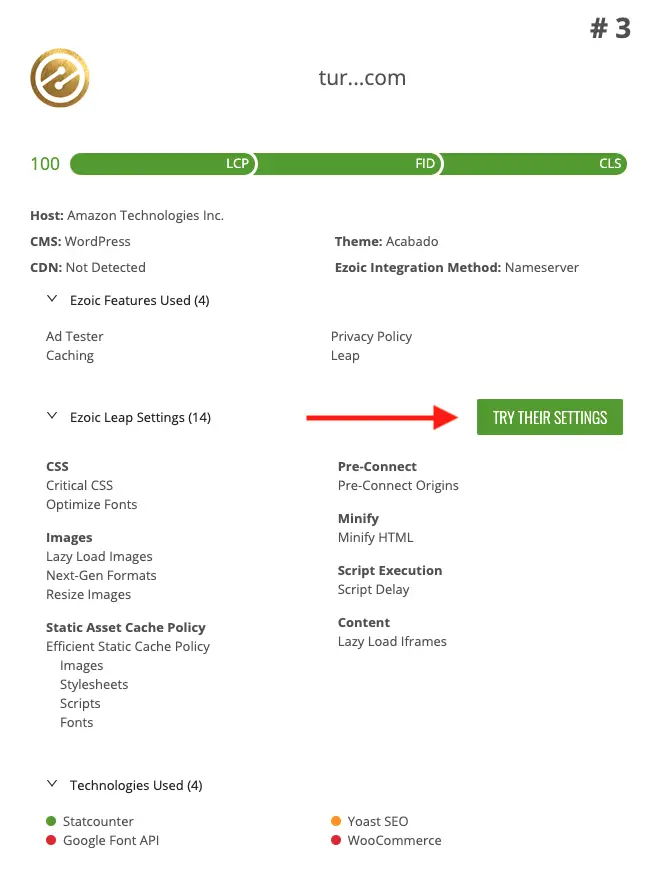 From here, you'll be able to understand which technologies are working on your site, and which could be replaced to enhance the speed.
Just as important, you'll see a "Settings History" drop-down in  "Optimization Settings" tab for an ease of understanding your site better and for debugging.
Leap was designed to provide publishers with information to be proactive in regards to any new web standards or Google update. Leap is currently being rolled out to all sites using monetization.
What's next?
We're moving the needle for being the only self-serve "Core Web Vital friendly" platform. 
There will soon be another Google update later this summer so we will keep you posted in regards to that as well. 
At the end of the day, no matter the updates that are released, the most impactful thing you can do for your website rankings are to make high quality content – this means that you're providing your visitors with great imagery, writing, and reasons to visit and click around your website. Returning visitors are critical so structure your content for the long-run and create "stickiness" for your audience.
Be sure to look into our WordPress Dev Hub for more tips and tricks on how to improve your site and optimize for Core Web Vitals.
We hope you enjoyed getting a look into how some of our publishers are already seeing success and improvements to their Core Web Vitals through Leap.