Digital publishers, content creators, and bloggers are always seeking to find the most effective way to monetize their content. Two of the most popular ways to accomplish this goal are by using programmatic ads or affiliate links. But how do programmatic ads and affiliate links stack up against each other? The truth is that whether one is better than the other is different for every publisher and depends on many different factors.
Today, I'll highlight why one may be better than the other for certain sites. I'll give some examples and share numbers from real sites and discuss how publishers can find the right combination that works for their site and audience.
If you want to watch the full video on the breakdown of programmatic ads and affiliate links, The Publisher Lab episode is below.
Blog updated 4/21/2020
What is the main difference between earning revenue through programmatic ads vs. affiliate links?
Programmatic ads: Publishers monetizing with programmatic ads earn based on CPMs (cost per mille), i.e. cost per thousand impressions. This is an impression-based system that pays by the number of impressions served to website visitors.
Affiliate links:  Publishers monetizing with affiliate links earn money when a visitor clicks on their affiliate link and makes a purchase.
While we've shown publishers that CPMs aren't the best metric to determine ad revenues, because of the effect on UX metrics on eCPM, the impression-based system has the benefit of not being reliant on clicks. But remember, the value of your ad inventory isn't just based on views, it's based on supply and demand and how much advertisers are willing to bid for the available ad spaces on a website.
Publishers who use Ezoic Ad Tester continuously optimize and account for thousands of different variables like the number of ads, visitor behavior metrics, time of day, ad size, and more. This increases the value of your ad inventory with the power of machine learning.
How does earning with programmatic ads work?
Programmatic advertising is the automated buying and selling of online advertising. Programmatic ad revenue is earned through a series of ad partners that serve display ads on the publisher's site.
Advertisers buy ad space (inventory) from large providers or networks like Google, Facebook, Oath, and many others and then those providers distribute those ads according to advertiser campaign parameters across participating publisher sites that fulfill campaign criteria.
A simple way to see this relationship is through Google.
Advertisers use Google Ad Manager (formerly AdWords) to target their audience with display ads.
Publishers can then use Google products like AdSense and the Google Ad Exchange to serve these ads to visitors on their sites in exchange for the revenue provided by the advertisers through Google.
Additionally, we have an in-depth article covering how all internet advertising works.
Is programmatic ad revenue in decline?
Ad rates recently have plummeted due to the Coronavirus' effect on ad demand. Advertisers have cut their budgets significantly, this has led to an increase in ad supply and a decrease in ad demand. The Ad Revenue Index has shown the lowest ad rates since 2016.
While some publishers have seen boosts in traffic, many have had to try new creative strategies to help weather the storm.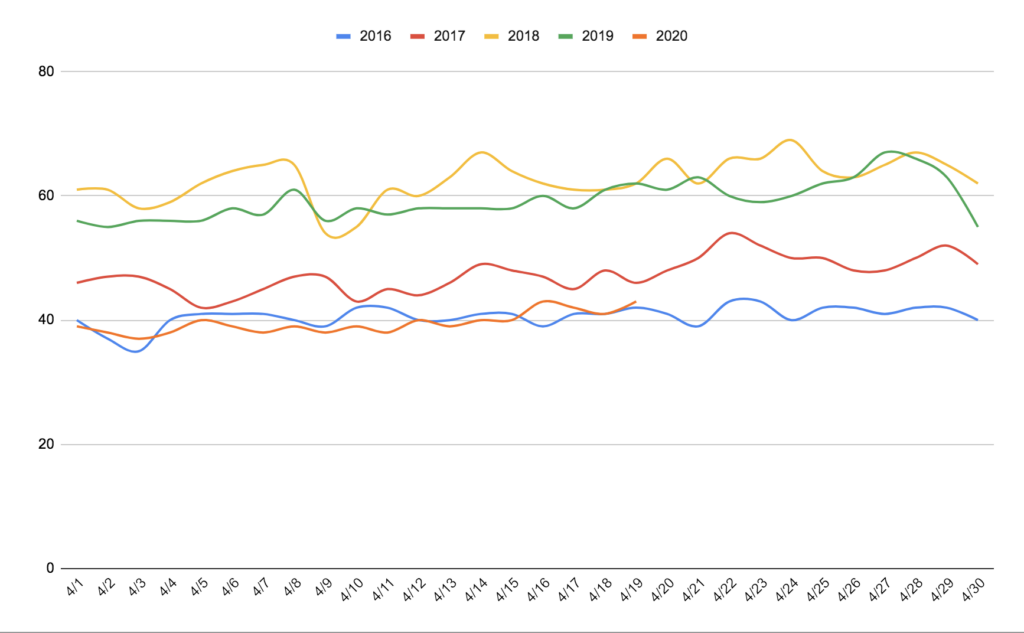 Q4 of 2018 set the record for an all-time high of ad rates on Black Friday, with an ad index score of 100. 2019 was a strong year for ad rates as well, but it was just slightly underperformed compared to 2018.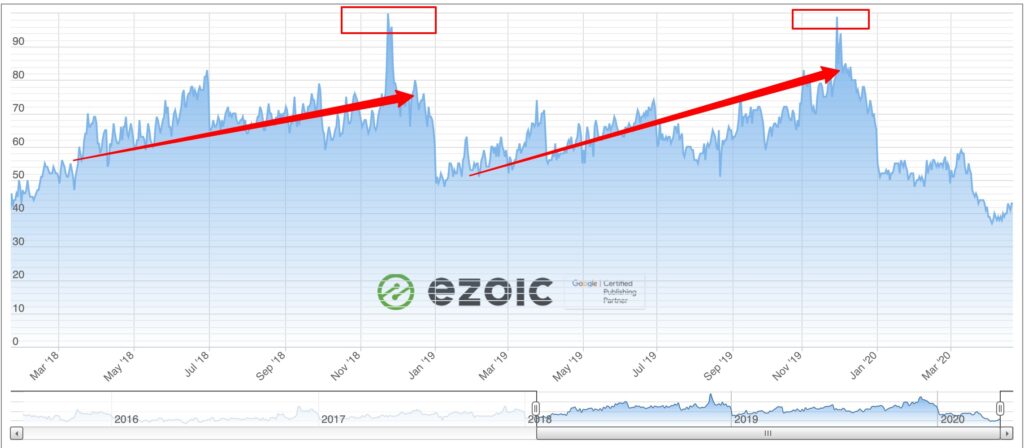 When normal life begins to start back up again, so should advertisers' budgets. This should increase ad demand and help increase publisher revenue after a record low start to Q2.
Additionally, advertisers have become increasingly reliant on partners, like Google, for their ad campaigns. This has meant a big rise in programmatic revenue, but a decline in direct ad revenue for publishers.
Many larger publishers, like The Guardian, have pulled away from direct ad sales and moved towards programmatic display revenue along with other forward-thinking options like subscriptions and sponsored content.
How does earning through affiliate links work?
Publishers earn affiliate revenue by referring their visitors to an affiliate's site and having them complete a specific outcome. Typically, this outcome is when the visitor buying a product.
There are a wide number of different affiliate revenue structures. Most are based on the publisher earning a set percentage of the total amount of revenue from the referred visitor's transactions.
How do publishers recieve payout for affiliate links?
Affiliates typically pay over certain time periods according to preset thresholds. However, there is a lot of variability in affiliate programs out there. Publishers earn revenue in an account until these specifications are met.
Amazon is a classic example of affiliate revenue in action.
Using the Amazon Affiliate program, a publisher can use links to products on Amazon.com on their website that they can then earn money from if referred visitors then purchase things from Amazon during that referral session.
Important: As of April 14th, 2020, Amazon slashed affiliate payout across many categories. This is likely due to unprecedented consumer demand, which caused Amazon to hire nearly 100,000 workers. The changes can be seen below.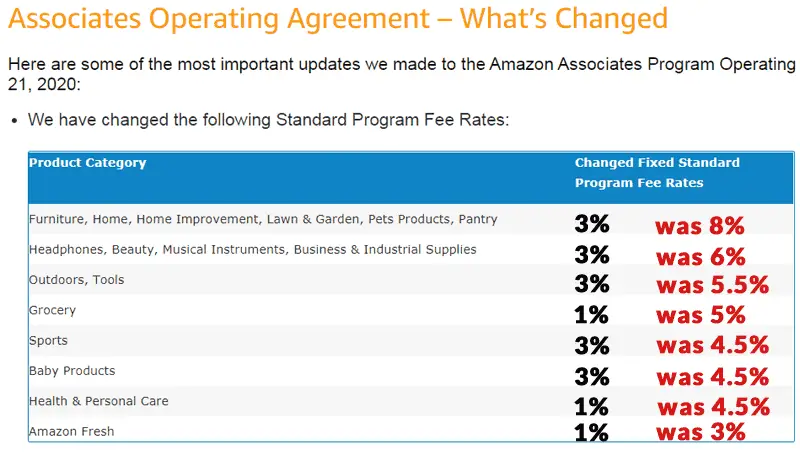 Not all categories have been affected by the changes, though. Below are the categories which haven't changed.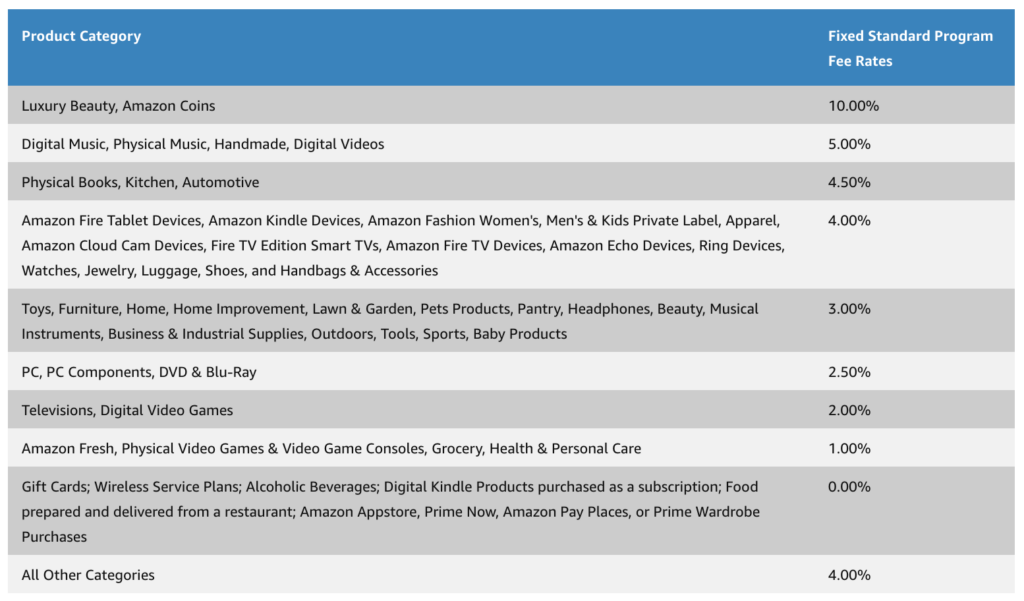 Outside of Amazon, there are a lot of different affiliate programs that have their own pros and cons. In fact, Ezoic has a referral program that allows publishers to earn revenue by referring publishers to the platform.
What affiliates offer the best revenue opportunities for publishers?
The best revenue opportunity for publishers depends on the site, audience, and niche.
EX #1: Lifestyle blog with 1 million page views per month earning $2,500 per month
This site's affiliate revenue comes from a custom food delivery company. They strategically put affiliate links on all of its food articles about dieting. They had tried other affiliates in that space with those same articles and only earned a fraction of that kind of revenue.

In this case, it is a mesh between a specific affiliate and the audience of this publisher.
Major affiliate link providers like Amazon, are typically the most popular, but often make more sense for some publishers than others.
EX #2: DIY home improvement website who uses affiliate links sparingly
This website saw very little revenue from them across the entire site. However, on one article, they feature a DIY project that requires an expensive tool only available through Amazon. This site uses Amazon Affiliate links only on this page now. They claim that the single link generates roughly $850 per month from only 13,000 article views. They monetize the rest of their site with display ads and sponsored content.
Ultimately, every site has a different audience. That audience's behavior dictates the success of affiliate links.
Lastly, when you can, be opportunistic.
EX #3: Outdoor blog with 350,000 page views per month discovers an affiliate opportunity
A large number of this site's visitors were clicking links to a hotel at a travel location they had reviewed. They reached out to the hotel and asked them if they'd be interested in setting up a referral program for any visitors that they sent to the site that booked a stay.

The venue quickly agreed and the blog and the location venue set up a referral program that has netted the blog approximately $12,000 to date.
Affiliate links deserve a little bit of scrutiny
Recently, a lot of sites using a large number of affiliate links noticed a decline in their search traffic as Google has updated their search algorithm throughout the year.
Research has suggested that part of this may be due to informational or reference sites advocating unbiased or factual information on pages but including affiliate links.
This data suggests Google may view sites representing themselves as an authority—only to then profit from a 3rd party relationship—counts as a strike against their credibility. This was a major factor in the Google Medic Update (for those that follow the world of SEO). Health, wellness, financial, and lifestyle websites were hurt the most in this update.
Additionally, we wrote a guide on how to add authority to your YMYL (Your Money, Your Life) topics instantly.
Do you have to choose between programmatic ads and affiliate links?
Clearly, the answer is no. Plenty of publishers use a combination of programmatic ads and affiliate links to grow their businesses.
There is one important thing to keep in mind. Your visitors.
Overmonetizing pages can become really annoying to visitors. This might create great RPMs, but really bad EPMVs (revenue per visitor); which results in lower monthly revenue. This is why RPM optimization is a terrible idea. Users leaving sessions earlier than predicted might cost publishers a fortune in potential revenue.
Every site must find the right balance between ad and affiliate link impression density and the value that all the parties on the page bring to the publisher.
But how do you find this balance? Through long-term multivariate testing
Ultimately, you need to see how ads are affecting the value of other programmatic ads and affiliate links long term. This is what Ezoic does automatically when it tests things like ad density and ad placements.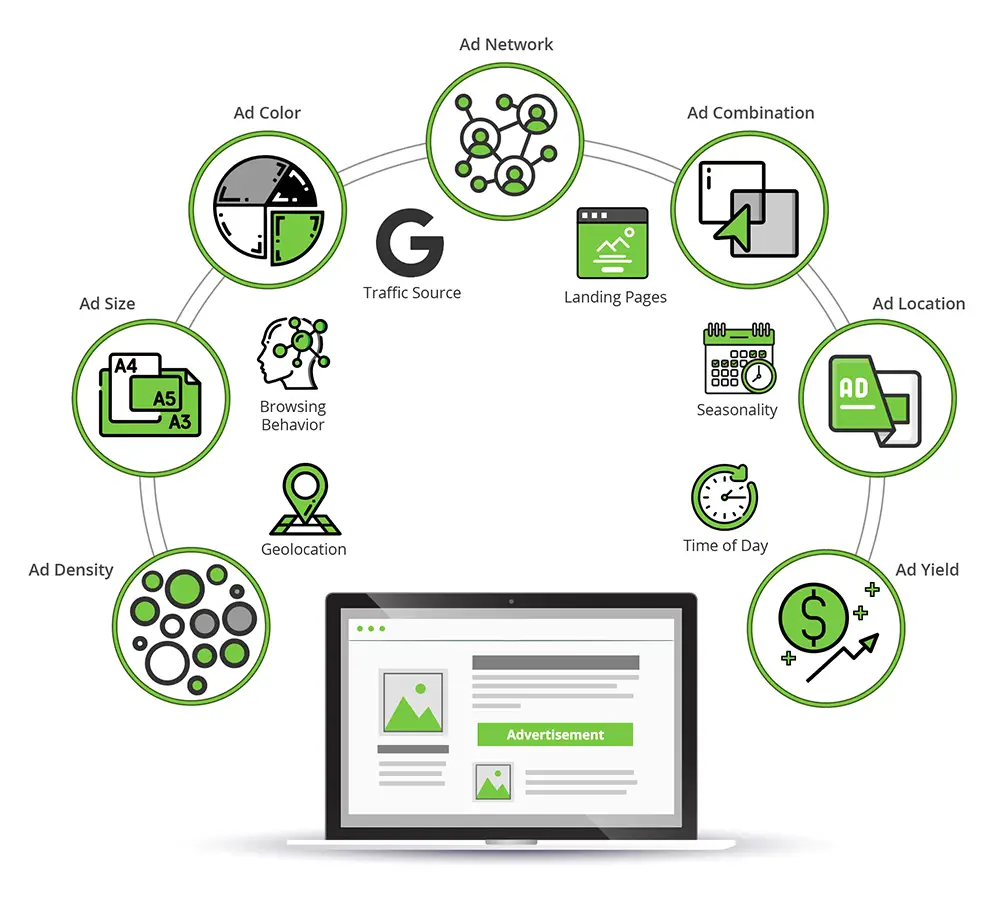 If you add a new affiliate like, will that affect page views per session, engagement rate, or display ad revenue? If the answer is that it negatively impacted all of those things, you have to ask if the affiliate revenue is worth it to your website.
Will programmatic ads or affiliate links work better for monetization?
It depends. That said, there's probably an opportunity for most publishers to make both forms of revenue work.
Affiliate link revenue is the harder of the two to optimize and get right.
The publishers earning the most from these affiliate relationships usually have one or two really good partners that mesh well with their website audiences.
Display ad revenue is simple for most publishers. It is easy to start and can become more complex depending on the publisher's desire to dedicate time to optimizing platforms, partnerships, and experiments. Additionally, we've seen some successful niche affiliate websites claim that adding programmatic ads helps balance out their monthly revenue.
Testing is key. It ensures that user experiences aren't affected and that revenue is optimized for the long-term.
Additional thoughts, ideas, or questions? Leave them below and I'll happily chime in.