At Ezoic, we believe in supporting our customers at every stage of their businesses. It can be challenging and confusing to navigate the world of publishing, so we wanted to improve the channels in which our publishers can seek help.

Our new support community will not only be closely monitored by Ezoic support, but will also allow publishers to get help more quickly by opening up questions to wider audiences. Now, when you log in to your Ezoic account, you are automatically logged in to community.ezoic.com, a forum-style community for support.
In short, we're moving to a faster, more inclusive community.
One of the big advantages for Ezoic publishers is the peace of mind knowing that the community is the only place you need to go for answers and support.
With single sign-on, you're immediately in the centralized community so there's no need to log in to third parties or communities. This support community will be your go-to place to get quick answers from the Ezoic support team.
Every aspect of Ezoic has its own separate page you can view so you can find the answers you need. Whether you're curious about monetization, video, SEO, site speed, analytics, or simply anything Ezoic, you'll quickly be able to go to dedicated pages for those topics. There's also a feedback section where you can leave suggestions so we can improve.
In addition to creating a new post or searching through the community, publishers will be able to sort by the top posts, newest and oldest posts along with having the ability to filter by questions that are solved or currently unsolved.
Another great ability publishers will have is to look back at old threads, where this previously was not an option.
The ultimate result will be better and faster answers for publishers through a centralized community support forum.
We're ecstatic to welcome everyone because in this style of community, Ezoic staff will passively get more info about the publishers posting and commenting immediately. This eliminates time spent back and forth between publishers and support staff and gets historical data, quicker to Ezoic.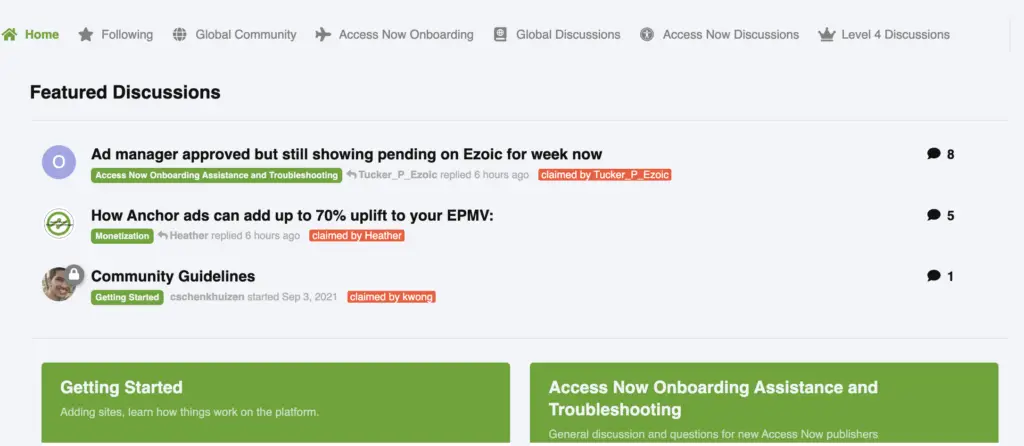 The Ezoic Community is growing and an excellent resource for publishers of any level, but if you're a publisher who's onboarding (in your first 90 days), be sure to visit the Access Now Onboarding Assistance and Troubleshooting portion of the community to understand the basics of Ezoic.
We are excited to welcome all publishers to this new community and see increased collaboration with our publishers across varying levels and niches.