[et_pb_section fb_built="1″ admin_label="section" _builder_version="3.22.3″][et_pb_row admin_label="row" _builder_version="3.22.3″ background_size="initial" background_position="top_left" background_repeat="repeat"][et_pb_column type="4_4″ _builder_version="3.0.47″][et_pb_text admin_label="Text" _builder_version="3.22.7″ header_font="Oswald Light||||||||" background_size="initial" background_position="top_left" background_repeat="repeat"]
Guest blog from Ezoic user, Sharon Gourlay of DigitalNomadWannabe.com
Optimize Your Existing Articles And Generate Higher Revenue
Want more advertising income? The easiest way to do this isn't actually by adding more content to your site, but optimizing what you already have. You may have a gold mine right under your nose and a few tweaks can make all the difference.
You've already invested the time in your current content, and making it even 10% better can have massive differences in your advertising revenues. One of the major benefits of this is that it's a whole lot less effort to improve on the content you have rather than creating new content. 
But what are the tweaks that you can make to improve advertising revenue? What articles are worth your time to optimize? How do you prioritize your time?
Letting SEO & ad revenue work together
In this article, I walk you through how to choose existing articles to optimize and then what to do to increase that all-important ad revenue.
I concentrate on using SEO to do this as SEO is the best way to increase your income passively – meaning no ongoing work to keep the income rolling in. This is my favorite way to optimize revenue as someone who wants to work less for more.
This article assumes you have some SEO knowledge and understand what keywords are.
In this article, you will learn:
   How to find the posts that are most worth your time to optimize
   How to optimize your articles for topics that advertisers spend the most on

   Other ways to improve the SEO of existing articles
How To Find The Posts That Are Most Worth Your Time To Optimize
Ezoic has some awesome tools and big data analytics reports. They're available to everyone, and you should make time in your schedule to review them because this data is simply gold.
That said, Ezoic also does a great job of highlighting why Landing Page revenue is actually much, much, more important than page RPMs or Page-level revenue. That's Why using Big Data Analytics and pulling this report is so important in learning which content is ACTUALLY making the most money.
Big Data Analytics > Content > Landing Pages > Sort By EPMV – Use Filters to Remove Low Pageview Articles
You'll find another one of the most useful Ezoic's most useful big data reports here.
This report shows you a whole heap of useful information, but for the purposes of finding the posts that will benefit the most by optimizing you want to focus on the ones that are already making money. This shows that advertisers already like them – so make them LOVE them by making them better.
Understanding what page revenue tell you about advertisers
What is RPM?  Page revenue per thousand impressions (RPM) is calculated by dividing your estimated earnings by the number of page views you received, then multiplying by 1000. 
Page RPM = (Estimated earnings / Number of page views) * 1000.
It's easy to find the pages on your site that have the higher RPMs by sorting the table on this page.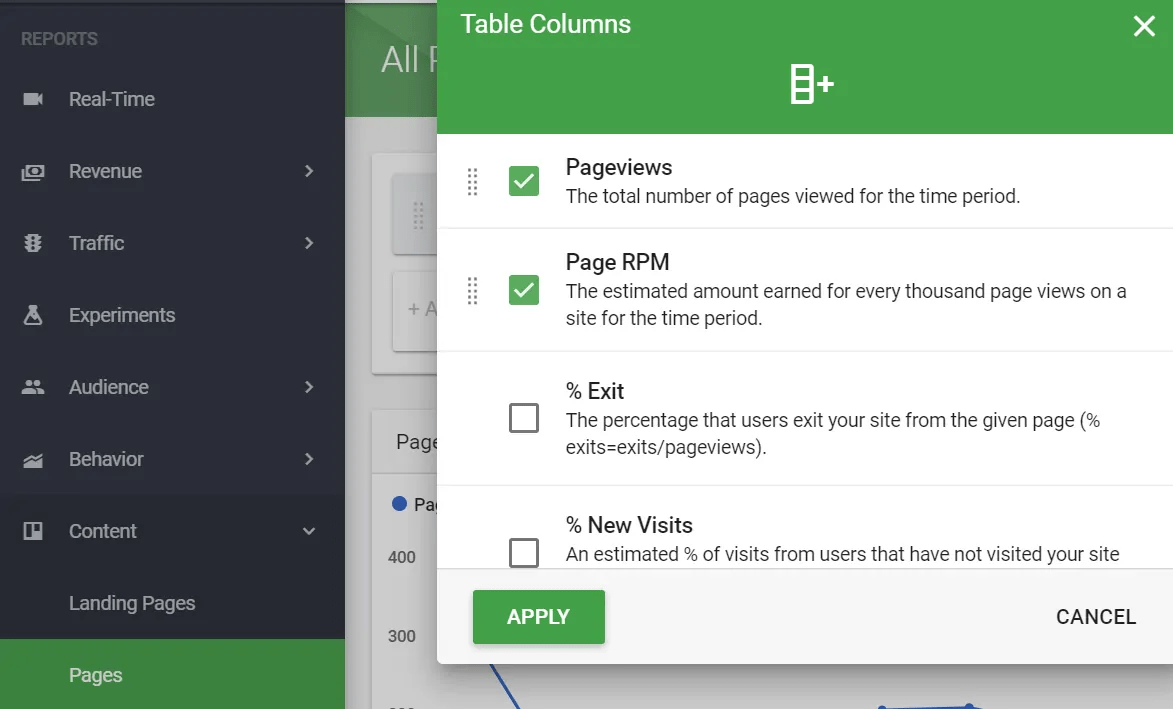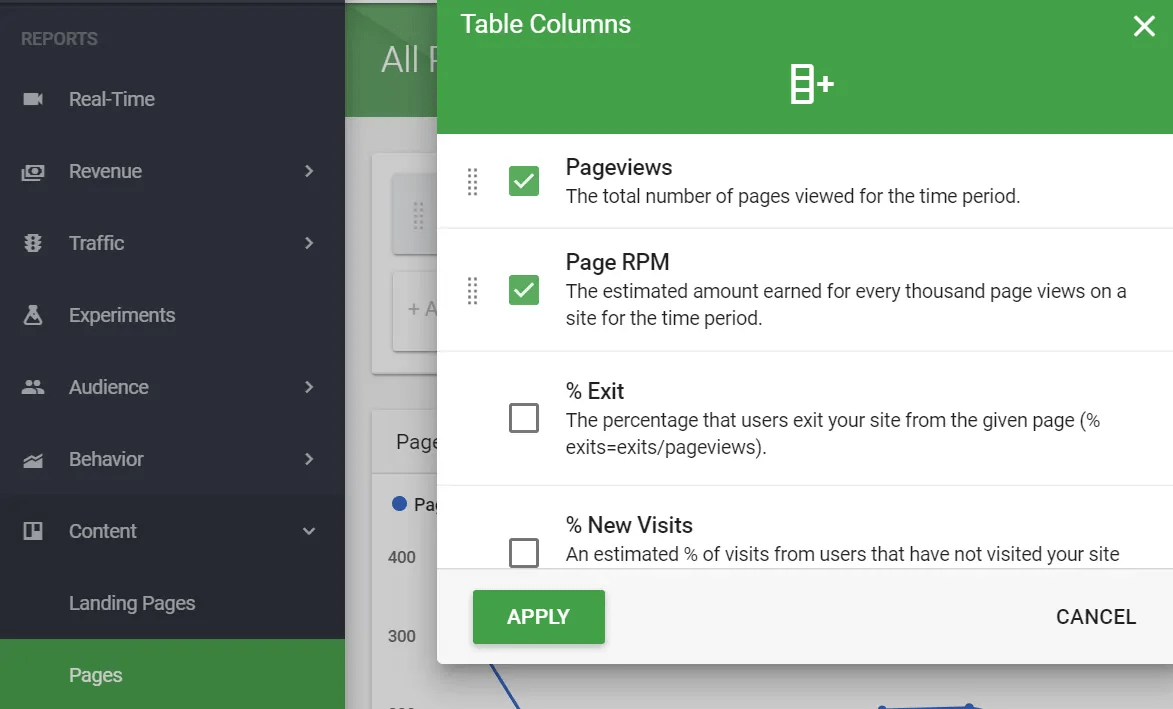 Some of your pages might have an extremely high Page RPM, but very few page views, so you'll want to filter out the very small page views. Just click to add filters and put in a number that works for you.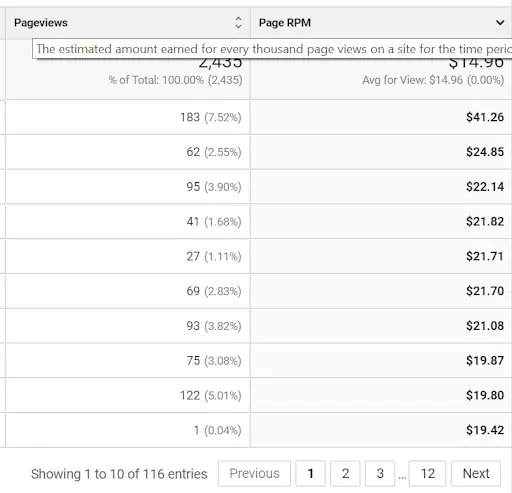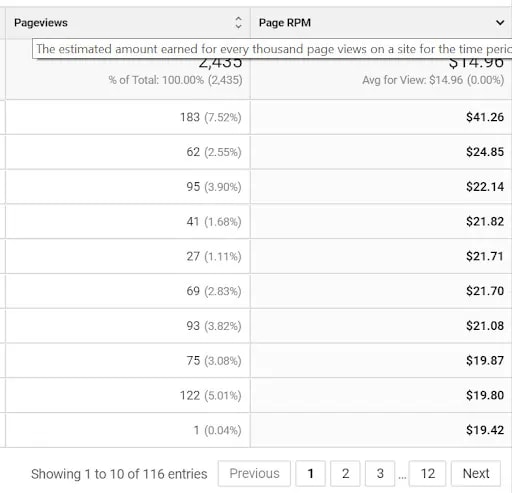 What you're looking for is a combination of the following
 

The higher the page RPMs the better (Ezoic recommends Landing Page EPMV over Page RPM as an optimization metric)

 

A good number of page views –over 50 for the last week.
Compare Page RPMs Over Previous Time Periods.
It's also worth taking a look at how your Page RPM compares to a previous time period.  Depending on how long you have been using Ezoic, this could be a month, or it could be the same period last year. Obviously, there will be some variation for posts that are seasonal, but this is also a good measure for you to check how your future optimizing is working.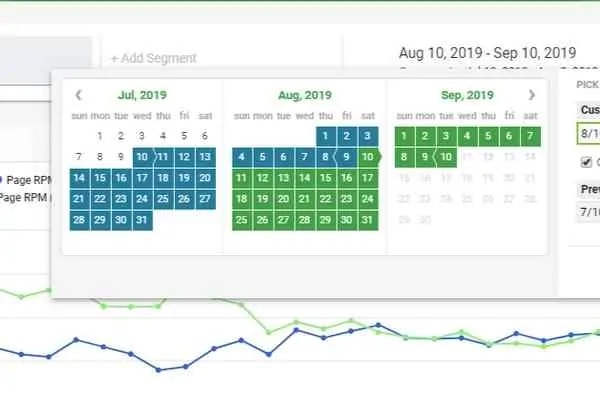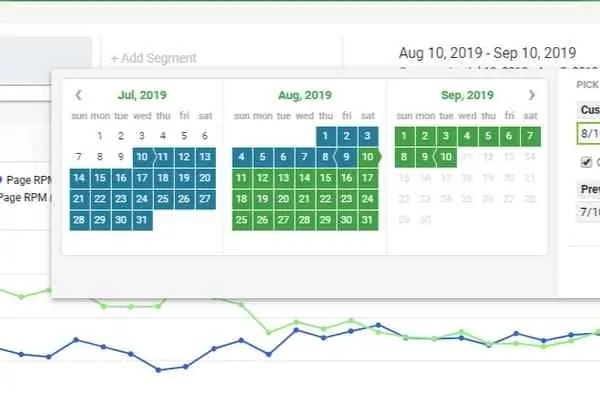 Now you should be well on the way to making a list of posts to optimize for ad revenue and a priority in which to work on them.
Ezoic Note: This strategy may tell you which pages advertisers may be bidding on the most, but landing page EPMV is considered a better strategy in most cases in terms of what content is the most worthwhile to optimize
Review Other Articles That Rank For Your Main Keyword
While you are looking to add additional high RPM articles, it's worth spending a short period of time looking at other sites that rank for the main keyword in your article. You can do this by searching in Google yourself for your main keyword and looking at the articles that come up on page one.
You're looking to see if your competitors have additional content, sections or guidance that you could add to your post to add value.
Other Ways To Improve The SEO Of Existing Articles
While adding to and improving the content of your articles that are performing well is the primary way in which you can increase your advertising revenue for a post there are a number of other actions that you can also take.
Use Google Search Console To Add More Keywords
This is my go-to tip for improving the SEO of a post: Google Search Console (GSC) provides most of the keywords where your site appears in the search results. The Google algorithms are so intelligent that they can often figure out that your post on say "the best juicer" is also relevant content for "healthy food choices." 
And so, your post may be ranking for "healthy food choices," even though that keyword doesn't appear in your post.
If you then go add these keywords to your post that don't already appear but you are ranking for, you often start to rank a lot higher for these keywords. It's incredibly powerful.
To do this in GSC, take the following steps:
 

Filter GSC so that you are seeing data for the post you wish to optimize.

 

If your post is seasonal change the time period to encompass when it is most popular.

 

In the table at the bottom of the page download all the keywords that this post is ranking for.

 

Now check to see which of these keywords are in your post.

 

For the ones that are not, but that both make sense to include and high impressions,  add them to your post.

 

You may have to add additional sections, or simply reword.

 

Be sure not to remove keywords that you ARE ranking for.
Make Your Post More In-depth
Take a good critical look at your post and ask yourself what you can do to make it more comprehensive. Reviewing the keywords that you have downloaded will help with this. Are there some on an area that relates to the topic of your article, but that you don't cover at all? You could add it.
You can also use Google incognito mode to scroll and find "People also ask" and consider adding these questions to your post and answering them.


Critically Review your Post
Is your post easy to read?  Is it easy to find the content?  Do the headlines make sense? Have you thoroughly proofread it?  
If you are not using a table of contents and your post is long, consider adding one. Make sure your paragraphs are short and contain a single premise, if they're long and muddled, then split them up. If you have an international audience simplify your language. 
Check that your text is easy to read. If you include images in your post, make sure they are relevant and that there is an appropriate number of them. 40 photos loaded at the end of a post are most likely not going to help your SEO or your advertising revenues no matter how gorgeous they are.
Your primary aim with this point is to remove the need for people to click away from your post because it is not meeting their needs.
Revise Your SEO Title And Meta Description
Finally, now that you've stopped people from clicking away from your post, you want to try and maximize the number of people who DO click onto your post.  There are two simple ways in which you can do this:
     

Review your SEO Title – This is the title that Google displays in the search results. Try rewriting it from the perspective of the person searching. Make it punchy. Informative and obvious. Random, in-jokes for an evergreen post don't help with click-through rates. 

     

Review your meta description – each of your posts has a meta description that gives you 155-160 characters to promote your post. This is your advertising jingle for your post. It has to describe what your post is about while encouraging searchers to click through and read more. It needs to be descriptive, informative and actionable.
Final Words
The quickest and easiest way by far to increase your advertising-income is to focus on your existing content on your website. By concentrating on existing high-earning posts and making them better, you will maximize the use of your time and efforts.
In most cases, this is not a huge effort. It is certainly more time-effective than creating new content. With a few simple tweaks, which I've described here, you really can make a big impact and increase advertising revenues from your site.
[/et_pb_text][/et_pb_column][/et_pb_row][/et_pb_section]