This is a guest blog written by popular niche blogging expert, Spencer Haws.
The Different Ways To Monetize A Niche Site
Monetizing your website is the name of the game. You can have unlimited traffic, a huge email list, and millions of social shares. But if you don't have a way to make money, then you won't have much to show for your massive online following.
I like to plan my site's monetization from the beginning, but you can monetize your site after you've already started. I'll show you how to do it both ways.
Easiest Ways To Monetize A Niche Site
There are tons of ways to monetize your niche site. But I think the easiest ones are:
Be an affiliate

Run display ads
We'll discuss these below and then I'll mention some more advanced strategies.
Monetizing With Affiliate Offers
I think that affiliate sales are one of the easiest ways to generate income for new sites. There are a few reasons that I think this:
You can target buyer intent keywords with high conversion rates

You don't have to deal with customer service 

You can easily set up multiple streams of income

You can use affiliate marketing to springboard to new opportunities later
Let's talk about these:
First, I like the keyword opportunities in affiliate marketing. Think of it like this: when someone searches "kitchen design ideas," they're looking for information. They probably aren't looking to buy anything right now.
But when someone searches for "best kitchen knife set", that person has a credit card in hand. When someone searches a keyword and is ready to buy, we say that it's a keyword with high buyer intent.
Affiliate marketing allows us to capture buyer intent keywords. These keywords often have a higher than normal earnings per thousand visitors (EPMV) because visitors want to spend money.
And when they do, you get a commission.
I also like affiliate marketing because you don't have to worry about the product yourself. You don't handle customer information, deal with shipping, or have to worry about taking care of returns, problems, questions, etc. You just recommend the product and you're done.
Many people tend to deal with one affiliate program (Amazon) and miss out on one of the great strengths of affiliate marketing: tons of income streams! Earning from multiple sources can take a bit more effort since you'll have to apply to more programs. But, the payoff can be more than worth it.
Security is the greatest benefit of diversifying your affiliate income. Niche Pursuits is my main website and earns from multiple affiliate programs. Each of my top-earning affiliate programs tends to contribute between 5% and 10% to my overall earnings each month.
This means that I don't go to bed nervous that Amazon will cut off the flow tomorrow. If for some reason one of my top earners cuts me off, you won't see me working the McDonald's drive-thru to put food on the table.
Earning from multiple sources helps you stay secure and is pretty easy to do with affiliate marketing.
I also like that affiliate income allows you to "spring" to other opportunities later on down the road. Once your site is big, it's easy to see what products you're selling best. If you want, you can start selling your own versions of those best-selling products and use your website to drive traffic.
How To Get Started Affiliate Marketing
How you start affiliate marketing will depend on your niche. If you're in the niche of the physical product, the Amazon Associates program is a popular choice. They offer a wide range of products in a ton of different niches. People complain about the commission rate, but I've found that it's competitive or better than many other programs.
Clickbank might have some interesting options if your niche trends more toward info products. They have tons of programs in the health niche, but there are other opportunities there as well.
For other affiliate programs, I recommend searching "[niche or keyword] affiliate programs". If I look up "dog training affiliate programs" on Google, I get this: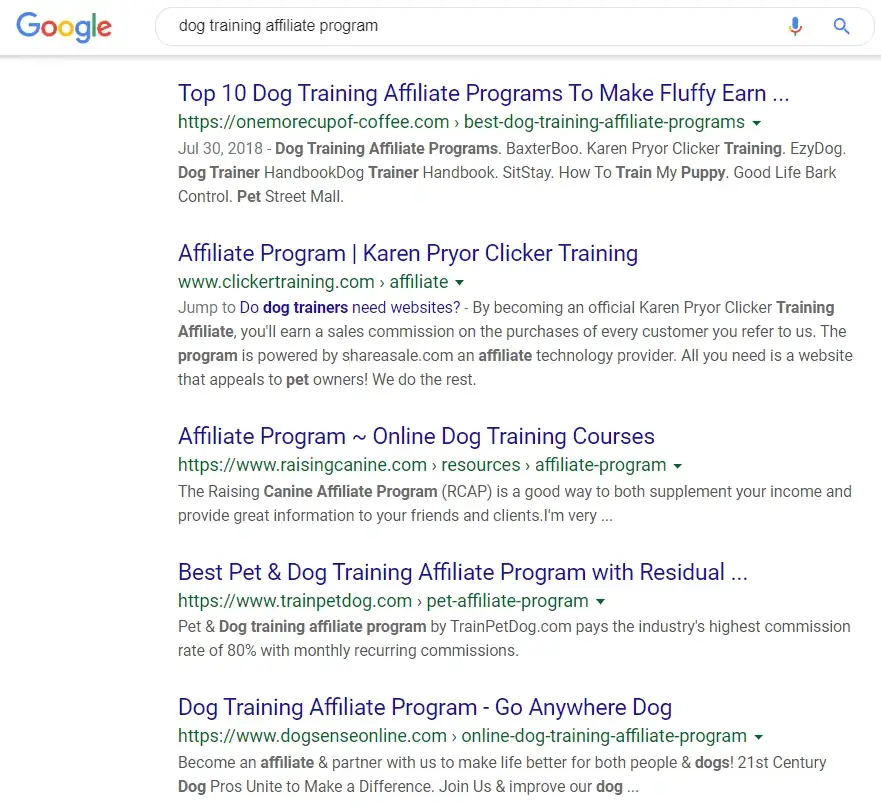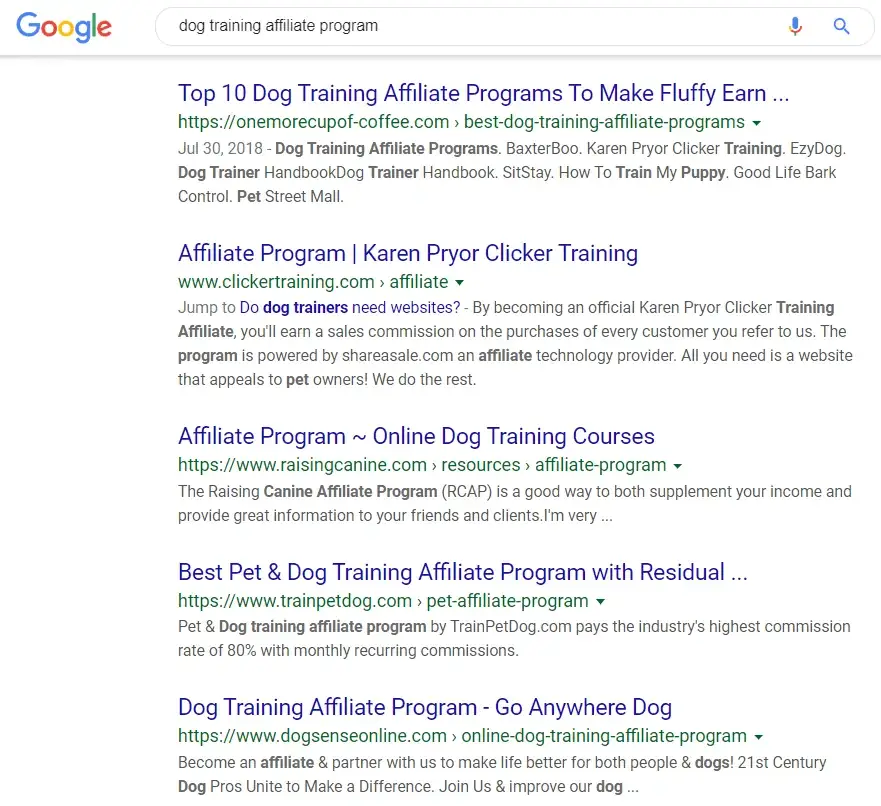 Tons of options there! So if you aren't sure, just search your niche or keyword and then "affiliate programs". People want you to be their affiliate, so there are almost always opportunities for you to find.
Monetizing With Display Ads
Another easy way to monetize your niche website is to run display ads. Find any large, well-branded website; you will almost always find them running display ads. I think that the modern website user is used to ads and expects them, so don't be afraid to put ads up.
There are several benefits to running ads:
You can monetize every page of your site

You can monetize every visitor to your site

Ad management companies allow you to have a higher EPMV than ever before
Ads have a strength that affiliate sales can't match: you can monetize every page of your site with more-or-less equal success. Even your post on kitchen design ideas can bring you an income with ads on the page.
Ads often return less EPMV than affiliate pages do. But the benefit here is that all of your pages can run ads. Your ad income can win over your affiliate income by sheer brute force since it can show up on your affiliate and non-affiliate content.
Another thing I like about ads is that it can monetize every visitor since companies selling ad space are pretty smart. Programs like Google Adsense show us ads based on our interests. This increases the likelihood that your viewers will click on an ad and that you'll get a little slice of that pie.
This is much more liberating than affiliate marketing where your main income is from people who are already looking to buy. But anyone can click an ad.
The final strength of ads is newer publishing technology platforms, like Ezoic, help you get higher earnings per thousand visitors (EPMV) than ever before. It used to be that you had to set your ad layouts yourself and test what worked. It was time consuming, annoying, and no one ever did a whole lot of testing.
Now, Ezoic allows you to run a continual split test on your ads. They find out where the most effective spots for ads are located on your page. These companies maximize your earnings and user metrics to provide a great experience for you and your viewers.
I used to be happy with a few dollars EPMV when I just used Adsense. Now that I have Ezoic on my site OwnTheYard.com, I've come to expect a little more from my ads: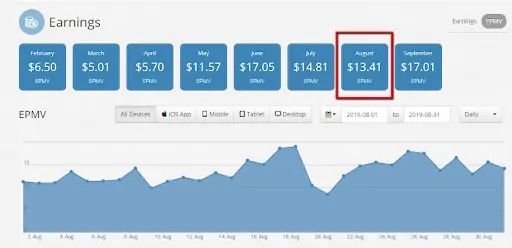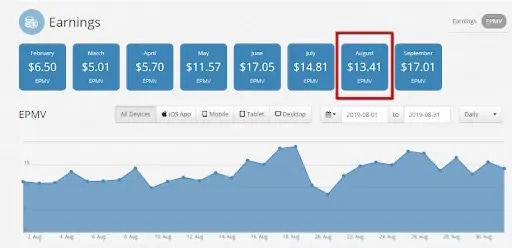 You can see that Ezoic took a few months to ramp up. But since May, my lowest EPMV was in August at $13.41. So, for every thousand visitors, I earned $13.41. In September this rose again to over $17.
Those numbers blow away what I used to earn with Google Adsense on my own. This leads to my last and favorite perk of running ads on your site: ads are now becoming awesome due technologies, like Ezoic. Earnings are rising are making it possible to earn a living from advertising on your site.
How To Get Starting Running Ads
Ads are a viable way to earn, but I don't recommend that you create a new site and toss ads up on day one. For starters, it will be hard to find an ad network (like Adsense) who will accept your baby site, and unfortunately,  you won't earn anything. I meant it when I said that I used to earn a couple of dollars per thousand visitors when it was just me and Adsense. If you're getting less than 10k visitors per month, I recommend that you hold off on ads. It's just not worth the effort for the pennies of earnings that you'll get.
I suggest that you wait until your site is getting at least 10k visitors per month. Once you're hitting that target, you can apply to an ad technology company like Ezoic. Your ads will be run for you, and they also have the tools to speed up your site and improve user metrics, so it's a win on all fronts.
Advanced Ways To Monetize A Niche Site
Now let's talk about some more advanced ways to monetize your site. Not everyone can do these so I won't spend a ton of time here. But there are two strategies that I think work well and can be used on most sites:
Start creating your own products based off of best-selling affiliate offers

Use email marketing to run promotions and send people back to your content
Start Creating Your Own Products
Any site can create a product and start selling it, but I like to create products that I know my audience wants. An easy way to do this is to find out which of your affiliate offers are selling the best and then create your own competitor product.
Let's say you have a post about the best kitchen knives that does very well. It gets a lot of traffic and you can tell from your affiliate reports that you drive a lot of sales to your number one recommended knife.
This tactic would say that you could create your own awesome kitchen knife and recommend it as number one on your post. It's a neat idea because you know there's an interest and you know that your post is already getting traffic. The products you recommend are already selling well, so why not recommend your own product?
Most people do this through Amazon FBA, but there's nothing to stop you from selling your own product on your site as well.
Email Marketing As A Monetization
There are a few ways to make money from email marketing. The most common way is to use email marketing to send viewers to the content you want them to see. You can send announcements about your affiliate pages, links to your high-converting how-to guides, etc.
But another way to make money through email marketing is to sell ad space. You can mention sponsored posts or run an email blast about a product. I've had decent success with these.
The trick with emails is that you want to build a relationship with your reader. You want them to see an email from you and say "Oh hey, that's Spencer [or whatever your name is]. I better open that!"
You build that relationship by helping your reader get the things they want. Free things are almost always a great relationship builder so when you feature your affiliate posts or recommend a product, your reader trusts you.
Monetizing Your Site
So now you have a few ways that you can monetize a niche site. If I had to choose the easiest possible way you could get started, I would say to begin with Amazon Associates. Amazon is very beginner-friendly and there are a ton of products that you can recommend. The payouts are pretty competitive, it's easy to get links, and there are several different plugins you can use to help boost your earnings.
Once your site is getting some traffic, I'd recommend applying for an ad technology company like Ezoic. This helps to diversify your income and monetize your informational pages that don't have affiliate offers. As you continue to grow, consider monetizing in new ways. Apply to new affiliate programs, use emails to send users back to your most valuable pages, and consider creating your own products
You can't do it overnight, but with a consistent effort, you can get there eventually.