As a digital publisher, you are always looking for ways to improve your website's performance and increase your revenue. This is where Ezoic's Levels dashboard comes in – it was created to help publishers like you reach your digital publishing goals faster. And now, there are two new additions to the Levels dashboard that will help you even more.
The first addition is the News Feed. This feature is designed to keep you up-to-date with all the latest news and information from Ezoic in a more interactive and modern way. The News Feed includes a mixture of blog content, direct messages, Ezoic news, and videos from multiple teams who have updates to share with you. 
Each message is color-coded to differentiate who the messages are coming from. 
Purple shows all of your Levels-specific accomplishments
Blue will be all of your direct messages from your PSM or representative
Green categorizes a message from Ezoic
Light Green includes blogs, product marketing updates, and general announcements.
There are additional functionalities including liking messages, bookmarking to save for later, and social media sharing.
The News Feed is a great way to get information from Ezoic but in a more familiar and interactive format. It's easier to centralize news and information, and you won't miss out on any updates. This feature is available for publishers who have access to Levels, therefore, U.S.-based publishers Level 1 to VIP. To access your News Feed, simply hover over the Levels tile on your home dashboard to select "Levels Dashboard" which will open your My Levels page to see your News Feed.
.
The second addition is Custom Milestones. This feature allows you to set up actionable items to help improve your website's performance and increase your revenue. Custom Milestones are revenue-focused options that are geared to help boost overall revenue and general site performance.
Sometimes it can be daunting to know where to start or what to prioritize. By incorporating Custom Milestones into your strategy, you can hold yourself accountable for your goals and track your progress along the way. When you reach a milestone, you'll receive a notification in your Levels dashboard on your Homepage where you can click to view the completed milestone.
Some good milestones to include might be Average EPMV, Overall Revenue, Site Visits or Video Plays.
Here is a sneak peek of some of the other goals you can select from when creating a new milestone: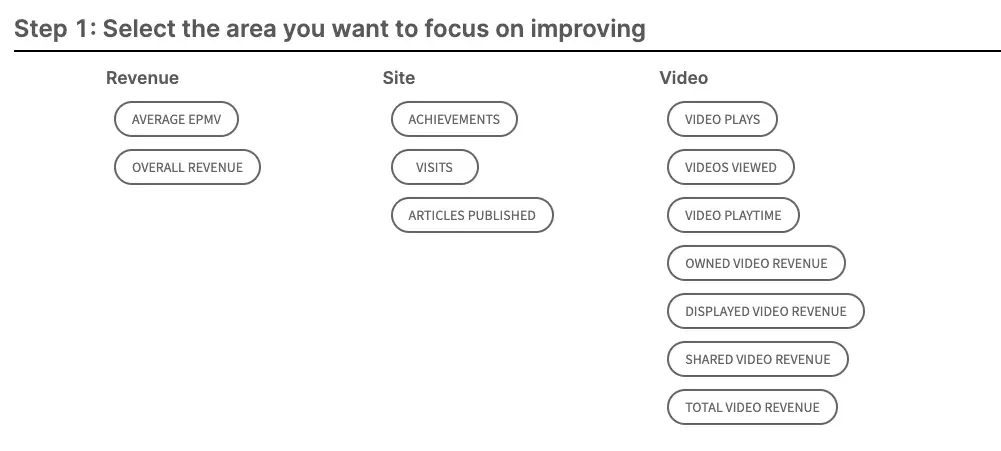 When selecting a milestone, it's important to use smart goal setting techniques. This means making sure your goal is Specific, Measurable, Achievable, Relevant, and Time-bound.
How these Levels updates will help you achieve your goals
We're really excited about how these two new features in your Ezoic Level's dashboard can help you achieve your digital publishing goals faster. At the end of the day, being able to have access to the most current updates in the industry and help setting goals is something that can truly set you apart from your competition.
The News Feed helps you stay connected with Ezoic, be engaged with content that interests you, and strengthen your communication with your PSM and representatives that are here to help you succeed.
Custom Milestones allow you to identify areas of focus to improve, set desired outcomes based on where you are now and where you want to be, and track your progress as you continue to grow your site.. These features are just the latest in a series of updates that Ezoic is constantly making to meet the needs of growing publishers.