What is Patreon?
Patreon is a platform where your most passionate fans support your creative work via a monthly membership. There are over 200,000 content creators on Patreon and that number is growing every day.
With this model, Patreon allows fans to become active participants in the work they love seeing you create. In return for the monthly membership fee, you give them exclusive content, community, and insights into your creative process.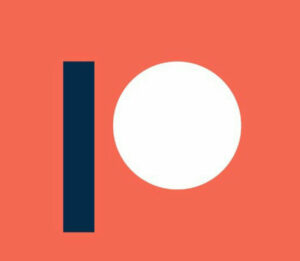 Should you start a Patreon?
While I wouldn't advocate for every (or even most) publishers to start a Patreon, this article simply is a guide to explain what Patreon is and ideas of how you can build out your membership tiers.
You might start a Patreon if you want an additional, recurring stream of income. Patreon believes that content creators shouldn't have to worry about wild variations in income month-to-month.
You probably know you want to make money from subscribers or fans, but can Patreon sustain high earnings vs. alternatives. Thats what we will explore…"
Examples of this variation are bloggers dependent on display ad rates that are subject to seasonality, and musicians that get paid on a per-stream basis. Patreon helps supplement (or in some rare cases, replace) these other income sources by providing creators with a platform to allow their "patrons" to support them with a monthly, recurring payment.
The most important question you should ask yourself before starting a Patreon is: do you have time to engage a select group of fans that are supporting you by giving them exclusive content, insights, or behind-the-scenes looks into your creative process?
If the answer is yes, then go ahead and start a Patreon. If you think it would be too demanding, I'd say to hold off—the last thing you would want to do is upset your most loyal fans because they feel like they aren't getting enough value for something they are paying a monthly subscription for.
Pro tip: Don't overpromise and underdeliver. Keep it simple in the beginning with what you will offer patrons so you don't over-extend yourself.
Steps to starting a Patreon
1. Create a Patreon account
This first step is simple. Start an account!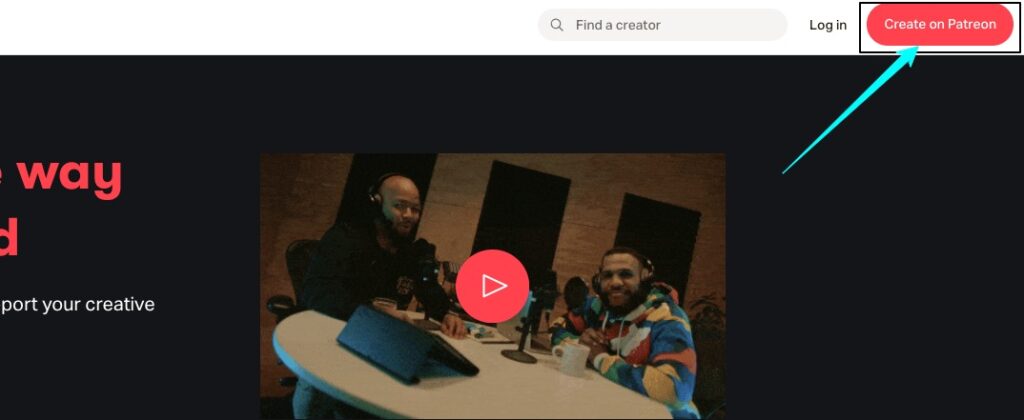 You can sign up with Google, Facebook, or an email address.
Make sure whichever method you use that it's an account or email address you have access to.
2. Add a profile photo and create an about me
The second step is to add a profile photo. This could be a photo of you, or whatever brand logo you are already using.
Below is an example of Shayda Campbell's profile photo. She is a watercolor artist who creates YouTube tutorials.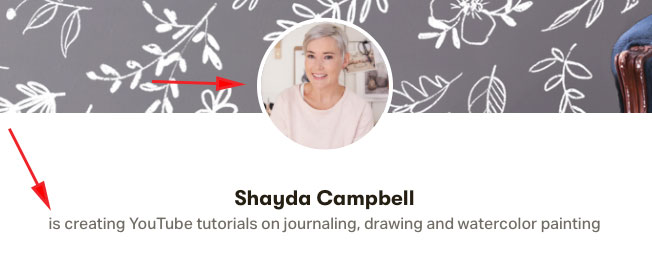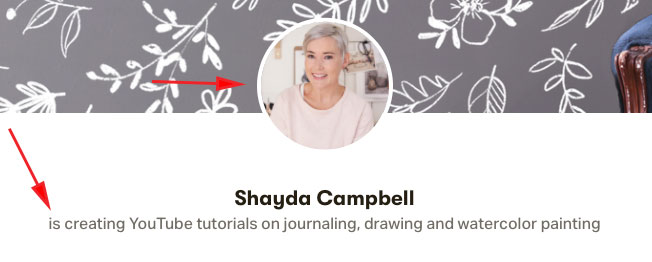 Be sure to add a short, concise description of who you are beneath your account name. This gives new fans an idea of who you are and what you do, without going into all the details. That's what the "about me" section is for.
The about me section (seen below) can be as long or as short as you'd like it to be.


3. Create your membership tiers and tier descriptions
The third step is to create your membership tiers and description.
With membership tiers, you can be as creative or as simple as you'd like.
Shayda has each of her tiers named after flowers, along with a custom watercolor graphic for each one. She also has descriptions that I will cover in the "Patreon for artists" section later in the article.
Note: Tiers are only available for Pro and Premium creator plans. If you sign up with a Lite plan, you can only create a single tier for members to pay.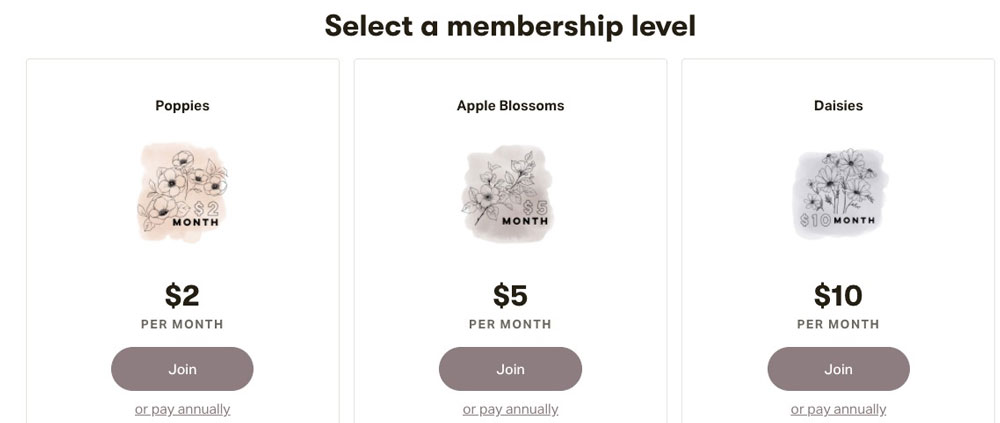 Pro tip: If you are a small creator and earnings are your top priority, price your middle tier strategically.
There's an age-old business saying that says, "The best way to sell a $2,000 watch is to put it right next to a $10,000 watch."
But why is this? The culprit is a common cognitive bias called anchoring.
Even looking at the prices above from the perspective of a consumer, the $5 option seems much more reasonable than the $10 option. Right?
Naturally, many more people will purchase the $5 tier than the $10, even though it's more than double the price of the $2 tier. Now if there were only two levels offered, the $2 and $5 tier, the vast majority would choose the $2 option, because they would be "anchoring" by comparing the $2 with the only other "information" they have available to compare to, the next price up.
However, at the end of the day, most creators won't (or don't intend to) use psychology to strategically price their tiers. And that's okay.  What's most important is to make sure the value proposition matches the price. Ask yourself, "Is the exclusive access I'm offering worth the price point?"
Regardless of how you price, you want to keep your fans happy.
How to use Patreon for artists, bloggers, content creators, and more
Below, I'm going to give you examples of how to use Patreon for different types of content creators.
I'm going to use a real-life example of a creator in each category, and also give you ideas on what types of content you can offer if you fall into one of these categories.
If you want to navigate more quickly to the section that applies to you, use the links below to go directly to that section.
1. Patreon for Artists
2. Patreon for Bloggers
3. Patreon for Podcasters
4. Patreon for YouTubers
5. Patreon for Musicians
6. Patreon for Writers

Patreon for artists
"Artists" is a catch-all term. Because in reality, everyone from authors to comedians to actors can be considered "artists."
For this section, I'm going to refer back to Shayda, the watercolor painter who posts tutorials on YouTube. Let's take a look at what her three tiers offer.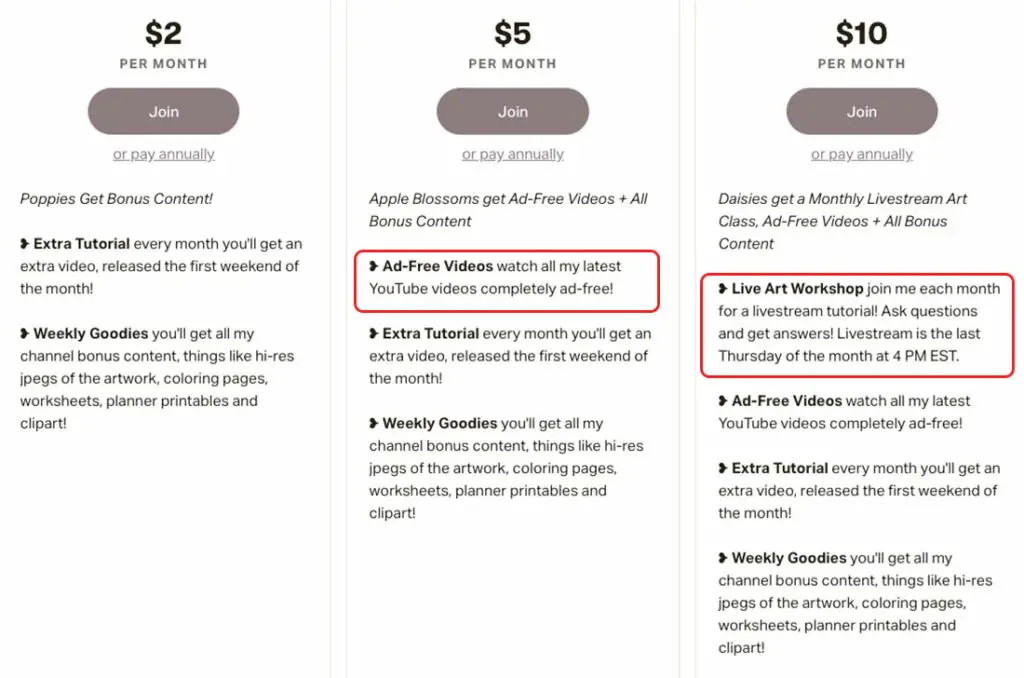 With the $2 plan, fans get one extra tutorial every month. They also get weekly goodies like hi-res jpegs of her artwork, coloring pages, worksheets, and more. What's important to note about the tier structure is you always want to make sure the content that's included in lower tiers is included in the higher tiers as well.
For the $5 tier, the explicit benefit added that's not in the lower tier is ad-free videos. And for the top tier, those paying $10 a month get to join a live stream tutorial with a Q&A.
These top tiers are what the die-hard fans will go for. The ability to be able to interact on a live stream with the artist themselves is a huge selling point for these crowds.
Patreon tier ideas for artists:
PDF art calendars / downloadables / etc
One-on-one tutorials
Live group tutorials
One-on-one art coaching / critiquing
Extra video content
Extra blog content
Patreon for bloggers
There are a significant number of bloggers on Patreon. They range from websites that cover tabletop games to video games, along with advice columns like Captain Awkward and what seems to be a stream-of-consciousness blog called Wait But Why?
One of these bloggers on Patreon runs a website called RPGBOT.net. They provide resources like rules, analysis, and guides for Tabletop RPGs like Dungeons & Dragons.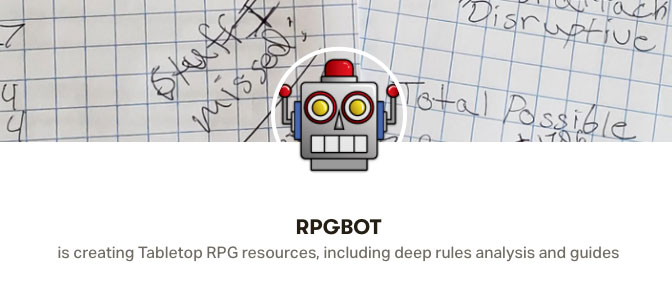 RPGBOT's tiers are 1$, $5, and $10. With the 5 and 10 dollar tiers, there are only 3 total slots available for readers to purchase.
Note: Patreon gives you the ability to create a select number of slots for your tiers. This helps you ensure that you will be able to meet the demand while not becoming overwhelmed.


What's interesting about how RPGBOT uses Patreon, is that his base membership allows all who subscribe the ability to see what he is writing and working on before it's published on the website.
In my interview with the website's owner, he said the Patreon members help him better his writing, catch mistakes, and give feedback before a piece of content is published.
RPGBOT's highest membership tiers allow either an option for the owner himself to help "Build your character" for the tabletop RPG games he writes about. Or a custom article, post, or essay at the highest membership level, which only has one slot available.
Patreon tier ideas for bloggers:
Early access to written content (previews, snippets, excerpts, etc)
"How-to" content on your writing process
Livestream sessions relating to your niche
Live tutorials on writing (or on your blog topic matter)
One-on-one coaching, feedback, critiques of articles / post / essays of members.
Patreon for podcasters
There are a lot of podcasts on Patreon. Some of which are earning an impressive amount of money from their membership dues.
The El Chapo Traphouse podcast earns a whopping $166,110 a month from 37,232 patrons.
There are other five and six-figure-earning podcasts on Patreon like True Crime Obsessed, The Last Podcast on the Left, and Sword and Scale.
To understand what these heavy-hitter podcasts do right with their Patreon strategy, let's take a look at the #1 true-crime podcast on Apple Podcasts—Crime Junkie.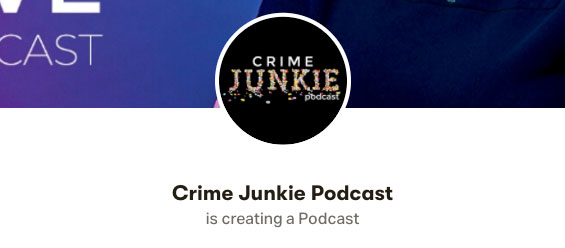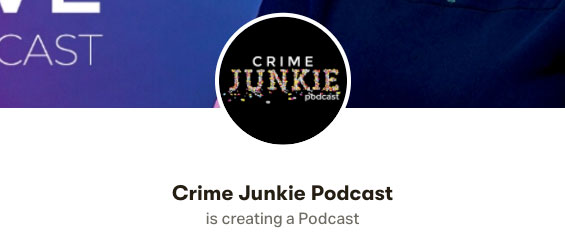 The first thing you will notice about their membership levels is they are quite a bit more expensive than most smaller creators.
This is likely due to the fact their listenership is massive, and they know people will pay $5 a month, even for a base level subscription. While they don't publicly disclose how many patrons they have, Graphtreon estimates Crime Junkie to have 27,750 patrons. This amounts to at least six figures per month.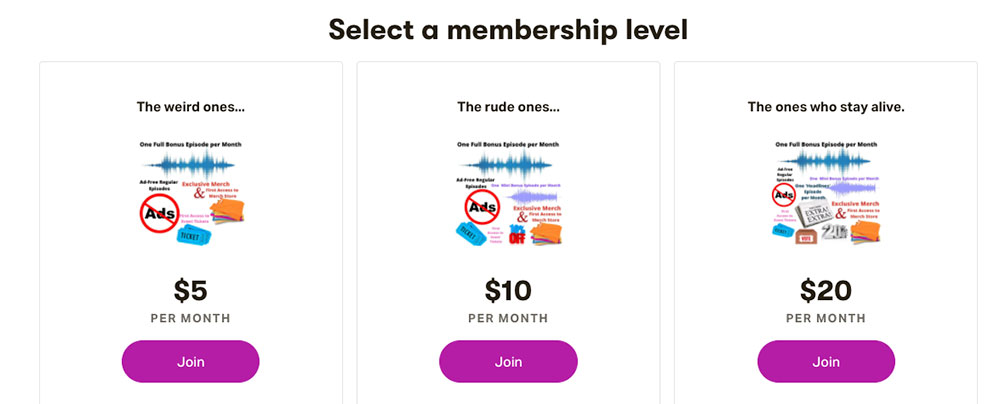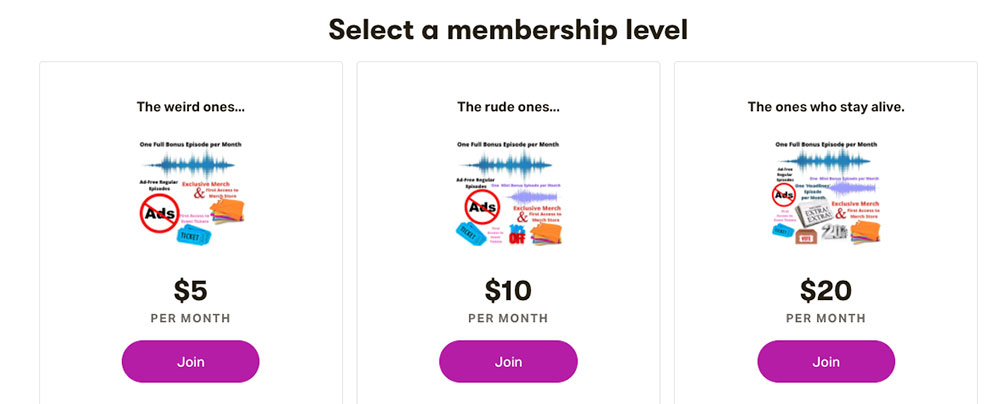 But keep in mind, there's also another reason why Crime Junkie and other large podcasts charge more. It's because they have entire teams of people helping them with content production; so even for the lowest level of membership, subscribers get a lot of extra content included.
In Crime Junkie's base level, patrons get: Ad-free episodes, one full-length bonus episode per month, first access to the merch store when products launch, and first access to event tickets before the general public, exclusive merchandise only available to the fan club, "AMA – ask me anythings", and audio extras.
That's a lot of exclusive content for just $5 a month. This is an important lesson in pricing.  Because as you scale your audience, you have to remember that if you want to charge people more money, you want to ensure their money is well-spent.
Patreon tier ideas for podcasts:
Bonus episodes
Discounts to merchandise
Discounts or early access to both event tickets or merch
Live Q&A
Behind-the-scenes production content
Bonus mini-episodes
Allowing top membership levels to suggest content for podcast episodes
Early access to podcast episodes
Ad-free content
Patreon for YouTubers
YouTubers who have large audiences tend to have the same happen to them when they create a Patreon. From the now-famous philosophy professor Dr. Jordan Peterson with 8100 patrons, earning $70,000 a month, to Phillip DeFranco (PhillyD), a popular news YouTuber who has 14,400 patrons, earning $50,000 a month.
There's no shortage of YouTubers both small and large who have created Patreons. Let's take a look at a smaller creator for this example.
Kalle Flodin is a Swedish YouTuber who lives in an off-grid cabin in Northern Sweden with his dog and his fiance. He posts cinema-quality videos on all things homesteading.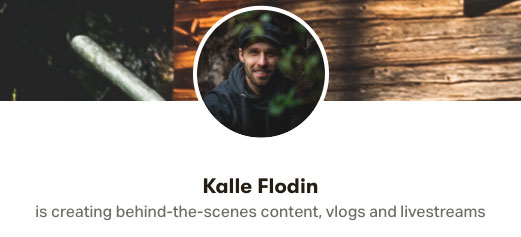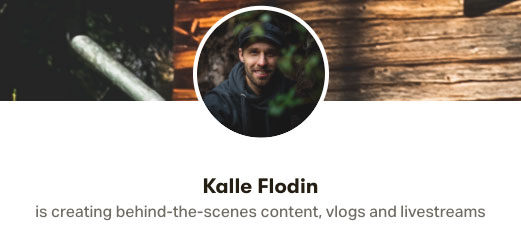 For a YouTuber with a relatively smaller following (70,000+ subscribers), he has 160 patrons, which amounts to a minimum of $800 per month. That's not a bad side income outside of AdSense from YouTube.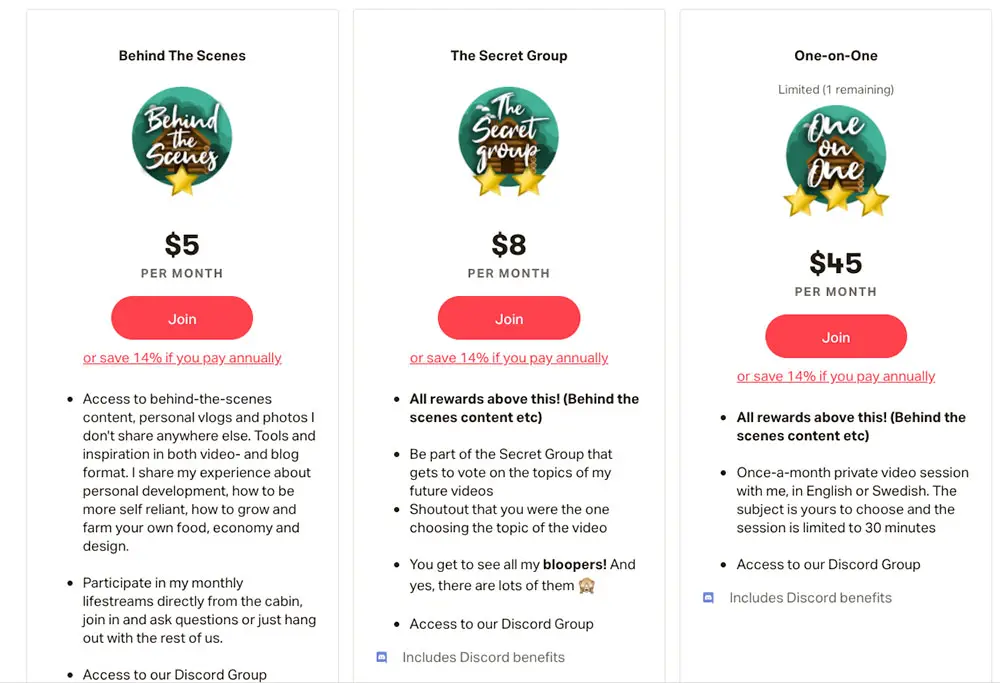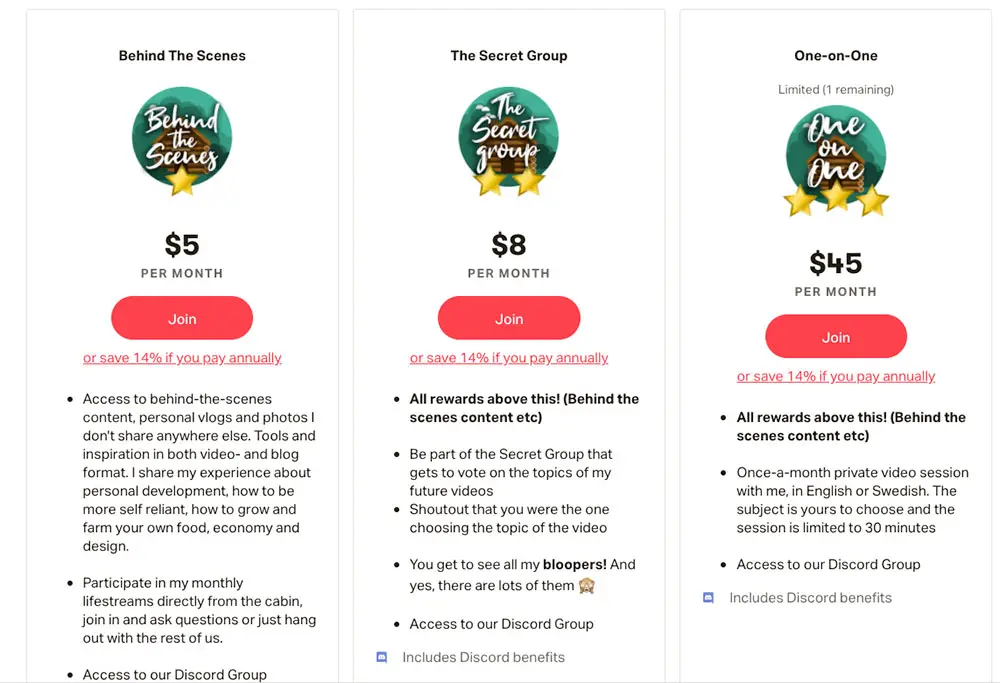 All of Kalle's tiers allow access to a private Discord Group, access to behind-the-scenes content, personal blogs and photos, and more. The next tier up allows access to a secret group where members get to vote on topics for future videos and access to bloopers. His highest tier, which only has 1 slot available, is for a one-on-one private video session with him, for $45 a month.
Patreon tier ideas for YouTubers
Behind the scenes footage
Private Discord / Slack / Telegram groups
Blooper reels
Live Q&As
Bonus episodes / footage
Voting / episode suggestions
Merch discounts / early access to merch
Signed swag or merch
One-on-one video meetings
Patreon for musicians
There are many musicians on Patreon, but there are few who have created a more interesting and unique strategy than Amanda Palmer. She's an artist, musician, and serves as a vocalist and lead singer for the Dresden Dolls.
She has over 14,447 patrons and earns an estimated $55,000+ per post.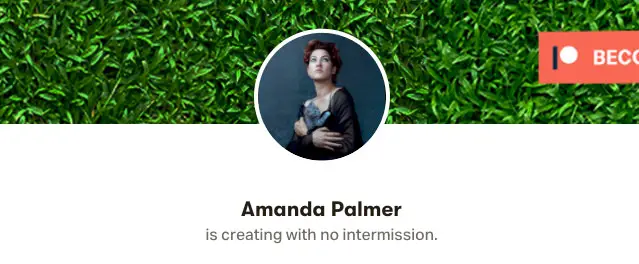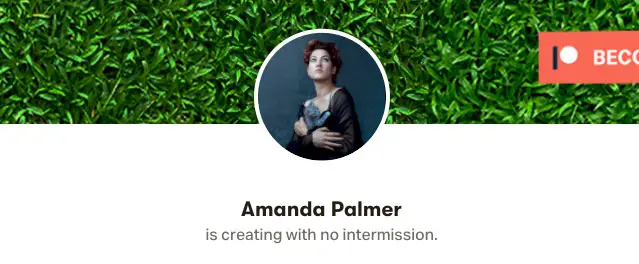 While the Dresden Dolls went on a hiatus in 2008, they've done reunion tours. Amanda has stayed increasingly relevant by sticking to her tagline on Patreon—"creating with no intermission." She hosts a podcast, makes music under her own name and with another group called Evelyn Evelyn, has a YouTube channel, and makes art.
The most interesting thing about Amanda's Patreon is the uniqueness and thought that goes into each of her 8 membership tiers that range from $1 to $250 a month.
$1 – patron-only posts, early access to tickets, invites to special events and gathers, 'some' downloads of main projects
$3 – download tier: direclty emailed downloadable content (PDFs, MP3s, MOVs, etc.)
$5 – random surprises: digital tidbits such as photos, musings, voice memos, demos.
$10 – patron-only webchats (chats / perform live / discuss things with you)
$25 – art in the mail: every once in a while, you get a physical piece of art. (Limited edition drawing or print / custom merch / paintings)
$75 – personalized art in the mail: same as the tier below, just personalized / signed. You get access to the guestlist and a +1
$100 – old-school postcard tier: sends you weird postcards from the weird places Amanda winds up. Access to guest list anywhere in the world, +1
$250 – Everything below, plus extra guest list access (+2 guests). Also, any physical merch (vinyls / print / clothes) will be sent to you when it's released at your request. Personalized concierge service to sign and send stuff to anywhere in the world.
Creative tiers, right?
While these tiers might not work for every musician using Patreon, it should give you the inspiration to push the limits creativity-wise for your fans.
Patreon tier ideas for musicians:
Early access to purchase tickets, merchandise, vinyls, etc
Early access to download / listen to EPs and new albums
Access to guest lists
Access to VIP list
Signed merchandise / vinyls / posters
Music lessons
Meet and greet access
Web chats / Skype
Patreon for writers
Much like the other categories, there are plenty of writers on Patreon. There are even some content creators turned writers, like Humans of New York founder Brandon Stanton, whose Patreon earns him at the very minimum, $30,619 per month.
There are also New York TImes bestselling authors like Seanan McGuire, who have amassed 3,250 patrons totaling to $13,237 per short story. But trust me, she's earned it. Since her debut in 2009, she has written roughly 5 books per year and has won numerous awards.
Note: The "per post" feature is an option that Patreons let creators choose. You can either choose for patrons to pay a recurring monthly fee, or they can pay per post when you post new content for each (or all) tiers.


Additionally, she still makes time to produce short stories and other content for her patrons. How does he have the time? Well, her bio on her publisher's website says she doesn't sleep much, so maybe that's the trick.
Regardless, she's crafted 10 different tiers on her Patreon ranging from $1 to $1,500 (with the higher tiers having only a small number of spots). Let's take a look at how she created her original "about me" description detailing why she created a Patreon.
"This is a Patreon with a purpose: to buy me a new toaster, where "toaster" is a way of saying "thing I need for the house." (Amusingly, an actual toaster is on the list of things I need to get.) Some months, the toaster will be painting a room or buying a bookshelf, or a scanner, or a new desk that actually gives me room to work. Other months, the toaster will be that actual toaster I mentioned." —Seanan McGuire
In good humor, most of Seanan's tier names are toast-related.
Those who sign up for her Patreon get access to things like: digital downloads of all short stories, virtual hangouts, poetry posts, poetry tutorials, direct emails, physical short stories, signed stories, hand-drawn art and postcards, signed books, personal thank you letters, and allowing readers to choose characters for a short story.
Patreon tier ideas for writers:
Signed copies of books / stories / poetry
Live Q&As
Web hangouts
One-on-one tutorials
Live book readings
Early access to excerpts / snippets
Meet and greet access at events
Signed postcards / art / merchandise
How much money does Patreon keep from creators?
Patreon now offers three creator pricing plans:
Lite – 5% of monthly earnings
Pro – 8% of monthly earnings
Premium –  12% of monthly earnings


Additionally, Patreon takes out tiny percentages of each membership payment in order to cover the processing fees.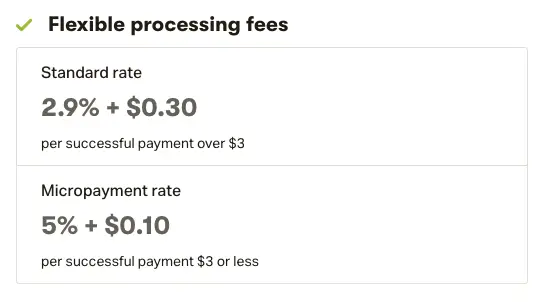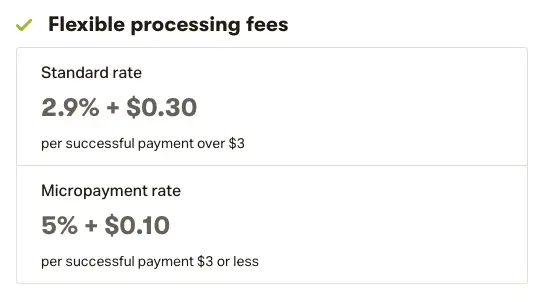 They also have every membership set up where members have to agree to recurring billing, give creators fraud protection, and also, the team at Patreon chases down declined payments with smart retries and reminders for expired cards.
In reality, the cut Patreon takes from creators is minuscule compared to behemoths like YouTube, which keeps 45% of creator ad revenue. Imagine, for the content you poured your blood, sweat, and tears into, you get to keep 55 cents of every dollar.
This is why we teach publishers how to monetize video content without YouTube. Our goal at Ezoic is to empower publishers, bloggers, and website owners to be good stewards of their content and have as much ownership over it as possible. Especially when YouTube is notorious for demonetizing content creators with little to no explanation as to why.
Wrapping it all up
Patreon has proven to be a useful tool to support content creators of all backgrounds to create a recurring income that's more predictable than other forms of income. It's now grown to 9.8 million members and over 200,000 creators.
Above all, Patreon's model seems to be creator-forward, and that should (for now) give creators enough confidence to try it out.
And perhaps if more companies created models where the consumer paid content creators directly, the phrase "starving artist" would just be "artist".
Do you have any questions on these examples of how to use Patreon? Let me know in the comments.