Most publishers are familiar with Google Trends—a free tool from Google to track the world's search trends. But many are unaware of how to use Google Trends to increase organic search traffic.
The easiest way to use Google Trends to increase organic search traffic is to see if there are any seasonal "spikes" of search trends applicable to your niche.
Coronavirus is the most notable "spike" in recent history. Google even has a dedicated "Coronavirus Search Trends" section at the top of Google Trends. With Coronavirus' negative effects on ad rates, even large, successful publishers have had to try new creative strategies to weather the storm.
Today I'm going to show you how to use Google Trends data to increase organic search traffic during this "search spike" and also during other times.

What are Google Trends spikes?
Google Trends spikes are increases in the search volumes of certain search terms. Many search terms naturally spike during certain times of the year, some more subtly than others.
For example: The search term "camping" is most popular in the late spring and summer months, and then it drops.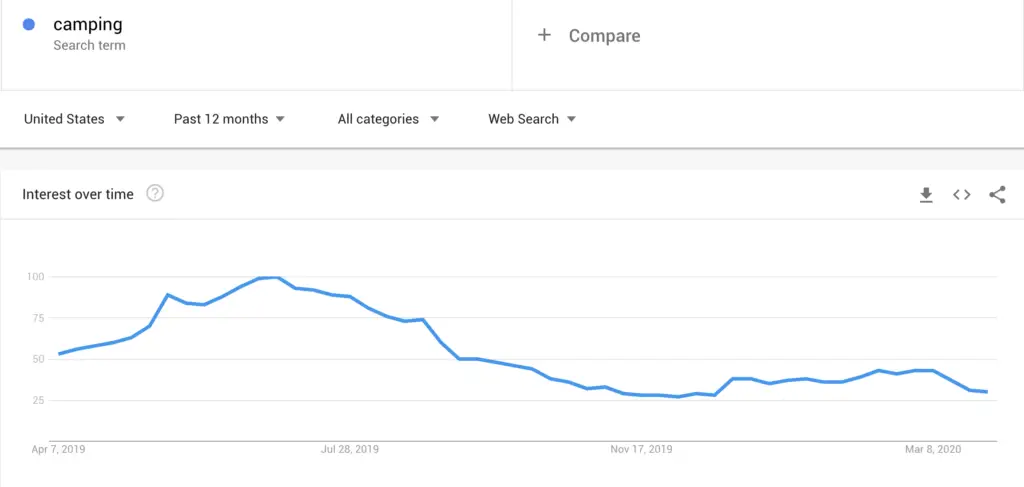 Even search trends that are relatively stable throughout the year, like "headphones," still peak around Black Friday and Christmas.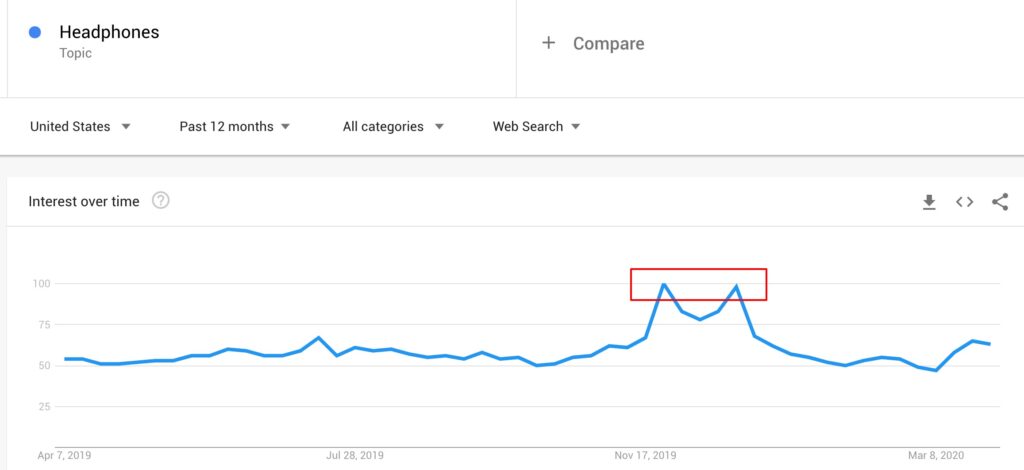 Up until recently, there was no search interest for the term "Coronavirus," but now its interest has skyrocketed.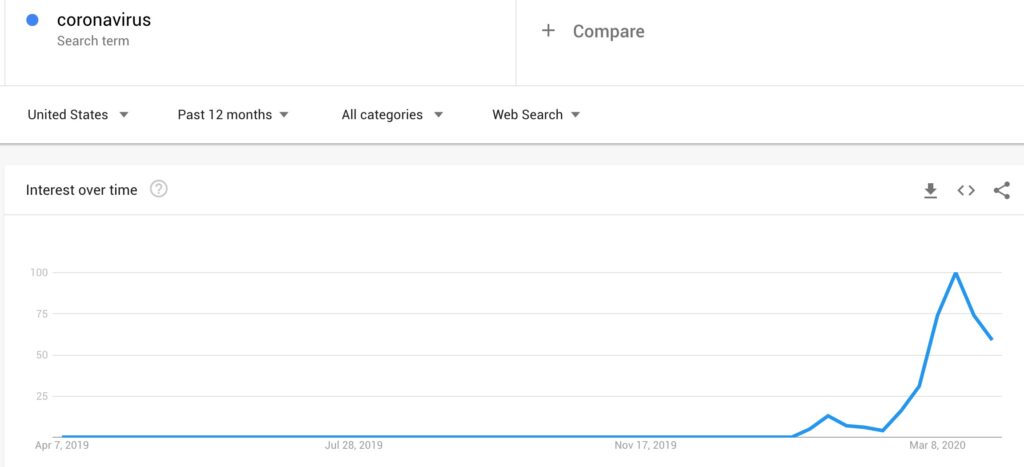 What does this spike mean? It means that if you want to gain additional organic traffic during this time when ad rates have fallen, you can write articles that target trending search terms.
For the purpose of this article, we will focus on Coronavirus as an example.
How To Use Google Trends Spikes To Increase Organic Search Traffic
When you click on the "Coronavirus Search Trends" at the top of Google Trends, you will see a banner for "Trending Insights" of the day. Many publishers might think that because they're in a certain niche, it's impossible for them to write about trending search terms.
The opposite is true. All it takes is some creative content strategy to capitalize on these trending terms. Let's take these trending insights below as an example.

Top trending Coronavirus search terms and applicable niches:
"Who is eligible for free childcare?" — Family, News, Educational, Health
"What does a stay at home order mean?" —Family, Educational, News, Travel, Health
"Foods that boost the immune system." —Food & Drink, Health, News, Family
More often than not, regardless of the niche, you can find a creative angle to write about a trending search term to capitalize on the increases in search volume.
Google even breaks down some of these trending search terms into trending "questions" for the past day and past month.

These topics can serve as article ideas or even H2 subject headings within an article.
Will writing about trending search terms increase organic search traffic?
Yes, writing articles around trending search terms will increase organic search traffic. As long as you understand the basics of writing for SEO, already have organic traffic and rank for keywords, you have a strong chance of being able to "ride the wave" of trending Google search terms and the increased organic traffic they bring.
CultofMac.com is a shining example of a publisher who has seen boosts in traffic from adapting their content to fit the search trends during this uncertain time. Here are some examples of recent articles they've written:
Since mid-February, CultofMac has had significant spikes in total pageviews. Since early March, site traffic as a whole is trending upwards.

Additionally, despite ad rates falling as a whole, CultofMac has managed to have 3 significant spikes in overall revenue since mid-February.

There are definitely other forces at play that are contributing to these revenue spikes. CultofMac uses Ezoic's Ad Tester, which harnesses the power of machine learning to maximize the value of the ad inventory on their site.
Additionally, you can still take one look at Google Trends' data on trending queries and see how dramatic the increases in search volume are.

Search terms like "How to make hand sanitizer" and "How to make face masks" are up 2000-3000%. CultofMac capitalized on this increase of search volume by writing an article about "How to make hand sanitizer."
Are there additional ways to use Google Trends to increase organic search traffic?
The easiest additional way to use Google Trends to increase organic search traffic is to pay attention to news stories relevant to your niche. If you are one of the first authorities to publish an article covering important news within your niche, it can be a huge driver of traffic.
Even if you don't typically write articles covering news in your space, it might be a tactic worth considering. The Ezoic Blog is a great example of this. Our blog aims to educate publishers with data, insights, and instructional "how-to" content. The majority of this content doesn't include news topics.
An example of industry news that we do cover is when Google announces a Core Algorithm Update. When these are announced by Google, digital publishers typically go to Google to see how (or if) they have been affected. If targeted correctly, these types of blogs give a 1-3 month boost to organic search traffic.

Within 2 weeks of publishing the blog on Google's January 2020 Core update, it was the number 2 most-clicked organic search result for the month of January.
Publishers should ask themselves: is there any industry news that I can cover that's relevant to my niche? If the answer is yes, it might be worth it to write an article on it. Especially if it's relevant to your site's content and existing authority.
Remember: If you do decide to cover industry news, make sure you have your own additional information to add to the news story. Google penalizes duplicate content, and your rankings will suffer if you just copy and paste a news story without adding any substantial value to the content. You can also track the Google Search performance of your articles in Google Search Console.
Wrapping up how to use Google Trends to increase organic search traffic
Massive spikes in Google Search trends like the Coronavirus-related keywords are a rarity. But that doesn't mean you can't take this knowledge and apply it to your content strategy throughout the year.
For example: If you run a camping website, you already know that the majority of your search traffic is going to peak in the spring and summer months. But if you use Google Trends, you can potentially identify winter-related topics that still are applicable to your niche. This could help boost traffic in the long run and balance out your niche's natural seasonality.
The most important thing to take away is that you can use Google Trends to boost your organic search traffic. Identifying trending topics can help inform your short-term content strategy. Plus, if your niche is one that has seasonality, using Google Trends for content ideas has the added benefit of helping balance out seasonality in the long-term.
Do you have any questions on how to use Google Trends? Let me know in the comments.