Does it seem like, more than ever before, there are major generational differences and these differences are constantly being emphasized?
It has been found that each generation has a core value that can be used to reach each audience set. Boomers are individualistic. Gen Xers care about status. Millennials want authentic experiences. And Gen Z cares about truth.
There are opportunities and challenges in appealing to and engaging with any one of these generations, and while there are certainly similarities amongst them, each generation uses the internet in different ways and even at times of the day. Understanding how these different generations look for information, news, and entertainment can be beneficial for any publisher looking to gain a wider audience or keep their current audience engaged.
How Baby Boomers consume content
Baby Boomers are those born roughly between 1946-1964, or those who are currently between the ages of 59 and 77. In the US, there are 70 million Boomers who are living and working longer than the generations before them. 
While there are certainly other generations that spend more time on the internet, Boomers are still online quite a bit and are more tech and social media savvy than people think. 35% of Boomers use news sites and apps every day and in 2021, 90% of Boomers shopped online.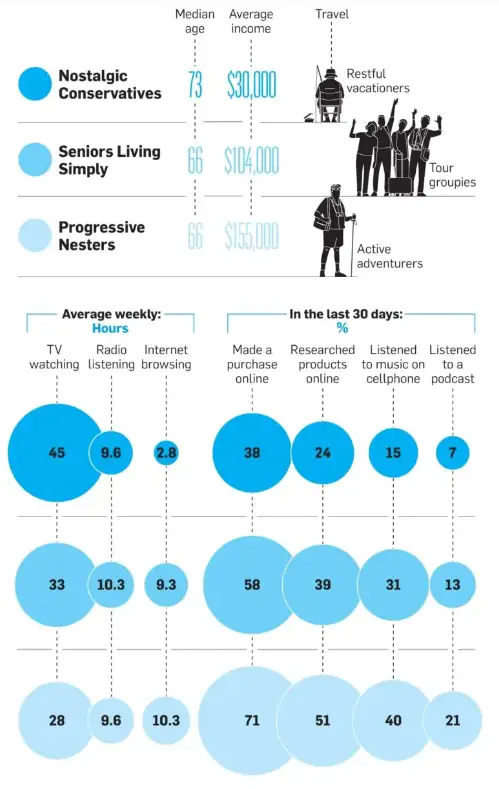 54% of Boomers also watch online video—in fact, though online video has increased across all age groups the past five years, the largest increase came from viewers over 46 years old. As of 2020, 67% of Boomers reported they were on YouTube. As 78% reported they were also on Facebook, Boomers are more likely to share content on large social networks.
Facebook is an easy place to engage with this generation and share content. While we certainly don't suggest relying on Facebook and other outside sources to drive your traffic, it certainly doesn't hurt to use it if you're trying to reach Boomers.
Lastly, Baby Boomers are turned off when they don't understand slang. Don't include things in your content that make them feel excluded or old, including the vernacular. While Boomers are nearly the oldest generation alive, they don't see themselves as older and don't like to be made to feel that way.
How Gen X consumes content
Gen X currently functions as the forgotten middle child—everything seems to focus on Baby Boomers, Millennials, or Gen Z, and little attention is given to Gen X.
Gen X is the generation born between 1965-1980 and is currently between the ages of 43 and 58. They are an interesting generation because they have been a part of both the analog and digital ages. They are a smaller generation stuck between the largest generation, Millennials, and the second-largest generation, Boomers—Gen X currently only comprises about 15% of the population.
This generation still sees themselves as younger, anti-authority, independent, and are the most media-nostalgic: 75% watch videos that relate to the past. Gen X were mostly young adults when the internet came about and have been online ever since—90% of Gen Xers own a smartphone and 91% use the internet.
Gen X spends more money than any generation in regard to housing, clothing, eating out, and entertainment. They also enjoy traveling; in 2022, 25% of Gen Xers were expecting to travel.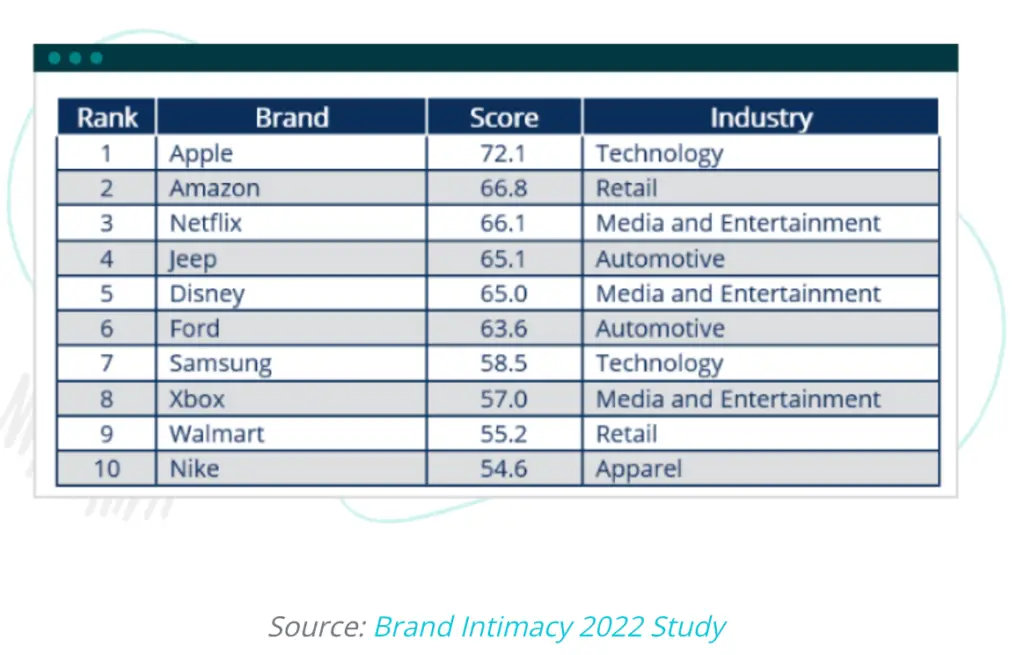 To reach this audience, publishers should once again look to Facebook, though many members of Generation X are also active on Instagram. This group is really engaged on these platforms and are even more technologically advanced than Boomers, so they spend more time online and do more online.
This generation is nostalgic, so anything harkening back to their youth is going to get their attention.
How Millennials consume content
Millennials are the first generation of the digital age and the internet. This group was born between 1981 and 1996, making them 27-42 around years old. Millennials remember a time before smartphones and the internet and then grew up alongside their developments.
Millennials have the highest social media usage among adults and spend about 211 minutes on apps or the internet via smartphone a day. They also have the most social media accounts (even more than Gen Z), averaging about 9.2 social media accounts. This group is more likely to get their news from social media than traditional news outlets, though they still use those traditional outlets at times.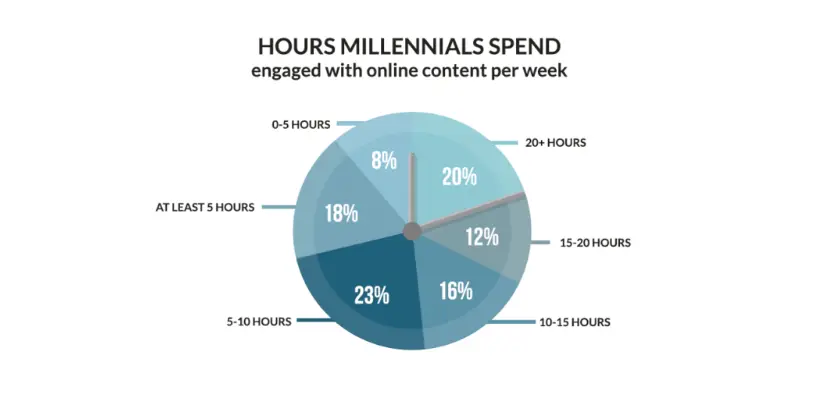 Video is extremely important to this age group—almost 96% of Millennials report that video is important when deciding to move forward in making a decision. They also listen to podcasts more than any other generation.
Millennials are very concerned with value and authenticity; they want to consume content and see advertising that isn't just fluff or blatant product marketing, as 72% of Millennials are interested in personalized messages.
In a report by the Millennial Consumer, it was found that male Millennials' top content subjects were gaming, sports, entrepreneurship, politics, and comedy. For women, it was beauty, food, and fitness. However, both men and women Millennials are both focused on two content categories—news and finding entertaining content—and are most active online in the late morning and late evening.
How Gen Z consumes content
Gen Z is comprised of people who were born between 1997 and 2012, and so are somewhere between 11 and 26 years old. They are the most ethnically diverse in American history and makeup about 27% of the US population. This age group is quickly becoming adults and are changing things around us quickly. They are the first generation to grow up with smartphones and the internet as just a part of life and are often called 'digital natives.'
Gen Z is a very online generation and has the widest range of media habits. Per a study by Morning Consult, 56% of Gen Zers report that social media is an integral part of their daily lives. Most get their news from social media but they also use it as a place to connect to others; while most of existence has centered around community with those who are physically around you, Gen Z is the first generation to also find community through online sources.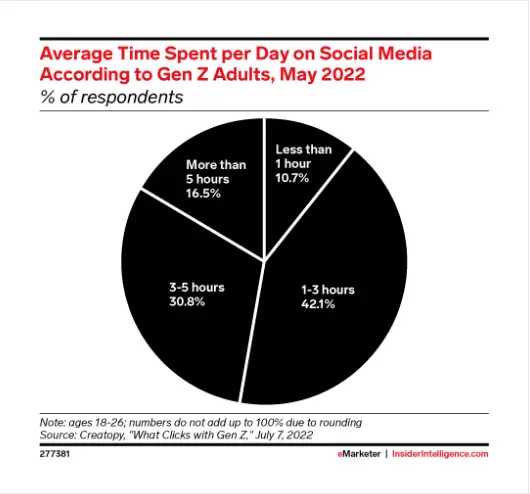 There is a lot of energy being given to focusing on getting Gen Z's attention, as they will soon be the most significant stakeholders in media consumption, and they are consuming media in completely different ways. They are the first generation since the invention of the television to not rank 'watching TV and movies' as their main form of digital media consumption; instead, they report that 'playing video games, listening to music, browsing the internet, and engaging on social platforms' were their top media choices. They also have shorter attention spans than other generations.
The two platforms you can find Gen Z on the most are YouTube and TikTok, almost at the same rate. 40% of Gen Z social media users prefer Reels, Stories, or TikTok videos when seeing brand ads on social media, and expect brands to be more authentic and unfiltered, though Gen Z is especially receptive to organic content over branded content and makes important buying decisions based on what genuine users have to say: a recent study shows that close to 80% of people cite user-generated content as a reason they bought something.
Regarding content, Gen Z is interested in learning new skills, so providing engaging learning content with relevant memes and social trends is important in getting their attention.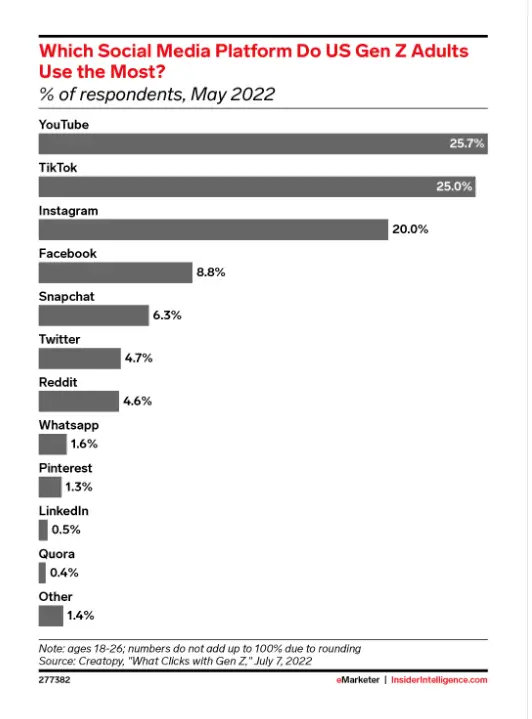 Content for all generations
As different as the generations might be, there are a few generalizations that ring true for all four age groups.
Video
Every online generation is watching video. It is a medium that speaks to every age group and the amount of time spent watching videos is only increasing. If you are not publishing videos as a part of your content, it's time to consider starting.
E-commerce
While each generation has different online spending habits and motives, all signs point to e-commerce's growing popularity. If you have something worth selling, whether that be tangible or something like an online course, now is the time to begin offering it online for purchase.
Social media
Social media is an important part of each generation, though you'll find each generation on different platforms—Boomers and Gen X are mostly on Facebook, Gen X and Millennials are mostly on Instagram, and younger Millennials and Gen Z are on TikTok. Learning how to reach each generation on their specific platform can be really beneficial to publishers' traffic from social media.
Additionally, younger Millennials and Gen Z have a lot in common, and the two generations can often be lumped together. The majority (79%) of Gen Z and Millennials get news daily and 96% say they did at least weekly.
They also like similar content. Celebrities, music, and entertainment are the most followed categories, followed by food and cooking.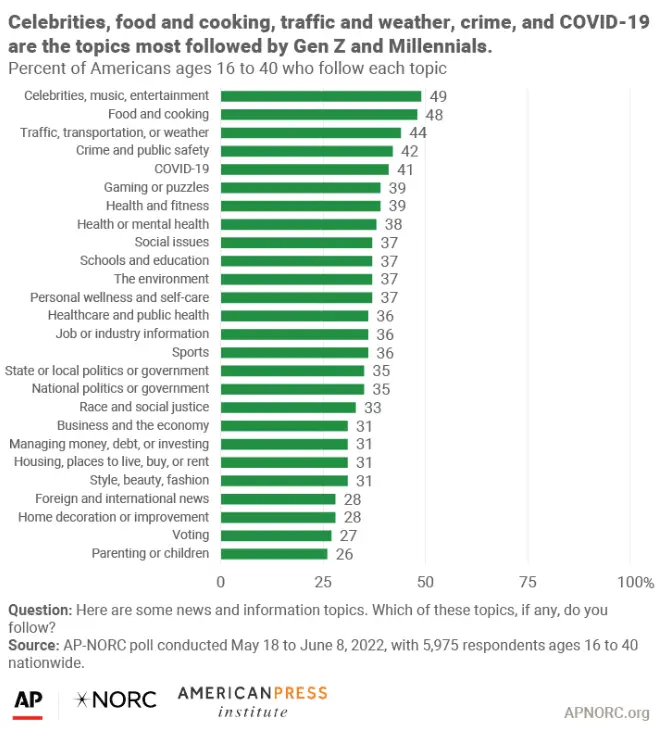 Most of this content is consumed on YouTube and TikTok. TikTok is quickly growing in popularity as the top place for younger generations to get news from; while Google certainly still remains the top news discovery platform, 14% of Gen Z finds their major news on TikTok while only 1% of other generations use TikTok for the same purpose.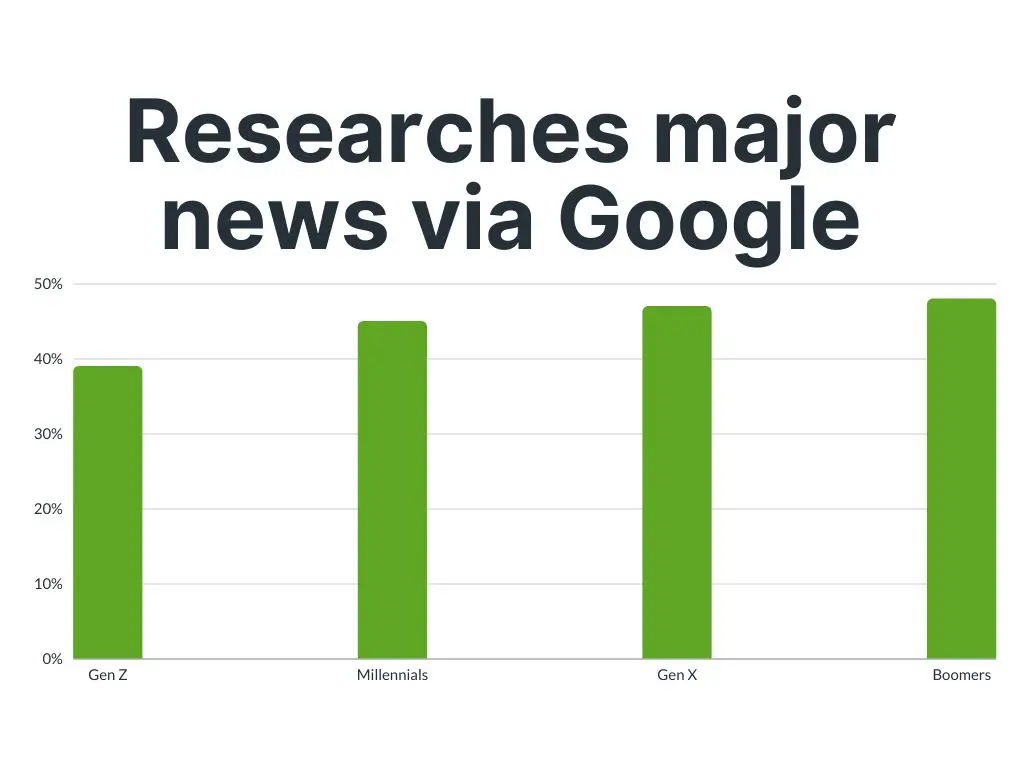 Knowing what we do about Millennials and Gen Z—that authenticity and truth are the most important values, but also entertainment—some publishers have come up with creative ways to engage with these younger audiences. For example, The Washington Post uses TikTok to break from its more serious, traditional tone and post more playful but informative content.
In conclusion
Appealing to and engaging with any of the generations presents both opportunities and challenges. While there may be similarities among them, each generation utilizes the internet differently. Having a grasp of how these diverse generations search for information and consume news and entertainment can be advantageous for publishers who aim to expand their audience or retain their current following. This understanding can assist publishers in creating content that resonates with their target audience and keeps them engaged.