Spoiler alert: It's good news. We were pleased to find that Ezoic publishers performed well after this most recent Google Core Update.
Last week we talked about two Ezoic publishers and how their Core Web Vitals scores improved after the update.
We're following up now to even further break down all the questions you may have. We dug into our own data to better help understand how and why things are changing for the better. This is including about 20,000 sites' data from Google Search Console.
We collected data prior to the update, and then two weeks after the update.
What Ezoic publishers have seen
Good news is that for our publishers, on average, they saw Google send them over 25% more traffic and over 25% more search appearances. Below you can see the average percent change over the two week period.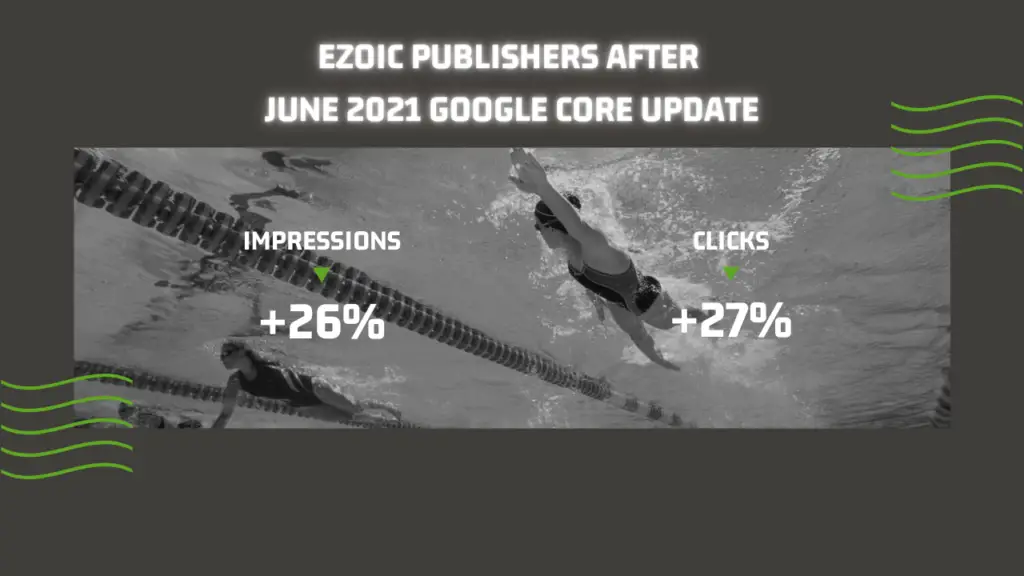 On average, we saw click-through rate and rankings unaltered. This is way less formidable than the December 2020 update where sites lost an average of close to 20 positions.
Now this is interesting. We were also able to see that a few of the niche/categories that jumped out to us in terms of positive performance were technology, entertainment, and lifestyle focused sites.
If you're new to owning a website or looking for inspiration on an avenue to start in, these website models could be what you're looking for.
An area we can point to
Something else we find great for publishers is a smaller focus on AMP articles. Our data post-update shows that a lot of publishers who may not have gotten into the carousel because their articles weren't AMP formatted, now have gotten a better chance.
Our founder Dwayne Lafleur has also spoke about the end of AMP earlier this year.
It's the reason why we don't see average ranking and click-through rate changing – carousel results aren't recorded in these metrics even though the sites are getting more traffic.
If it fits your site's structure, an idea here would be to increase the amount of content surrounding trending or topical. There's something to be said about an opportunity to get traffic you didn't think you'd get before.
Because publishers have deeper insights into improving their site speed and passing Core Web Vitals, folks using Ezoic have benefitted an invaluable amount.
How to keep up on Google Core Updates
If you're already a site that focuses on news, this blog on understanding the sources behind Google News may be a good read for you and aide efforts in content creation.
After this update it's always a good idea to keep tabs on Google through sources like their Search Central Blog.
They're direct about highlighting what types of things are important for publishers and drop not-so-subtle hints on the ways to improve your content in relation to their update.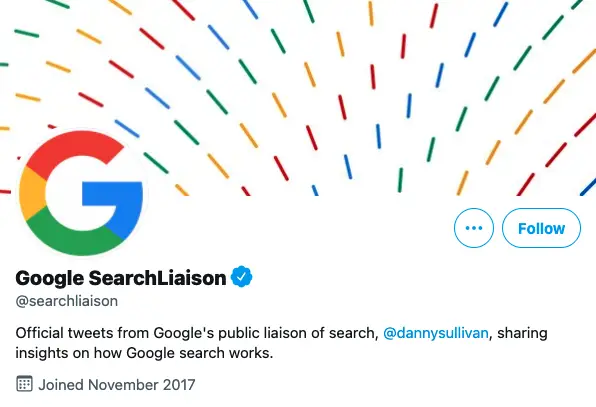 While you're at it, Google Search Liaison is the number-one account follow on Twitter for updates and all things concerning Google Search.
This may be attributed to the style of this update paired with the fact that they're working hard to develop rich content.
Takeaways & best practices
Overall, our takeaway is that this update was great for publishers. This is because Google looks to be positioning results in a way that sends more traffic off of the Search Engine Results Page (SERP) to publisher websites.
Changes in SERPs can easily affect sites more than their actual rankings.
For example – your site could be ranked #1 but if there are instant answers and video carousels above a site before the organic results, then ranking 1 vs 2 would be way less important to traffic than Google removing rich results above the organic results.
In this last update, it appears that Google's change likely was something like this where they altered the way they serve results more than how they rank sites in their index. Which makes complete sense!
If you're reading this and still wondering if you've been affected by the Core Update, Google has a lot of noise right now. Below are a few action items and points to remember.
If you believe you've been impacted, first look to make sure it's not self-inflicted. Most sites never assume they've done anything wrong – but every plugin, change to navigations/layouts, etc. should be looked at in context of when exactly they noticed a decline.
Next, don't try to do or fix anything. This will make evaluating what pages and queries were impacted much harder once the dust settles. Often, sites can pinpoint their areas of improvement after an update if they don't muddy the waters by attempting new things in a knee-jerk fashion following after an update.
Also, it's good to keep in mind that 10-20% fluctuations in traffic can easily be the result of seasonality, so it's not ever an indication of something wrong unless you can see year over year data and view it as a continuing trend.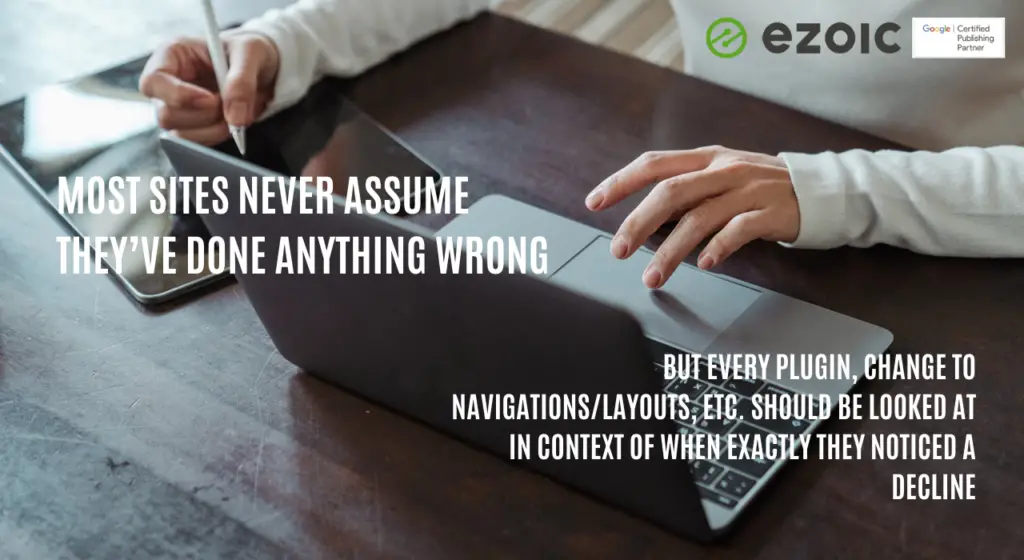 As always, our advice is the same. When Google rolls out a new core update, the absolute best thing you can do as a publisher is to not change your site.
This way, if you do experience an organic loss (or growth) in traffic, you will be able to attribute the cause to the update.
In the coming weeks, we will update this article with data if we see any specific trends with who has (or hasn't) been affected by the update.
All we know is that one fact prevails: There's no way to future-proof your site for Google updates that affect your search ranking/organic visibility.
What you can do is follow Google's recommendations and keep an eye on your own rankings, as well as SEO and content excellence. 
Have you seen any sudden changes in your traffic or rankings since the June Core Update? Let us know in the comments.
In other news, be sure to check out this piece on how to write content that ranks on Google.