On May 4th, 2020 Google Search Liaison announced the release of a broad core algorithm update. It's been labeled the May 2020 Core Update, and it's one of the many broad core algorithm updates that Google releases on a yearly basis.
Later today, we are releasing a broad core algorithm update, as we do several times per year. It is called the May 2020 Core Update. Our guidance about such updates remains as we've covered before. Please see this blog post for more about that:https://t.co/e5ZQUAlt0G

— Google SearchLiaison (@searchliaison) May 4, 2020
Today, I'm going to cover what changes the May 2020 Core Update brings and what publishers need to know. Additionally, the full video covering the topic is below.
Article updated on 5/28/2020.
Most recent core updates that affected publishers
This May Core Update is the first major core update since COVID-19. In January, Google released the January 2020 Core Update.
When the dust settled from that update, Moz compiled a list of content verticals that seemed to be most affected.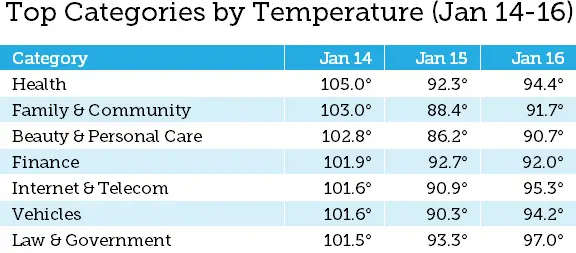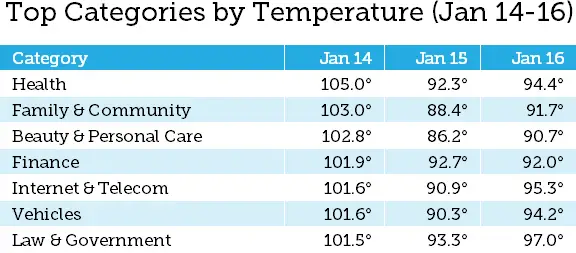 Websites in the health, family, beauty, finance, internet, vehicles, and law & government had the biggest SEO "flux" during the update. Health was the top category that experienced the largest flux.
Although anecdotal, it seems that websites that are affected by a previous update may be more affected by subsequent updates. This finding makes sense with Health being the most-affected category, as they took a big hit in the Google Medic Update of 2018.
The Medic Update had a drastic impact on websites that fell in the YMYL categories (Your Money, Your Life). This update was a means to weed out sites with low authority writing about topics that can greatly impact someone's wellbeing. Additionally, if you do run a website in this space, we wrote a guide on how to add authority to YMYL topics instantly.
What changes did the Google May 2020 Core update bring?
The changes from the May 2020 core update seem to be in response to the ways the Coronavirus is affecting search trends.
The most prominent search trends in the past few months are increases in searches about the Coronavirus. Additionally, we recently wrote a blog on how to use Google Search trends spikes like the Coronavirus to increase organic traffic.


Google has many of these Coronavirus terms broken down by day, week, and top trending terms. This data from Google shows the Coronavirus has impacted all corners of the world economy, including digital publishing.
We've also covered how Coronavirus has affected ad rates and website traffic with daily updates. Google's May core update demonstrates how changes from the Coronavirus have been rolled into this algorithm update as well.
Google Search has never seen as many searches for a single topic continue over a sustained period as is happening now with COVID-19. Many searches are for news about what's happening in local areas, such as sheltering updates or the latest on testing. Here's how we're helping….

— Google SearchLiaison (@searchliaison) May 4, 2020
Google SearchLiaison stated that (a month ago) they made an update so more local news stories appear in the top stories carousel on Google Search. But how does Google define local news?
Local news can be material produced by publishers like local newspapers, that we understand specifically serve particular cities or regions. It can also be content we identify as relevant to a particular area, even if written by those outside the area. —Google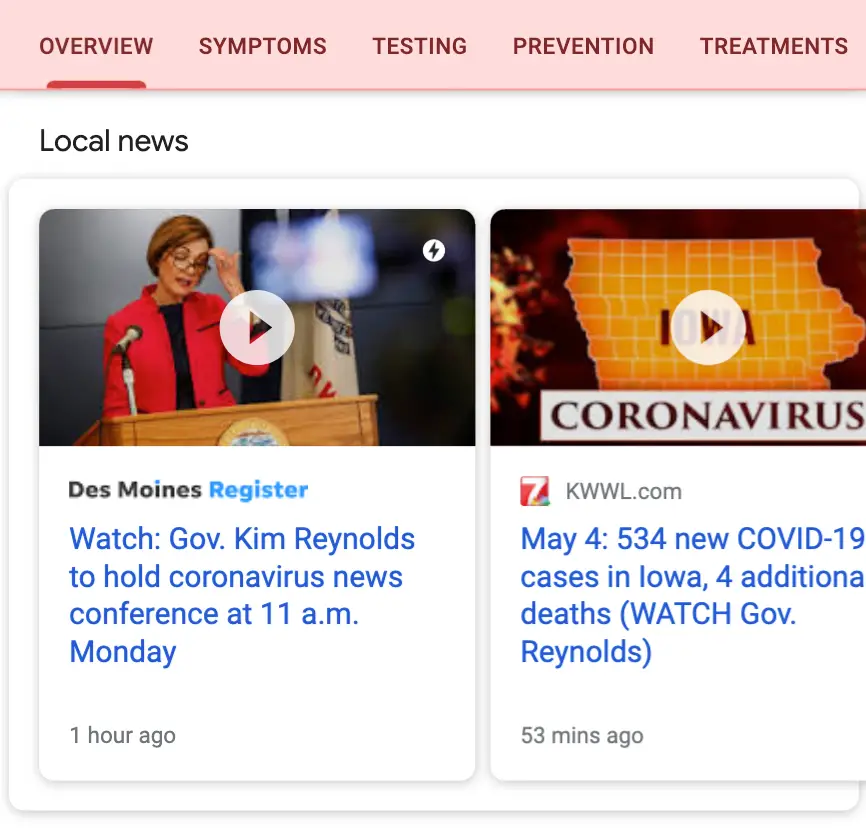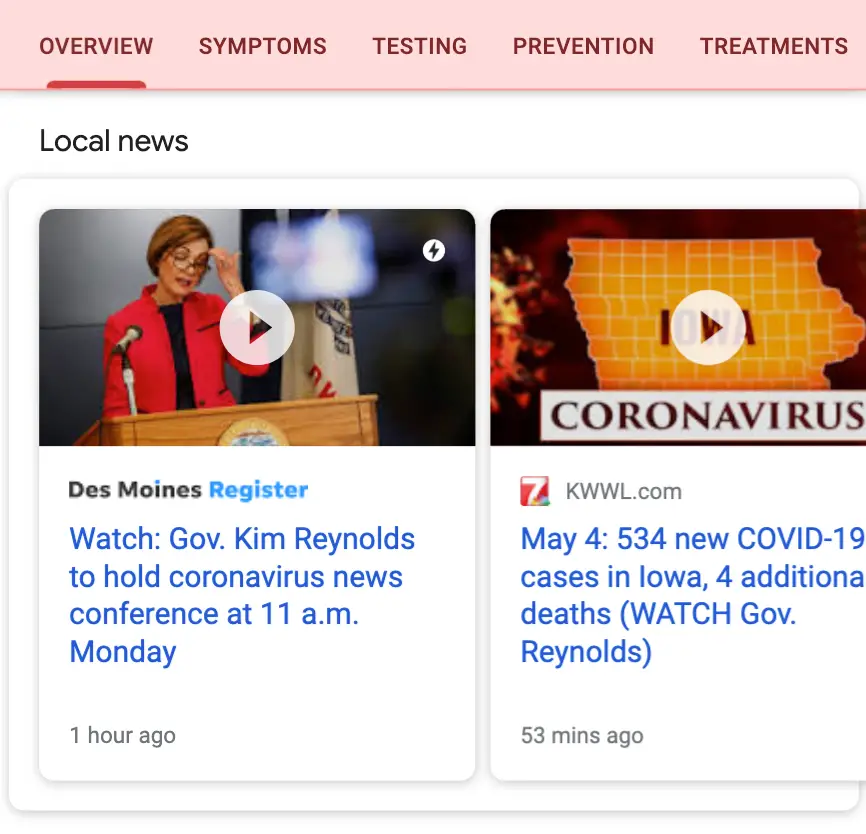 Coronavirus has changed the way people are searching. This is likely why Google incorporated these changes to the "top stories" carousel.
Plus, Google wants to ensure local news doesn't get buried down below larger national outlets reporting on the same topics.
Has the May 2020 Core Update affected search rankings?
Yes. The initial data shows that there are some larger publishers that have experienced drastic changes to certain landing pages traffic and rankings.
For example: In Google Search Console, this large publisher's impressions dropped to zero after the core update for the query "haptic touch." When the two days before the update, the same query had over 3,000 impressions. It also seems at first glance that it's been de-indexed from the results page (position 0 in Search Console).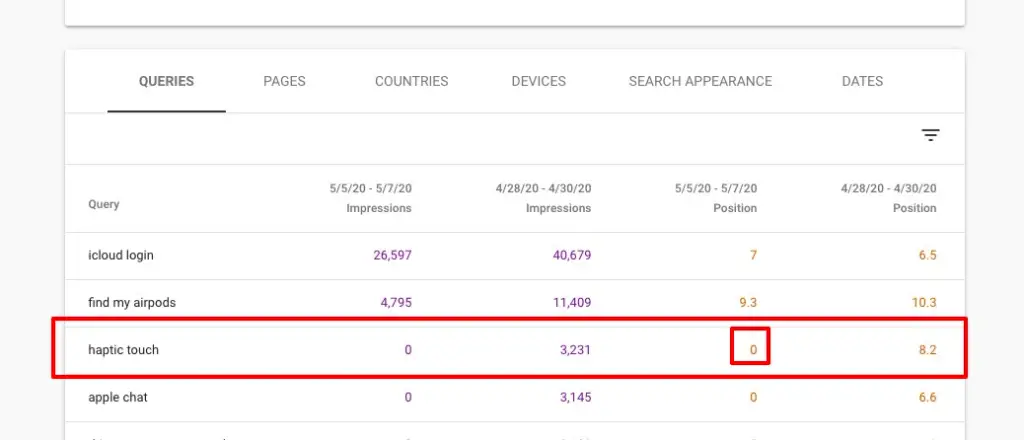 Once the query is clicked on, you see that clicks and impressions do appear. But impressions have decreased post-update by roughly 70% and clicks by 75%.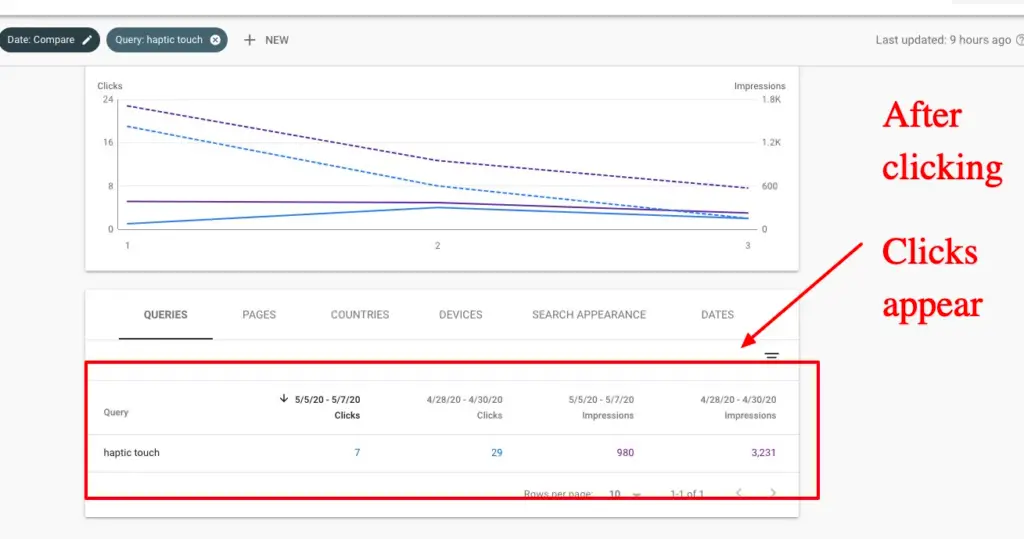 This publisher who writes about Apple technology appears to be impacted by the core update. But why? Additionally, upon further investigation, it seems to be that Google is conducting massive amounts of tests on their SERPs.
Below, the publisher ranks #6 for the query "haptic touch" on a desktop Chrome browser.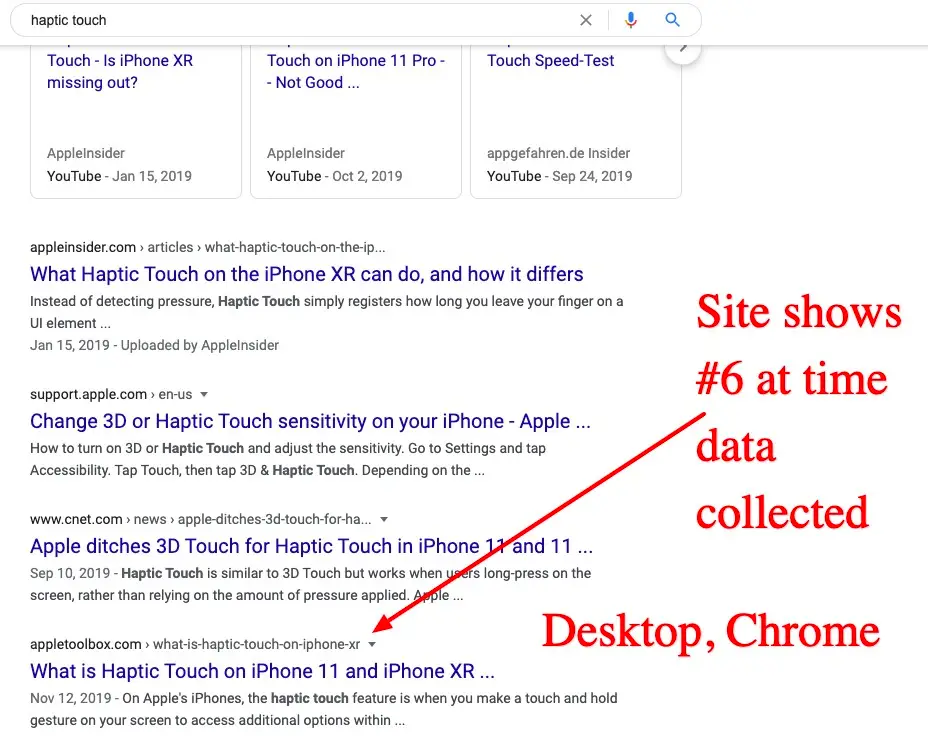 At the exact same time, the same query was conducted on a mobile Chrome browser in Incognito mode. This query returned the Apple Support article on haptic touch as the number 5 result, and the CNET result from the previous query dropped a whopping 5 positions in the SERP.
The most shocking example of Google's testing is showing two different #1 results in the same browser, at the same time, to two different users querying in the same location.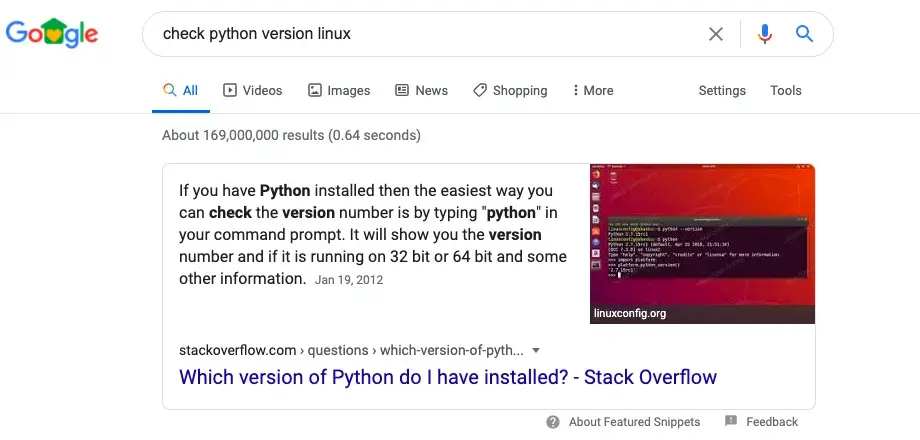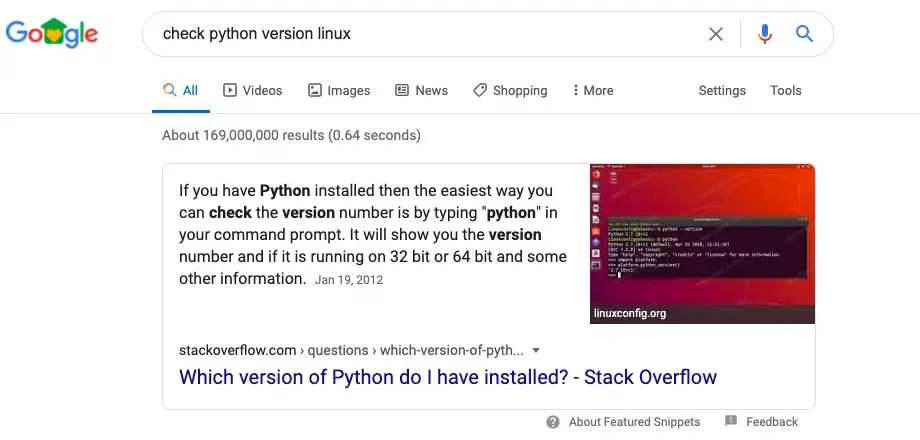 The first result is from stackoverflow.com, and the second result (below) is from linuxize.com.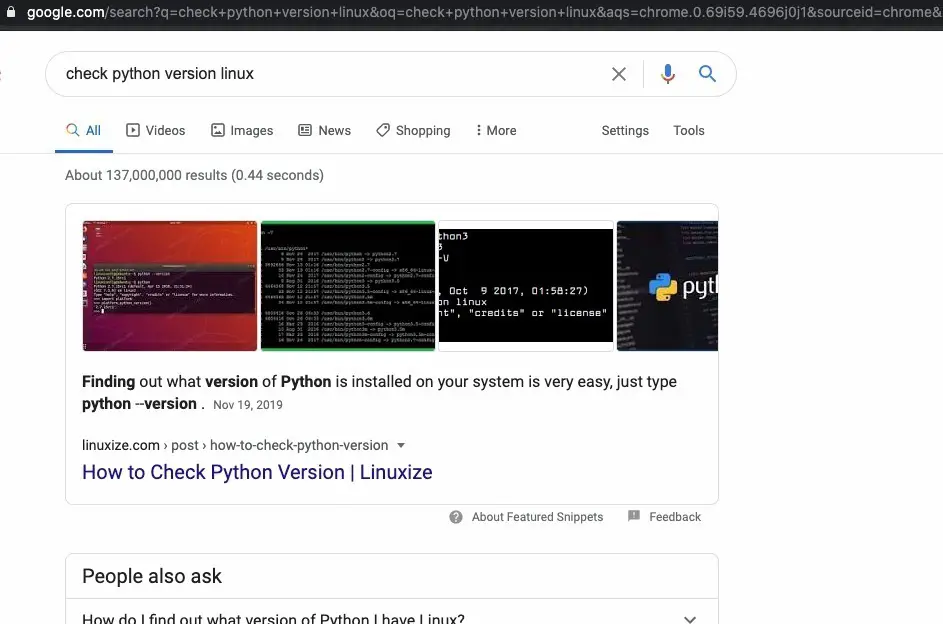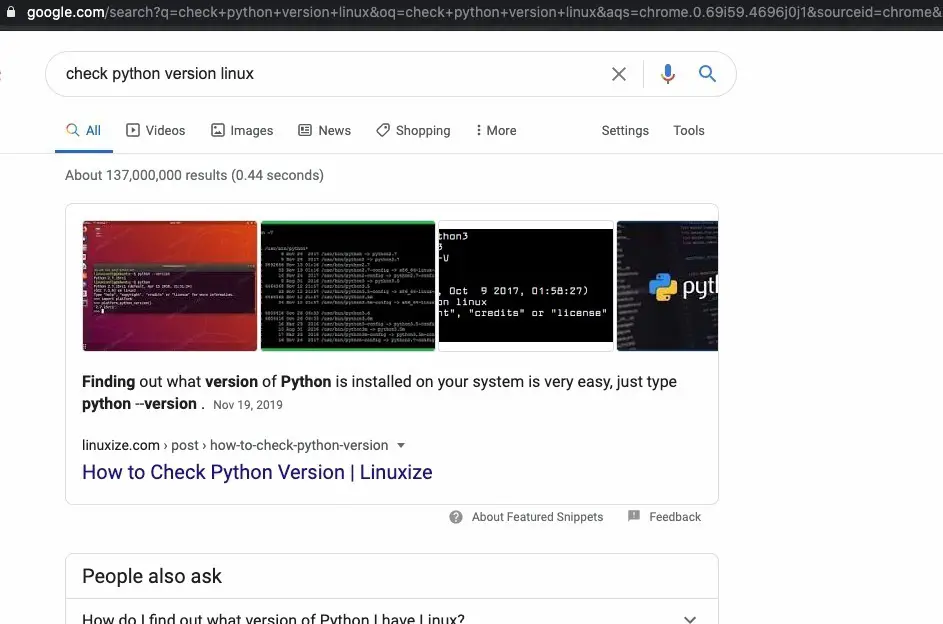 In theory, these two #1 results which are on the same browser, for the same query, in the same location, shouldn't be two entirely different results. This confirms that Google is testing SERPs during this core update.
Why is Google testing results on the SERP during this core update?
We aren't certain why Google is testing results on the SERP during this core update. But a lot of large publishers with high levels of authority have experienced major fluxes in their traffic and rankings.
The most likely conclusion is that searching behaviors have been changing so rapidly due to Coronavirus trends.  To combat this, Google is testing a wide array of search results to learn from the data as much as possible.
But this can prove a big problem to long-time publishers that have worked hard to grow their traffic and site authority.
For example: The query "truth or fiction" in this search results page has the website, truthorfiction.com, an exact match to the query, as the number two spot. Yet plato.standford.edu's result for a scholarly article defining the term "fiction" is the number one spot. Does Google really believe that someone Googling "truth or fiction" want the result for the definition of "fiction?" Not likely, but it just goes to show they are testing results.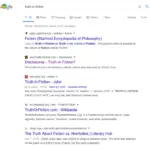 The same query in the same browser then returns a SERP with truthorfiction.com being the top result, and now the "fiction" definition entry by Stanford is the 7th result. These queries were within moments of each other on a desktop Chrome search.
Even on mobile, with two queries just 1 minute apart, truthorfiction.com had the knowledge graph in the first and didn't have the knowledge graph in the second.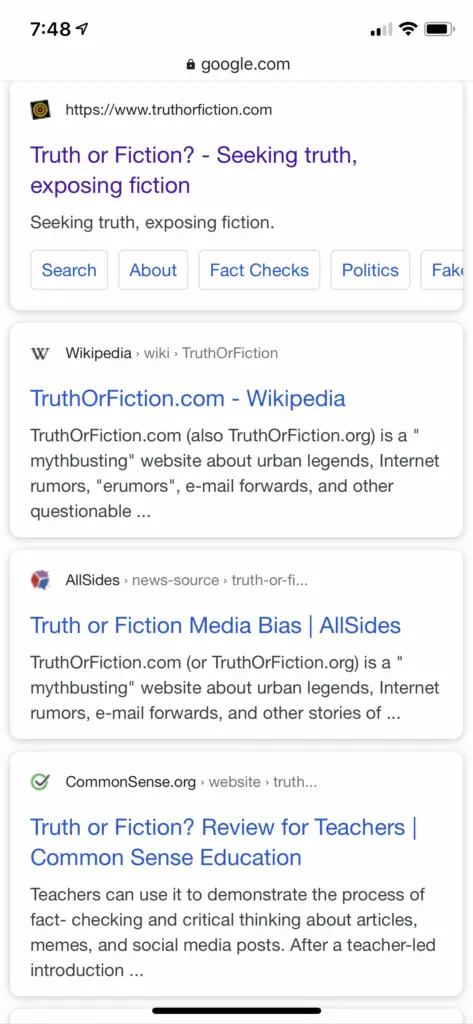 These four examples are concerning because Google's results pages, in theory, shouldn't vary this much between the same browsers at the same time. Especially since Google uses a mobile-first index. These differences might be why established publishers have seen massive drops in impressions throughout this core update.
Wrapping up what this core update means for publishers
It's clear that Google is testing many variations of SERPs and this affects publishers both big and small. While Google simply refers to the article what webmasters should know about core updates as a guide for publishers, outside of that, they give no actionable advice on this specific update. This is the same guide Google cites as the go-to resource in past updates as well.
If you've been affected, try and see if your traffic and impressions (if they have dropped) restabilize once the update is fully rolled out.
The world is changing before our very eyes, and the online world—as it relates to Google Search—is having to catch up in real-time. Additionally, while Coronavirus search trends are spiking, search terms related to travel, tourism, live entertainment, and in-person events are all down. These search trends will likely shift as the pandemic improves over time.
In the meantime, Google recommends to keep creating relevant content as always. if you do cover local news on your website, this core update might be to your benefit. As we receive more updates on how publishers have been affected by the update, we will update this blog.
Do you have any questions on the May 2020 Core Update? Let me know in the comments.