Today, as we kick-off Customer Week, we are introducing our new "Levels" to current and future Ezoic customers. This latest announcement will position customers for success regardless of their size or current earnings. Read on to learn why Levels were created, the benefits to publishers, and how to take advantage of this huge announcement.
What are the Levels?
Levels are an expansion of Ezoic's services, technology, and features to all current and future customers. It will allow customers of every shape and size to receive the benefits and optimal value from Ezoic products and services, no matter what stage they're at in growing their business.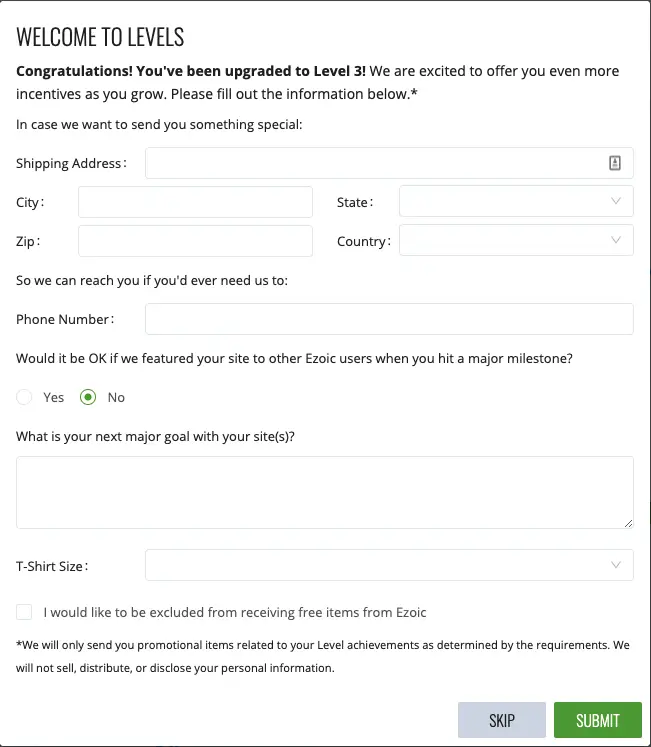 Will a site earn more revenue at higher levels?
Yes. In fact, Ezoic guarantees that sites using Ezoic Monetization will earn more ad revenue using Ezoic, and our technology, at their respective level than they could without Ezoic. We are so confident in our commitment to you that if sites find that they are earning less with Ezoic, we will match revenue, plus 25%. It's all part of our revenue guarantee.
Sites can use Ezoic's Traffic % settings to split-test traffic vs. any other form of "ad stack" or ad services/products. This is the only way that visits, ad density, and other comparisons can be made apples to apples. This ensures sites always earn the maximum revenue available according to their preferences in a data-driven way that always aligns with a publisher's best interests.
Why Levels, and why now?
Previously, Ezoic had informally provided different offerings and services to a diverse range of various sizes and types of publishers. None of these benefits were externally communicated, resulting in many not knowing about the benefits available to them — or worse — what expectations and goals they should set to acquire these types of additional benefits and features.
This became increasingly necessary as Ezoic has become the largest technology platform of its kind in the world. This meant being able to better define internally and externally how we deliver every customer the best experience possible. Ezoic has worked diligently to provide an unprecedented level of transparency to the benchmarks and achievements associated with these benefits and offerings so that they could be easily understood by customers.
Defining the Levels

All current Ezoic customers can now login to their dashboard and locate their Level, which was assigned based upon our detailed Levels requirements for revenue and visits. Customers currently in the Ezoic Access Now program will not have access to Levels until their program is completed. Access Now sites will be graduated to Level 1 upon qualifying automatically. This means sites that join under Access Now will be supported by that initiative independently until they reach the threshold for Level 1.
After any account (new or old) has a site active and integrated for at least 90 days, it is eligible for Level requirements reserved for Ezoic customers. In addition, any new customer that joins during Customer Week (must be active on or before end of day Sept. 17) will have access to Ezoic customer requirements.
There are five different levels outlined — Level 1, 2, 3, 4, and VIP. Each level offers a number of benefits and incentives to publishers. Customers are encouraged to apply to the next level as they approach or reach the requirements and will receive added benefits for continuing to grow with Ezoic.

Level-Up Learning Program
Level-Up Learning is an optional program for Ezoic customers designed to help publishers grow their sites more efficiently by receiving access to invaluable information. Courses happen in one-month intervals and include educational exercises, coaching, product walk-throughs, and community discussion.
Sign Up For An Upcoming 30-Day Program
Ezoic publishers can sign up for the next Level-Up Learning program from their Levels Dashboard. Publishers will receive notifications about the class start date and be able to join the program hub where they can communicate and receive upcoming instructions.
Learn, Observe, and Discuss Growth Strategies
Classes begin at their start date and all publishers within a class will be guided through a curriculum inside of a private Discord server. Each class will include a weekly program with live virtual sessions (recorded as well) led by experts and other successful publishers.
Follow Weekly Themes, Lessons, and Actions
Each week will have a theme, like Optimizing Existing Content, that includes recommended actions and examples alongside live and recorded sessions from publishers that have successfully grown using these strategies.
Apply for Grants as You Learn
Discover opportunities to apply for Ezoic grants and direct cash funding throughout the program. Submit information about your experiences and provide insights that could help your site(s) secure a cash grant from Ezoic.
Benefit From Community Expertise
Learn and discuss the impact of strategies together with other Ezoic publishers. See what others have done successfully or discover new emerging techniques that might be helpful for your business.
Continue Learning With Other Class Alumni
After completing a 30-day Level-Up Learning Class, remain in the Level-Up Learning Discord to take part in ongoing discussions and special sessions conducted by other Alumni, experts, and successful Ezoic publishers.
Below you can find a few additional questions and answers you may find helpful talking about the program.
Is Level-Up Learning the same thing as my Ezoic Level?
No. All Ezoic customers can view their level after logging into their Ezoic dashboard. The Level-Up program is optional coaching and education available for all publishers that are Level 1 and up.
Who can join the Level-Up Learning program?
Any Ezoic Customer that is Level 1 or higher. Simply log into your Ezoic account and go to your Levels dashboard to join the next available monthly challenge to get started. Access Now sites must advance to Level 1 before they are able to join.
Any other questions regarding Level-Up Learning can be found here. If you can't find your answer, leave a comment on the page.
Conclusion
In short, Level-Up Learning is a voluntary program that we're offering to encourage publishers to take full advantage of the opportunities available to them to grow their businesses and reach their goals.
You can still advance levels without joining the learning program, however, you simply will not have access to any of the learning program materials or courses.
What we're doing is investing in our publishers and well, who else is doing that? $12.4 million dollars is going back to our customers and we thought the best time to announce this was of course, during customer week!
For any other questions, head over to our FAQ page.