Is Digital Content Getting More or Less Valuable?
Digital content is not going away any time soon, but the question of whether or not it's going to become more or less valuable depends on who you ask. There's a general consensus within the publishing industry that "content is king." But, which types of digital content are rising to the top faster than others and which ones are the more valuable to publishers?
We already know that digital ad rates for content are going up, but what about the value of the content to the audience? Since it is a sort of complex question to answer, I figured we needed to get some data to start.
I went to Twitter and paid to run some polls that were directed at smart webmasters, publishers, and marketers. I wanted to get the consensus from those working in the field as to what they thought about the current state of digital content. Below, are the results of the polls and some other supporting data.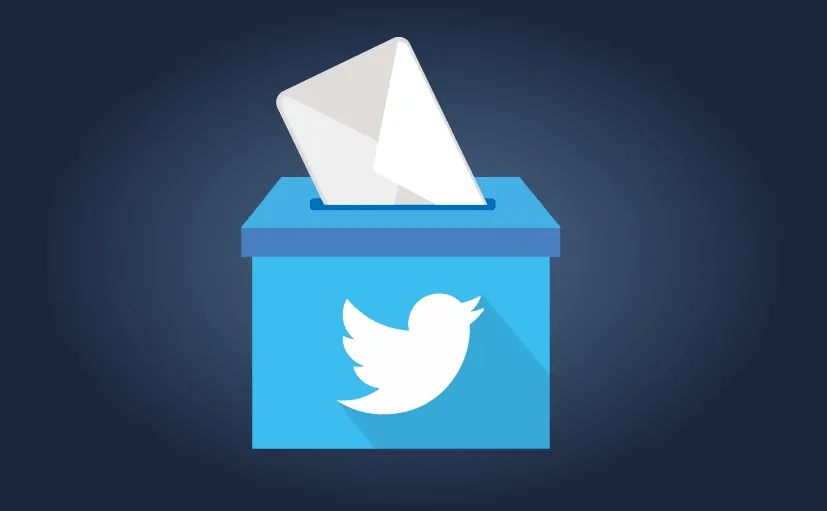 What types of digital content are becoming more valuable?
If content is king, video is leading the race to take the crown.  Cisco's visual networking index predicts that internet video will grow to more than 82% of all consumer internet traffic by 2022. By the beginning of 2019, the percentage of businesses using video as a marketing tool was 87%, according to a video marketing survey conducted by Wyzowl. This is a jump up from 63% of businesses in 2017.
As a publisher, the fact that the internet is becoming increasingly video-dominant is valuable knowledge to make note of when you are forming your content strategy. One type of video content that is especially useful to visitors is How-to tutorials. This is an area of video that was underserved by the big "pivot to video" boom of 2016.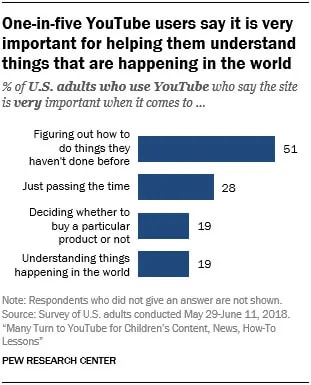 Pew Research conducted a study where 51% of adults said YouTube is very important when it comes to figuring out how to do things they haven't done before. What's important to remember is that these types of videos are centered around the visitor learning something and furthering their goals. The content itself should take priority over promoting a product or service.
Video was a must-have for large publishers during the "pivot to video" revolution. Looking back, Facebook can be held responsible for that wave being short-lived. Even in light of the hype, video content continues to grow, and there are still plenty of opportunities to engage your audience through video and through other channels as well.
This is where a lot of large publishers that failed to build a profitable video strategy fell short several years ago. Many focused on socially viral or persona-focused content that was primarily designed to entertain audiences rather than serve a need.
Consider this, in terms of content that people are physically buying directly from publishers, video content is far ahead of all other forms of content.
If you want to get started with video content, we wrote a helpful blog on how to grow your website by video publishing. For some publishers, though, investing in video might not make sense for your brand/site/venture.
What do marketers and publishers think about content?
While the studies on content marketing and social media marketing trends can be valuable to publishers, they tend to vary from source to source.
What's valuable to your visitors will not be as valuable to the visitors of another site. This is why I took to Twitter to ask the internet 5 questions that relate to the future of digital content on our podcast The Publisher Lab.
"Do you currently have a paid subscription to any textual digital content providers or publications?"
Do you currently have a paid subscription to any textual digital content providers or publications?

— Ezoic (@ezoic) July 3, 2019
These results are not incredibly surprising given the fact that this poll's results closely mirror the stats we have on paid content in media. As of February 2019, around 16% of adults in the U.S. paid for some form of online news content.

American newspapers dominate the digital subscriber market, but the growth in digital subscriptions is quickly becoming a global trend as can be seen in the figure above. The New York Times is the frontrunner for digital subscriptions, with 2.8 million digital subscribers in the first quarter of 2018.  The NYTimes coming out on top is a tribute to the fact they have been a pioneer within the digital subscriber space. They launched their paywall in 2011, and eight years later they have breached the 3 million subscriber mark and now are up to 3.3 million at the beginning of 2019.
22% of adults in the U.S. paid for online digital audio, while 33% paid for online digital video
News media companies are not the only ones jumping behind a paywall, though.
Companies are producing more audio and video content to keep a sharpened edge in today's ever-changing content, and a decent chunk of Americans will pay for that content. Many of the companies producing video content give users unlimited access to content once they meet the paywall, i.e. Netflix, Hulu, HBOGo, etc.
Who is paying for content?
From our Twitter poll, 20% of respondents said they paid for some form of digital editorial content. Who is this 20%?
30% of U.S. based adults from 26-35 pay for online editorial content
Only 7% of people over the age of 55 pay for online editorial content
Consumption on mobile devices of editorial content rose from 28% in 2013 to 56% in 2018
Remember: Written content is a commodity in more cases than video content is because it is more likely to unique content that people can't get anywhere else. That is why things like e-books, studies, and medical information like PubMed, have found success in the past.

Highly specialized publications like eMarketer are a great example of a successful publication leveraging a specific audience willing to pay money for data, research, and studies.
For categories like the news, it's much less likely that people will pay for it. In cases that they do, a very small number of players make up the vast majority of the market.
"In 5 years, how do you imagine Google search will change the most"
In 5 years, how do you imagine Google Search will change the most?

— Ezoic (@ezoic) July 3, 2019
The results from this poll were more or less a four-way tie. The top result was "largely stays the same" at 32%.
What I found interesting about the "more rich media" result was that a lot of people are clearly thinking of Google Search from a desktop perspective, but when you think of it from a mobile perspective, we have rich media at our fingertips at all times and this is clearly where Google has expanded results the most recently.
I'm not privy to any inside Google secrets, but Google does not see their future as a search engine. They see themselves in the future as an Artificial Intelligence business.
In 2007, Google released Android, an open-source operating system for phones. Today, Android has a 76% market share. Google looks at search and mobile as a major part of how they can help all people integrate Google A.I. technology into their lives.

8 years after Google's release of Android, they released TensorFlow—one of the most powerful machine learning platforms ever created…and it's open-source as well. See the similarities?
That was just the beginning of Google's path to implementing A.I.  into its consumer-facing products. Google Voice Search is a feature on Android OS and the Chrome Mobile App. Every time a user makes a voice search, the audio is uploaded to Google servers because the machine learning relies on these audio files as "training data" to help improve the reliability of the machine.

Google sees the products above (all of which are using TensorFlow) as the foundation of what's to come, and they also have a leg up on the competition.
Google Search currently holds 92.6% of the search engine market share worldwide, and with the number of voice searches increasing, this continually adds more information into their databases to better serve those using the A.I. powered products.
That's the end goal in a smartphone with machine intelligence: the true digital personal assistant, ultimately predictive and vastly knowledgeable—the part of your brain you're not born with. —Aparna Chennapragada, Google
As a publisher, you're largely thinking about this in terms of, "how will this disrupt people searching for my physical content?" Google won't be writing articles anytime soon, nor will they want machines to write articles. But, they are interested in providing people with answers and information.
If anything, there will be more opportunities for publishers to reach their audiences, not fewer. Here are some opportunities I think are worth looking at.
"If advertisers only used your browsing data to target you with ads, which of these best describes how you would feel about that?"
If advertisers only used your browsing data to target you with ads, which of these best describes how you would feel about that?

— Ezoic (@ezoic) July 3, 2019

What's interesting about the half of publishers who responded that they were concerned is that this is already happening now. I'd argue that those who were very concerned don't understand how their data is being used.
The events that transpired with Edward Snowden are a great example of how in the years that followed, people are more conscientious of where their information is going.

Before the whistleblower's actions, people assumed all the info taken was just metadata, but post-leak, people saw that the spying could be individualized and very invasive. My guess is that our Twitter pollsters aren't drawing the distinction between more benign big data for advertisers and things that fall into a more insidious realm. I could be wrong, but I think in general people just don't REALLY trust this is all data might be used for.
Even for those who say they are concerned, statistically, people overwhelmingly yearn for advertising that is tailored to them, if we are to have some form of advertising online. On the other hand, though, only a slim margin of those same people believe it's ethical to track their online activity for the purpose of personalizing ads.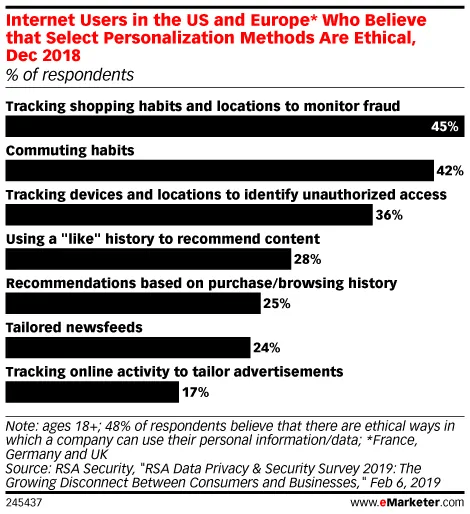 The topic of privacy won't be going away any time soon. We're seeing this now with California's version of GDPR passed last year. I believe this poll is reflective of how the public feels; it's roughly an even split. Younger generations have been okay with clicking through the terms of service without a second glance and creating profiles on social media, feeding advertisers tons of free data.
"As a reader, which of these revenue streams would you most likely support for ALL digital publishers and content creators?"
I wanted people to think of this question in terms of receiving all content on the internet through one revenue model, which one would you be most willing to support? I believe the sentiment got across.
As a reader, which of these revenue streams would you most likely support for ALL digital publishers and content creators.

— Ezoic (@ezoic) July 3, 2019

63% of respondents said free content, ad-funded.
I was initially surprised about this sentiment since 55% of the people also said they were either very concerned or concerned about advertisers using their data. Those sites operate from ad revenues. At the same time, I can see why the overwhelming majority of people prefer the free content, ad-funded model.
If the entire internet operated on paid subscriptions, it would essentially create a two-tiered internet: the people who can afford good information and those who can't.
Another downside would be the inability to filter through information because every publisher is trying to make money by selling something. Imagine, you're searching for news on a political candidate and you can't get any information because every site is trying to sell you t-shirts, hats, or making you break through the paywall for the said candidate or their opposition.
In general, the altruistic side of us see the benefits of running things on donations, but at the same time, sites like Wikipedia have passed up billions of dollars of revenue from choosing not to put advertising on their site. Most publishers cannot afford to leave that kind of money of the table.
Which of these best helps you determine the trustworthiness of digital content?
Which of these best helps you determine the trustworthiness of digital content?

— Ezoic (@ezoic) July 3, 2019

The results of this poll were pretty evenly split, but the URL of the website surprised me a little. Outside of SSL encryption, there are an endless amount of sites that have unorthodox domain names yet have large followings and great content. To me, I prefer to discern whether the content is trustworthy or not based upon what I already know.
The referring source makes a difference as well. Believe it or not, if something pops up on the top page of Google search results, there is a certain screening those results have to go through. The author of the content might matter as well on certain topics as well. Let's say a site writes about SEO advice. I want to know if you're some fly-by-night guy writing this advice, or are you a former data scientist from Moz?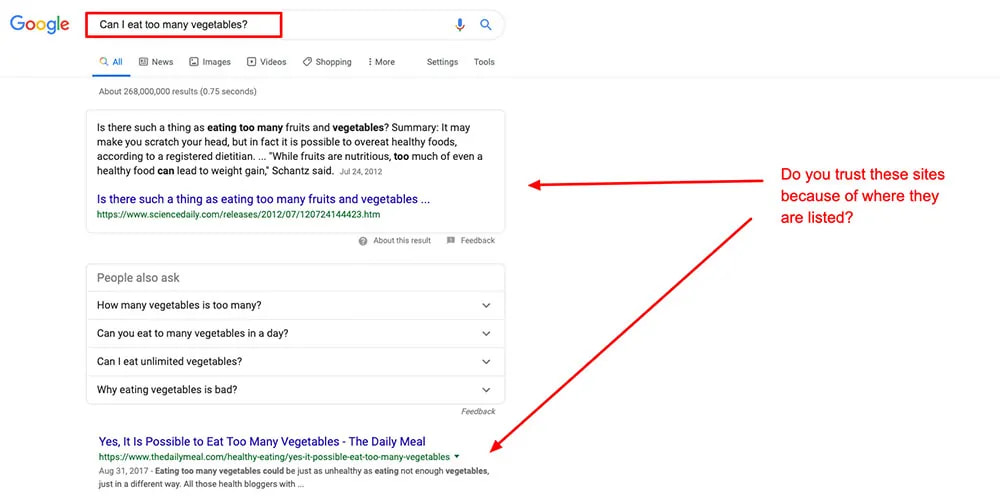 So…how do publishers create valuable, trustworthy content?
"Value" is a subjective measure. For the majority of digital publishers, the measure of value is the size of a digital audience (web viewers) and the revenue they earn per visitor (EPMV).
For the visitor coming to a website site, what they gain from publishers is good content that is useful, helpful, or entertaining.
What is important is that a publisher understands what their specific audience wants from them. This way they can better predict what types of emerging strategies will work best in attracting similar users to their websites. If you want to learn how to do exactly that, we've written about how to get engaged traffic to your website in 2019 and beyond.
When web traffic increases from engaged audiences, ad revenue is likely to increase along with it. We've written a lot of content that covers the intersection of creating valuable content for your visitors and simultaneously increasing earnings. Much it has to do with being more data-driven in how you evaluate your current efforts.
Here are some of those articles if you want to take a deep dive into some additional strategies for growing audiences and creating more valuable content:
But, can publishers rely on ads for all their revenue?
The short answer to this question is, yes. Many can and do.
Publishers often are reliant on display ad revenue for a significant portion of their total revenue. At the end of 2018, we published a 2019 Publisher Performance Report to see how 50 publishers using Ezoic faired over the course of the year. Almost every publisher on the list generated more than 80% of their total revenue via ads. I also wrote a blog on how 20 of those publishers tripled their display ad revenue in less than a year.
Although, following the collapse of Facebook's 'pivot to video' revolution I mentioned earlier — and Facebook's algorithm change at the beginning of 2018 — publishers have been pursuing multiple revenue streams. Based on Digiday surveys, the main three revenue sources are display advertising, video advertising, and branded content.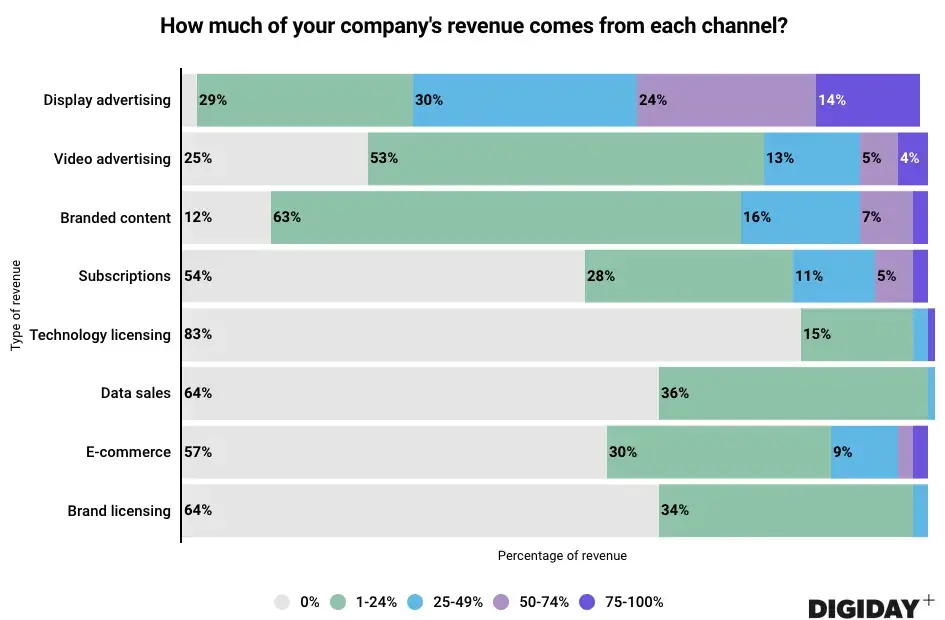 What is for certain is that regardless of how digital publishing evolves, there is no one quick fix that will magically allow publishers to fundamentally change the main revenue model that content publishing has had for centuries.
That doesn't mean it is a bad idea to constantly be seeking ways to diversify revenue streams, publishing projects, and revenue, models. The same basic philosophy applies to the stock market. If you have a diverse portfolio, you're more likely to weather the storm compared to another investor who only relies on only one stream of income or a single investment.
Will digital publishing be a sustainable business in the future?
With the number of traditional newspapers on the decline in the U.S., many are being forced to incorporate more sophisticated digital publishing strategies into their businesses to survive. The good news is that digital revenue for publishers is on the rise, but the percentage of growth year over year has decreased slightly. Digital ad spending also continues to grow year over year, with the predicted percentage of change forecast shrinking.
This means the pie is definitely bigger, but it is more complex to navigate, and more competitive to gain share in than ever before.
Digital publishing has changed drastically within the past 5 years, and it's safe to expect the next five years it will change just as dramatically again. Luckily, as long as there are users searching for content to consume, there will be publishers creating content to meet that need.
Do you all have any thoughts on the topics we covered on the Twitter poll? We are going to try to do more Twitter polls in the future. What should I ask people next?