How Coronavirus / COVID-19 is Affecting Web Traffic & Ad Rates (Live Updates)
We will include ongoing updates with timestamps below. We'll also keep our list of resources and advice updated as new information becomes available.
Resources:
How Ad rates Are Impacted By The CoronaVirus
Original Article Published March 16th
The global crisis and events surrounding the spread of COVID-19 due to a novel coronavirus are having major rippling effects across entertainment, health, and global economies. What was once an isolated event in one part of the world has had far-reaching impacts across the globe that have brought many cities and countries to a screeching halt. The impact of a major global event like this is long-reaching and multi-dimensional. Below, we'll provide live — and regular updates — regarding the digital impact this is having on publishers and advertisers.
Publishers worldwide are wondering what coronavirus / COVID-19 means for ad rates and their website traffic. Given our unique proximity to tens of thousands of sites worth of pageview data, we wanted to do our best to provide regular updates and information to publishers struggling for clarity regarding the impact of these events on their businesses.
Initially, there was speculation that ad rates would increase as quarantine numbers skyrocketed, as people are more likely to be on their phones and computers consuming content. However, it has become overwhelmingly clear that the coronavirus's impact on the global economy will likely have widespread effects on both website traffic and ad rates for the foreseeable future.
Online ad rates typically follow the general economy. Given the current situation around the world, countless companies will be suspending their online ad buys (DisneyWorld, airlines, travel, retail, gyms, events, local advertisers, etc). Not only does this remove their money from the market, but it also decreases competition in ad auctions, depressing prices for everyone.
While website traffic has far more variability — depending on the website category or niche — global advertising budgets are being throttled each day. This leads to overall lower global ad rates; although some of this may not be fully-realized just yet.
HOW THE STOCK MARKET AFFECTS AD RATES
The market initially saw a big dip earlier this year in mid-February, as the virus spread over China and parts of southeast Asia. Many companies worldwide, including the United States, use China for manufacturing or assembling. For example, Coca-Cola grows their corn in the US, ships it to China to be made into corn syrup, and then China sends it back so it can be used to make Coca-Cola.
Ironically, Purell is behind in production because they, too, work with China. But, since that piece of the 'production line' is missing, many companies cannot hit projected 2020 goals and fulfill demand.
Now, the stock market is seeing some of its worst numbers since the 2008 recession. These drops are largely due to big sell-offs during the day, which can be attributed to coronavirus fears and the current oil market. On March 9, 2020, stock prices dropped significantly during after-hours; the Dow logged its biggest point-drop in history and had its worst day since October 2008.
Additionally, the S&P and the Nasdeq declined and both had their worst days since December 2008. To fix this, the stock exchange implemented a fifteen-minute delay on trading the next morning. This was only a temporary fix, however, because the next day, halt stocks decreased again. The stock market carried out a halt once more, but the market declined again. We are likely to continue to see these ups-and-downs as economies are further hit.
If we look at ad rates over the past couple of years during Q1, they all tend to follow the same pattern–this time of year is typically a bit slow because holiday ad campaigns have ended and companies are slow to get their 2020 strategies rolling.
We have come to expect this seasonal change and a dip in ad rates after the holidays. Then, it typically sees a bit of up and down, with February-March seeing it rise once more, especially as marketing departments in companies need to finish out their Q1 budget. But we aren't seeing that happen this year. 
Digital ad budgets are the fastest and easiest to pull when the market drops and revenue forecasts for public companies (the ones that advertise the most) change; digital ad campaigns rarely involve any sort of contract, and it's pretty simple to cut a campaign or add one back in quickly. Businesses who advertise, particularly public companies, want to keep their company in or near the black as much as possible, especially as they have to report their earnings at the end of Q1 (March 31st). If they can easily cut an expenditure, they will.
THE NEAR FUTURE OF 2020 AD RATES
As companies pull their ad campaigns and money from the market (DisneyWorld, airlines/travel, retail, gyms, events, local advertisers, etc) competition in ad auctions will decrease, depressing prices for everyone.
Each site is going to be affected differently by these massive changes to the ad market. Sites whose niche is for travel, sports, retail, etc. are likely to have steep declines, as travel halts, sporting events are canceled, and governments continue to implement mandatory, but temporary, closes.
Sites that focus on online entertainment, cooking, health, and science might see increases, as people have more time on their hands and want information about the virus. It all depends on the keywords you optimize for. 
In instances such as this, it is most important to have quality ad inventory over quantity and to continue to create valuable content. Your content has the opportunity to get a lot of exposure right now because more people will be online. 
That being said, there will be also be increased competition to get eyes on websites. If your content is higher-quality, it is more likely to be found and read, increasing the value of the ads on your pages. Since there are many companies pulling digital ad spending, it is more important than ever to ensure that the ads that do show on your site are still good quality and that you know how many and what sizes those ads should be.
What is good to know is that most of these changes to marketing and advertising strategies are for the short-term until there is more of a handle on COVID-19 and the global economy.
Additionally, the other side of all this is that when the economy is doing really well, ad rates follow. In Bull markets, ad rates increase and publishers are likely to make more money. Around Black Friday and through the holidays, companies are spending more money and ad rates soar. This is true for the current state of ad rates. As the economy recovers, companies will increase their digital ad spending and ad rates will increase. 
In the United States, we also have an election to look forward to. Election years usually have higher ad rates because political advertising continually increases as the election comes closer. So while the next few months may be a bit tumultuous, we are likely to see ad rates recover more quickly due to the presidential election. And while the election is for the US, the American economy and politics generally have an effect globally as well, so non-American publishers and economies will be positively affected.
FOR EZOIC PLATFORM CUSTOMERS:
With all of this volatility and the decline of the ad market, it's more important than ever to make sure your content and inventory are valuable. It's a quality over quantity situation. The good news is that Ezoic's machine learning systems are constantly monitoring making adjustments to ad positions, sizes and densities to DO EXACTLY THIS.
Adapting ad placements, density, and ad sizes to manage supply and demand the way Ezoic does is the number one thing you can do to ensure your ad rates stay as high as possible during this time. A decline in ad budgets means less competition for publisher ad space. This means supply and demand will change each day. Ezoic automatically adapts all sites to the changing conditions to maximize performance. This means our machines are learning in real-time from tens of thousands of websites and understanding how to adjust ad sizes and ad locations for every visitor to ensure the best possible revenue performance. Ezoic was built for fluctuating supply and demand to help publishers with revenue. For sites that don't leverage our machine learning, there's a strong chance they'll be even more negatively impacted as ad competition continues to decline over the next several months. 
If you haven't already, we'd encourage you to check out our support article on EPMV optimization best practices during this time. It includes methods that maximize Ezoic's ability to help during this time.
WHAT TO TAKE FROM THIS
Digital ad rates are directly affected by the stock market, for better or worse
Digital ad budgets are the fastest and easiest to pull when the market drops and revenue forecasts for public companies (the ones that advertise the most) change
This will impact digital ad rates in the short-term and indefinitely until there is more clarity on the virus and thus the economy
With lower ad budgets, it's more important to have more valuable inventory (quality over quantity) and to understand how to optimize ad size and location
OUR ADVICE TO PUBLISHERS…
Focus on keywords that are likely to be of interest right now. More people will be cooking, crafting, playing games, reading news, starting new hobbies, etc. Additionally, if you are able to create content that is more relevant for the current circumstances, do it
With all of this volatility and the decline of the ad market, it's more important than ever to make sure your content and ad inventory is valuable. It's a quality over quantity situation. You will be competing with many others for the attention of readers who will likely be online more.
If your site is doing well or has not changed, it's still important to stay on top of things. The economy and ad rates could change at any moment, so you, too, should be focusing on quality and relevant content, valuable ad inventory, and staying on top of keyword optimization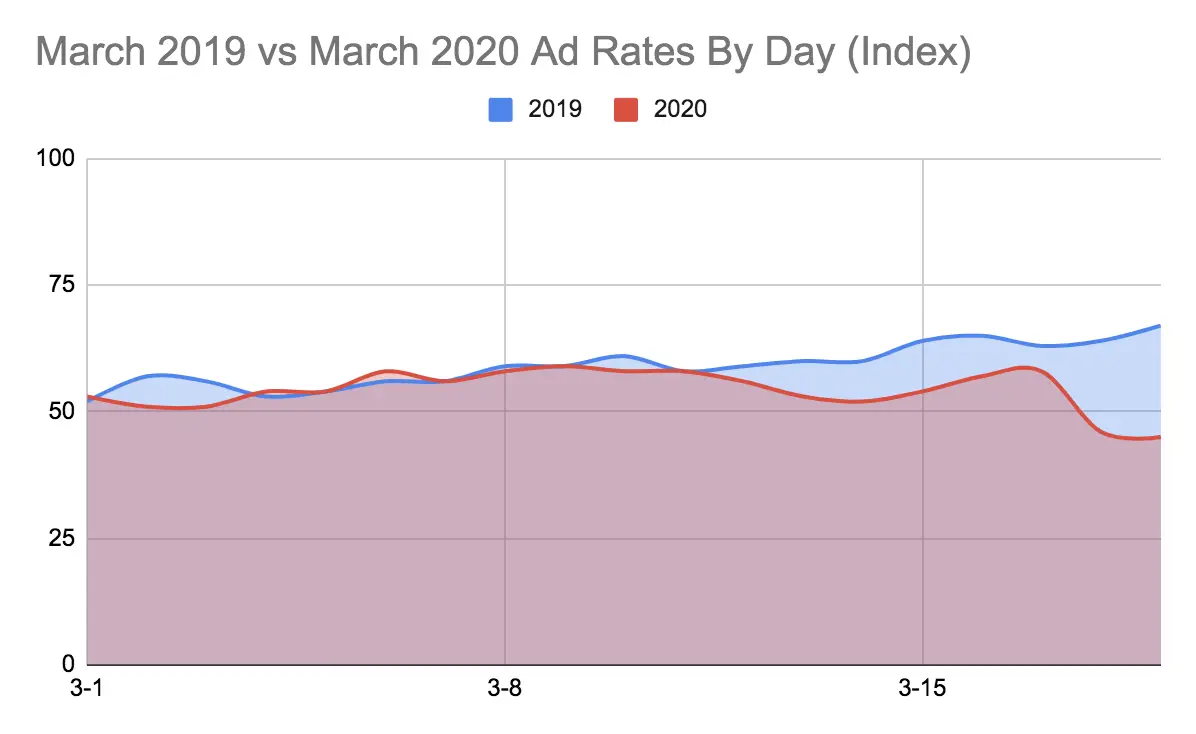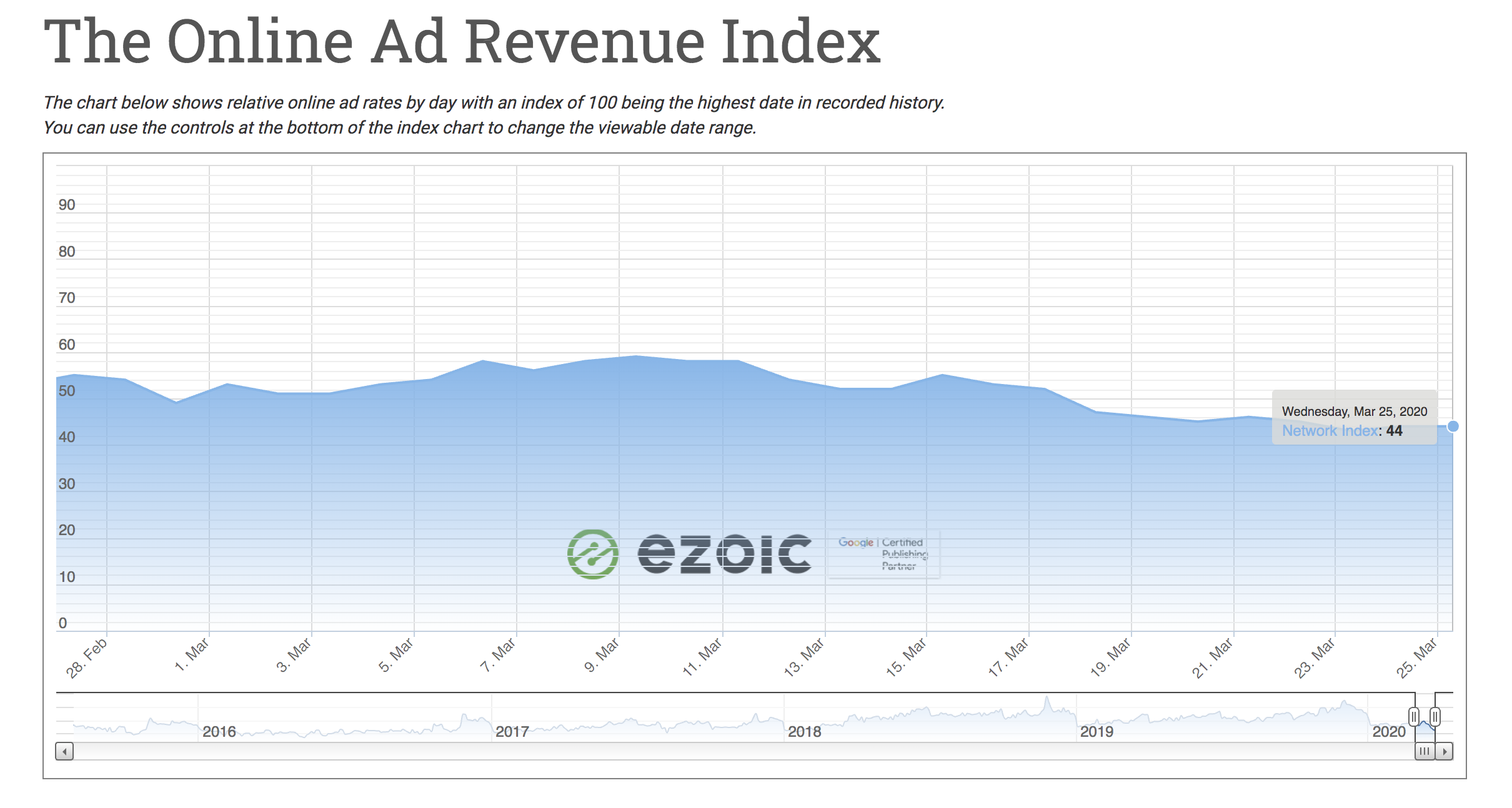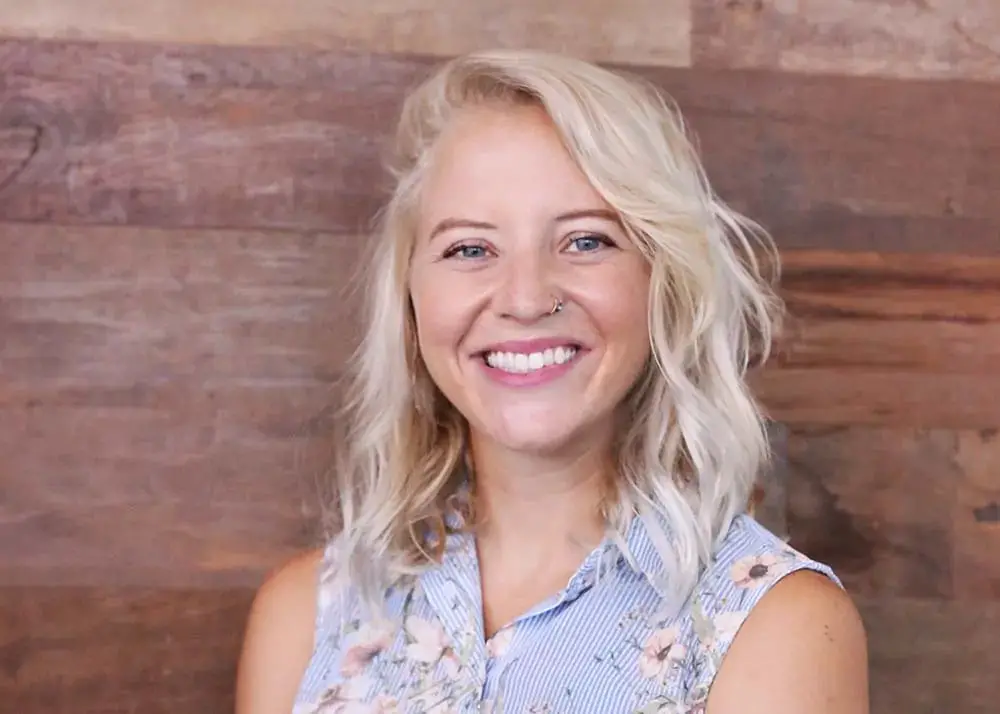 Whitney is a former writer and journalist for several nationally syndicated news outlets and media businesses. She is a creative marketing professional that works directly with publishers at Ezoic and is a professional photographer. Whitney also produces several digital video series that live on YouTube.