A Content Writing Guide To Improve SEO and Visitor Engagement
It's no mystery that your content is the most important factor in engaging your audience. What's more, visitor engagement directly impacts your revenue, SEO, and future traffic. That said, one of the hardest — and most subjective — things to measure is if your content is doing the best possible job of engaging your visitors. This begs the question, "how should publishers approach content writing"?
While every audience is different and every publisher may adopt different content writing style guides, there are some dynamic ways of writing content that is proven to help with higher ranking positions in Google Search and positively influencing more pageviews per visit and longer session durations.
I created a downloadable SEO style guide that any publisher can follow below. I also explain how it all works in a recent Ezoic Explains episode embedded in this article.
What content writing tips will help with better organic rankings?
The first step in structuring your content is to make your main title very blatantly related to your targeted query. The title and introduction should briefly, but clearly, relay what you will be discussing in the article.
What your targeted query should be will vary per publisher, but you'll want to make sure it's something that isn't too broad. We've discussed how to find good topics to write about to quickly rank in Google before, but in a nutshell, find a relatively specific question that you can provide the answer to.
After the main title, you'll want to include a list of bullets to summarize exactly what the article is going to cover. Lists allow viewers to quickly understand if your content answers their question and ultimately keeps them from bouncing immediately.

How do you target longtail keywords and rich snippets all at once?
The title of your post should begin with something that answers a question specifically:
How to…
How does…
What is…
What can…
There are many similar variations you could also use. These types of titles work especially well when you're targeting a specific question or query in search results.
After you know what your overarching topic is, you can use this same approach to create the headers within your content as well, which I will cover below.
It's best to have broader keywords, such as "model planes," at the start of the title. However, almost all titles and headers should be researched ahead of time so you can pointedly target a specific problem you want to help someone solve. We've done videos before on exactly how to narrow down a topic from research on broader keywords. Most times, you'll want the broader targeted keyword right after the 'how to' part of the title, but sometimes it can also work in the middle.
To finish your introductory section, it is beneficial to link the visitor to other content you've written that may also help them answer similar questions. You may go through your older content and find that you have information on your website that they might find more valuable than what you're providing in this newer content.
Linking inside of that content can help you drive more pageviews per visit and also prevent bounces.
You can get my full content writing style guide here. No email or info required. The lInk takes you right to the PDF.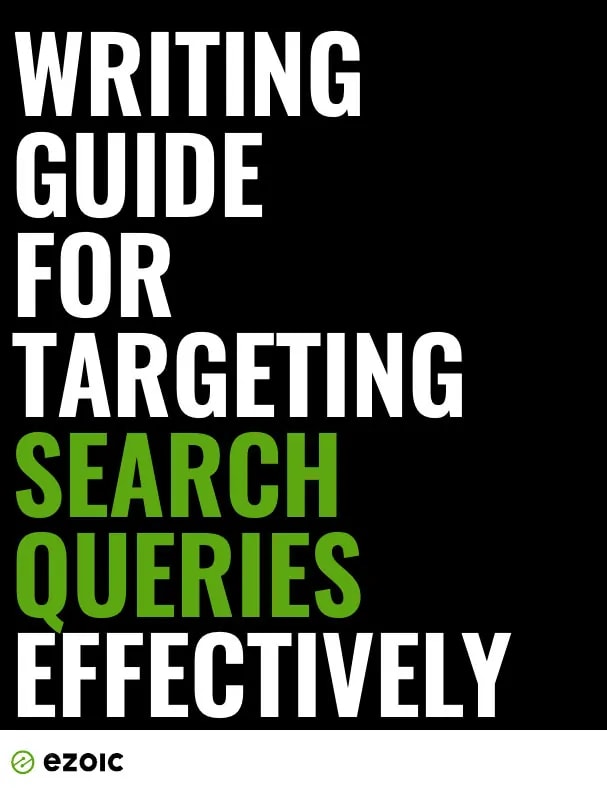 What are the best ways to structure content for SEO?
There are two main ways to break up content in a way that may open up your ability to rank for specific queries and garner more organic traffic just from your content structure, H2 tags and images.
People that are searching for answers to questions hate reading blocks of text that they have to sort through. Content should be organized into short paragraphs under H2's or broken up with images. Above, you can see both in action.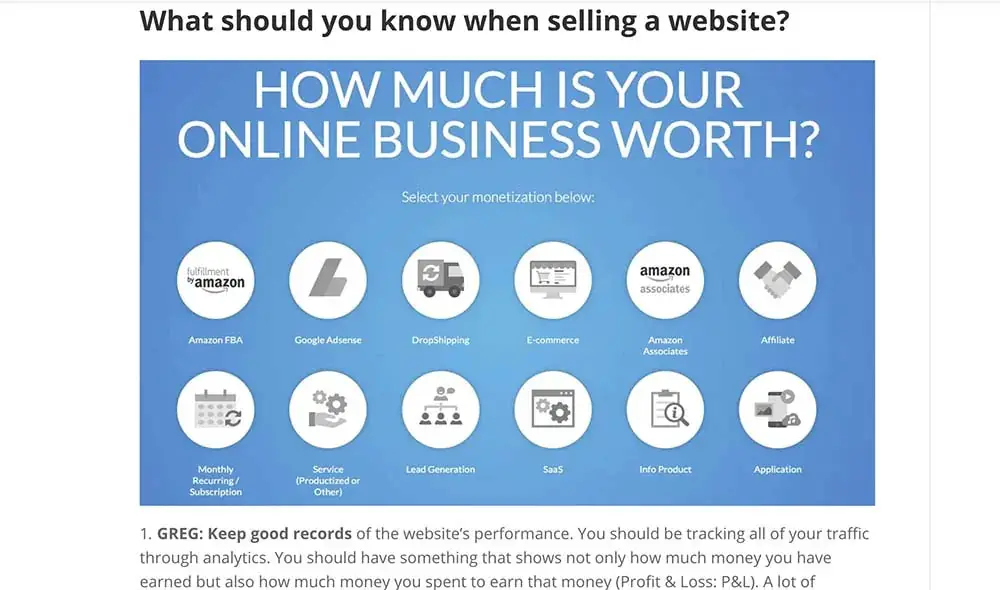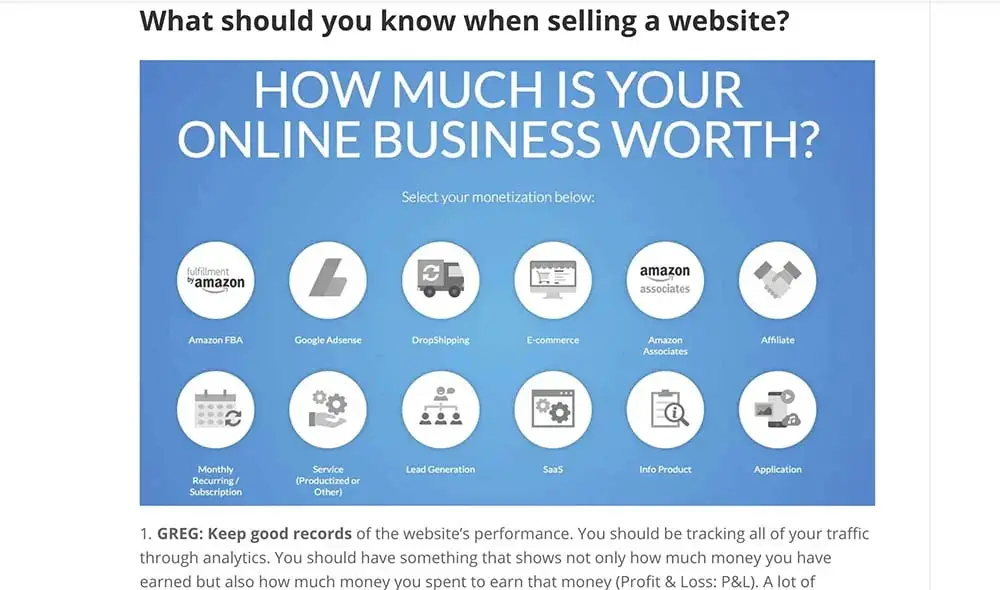 H2's allow publishers to post all of the variants of a question in regards to the keyword we are targeting. It gives readers a way to know what is coming up next while breaking up and organizing your content. It also provides a flag for search engines that something is important and the content following it is going to provide an answer or important information.
Should I use H3, H4, and H5 tags too?
Realistically, these are far less important for SEO and garnering rich snippets but they can help break content up if you think it provides a better experience for the reader.
How do I rank for multiple longtail keywords and rich snippets?
When approaching content writing for modern SEO, you want to make sure that you're answering the query as best you can. This means answering the question immediately after the H2.
The first sentence or two directly after the headers should give a succinct answer and then in the paragraph immediately after, you can begin to go into more detail. Structuring your content this way will not only keep users from bouncing more quickly but will provide you the opportunity to appear in Google rich snippets.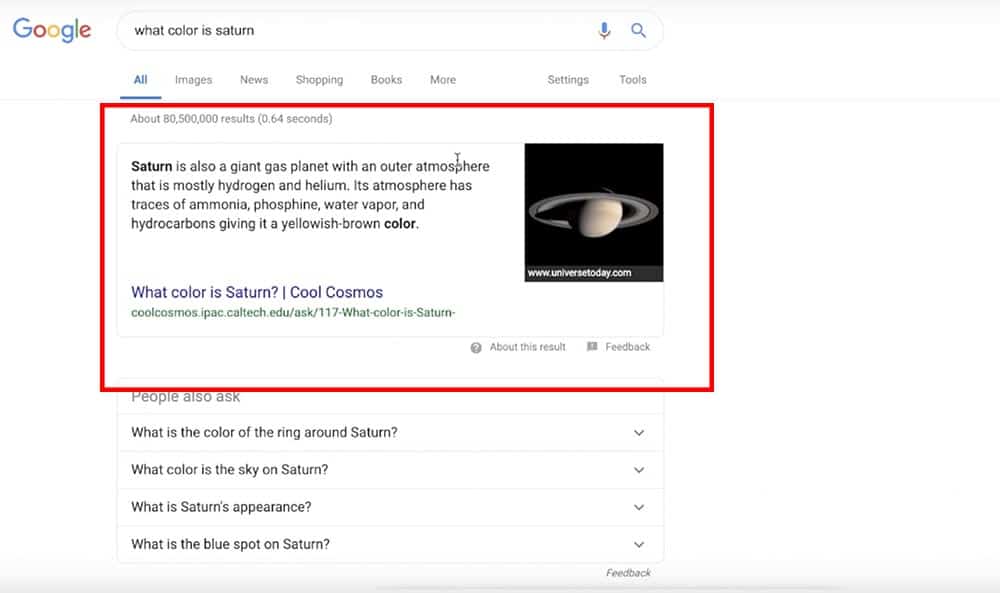 Additionally, when you choose a question to answer, you want to try to give an answer that is both intriguing and informational, not agenda-driven. Think to yourself, "would someone who is skeptical read this and think my content is unbiased?" In most cases, you should be providing them information, not a perspective.
To choose your H2's, Google your targeted topic or keyword and see what questions appear in the  "people also ask" section of the search results. This will give you ideas for your headers but also allows you to see where users' search results are trending on that specific topic.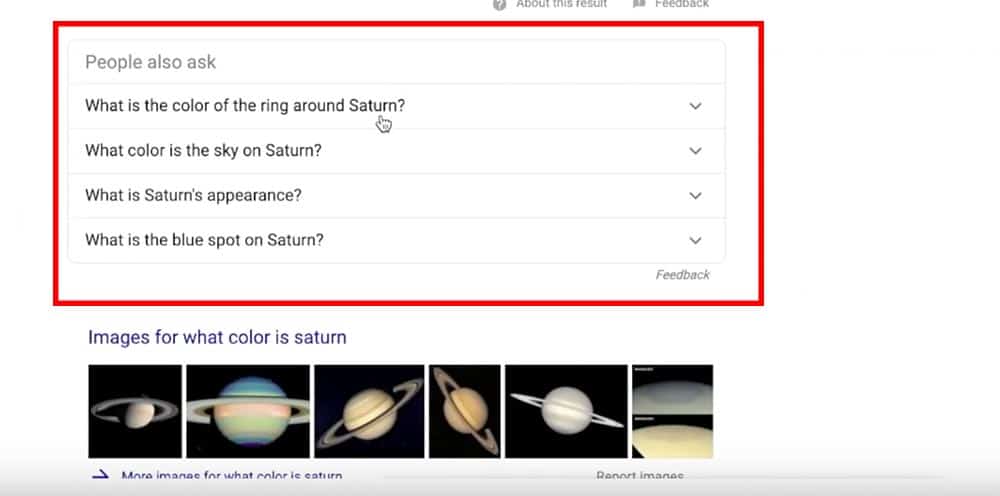 By using these questions to create your H2's and guide your content, your content is more likely to appear as the search result that answers that question.
As an example, let's pretend I searched 'what color is Saturn.' Directly below the search bar, we've got a rich snippet that provides a quick and succinct answer.

Broad questions about Saturn are going to be difficult to rank for because there are plenty of websites providing an overview of planets. If I want to cover the colors of Saturn, what I can do is use my H2's to answer more specific Saturn color questions, like 'what is the color of the ring around Saturn,' or ''what color is the sky on Saturn.'
You can see here, this content could go right underneath of your H2. If you can answer this question better than the existing content, or provide answers that aren't here already, it gives you an opportunity to rank rather quickly for brand new content.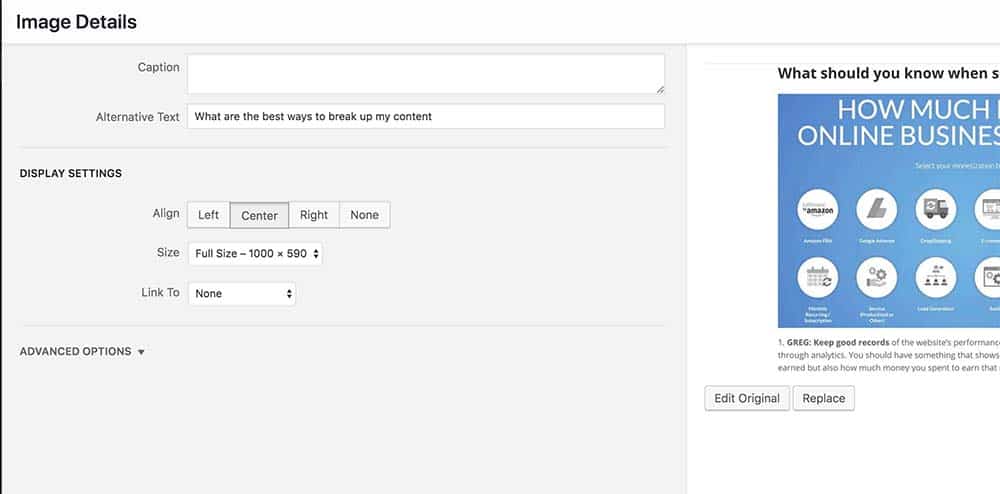 Images are also a great way to break up your content as well, especially if you have a long section under an H2.
Ensure you use alt text in your image to potentially show Google that this is an image related to the H2 sections it's placed in. Your alt text should generally be aligned with the H2 heading that is directly above it, which will also increase the chances of it ranking for a related snippet.
Are there other ways I can rank for snippets?
Yes, there are a few other things to implement to rank for a snippet quickly.
Oftentimes, you can rank quickly for a snippet by providing a short, quick answer. As shown directly above, I've given a short but direct answer to the question,  'are there other ways I can rank for snippets?' I immediately answer 'yes' right after the h2.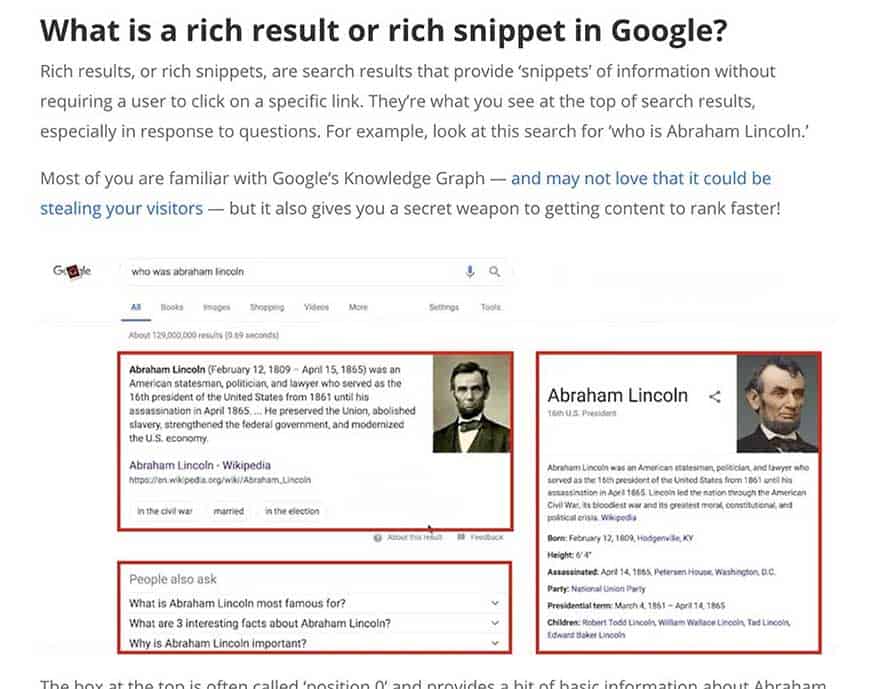 In this example with Abraham Lincoln, you can see all the different ways you could appear as a rich snippet search result. The first sentence in these search results is a quick synopsis of who Abraham Lincoln was. In many cases, Google is trying to provide people with answers. If you can provide a yes or no answer, or even just a quick answer, you can rank over someone else for a snippet. After the short answer, you can go into more detail about the topic.
Other tactics to rank for snippets well is to use things like <strong> tags or tables. It's been proven that things like <strong> tags and table tags will help you get snippets more and Google will automatically pull this material from your website without you having to do any kind of schema markup.
Should H2 headings always be questions?
No. However, asking and answering questions is very important to being able to dynamically target queries that could allow you to immediately rank in the top position of Google search.
If you're an informational website, this is gold. People are using search engines to specifically look for answers to their questions. If your content is essentially filled with relevant headers, information, and pictures, it gives you so many new opportunities to rank.
Sometimes, you can actually put the questions in quotations and it will help you rank quickly with your h2-specific queries.
Do the other heading sizes matter at all?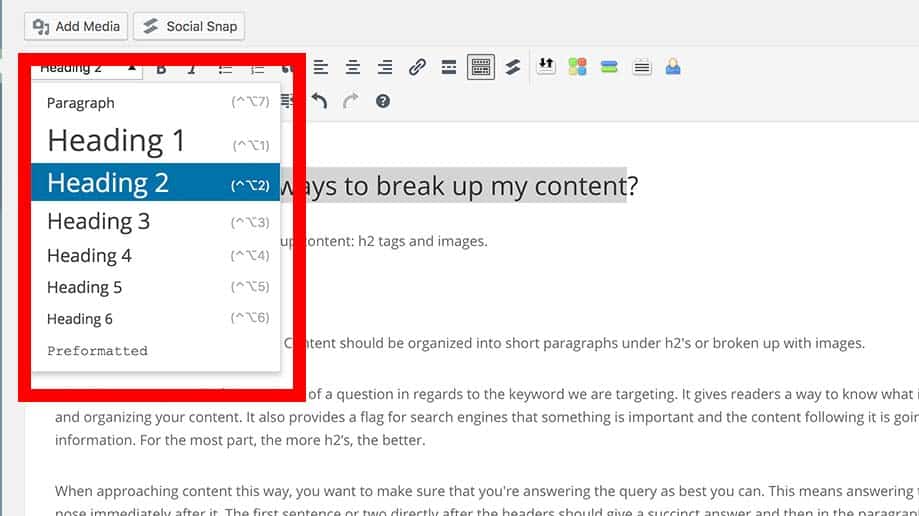 They're not as important and should really just be used to break up inside of existing content to simply provide readers a break from lots of text.
How do I finish writing content to maximize visitor engagement?
In most cases, you want to try to summarize the information you provided the best you are able to.
It really helps if you can include a link at the very end as a final recommendation to another page on your site.
Then, if you include comments on your site, prompt readers to leave a comment. It can be cumbersome to moderate the comment section, but comments can lead people to spend more time on your pages, ultimately making your content rank higher.
Synopsis on how to structure your content
Choose a title based on related keywords to a broader topic you would like to write about.
Include a list of bullets in the introduction that goes over what your content is going to cover.
Link to other articles you may have written that relate to your new content.
Break up your content with H2's and images.
Provide a succinct answer right underneath your H2s.
Ask questions in H2s that you find in "people also asked" and provide answers.
Don't worry too much about other heading sizes.
At the end of your post, summarize what you just went over.
Do you ever read the comments? I do! And I try to answer them when I'm able. Leave a comment below if you have a question.