Content Marketing Trends in 2020 You Should Know About
Last week I attended Content Marketing World 2019 in Cleveland, Ohio. There were hundreds of speakers and breakout sessions covering everything from influencer marketing to artificial intelligence. It's a conference where content marketing trends are on full display and a great place to seek out what strategies might emerge further in 2020.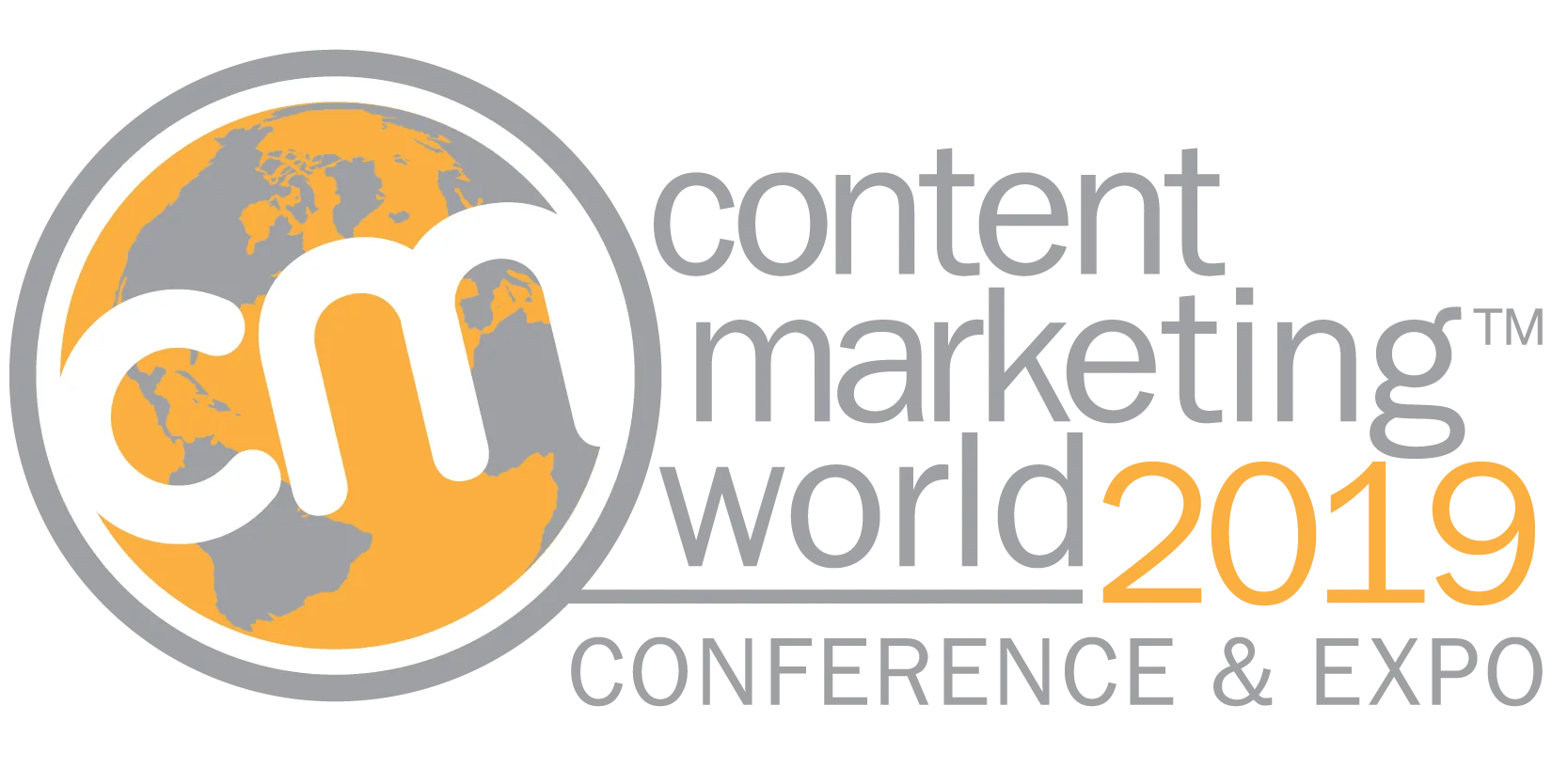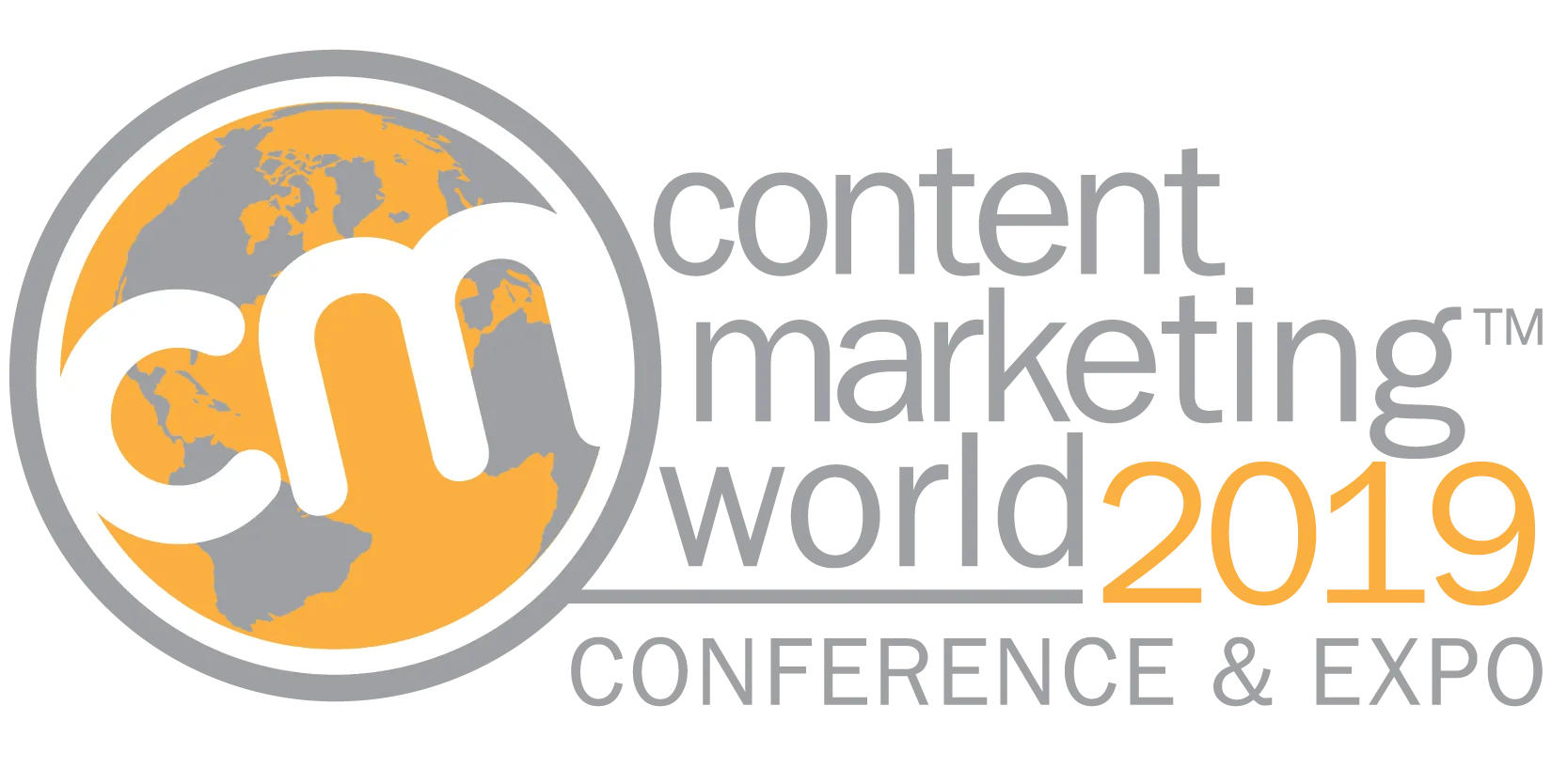 The vast majority of the sessions were centered around what's next. The mentality of many of the speakers was forward-thinking. "Out with the old, in with the new." The downside to this way of thinking is that it is easy to lose utility in favor of SOS—Shiny Object Syndrome.
The problem with SOS is that your efforts are focused around "the next big thing" without understanding what actual value, if any, these hyped new trends will bring.
I'm going to take you through only the most important coming trends in content marketing, without all the fluff, that were on full display at Content Marketing World this year…
Listen to my colleague, Whitney Wright, share a brief rundown of what we learned at Content Marketing World 2019.
Is Voice Search Worth It?
By far, my favorite presentation at Content Marketing World was Courtney Cox Wakefield's "You will fail at voice search."
Recently, everyone thought mobile was the way to go—and they were right. Statistically, the vast majority of traffic to your site is on mobile. Googlebot also now crawls your site on a mobile-first index, which means if your website isn't optimized for mobile, your rankings may suffer.


Voice search is one of those hot-ticket items that every content marketer thinks they need to jump on before the train leaves the station without them.  The problem is, there isn't a lot of good data out there yet on voice search, but there are ways to measure whether or not your content appears as a voice search result.
The single most important thing to know if you want to be the voice search result is that your result has to be in position 0. This is the "answer box" in Google SERPs. So if you're the position 0 and the rich snippet, you will be the voice search result for a certain query.
What things is Google rewarding inside the answer box in position 0?
Semantics are important.  Alexa is not going to read out something that is not readable: AKA, one-worded H2 headings or pieces of speech that aren't structured as a sentence.
Alexa will always read a full sentence over short answers that aren't complete sentences. A good tool to analyze your content's entities, sentiment, syntax, and categories (in the eyes of Google) is Google's Natural Language tool. 
Since voice results will only read out in natural, full sentences, this tool can help you assess whether your content is written in that style.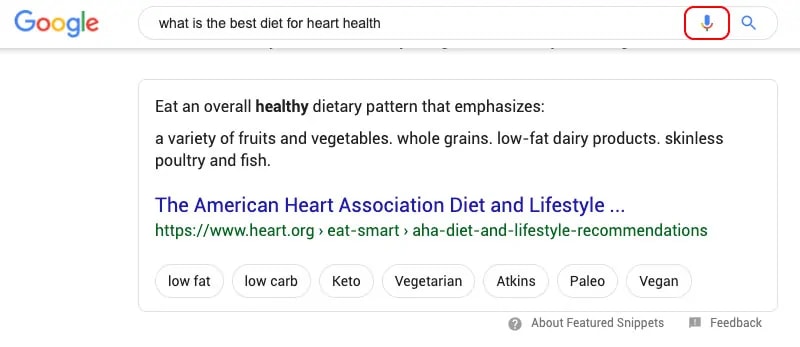 EXAMPLE: I used Google voice search for the query "What is the best diet for heart health?" Google read a voice result which said, "According to the American Heart Association, eating an overall healthy diet that emphasizes a variety of fruits and vegetables, whole grains, low-fat dairy products, skinless poultry and fish. This is a great example of how if your H2 was just "Mediterrean Diet" on a blog about heart health, Google would not read out those two words as an answer to a voice search query.
Look at the "related questions" that people are searching around this same topic. We've written all about how to appear in rich snippets and utilizing the "related questions" / "people also ask" sections of Google to inform your content structure.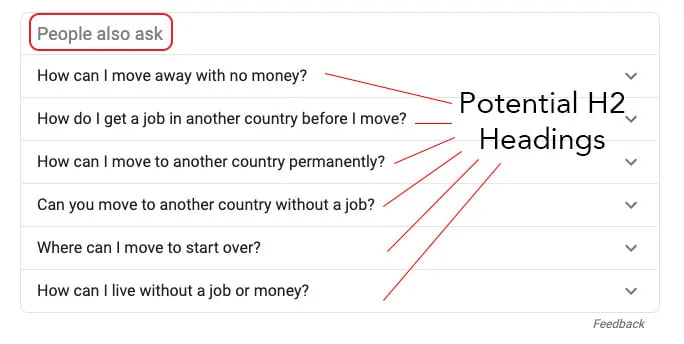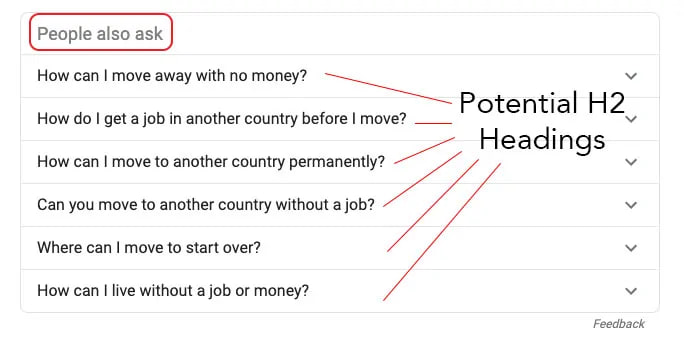 "Local" is always voice search. Local has 50% of the component of voice search results. These local components will appear in voice search. Tools like Moz Local and Yext can help your brand manage your local presence.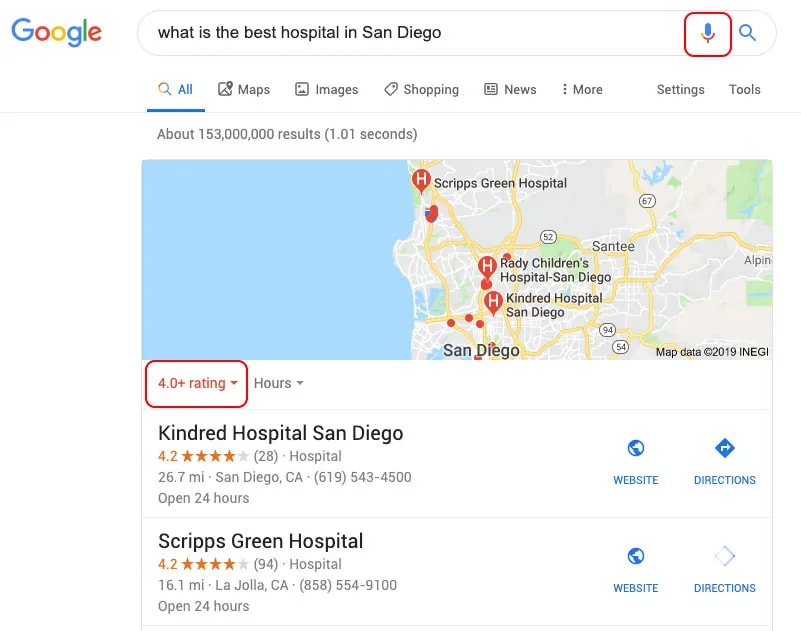 When I did a Google voice for the query "what is the best hospital in San Diego?" Google read out the name of the top hospital in the area, but it also ordered the results automatically filtering for hospitals higher than 4+ stars in Google reviews.
I think the favorite component of what was shared about voice search was that in order for you to optimize your content to appear as voice search results you must first optimize your textual content to be better able to answer a visitor's query.
Even if you are not the voice search result yet, when the opportunity arises, if you're in the knowledge graph on Google, you will be the voice search result.
This advice stems back to how you write and structure your content. If you're writing content that is formatted in a way that better answers a given query, your content will fair better compared to those who don't assess their content in that way. That's why tools like our Content Writing Guide are great resources on learning how to better structure your content.
Can Webinar Programming Drive Audience Engagement?
On24 held a great presentation on Webinars. Webinars have evolved, but when people say webinar, a lot of us imagine the same thing:
Some reluctant marketer who's talking for an hour while we stare at a text-filled slide deck. We've all sat through those types of webinars, and they're awful. A DemandGen report says 66% of buyers say they prefer webinars to other content formats, but the issue is that we keep using the same tools in the same way.
Webinars have the potential to become much more than we've become accustomed to.
Serialized programs

Brand experience

Interactive experience

Multi-touch content

Human experience
What brands have the best webinars?
1. LinkedIn: "Live with Marketers" series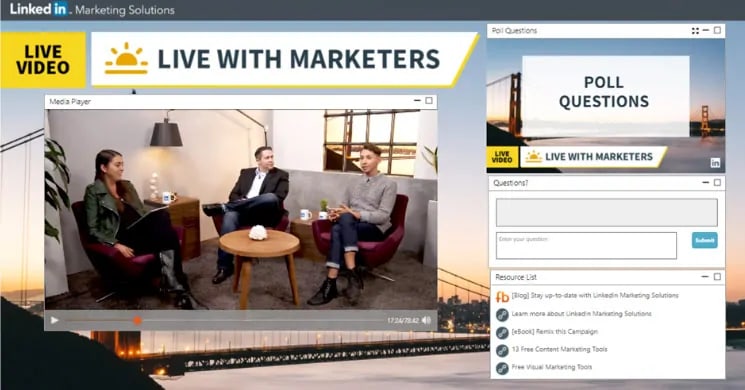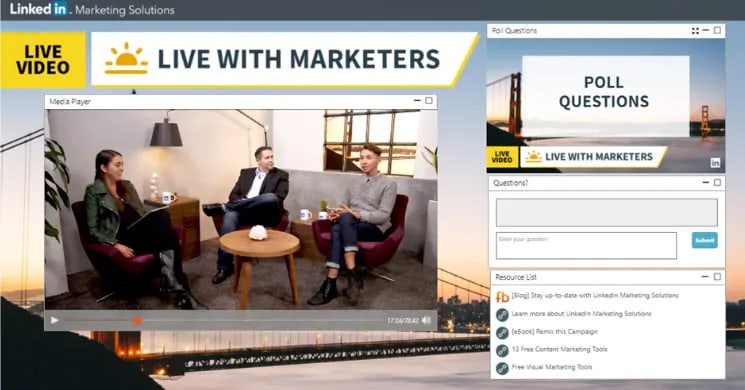 What's great about this is that there are no slides, just conversation. These talks occur once per month, and marketers just come on air and talk—serialized content. 
2. Charles Schwab: "Coffee Talks"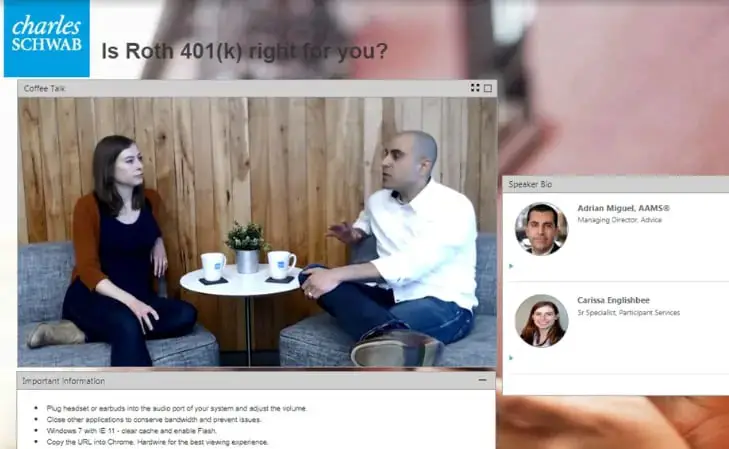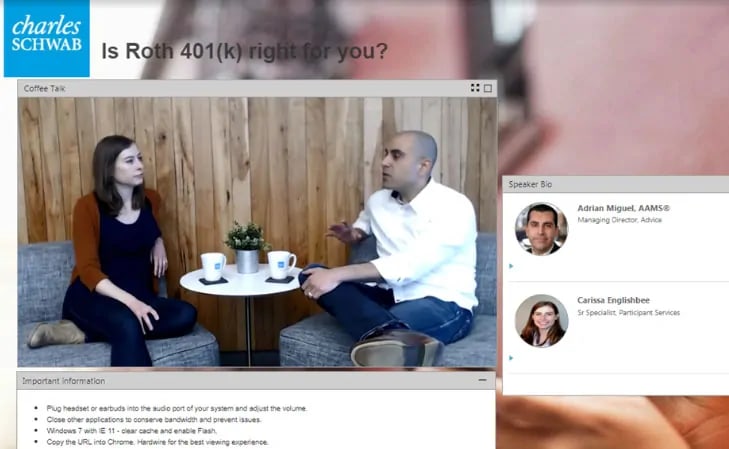 This is also in a conversational format with two people having coffee. They talk about Roth IRAs and other personal finance topics.
3. Autotrader
Autotrader also has a serialized webinar that has social media integrated into the webinar, has a dedicated host, and has a live Q&A.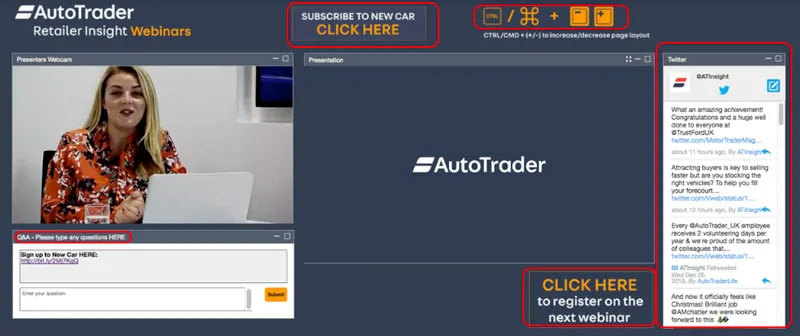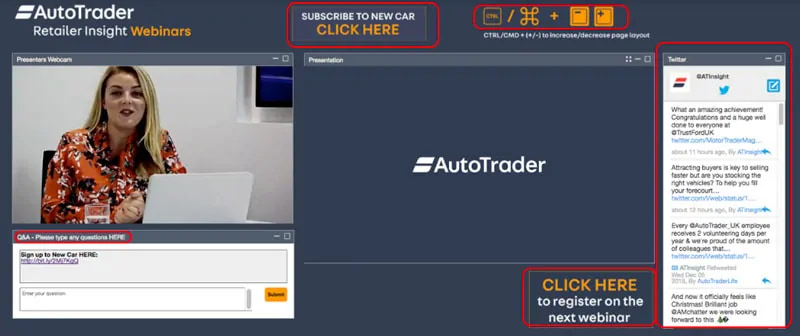 EXAMPLE: This is another great example what is called "Multi-touch" content. I highlighted in red all of the areas where the attendee can interact with the brand throughout the webinar. This type of webinar is serialized, gets the brand directly in front of the consumer, and creates an interactive experience with the live Q&A and the social media being integrated into the content. 
Some other key points to keep in mind when creating a webinar for your brand/blog/website:
If you do webinars that are only live, you miss out on the people who only watch on-demand webinars

Move away from forms: we lose out on people who won't attend because they don't want to fill out a form and be in the database. Think about driving program subscriptions instead.

Don't make your users search for content. Have a portal or "engagement hub" where all the content is housed in one place.
Is Artificial Intelligence Finally Here?
One of the most interesting pieces of information I learned from presenter Christoper Penn in the session on AI was that the Financial Times did a study found out that 35% of Europe's AI companies had no AI in their products. 
A salesperson can spin a product to make you believe there is AI but in reality, you need to do your due diligence and either talk to someone in tech or learn enough about the terminology around machine learning to safeguard yourself from being sold something that isn't what it claims to be. 
There are many layers of Machine Learning: Statistics > Algorithms > Machine Learning > Deep Learning. As a content marketer, AI can help you see what are the most important factors to your content.  If you don't know what type of content is a priority, you can't identify which pages are most valuable.
Tools like Ezoic's Big Data Analytics are powered by actual machine learning and they can help you identify EPMV, which pages are most valuable, and even which content categories are the most valuable to your content strategy. You can see below that the owner of this fishing blog could write more content on fly fishing since it has the highest EPMV by a long shot compared to other categories.


Why these tools are important is that you can create content around the terms your competitors aren't writing about. 
You can also use AI-powered Chatbots to engage with the visitors on your site. Regardless of how much AI grows, you will always need machine oversight. Google will not be publishing content any time soon, so if you're a publisher, don't worry.
The changing dynamics of SEO
In a conference full of 4,000 marketers, you'd be surprised to know how little people know about SEO optimization and writing effective content in a way that's beneficial to your visitors. 
This site diversity change from Google's June 2019 Core update, for example, means that you usually won't see more than two listings from the same site in the top results. However, they may still show more than two in cases where Google's systems determine it's especially relevant to do so for a particular search….
This site diversity change means that you usually won't see more than two listings from the same site in our top results. However, we may still show more than two in cases where our systems determine it's especially relevant to do so for a particular search….

— Google SearchLiaison (@searchliaison) June 6, 2019
The top two takeaways I heard from the speaker were:
Ranked content is always good. Good content isn't always ranked.

Content may be king, but so is everything else that affects UX
Some recent content that may help you navigate the changing world of search.
What Is Visual Storytelling?
Visual storytelling has grown in popularity in the past few years. It can be roughly defined as storytelling that involves the use of graphics, images, and videos. Its purpose is to engage viewers in an effort to: drive emotions, interactions, and motivate the audience to action.
The average person's attention span is 8 seconds. When you begin with visual storytelling, you should start at the end of an experience. 
Ask yourself: What do you want the audience to do?
Read something else?

Download something?

Purchase a product?

Subscribe?
What is a good example of visual storytelling?
The New York Times has an excellent example of visual storytelling with its story The Fine Line: Simone Biles Gymnastics
 If you follow along with the screenshot. In the GIF, I'm actually "scrolling" to activate the next portion of the story. Which is what makes the whole experience interactive. Upon each new scroll, you enter a new part of the story.
It successfully demonstrates how to tell a story through thought-provoking journalism, innovative UX, artful visual design, haptics, animation, and creative technology. (It's also a good example of how engagement trumps "site speed" in every way. This page takes a very long time to load).
Created tension – Use editorial and sound design to provoke emotion

Entertained – Don't shy away from mixing multiple mediums to make your point

Educate – doesn't mean you need to inundate your audience with too much info; limiting yourself to valuable facts will add in recall

Educate – infographics can go a long way to explain complex ideas in a digestible manner
How do you prepare for these content marketing trends?
Publishers don't have to necessarily do anything to prepare for most of these trends. I would say it's more important to keep creating content that's beneficial to your site visitors and outside of that, take most "trends" with a grain of skepticism. Although Content Marketing World is an excellent resource for those who are trying to create a strong foundation of knowledge for content marketing, in reality, you could learn more from regularly reading helpful blogs like this one and save yourself the hefty price tag of attending.
Because at the end of the day, if some self-proclaimed marketing guru is claiming that, "if you don't do x, y, and z, then you are going to be left in the dust because you were too late to the game." Don't believe it for a minute, because they are absolutely wrong. There are few insights shared at this conference that could not be gleaned in a more in-depth capacity on a blog for free.
The reason why these types of marketers get so much attention in the first place is that publishers and content creators tend to have a FOMO (Fear of missing out). There's no super-secret one of these speakers is going to have that will keep you from doing well as a publisher. So rest easy, and keep creating great content!
Do you have any questions about any of these trends? I'll try to answer them below.