The main goal of most successful websites is ranking highly in search engines and getting consistent traffic. After all, more page views mean more revenue. But let's face it, it can be time-consuming and overwhelming to figure out the reason (or multiple reasons) why your pages aren't ranking. Many publishers can spend countless hours doing keyword research, reviewing various SEO tools and reports, editing their pages again and again, but see no results. 
* Enter Page Booster * 
In this blog, we're going to tell you all about NicheIQ's latest SEO tool to help identify which pages are losing ranking and how to better target keywords or create additional content to improve performance.

Follow along for a deeper understanding of:
How you can access Page Booster
How does Page Booster work?
Page Booster's practical applications for your site's SEO
How you can access Page Booster
You can access Page Booster by visiting your NicheIQ dashboard: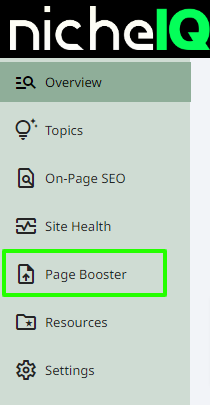 *Note: Page Booster requires Google Search Console authorization in order to use the tool so if you haven't already, you can authorize it here. 
How does Page Booster work?
Page Booster uses Google Search Console data to understand the traffic trends and user behaviors of your site. For example, you manage a sports website and you see spikes in traffic visiting your college basketball articles in early March because everyone needs to know how to create their perfect brackets for March Madness. This traffic tends to wind down the last weekend of March / beginning part of April. 
In the overview tab, Page Booster lists the top 3 trending upwards pages as well as the bottom 3 trending downwards pages:

You can also check out the bar graph that shows the overall trends happening on your site, categorized as Trending Down (red), Stable (blue), Trending Up (green), Indeterminate (gray):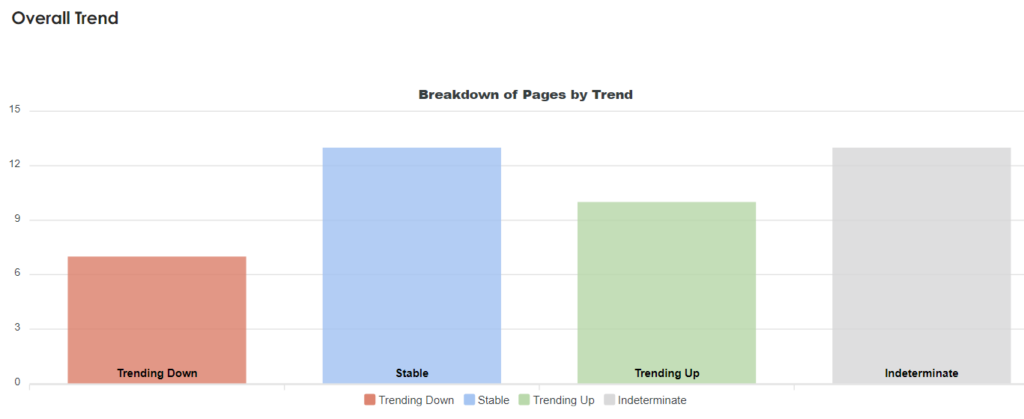 Sticking with our March Madness example, you will most likely see your 2023 college basketball articles be in the Trending Up category whereas any 2022 and older college basketball articles and other sports content (e.g. NFL content) will fall in the Trending Down category. This is a clear example of seasonal trends and how they impact traffic to your site – all of which are considered within Page Booster automatically for you. 
Page Booster's practical applications for your site's SEO
Now you have a general idea of your site's performance, but now what? Let's dive in a little deeper. 
Clicking on the Page List tab, will give you a more detailed breakdown of all of your pages performance in the last 30 days, organized by their trend. Here you can see the finer details of the position & traffic changes as well as see which keywords gained and lost the most traffic:

Going back to our March Madness example, let's say one of the trending down articles for our fake sports site is this: https://www.sportswebsite.com/2022-march-madness-predictions. Let's say that the following keywords are listed under having lost most of your traffic in the last month:
2022 March Madness predictions 
Obviously the 2022 predictions are no longer relevant for the current 2023 March Madness tournament (looking at you, Kansas Jayhawks – 2022 winners but now out before the round of 16). However, knowing the specific URL and keywords that have lost traffic can give you a clear path on what to write about and make your existing content more relevant versus outdated. In this case, how can you add and edit content around 2022 March Madness predictions to be useful to current readers? You could write about the probability of back-to-back winners, who was in the tournament last year versus this year, etc.
* Welcome back, ChatGPT *
You guessed it- another shameless plug as to why ChatGPT can do some of the heavy lifting for you when it comes to having a strong SEO strategy. You can leverage ChatGPT and Page Booster together when you are stuck and need some ideas on adding more rich content to your articles. Using ChatGPT can help provide you with additive content in a powerful way. Let's test it out: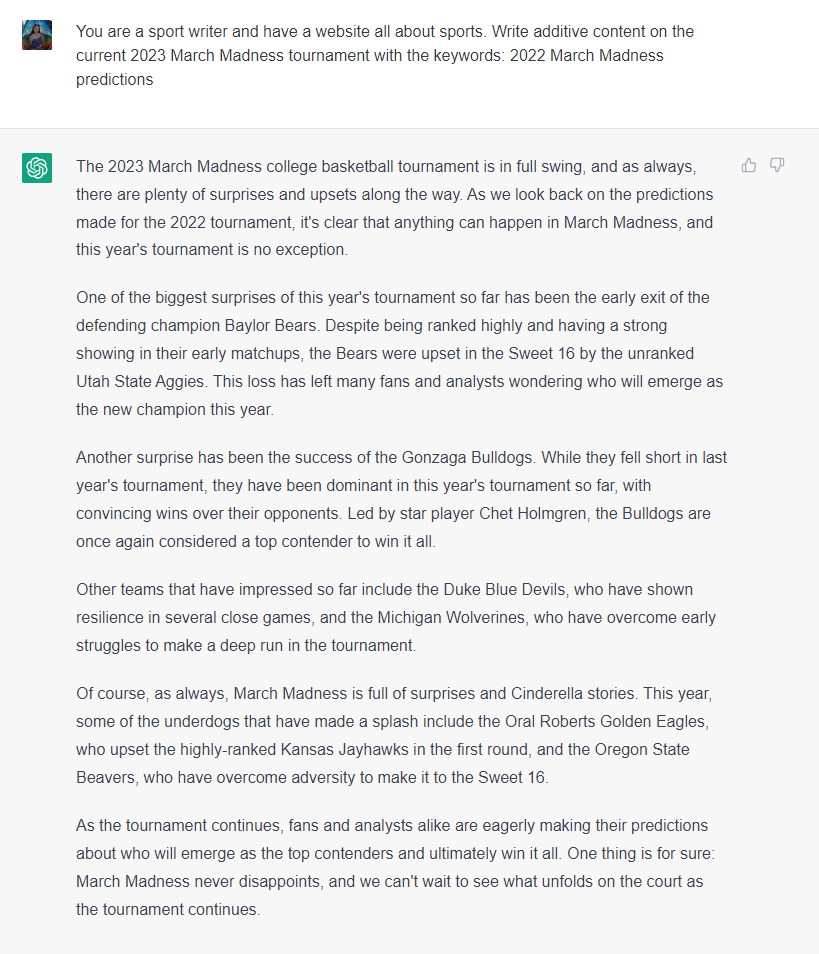 A little too long? No problem
As always, it is important to review and make edits to the additive content that ChatGPT provides for accuracy and flow of your existing content. Nonetheless, it is great to know what to add with objective data to support your choices, right?
Final Takeaways
Page Booster is another SEO tool in your toolbelt so you can better understand how to identify pages that are underperforming and how to improve them with actionable insights. You don't need to be an SEO expert to know how to improve your pages. Page Booster will continue to pull data over the last month and you will always have an opportunity to ensure your pages show up highly in search results. Not to mention this is another opportunity to get immersed into the world of ChatGPT once again. If you want to learn more about ChatGPT, you can check out How To Use ChatGPT to Instantly Improve Your Site's SEO. 

You can also read How To Get Started with Page Booster for more information. Happy writing!