The Ezoic Cloud suite is a lightning fast CDN for our publishers.
A super-fast cloud built to provide publishers with near instant response times and Core Web Vital-friendly ad serving, all server-side with Ezoic technology.
A lot of publishers are unaware that once you're name server integrated or integrated with Cloudflare, that you're also integrated with Ezoic Cloud! We'll cover the benefits you'll get for your site using Ezoic Cloud and how to use it.
Overview of Ezoic Cloud
If you've looked at Ezoic Cloud in the past, it used to be at the bottom of the Speed tab. Now, to make things more user friendly, we've gone ahead and put a button that says "Take Me To Caching" which will bring you back up to the top of the page.

At the top, this will highlight the separate tab that says Caching but that is the Ezoic Cloud.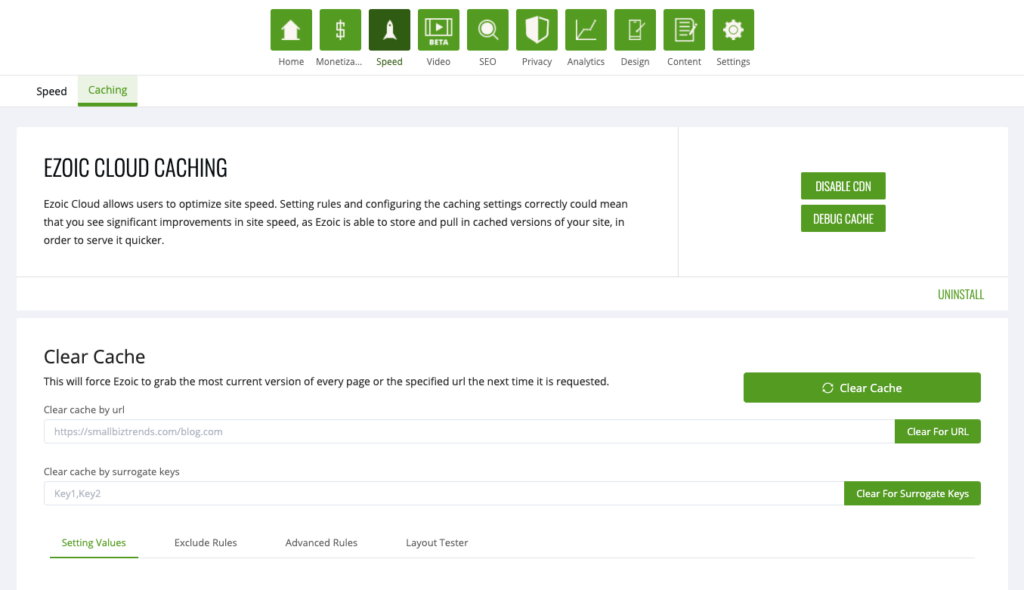 When you're on the "Ezoic Cloud" page, here you can disable or enable our CDN. Our CDN is essentially the core of our cloud and how it works. Many of our features come with CDN being enabled.
The next segment below allows you to clear cache directly from this page, when before you went to a separate application. You're able to clear the cache site wide, for a specific URL, or create surrogate keys.
Another new feature is bringing the cache debugger into this tool. Here you can get a quick snapshot of a cache hit rate on a specific URL.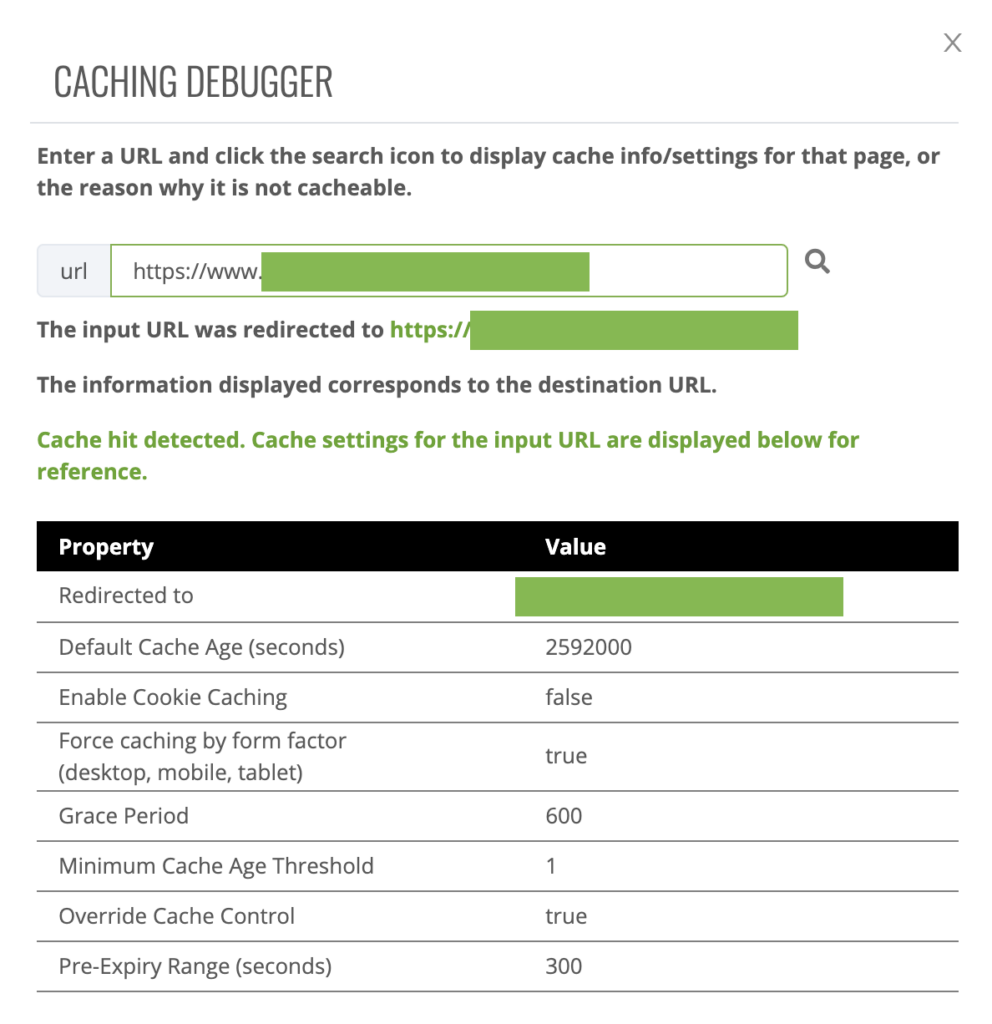 Moving on further, you'll see the basic caching settings. We've made it a little easier to understand for publishers building their knowledge of caching.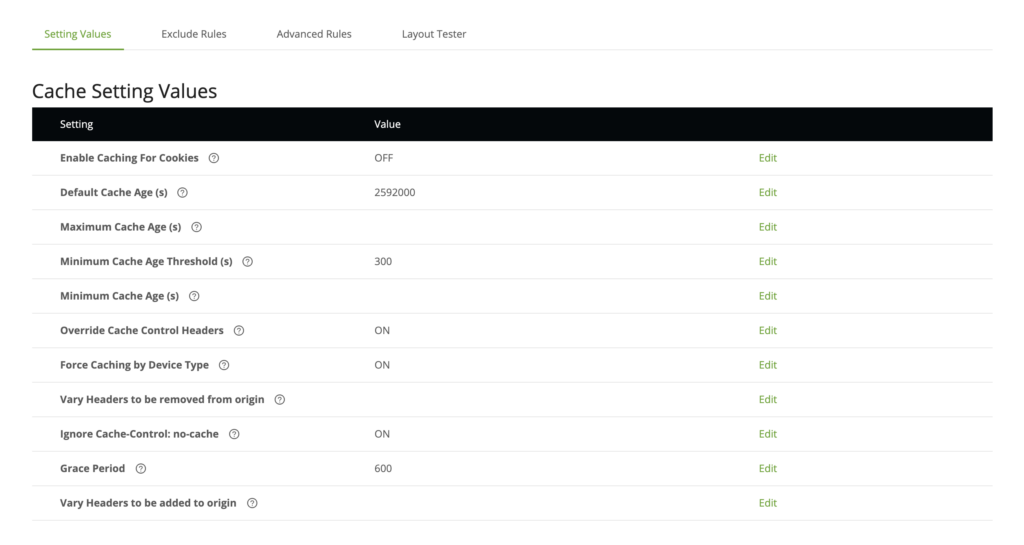 Common things you may use would be Override Cache Control Headers which essentially is saying if something else on your site is saying don't clear this cache, Ezoic can override it for you.
Another feature used often is setting exclusion rules in the second tab over named Exclude Rules. These allow you to turn off caching by URL, URL parameter, cookie, or file extension.
The Advanced Rules tab allows you to create more complicated page rules also.
For example, if every time you publish something new and your homepage updates with the latest post at the top, you'd want your homepage to clear the cache any time you publish a new piece of content.
The Ezoic plugin directly connects to our caching app now. So within WordPress, you're able to control this also.
A big takeaway and purpose of the Ezoic Cloud is user experience. Making it an easy, seamless offering for publishers inside of the speed tab, this way you know you're getting all the cloud benefits.
Cache in big data analytics
Once you've conquered looking at the Ezoic Cloud Suite in the main dashboard, you can move into Big Data Analytics (BDA) to get a better story of your site's cache hit rate with data.

To get to BDA, jump to the Analytics tab in your dash. Once you're in, select Site Speed on the left-hand side.
Inside of Site Speed, we'll dive into the Caching tab and then Ezoic Caching.
You can look at things like average host response time when cache hits, misses, or is turned off. When you get recommendations to reduce server response time, cache missed. So you can rerun the report or make sure to turn on caching.
When caching is on we typically see sites cut their response time anywhere from 60-80% or beyond.

Ezoic cache is near instant because we load it closest to the visitor as possible. If the cache misses or cache is off, a call needs to be made to host which can take exponentially longer.
Typical fixes for this are also to remove any caching plugins or caching settings at your host level – anything that's trying to cache in front of Ezoic. Then enable Ezoic caching. Our plugin will automatically update and clear your cache accordingly.
Here's a perfect example when referring to page experience for your visitors: pageviews, bounce rate, and page RPM. When the cache hits, you see an increase in page RPM and a reduction in bounce rate. That's awesome.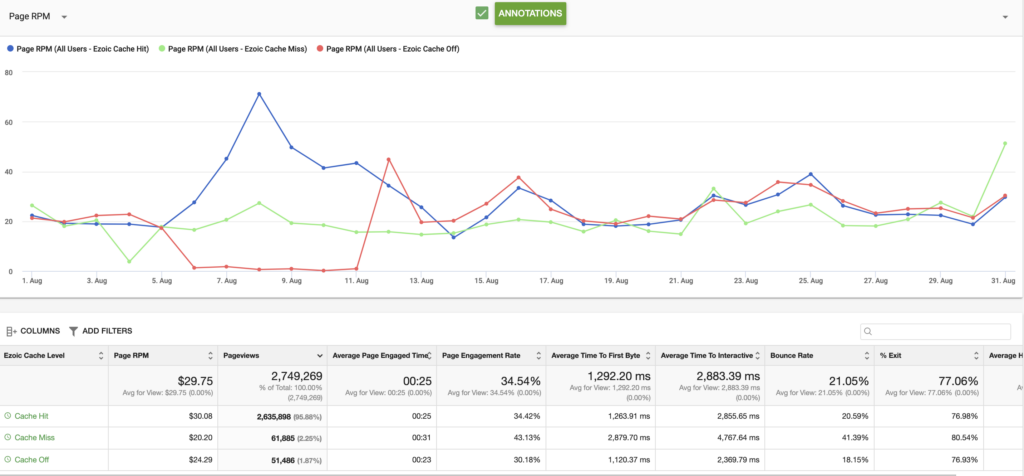 In short, Ezoic caching makes you more money.
Read more about helpful BDA reports here.
Wrap up
The Ezoic Cloud is tuned for Core Web Vitals. Our advanced cloud was built to deliver ads and site pages server-side, ensuring the fastest response times and website loading available.
In short the main benefits of the Ezoic Cloud Suite are its Core Web Vital-friendly ad performance and server-side ad loading and bidding. Being that it's free for all Ezoic monetization users, you're able to get rid of unneeded technologies, scripts, and plugins.