In the bustling, ever-evolving world of digital publishing, where content is king and user engagement is the kingdom, the Universal Player emerges not just as a tool but as a beacon of simplicity and efficiency, especially for publishers who are navigating the intricate landscape of video content.

This advanced, forward-thinking video player goes beyond the conventional, ensuring videos are not merely inserted but strategically and intelligently placed to enhance every user's visual journey through your content, all while subtly unlocking multiple, concurrent revenue streams. Whether your users interact with the content or scroll past, the Universal Player ensures that every moment spent on the page is a step towards enhanced revenue generation.

For publishers, whether well-versed in video content creation or just venturing into this vibrant medium, the Universal Player offers a harmonious blend of enriching video experiences and robust monetization, delivering value to readers and advertisers alike, while seamlessly integrating with your existing content and revenue strategies. It's not just a player; it's a comprehensive, user-centric solution designed to elevate your publishing platform to new heights of user engagement and revenue generation.


What is the Universal Player?
1. A one-step solution to effortlessly insert videos in every article
With the Universal Player, you can seamlessly place videos in all your articles at once. Our technology intelligently identifies the best location on each page to insert engaging videos for your users. You have the option to use your own videos or let our technology select high-quality video content for you!



2. An advanced video player enabling multiple revenue streams on a single page
This video solution empowers you to maximize revenue from multiple sources concurrently. It will serve a floating outstream video ad until your users either engage with the in-content video or continue scrolling past it. If a user doesn't engage with your in-content video, a new instream video will elegantly transition to a floating bottom corner position and play automatically. Notably, even if a user doesn't reach the in-content video, you'll earn revenue from the floating outstream video ad.
For those unfamiliar with these terms, let's clarify the distinction between 'floating outstream' and 'instream' videos:

Floating Outstream Video: This is a 'sticky' video ad that remains anchored in the bottom corner of your screen. What sets floating outstream units apart is that they exclusively feature video advertisements without any video content separate from the ad. 
Instream Video: In contrast, an instream video is implemented (usually embedded) within your article and monetized through video ads. If you use your own video content within your articles, these are classified as instream videos.
The Universal Player doesn't force you to choose between floating outstream and instream videos- it enables you to reap the benefits of supplementing your content with both!

3. A solution for publishers without video content
For publishers who haven't created their own video content, the Universal Player offers a seamless solution. We provide and implement engaging videos into your content, eliminating the need for any additional effort. Simply activate the Universal Player, and it will take care of the rest!
If you're interested in displaying videos made by other content creators or utilizing AI technology to match relevant videos to your content, explore Humix for your website.


4. A revenue optimization for publishers with video content
If you produce your own video content to complement your articles or display content from other creators, our solution is designed to supplement them, not replace them. The Universal Player optimizes video display, seamlessly introducing a floating outstream video until your users view your valuable content.
Enabling the Universal Player 
Humix Users: If you're a Humix user, you can activate the Universal Player in the Monetization section of your Humix dashboard. Once enabled, the Universal player will replace the original player, maintaining the same location and all of your video content settings. Whether you've chosen to display your own videos, network videos, or a combination of both, you can rest assured that nothing will be changed.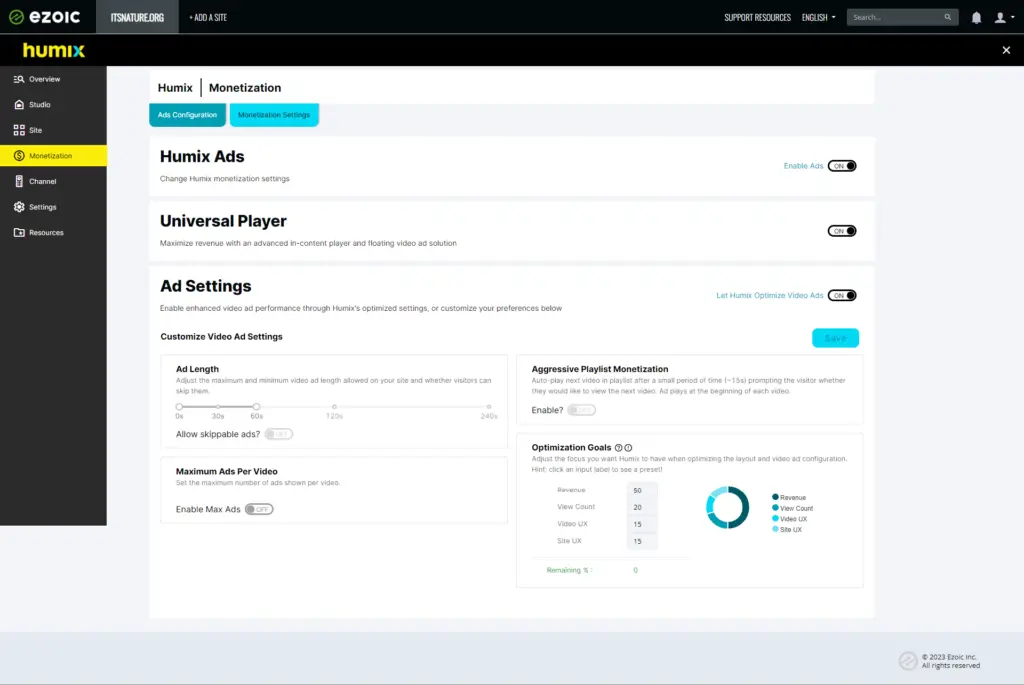 Ezoic Ads: If you haven't yet adopted Humix, you can activate the Universal Player through the Ezoic Ads platform. Simply go to the Ad Types section and look under the Floating Video tab to enable it. If you're already using our original floating video ad unit, please note that this setting will automatically deactivate once the Universal Player is enabled.