The Truth In Monetization Standard
Ezoic Is A Proud Proponent of Truth and Control In Website Monetization
Sophisticated Testing, Premium Revenue
Advertisers bid on ads based on thousands of different variables that deliver a unique experience to each visitor. Ezoic uses machine learning to determine which combination of variables—ad partners, locations, densities, types, etc.—performs best on a per user basis.
To allow sites the opportunity to see if Ezoic is right for them, every site is given a free 30-day trial for Ezoic's Monetization features and a 7-day free trial for Site Speed features.
Publishers typically see improvements in the first few days. Since Ezoic's system continues to learn and progress, publishers see their growth is not only sustainable but consecutive.
No contracts, No hidden fees
There's only one reason someone would want to lock websites into a contract or prevent them from leaving—they're taking care of their interests, not the publishers. Ezoic offers full transparency from the beginning and has no made-up, hidden rules. Publishers will never sign a contract, be charged a departure fee, or be required to give notice, should they decide to leave Ezoic. Ads are built programmatically which means commitment isn't necessary. Ad networks or ad op shops that involve a contract preventing sites from leaving only care about one thing—taking care of their interests, not the publishers.
A pricing model with options
Ezoic offers numerous pricing options—free use, ad-funded model, and subscription pricing.
Sites that try Ezoic and keep using it after 6 months

93%

93%
Sites that try a competitor and keep using it after 6 months

46%

46%
Split-Test, Avoid Being Misled
Ezoic was built to allow any site to split-test and compare traffic using Ezoic to the same traffic using any other configuration or monetization method, apples-to-apples. Competition has proven to be good for publishers in every aspect of advertising, and the ability to split-test is essential to proving Ezoic works for your site and split-testing is the only fair way to prove Ezoic is providing value to your site. If someone wants to prevent you from testing, there's usually a reason why.
Ezoic Works With Every Ad Network, Connect Them!
Ezoic works with every major ad network and ad exchange. If there's an ad partner that you can't link with Ezoic, there's a chance they're not an ad partner, but rather an outsourced 3rd party—which should be approached with caution if they disallow split-testing or require exclusive contracts.
A technology you can turn on & off
Ezoic isn't an ad ops shop, service, or an ad network—Ezoic is a machine learning technology. This means publishers have control over when Ezoic is on/off and how much traffic is going to their site on Ezoic. Publishers can log in at any time and edit these settings with no hassle.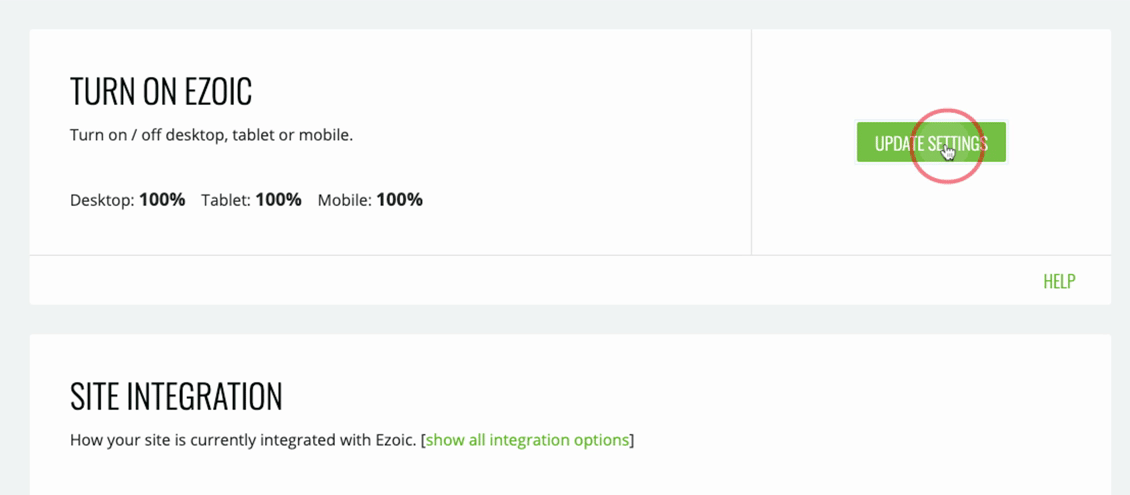 How to start
Setup is easy, secure, and requires no technical experience.
1. Create an Account
No credit card, no contract. Always starts with 30 days free.
2. Integrate with Ezoic
Three integration options & real humans available 24/7 to help.
3. Configure Features
This is where you get to play with settings & Ezoic's advanced testing.