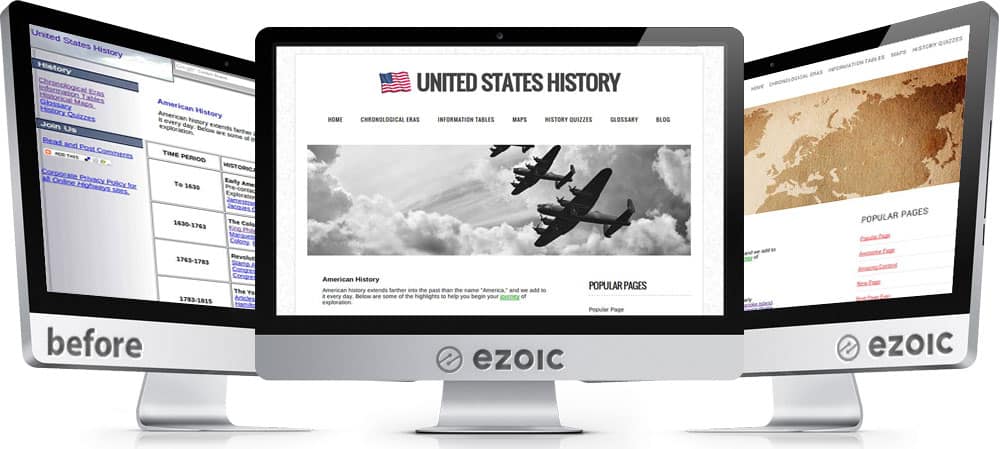 Layout Tester works with all content management systems (WordPress, Joomla, etc.), hosting providers, programming languages, and site structures.  Your hosting stays the same and you can update your content the same way as always.  Ezoic is a smart layer that sits on top of your existing infrastructure that helps you improve your site's performance by performing intelligent layout testing automatically. No technical expertise necessary. Ezoic's layout testing platform does it all for you. Don't worry, it will work, we promise.
Test Layouts on Your Site
Other than content, the layout testing on your website is the single most important factor that affects user experience, traffic, and revenue.
In the past, a site layout was often selected on the basis of personal preference — either via pre-built themes or from a web design company.  While these designs can be aesthetically pleasing, it was extremely rare for a publisher to test their effect on user experience in an objective way.  That's the way it was — until we created Ezoic Layout Tester so that sites could perform smart layout testing.
Built on the core Ezoic testing platform, Layout Tester, lets you select what layout you would like to test from an extensive library — or test them all.  The Ezoic system will test your existing site content, intelligently organized into new layouts, and measure how they perform. Our machine learning systems will then adapt — showing the best layouts to each user based upon a number of factors.
Experiment Reporting for Layout Testing
Layout Tester provides you with complete visibility into how each layout is performing on your site – including pageviews per visit, time on site, bounce rate and revenue per thousands visits.
As the Ezoic system "learns" what layout elements your visitors prefer, it will automatically adapt, improving performance over time.  Overall, Layout Tester outperforms Ad Tester by more than 50%!!
Layout Tester Makes Your Site Mobile Friendly
Layout Tester optimizes on mobile and tablet devices as well — increasing revenue and improving user experience.
Ezoic Mobile Site Facts.
The average Ezoic mobile site earns 2.6x more from mobile visitors.
Visitors are 79% more likely to stay on Ezoic mobile sites.
Users spend 45% more time on Ezoic mobile sites.