How To Change Affiliate Links To Rel=Sponsored Like Google Wants
Google Search updates like Penguin, which targeted PBNs, and Google webmaster guideline terms, like YMYL (Your Money, Your Life) and E-A-T (Expertise, Authoritativeness, and Trustworthiness), have been movements by Google to prevent bad actors from spamming search results with self-serving, low-quality results.
Have these methods been effective? It depends on who you ask; however, the number of effective black hat SEO techniques available to web spammers has greatly decreased over the last decade due to many of these changes in Google Search.
Alongside these changes, webmasters and publishers have been forced to learn more and more about how Google crawls their website to perform effective white hat SEO techniques.
Below, I'll show you how to handle Google's most recent announcement about adding rel=sponsored attributes to links that for paid or sponsored links on your website (for things like Amazon Associates).
How Google's Nofollow, Sponsored, and UGC Links Will Work
Google announced that on March 1st, 2020 it will begin formally reading link attributes on websites using a new standard of rel= to determine the nature of external links on a website. In the past, all external links were typically listed as "follow" or "nofollow".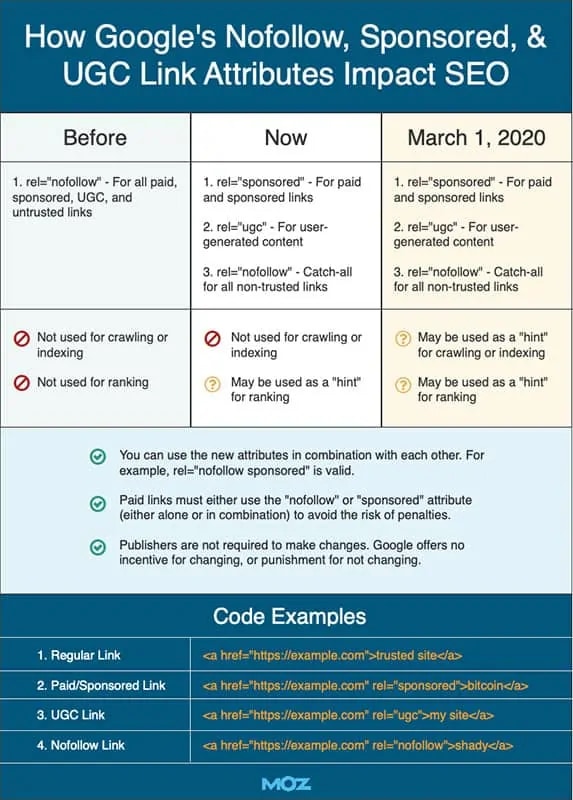 Google has stated that these new attributes will be used as "hints" to determine how it should read and treat external links on a website's pages. Reading between the lines, this is Google's way of giving sites the ability to clarify the nature of links; where before they would have had simply told Google to crawl or not crawl those links to see where they went (and in many cases, Google crawled them anyway).
Google's statement on the new rel= attributes: "Links contain valuable information that can help us improve search, such as how the words within links describe content they point at… By shifting to a hint model, we no longer lose this important information, while still allowing site owners to indicate that some links shouldn't be given the weight of a first-party endorsement."
Aside from disclosures of any potentially beneficial affiliate or sponsored associations on a page, publishers would be smart to implement these new link attributes on pages where they have paid, affiliate, or user-generated links on their pages.
Below, I walk you through how to easily add rel=sponsored attributes across your entire site. In my example, I show you how to do this for Amazon Associates links (since these are some of the most common for publishers).
Watch the video or see the summary steps below.
When do I have to change my affiliate links?
The short answer is, you don't. Google has offered no formal incentive or penalty for changing nofollow links.
The rel=nofollow link is what has been used for no-indexing affiliate links up until this announcement.

Publishers using nofollow to control crawling should now reconsider their strategy. This is due to the fact that while Google says they ignore nofollow links for crawling and indexing purposes, this conduct will change on March 1, 2020.
At that point, Google begins treating nofollow attributes as "hints", which means they may choose to crawl them.
How to change my affiliate links to rel=sponsored
If you're like a lot of sites, you probably have a lot of pages that may have nofollow attributes or no attributes at all attached for them. Here's a summary of the steps in my video above.
Note: I'm doing this on a WordPress site but it can be done in any CMS the same way.
Step 1: Search and Replace links
I'm using a plugin called CM On Demand Search and Replace. This plugin also has the benefit that it adds no page load time to your site. All it does is perform a search and replace command across my pages and article-type files.
First, I open the "Replacement Rules" tab.

Step 2: Grab the common string on your site
Choose a page or post-type that has an affiliate link (Amazon if this is common on your website). Switch over to the HTML view of your post and use the CTRL + F (or CMD + F for Mac) and search for the affiliate source. In this case that would be "Amazon."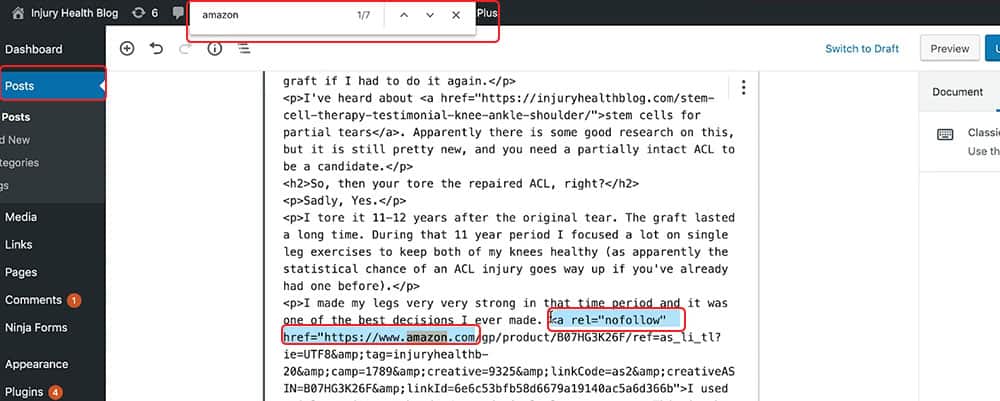 Copy the highlighted text you see above: <a rel="nofollow" href="https://www.amazon.com

In many cases, yours may only be <a href="https://www.amazon.com

Do not copy any part of the next after the ".com" portion of the HTML link, this is the identifying part we want to capture and then replace.
Step 3: Fix the link attribute for all links like this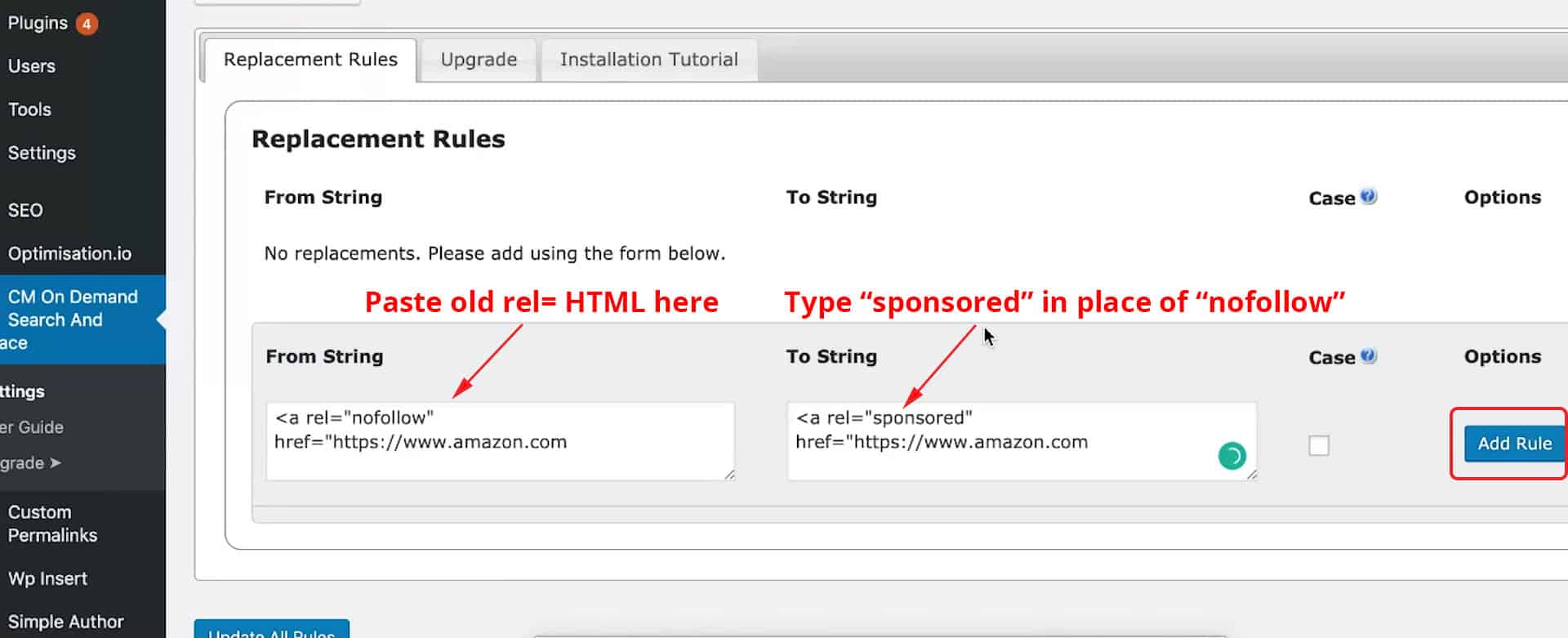 Re-open the CM On Demand Search and Replace plugin and paste the HTML we just grabbed into the "From String."
In the "To String," type "sponsored" in place of "nofollow." Then, click Add Rule.

If there was no rel=nofollow attribute, simply add rel=sponsored like you see above (there will be only one space between <a [and] href=.
When you add the rule, this replaces all instances where the HTML link reads "nofollow" or was missing link attributes for an Amazon Affiliate link on your site with rel="sponsored".
If you have affiliate links to different websites, then you will need to add additional rules repeating the same process outlined above.
But, that's not all, if you have these links on your pages, you should also be sure to let visitors know as well.
How do I add an affiliate disclosure?
You can do this using a multitude of plugins or widgets if you don't want to hard code them into each page or article. Monster Optin can be used on all websites. In my example, I use a simple plugin that adds no additional load time to a WordPress website to implement it easily across all my posts.

Note: This plugin does not offer the capability to turn off the disclosure statement by certain posts. WP Affiliate Disclosure is a better option for publishers who want to turn off the disclosure statement by post, category, tag, and more.
When you open the plugin, you get a default affiliate disclosure that you can personalize to your liking. I wrote mine to be a little lengthier than the default text.

Important: If you do have affiliate information on your site that's linking out to something that someone might buy or use the service of that you're tracking, you want to disclose that.  We've seen a lot of sites impacted recently that are touting content like "Top 10 vacuum cleaners on the internet" as if they are an unbiased party, when in reality they are linking to 10 vaccuum cleaners that you can buy on Amazon.
Once you've set up the affiliate disclosure text within the plugin, here is what it will look like on your website.

How does Google define link attributes?
In September of 2019, Google Webmasters posted a blog on the evolution of "nofollow" and new ways to identify the nature of links.
Nearly 15 years ago, the nofollow attribute was introduced as a means to help fight comment spam. It also quickly became one of Google's recommended methods for flagging advertising-related or sponsored links. The web has evolved since nofollow was introduced in 2005 and it's time for nofollow to evolve as well." —Google Webmasters Team
Link attribute definitions are as followed:
rel="sponsored": Use the sponsored attribute to identify links on your site that were created as part of advertisements, sponsorships or other compensation agreements.
rel="ugc": UGC stands for User Generated Content, and the UGC attribute value is recommended for links within user-generated content, such as comments and forum posts.
rel="nofollow": Use this attribute for cases where you want to link to a page but don't want to imply any type of endorsement, including passing along ranking credit to another page.
The reasons why Google is moving away from completely ignoring nofollow links is because links contain valuable information that can help them better improve search.
This is why shifting to a "hint" model, where all link attributes pass information to Google about the nature of the link, benefit the end user's search experience.
What else should I know about affiliate links?
When dealing with affiliate links, and any other affiliate partnerships, you want to be transparent and provide clear, conspicuous disclosures to your audience.
The FTC sent out more than 90 letters in 2017 reminding influencers and marketers that if there is a "material connection" between an endorser and an advertiser that might affect the credibility or weight consumers give the endorsement, this has to be disclosed.
The webmasters at Google have explicitly said that publishers can keep using nofollow as a method for flagging ads or sponsored links. However, they recommend switching over to rel="sponsored" if or when it is convenient.
Google admits to several updates in any given week, totaling hundreds or more per year, on a regular basis.
Some have asked if we had an update to Google Search last week. We did, actually several updates, just as we have several updates in any given week on a regular basis. In this thread, a reminder of when and why we give specific guidance about particular updates….

— Google SearchLiaison (@searchliaison) November 12, 2019
Plus, adding affiliate disclosures to blog posts and the sponsored link attribute to your links have the additional benefit of greater transparency and credibility with your audience. And as a publisher, the most valuable thing you have is the relationship that you, and only you, have with your audience. So if Google says gives you a vague "heads up", take it!
Do you have any questions on affiliate links or disclosures? I'll answer them in the comments.