---
General Questions and Basic Information
Is Ezoic difficult to use?
We've made Ezoic as intuitive as possible so anyone can use it—no coding or technical experience is required. Our team has made it a priority to give users access to abundant help resources and tutorials so they can control their own experimentation.
In addition to resources, our Ezoic has a robust support team that is available every day of the week around the clock. You can create a ticket for support at support.ezoic.com.
---
Is Ezoic an ad network?
By definition, Ezoic is NOT ad tech nor an ad network.
An ad network is a broad term that means sitting on the buy and sell-side of ads. They are typically responsible for collecting ads from buyers and then providing them with sellers (websites/publishers) with ad space, or inventory, available for sale.
Ezoic is a technology built just for publishers. Our software streamlines the accessibility, implementation, and optimization of lots of ad networks and ad-related technologies. Ezoic provides access to thousands of ad networks, exchanges, and ad partners and includes various sophisticated ad technology with our core Monetization products.
Ezoic was built to help publishers more easily access and navigate sophisticated and premium ad operations through our monetization features.
---
How long will it take to get started and begin using Ezoic?
Creating an account with Ezoic is easy and takes 30 seconds. After creating an account, you must integrate your website with Ezoic. Integration time varies by the integration option selected.
Everyone who signs up with Ezoic can complete integration, setup, and be approved in less than 24-48 hours after creating an account. 
Growing sites with less than 10,000 monthly pageviews will need to sign-up through our Access Now program. This program requires an educational course. After completion, the approval process can remain pending up to 10 days JUST for publishers in this program.
Ad Tester configuration can take up to an hour, but often our expert team can assist in speeding up the process.
---
What impact, if any, will Ezoic have on SEO?
Improvements to visitor experience metrics send positive signals to search engines. We've conducted case studies that show Ezoic implementation results in improved search engine rankings.  
For example, in January of 2018, we studied 50 new sites using Ezoic that derived the majority of their traffic from organic search. One year later, the average publisher in this group saw an 85% improvement in traffic and a 24% improvement in keywords that ranked in organic search results.
---
Does Ezoic provide 99.99% uptime?
Yes. Ezoic has over 400 data centers around the world. We provide a sophisticated CDN and WAF with advanced features just for publishers inside Ezoic Cloud.
We have a proven track record of uptime that often exceeds that of the largest tech platforms in the world. You can monitor Ezoic uptime and Ezoic status here.
---
Will Ezoic provide real human support and assistance?
Yes. We have a team of experts dedicated to supporting users across the globe. We have offices in several different countries; allowing us to provide support for customers in every timezone.
90% of queries can be resolved by visiting our support page where our team has created tutorials and step-by-step assets to help you learn more about our features, understand the power of our A.I., and easily troubleshoot.
If you can't find what you need in our knowledge base, you can do so by accessing an article on support.ezoic.com and at the bottom of the article selecting 'Get In Touch'. You will then be able to open a live chat during office hours, or a ticket outside of office hours. 
Ezoic provides different programs and options for support and assistance depending on a number of factors to all of our sites. For example, our growing sites inside Access Now are provided a Twist channel to assist with their initial setup and onboarding. Meanwhile, many of our larger publishers receive a dedicated account manager to assist with their accounts.
---
Is Ezoic designed to work with WordPress and other popular CMS?
Yes. Ezoic works with every CMS, host, or website configuration. This includes WordPress, Custom PHP, Squarespace, Joomla!, Shopify, Drupal, Arch, Rebel Mouse, Magento, Bitrix, and more.
We even have our own WordPress Developer Hub for sites that want to learn best practices for using WordPress as a publisher and with Ezoic.
Ezoic works without issue with the vast majority of all plugins approved to work with WordPress. Inside our dashboard "Speed" tab, our site speed toolset, Leap, includes a vast technology library that features a detailed analysis of nearly all plugins and how they may impact site speed, Ezoic performance, and more.
---
Monetization Requirements
What are pageview requirements for Ezoic Monetization?
For Monetization features are available to all sites. We've removed pageview requirements but sites with less than 10,000 pageviews must join through a program we call Access Now.
1.) Access Now is our Monetization program available for growing sites with less than 10,000 monthly pageviews.
2.) Sites with more than 10,000 monthly pageviews can sign-up here.
---
What are ad policy requirements for Ezoic Monetization?
All sites regardless of monthly pageviews must adhere to Google's Ad Policy guidelines; which reflect common ad policies standards to all ad networks and exchanges available automatically to sites once they begin using Ezoic.
Content should be original and unique.
All website traffic must be identifiable, human, and without known violations of common policies.
If a site possesses an existing Google AdSense or Ad Manager account, it must be in good standing with Google.
---
Common Monetization Questions
What website categories & types does Ezoic work with?
Ezoic works equally well with all content verticals. This includes, but is not limited to: home & garden, automotive, sports, hobbies, travel, food & drink, health, science, nature, business, humor, literature, games, entertainment, technology, lifestyle, culture, history, geography, education, family, and more.
Our features are built for all site types as well and we have thousands of customers that identify as: niche sites, reference sites, blogs, independent publishers, AdSense publishers, affiliate sites, evergreen content, news sites, online application sites, web-based tools, large media brands (like, Cosmopolitan), and more.
---
Can I control how many ads visitors will see?
Ezoic was built to provide sites with unprecedented control over how ads display on their site.
What's more, Ezoic A.I. leads the industry in learning and adapting to how ads affect revenue and user experiences. Ezoic provides easy tools for displaying each visitor a unique combination of ads in locations that make publishers the most money without detracting from the user's experience.
Sites have control over potential ad locations and can set dozens of preferences around types of ads, ad sizes, and ad density with simple clicks of a button.
---
Can Ezoic manage all the ads for my site?
Ezoic empowers publishers to control and manage as much or as little as they would like, including ad partners, ad placements, monetization methods, and sophisticated testing. 
While we strongly believe that sites should NEVER OUTSOURCE their ad operations to a 3rd-party service provider, Ezoic was built to put the tools and controls into the hands of publishers necessary to truly maximize the revenue of their efforts.
Not even the best ad management or operations professionals can conduct the kind of testing and optimization that Ezoic machine learning can.
Putting the control to set goals in the hands of the publisher creates better transparency and ensures your best interests always come first.
That said, we do have an expert staff that offers dedicated management, support, and advice throughout the life of your Ezoic account. This is free and embedded in all of our products. We also provide chat, email, and call support from real humans.
Publishers of different sizes may receive varying levels of dedicated help provided across a number of different channels as well. This includes dedicated account teams, experts, and representatives to aid them in their efforts.
---
Can Ezoic manage all the ads for my site?
Ezoic offers a net 30-day schedule. The same as Google AdSense and Google Ad Manager. The biggest difference is that Ezoic offers a more publisher-friendly payment threshold of only $20.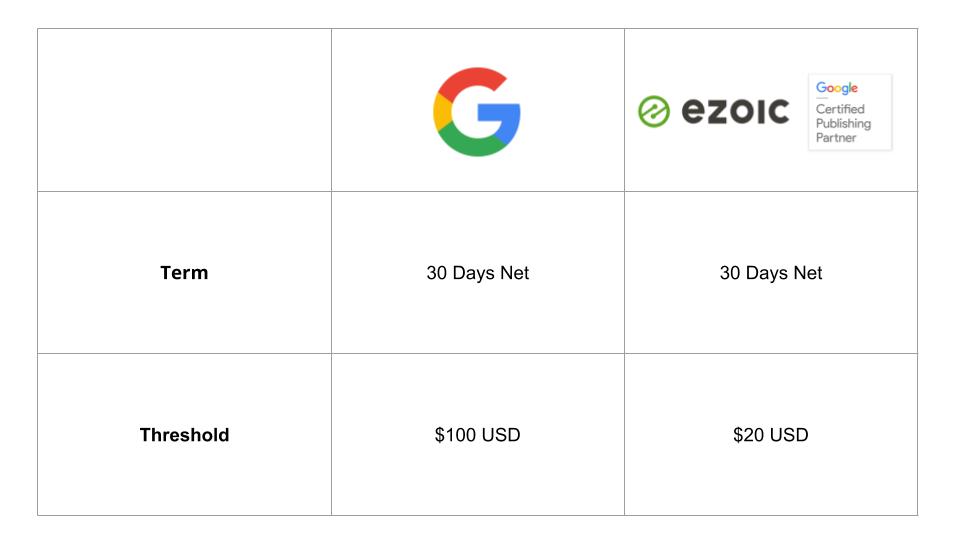 Payment method options include:
Direct bank transfer (Payoneer)
PayPal
Check
Payments are conducted between the 27th and 31st of each month for the previous month's revenue. For example, publishers are paid January's revenue at the end of February. The minimum account revenue threshold for payout is $20 USD (meaning an account must have generated a balance of at least $20).
Revenue is accrued in the Ezoic dashboard for all traffic monetized through the Ezoic platform. All mediation revenue (revenue collected through linking existing AdSense, header bidder, or other ad networks) will accrue in those network accounts and dashboards (i.e. if you link your AdSense, any revenue Ezoic generates from that linked network will still display in your existing Google AdSense account but will still show inside Ezoic as mediated revenue).
Ezoic handles all ad network discrepancies and prevents "clawbacks" and fraudulent click adjustments common with many ad networks. Since maximizing ad revenue often means using lots of partners, getting all of them to pay on time and on the same schedule can be difficult, Ezoic manages and pays out on the same terms no matter what.
Ezoic has a track record of never missing payments to publishers and is venture-backed and profitable.
---
How does Ezoic's A.I. and machine learning work?
You can get more documentation and see more common questions about Ezoic A.I. here.
---
CDN & Caching Questions
How is Ezoic caching and Ezoic's CDN activated?
If a site is Cloud integrated (via Cloudflare or by changing nameservers at their registrar or host) sites have the ability to activate Ezoic Cloud via the Speed tab of their Ezoic dashboard. By enabling caching inside of Ezoic Cloud settings, Ezoic's CDN is enabled, and caching can be easily controlled with powerful granularity.
This includes the ability to set page, parameter, and other custom caching rules and settings.
---
When sites are Cloud integrated, is Ezoic still caching pages or content?
No. When traffic is not sent through Ezoic (as a proxy) it is uncached and untouched by Ezoic. The same occurs when Ezoic Cloud is disabled. Ezoic does not cache anything unless Ezoic Cloud is enabled.
---
Can I use Ezoic Cloud (and CDN) with my existing CDN?
Ezoic Cloud and our included CDN works with any existing CDN. If you use Cloudflare or another popular CDN, once integrated with Ezoic Cloud, both work together to deliver your visitors the fastest experience.
Best practices with Ezoic Cloud all include ensuring that any caching is done "behind" Ezoic Cloud (Ezoic as a proxy). Caching in front of Ezoic simply prevents some Ezoic optimizations and limits Ezoic's ability to provide visitors with the fastest possible server response time.
---
How does Ezoic caching impact other forms of caching (plugins, etc.)?
Things caching "behind" (before the Ezoic proxy) Ezoic Cloud have no impact on Ezoic caching. Plugins, technologies, and other page elements caching "in front" of Ezoic Cloud will often conflict with Ezoic features and can slow down Ezoic's ability to deliver pages fast for visitors.
We recommend disabling any caching CMS (WordPress, Joomla, etc.) plugins, extensions, and any other technologies or scripts that may be trying to cache or optimize elements of the page for speed. These things will cache URL strings in many cases without the knowledge of the publisher, preventing Ezoic from being able to deliver a near-instant server response time due to render-blocking external calls.
---
UX, Site Speed, & Leap Questions
How does Ezoic caching impact other forms of caching (plugins, etc.)?
We recommend disabling any caching CMS (WordPress, Joomla, etc.) plugins, extensions, and any other technologies or scripts that may be trying to cache or optimize elements of the page for speed. These things will cache URL strings in many cases without the knowledge of the publisher, preventing Ezoic from being able to deliver a near-instant server response time due to render-blocking external calls.
---
Does Leap, or other site speed features, require payment?
No. All Ezoic site speed and Ezoic Cloud features are 100% free for Monetization customers, with no caveats or exceptions.
---
Does Ezoic negatively impact site speed?
No. Ezoic makes sites that display ads much faster.
With the help of Ezoic Cloud and Leap, thousands of Ezoic publishers have perfected Core Web Vitals. Inside of Leap, we even feature a leaderboard that allows sites to see what other technologies sites with perfect core web vitals are using alongside Ezoic.
---
How do sites access Leap and what other tools are needed to have good site speed?
No other tools are needed. In fact, the best way to ensure a fast site when using Leap is to disable and get rid of any and all caching, speed, and performance tools/scripts/plugins. Most only make Ezoic slower when Leap could be doing things faster (and for free).
Leap is available to publishers in the speed tab of their Ezoic dashboard after they're integrated and approved for Monetization.
For more questions about Leap, visit our Leap page and FAQ at the bottom.
---