With better, more optimized ads, Ezoic is able to increase your EPMV – the metric that matters most when valuing web traffic and earnings. But how and why?
The secret is helping Ezoic publishers get their ad rates through the roof, while decreasing the amount of ads your audience will see.
What Ezoic is able to do better than anyone else is help with user experience by utilizing machine learning and ad optimization.
We'll be talking about the Ezoic technology as well as taking a look at our publisher examples of seeing more ad revenue with fewer ads! All of this and showing you how to look at the story of your website in data.
What's inside Ezoic?
If you're not familiar, Ezoic allows you to test thousands of ad optimizations, deliver objectively better user experience, and automatically optimize based on results. All this with a goal in mind – to have you generate more revenue with less ads than normal.
A good question we hear often is, what are the data points for testing for ad placement optimization?
The ad variables tested are:
Ad type (display, native, link, video)
Ad location (where on the page)
Ad size: e.g. 300×250 or 300×150
Viewability metrics
RTB landscape
Presence of other ads and their location
Navigation options present (sidebar, menu, etc.)
Page load speed – critical path rendering
Content location, e.g. recommendation widgets
The visitor variables tested are:
OS or device Type
Browser type
Time of day / day of week
User connection speed, e.g. broadband or 3G
Geographic location
Upstream traffic source, e.g. Google
UX metrics from other users visiting this page
Subscriber or non-subscriber
User history
Many, many more…

Statistics from publishers
In 2020 we studied 300 sites of different varieties. We found that average revenue per session increased by 87%, total monthly revenue increased by 93%, average time on site increased 21%, and average monthly traffic increased by 36%.
You can see this and more in this case study.
Historically over all the publishers we work with, we find that they end up with half the ads originally displayed, 25% increase in page engagement, and 2x total average revenue per visit – all while increasing in total revenue.
You may be wondering, what does Ezoic really do, and how do things change over time? Well, there's a way to see that!
By going into Big Data Analytics in your Ezoic dashboard, you'll have access to fast reporting that can tell the story of your website.
First we'll look at the Yield section in BDA and go to the Ads Per Page Report.
In the case of this publisher we looked at a month in 2021 and compared it to the same month in 2020. The most recent month shows that ad impressions were down a significant percentage, while revenue soared. This is exactly the goal for Ezoic publishers! More money, fewer ads.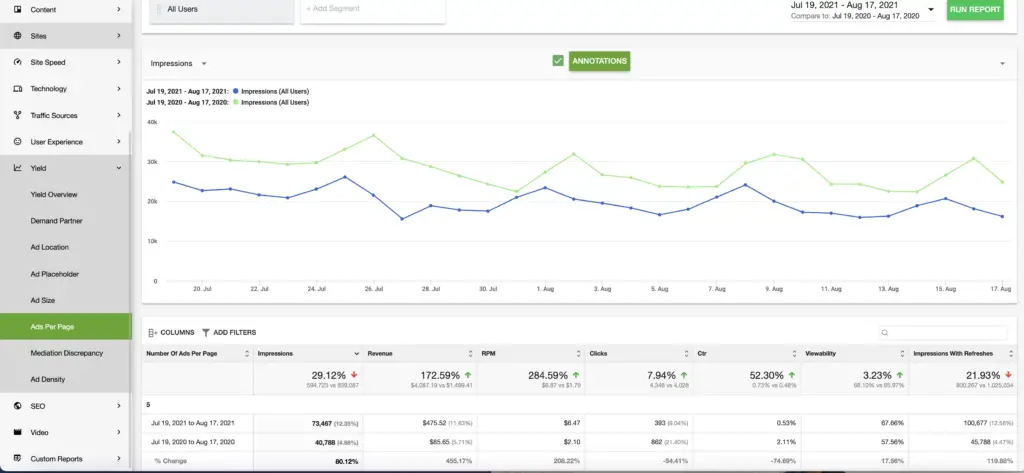 Another facet of looking at your site's ads and how they perform is looking into the Yield portion of your Big Data Analytics again.
From here you can look at Ad Placeholder report. For an example, we ran a report here of this week's performance of your ad placeholders vs last week's performance.
Now, if you had been making any changes or are purely curious about which placeholders perform well, this report will give you insight on any period of time you're looking for.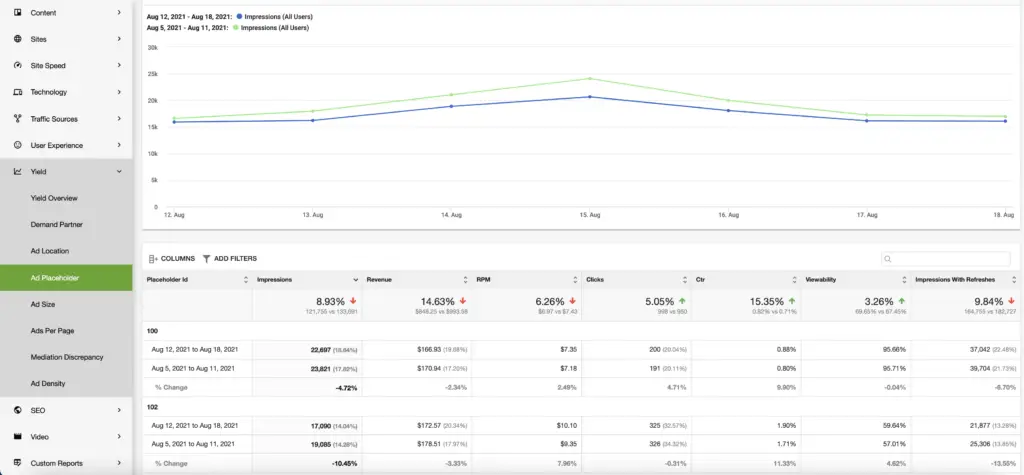 The biggest issue with others in the ad technology space is that they jam a bunch of ads on any site immediately.
If someone has been using Ezoic for a long time, we've went ahead and created an ecosystem with less ads but made ad rates go up, up, up.
Another company would overload ads so the inventory is worth more, but the ad rates are lower. It gives the illusion of making more money but for a short rate of time. And it's unsustainable.
Takeaways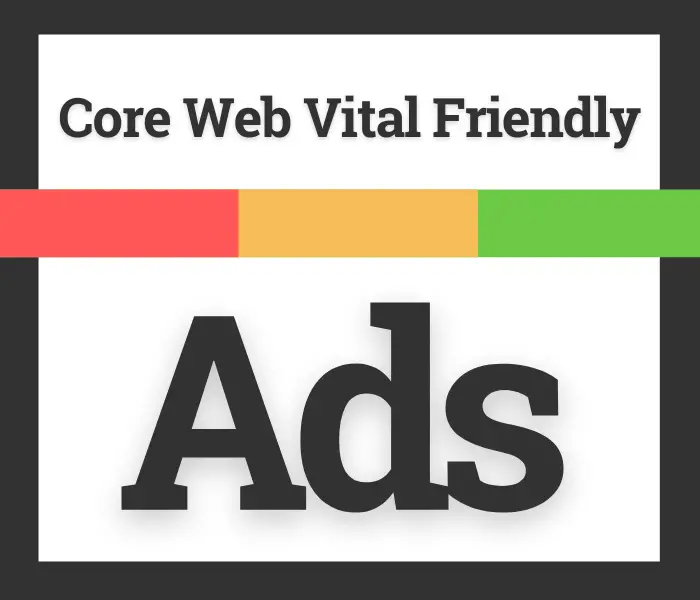 With all that said, it's important to know that we're giving the most transparency and control to you as an Ezoic customer. We're investing in you and your journey as a publisher in growing.
The one thing to remember is that creating your website is a long-term expedition. We've seen time and time again sites that get bloated with huge amounts of ads. They may be making a decent amount of money at first, but the days of having a thriving EPMV and strong page experience will be over.
With machine learning, we're focused on giving you more ad revenue with fewer ads than usual. These are Core Web Vital-friendly ads that won't hinder site speed, and will earn you more.
In other recent news, take a look at this blog on how website traffic is tied into ad revenue.