Thank You for Joining Customer Week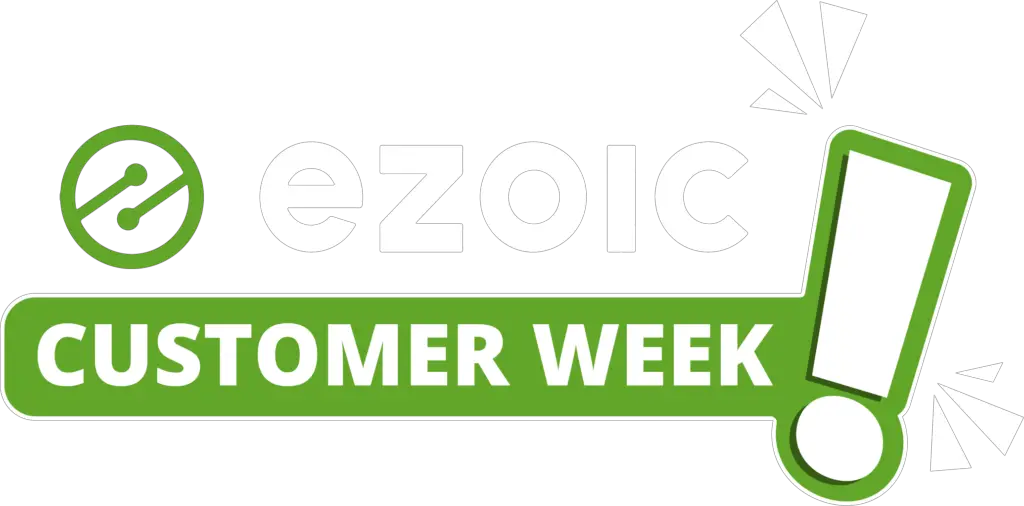 Time to Take Advantage of New Growth Opportunities
Thank you for joining us for Customer Week, September 13-17! We had plenty of exciting announcements, introduced new product features, and we answered important questions related to all the week's activities.
Did you miss Customer Week? See all of the announcements made below, including recordings of our live webinars.
Sign Up for Live Webinars
In addition to daily announcements, Ezoic is hosting live webinars to provide more information surrounding Customer Week and answer any of your questions. Reserve your space below.
Friday, Sept. 17: Customer Week Q&A with Ezoic CMO Tyler Bishop (9:30am PT)
Opportunities for New Customers
Our new offerings and benefits are only available to Ezoic customers. We are extending a special promotion to run through Customer Week in order for new customers to take full advantage of all the exciting news. Be sure to have an active Ezoic account before the end of the day on September 17 to experience all the advantages for yourself.
Daily Drops
Monday, September 13: New Levels
Introducing Ezoic Levels — designed for publishers to gain complete transparency and unlock benefits as they reach new milestones. Every Ezoic customer will now be assigned a "level" based upon their monthly revenue and site visits, with the opportunity to advance levels as they grow. Explore more below.
Featured Content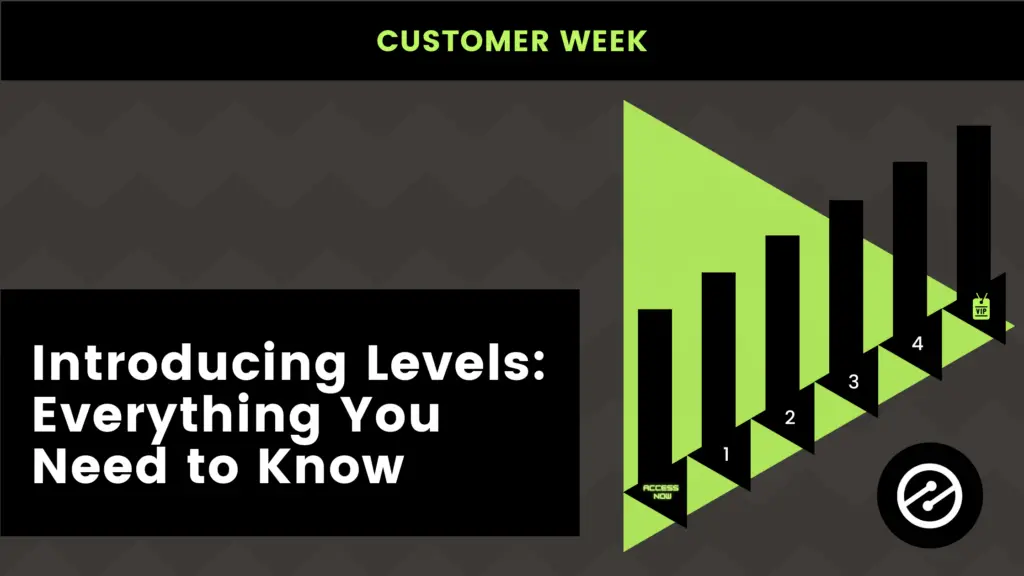 Partner Content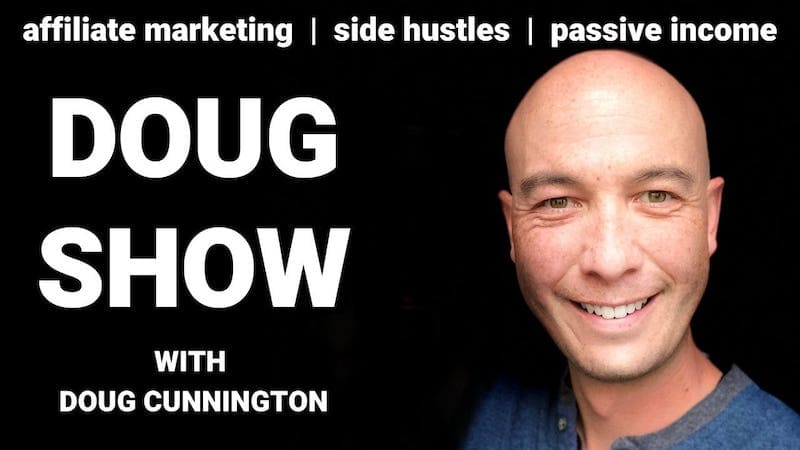 Doug Cunnington's announcement of Ezoic Levels in his podcast, the Doug Show, available now on YouTube and wherever you consume podcasts
Extras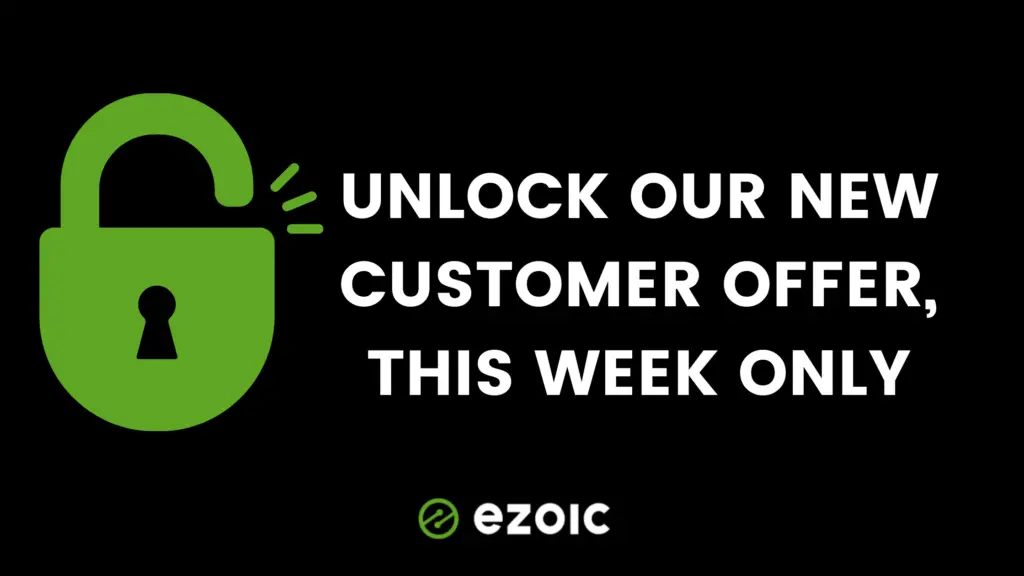 If you're new to Ezoic, get into Levels at the Ezoic customer requirements during this week only
See What Customers Are Saying
"I honestly feel like Ezoic is vested in my success as much as I am, so that makes them a vital partner for me."
Anita Hummel, abusonadustyroad.com
Daily Drops
Tuesday, September 14: Access Granted
Today is all about accessibility. Learn how you can improve your site speed with Leap (now available to all Ezoic customers) or get your website started through our Access Now program. And a new support community is now live, giving Ezoic customers an all-access path to success.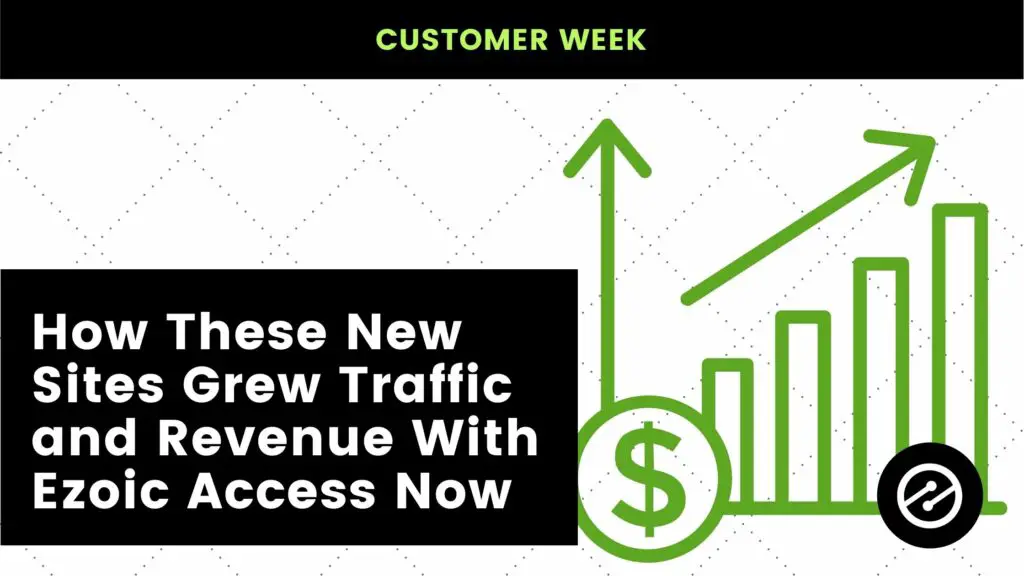 How These New Sites Grew Traffic and Revenue With Ezoic Access Now

Get inspired from real publishers who have grown tremendously with Ezoic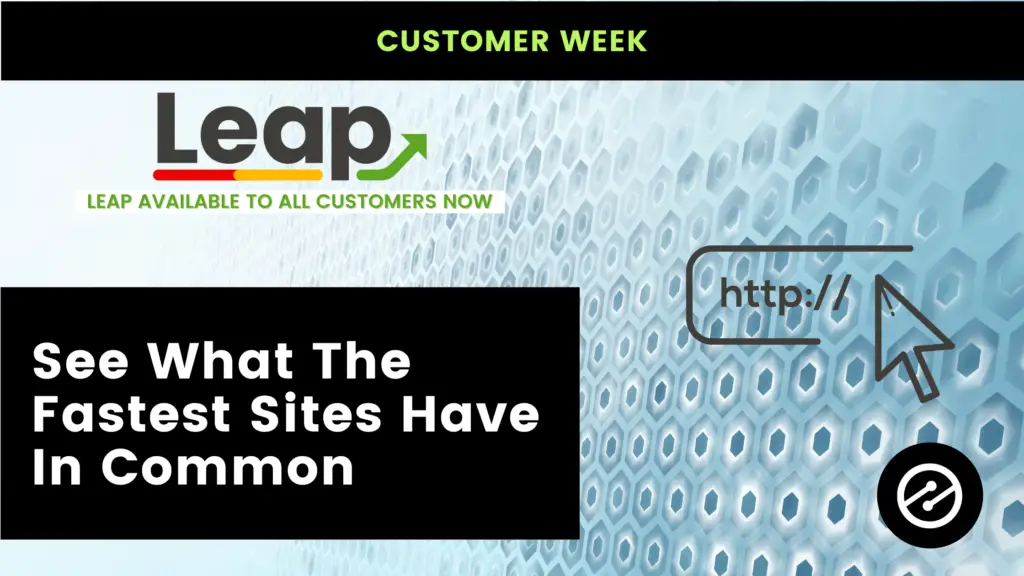 See What the Fastest Sites Have in Common

Site speed has become more critical than ever with the introduction of Core Web Vitals. Learn about performance from the fastest sites
Video
Partner Content
Publisher Dave Taylor breaks down Leap, Ezoic's toolset for site speed. Watch how you can help improve your site's performance with Leap.
Extras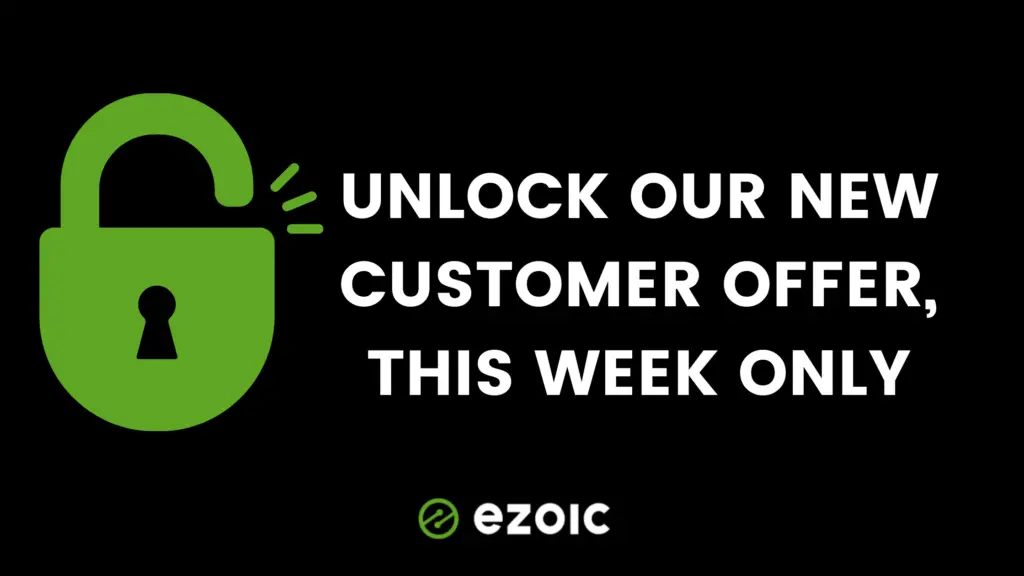 If you're new to Ezoic, get into Levels at Ezoic customer requirements during this week only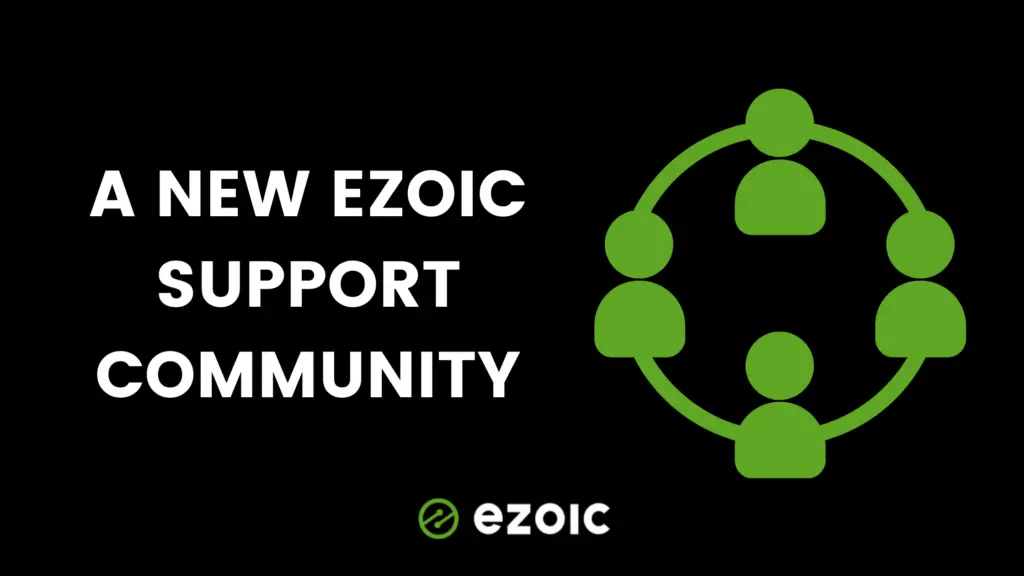 We just launched a new and improved way to communicate with other Ezoic users as you make updates to your site and run into questions. Check out the community here
See What Customers Are Saying
"What's great about Ezoic's Leap tool is that it scores and gives recommendations that can help us improve our sites. A measurable score to refer to and direct recommendations on how to solve issues to make our sites better is already [Ezoic] serving us [success], giving us lesser reasons to not perform better."
Michael Oyco, michaelshut.com
Daily Drops
Wednesday, September 15: Features Available Now
We introduced new features today, including the Ad Tester addition to the Ezoic plugin, and new information about our Video Player. See what's new below.
Featured Content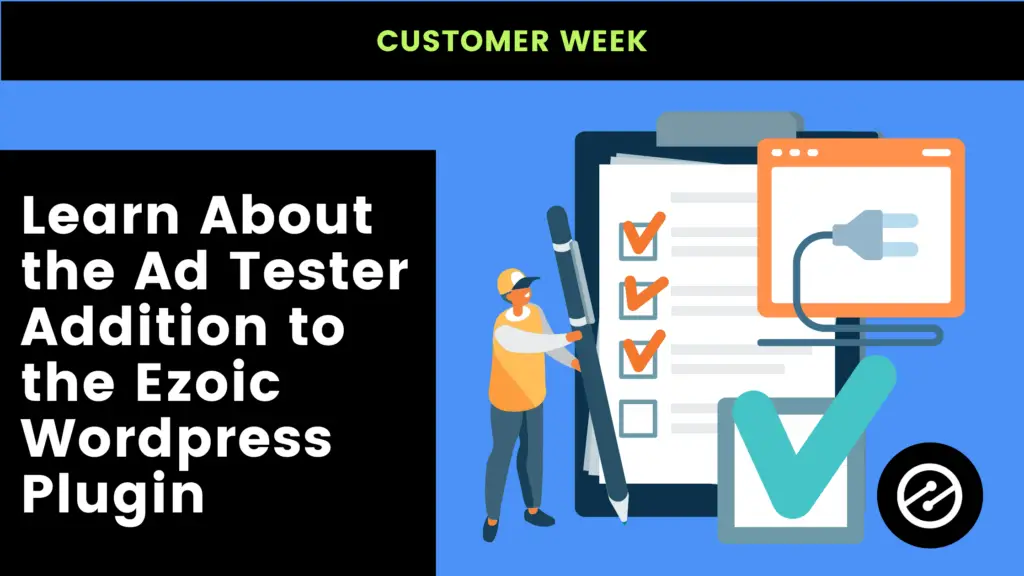 Learn About the Ad Tester Addition to the Ezoic WordPress Plugin

This new addition to the Ezoic plugin will change how our publishers create placeholders for the better. Read up on the basics. Tune in for a live demo tomorrow!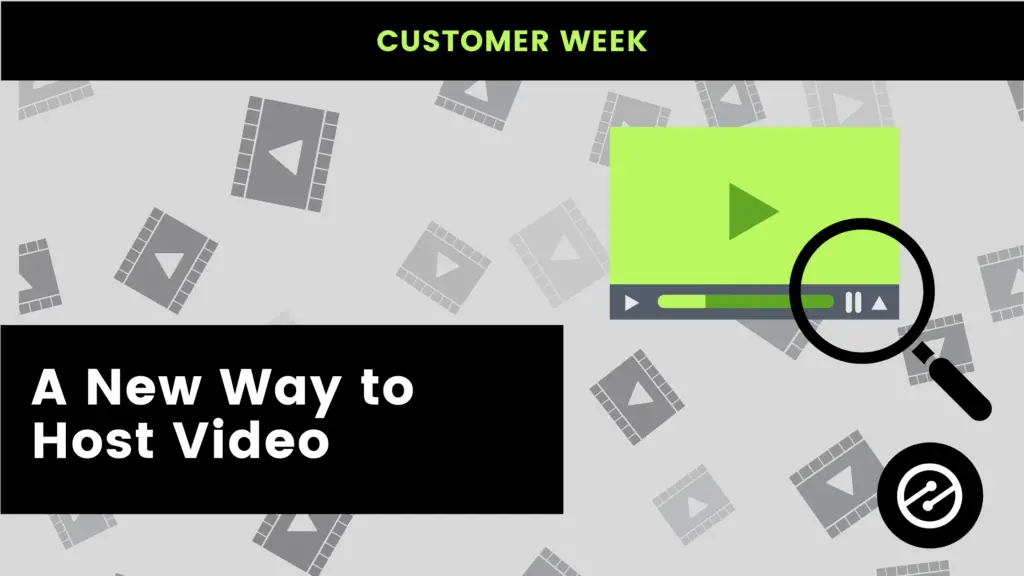 A New Way to Host Video

Hosting video on your own site is something you can do with Ezoic, and this article tells you just how great that can be for your website.
Video
Jeff Bernard, Global Director of Publisher Success, breaks down some of the newest Ezoic tools designed to help you increase revenue and grow your business.
Extras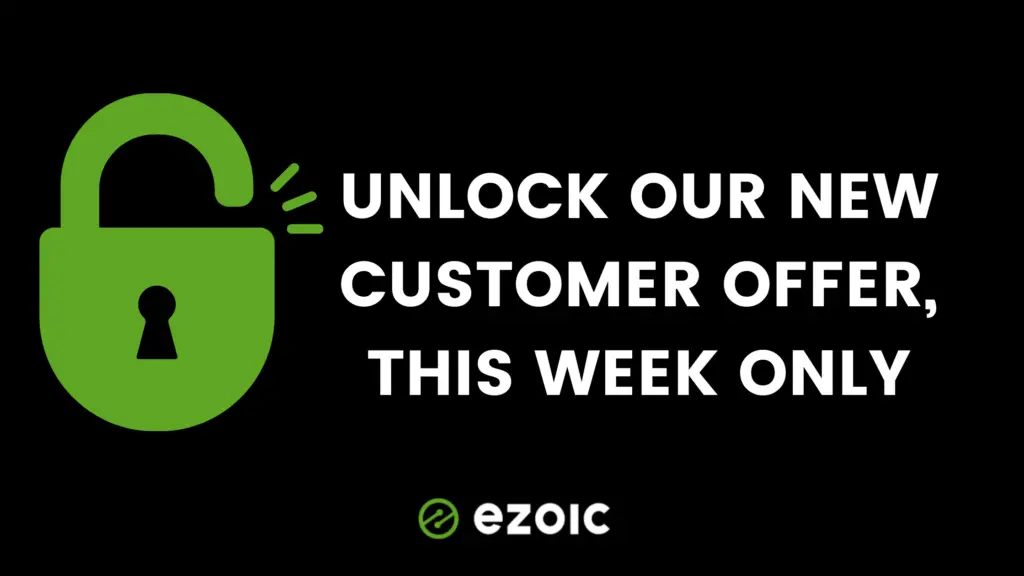 If you're new to Ezoic, get into Levels at Ezoic customer requirements during this week only.
See What Customers Are Saying
"I like the Ezoic Ad Tester because it considers both maximizing revenue and optimizing user experience by default. For example, some users will get three ads when they read your posts, while others will get five. It is all based on the behavior of the people visiting your website."
radicalfire.com
Daily Drops
Thursday, September 16: Discover The Dashboard
There are tools in your dashboard that can give you key insights into your site performance and help you increase traffic and revenue. See real-life results from our publishers, uncover reports available now in your dashboard, integrate with the Ezoic Cloud, and use our Tag Tester tool to enhance your SEO efforts. Let us show you how below.
Extras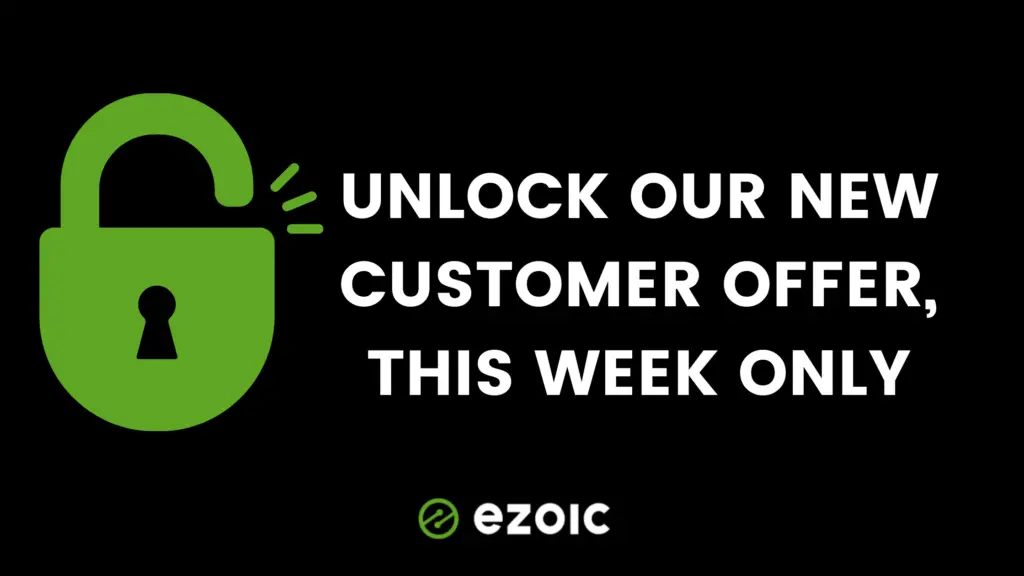 If you're new to Ezoic, get into Levels at Ezoic customer requirements during this week only.
See What Customers Are Saying
"Ezoic Big Data Analytics has the ability to link income to everything on the site – with every article or ad placeholder on any page. It is simply unrealistic to carry out such a volume of work manually. Thanks to the system, you can see the income in real time – it will change when a new user visits your site."
Yoann Bierling, ybdigital.com
Daily Drops
Friday, September 17: Customer Appreciation
For the last day of Customer Week, we want to say 'thank you.' We hope that you were able to take advantage of all of the benefits and features during this week, and beyond. Today we have a recap available for all of our Customer Week announcements, a special Customer Week FAQ, a live webinar where you can ask questions to Ezoic CMO Tyler Bishop, and our customer appreciation video to see below.
Featured Content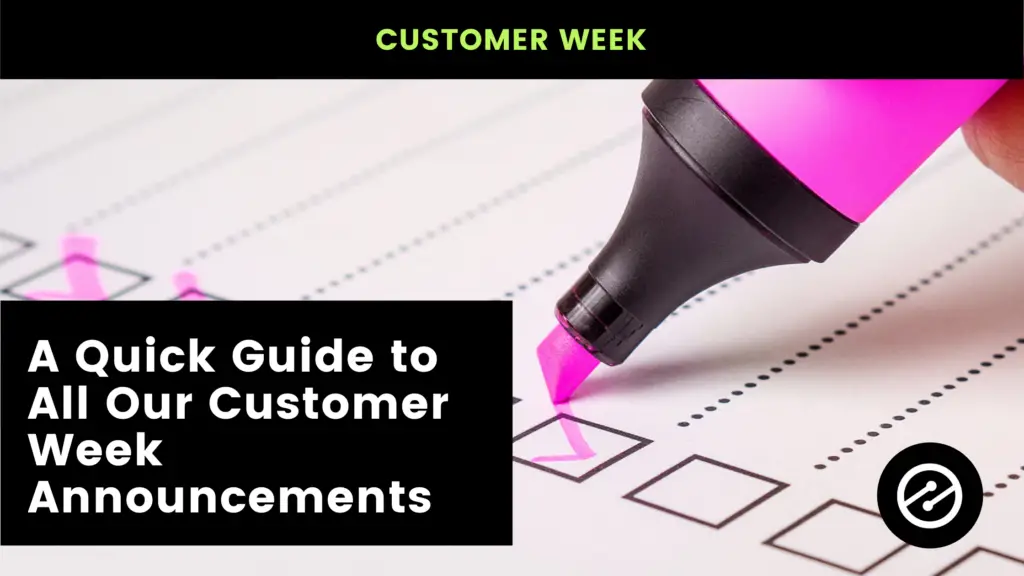 A Quick Guide to All Our Customer Week Announcements
This blog features a recap from each day of Customer Week, highlighting pieces of content you won't want to miss.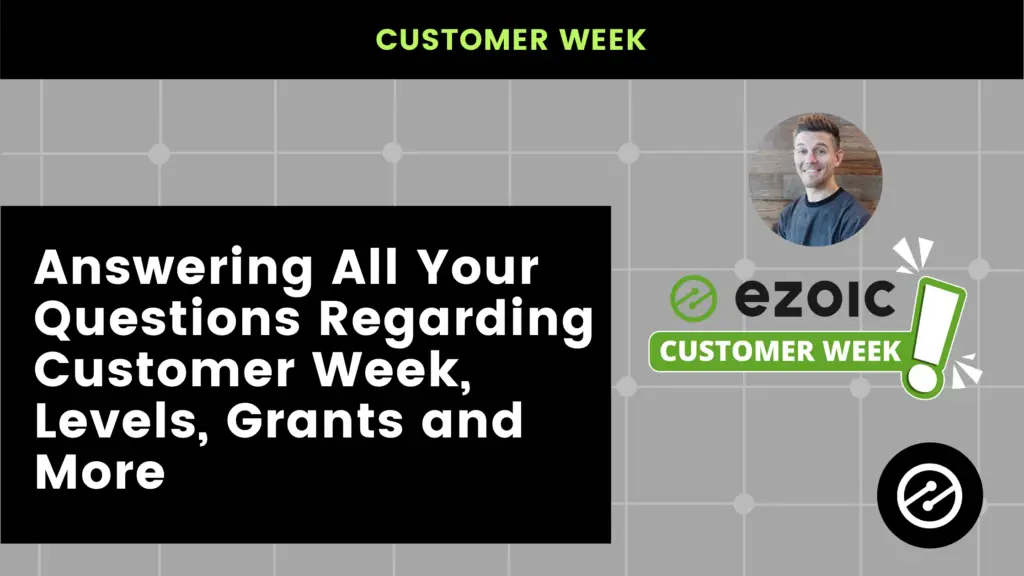 Answering All Your Questions Regarding Customer Week, Levels, Grants and More
Ezoic CMO Tyler Bishop answers your questions surrounding all the news that came out of Customer Week.
Video
We're saying 'thank you' to all of our customers around the world! It's truly been a week filled with growth, opportunity and fun.
Extras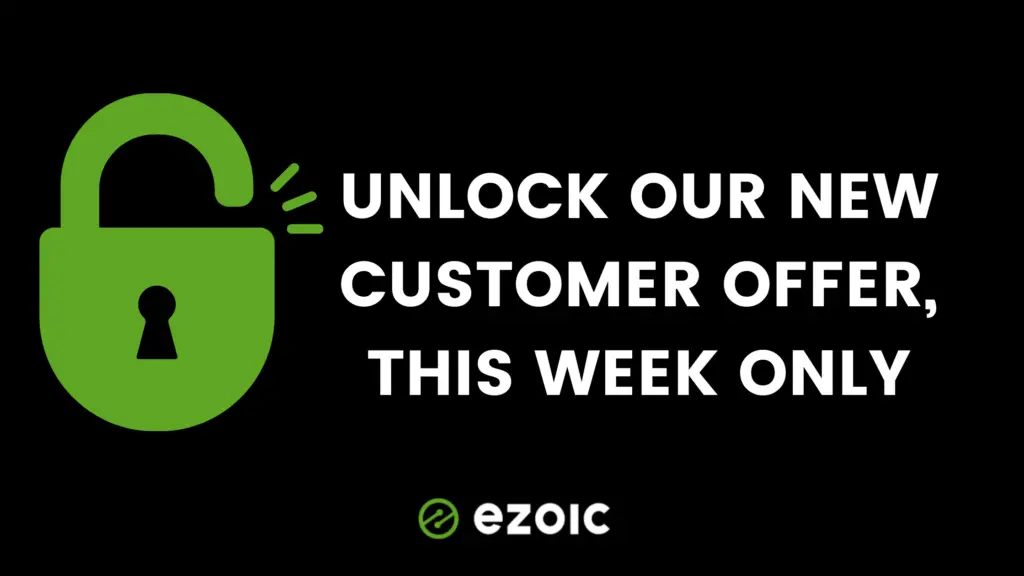 If you're new to Ezoic, get into Level-Up at the customer requirements level. Today is the last day to sign up!
See What Customers Are Saying
"If I had left Ezoic, I would've missed out on so much income (I shudder thinking about that!), improved user metrics, and an enormous amount of learning and education."
Richard Kronick, huffpost.com
---
Thank You for Joining Customer Week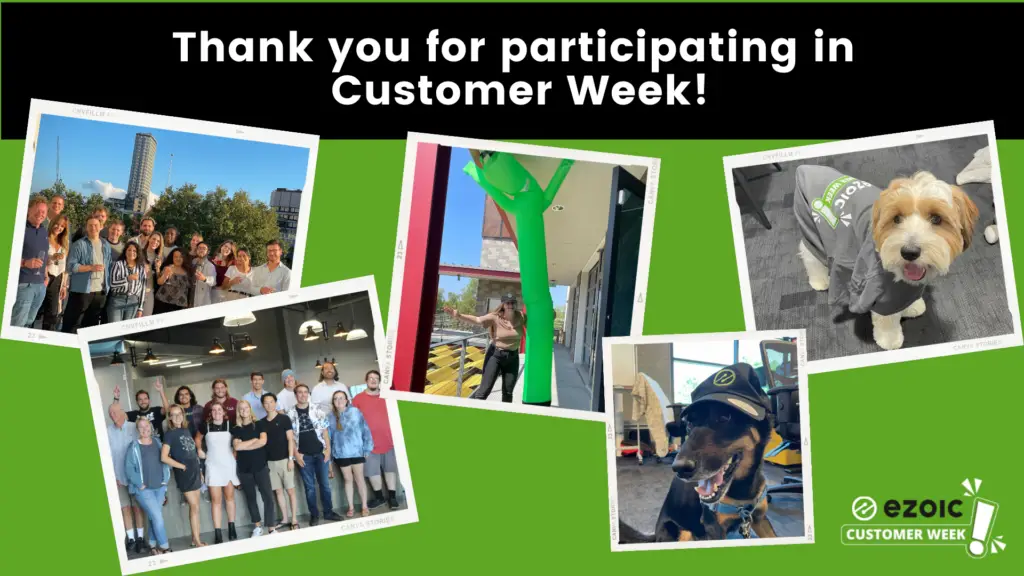 We want to thank you for being part of Customer Week. It's amazing to see our customers succeed and grow their businesses!
Customer Week Announcements
See What Customers Are Saying
Share your experience for a chance to be featured on Ezoic's site. Fill in your information below.
Let's Get Started
Ezoic is a proud to be the trusted partner of tens of thousands of publishers today. Through the power of technology and a commitment to transparency, Ezoic continues to be the number-one choice in website monetization. Get started today!