How Coronavirus / COVID-19 is Affecting Web Traffic & Ad Rates (Live Updates)
We will include ongoing updates with timestamps below. We'll also keep our list of resources and advice updated as new information becomes available.
Resources:
Coronavirus Digital Impact Updates:
LAST UPDATE: August 31, 5:14PM PDT
[/et_pb_text][et_pb_text admin_label="Most Recent Spreadsheet Chart Image (2019 vs 2020 Monthly Ad Rates) Only" _builder_version="4.5.8″ custom_padding="||0px|||"]

— August 31, 5:14pm PDT —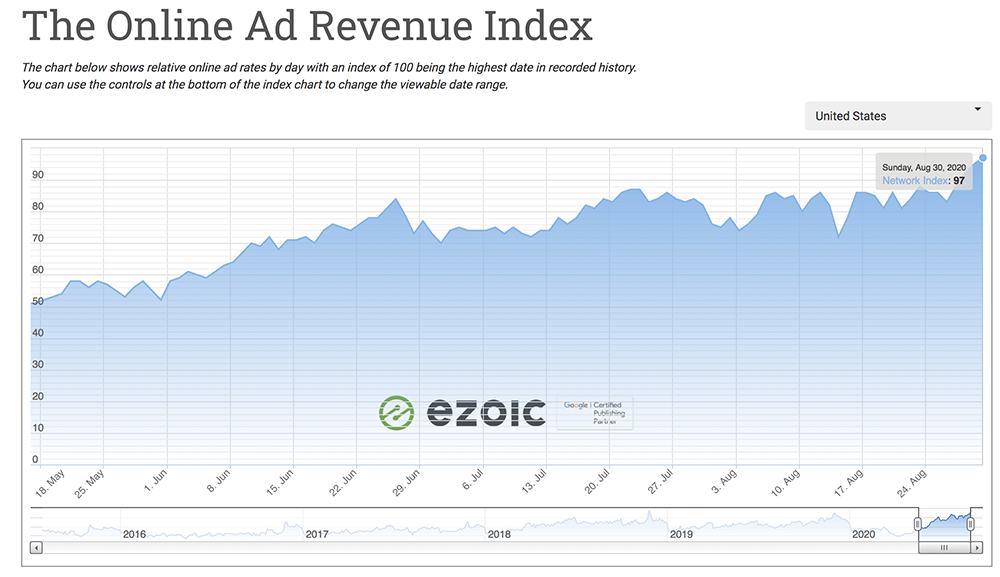 Ad rates continue to rise throughout August, hitting a peak of 97 on August 30th. For August, ad rates are 39% higher than last year.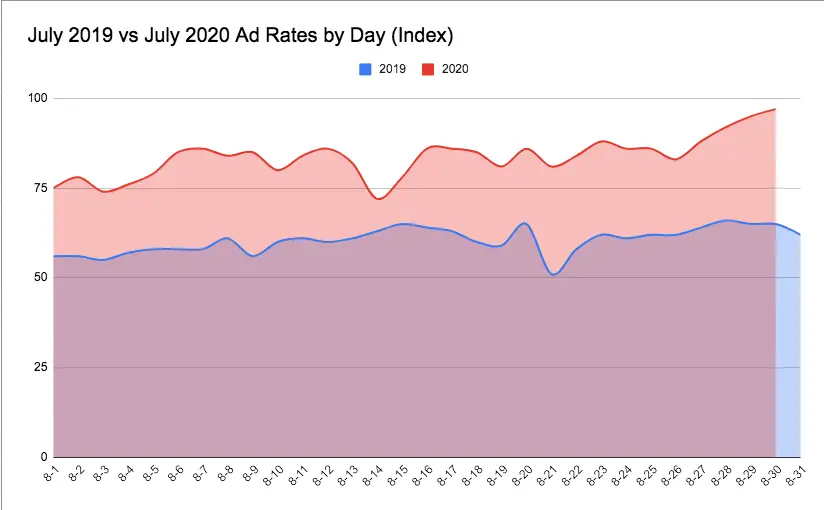 Programmatic was one of the first things to be hit hard by the pandemic, as it was easy for advertisers to pivot and pull campaigns. However, for this same reason, it has also had the quickest and most resilient turnaround. This, of course, varies depending on vertical; categories that require in-person interactions like travel and retail saw negative percent changes between April and July 2020 while online education and media and entertainment have seen positive changes.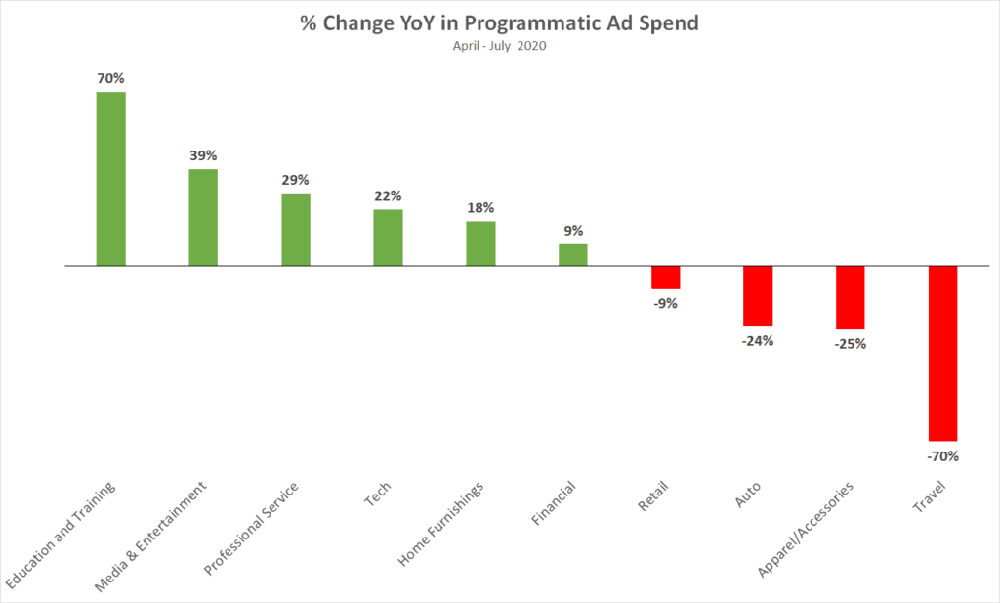 Ecommerce is still thriving and expected to continue as the holiday season comes in; it is expected that ecommerce will increase by 18% this year and that 47% of shoppers will use ecommerce channels to do their holiday shopping. Nearly 75% of people in the US say they are going to shop more online this year than previous years and are more likely to look online for gift ideas. Additionally, more than 50% of global shoppers will use Google to find new brands 48% of US shoppers will look online for deals or promotions before purchasing.
Keyword blocking in regards to pandemic-related material is still a common practice by advertisers, though it will negatively affect both advertisers and publishers alike. News publishers will lose an estimated nearly £50m ($66.83m) in online ads due to keyword blocking of content related to coronavirus.
Search is looking different this year than previous ones with many parents and teachers trying to navigate the varying ways students are returning to school. Searches like 'virtual schooling' saw an increase of 238% in searches between March 1 and August 1, 2020. Homeschooling saw a spike as well, with school curriculum searches up nearly three times as much from the beginning of July to August. Searches for things like 'desks' are up ten times the usual number while backpack searches are down 50% compared to last year.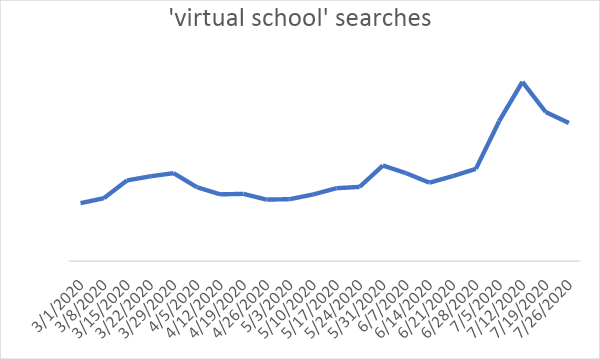 Search isn't the only place back-to-school norms have changed. Coronavirus continues to upset the ad marketplace, and this will continue into autumn. Along with back to school looking different than other years, regular football seasons are altered or even canceled and advertisers are still reserved about traditional holiday advertising; currently, back-to-school advertising is down 70% when compared to last year.
Overall, many advertisers don't want to commit to anything specific and are waiting to see what happens before making their next move. With so much of the year already in upset, advertisers can't rely on traditional advertising tactics on consumers.
Publishers should remain vigilant in partnering with ad partners and advertisers with a strong track record and consistent practice of communicating and paying out their publishers on time. Sites should be wary of new parties to the ecosystem and those lacking known credentials or certifications like Google's Certified Publishing Partner Program.
[/et_pb_text][et_pb_text admin_label="August 14 Updates" _builder_version="4.4.8″ header_3_font="Open Sans||||||||" custom_padding="||0px|||"]
— August 14, 2:33pm PDT —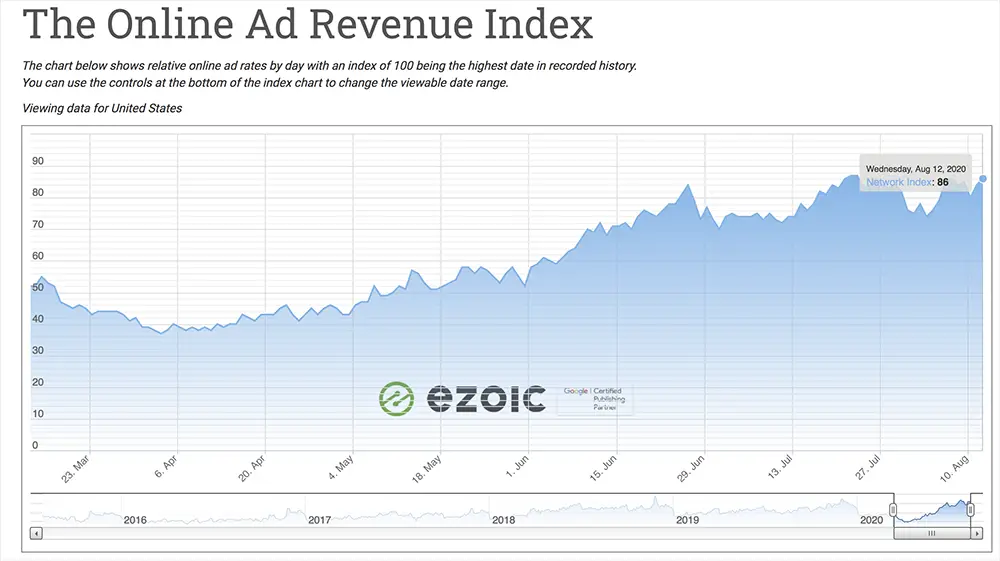 Ad rates continue to be in the 80s and remain higher than they were this time last year. It is unlikely we would see a major dip in ad rates once more like in April because companies are now investing in the future.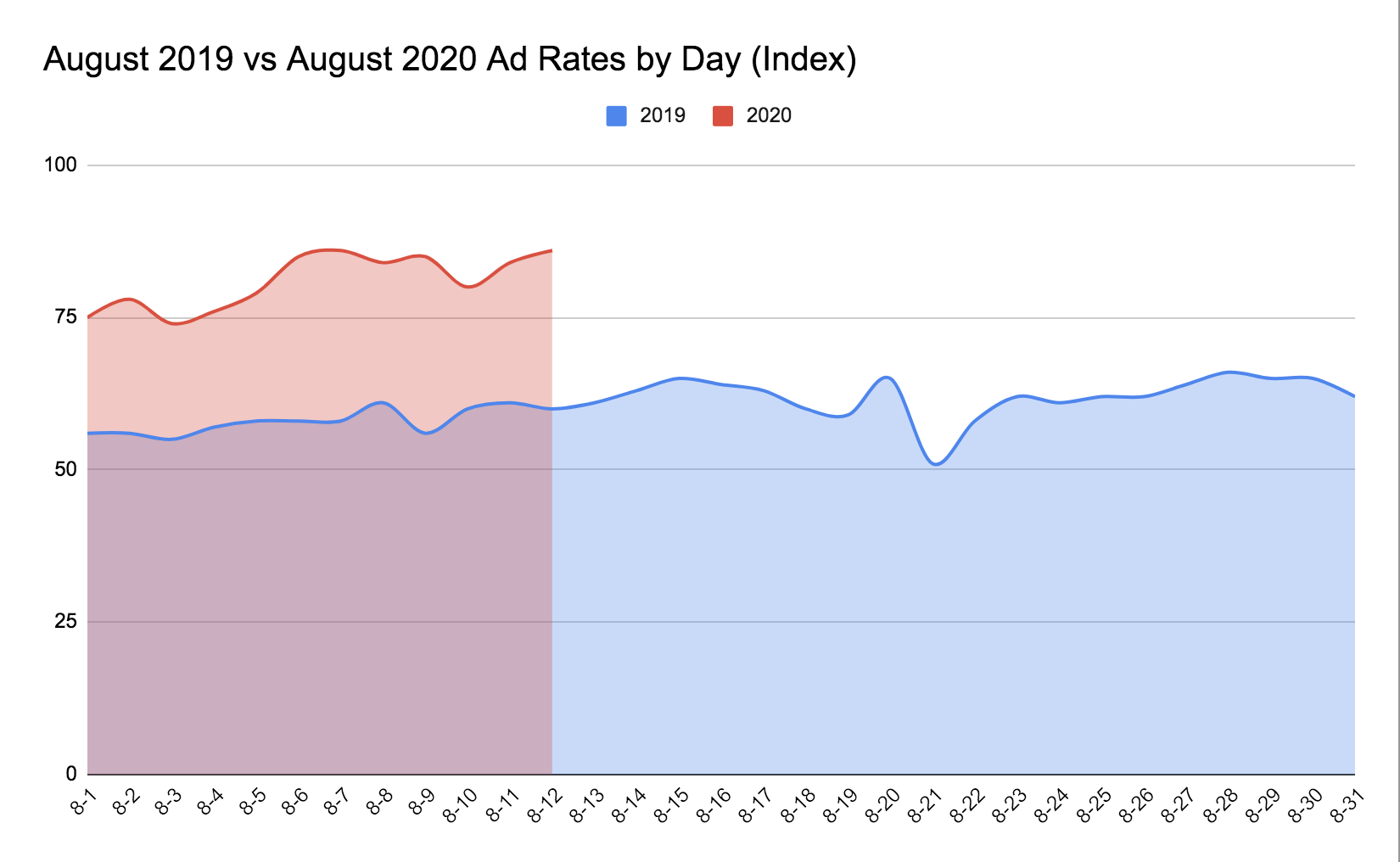 Research by MediaRadar shows that programmatic advertising is up 26% since January, with spending levels hitting their highest point in June.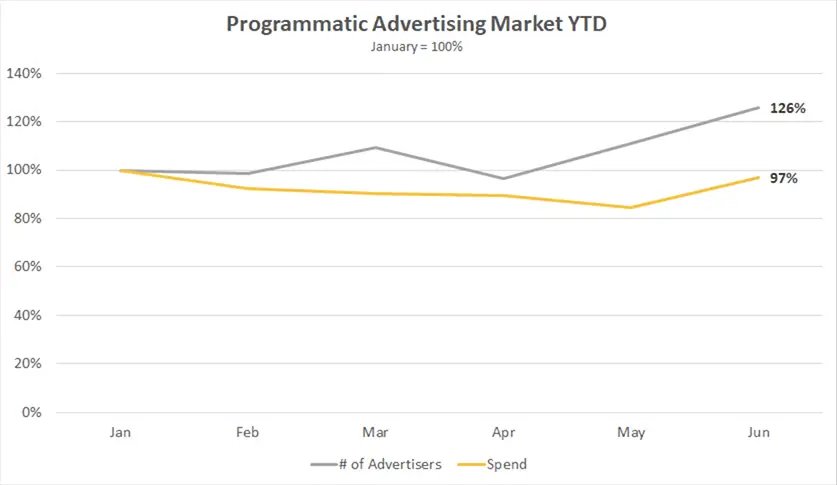 Global ad rates
Behavior in the digital ad space is changing, despite rising COVID cases. There has been increases in digital ad spend in categories that were previously suffering; according to Pubmatic, travel ad spend amongst advertisers has increased by 23%, sports has increased 19%, and education has increased 8%.
However, in ad spend by publisher vertical, nearly all categories are down except employment and career at 3% and home and garden at 1%.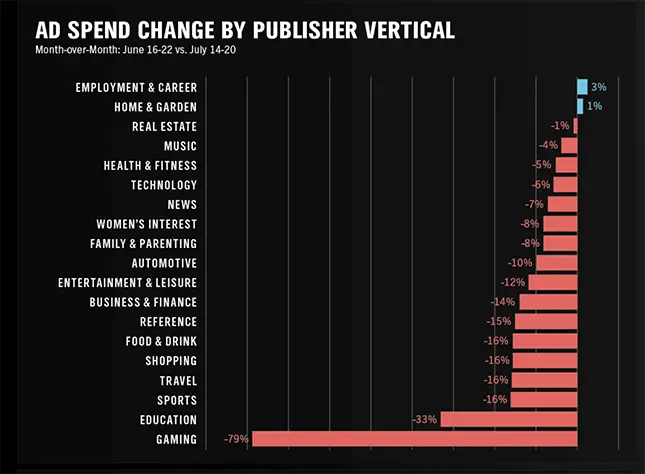 We recently published an informative piece on global ad rates and digital publishing trends in 2020. While most of the ad rates we focus on are the US's, this piece also covers Canada, the United Kingdom, France, Germany, and India.
We have discussed this before, but ad rates follow the market. Currently, businesses are spending more money and advertising once more because they have confidence in what is to come for the economy, even though coronavirus cases are up in the United States. This trend can be seen if we compare the NASDAQ, which is more tech-heavy than it has ever been, to the Ad Revenue Index.

We can see this same trend if we look at France's Ad Revenue Index and the CAC40.

Again, in Germany, we can see that the DAC and the German Ad Revenue Index follow the same pattern.

France and Germany have similar economic and ad revenue rates because of their close government ties; this will likely continue, as the two countries just agreed on a major economic deal in July that would bring €500 billion to the EU.
While ad rates in most places are up, India has not seen the same uptick. India's ad rates are already typically lower than most countries', but stagnation has persisted while other countries have seen growth.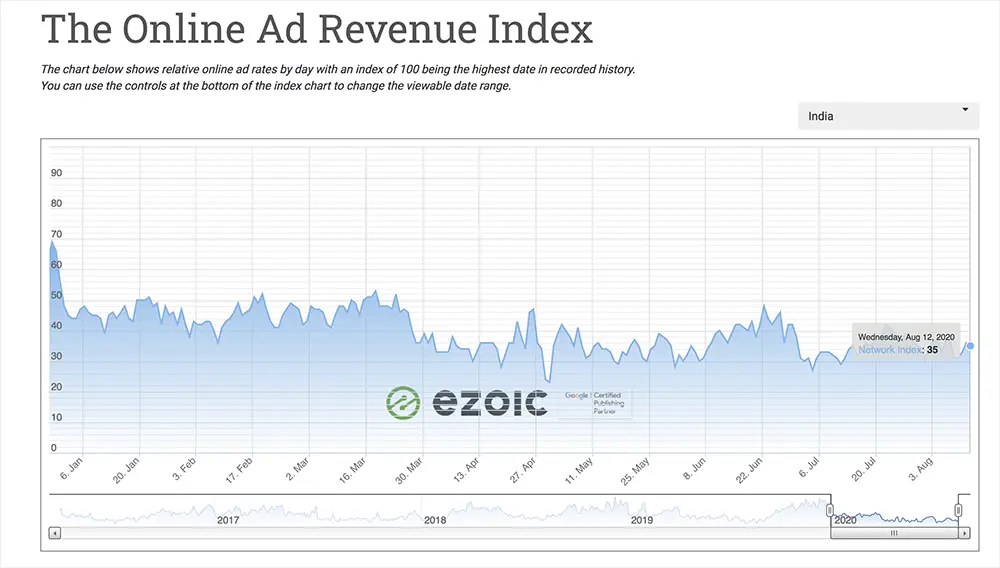 This is likely because COVID rates are just now getting worse, and coronavirus cases are also directly tied to how the economy and ad rates perform; India did not see the original spike in cases in March and April like many other countries.
Trends in digital publishing
Mobile ad spend has suffered from the pandemic but has altogether fared better than most. US digital ad spend is now primarily made up of mobile at 66%. It is estimated that digital ad spend will only grow $2.20 billion this year to $134.66 billion, and without mobile would actually decrease.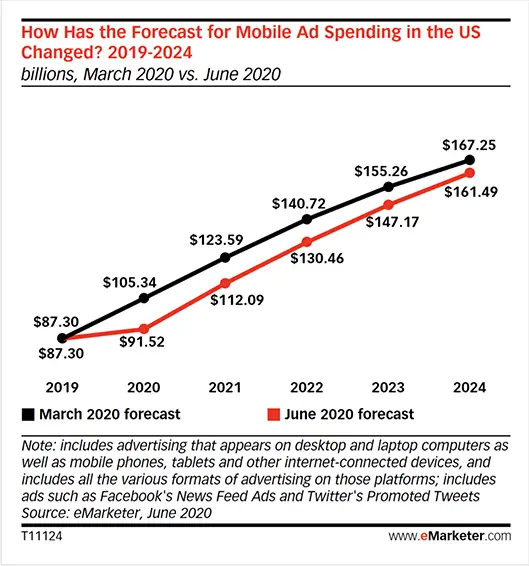 Time spent on mobile has increased globally, and much of mobile ad spend is a direct correlation of how much time people are spending on social media, video, and gaming.
Esports has proven to weather the storm more than traditional sports. While major and college sports require person-to-person contact, Esports was able to easily switch from indoor arenas to completely online.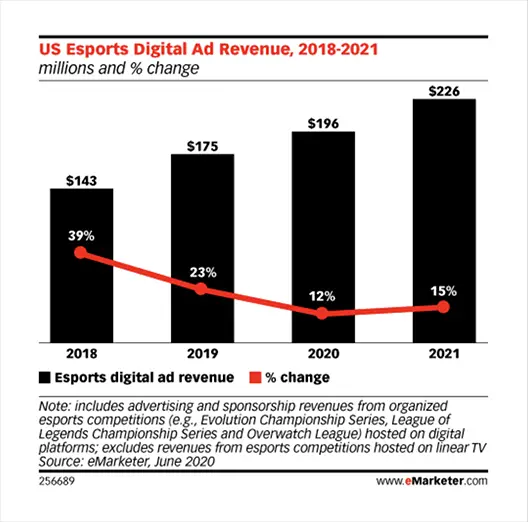 As Esports grows, it is becoming increasingly more appealing to advertisers. Though Esports ad revenue will not reach previously anticipated levels, it is still estimated to grow 12% to $196 million. It is expected to keep growing by 15% by 2021, reaching $225 million, making up for video ad revenue losses this year.
Ecommerce and the holidays
Due to coronavirus, ecommerce has been booming. Data shows that a year's worth of ecommerce growth happened in a single month during 2020.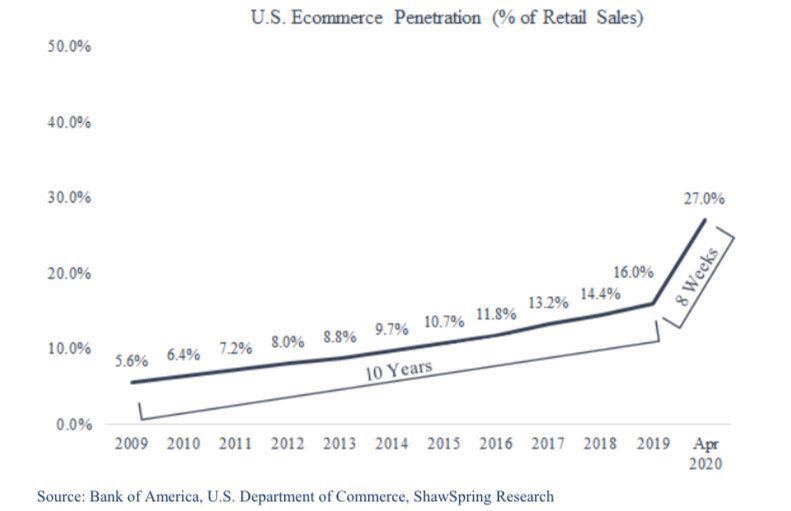 It is expected that ecommerce will continue to trend through the holidays–it is estimated that 71% of adults plan to do their holiday shopping online this year.
Boomers are increasingly using the internet and shopping online more; in a survey by eMarketer, 6 out of 10 respondents 56 and older will do over half their holiday shopping online.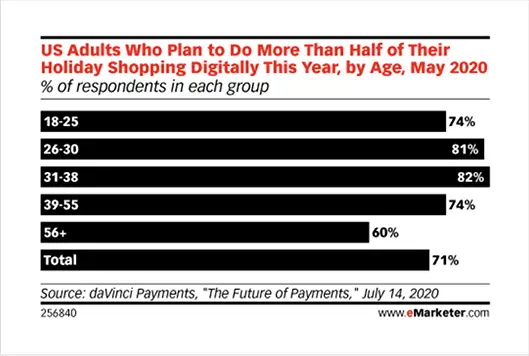 With the holiday season only a few months off, it is unlikely companies will slow down their advertising. While ad rates may dip momentarily at the end of Q3, ad spending and ad rates will likely stay high and continue to grow throughout the rest of 2020.
[/et_pb_text][et_pb_text admin_label="July 16 Updates" _builder_version="4.4.8″ header_3_font="Open Sans||||||||" custom_padding="||0px|||"]
— July 16, 3:44pm PDT —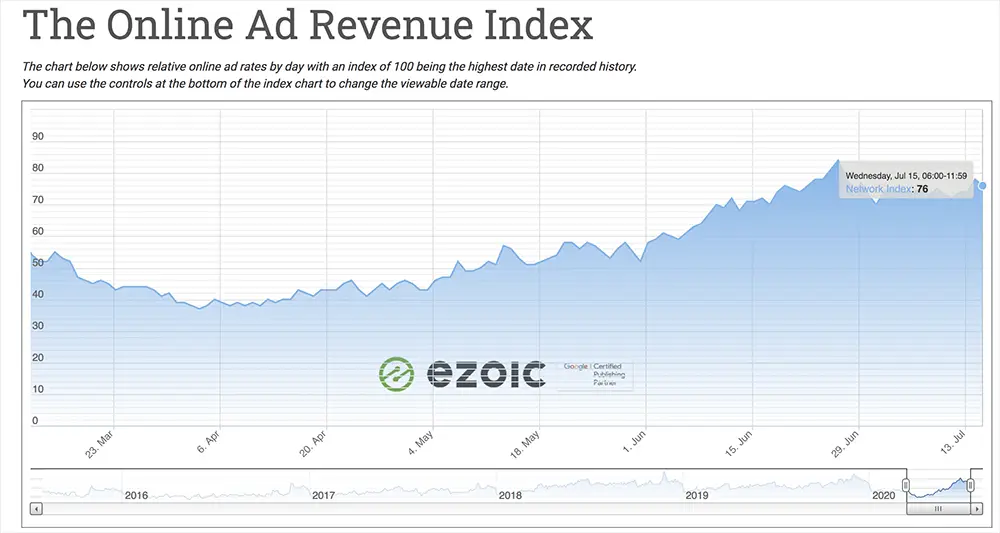 While we saw a major peak at the end of June/Q2 for ad rates, that growth has leveled out through July. However, ad rates are still above what they were last year at this time, which may come as a surprise to some.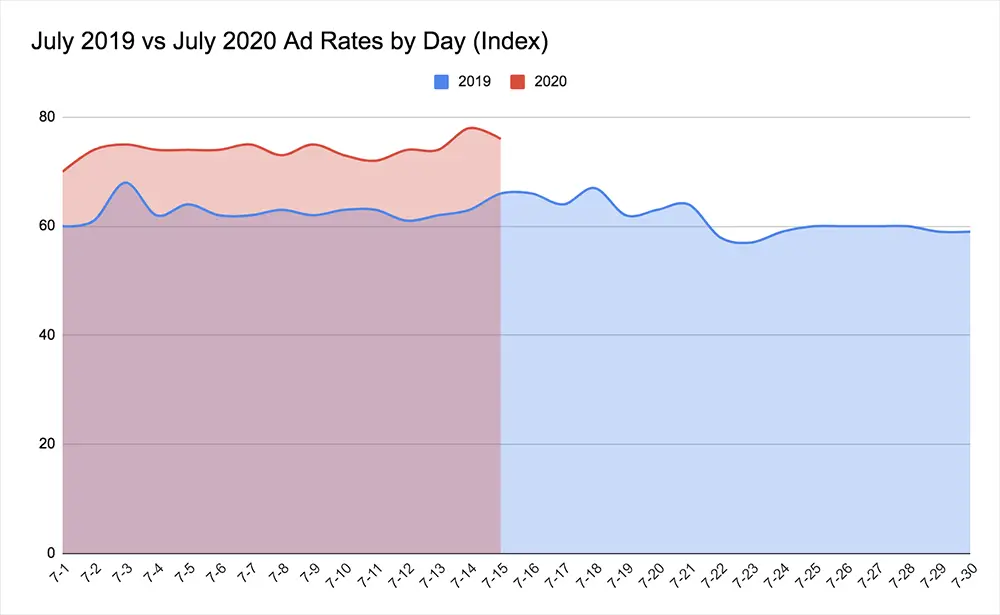 Social platform and podcast ad rates, ecommerce thriving despite pandemic
Despite the pandemic, Facebook, Instagram, and Snapchat's ad revenues will grow globally in 2020. Twitter, on the other hand, is seeing revenue decline.
Facebook's revenue increases may come as a surprise to some, considering the ad boycotting from the past few weeks, but it is predicted that the boycotts are more likely to affect Facebook's image more than their revenue.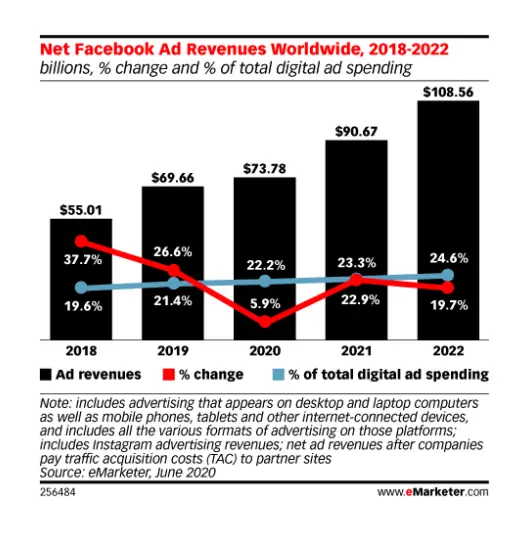 These revenue increases are predicted to continue as it is predicted that users are continually spending more and more time on social media during the pandemic.
Podcasts are also rising in popularity, though this also was a trend before the pandemic began.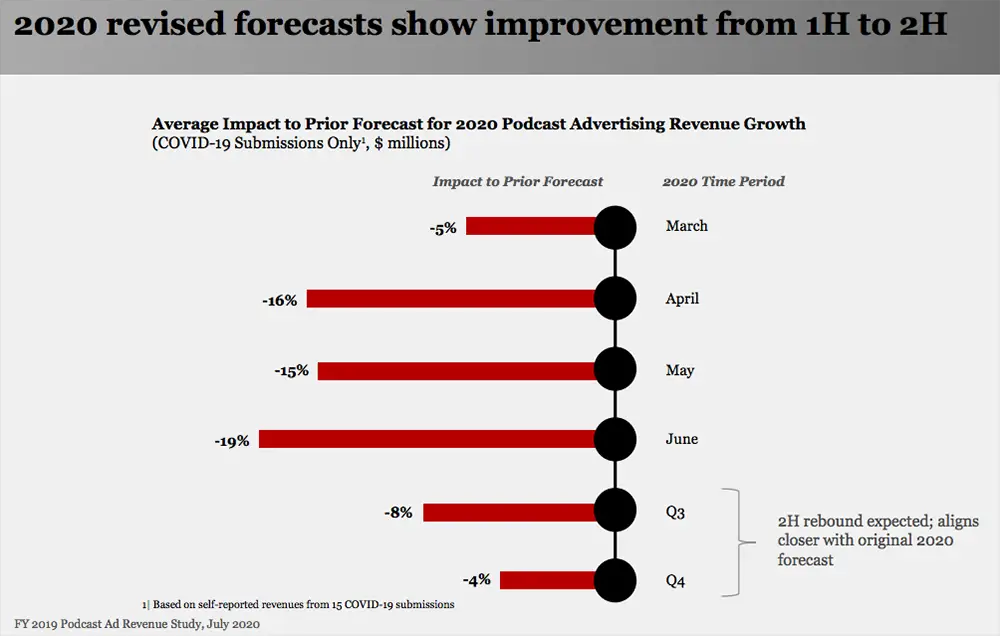 IAB's recent Podcast Advertising Revenue Report shows that podcast revenue is likely to increase over 14% in 2020, regardless of coronavirus. Podcasts advertising revenue is already close to $1 billion. This may be in part to the flexibility that podcasts provide; companies are more likely to spend on advertising during unstable times if they know they can easily switch gears.
Also, despite news' difficulties in online publishing, news podcasts are becoming the preferred medium of consumers and advertisers. News podcasts make up 22% of podcast advertising revenue. Retail and finance are the top investors in podcast advertising.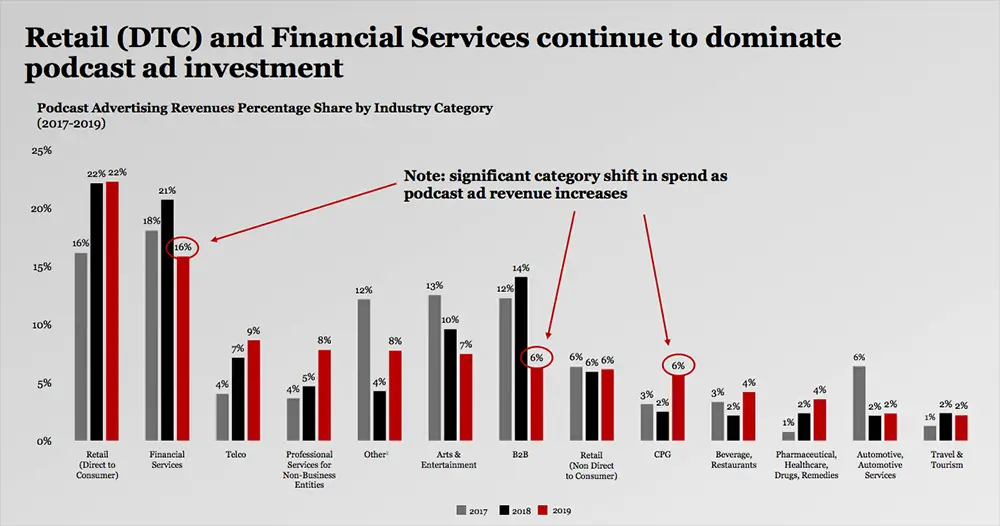 Though podcasts and advertising are doing well, they are not completely exempt from the effects of the coronavirus; before the pandemic, podcast advertising revenues for 2021 and 2022 were expected to grow 55% and 36% YoY.
While retail sales are to decline 10.5% in the US this year, ecommerce is still expected to grow 18%, up from the nearly 15% increase in 2019. This growth is primarily due to brick and mortar shops' closure during the pandemic, though online shopping was already pushing out traditional retail before coronavirus. The pandemic is simply expediting this trend and is something that will continue after COVID-19.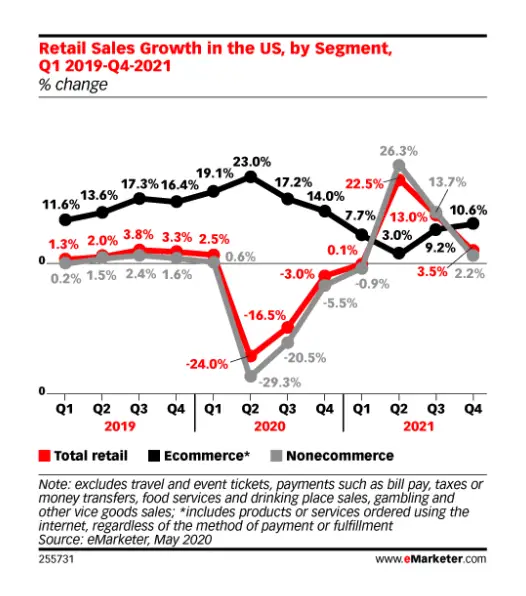 Global ad spend and rates for 2020
Many small businesses have moved from advertising on more local channels to some of the giants, like Facebook and Google. This is predicted to last even past the pandemic.
Traditional publishing forms, like radio and print, have had deep declines in ad spending, especially more locally-sourced publishing. However, that slack has been reallocated into digital; since March, digital ad spend is up 11% YoY.
Even though digital ad spend is up YoY, it still is not growing like it was predicted for 2020. Originally, it was predicted by eMarkerer that this year would see a 7% growth for 2020 global ad rates. However, overall ad spending is in decline by nearly 5% globally. This is a significant 11% drop, as last year ad spending grew by 6.3%.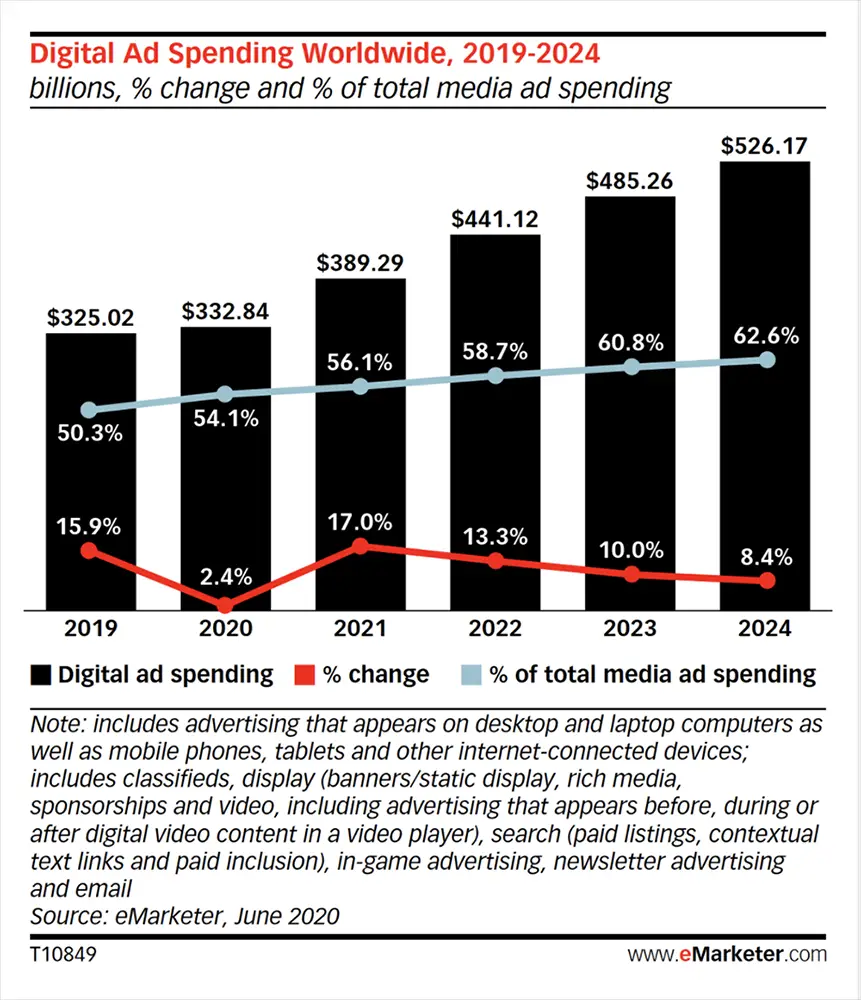 Digital ad rates will only see a 2.4% increase this year, which is the lowest ever recorded, as digital ad rate growth has never been in the single digits. Search ad spending is even worse–it is estimated that international search ad spending will actually decline by 0.2% in 2020.
Some verticals performing well and others poorly
According to PubMatic, Food & Drink, Technology, Business, Personal Finance (sites like The Financial Geek), and Shopping are the drivers of ad spend recovery. This is because many of these categories were doing especially horrible in the beginning of the pandemic but have seen significant turn-around as the year has gone on.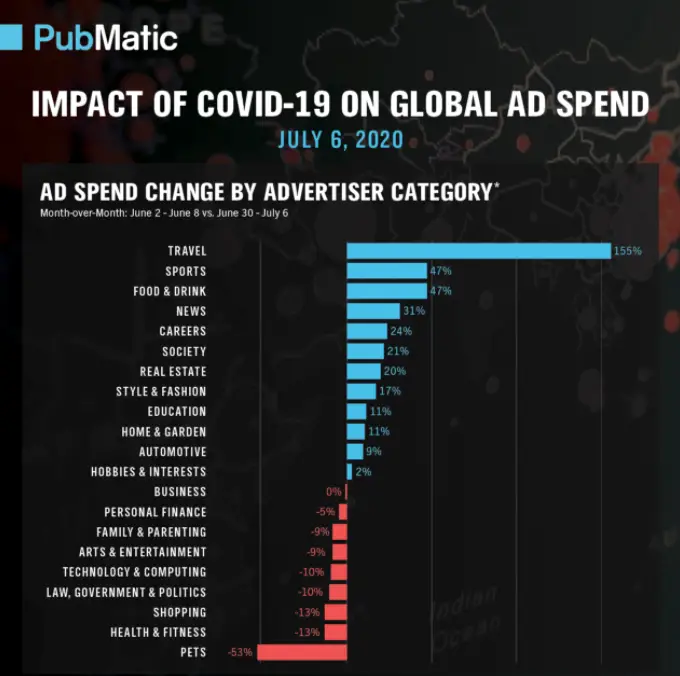 Other categories, like Travel, Sports, Health & Fitness, and Real Estate are slower to recover to pre-pandemic ad rates and are likely to continue to see slow growth as lockdowns are re-implemented amid rising pandemic numbers.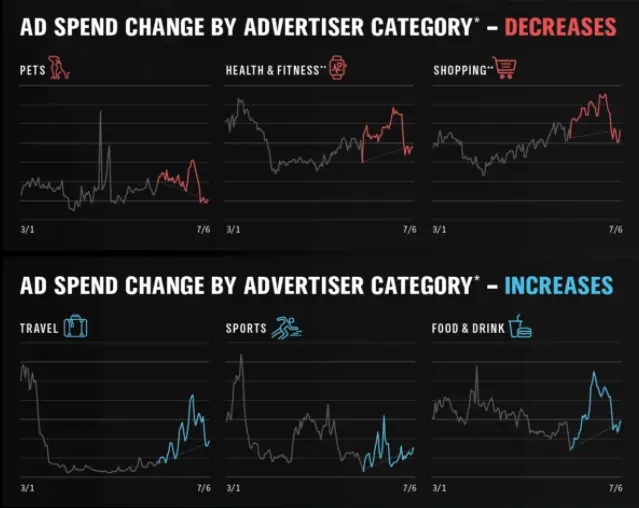 Pets, Health & Fitness, and Shopping are still seeing the biggest declines in ad spend compared to what they usually look like outside of the pandemic.
For publisher verticals, Health & Fitness is still on the rise while Gaming has taken a steep decline.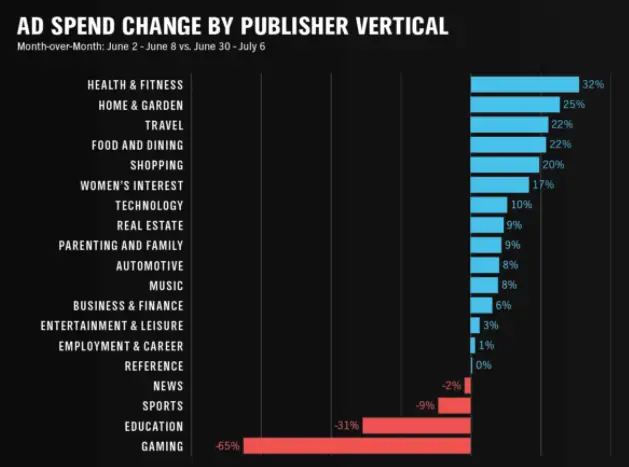 In-app and video are still seeing increases in ad spend, while display advertising remains down 12%.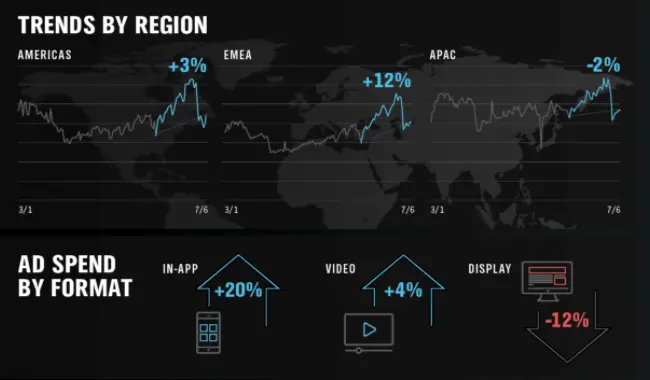 While pandemic numbers are increasing, some B2B brands will see increased opportunities. Health and Pharmaceutical companies are performing well right now, as health is obviously a popular topic. These categories have increased their ad spend throughout the pandemic, with its highest numbers in April; this makes sense because April was the original peak of pandemic numbers.
Another category that has seen increases in ad spending is Industrial, as it is the third-largest B2B product category within B2B advertising. These sites have seen an average weekly revenue increase of 65% during the pandemic. This includes Heavy Machinery, Construction, and Agriculture.
The automotive industry has also experienced increases in ad spending; since April, B2B automotive advertising has increased 87% YoY. This is likely because people have been slowly getting back to driving places as things opened up and non-essential workers were able to go back to work (with necessary precautions).
Lastly, Professional Services has seen improvements. In April, it was down by nearly 33% YoY, but since the end of May has increased 13%.
What should publishers focus on?
Did you miss spring cleaning? With pandemic numbers rising once more, now is a good time for publishers to get back to the basics of their website.
In a column by AdExchanger, Media Tradecraft's founder Erik Requidan suggests that publishers take a Marie Kondo (an organizing guru) approach to their website to see what is important for their website and cleaning out some of the cobwebs.
User experience is always the most important thing to consider first; if you don't have an audience, you don't have anything. Consider how you can make that experience better.
For some publishers, it may be a faster-loading website, creating new content, or augmenting old content. For others, it could mean cleaning house on shady or spammy ad partners.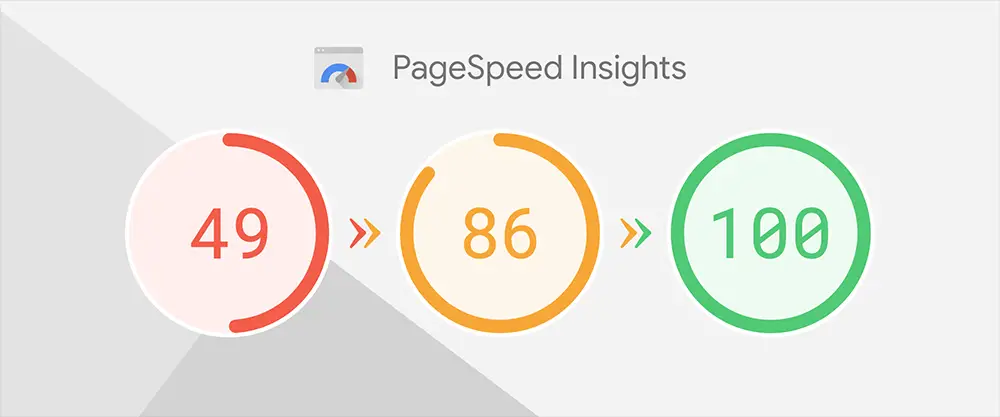 Other things to acknowledge outside of user experience is reconsidering services you're using that do not benefit your bottom line. While traffic and revenue are things that are only slightly in your hands, eliminating measurement, analytics, or SEO services that aren't doing much for you is something you can actually control.
This is also a good time to think about any additional publishing mediums you have implemented and consider if they are working or not, or how you can make them better. Maybe your newsletter isn't performing as well across the audience you originally intended, but it is popular amongst a certain niche audience. You could better cater your newsletter to that audience.
Consider also what your site is lacking; if you aren't publishing videos, or at least supplementing your content with them, you're losing out on engagement and possible revenue. While other mediums and ad spending is in decline, video is still growing throughout the pandemic.
With pandemic numbers rising once more, it's better now to get back to improving the basics rather than grabbing at straws, which could affect the long term health of your website.
— July 1, 2:44pm PDT —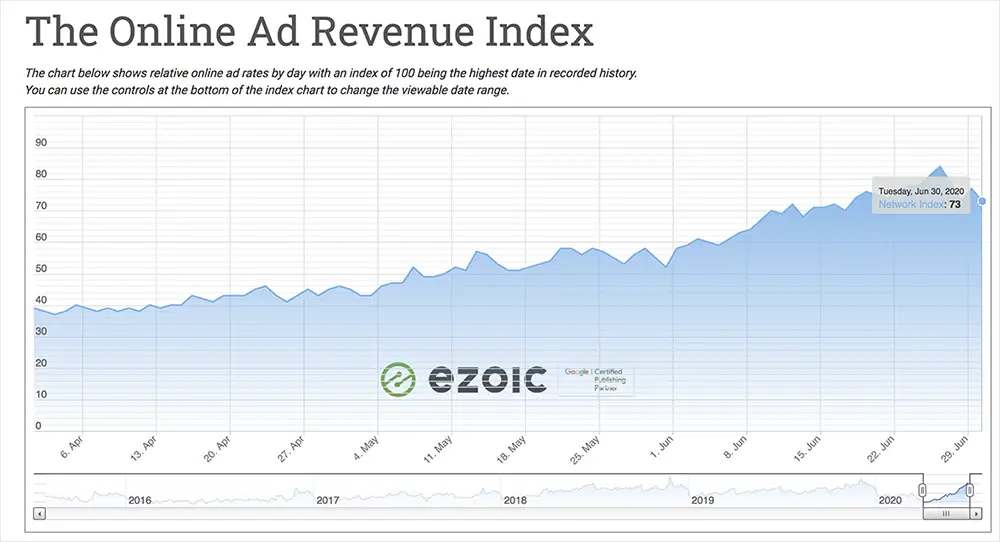 We saw a big spike at the end of June on Friday, June 26, as many ad campaigns had one final surge before the end of Q2.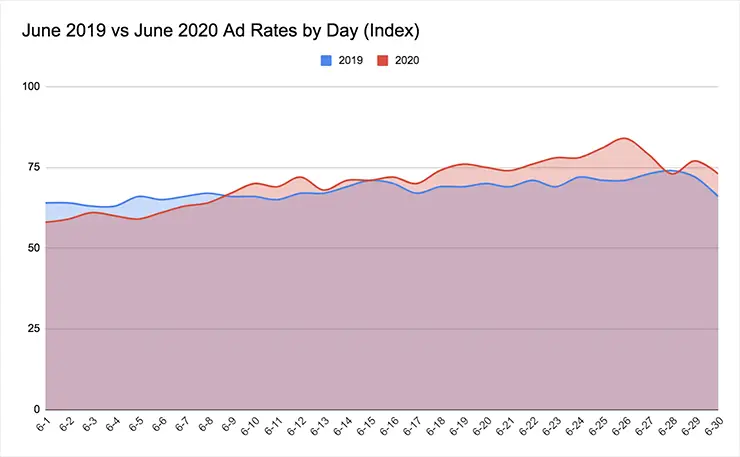 Our ad revenue index shows that ad rates are officially doing better this year than last year in June.
How publishers can adapt during the pandemic
What perhaps we are all learning the most during COVID-19 is just how able we are to adapt to major changes, whether that be the global economy or our day-to-day lives.
Large and small brands alike have had to change strategies, implement layoffs, and cut spending. 81% of brands have reported they will be reducing spend in 2020, much of which has fallen on digital advertising and thus publishers.
Ad security company GeoEdge recently conducted a survey amongst its partners and other businesses to assess what has been most helpful in staying afloat during coronavirus. There were four major themes amongst the respondents.
Know your audience and understand its changesMost publishers have seen rises in traffic during COVID-19, but knowing who is participating is important to the health and future of your website. Since coronavirus, have there been any changes in what types of visitors are on your website? This could range from age, length of time on site, device type, pageviews, time of day, location, etc. During the last few months, have there been new surges of types of traffic? Since everyone is likely behaving differently now than they usually do outside of the pandemic, it is likely their browsing and web habits have changed as well. To keep traffic coming in and growing, publishers should study these traffic trends and make changes accordingly.
Retaining your audienceNow that you have a larger audience, focusing on retention efforts will pay off in the long run once browsing habits change once again. Here are nine tips for reader engagement from large brands:-  Logged-in users or free subscriptions
–  Quizzes or surveys
–  Contests or competitions
–  Collaboration
–  Sweepstakes
–  Engage with your readers
–  Spinning popular content
–  Know your readers
–  Experiment
Optimize demandWe've hit hard on this before, but one of the best things you can do right now to take care of your site in the long term is to make sure you have quality ad partners. Make sure you understand how advertisers are performing with your audience and that there are no shady ads on your website. Advertisers bid on historical data. If you are trying to make some quick bucks with low-quality or spam-like ads on your site, when things start to improve, you're going to have a harder time driving up your revenue again.
PartnersLearn and help other publishers in the space. While everyone is surely competing against each other for traffic and revenue, the system only works if there is a certain amount of balance. You can share what has helped you during this time and in turn maybe learn some other valuable lessons and tactics to try as well. During times like this, you want more friends than enemies.
Ad spend in Q2
While digital ad spending is certainly down from the boom it has been seeing in recent years, there are still predictions it will see growth in 2020. eMarketer originally predicted there would be about 17% growth this year but they have now changed that number to 1.7%. This equates to about $22 billion in advertiser spending in digital to now just $2.2 billion.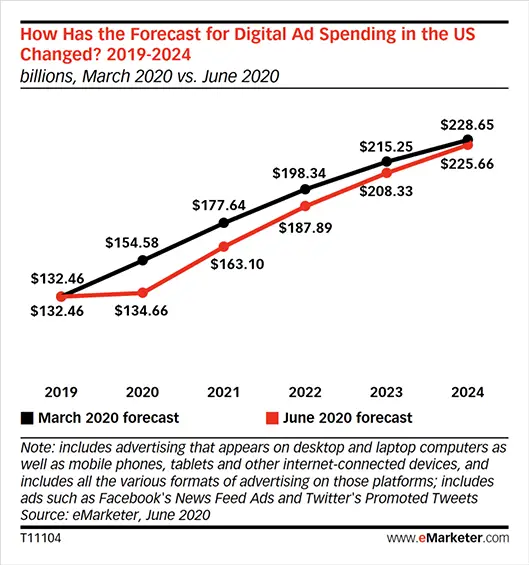 Most of these changes will be seen in search spending, since the travel industry is usually so focused on it and has been suffering through the pandemic. Display, however, is expected to still rise since display also includes video, which is doing well right now.
However, Pubmatic's recent report shows that travel is continuing to see growth both in ad spend change by category and ad spend change by publisher vertical when compared to its report a few weeks ago.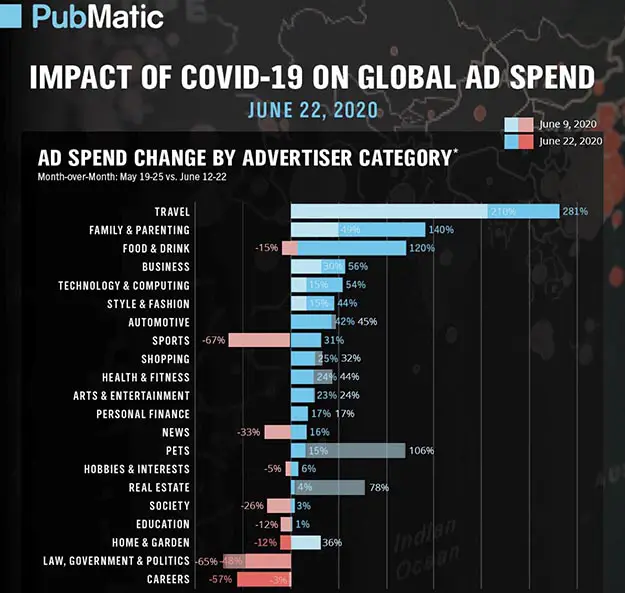 Comparing to Pubmatic's last report on June 9, we can see that there have been many positive ad spend changes in the last few weeks; only a few categories, like Pets and Real Estate, are down.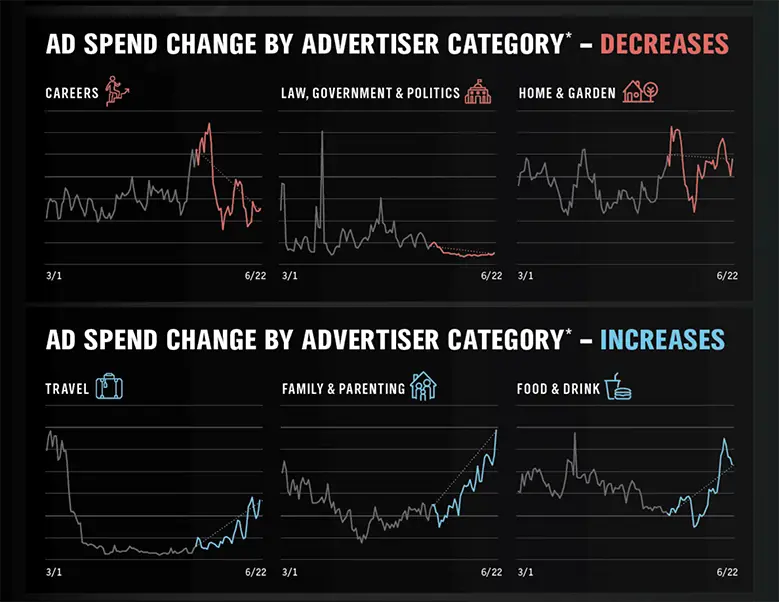 One of the biggest changes since its last report is the positive increase for the Health & Fitness category within publisher verticals–in the last report, it actually saw a 13% decrease in ad spend change by publisher vertical but this time around, it is the top-performing category at 108% increase.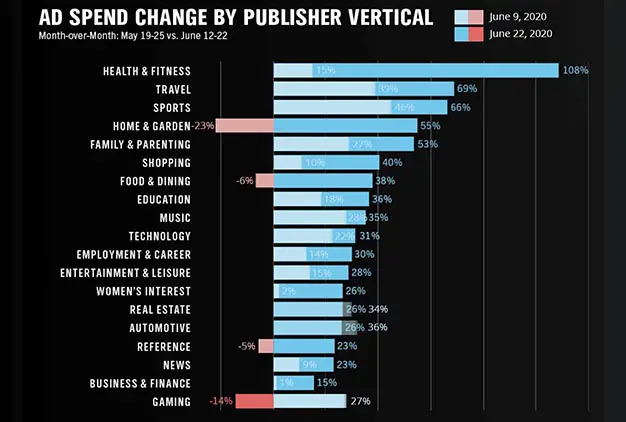 Travel is continuing to see increases in ad spend by publisher vertical as more regions lift restrictions and people anticipate traveling soon. Other important category increases are Home & Garden and Food & Dining.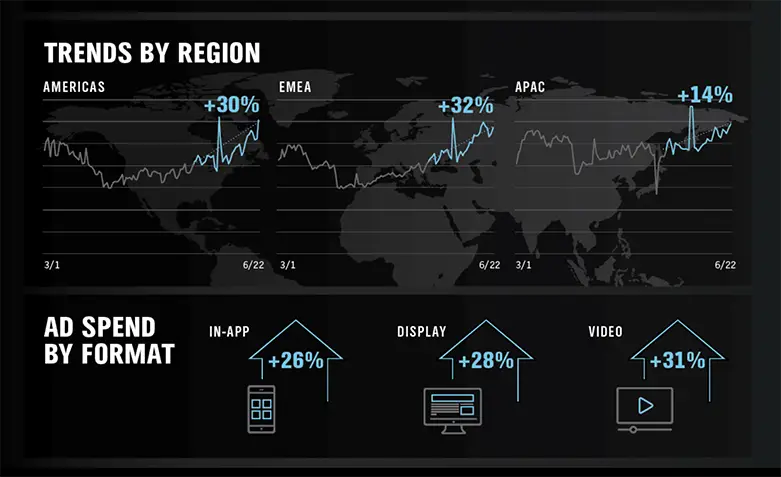 Brands are relaxing a bit on keyword blocking, but those hit hardest continue to be news publishers. Data from Newsworks shows that news publishers are likely to see £50m ($62.4m) in losses from April to July due to brands keyword blocking words like coronavirus, COVID-19, and pandemic.
Image search spikes by keywords
Getty images recently released a report of its most popular keywords from mid-March and April 2020, comparing their rate-of-search to April 2019.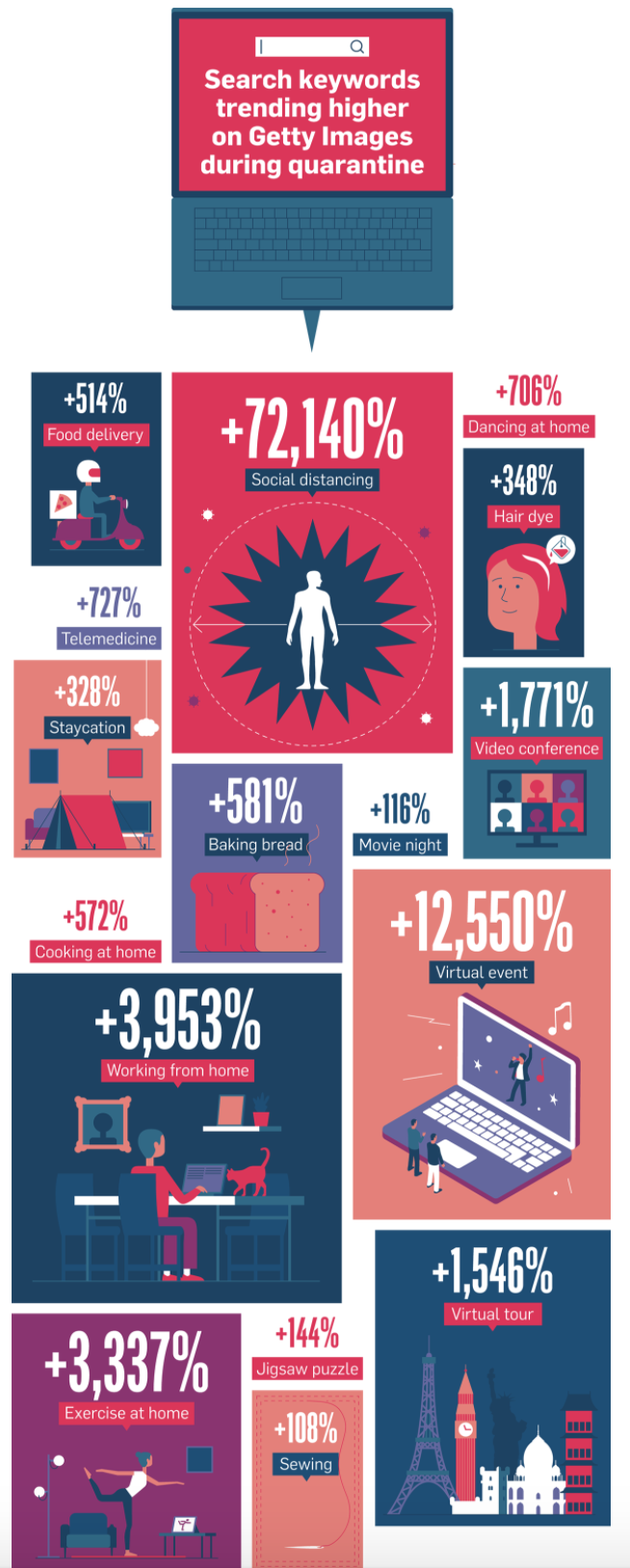 The highest rate of increase was for 'social distancing,' which was up over 72,000% compared to April 2019 and 'virtual event' is up more than 12,000%. Additionally, 'working from home' and 'exercise from home' both saw increases of over 3,000% each.
— June 10, 5:26pm PDT —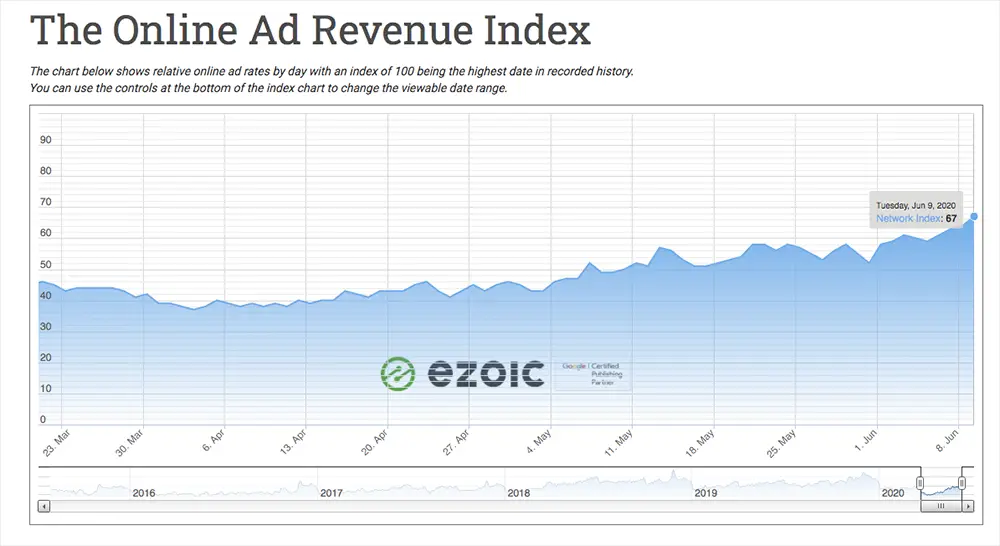 Ad rates reached well above 60 this past week, a trend that is likely to continue through Friday. Ad rates even reached above last year's ad rates on June 9.
While climbing ad rates are following the usual Q2 trend—a gradual rise at the end of June—it's hard to tell if there will be as big of a drop at the beginning of July as usual, since advertisers are just now starting to advertise once more as restrictions lift.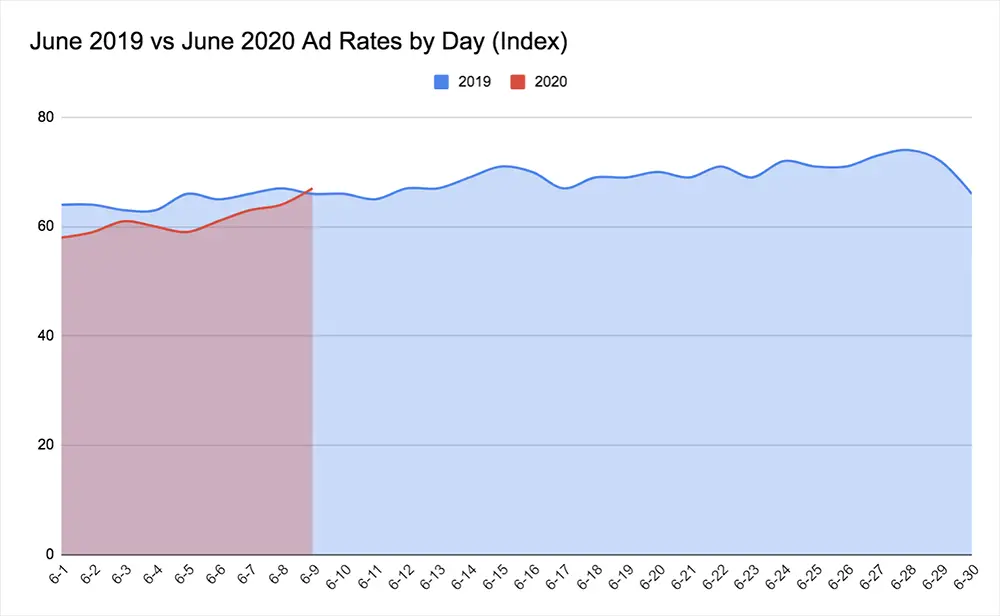 While many look forward to Q3 because of pandemic ad rate recovery, it is also important to note that Q3 is typically the slowest time of year for ad rates. This third quarter is going to look different than any Q3 in recent memory, as we will likely see unprecedented third quarter activity due to COVID-19 recovery and changing consumer habits.
At 52%, most advertisers are still making changes to their Q3 and Q4 strategy as things change nearly every single day with the pandemic; some places in the world are under less restriction than others and advertisers have to strategize how to reach these different audiences effectively. Even in the US, restrictions and consumer behavior is different state-by-state and city-by-city. This means that publishers must also stay on their toes and keep up with advertising trends, as many changes have not yet been implemented and there more are to come.
"More than half of advertisers still plan to ramp up ad spending in the third quarter, while 28% are accelerating spending before the end of June," stated Advertiser Perceptions, a business intelligence company for advertising, marketing, and ad technology.
Advertiser Perceptions also found that 58% of advertisers believe it is time to move on from coronavirus messaging and move back to product-specific advertisements—good news for publishers struggling to get COVID-19 content to rank, due to keyword blocking. Many consumers are behaving differently with lifted restrictions and plans for the future. Advertisements follow the general public, so more advertising on non-pandemic information or products means the public is more ready for non-coronavirus content as well.
Ad spend shifts: digital, consumer verticals, and TV
According to the International Advertising Bureau, total digital display ad spending—which does not include video and special media—decreased by 38% compared to the prior year in Europe in April. Additionally, the spend was down a quarter in May compared to last year. IAB predicts that June spending will still be down for June, but only by 16% compared to 2019. IAB Europe chief economist Daniel Knapp predicts that this information may mean that the ad spend and revenue crisis will be shorter than originally expected.
A recent study by MediaRader shows certain verticals are approaching and spending differently than others and are actually advertising more during COVID-19. For example, eyewear is up 208% YoY since March 8, with blue light glasses experiencing a big increase.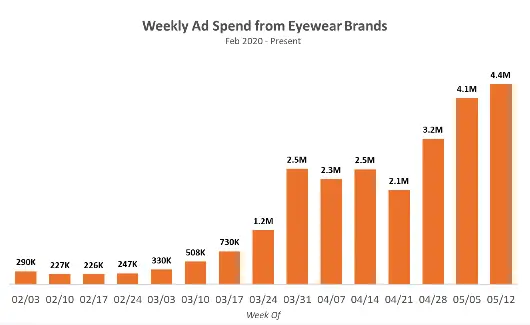 Skincare ad spending is also up 21% YoY due to ongoing Zoom calls and people spending more time at home with the bandwidth to focus on certain beauty concerns.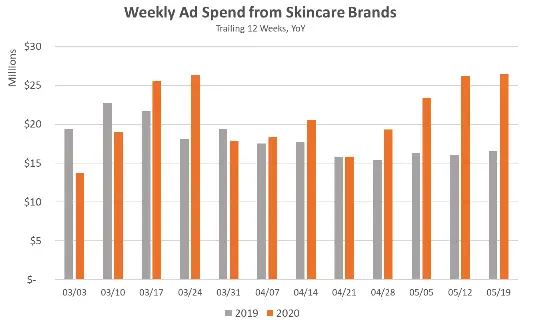 Pet adoptions are up 34% YoY, meaning pet brands have also increased their ad spend 51% YoY.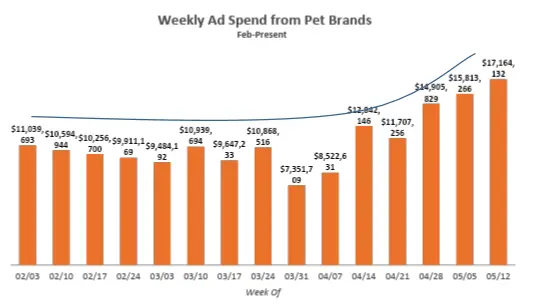 Ad spend is also shifting in TV. Like many pre-coronavirus trends, ad spend's shift from TV to digital is increasing at a faster pace due to the pandemic. One reason is that digital ad spend and performance is easier to measure than TV ads and digital ads are generally cheaper. Additionally, TV ad revenue took a bigger dive during coronavirus than digital ad spend.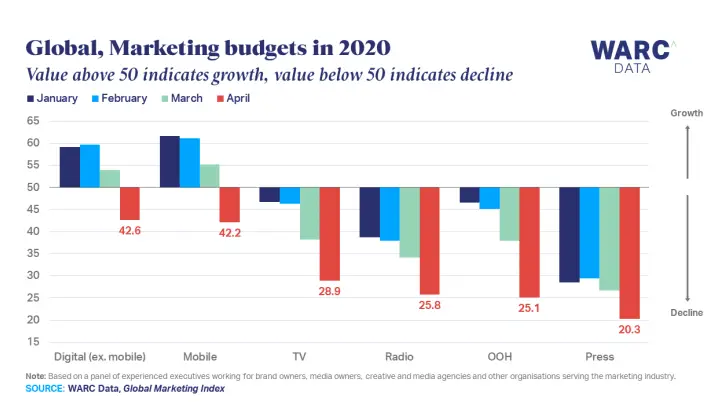 However, it is important to consider that though ad rates are rising, there is still a very real possibility that a second wave of the pandemic could hit after more businesses and communities open up. This would, likely, affect the economy once more and thus ad rates.
If we consider this, it is possible that a second wave of coronavirus could mean more penny-pinching from consumers and there will be an influx of ad supply. This could be in publishers' favor for a moment but advertisers would likely be quick to pull advertisements again if consumers aren't willing to spend money on products, and ad rates would go back down.
As we've stated before in this blog, advertising is one of the easiest things to cut back on and is usually one of the first things to go when companies fall on hard times. As the economy recovers or declines once more, ad spend is likely to follow, as ad rates typically follow the larger market.
Video advertising rising quickly out of pandemic rut
While ad revenue for video has certainly not recovered, it is one of the fastest growing ad revenue mediums for publishers. This increase in ad revenue is primarily due to Facebook, YouTube, and Snapchat videos. Ad revenue for the three continues to rise even though restrictions are lifting, meaning people may be on their phones less.
The biggest rebounds have been with Facebook and Snapchat. Video ad prices decreased by about 20% in April and Snapchat revenue per thousand unique views was at $1.50 in late March and early April. That has now increased to $3. For Facebook, the week of April 5 ad CPMs were at a 2020 all-time low of $4.83, according to Wpromote. The week of May 25, Facebook ad CPMs had nearly doubled, reaching $8.22; this was a 2020 high.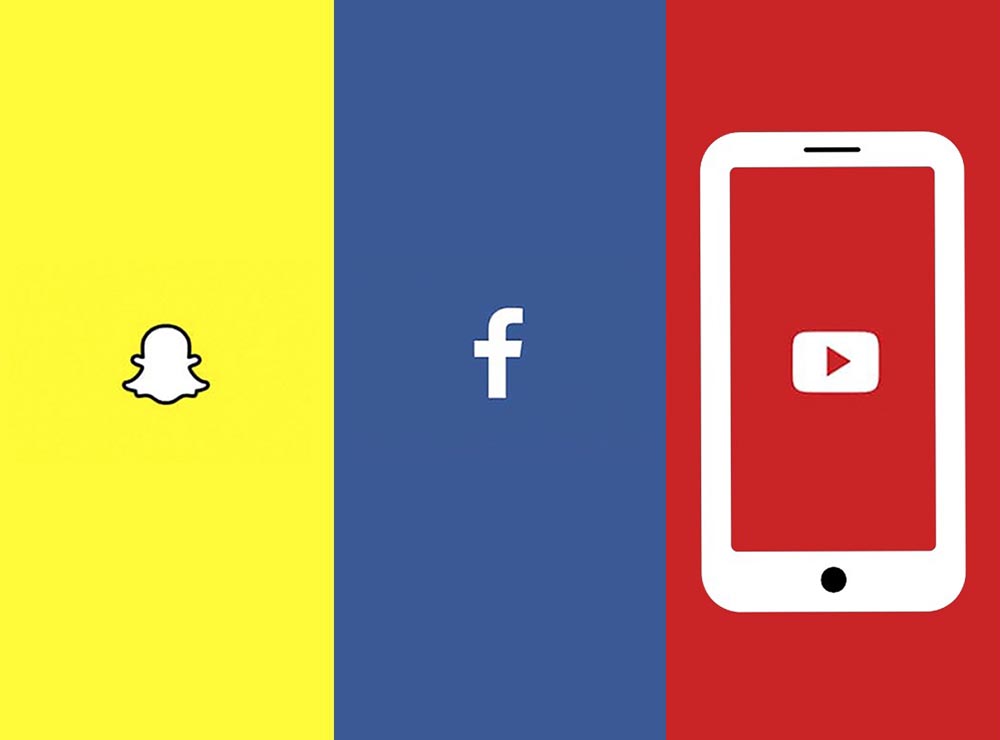 As advertisers have begun to approach advertising more eagerly again, much of their ad spend has been directed towards video, especially because of the low cost of producing video ads currently. Since video's popularity has been expedited due to coronavirus, it is not necessarily surprising there has been an uptick in video revenue from these platforms.
Alternative revenue streams
Many publishers were affected by Amazon's affiliate rate cuts in mid-April, which was a low blow during coronavirus. This mostly applied to smaller publishers who made money off of referring products to their readers, but many larger publishers were spared during the cuts since they usually have their own specific deals with Amazon.
At the time of this publication, nearly 19,000 people have signed a Change.org petition to return affiliate rates to what they were. Amazon has not commented on the petition.
While Amazon may be hurting some publishers' wallets, some publishers have seen great revenue success with direct-to-consumer advertisements. Many DTC brands have high acquisition rates through programmatic retargeting and spend largely on social platforms, which is usually automated and thus more precise.
Publishers have taken this opportunity to create better, deeper relationships with brands who are doing well during coronavirus. Many publishers are hoping these relationships will pay off even after the pandemic passes.
Subscriptions, keyword blocking, and privacy
Some publishers have been able to successfully grow their subscription numbers during COVID-19 because many people have been looking for real, trustworthy information. Now, the trick will be to keep those subscribers as coronavirus habits begin to shift more towards pre-pandemic behaviors.
The key to this is to continue to prove why your content is so important.
Focusing on good and unique data is a crucial part of showing your visitors your value. As always, another part of value is quality and distinctive content that readers can't get anywhere else and focusing on media platforms that are thriving right now. Many new subscribers are younger and more diverse than previous subscribers, and using popular platforms such as social media and newsletters can keep them further engaged outside of your content.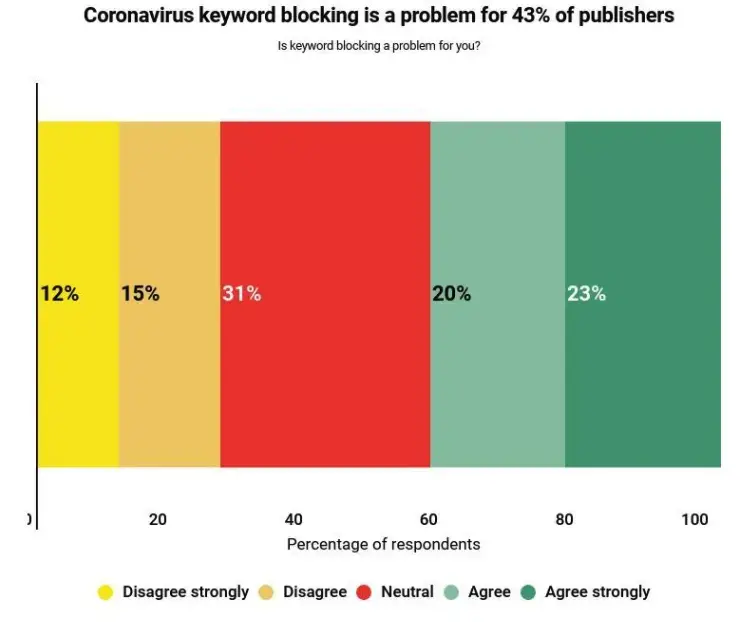 A new Digiday study of 127 publishing execs shows that 43% of publishers have experienced issues with coronavirus-related keyword blocking by advertisers. This concern is validated by the fact that a previous study shows that 40% of brands were not open to advertising alongside pandemic-related content.
This has caused many publishers to lower their Q2 ad revenue expectations.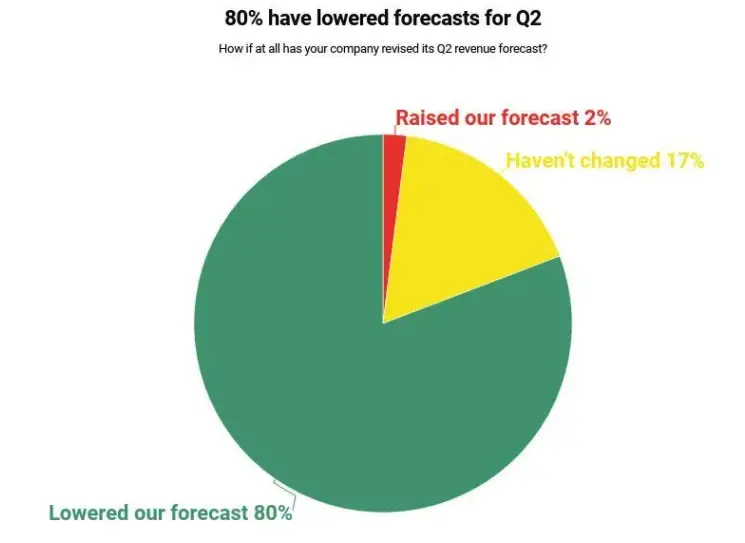 Digiday's survey also showed that 80% of its publishers it interviewed have seen an increase in traffic and for nearly a quarter has been up more than 50% from before coronavirus, though as we all know, revenue has decreased.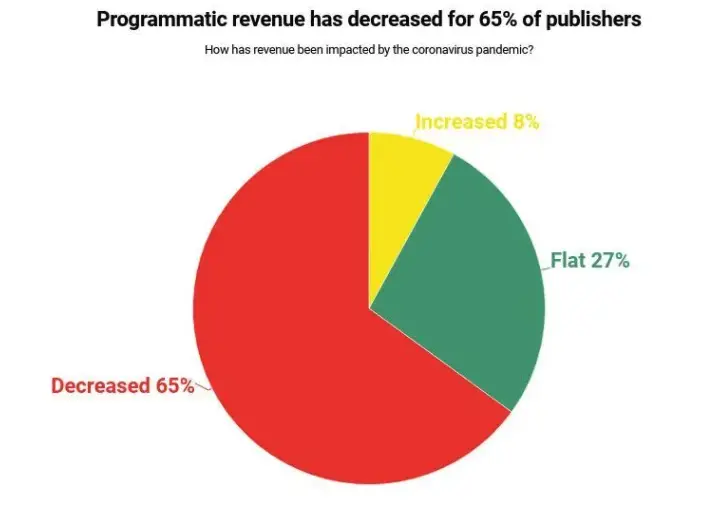 Privacy was a hot topic before the pandemic but has taken a backseat to COVID-19.
A recent report by eMarketer states it's possible tracking technology may be expedited into the mainstream more due to COVID-19. Artificial intelligence, location and contact-tracing trackers, and facial-recognition were already becoming more popular before coronavirus and this technology is growing even more rapidly because of its use in the pandemic.
Because tech is growing so quickly, it is possible things are falling through the cracks. There are pushes by legislators, regulators, and privacy advocates to continue focusing on security in the wake of hurriedly developed technology that was developed in response to coronavirus.
Consumers are still split about how privacy, regardless of the pandemic, is handled. Research has shown, however, that more consumers are willing to share their data with the government if it is related to keeping them and others safe and aren't as open to marketers having their data.
[/et_pb_text][et_pb_text admin_label="June 5 Updates" _builder_version="4.4.6″ header_3_font="Open Sans||||||||" custom_padding="||0px|||"]
— June 5, 9:33am PDT —
Ad rates reached a new high this week at 59. Ad rates will dip over the weekend, but it is expected that ad rates will exceed 60 next week.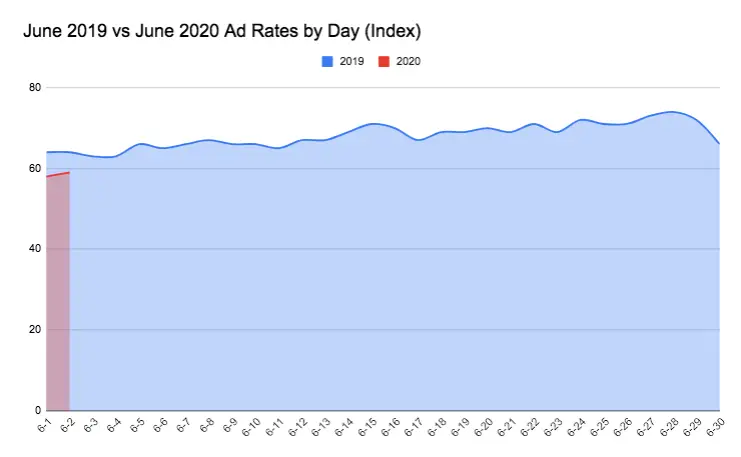 Pubmatic recently released a report about ad spend changes by advertising category and publisher category.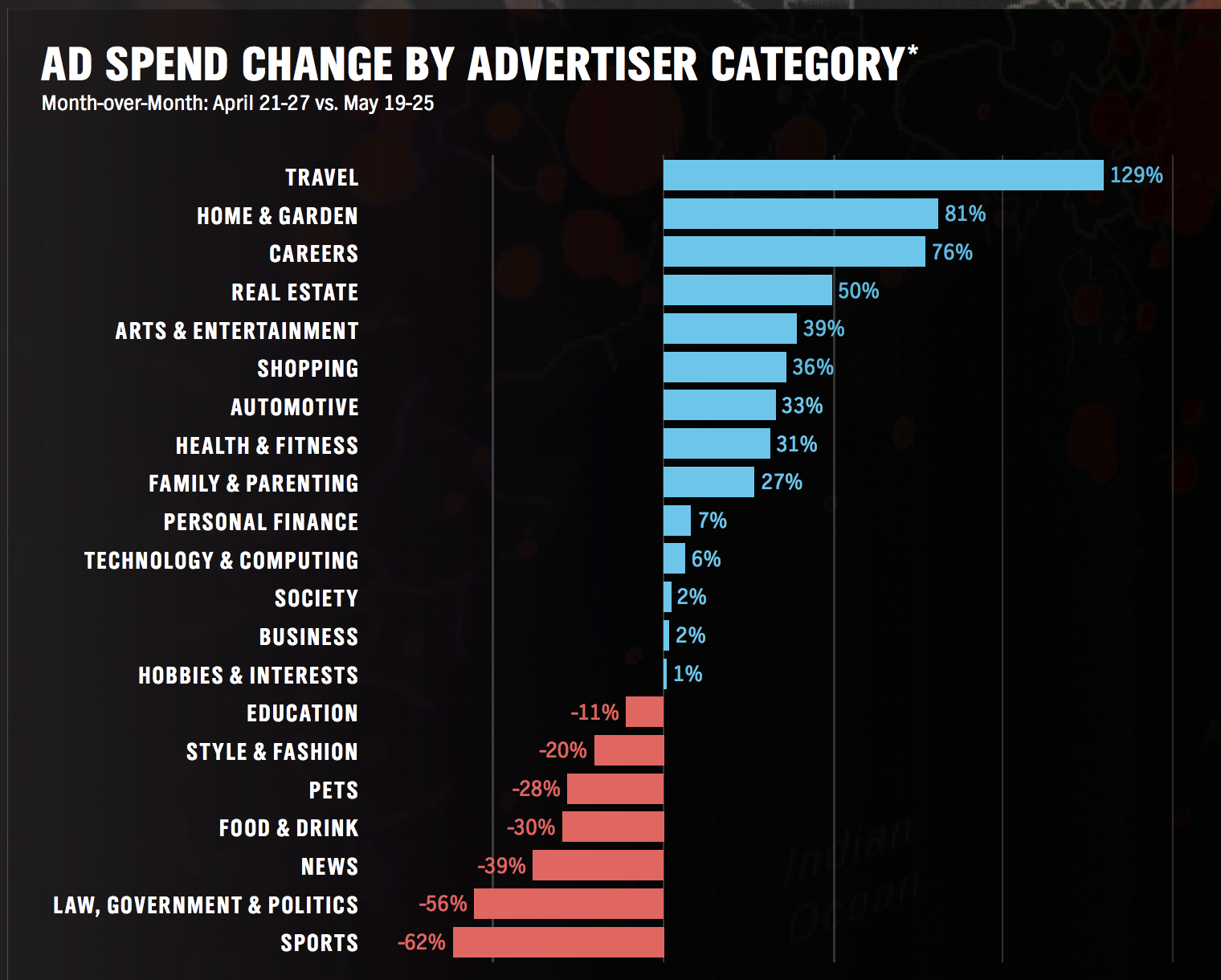 Month-over-month, April 21-27 to May 19-25, travel saw the biggest changes in advertiser categories at 129%. This is likely travel companies trying to take advantage of lifting restrictions and quarantine fatigue. Home and Garden is still performing well as well, since many homeowners are still in lockdown and doing home improvement projects.
As many people were laid off or furloughed during the pandemic, Career advertising is also up; many companies can now see the light at the end of the tunnel and are likely hiring once more, or career support services are advertising to help people find jobs.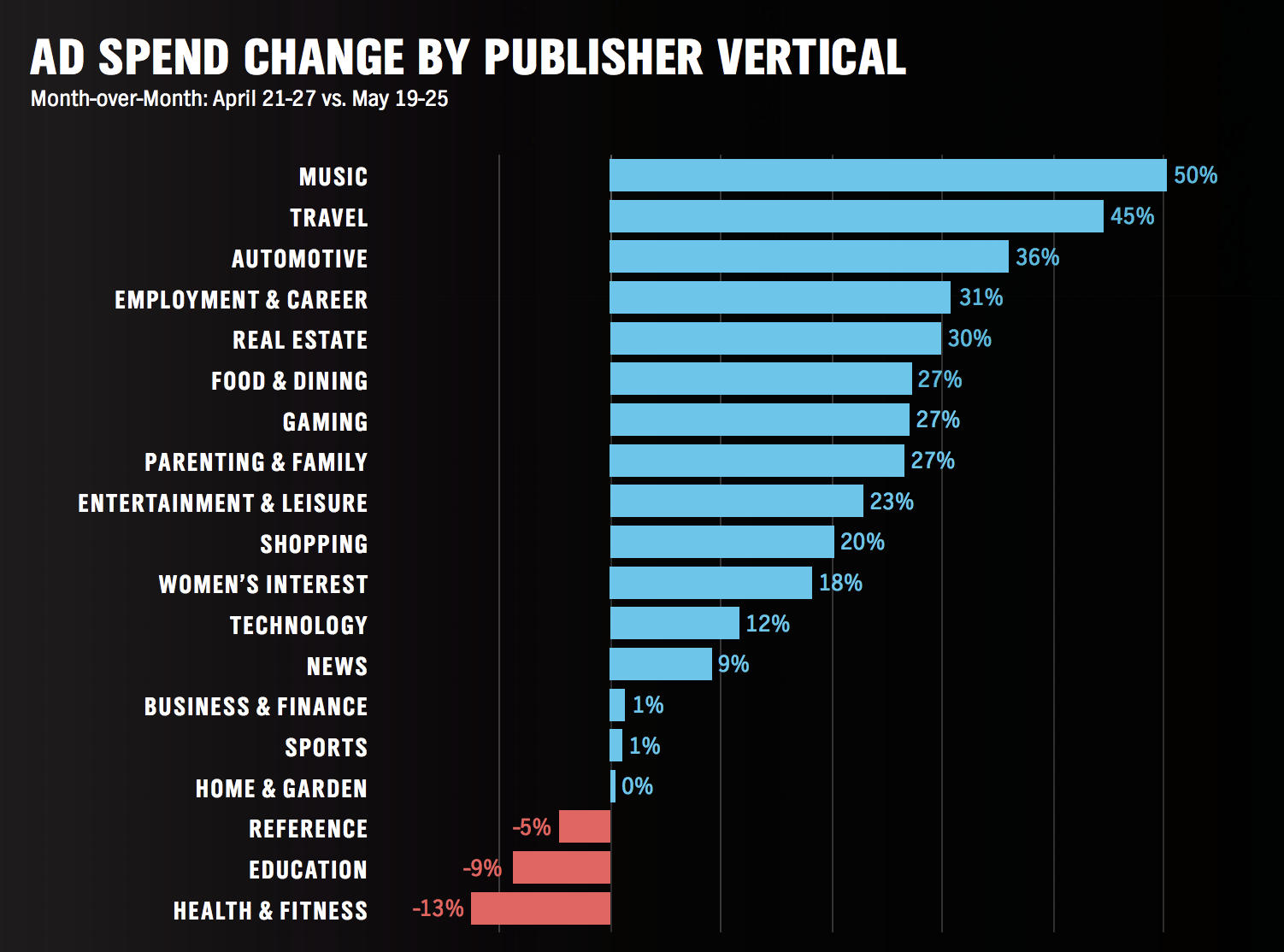 Almost all categories in publisher categories are experiencing positive changes. Publishers in the music, travel, automotive, employment and career, real estate, food and dining, gaming, and parenting and family, amongst many others, are seeing big improvements in ad spend as well. Publishers in these categories should focus on content so that relevant advertisements are more likely to end up on their web pages, increasing ad revenue.

The majority of ad spend is being done within apps, followed by video and then display. Video's popularity has been expedited due to the pandemic and it is not too late to jump on the bandwagon. Interest in video is only going to keep increasing, even after the pandemic, as it was already a trend before coronavirus started majorly affecting the world. We have a video guide on how to easily start a video series and a blog on how to create an engaging thumbnail.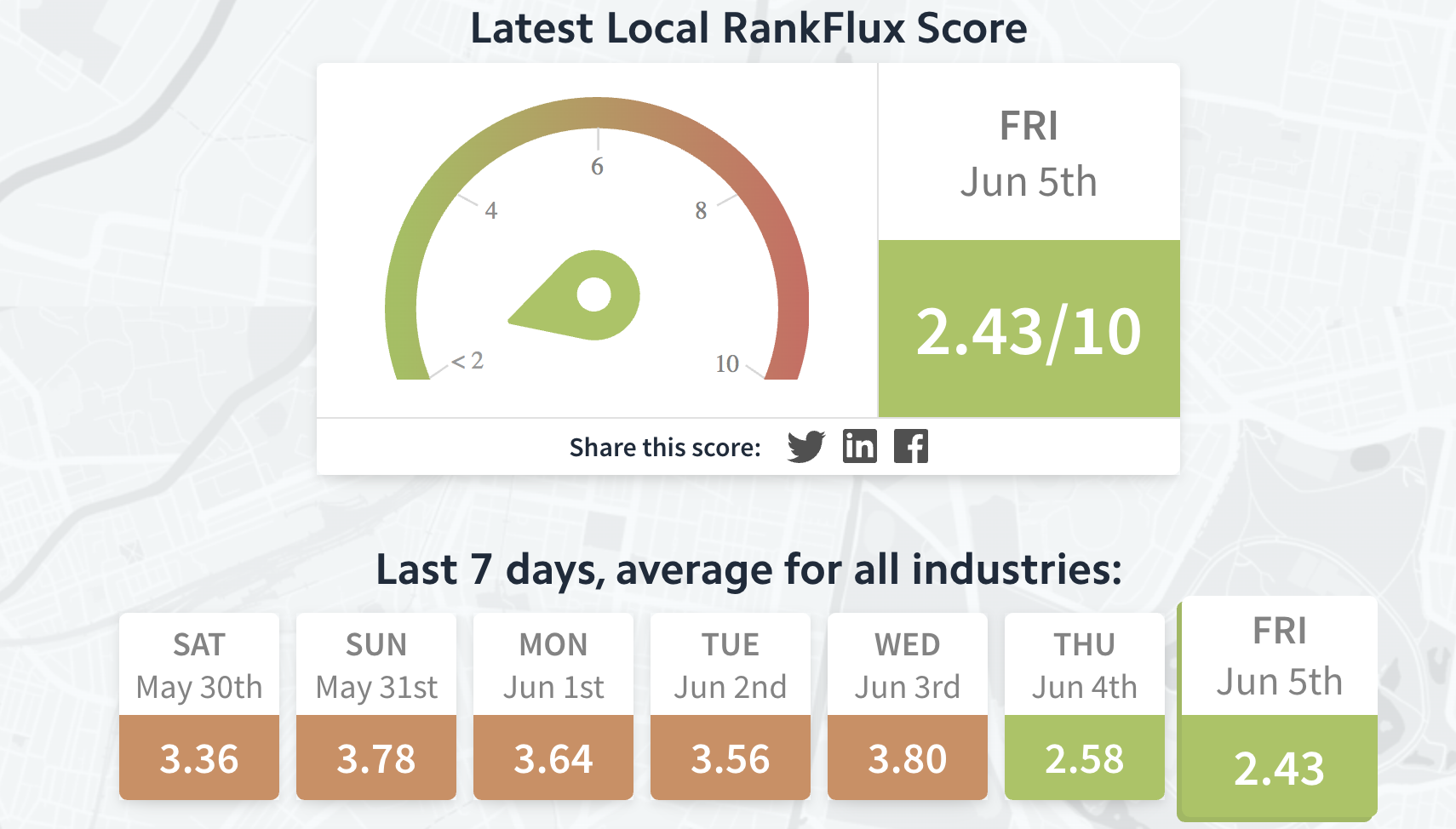 There was some slight ranking volatility the end of May/beginning of June, though Google has not come out and stated any specific changes. This may still be some of the aftermath of the Google May 2020 Core Update.
— June 1, 4:52pm PDT —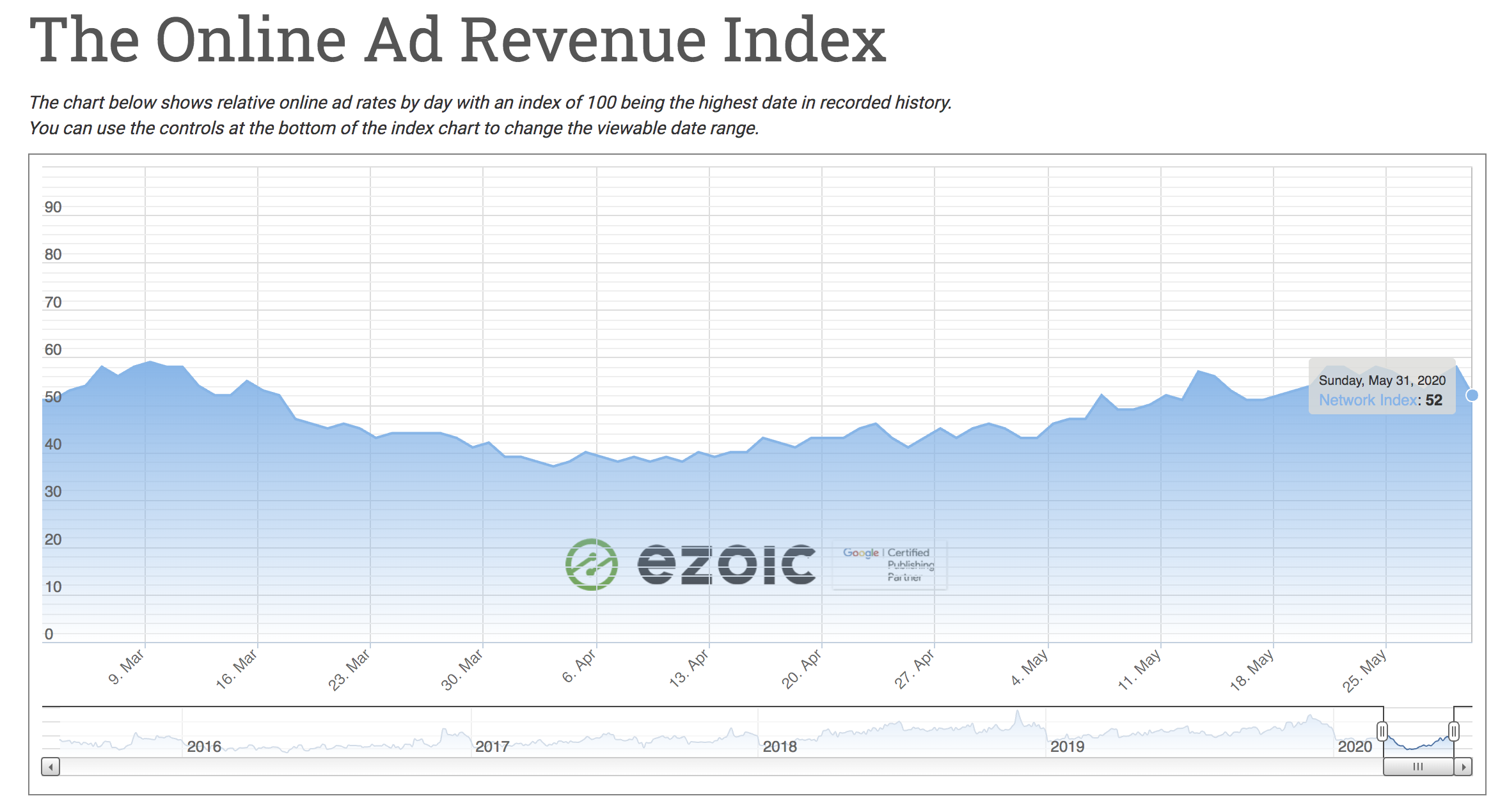 Ad rates reached up to 58 this past weekend and then dipped to 52, which is normal for weekend ad rates. May 2020 finished with ad rates continuing to climb back to a more normal number.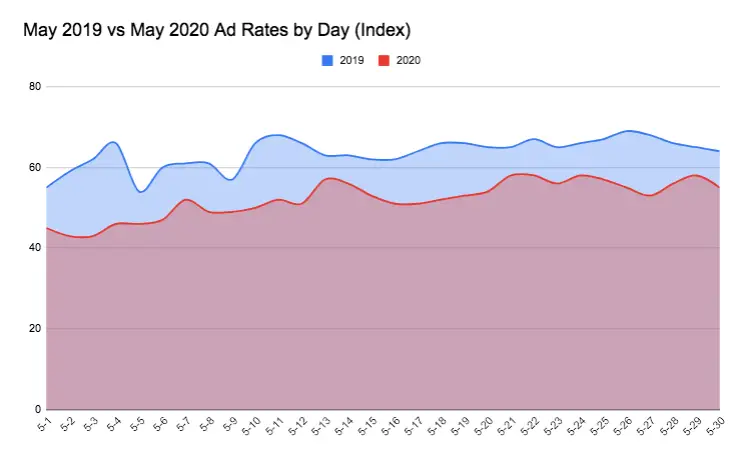 The gap between 2019 and 2020 ad rates is slowly getting closer together, though it is estimated that Q2 ad revenue will overall be worse than Q1, since the beginning of Q1 wasn't volatile.
Coronavirus fatigue
Some publishers have seen their pandemic-related traffic decrease in the past few weeks. As far back as mid-April, coronavirus fatigue was evident within audience engagement data; earlier this month, PRWeek reported on a study conducted April 14-16 among 2,033 American adults and found that 93% of those surveyed wanted non-pandemic content. Additionally, 40% of respondents wanted to see stories of hope (41%) and 66% felt overwhelmed by coronavirus news.
Many readers are now ready to read content unrelated to COVID-19. The balancing act that many publishers will have to face is how to write outside of coronavirus without completely pretending it's not happening.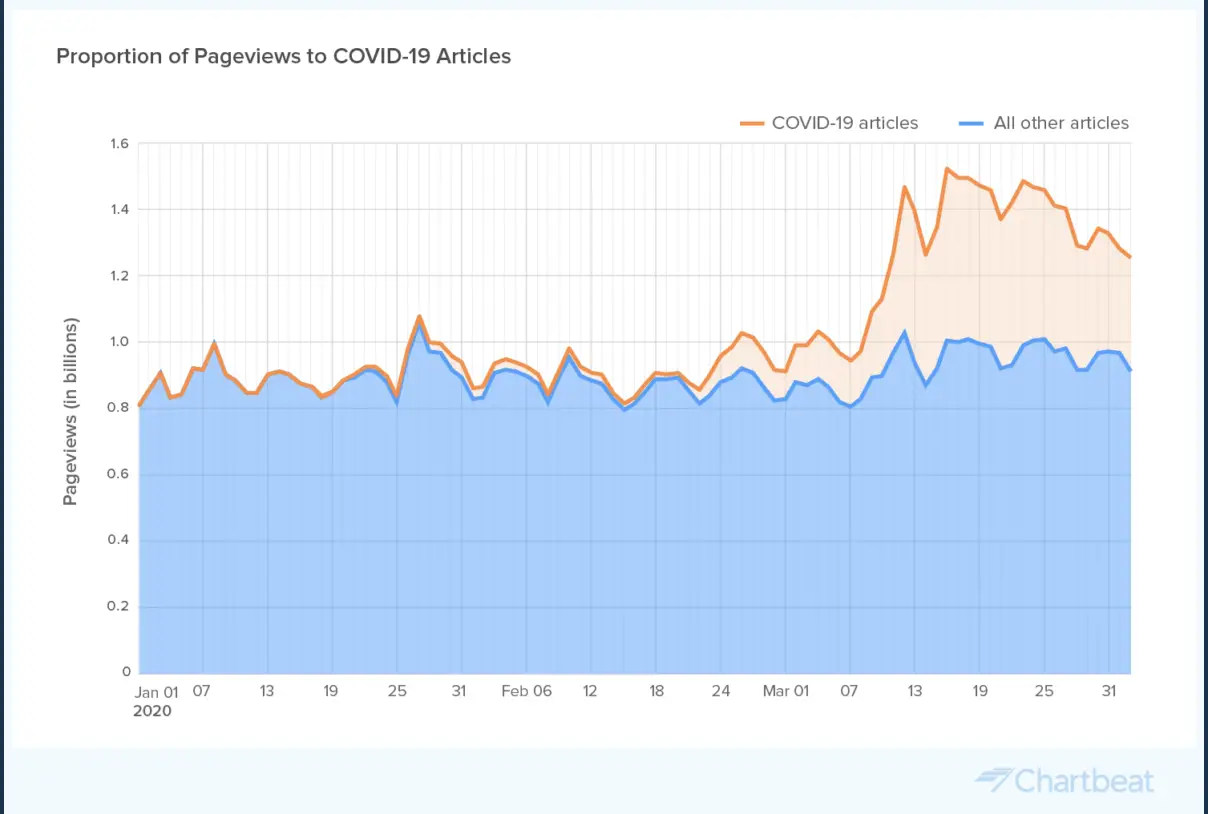 Advice for publishers is to consider whether your niche is directly affected by COVID-19; if you're an outdoor niche, it would be worth keeping updates in about what parks are open and how to remain safe. If you're a food publisher that discusses restaurants, include what different cities' restrictions are on dining out, what restaurants are open, and what they are doing to keep people safe.
On the other hand, if you're an outdoor gear publisher, it probably isn't necessary to include documentation on the pandemic since you're just discussing specs and performance. And if you're a recipe blogger, you could just focus on the food rather than include how the recipe is something to try out while we're all in lockdown. Try to diversify your content and see what performs best.
Using virtual events for subscriptions
While events around the world have been cancelled or rescheduled, some have moved to being completely online. Some larger publishers have used this to their advantage to increase subscriptions to their content.
Publishers like TechCrunch have hosted online events that are for Extra Crunch members only, which has increased subscriptions by 600% YoY. Other publishers, like NYT, are trying to pay more attention to their non-subscriber virtual event attendees to get them to subscribe.
There has always been a relation between events and subscriptions but that conversation rate was pretty low. Publishers have an upper hand in getting attendees to virtual events to subscribe because they are already in the right place to both attend and subscribe—online. However, there is evidence to show that subscribers who had been to a physical event showed more engagement with the publishers' content online 4 months after the event than before the event.
It is likely that even beyond the pandemic, digital events will be popular for publishers.
Ads next to coronavirus coverage
Consumers are open to seeing brands advertise next to COVID-19 content, though many brands are still weary of putting their products and services next to material that is "anxiety-inducing," as stated by eMarket's principal analyst Nicole Perrin in a recent podcast episode. In fact, many consumers have appreciated when brands have spoken up about coronavirus, as it shows they're not just ignoring the pandemic or neutral about it.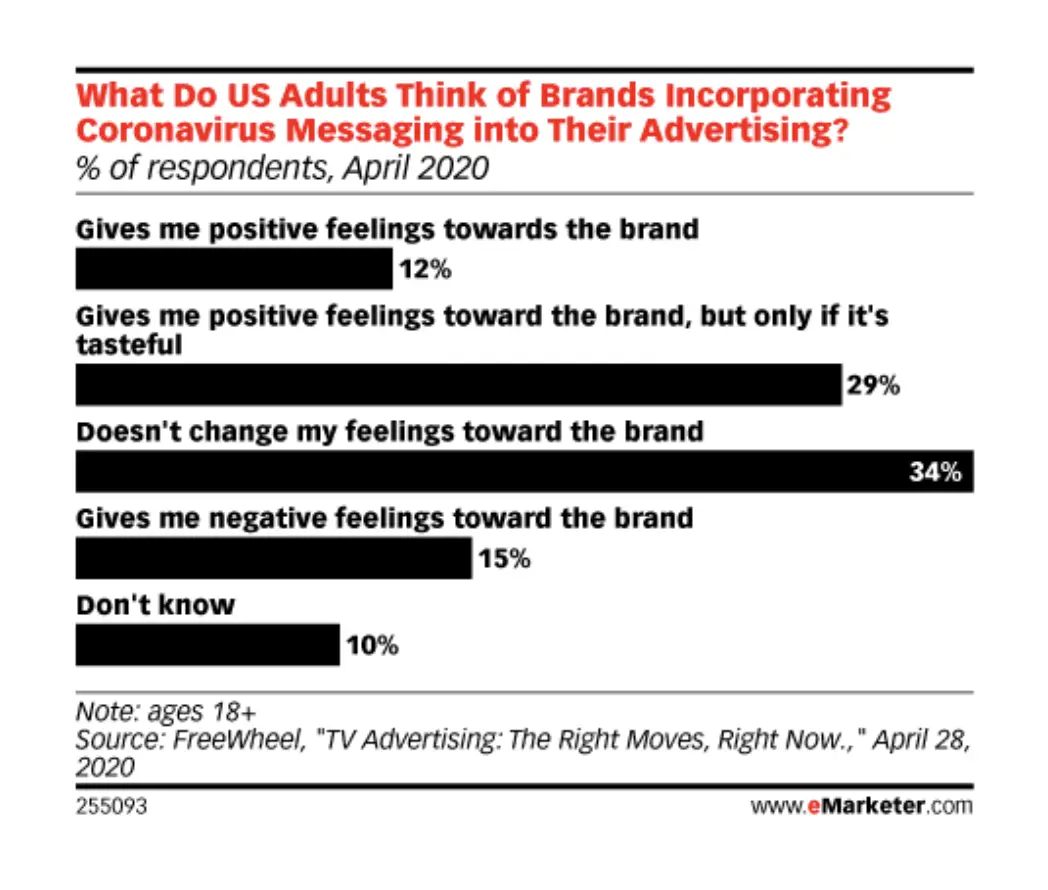 Still, pandemic-related words are still being blacklisted from many brands' keywords. "Blacklisting during the pandemic kept more than 1.3 billion ads from being displayed next to content featuring the word 'coronavirus' on websites, according to Integral Ad Science," said Eric Haggstrom, eMarketer's forecasting analyst.
With pandemic-related content fatigue, advertisers may have missed their chance to really take advantage of increases in traffic to websites, which would have meant more eyes on ads.
— May 29, 1:01pm PDT —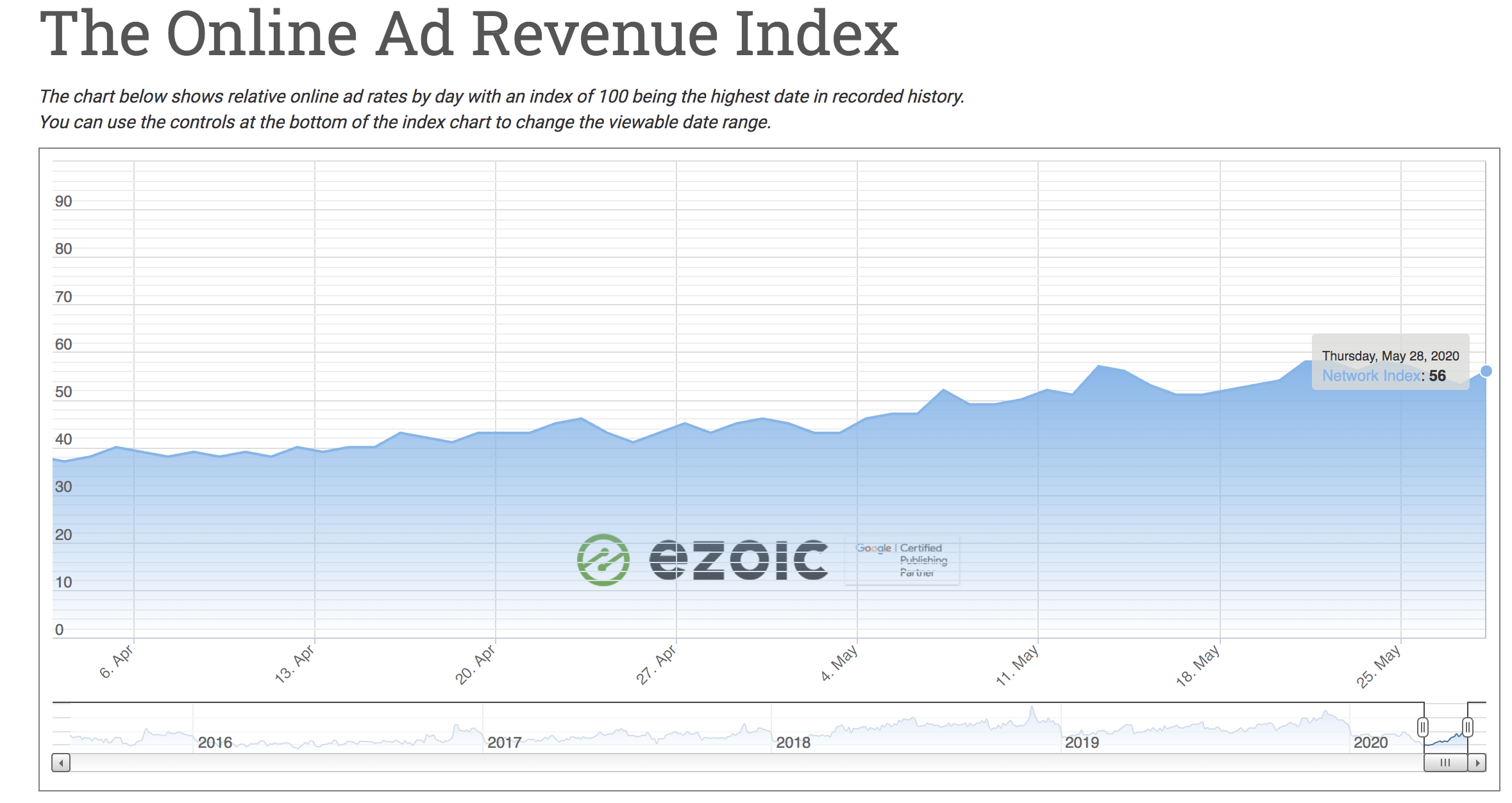 Ad rates have remained in the upper 50s and though they are still well below last year's, there is still a positive trend upwards.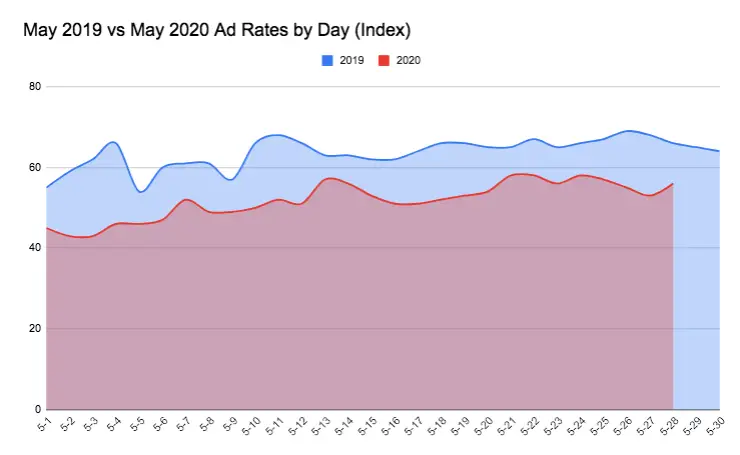 There was also a slight blip in search volatility earlier today, which is likely some residual effects of Google's May 2020 Core Update.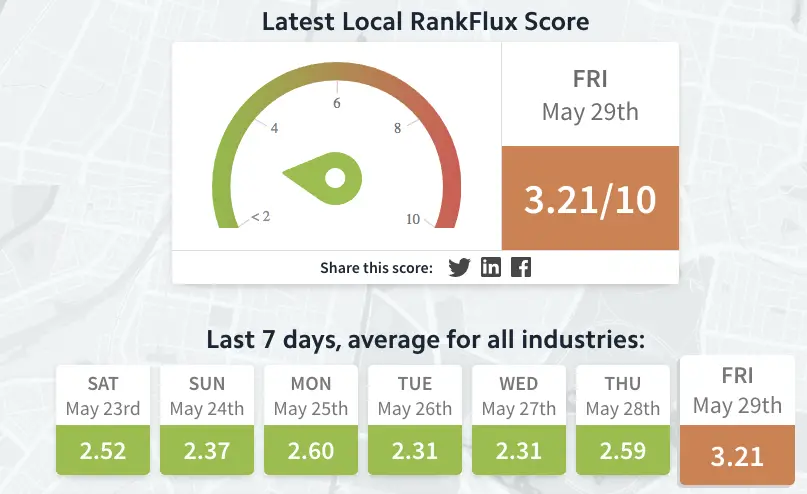 Data on reduced ad spend and publisher revenue
A study by the World Federation of Advertisers (WFA) revealed 89% of large multinational companies have put marketing campaigns on hold for May while half are freezing spend for six months. This means that supply and demand between publishers and advertisers will continue to be skewed in advertiser's favor. Beyond the pandemic, a two-year study by the Incorporated Society of British Advertisers (Isba) found that publishers only receive about 51% of advertiser spend.
Many advertisers are still blocking related words because they don't want their brand associated with the virus or any negativity, even though it is the most important and relevant topic publishers can cover; Havas Media reported that nearly 80% of ad campaigns use coronavirus-related keyword ad blocking.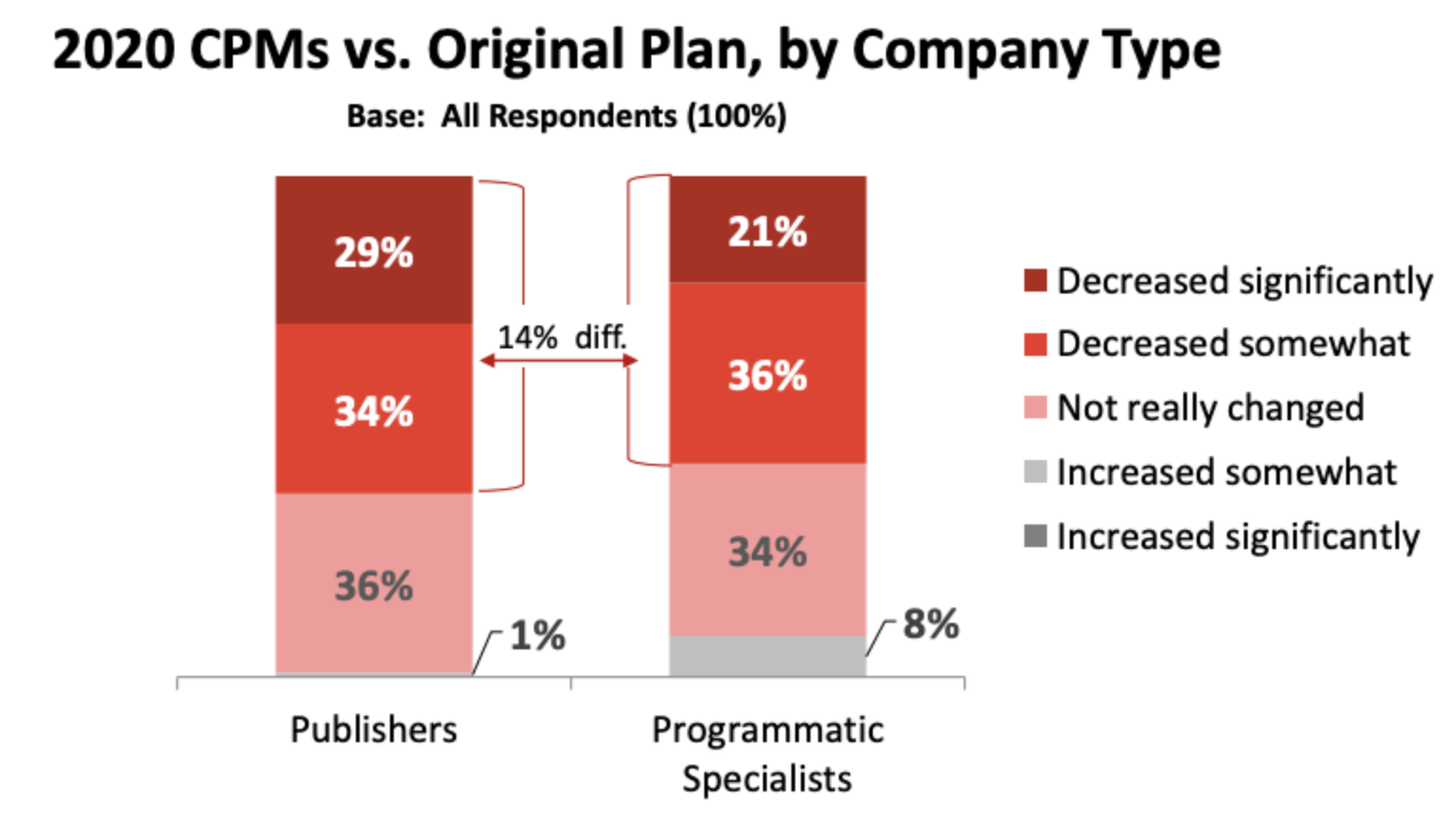 A study by the Interactive Advertising Bureau (IAB) and PricewaterhouseCoopers (PwC) on first quarter ad spend shows that CPMs were down 16% and that 62% of publishers have seen reduced CPMs. The largest drop was in open web display ads.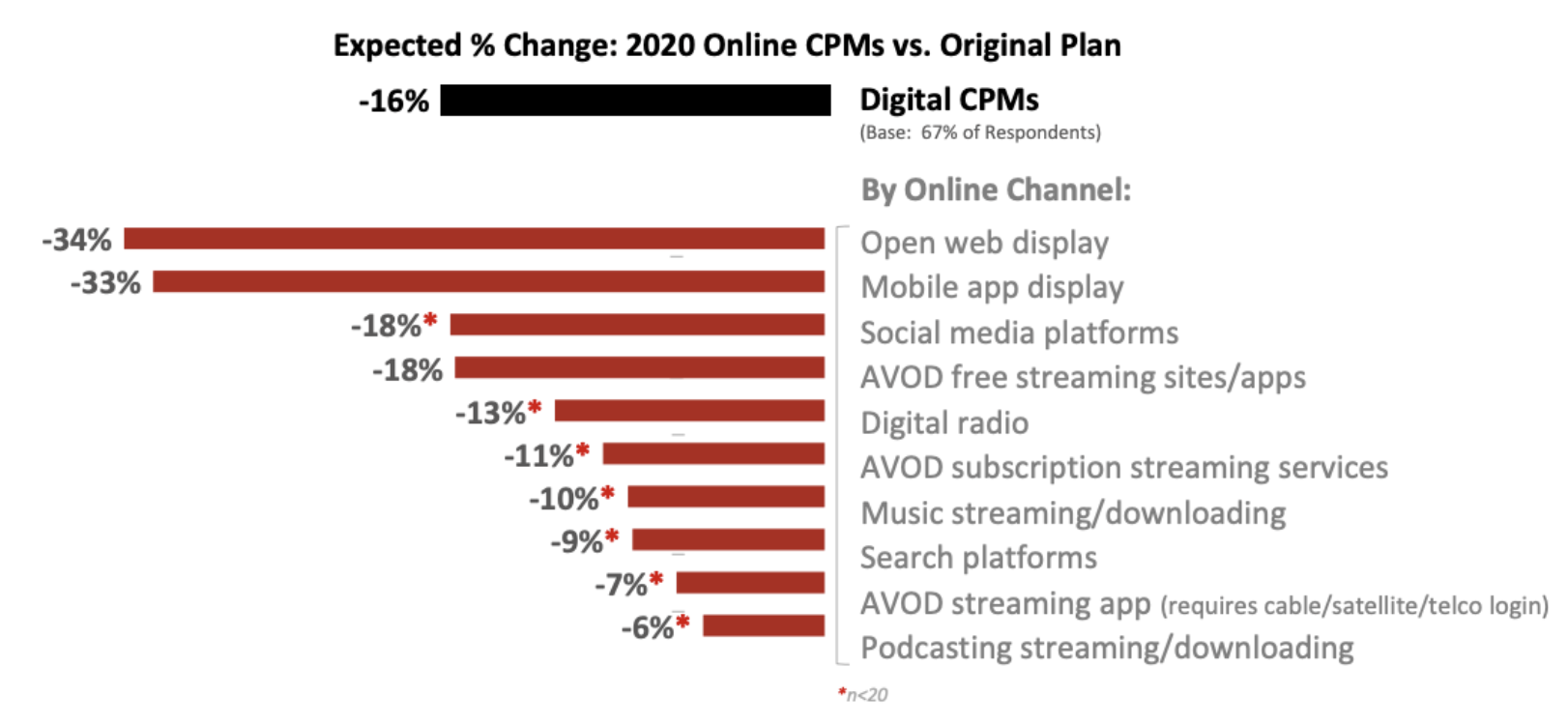 Despite low CPMs, Q1 ad revenue still increased by 12% to $31.4 billion.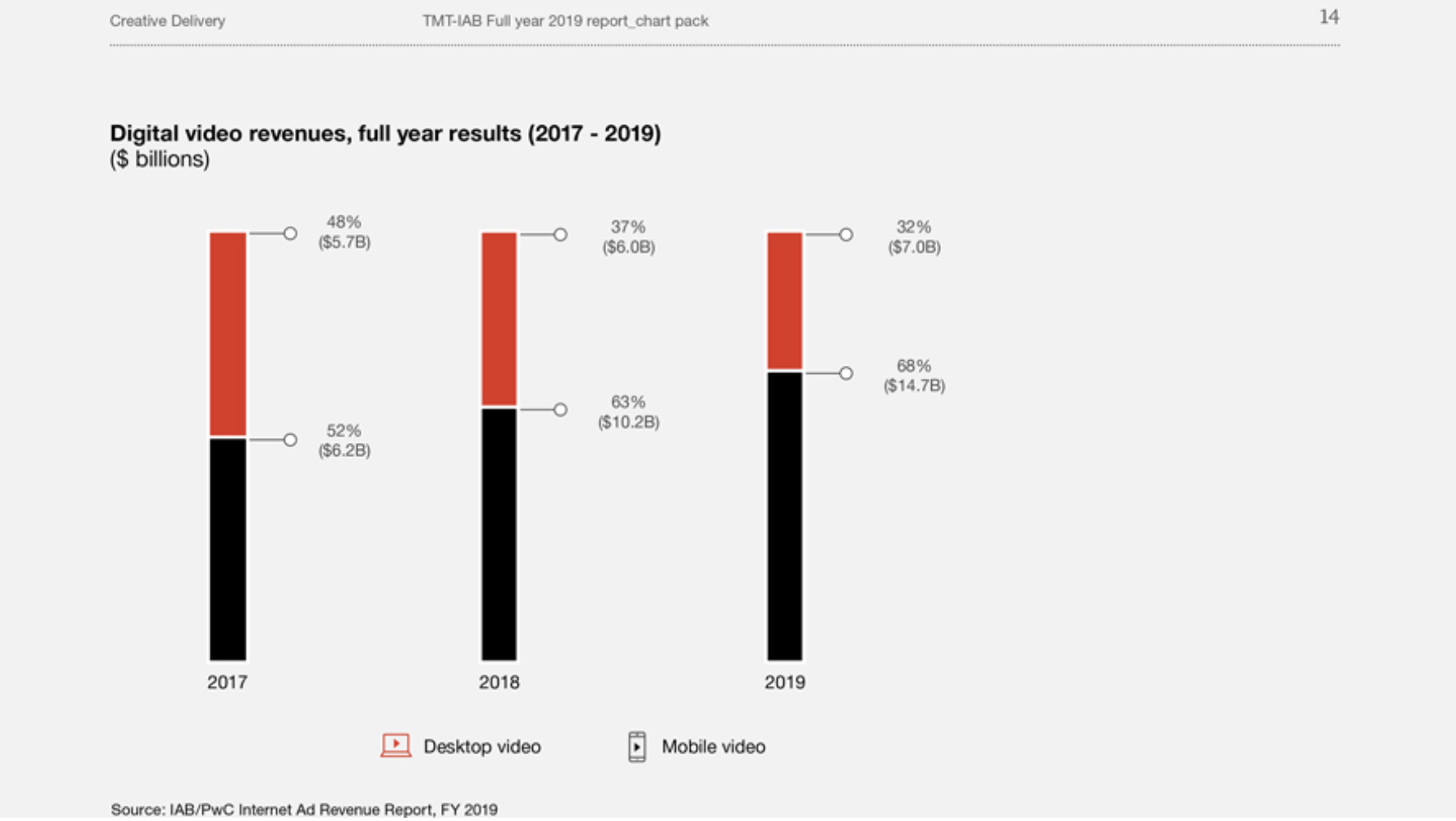 Q2 is expected to be much worse, however, since much of the pandemic's economic effects did not take place until mid-March and roughly 70% of advertisers either paused or cancelled their campaigns because of the pandemic. It is reported that desktop (27%), mobile (28%), and tablet (29%) advertisements are down, with a 30% decrease in CPMs for display ads on mobile and desktop.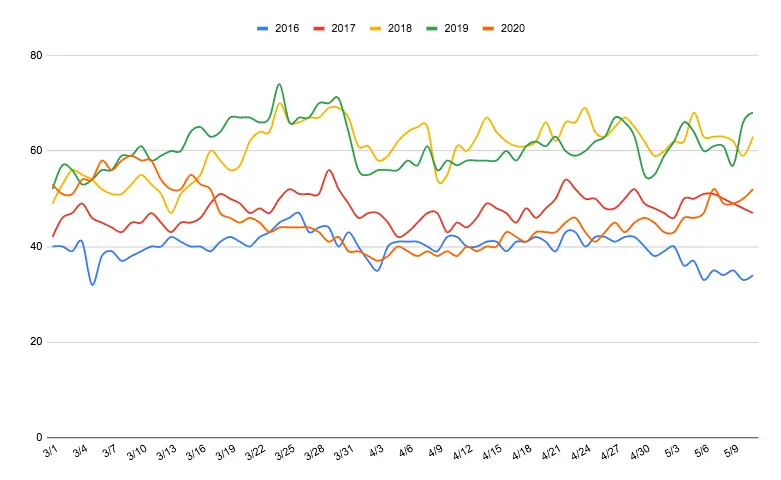 Despite the large amount of advertisers still blocking pandemic-related keywords, there is a shift happening in the marketing world where we might see some begin to ease up. Brands are looking at what they consider safe and unsafe, and as the pandemic will continue to be discussed all over the web for many more months to come, some are relaxing what they blacklist. This should be taken lightly, however, as few have acted and it will likely take months to become more widespread.
Pinterest use skyrocketing during quarantine
People all over the world are looking for new things to do during lockdown and something to look forward to once things are more normal. Pinterest has been one of the most popular places these searches have been happening. It currently has more users than Twitter and Snapchat and has continued growth.
There are 367 million users on Pinterest now and Pinterest revenue reached $1 billion for the first time by the end of 2019. Because of its continued success, Pinterest has been working towards advertiser investments for the last couple of years. While advertising may be down across the web, Pinterest may be one of the only platforms to come out on the other side of the pandemic doing better than before if advertisers will bite.
If you're on Pinterest, use the increase in traffic to promote your content—write about life after the pandemic and things to look forward to, as well as things to do while people are still in lockdown, and then optimize it for Pinterest. Your content could likely end up on someone's 'Post-Quarantine' or 'Surviving Lockdown' Pinterest board
[/et_pb_text][et_pb_text admin_label="May 26 Updates" _builder_version="4.4.6″ header_3_font="Open Sans||||||||" custom_padding="||0px|||"]
— May 26, 4:50pm PDT —
Ad rates continue to improve through the end of May and stayed above 55 the entire weekend.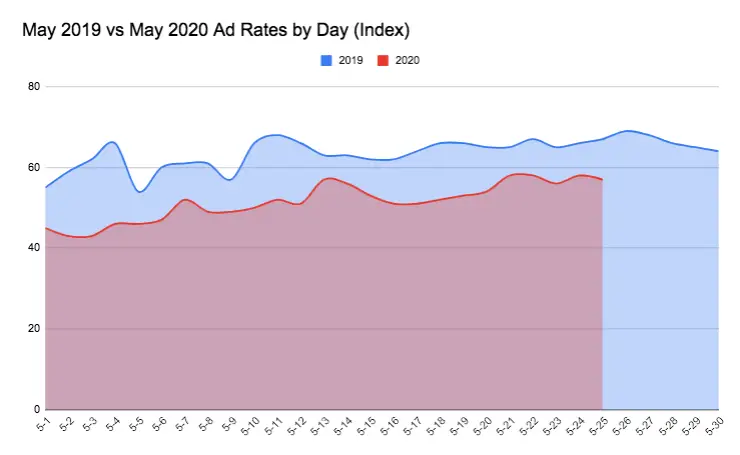 This week should be more telling of ad rate improvement now that Memorial Day is over and any potential related ad campaigns will have stopped.
Low churn rate for publishers with new subscribers
Publishers who now rely predominantly on subscriptions for revenue are reporting that many of those subscribers are sticking around. Subscribers who joined in March were 17% more likely to keep their auto-subscribe for the next month than those who subscribed in January or February. This rate is largely due to Europe, whose first-month churn decreased by 34%, while the United States churn rate was flat. A flat churn is still an improvement compared to other months, however.
Additionally, auto-renewal rates were improved; the rate at which subscribers turned off auto-renew decreased by 23% in March when compared with the previous two months.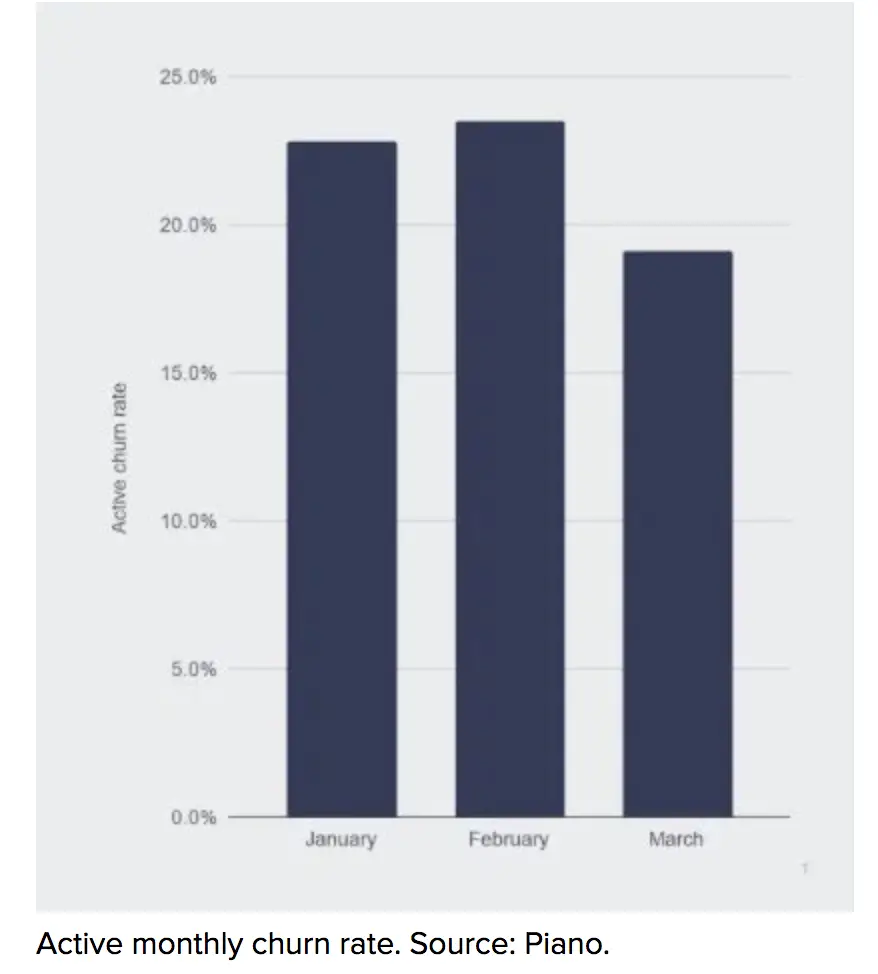 While there is still no direct evidence to show that publications with subscriptions will continue to have more successful churn rates after coronavirus, readers are becoming more accustomed to paying for quality content than before. This is especially true in Europe, where many publications continue to require subscriptions throughout COVID-19, while many U.S. publishers have been providing content for free.
Subscriptions work for some publishers, though many of the publishers in the report are enterprise publishers, like Bloomberg, The New York Times, and The Guardian. These publications have the reputation and financial bandwidth to implement and improve subscription models. We do not recommend publishers switch entirely to subscriptions, especially without testing; even for these larger publications, subscription increases are still not making up lost ad revenue.
Looking ahead: what publishers expect for 2021
Many publishers are looking ahead to what life might be like on the other side of the worldwide pandemic.
One of the biggest-hit niches during coronavirus is travel.  Many travel publications have had to skate by in 2020 while international restrictions keep airlines grounded and borders closed.
However, as these restrictions have begun lifting, travel publishers are shifting their attention from the present traveling situation to the near-future; many are seizing the moment to publish more travel content for both real, physical travel and virtual travel. For example, publishers may now begin posting how to travel Europe in autumn and provide advice for traveling safely as coronavirus continues to pass.
All niches are already looking forward to 2021, even though there have been many reports that say 2020's ripple effects will continue into 2021.
A recent study by Digiday reports how Q1 looked for many publishers this year. It will not surprise many that over half of publishers missed their first quarter forecasts, with news publishers getting the worst of it.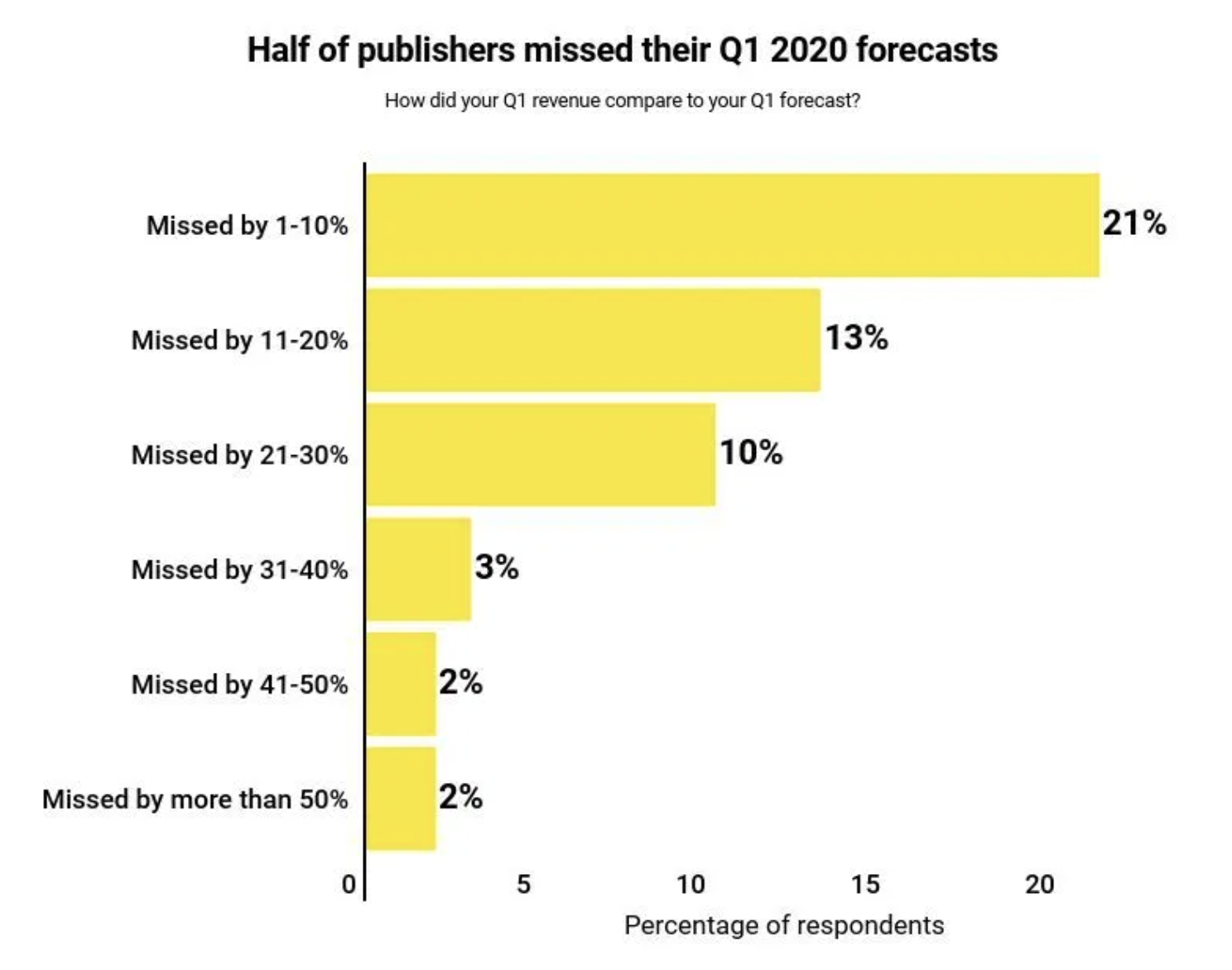 In light of current predictions that Q2 losses will be even more significant than Q1, many publishers have lowered their Q2 forecasts, with 70% of news publishers lowering their Q2 forecasts.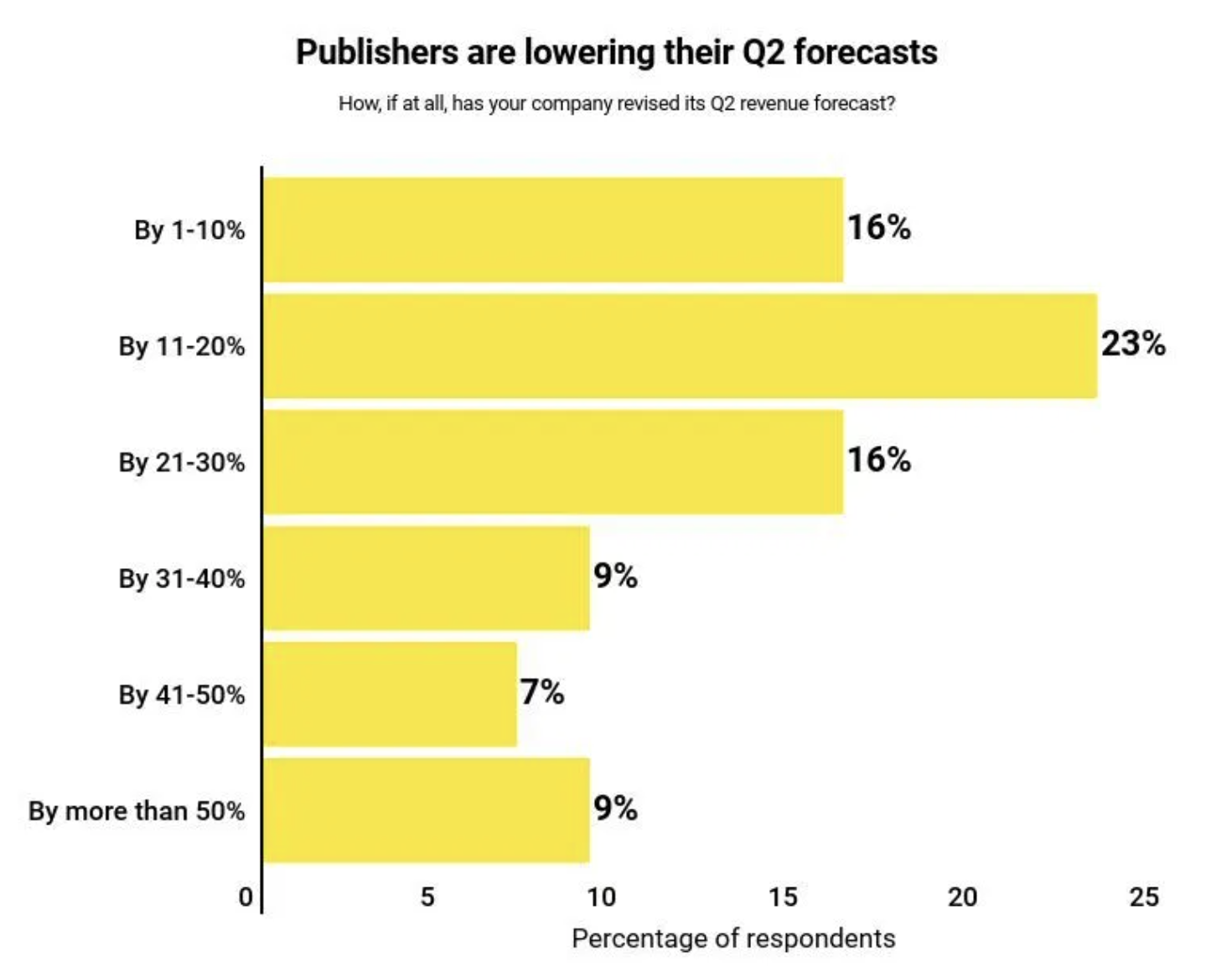 With these major losses, many publishers are wondering when things will begin to level out. Unfortunately, it is predicted that 'normalcy' will not return until at least Q1 and Q2 of 2021 by publishers who responded to the survey.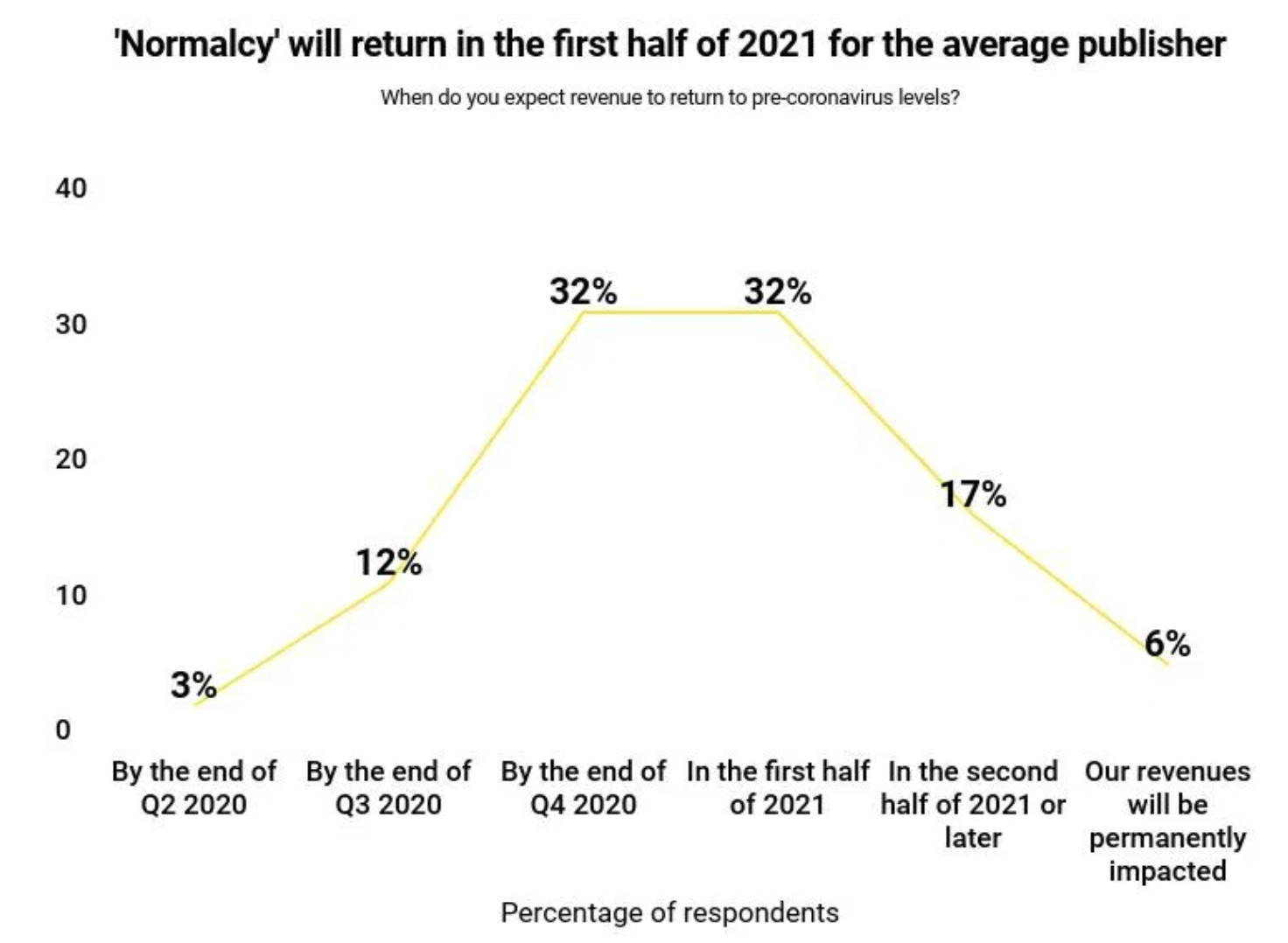 80% of these respondents also answered that their traffic is up during the pandemic, with 25% experiencing more than a 50% increase from before coronavirus. However, many publishers will also note that increased traffic is not followed by an increase in ad revenue. 65% of publishers in the survey reported that their ad revenue decreased in Q1 with continued losses into Q2.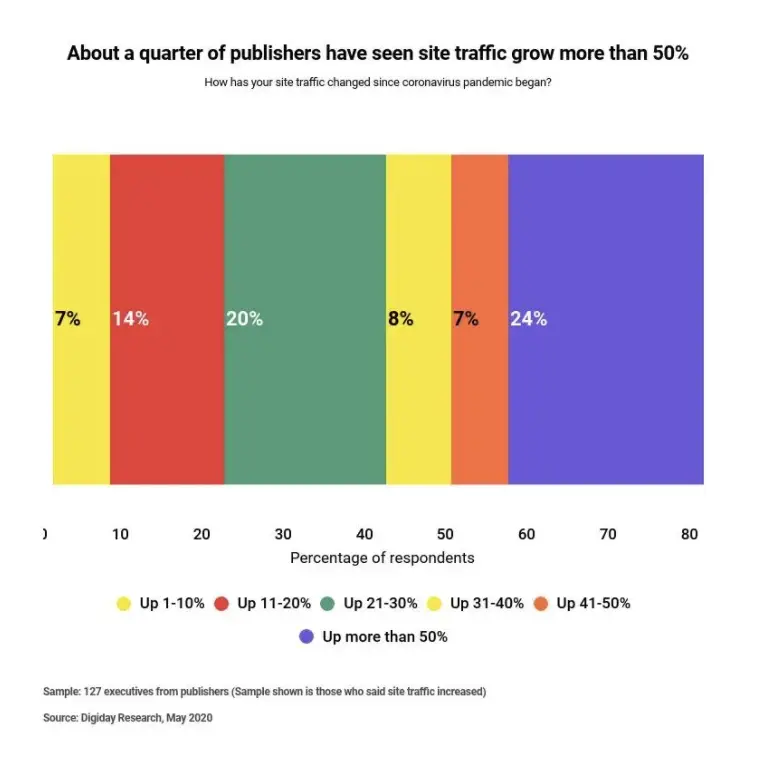 SEO workloads and COVID-19
During such volatile times, on top of some major Google updates, SEO has taken many curveballs. Gary Illyes, Google, recently asked SEOs how their workload has been effected by coronavirus.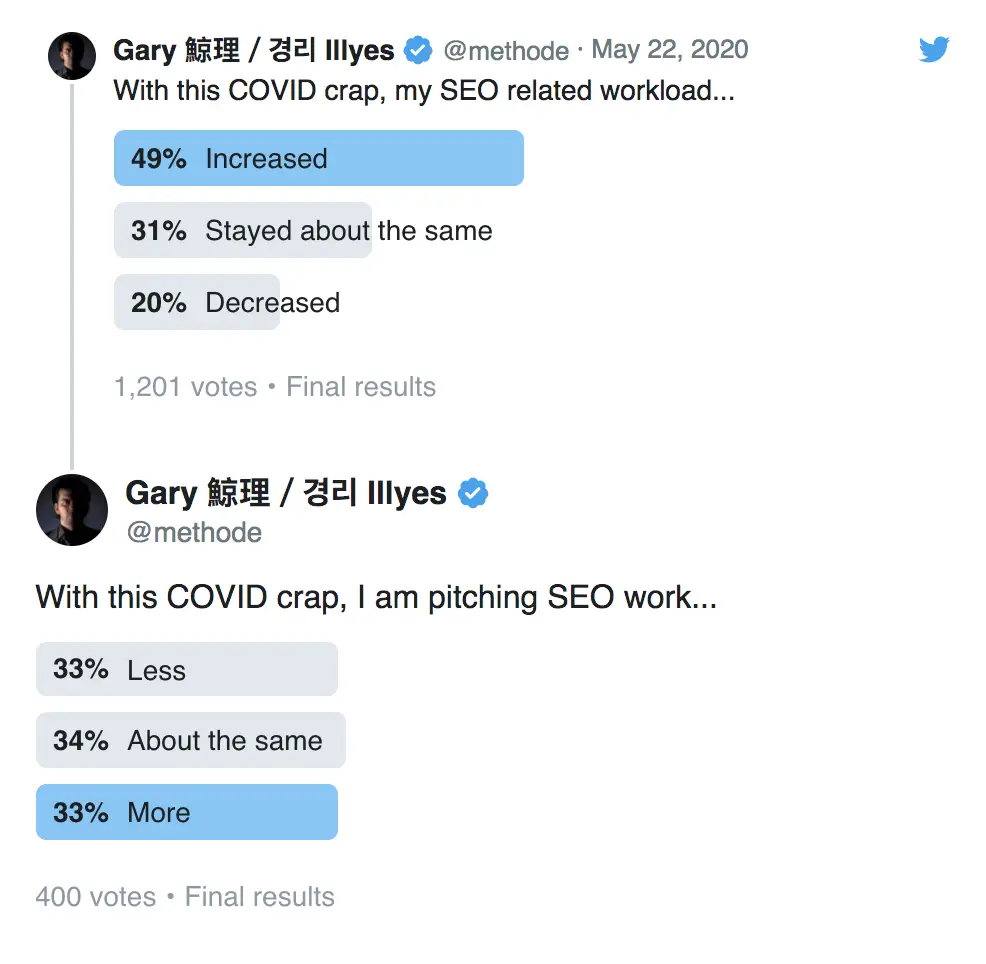 The majority of respondents (48/6%) stated their SEO-related workload had increased, while 30.9% said it stayed about the same and 20.5% stated it decreased. The majority also responded that they are pitching SEO work more (33.8%) but it has gotten harder (37%) to convince decision-makers about their SEO ideas. Respondents also said working with developers on SEO projects stayed about the same (54.8%).
— May 22, 3:22pm PDT —
The ad revenue index was the closest its been to 60 since the beginning of the pandemic in the US.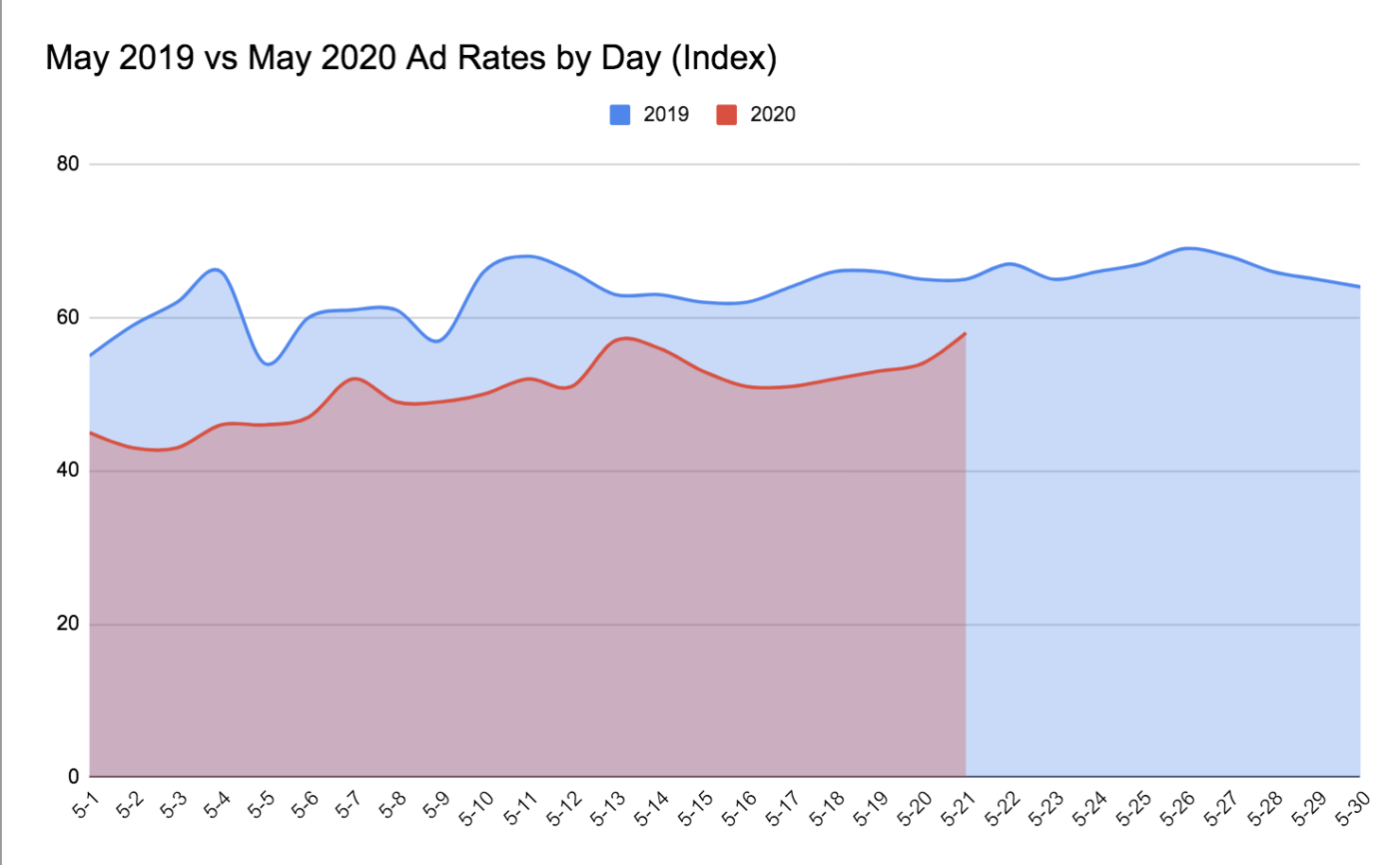 This could be partially due to Memorial Day advertisements for big sales, such as mattresses and cars, but the general trend has been upwards since the beginning of April.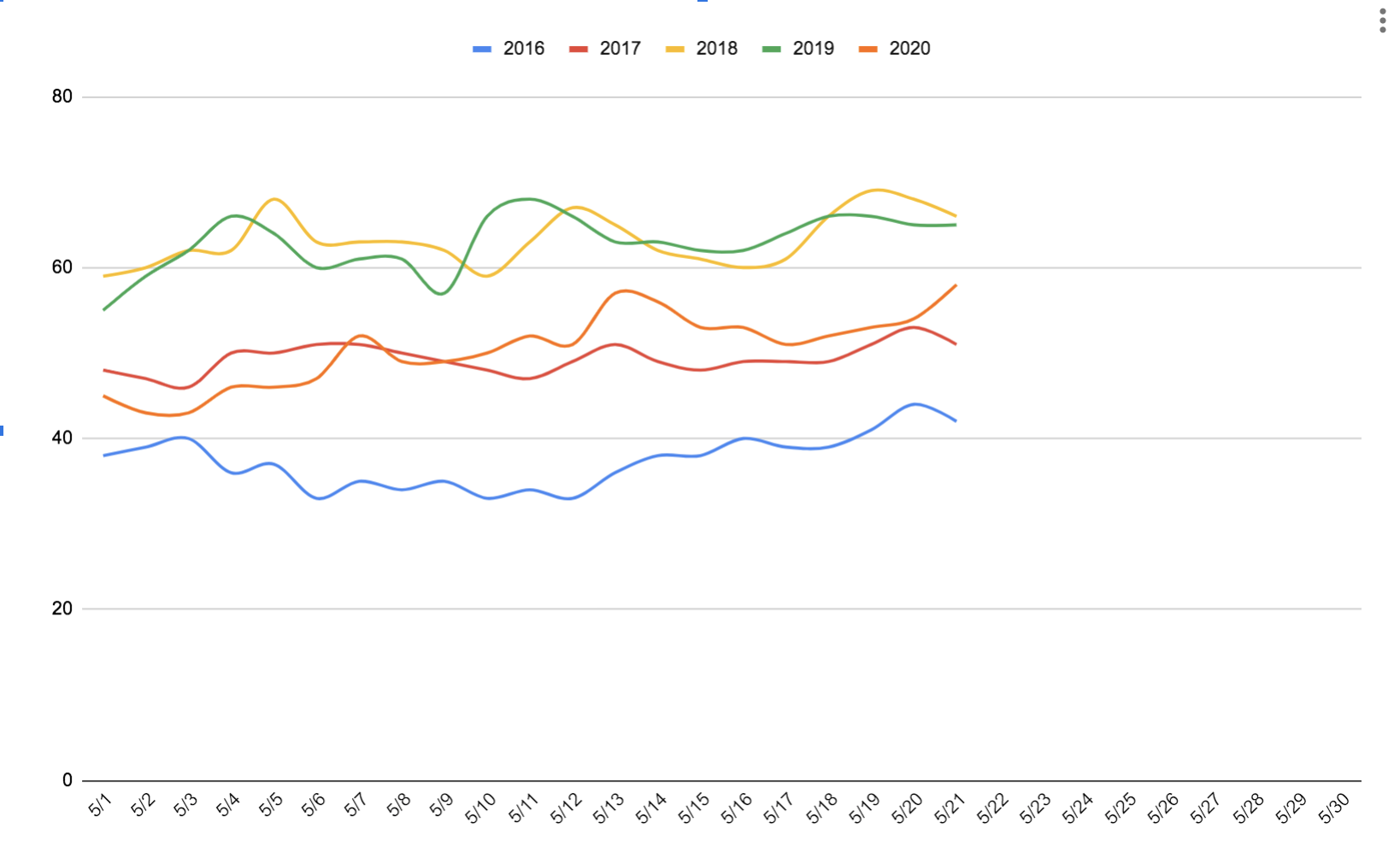 April and May programmatic advertising trends
Reports for April and May's programmatic ad spend is becoming available as May closes in roughly a week. MediaRadar, an advertising and analysis company, reported that overall, advertising through programmatic decreased 8% between April and March. The industries hit hardest in April were travel, automotive, and events. News, food and drink, and style and fashion have also seen decreases.
Travel: -79% MoM
Automotive: -40% MoM
Events: 34% MoM
Larger companies like Google, Facebook, and Snap have suffered losses during this as well, but have made up for those initial losses through direct response advertising. Direct response advertising is advertising that urges viewers to take an action quickly: a coupon with an expiry date, business reply card, toll-free telephone numbers, hotspots for users to click, etc.
Meanwhile, the largest industries, unsurprisingly, were education and training (including content to educate children), technology, and toiletries and cosmetics. All three categories experienced increases of over 35%.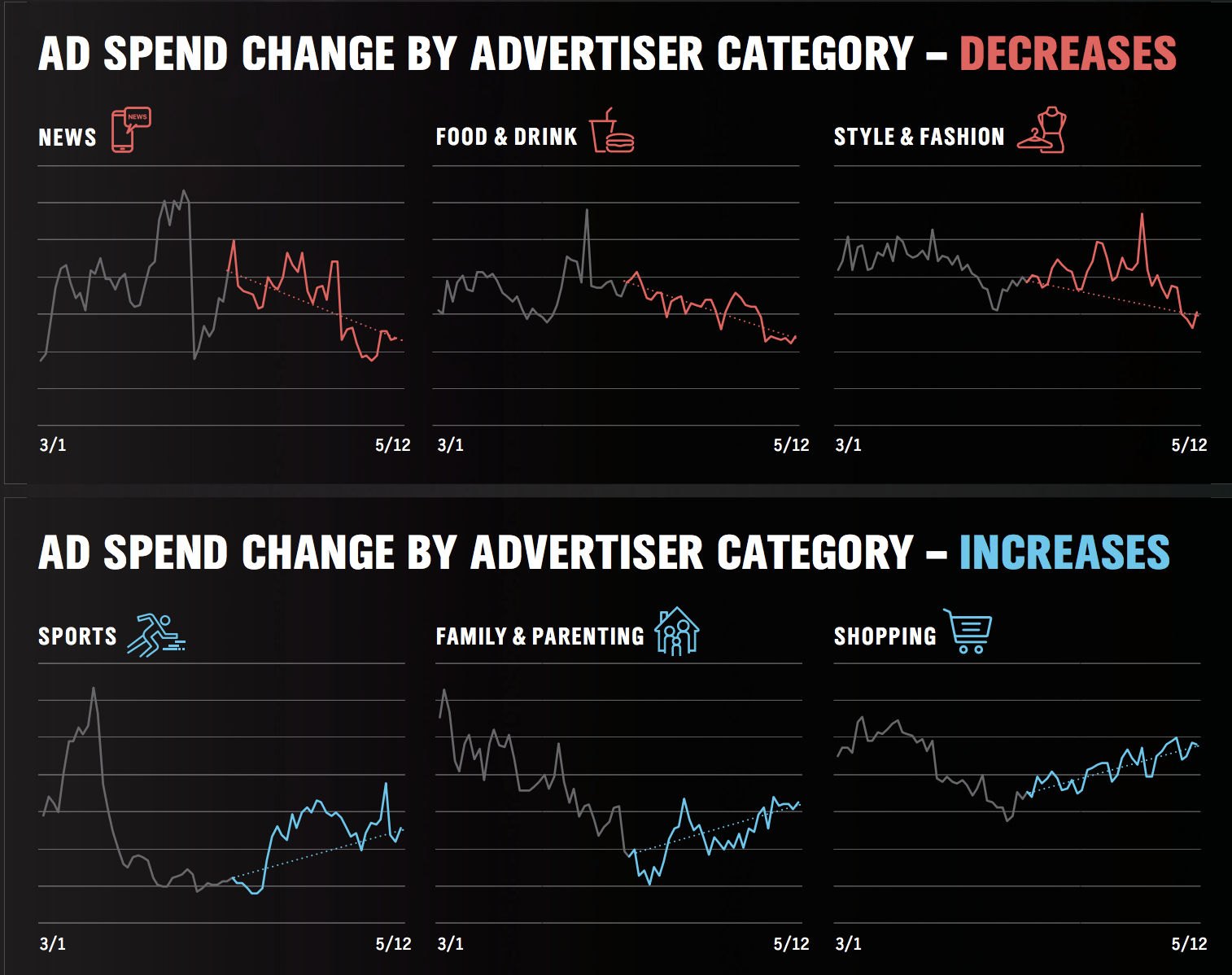 View Pubmatic's entire report here.
Other categories faring well are government campaigns, home entertainment—including technology—sports, family and parenting, and shopping. In many facets of these categories, marketers are spending more than usual on advertising during the pandemic than in less trying times.
Since these categories are faring well through the pandemic in programmatic advertising, they are also good content topics, since these advertisers will will want to advertise on content relevant to their ads. Consider how you can create content related to children's education or entertainment, popular technology, or home entertainment (or government campaigns, if you can swing it).
What else can I focus on during coronavirus?
If your content is not relevant to the pandemic or you're trying to diversify your content away from coronavirus, this is the perfect time. The initial surge and absorption of information, news, and quarantine-survival strategies has faded and restrictions are slowly being lifted. Now, more than ever, people are going to be looking for things to do and read that are unrelated to coronavirus or that are just simply different than the first round of coronavirus content.
If you equally focus on both pandemic content and non-pandemic content, you'll not only be providing some much-needed balance between the two, you will better be able to gauge how your website is going to perform once coronavirus passes. The pandemic won't be around forever, and so if your best-performing content is all related to COVID-19, you are going to slowly sink as things return to normal.
Another angle to consider? The good news out there.
It's also important to see what trends have been fast-tracked because of the pandemic. Things like video, eSports, and online retail shopping were already growing in popularity before coronavirus, and have blown up since it arrived. These categories are only going to continue growing, even past the pandemic, so you should be considering how you can take advantage of them in your content and website strategy.
Additionally, focus on everything that matters in running a website regardless of outside circumstances—write great content, work on your website's layout and responsiveness, optimize your ad inventory and ad placements on your website, and stay up-to-date on SEO.
Social networks engagement up, but unequal
In November 2019, eMarketer estimated social network use would continue its slow increase over the next few years. However, this was before the pandemic spread and became an international affair; no one could have guessed just exactly what life would be like now.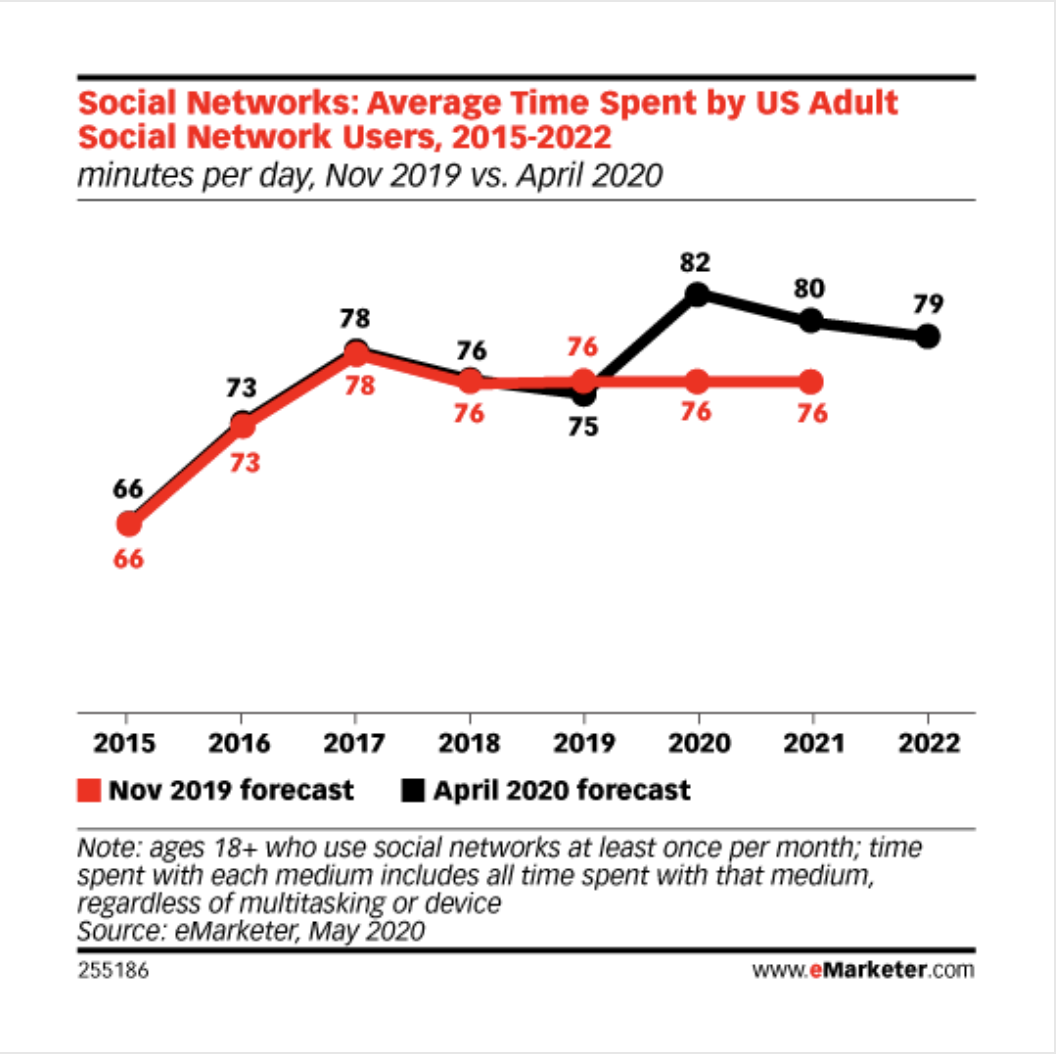 Social network use was far above their projections and even higher than social network's initial surge in 2017.
They also predicted only slight growth for Snapchat and Instagram, while actually believing there would be a decrease in Facebook use. These predictions have fallen way short of the reality, however, due to the pandemic.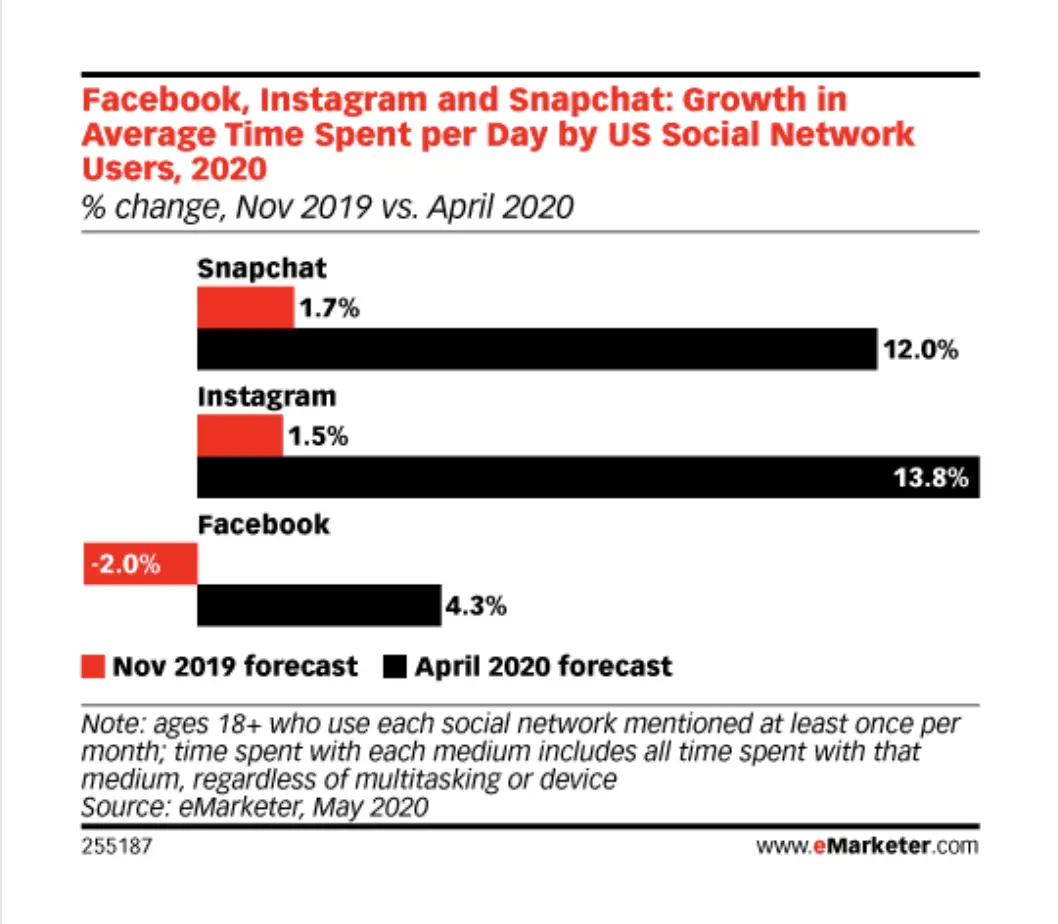 Social channels should be given extra attention during the pandemic if it makes sense for your website or brand, as the opportunity to get eyes on your posts has never been higher.
Final Google May 2020 Core Update fluctuations and the return of Google Translate for Websites
Many across the web have felt the affects of some sort of final update from the Google May 2020 Core Update earlier this month. SERPmetrics' graph indicating fluxes shows a swing upwards on May 20.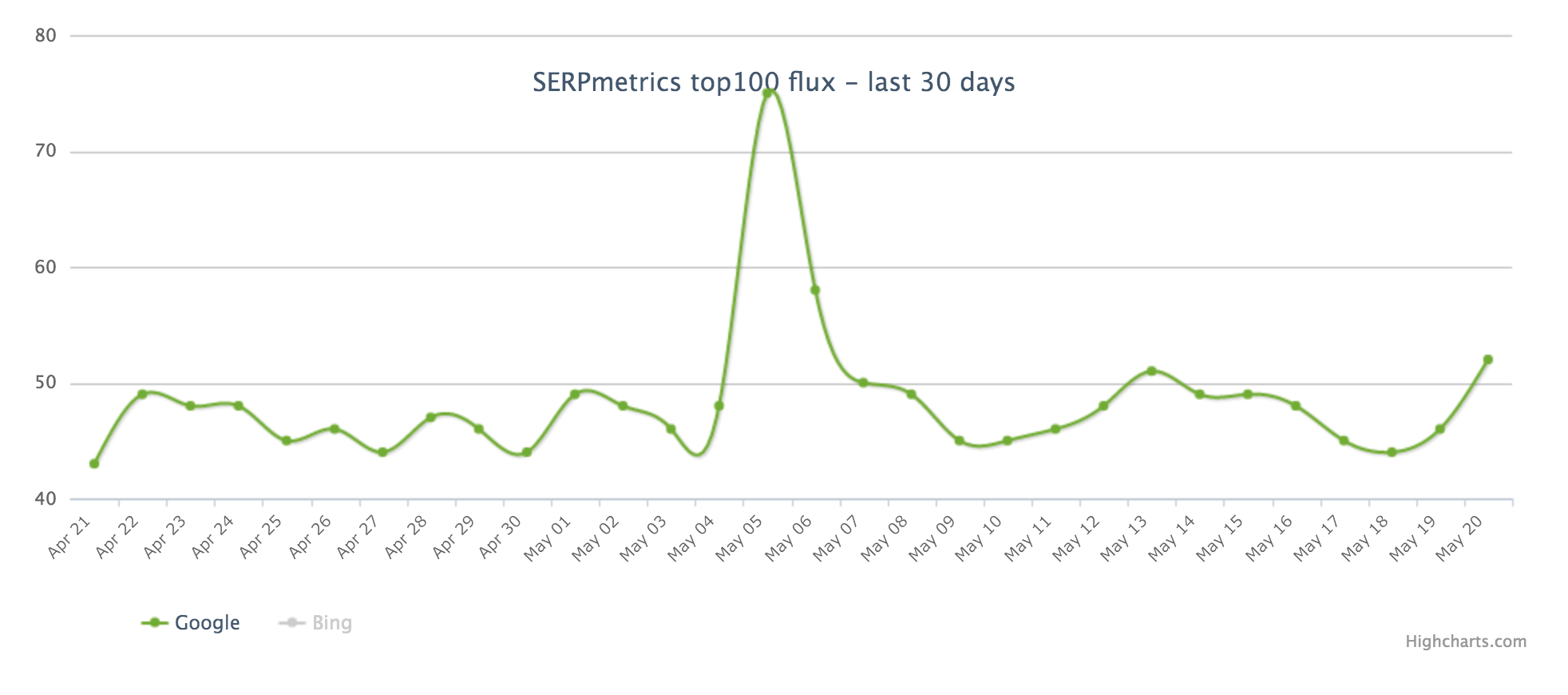 Remember, this update is supposed to help visitors find local news stories and accurate coronavirus information. If your site was negatively effected in the last few days, consider what specific changes you've noticed based on real data, not hearsay, and wait it out a bit longer to see if things level out.
Google is reopening access to the Google Translate Website Translator to assist publishers during coronavirus to help better spread important related and accurate information. Webmasters covering coronavirus can translate their material into other languages by signing up here.
— May 18, 10:47am PDT —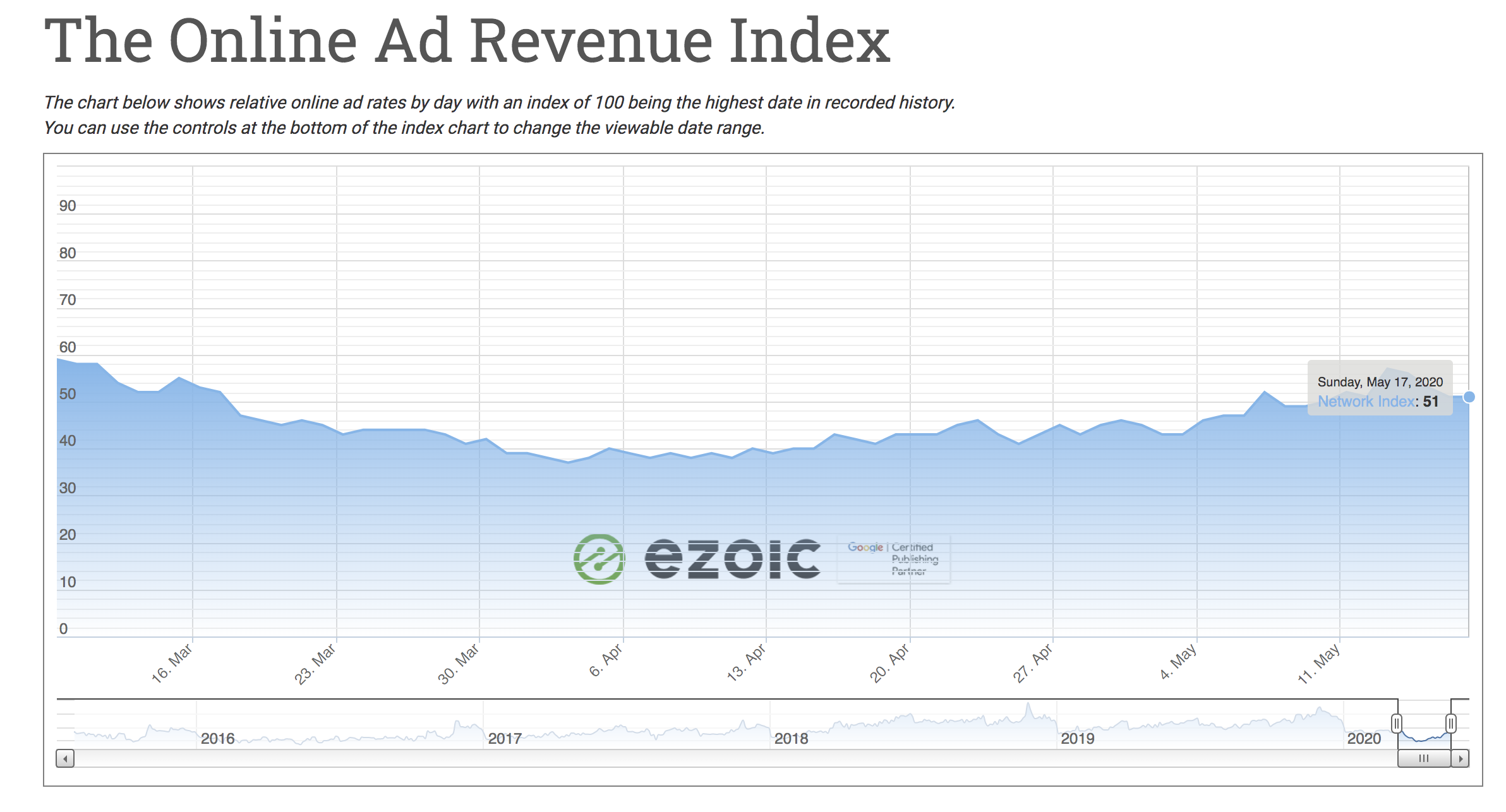 Ad rates have improved since April but still hover roughly ten points below ad rates in 2019.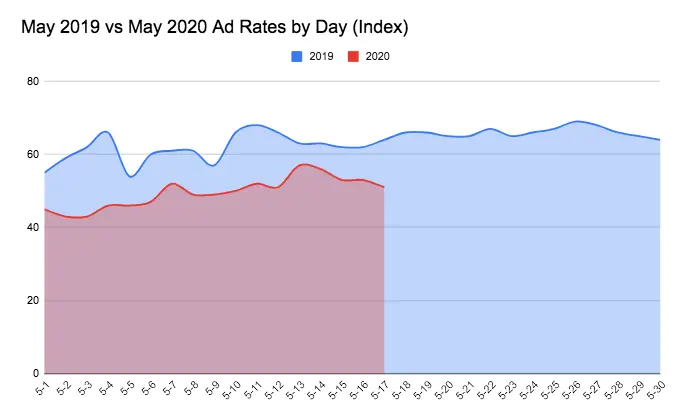 Rates dipped over the weekend, which is normal for any time of year or circumstance. It is predicted they will stay above 50.
Google's May Core Update and AdSense Approval Slowdowns
Google announced today that the 2020 May Core Update rollout is officially completed. Data collected on the update shows it was quite a large one, which many publishers may have already noticed due to ranking changes. We have discussed data on the initial rollout effects in earlier post updates and will continue to provide data once it is readily available about the end of the core update.
Now that the update is complete, we recommend studying your analytics to see what, if anything, changed for your website.
The May 2020 Core Update rollout is complete.

— Google SearchLiaison (@searchliaison) May 18, 2020
Google AdSense is currently unable to do some site reviews due to COVID-19. Many have posted in Google's support center about the delay, but no further information has been provided by Google yet.
 Ad sales 'middle class' is disappearing
Publishers may have noticed that many of their ad sales have either been really big or really small, especially if you're a larger publisher. It seems that either advertisers are ready and willing to drop a lot of money at once or are playing it safe with smaller deals. This has created a "lumpy" advertising market with random spurts of deals and sales rather than any sort of consistency. This puts even more pressure on publishers within the advertising space.
Some publishers have tried to offset this by welcoming in new advertisers rather than relying on what they've been using historically, even if those sales were going to be smaller than usual. Other publishers are looking to strengthen relationships with brands they have worked closely with in the past and to capitalize on content topics that advertisers will be interested in, especially as regulations lift.
We recommend reviewing your ad partnerships for quality and considering what other partnerships you may begin during the pandemic. It is extremely important to verify that these new advertisers are legit and high-quality, especially during such a tumultuous time. While it may be tempting to reach for low-hanging fruit just for the revenue, keeping your ad inventory standards high will make your more money in the long-term; advertisers bid based on historical data, so you want that historical data to be top-notch.
We also recommend looking at your content to see what has performed well and to consider what kind of content advertisers may want to bid on. If you're a lifestyle publisher, it may have made more sense to create content for make up tutorials and spring cleaning at the beginning of the pandemic. Now, with the increase in e-commerce and regulations lifting on stores opening, it may be time to begin writing about upcoming summer fashion trends and deals.
Do you have a newsletter?
During the COVID-19 pandemic, people are consuming news at a higher rate than we've possibly ever seen. This includes both national and local publications.
Much of this news is absorbed through weekly or daily newsletters, some of which have only been around since the pandemic began. Data from three local news sites in New England—NJ.com, MassLive.com and LehighValleyLive.com—showed a 25% increase in newsletter subscriptions, with click rates increasing 50% and newsletter impressions increasing by 32%. These sites' newsletter revenue also increased during this time.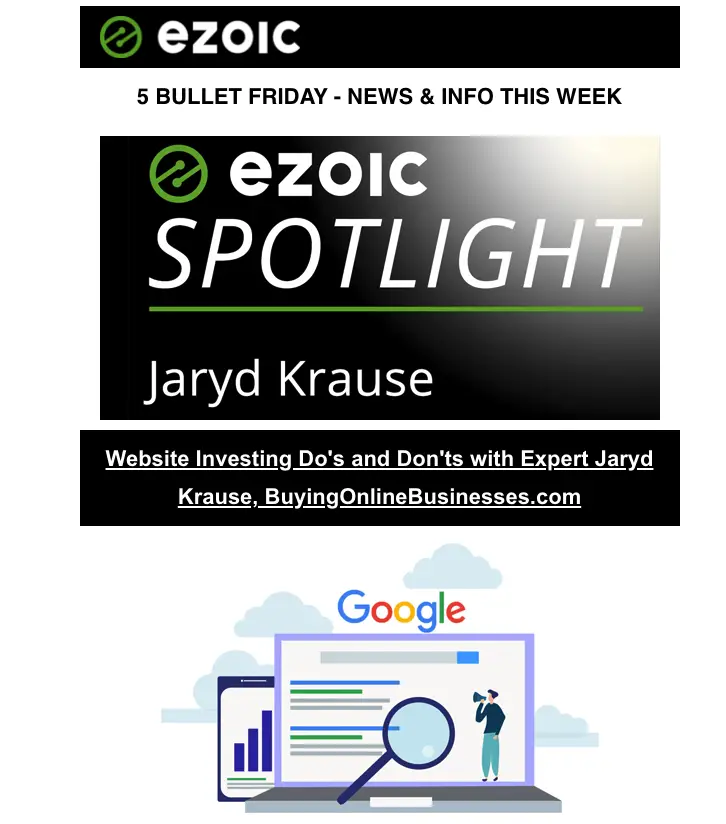 If you currently do not have a newsletter but have a substantial audience, you could be missing out on more dedication to your publication, traffic, and revenue. As we've stated in previous updates, it is more important than ever to diversify revenue streams.
The pandemic has accelerated trends that were already happening beforehand and has created trends that will continue after the pandemic; for instance, medium-sized ad deals fading out and newsletters growing in popularity. It is important to know what these trends are and how your publication can adapt for the long-term.
Decisions made right now should be less focused on short-term goals and more on how you can use what you're doing now to grow and improve your website for the long-term.
[/et_pb_text][et_pb_text admin_label="May 15 Updates" _builder_version="4.4.6″ header_3_font="Open Sans||||||||" custom_padding="||0px|||"]
— May 15, 5:46pm PDT —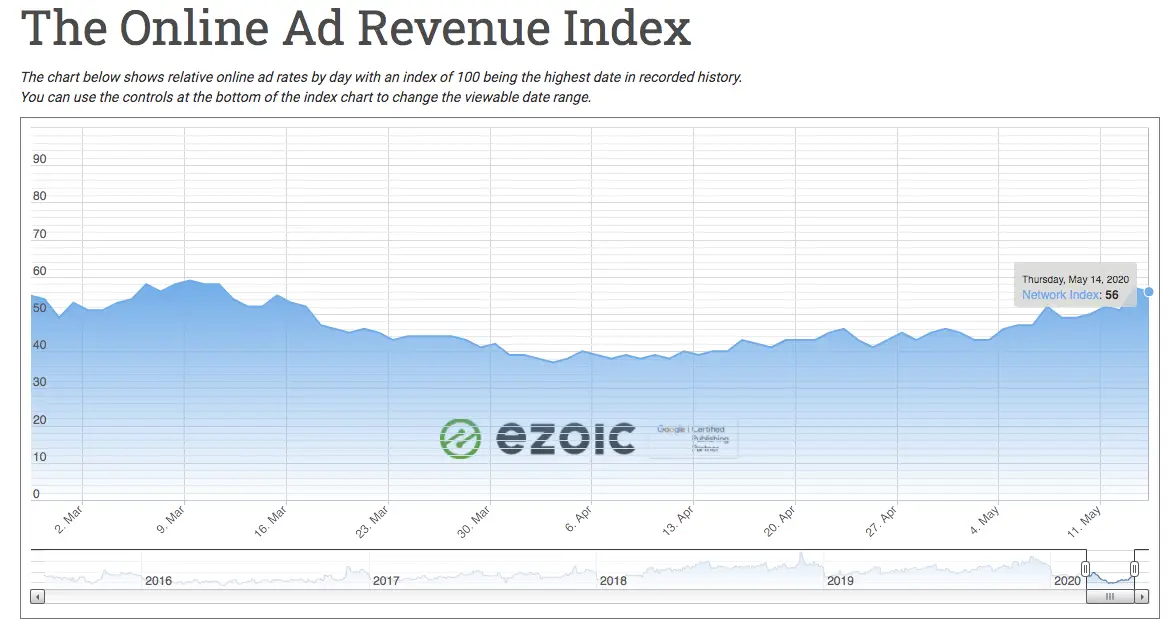 Ad rates are still recovering. It looks as if April will be the worst month ad rates will see, but with more regulations lifting, companies will be increasingly more comfortable spending money on advertising.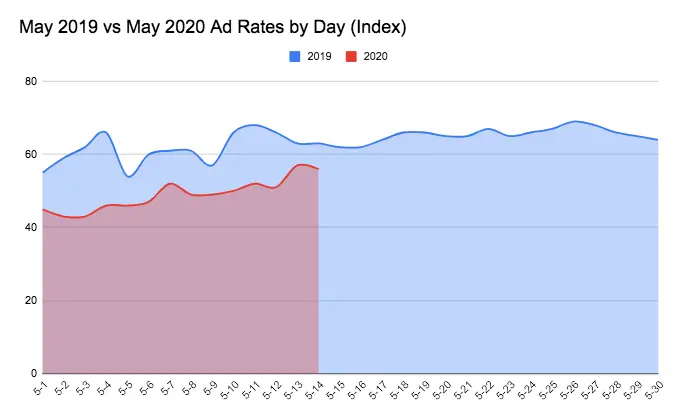 Even though ad rates are improving and will continue to do so—ad rates are currently above both May 2016 and 2017's ad rates—it is predicted that many companies will still not make their 2020 and even 2021 projections.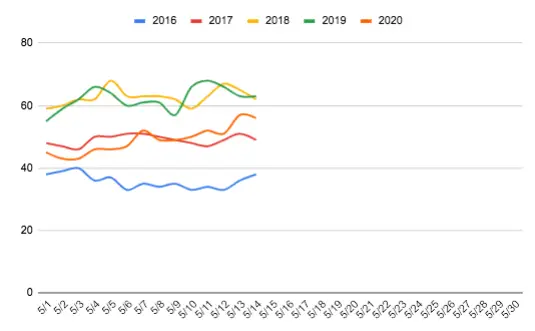 E-commerce soaring during the pandemic
Though retail sales were down 8.7% in March—the worst decline on record—e-commerce saw intense growth during the same period. E-commerce spending especially went up right around the time people received their government stimulus payments. Adobe's Digital Economy Index reported that e-commerce grew by 49% since the beginning of the year and that buy-online-pick-up-in-store sales has increased 200%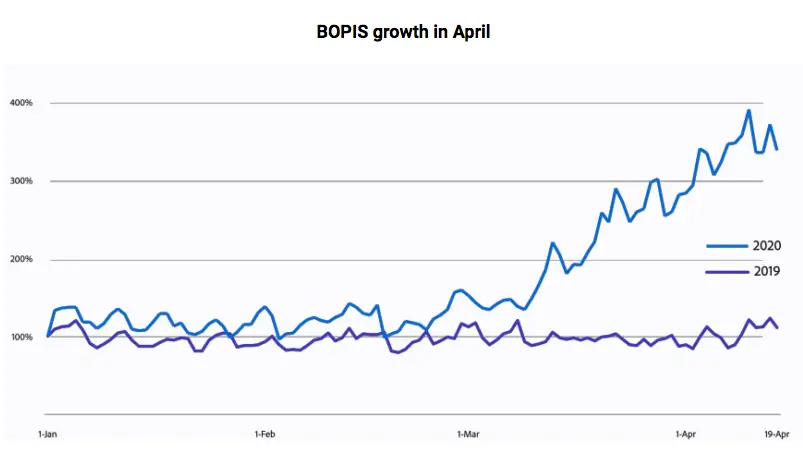 For many companies, e-commerce is hitting Black Friday-type traffic and revenue. PayPal had its largest single-day transactions day on May 1st, surpassing their Black Friday or Cyber Monday transaction rate.
Now is the time to get into e-commerce if you've ever wanted to try it out or add it as a part of your website for almost all categories. If e-commerce isn't something you want or can get into, you may still benefit from the success of e-commerce; many businesses will be competing against each other to get viewers' attention and will use advertising to do so. As shown above, ad rates are currently improving already.
Growth is slowing for subscription-based publishers
Recent data from major publishers like Bloomberg Media, The New York Times, The Wall Street Journal, and The Guardian shows that though the subscription-based model they implemented earlier this year was successful, that rate is slowing down.
Subscriptions rose across the board during the start of the pandemic as users wanted reliable, accurate information and updates. That peak was around mid-March, with three times the average rate of subscription sign-ups. While subscriptions are still doing better now than they have in the past, April showed that rate had dropped to 2.4 times the average.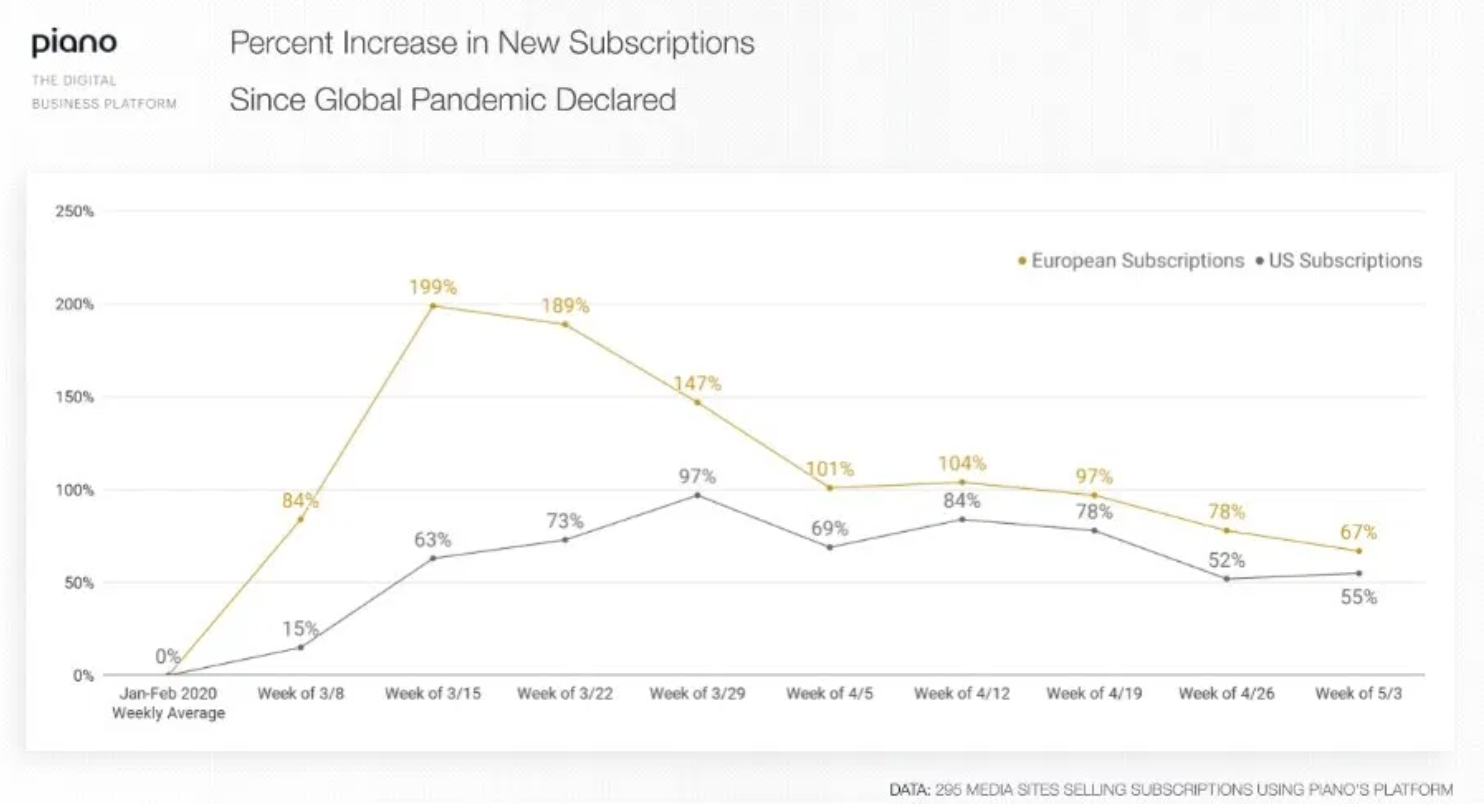 Publishers smaller than these major brands may wonder if subscriptions is the right choice for them.
We typically say no to subscription-based models. There is certainly, across the board, more willingness to pay-to-subscribe right now, even for non-news-related content. People are still panicked and looking for answers, tips, and advice to make it through the pandemic, whether that be financially or personally.
Some publishers may survive on the subscription model in a post-pandemic world, but these publishers are typically larger brands like the aforementioned. Once things return closer to normal, people will begin returning back to their old habits and everything will not feel as urgent. It is likely that though small publishers may benefit now from subscriptions, it will not last on the other side of COVID-19. However, we always recommend you test any theories or experiments you want to conduct, which our platform makes easy.
Google and COVID-19: response and free digital skills training
In Google's interview with Dr. Karen DeSalvo, Google's Chief Health Officer, Dr. DeSalvo discussed what Google is doing to help curb misinformation during a time when correct or incorrect could effect lives. Dr. DeSalvo stated Google's Search team has designed the ranking systems to put forth the most relevant and reliable information, and that this was built upon when the pandemic began. We discussed in an earlier update that Google's recent May Core Update included helping searchers find legit health information from local authorities. Google is actively removing both content and videos from YouTube that provides misinformation.
Google's Grow with Google—a program designed to help teach digital skills all over the country—usually involves travel and in-person meetings at schools, libraries, and nonprofit. Now, Google is offering digital skills training through Grow with Google OnAir. Participants will be able to listen to interviews with people within the industry, marketing fundamentals, building an online presence, making the leap to e-commerce, and much more.
This can be a great resource for publishers looking to expand their knowledge in the digital space, both during the pandemic and after.
— May 11, 3:26pm PDT —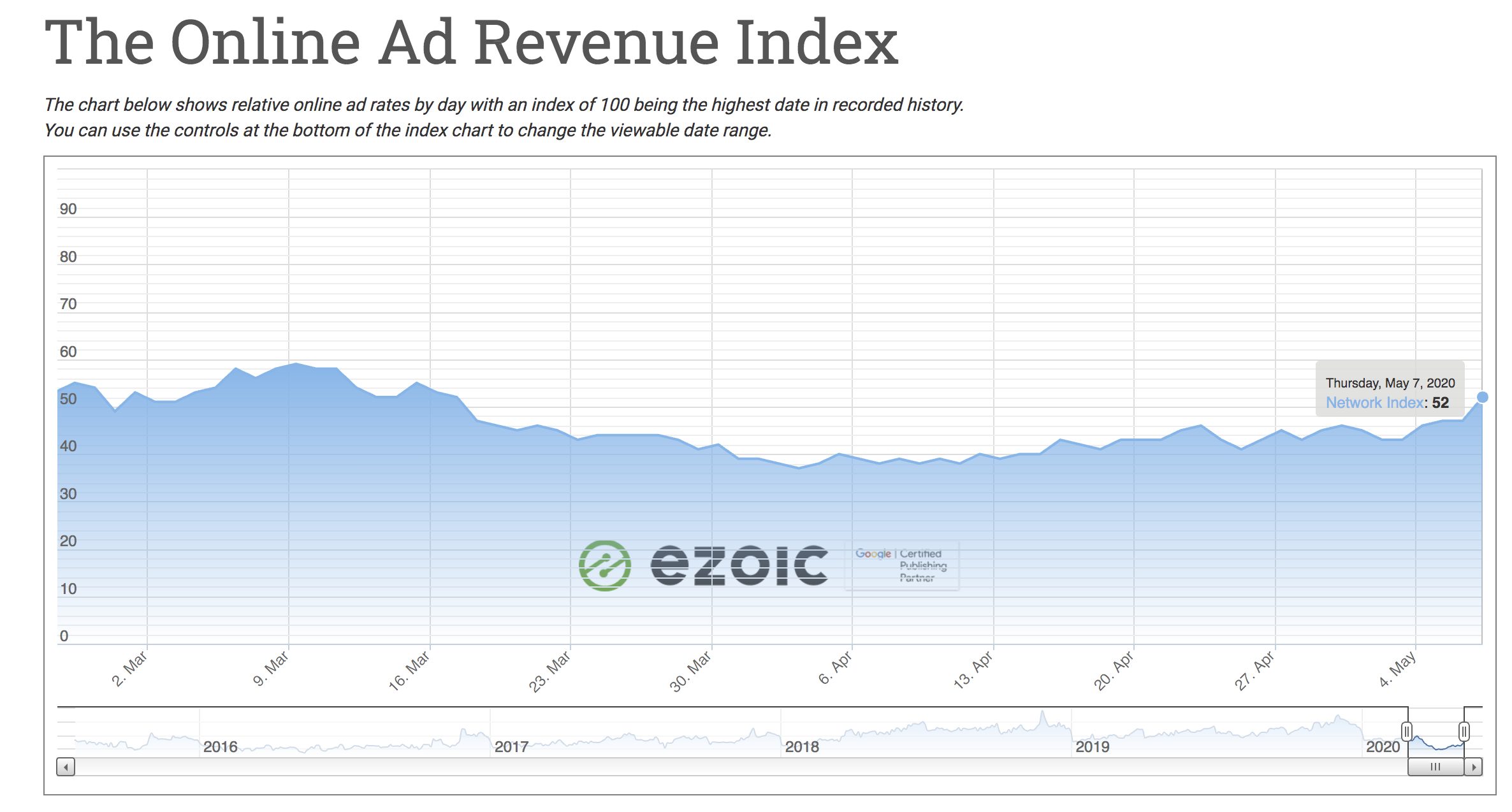 Ad rates continued to stay in the upper 40s and lower 50s over the weekend. It is likely that increased online shopping, more economic stability, and lifting restrictions have made the advertising ecosystem a little bit more active and lucrative.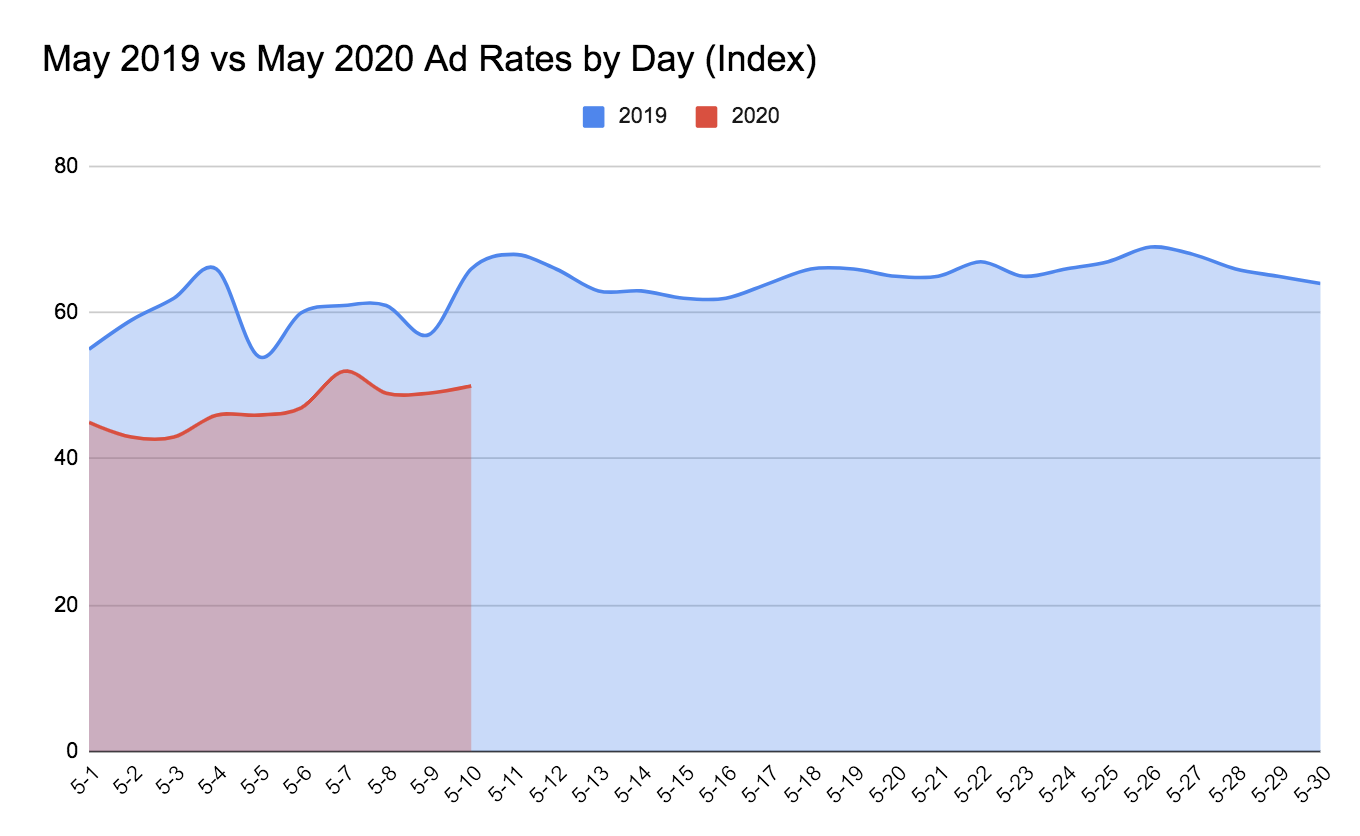 Free and open insight into consumer behavior, by Google
COVID-19 has changed consumer behavior across the board; consumer behavior has never been in such constant flux with big sporadic bursts and quick 180s. To assist retail and brand manufacturing partners during such dynamic behavior, coupled with the overall economic downturn, Google has created Rising Retail Categories. This tool works similarly to Google Trends but shows "fast-growing, product-related categories" for queries and geographic areas where those product categories are most popular.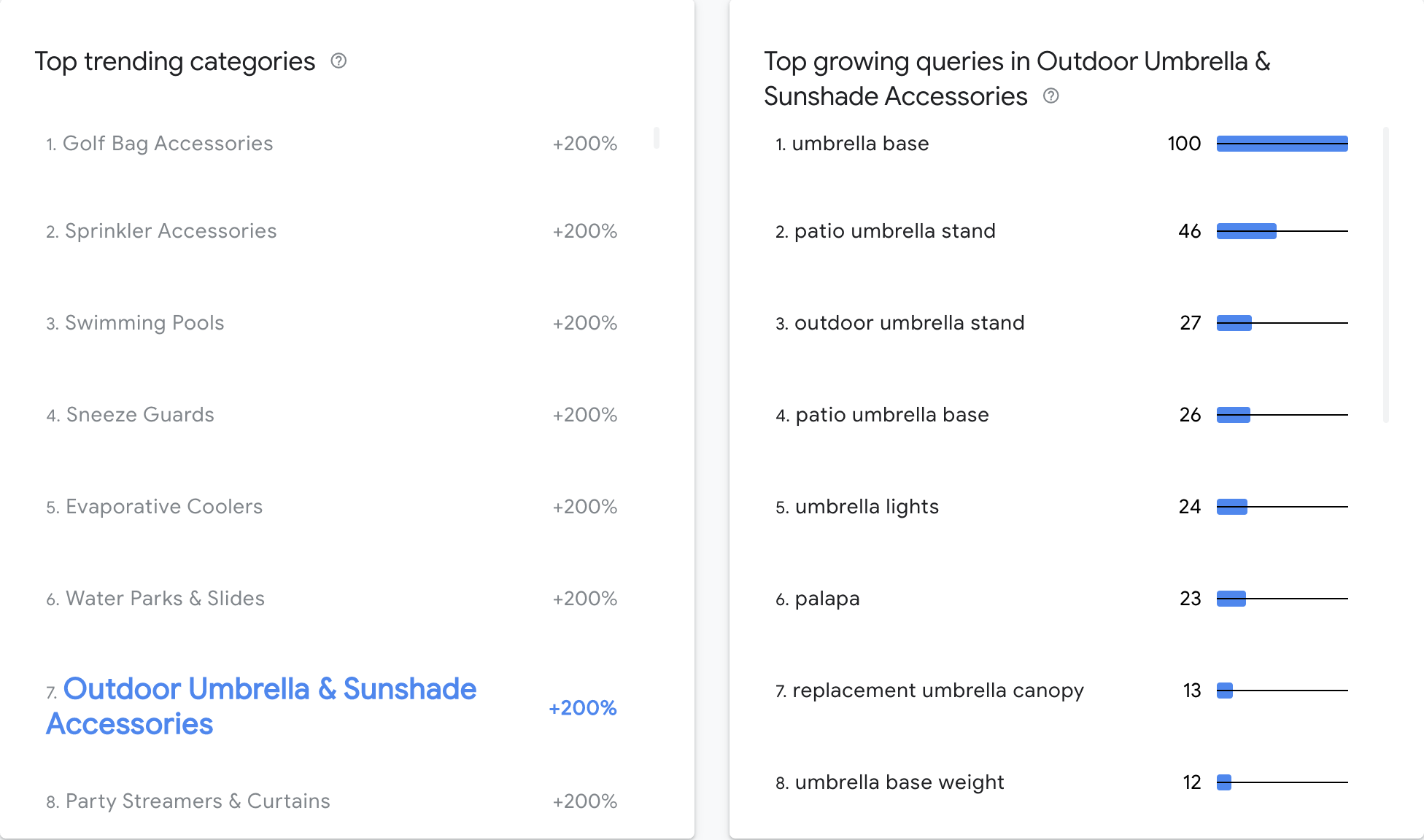 This is the first time Google has offered free research and insight on things people are actually searching for.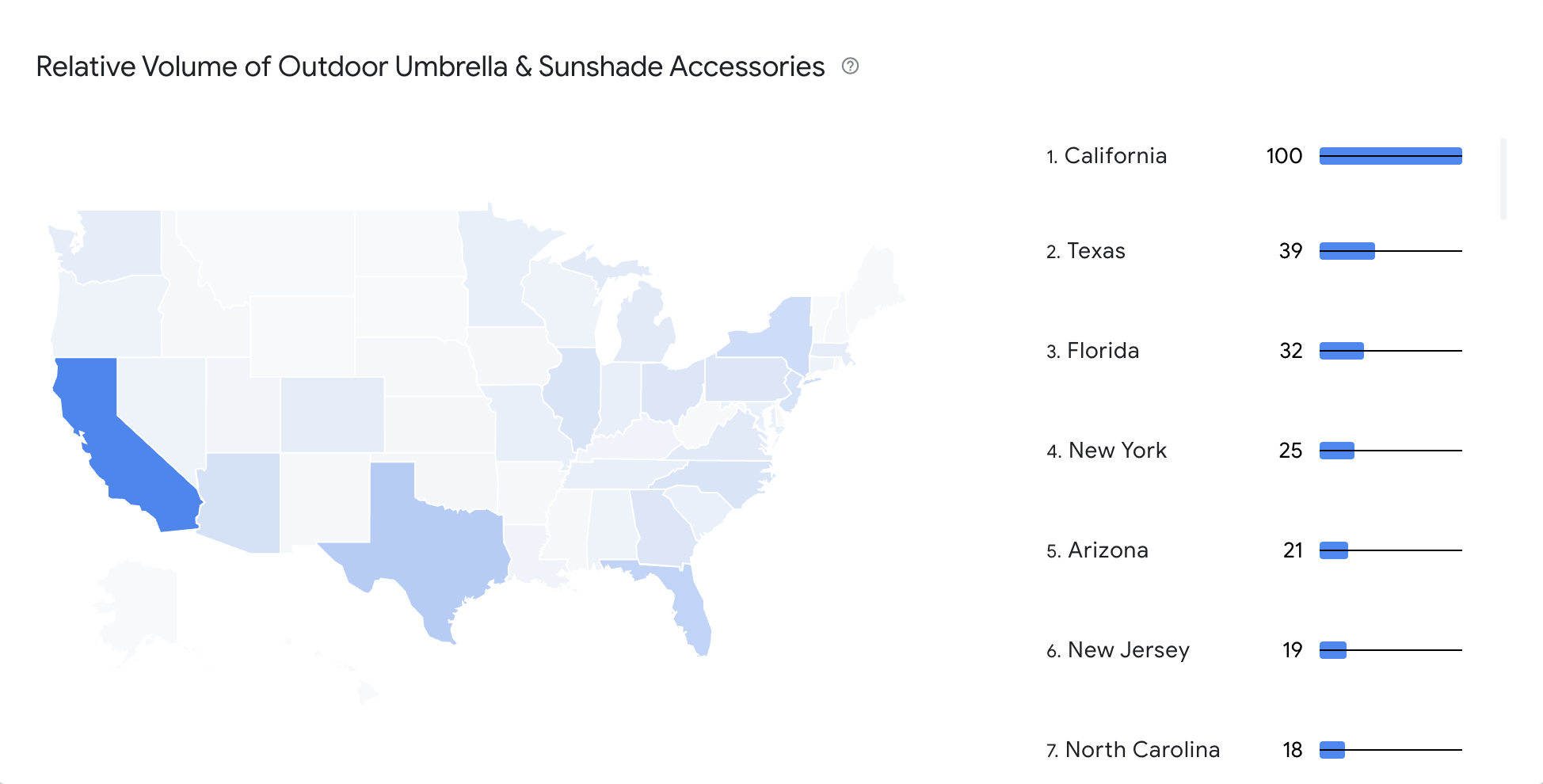 Google May 2020 Core Update's effect on coronavirus-related queries
Effects of Google's May 2020 Core Update are becoming more apparent and data compilations show certain categories are more effected than others. To read more in-depth about the update, visit our recent blog post.
SEMrush's sensor tracking tool, which shows Search Engine Results Pages (SERP) volatility, showed a score of 9.4 when the update began rolling out; the update from January was only around an 8.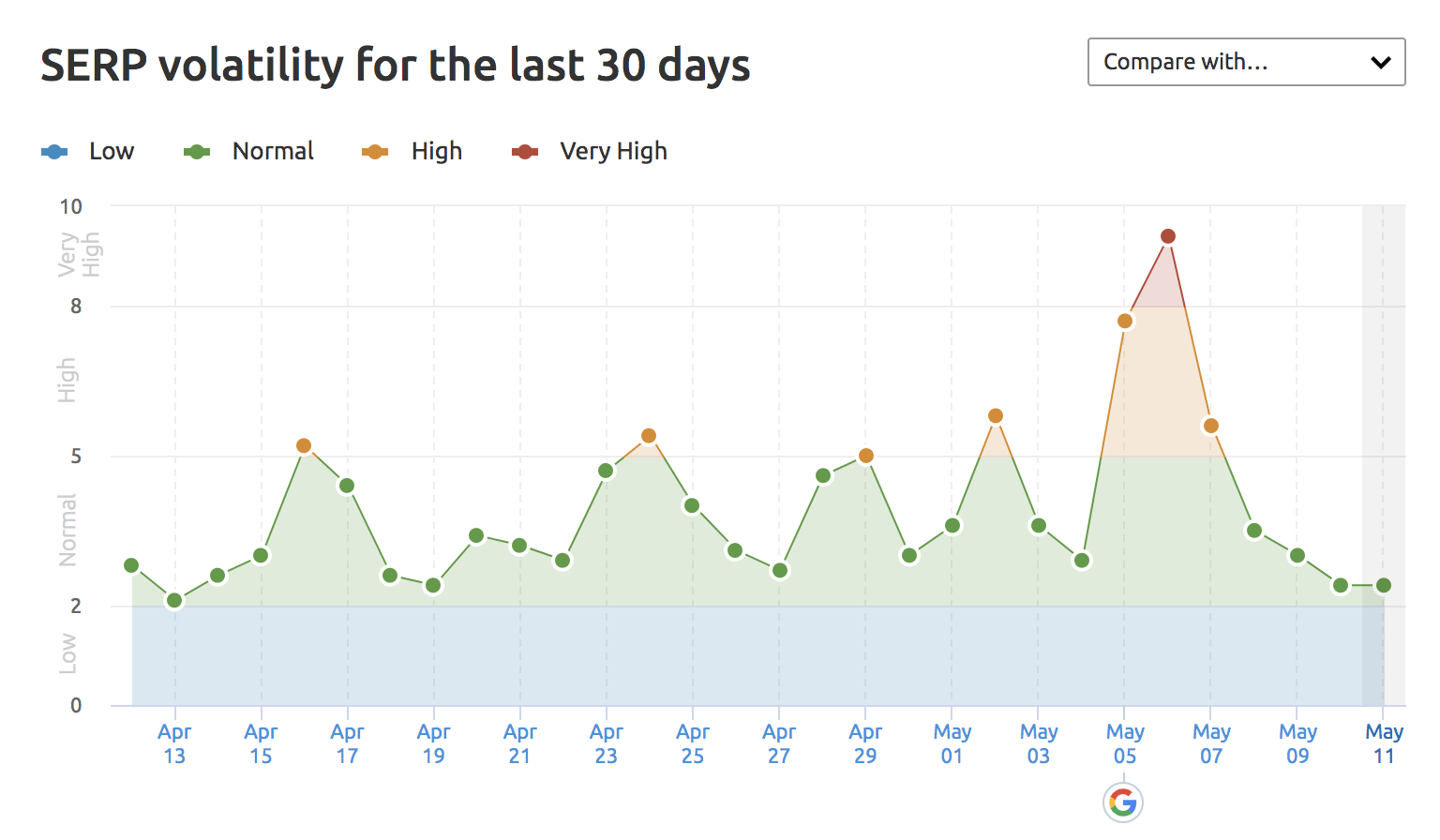 A lot of the update that has been rolled out thus far seems to be related to how coronavirus is affecting search. We already know that an update from about one month ago helped local news stories appear in the top stories carousel on Google Search, but this update is much more influential and seems to focus less on E.A.T. (expertise, authoritativeness, and trustworthiness in SEO).
Here are some of the influenced categories across the web.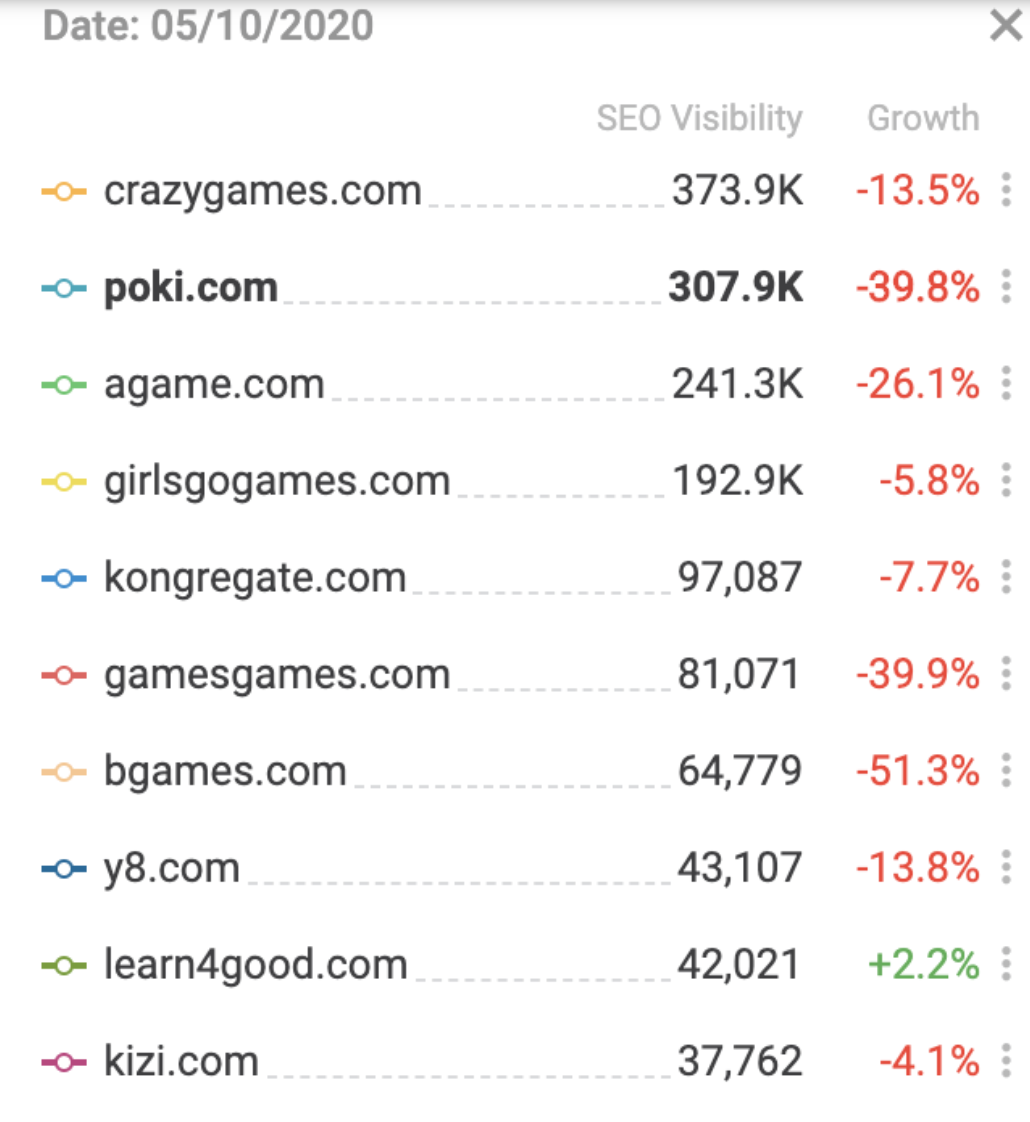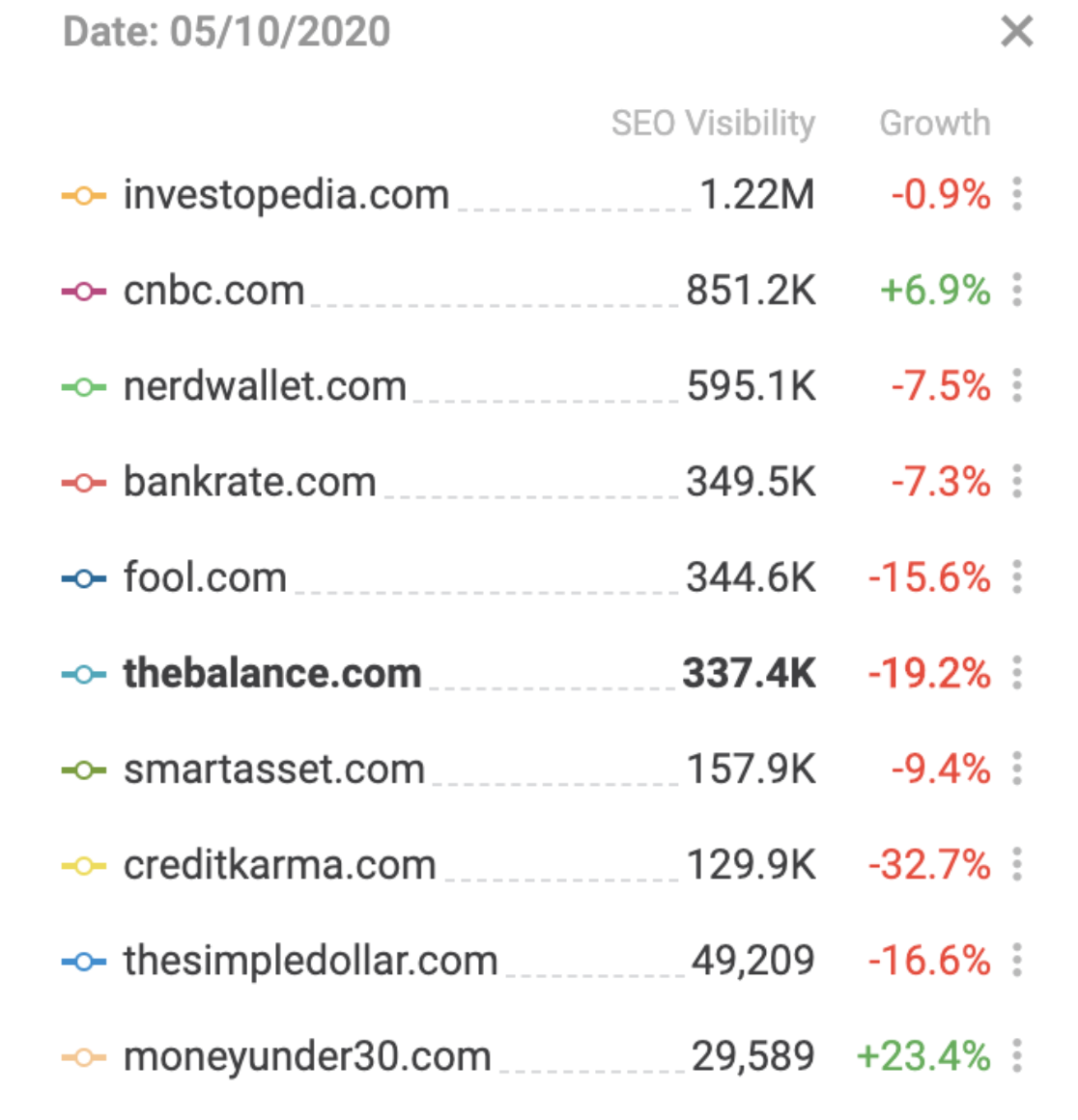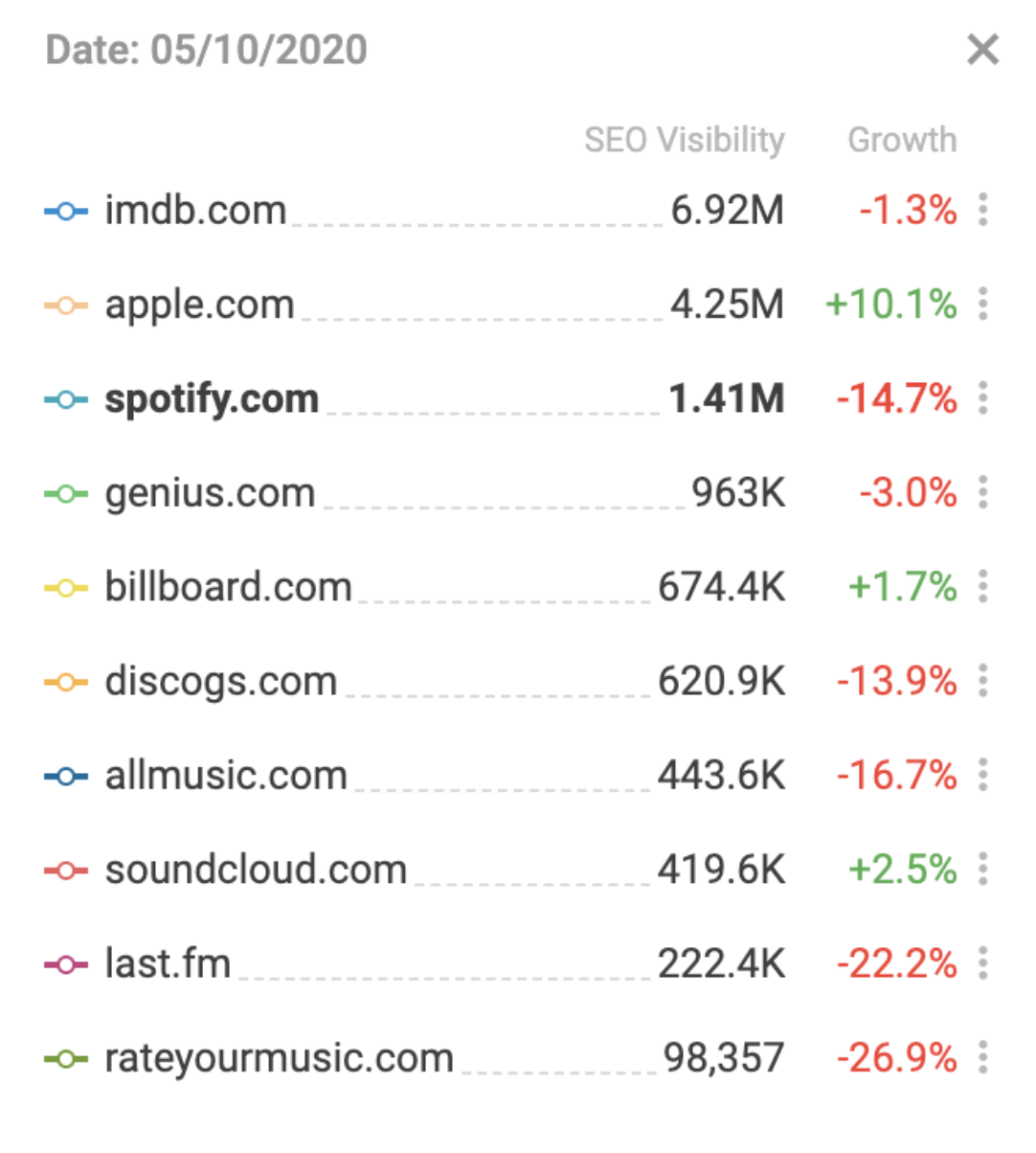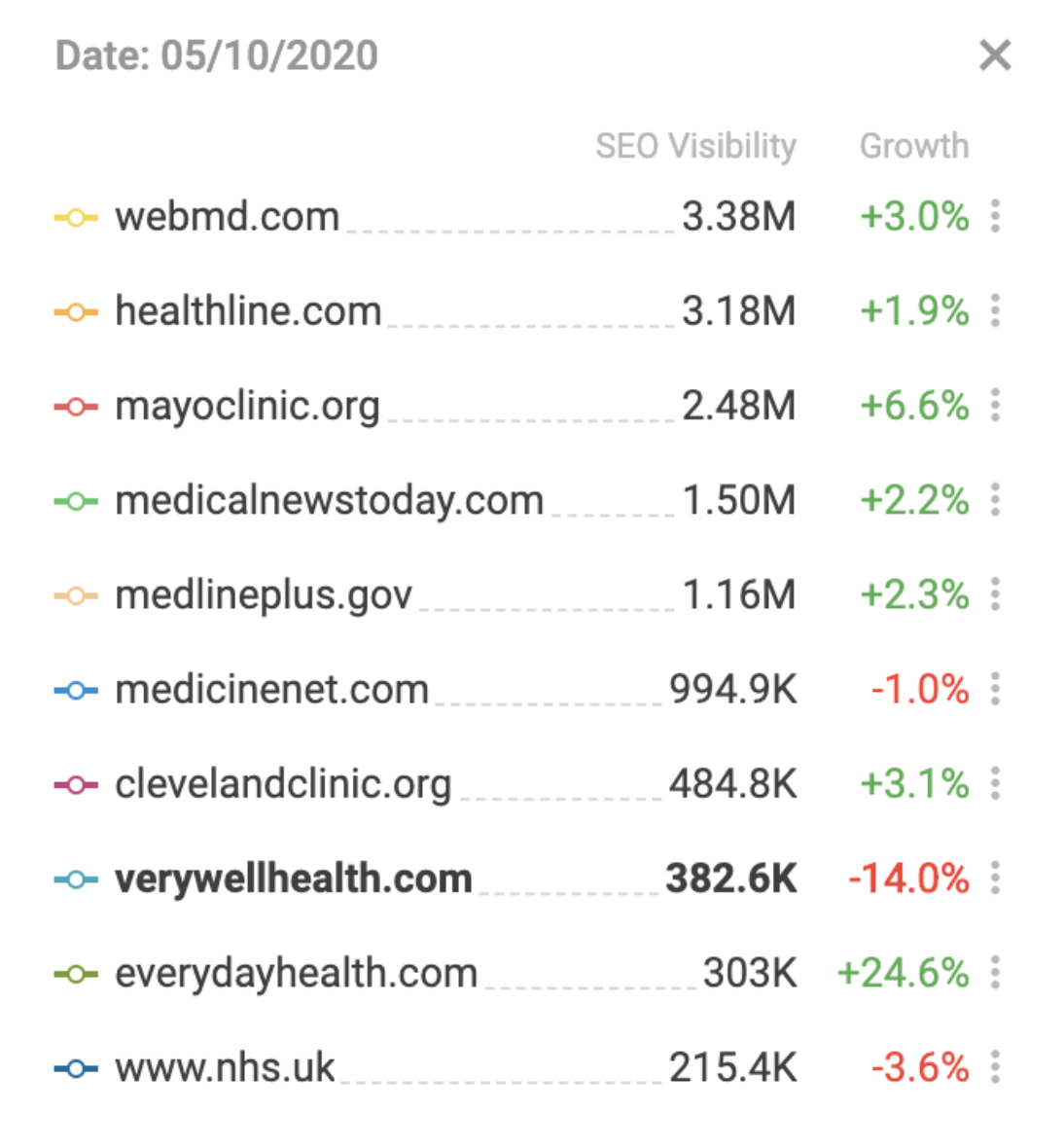 Google says that there is no major local search update included in the core update specifically, but acknowledges that some publishers are seeing affects. Per Google's request, publishers are sending examples of this happening. RankFlux, a ranking fluctuation monitoring tool for local search, shows that there have been major fluctuations in the past week.

You can see a feed of real publishers posting about how the core update affected their website on Search Engine Roundtable.
Google and Facebook stepping up to help the news industry
Google and Facebook have often relayed to publishers that they do not want to be relied upon or used as a crutch for struggling publishers, despite praising publishers' use of the two giants and using them as guinea pigs for new products.
However, due to the current online ecosystem as a result of coronavirus, Facebook and Google will now take on the part of patrons for the local news industry. Within the next couple of months, Facebook and Google will spend a combined quarter billion dollars supporting local news. This will come from emergency relief grants, more marketing dollars geared for ads on publishers' sites, and waiving fees Google usually charges for using its ad server. Facebook has already provided $16 million to 200 different newsrooms and Google predicts its funding will help 4,000 different publishers.
Google and Facebook have experienced pressure from foreign governments to pay publishers directly for the content they use but American antitrust laws keep U.S. publishers from banding together like those in foreign countries. To assist American news publishers in a similar fashion, Google is rolling out independent news emergency relief. This will help news businesses that will otherwise go under from lack of ad revenue if they do not receive emergency funding.
 — May 8, 7:32pm PDT —

Ad rates have continued to improve and even reached over 50 on May 7.

Google update in the middle of COVID-19
Google's update, which is continuing to be rolled out during this blog update, has already shown some of its colors when we look at rank volatility.
SEMrush pulled together data to show the most volatile industries.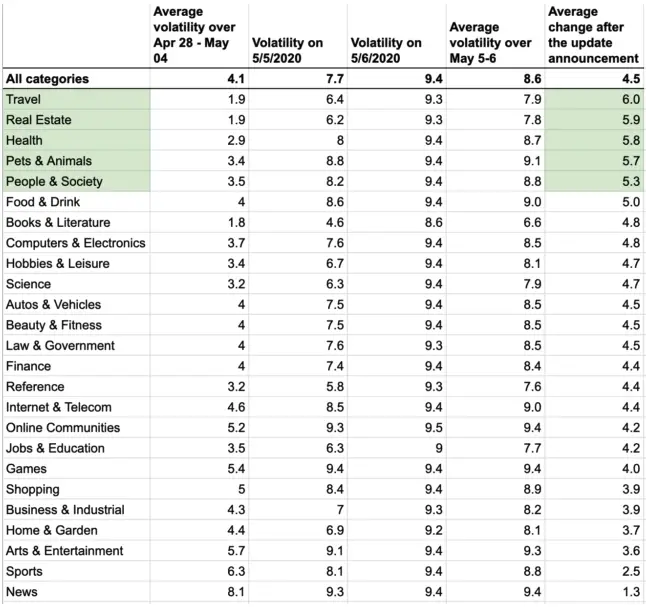 It is not surprising that travel and real estate are the most volatile at the present moment.
Rank Ranger also recently published rank volatility comparing the January 2020 update to the May 2020 update.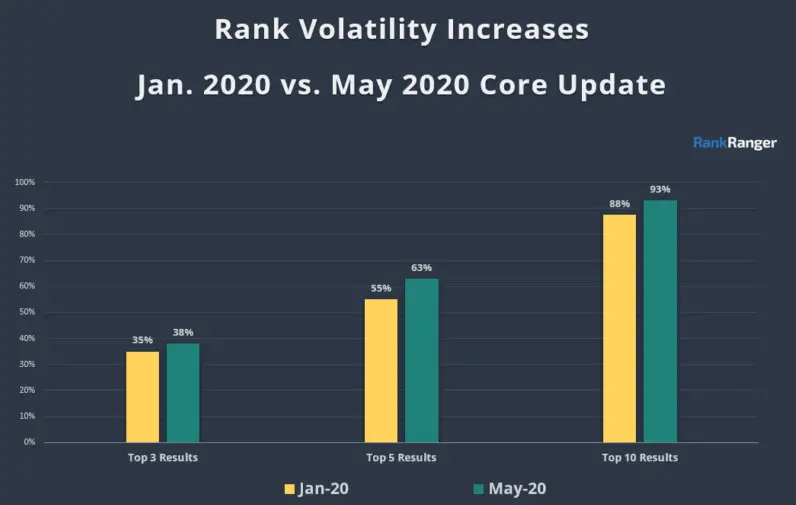 When we look at volatility by niche, we can see that the May 2020 core update increases rank volatility highly affects the top 10 results in travel, retail, finance, and health. Overall, this update affects ranking and positions more than the January 2020 core update.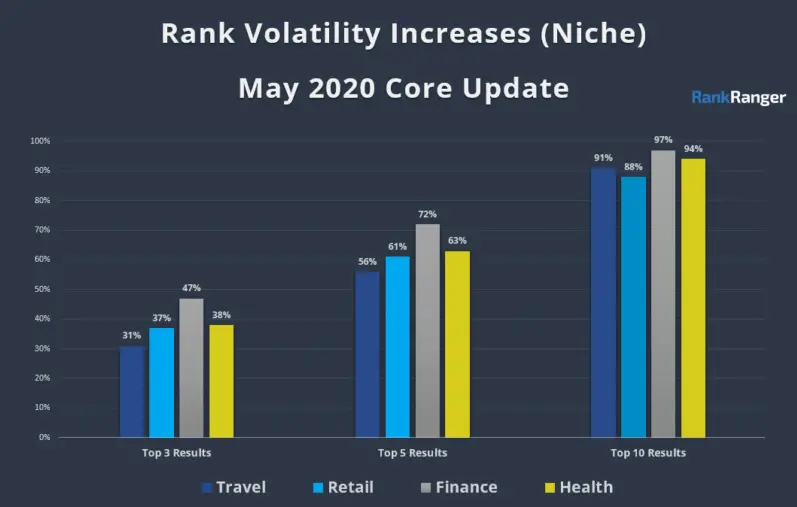 While these niches are in negative flux, others are doing very well. The Hobbies & Interests category, probably unsurprisingly, experienced a 50% increase in impressions from mid-April to the end of the month. This undoubtedly was a result of persistent lockdown measures, especially as it became clear by the end of the month that not much was going to change come May.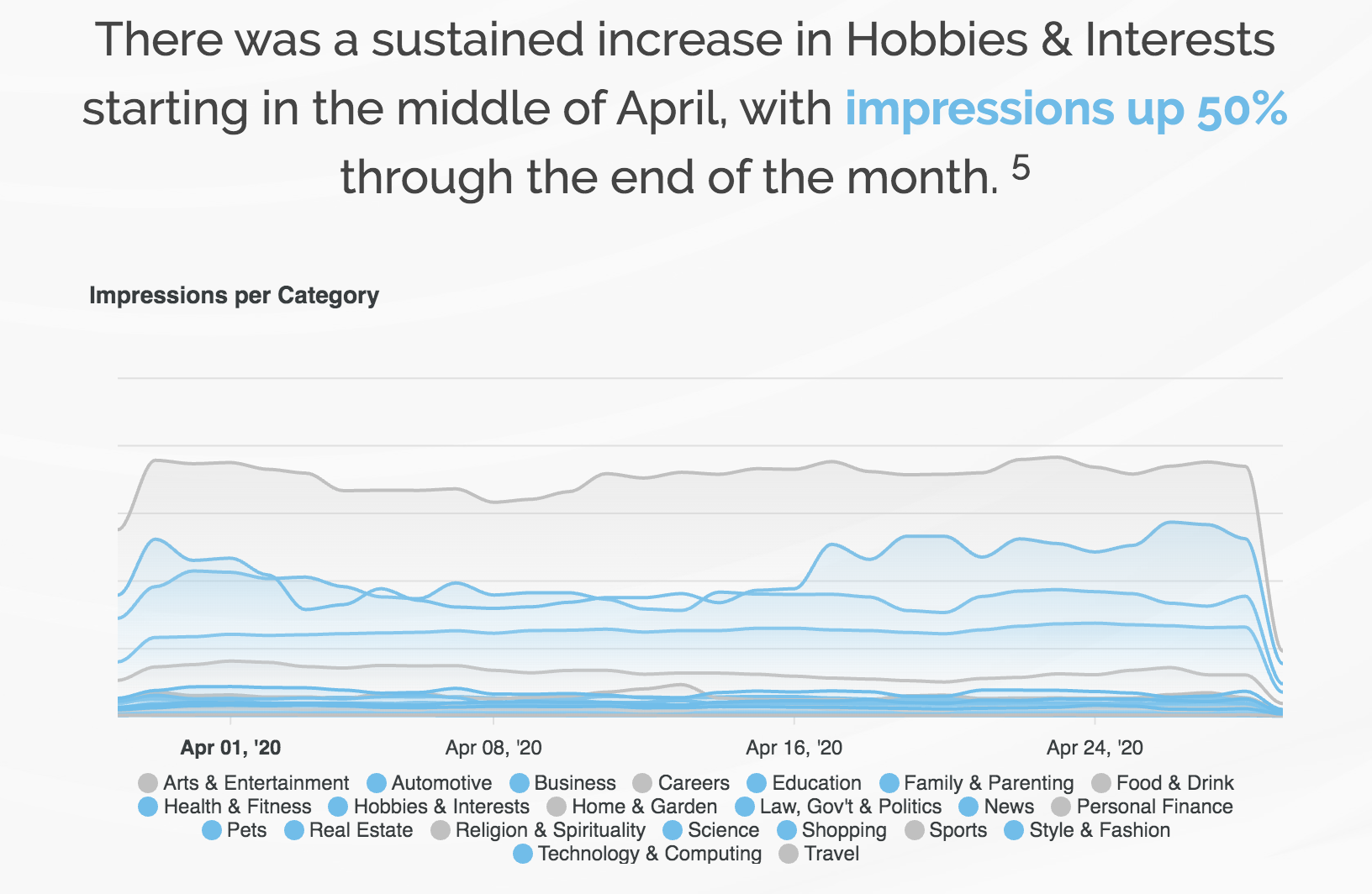 "New essentials" are also experiencing increases in online attention. Shopping and time is being spent on gaming, make up, office supplies, home improvement, health and fitness, toys, and housewares currently make up almost 40% of sales online.
Since it is likely most of May will also be spent in quarantine, people are looking for ways to stay entertained or busy. They will be looking for new hobbies, how-to guides for home improvement, make up tutorials and cosmetic information, game reviews and discussions, and ways to stay fit and healthy while stuck inside. Consider how you can capitalize on these high-performing topics in the next month.
Publishers are protecting their revenue
In the hopes of gaining a bit of control of their destiny, publishers are taking action on advertisements amongst all of the financial uncertainty from COVID-19.
Many publishers fear that as ad tech struggles, they will also fail to pay them what they are owed (much like the Sizmek situation from 2019). To safeguard against this, some publishers have become more apt to check in with their vendors and use data to determine which ones are potential risks. Some points publishers are looking for are the number of sites an ad vendor is selling across, how many bids fail, and poor customer service. This provides publishers with a better understanding and control of their programmatic revenue.
"We've seen a drop of between 20% and 30% in the prevalence of SSPs and bidders from the end of February to the end of April," said Chloe Grutchfield, co-founder of RedBud, a company for data ad tech consulting. However, some worry that a reduction in SSPs will mean tech giants like Google will gain more power.
While some publishers are cutting ties with ad suppliers, others are pulling their inventory.
Much like publishers suffered financially from too much supply and not enough demand, they are hoping now to turn the tables on the ad industry by reducing their supply and increasing advertisers' demand. Many hope that short-term losses will mean long-term improvements and that by preventing an overall flatline, CPMs and RPMs will have an easier time recovering.
While it would take hundreds of thousands of publishers to make a difference across the board, many are thinking more insularly. Since advertising is bidding, and all bids are created by historical data, publishers are hoping to keep their rates higher and thus keep future bids higher.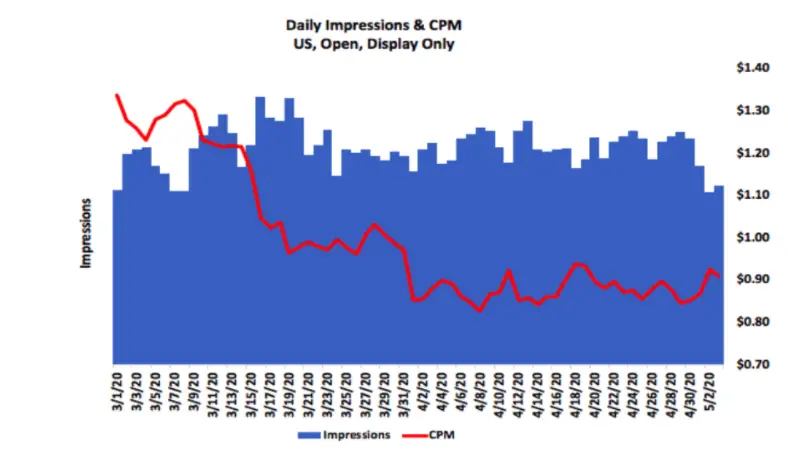 The average open auction U.S. display ad CPM's high on March 1 at $1.34 fell to its low on April 8 at $0.83. Since then, the rate has risen to $0.91 on May 3 but there is little to show it will reach a high again any time soon. While some publishers may have the financial bandwidth to look over their ad tech stack and adjust price floors, many publishers don't have deep enough purses to lose more revenue right now.
Some publishers are considering something called prebid, which is a way to try to improve header bidding results. There are two kinds:
Prebid.js is code
Prebid server is hosted or on the server-side
Using prebid can give publishers a way to be actively involved in their tech stack in ways that traditional advertising tools can't provide and can increase publisher revenue over 50%. There is a caveat, however, as with most good things.
Setting up prebid properly requires extreme sophistication and expertise needed to do it right and is often even more than most publishers' ad ops teams can handle. Prebidding requires knowledgeable configuration, management, and optimization in order to set up, activate, and make money from it. Additionally, you need to know how it is going to interact with all of your other ad demand and bidding.
AdExchanger suggests the following three steps if a publisher and their ad ops team feels up to prebids:
Find what works best for your visitors' user experience
Plan ahead for release control and new settings you will be implementing
Don't do anything without data and testing, and then never stop testing
For the short-term
It is important for publishers to find a balance right now between, supply, demand, revenue, and quality. While you may need the revenue, also consider how this may affect your bids in the future. If you have some wiggle room, think about how you can keep your ad rates as high as possible so the recovery isn't as tedious later on. This may mean pulling some of your inventory for a period of time.
This will also protect your ad space from being filled by lower-quality advertisers, who may have not been able to win a bid until now. Low-quality advertisers can affect future bidders just as much as low bids.
Moreover, consider your ad tech stacks. Which ones seem unreliable or unlikely to pay? It may be time to say goodbye to companies who are going to leave you high and dry.
Keeping revenue diversified is key right now. As we've seen with ad demand and Amazon affiliate cuts, nothing is for-certain, especially during times of crisis. Whether this means considering prebid if you have the means or working on your direct deals, it is never good to put all your eggs in one basket, pandemic or not.
Lastly, keep up on the latest topic trends after the Google update and as quarantine continues. There is a lot of opportunity right now to gain a bigger audience and earn their loyalty and readership even after things return to normal.
 — May 4, 3:34pm PDT —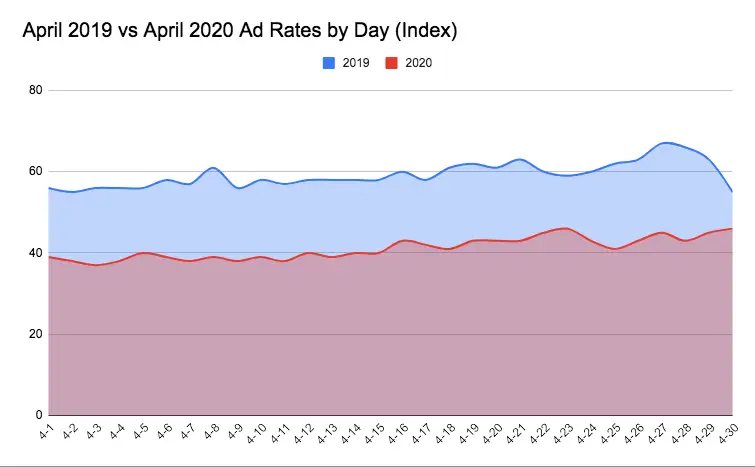 Ad rates have remained recovered into the 40s for the end of April and into the beginning of May.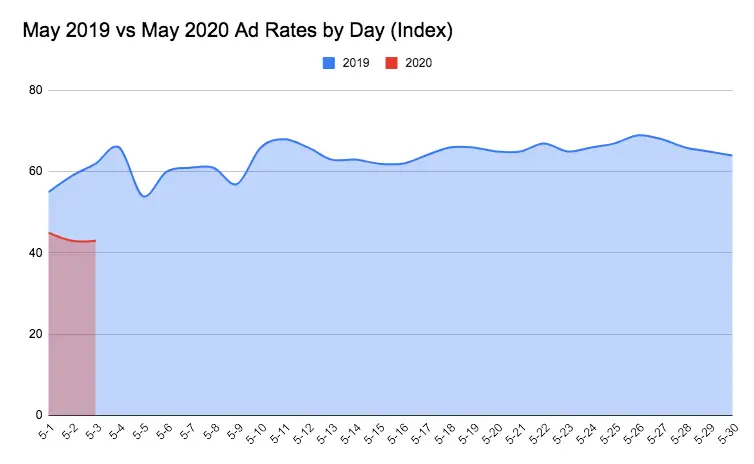 April came to an end off of last year's trend, which saw a decline at the end of the month. This year, they increased slightly before taking the expected weekend dip for the beginning of May.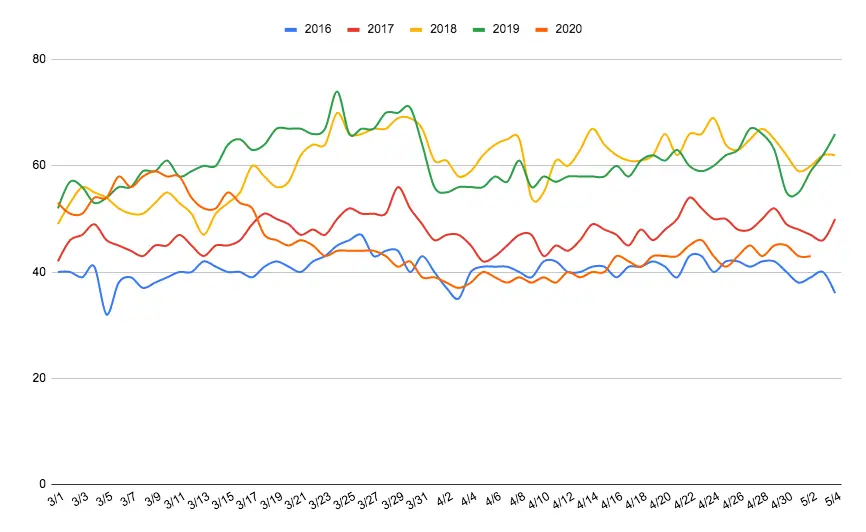 Ad rates also remain above 2016's numbers despite the dip we saw at the end of March and beginning of April.
40% of advertisers are still blocking keywords related to coronavirus / COVID-19, even though it is still a top-performing keyword. Though using words related to COVID-19 still boosts traffic, many publishers know firsthand that more clicks does not equal increased revenue.
This is a combination of blocked keywords and reduced ad spending, which is still down by 63%.
In the UK, there are movements to end blocking words related to the virus, as many publishers and online entities are using terms related to the pandemic in related content but are still getting blocked from advertising. This keeps viewers from seeing possibly the most relevant content to their query and hurts publishers' revenue—data from the Advertising Association and Warc projects revenue for national news brands in the UK to decrease by 20.5%, 24.1 for regional news, and 25.1% for magazines, summing to a roughly £50m decrease in ad revenue.
UK Culture Secretary, the Internet Advertising Bureau (IAB – UK), the Institute of Practitioners in Advertising (IPA), and the Incorporated Society of British Advertisers (ISBA) have all begun pleading to major marketers to stop inappropriately blocking ads related to the virus and to double check their policies. They have been successful with a handful of brand safety companies—like DoubleVerify, Integral Ad Science, and Oracle Data Cloud—in creating an updated keyword guidance for brands.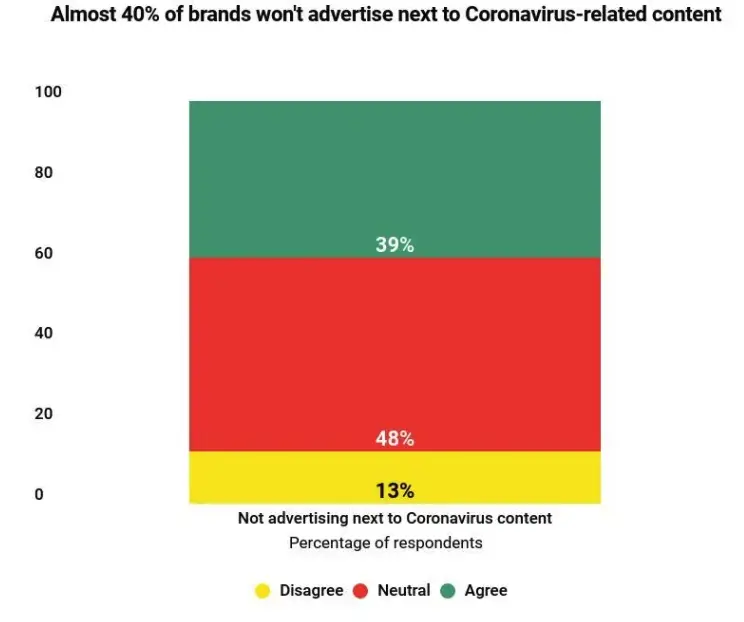 Some agencies are not blocking coronavirus if it is part of the title or a central theme in the content but even then, publishers are taking a chance. Since nothing has changed quite yet, only use words like 'coronavirus,' 'COVID-19,' or 'pandemic' if the majority of your content is discussing the outbreak. Otherwise, it is still suggested that you avoid them because most advertisers will be blocking them for the foreseeable future.
Search is changing right now away from specifically those terms anyway. While the term 'coronavirus' is still popular, with 17% of all impressions last month including the term, its growth has stopped and terms like 'working from home' or 'staying at home' are growing. Consider how you can work these types of phrases into your titles, h2s, and content without every mentioning 'pandemic.'
Google's core update during coronavirus
Google released a core update today, despite the uncertainty of the advertising and publishing space. Per usual, Google suggests focusing on creating great content and looking at the search quality rating factors if your website seems affected. Raters are looking for the E-A-T factors: expertise, authoritativeness and trustworthiness. Though Google will never say what is and isn't a ranking factor, the update suggests that following EAT factors may help signal to Google's ranking systems. Also, as always, it is important to not take any negative occurrences on your pages as definitively a part of the core update.
Things publishers can control
SEO still drives 22% of all website visits. Though Google is pushing out a new core update, aggressively changing anything is not recommended during this time. Keep optimizing for SEO but do not try anything super new or big; otherwise, you won't know if the changes are from the new Google core update or from your new strategy. Wait first to see how your website is affected by the update and then consider any updates to your SEO optimization.
Mobile phones are more than 60% of all visits. Make sure your website is optimized for mobile, even if the majority of your visitors come from elsewhere.
Content is still King during these times. If you're going to be writing about coronavirus, make sure your information is accurate and that your data is from reputable sources—now, more than ever, readership is increasing for sites that people trust and visitors will quickly abandon your site for good if they sense something is off.
Programmatic housekeeping is growing in popularity amongst publishers right now while advertising is down. Consider how you can improve things like page-load times, ad tech stacks, and keeping yourself and your team educated on current programmatic developments. Ezoic's Site Speed Accelerator promises nameserver-integrated desktop and mobile sites an 80+ Google Pagespeed Insights score with built-in features taken straight from Pagespeed Insights.
 — April 27, 9:48am PDT —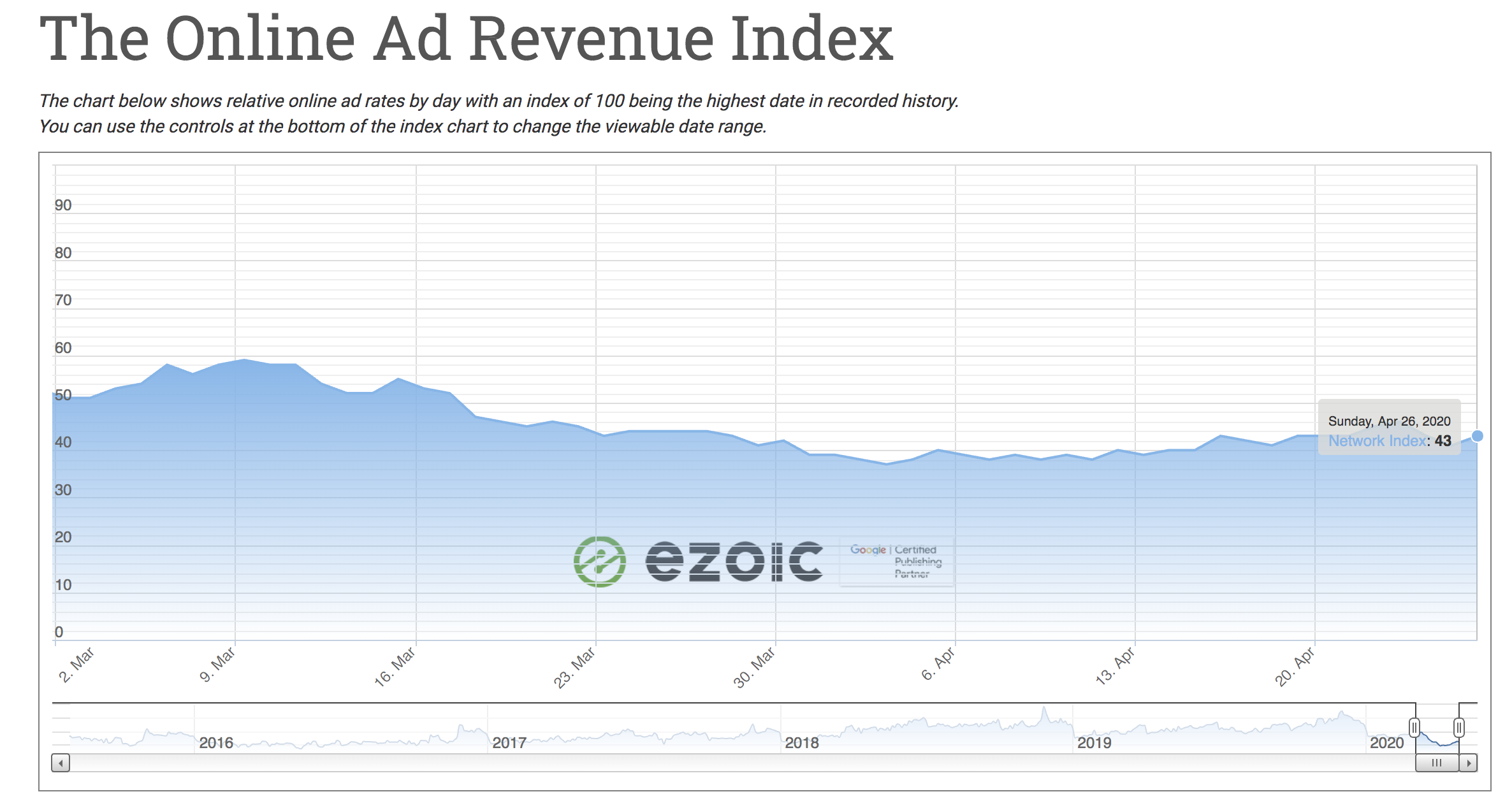 Ad rates are consistently staying above 40 as businesses are trying to anticipate when the economy may open back up. In the post prior to this, we discussed how many advertisers are putting increasingly more money in advertising, at the cost of pushing payment terms with publishers. Many of these businesses are hoping for higher conversions since online shopping is more popular than ever. They are also trying to get out in front of their competitors as the economy slowly opens up.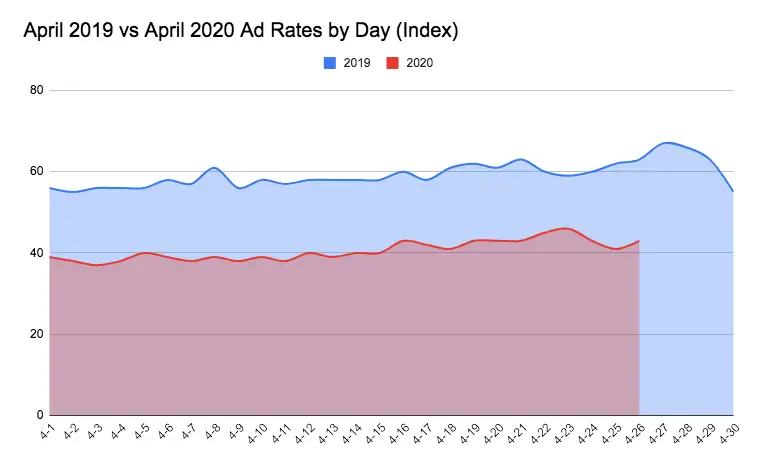 Specifically, many B2B brands are spending more on advertising because they are cycling through PPC campaigns at a much faster rate. It was originally thought that buying cycles would slow because almost all businesses are working from home but this has actually proven the opposite—many are going through buy cycles at 12 times the usual rate. This is largely be due to companies trying to find things for employees to do during WFH and less red tape to get things moving.
This can be an opportunity for publishers if they have advertising relationships with B2B brands; these companies are cycling through their campaigns very quickly and will need to begin new campaigns at a higher rate. If you're able to position yourself properly, you could reap the benefits.
People are on their phones increasingly more—are you?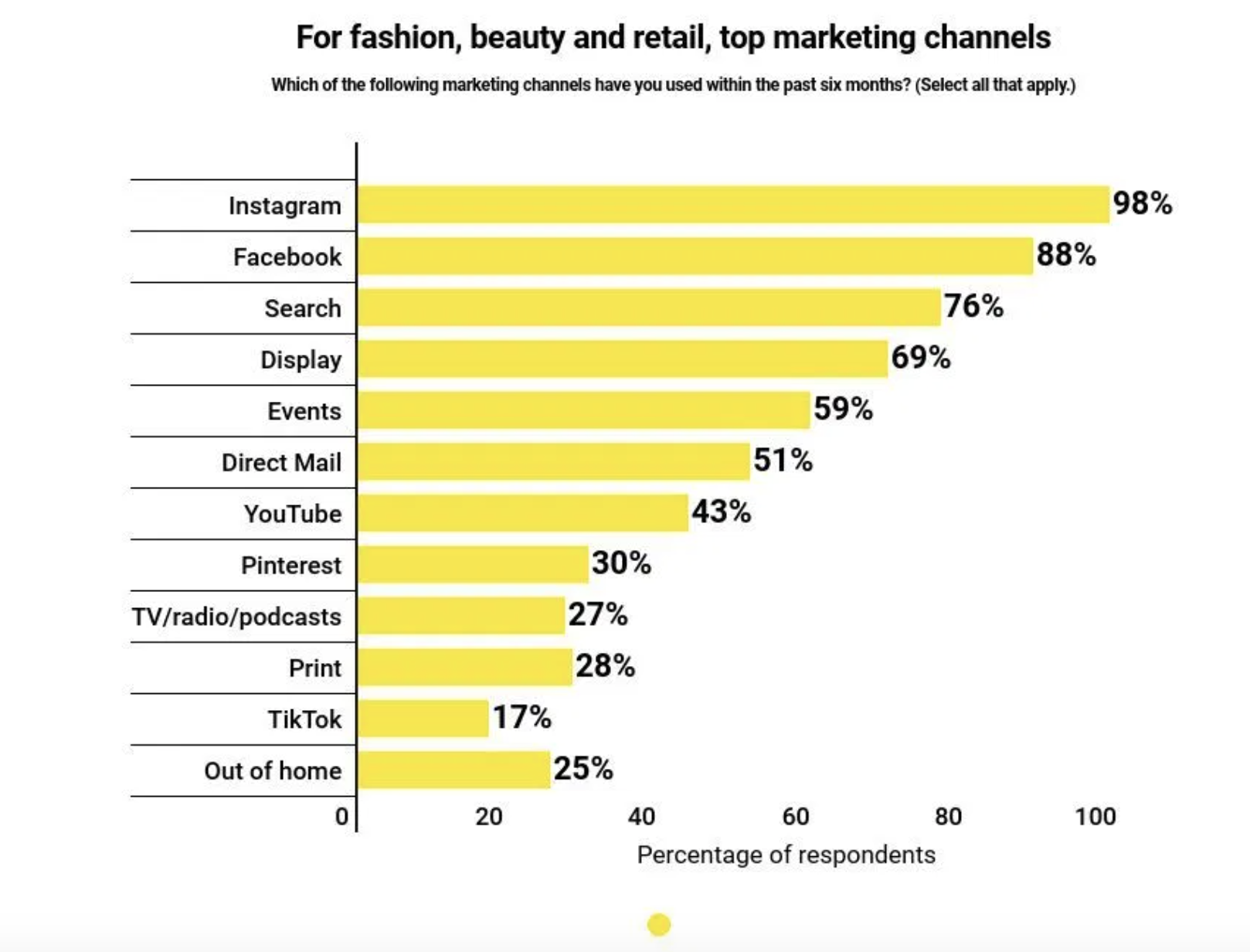 Some advertisers are spending more money on social media than on Search or Display during COVID-19, which signals how important these platforms are right now. Even despite coronavirus, it is expected that social network ad spending will increase 20.4% during 2020, bringing the total to $43 billion.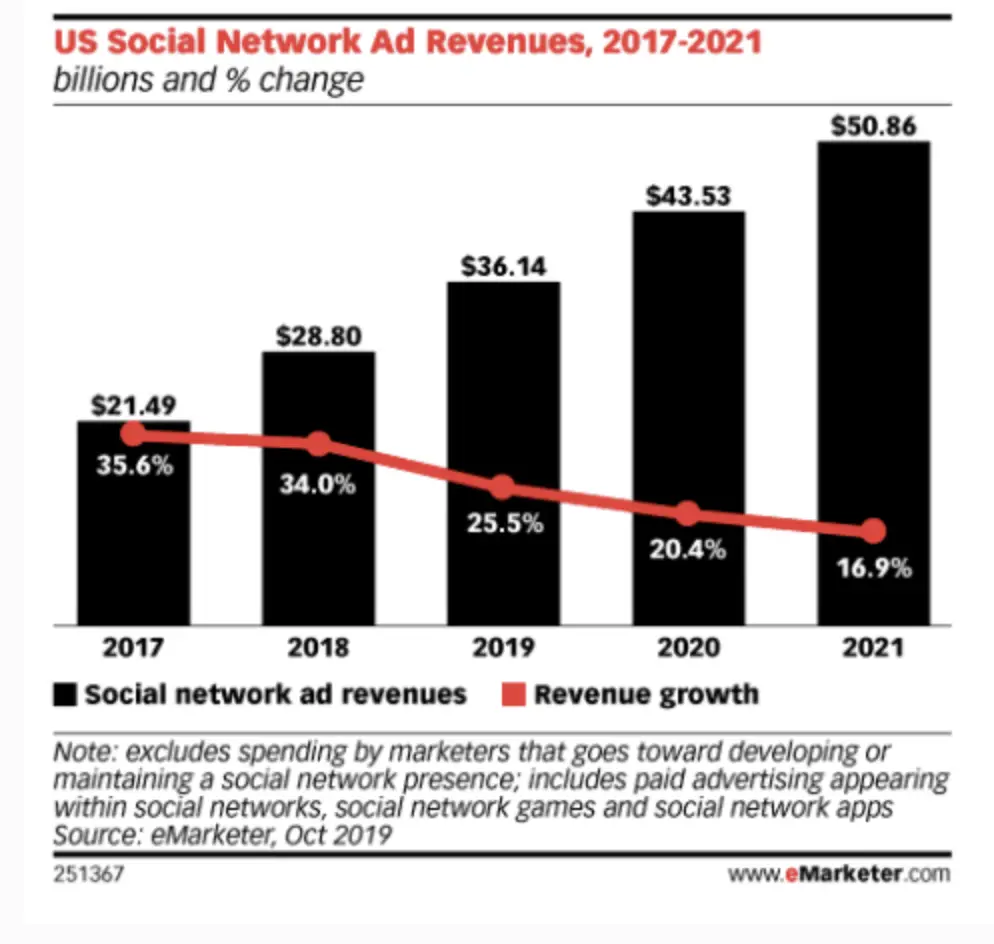 Ezoic always encourages publishers to practice mobile-first optimization just as much, if not more, than desktop, but right now it is more important than ever. In previous posts, we have reviewed multiple sources that report people are on their phones more than ever during COVID-19. Mobile has been taking over desktop for awhile now but has increased at an unprecedented rate during the pandemic. According to Statista, a business data platform, social ad impressions are up 20%, year over year.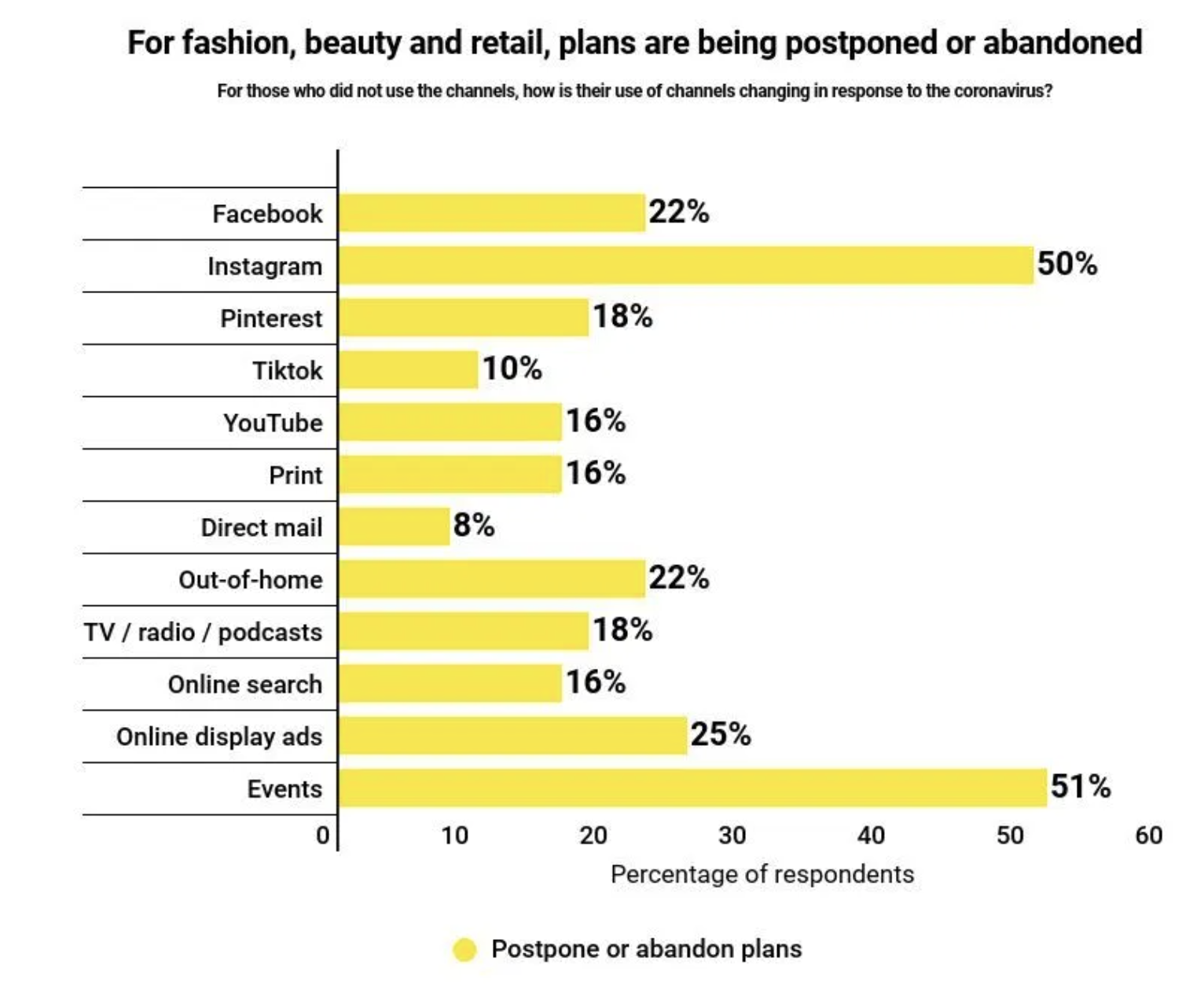 While this rate will likely not hold after coronavirus, some things will certainly not 'go back to normal' and in many instances, some have expedited. These times have caused a heightened personal and emotional response by viewers and how publishers and brands react will stick with people long after the pandemic passes. This is why is it so important to make sure your site is mobile-friendly and to invest in your social media accounts right now. Consider how you can make social media users' experience coherent; many people want order and familiarity right now, so consistent messaging is extremely important.
Q4 will not save the day (or year)
Many advertisers and publishers came into Q2 knowing it was a wash with the way Q1 ended, most focusing on what they could do to avoid layoffs and furloughs, and just stay afloat until the economy is more stable. Though coronavirus infection rates and deaths are slowing, many now also believe Q3 is not going to make much of a difference. This leaves many looking for Q4 to be their Hail Mary.
Leaders in this environment caution against that mentality, however. Though it is likely Q4 will be better than Q2 or Q3, it is not going to be the quarter that recoups revenue for the entire year, even with Black Friday.
This is because though the economy may open, getting things back and running similarly to before the pandemic will be slow. Many businesses lost a lot of employees and revenue. Many people were hit financially. The likelihood that the economy, and thus the online advertising space, will be functioning at full speed in time for Q4 to save everyone's year is very unlikely. Additionally, these businesses and people's behaviors during coronavirus may change the way the entire game is played even when the pandemic passes. It is best to not set your sites too hard on the promises of Q3 or Q4.
Ezoic customers know they are getting the best balance between revenue and UX with Ad Tester, no matter what is going on in the world around them. Ad Tester uses real artificial intelligence to learn about your visitors over time and provide each visitor their best UX and ad experience on your website. Read more about Ad Tester on our website.
— April 24, 6:39pm PDT —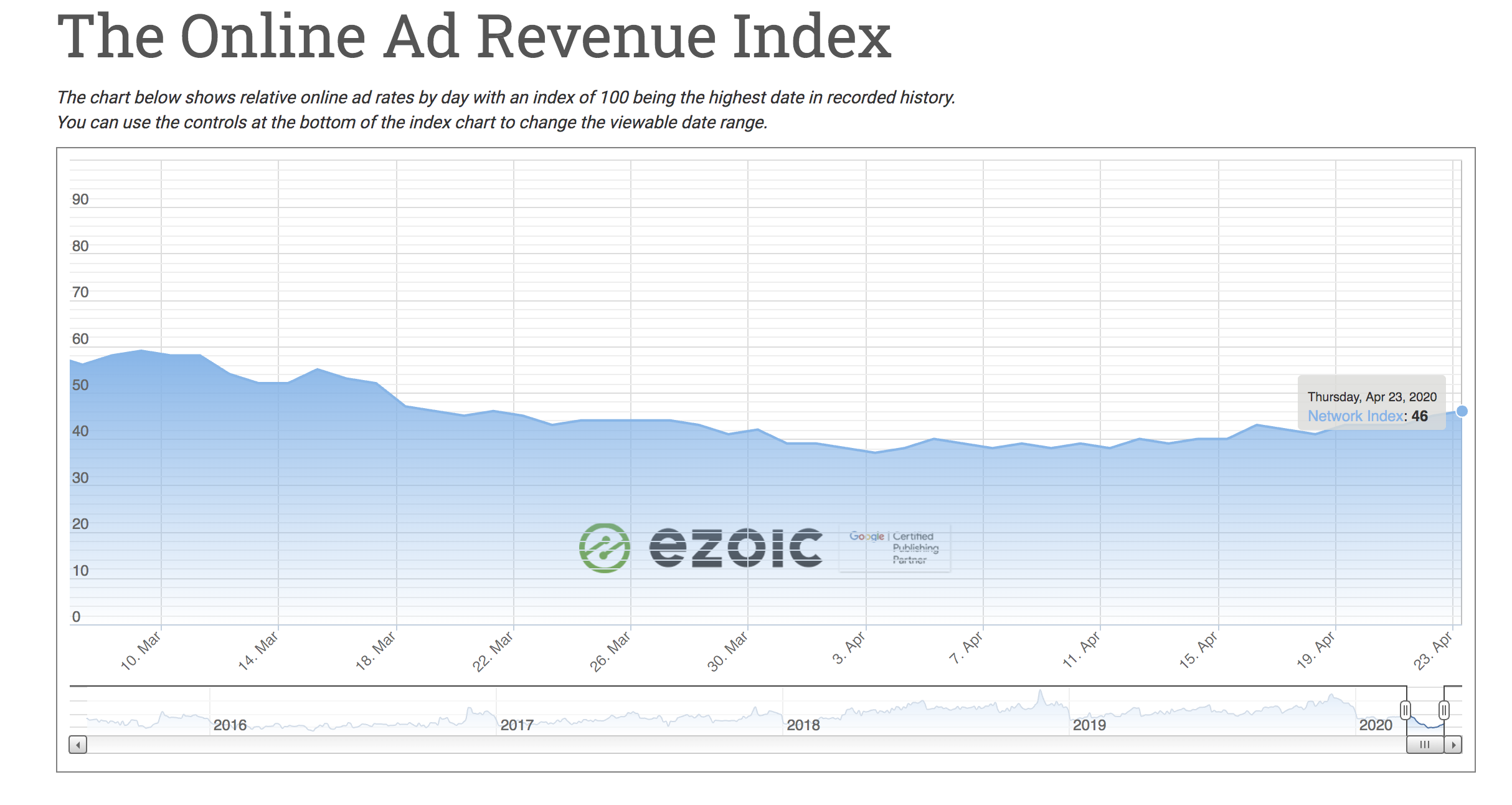 Ads are improving slightly, though as is typical with most weekends, there will be a slight dip once more. It is possible we might have seen the worst of ad rates already.
In a recent report by Bond, an investment company, asked multiple companies about their new remote work situation.
Businesses reported that:
productivity is the same or higher
video-based information sharing and editing is very effective
people outside the company feel more included
it's easier to bring in people outside of the company for video chats
These insights can help publishers, even those whose business was already remote before the pandemic. Communicating with your team via video is the most effective way to relay information. Additionally, it is easier than ever to have outsiders on video chats. Publishers can capitalize on this by conducting video interviews with people from within your content niche.
Video keeps growing
Not only is video chat the preferred way to communicate, but video consumption itself was already up 500% in mid-March.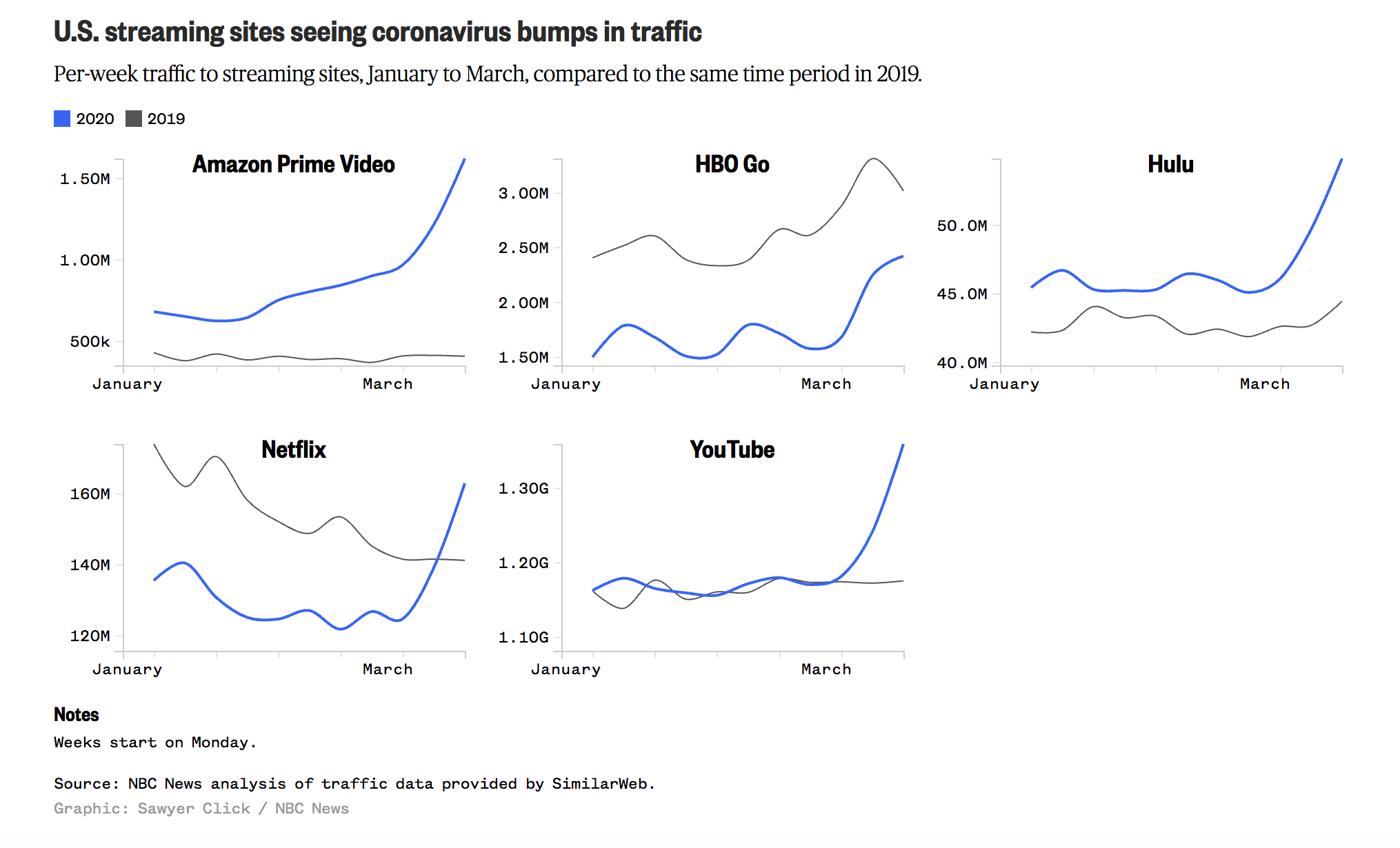 Communications professor David Craig, University of Southern California, said many video sites and applications have seen views and  subscriptions increase anywhere from 20-60%.
Other digital transformations are also emerging during shelter-in-place. Developing an online presence is easier than ever but doing it right is more important than ever. Potentially thousands of people will be viewing your site and if your online 'brand' or 'persona' is not clear active, you risk losing potential traffic growth. Social media is also growing at unprecedented rates; publishers with a social media presence should capitalize on the extra traffic to direct attention to their website.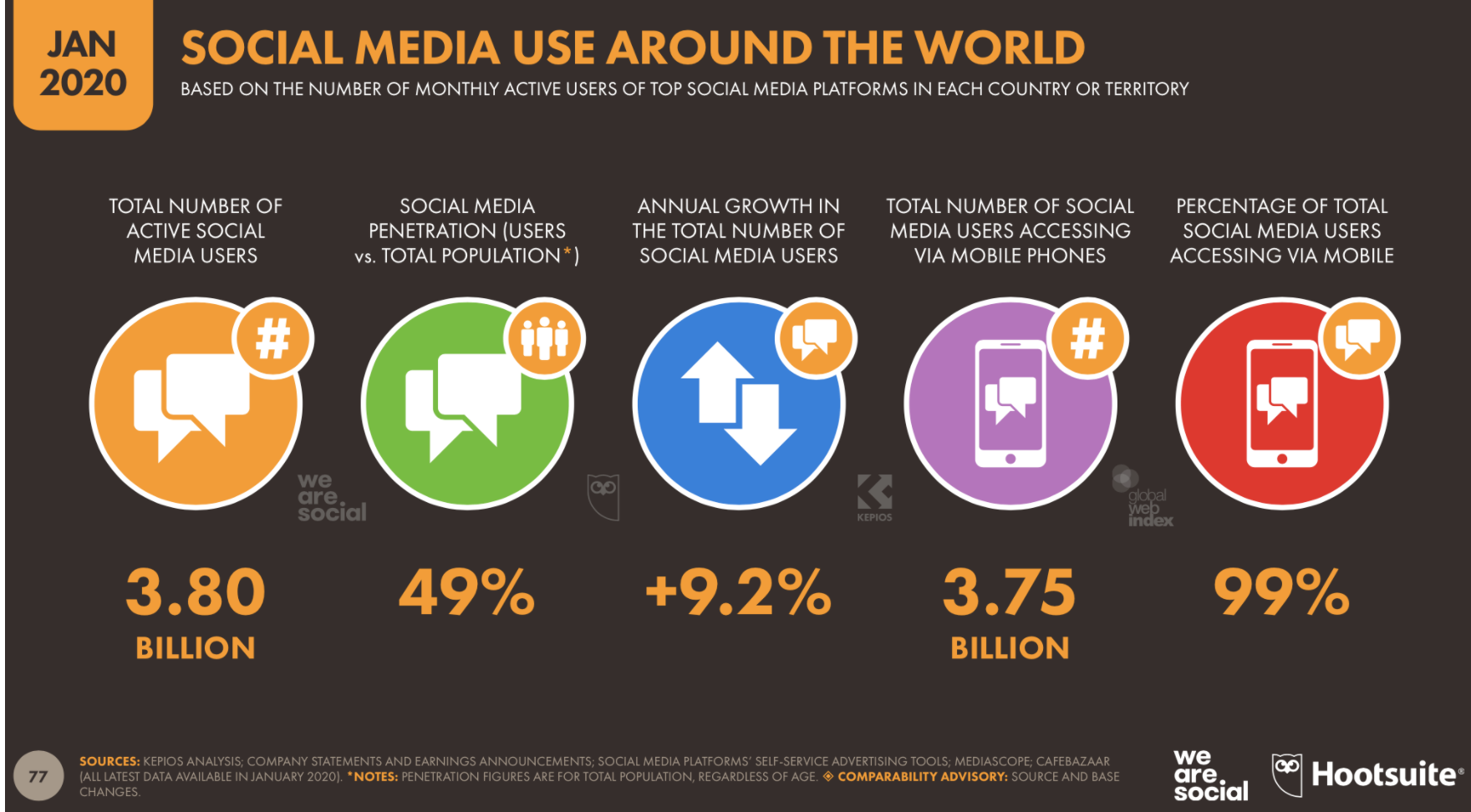 Before the pandemic was as worldwide as now, social media was on the rise and mobile use was increasing.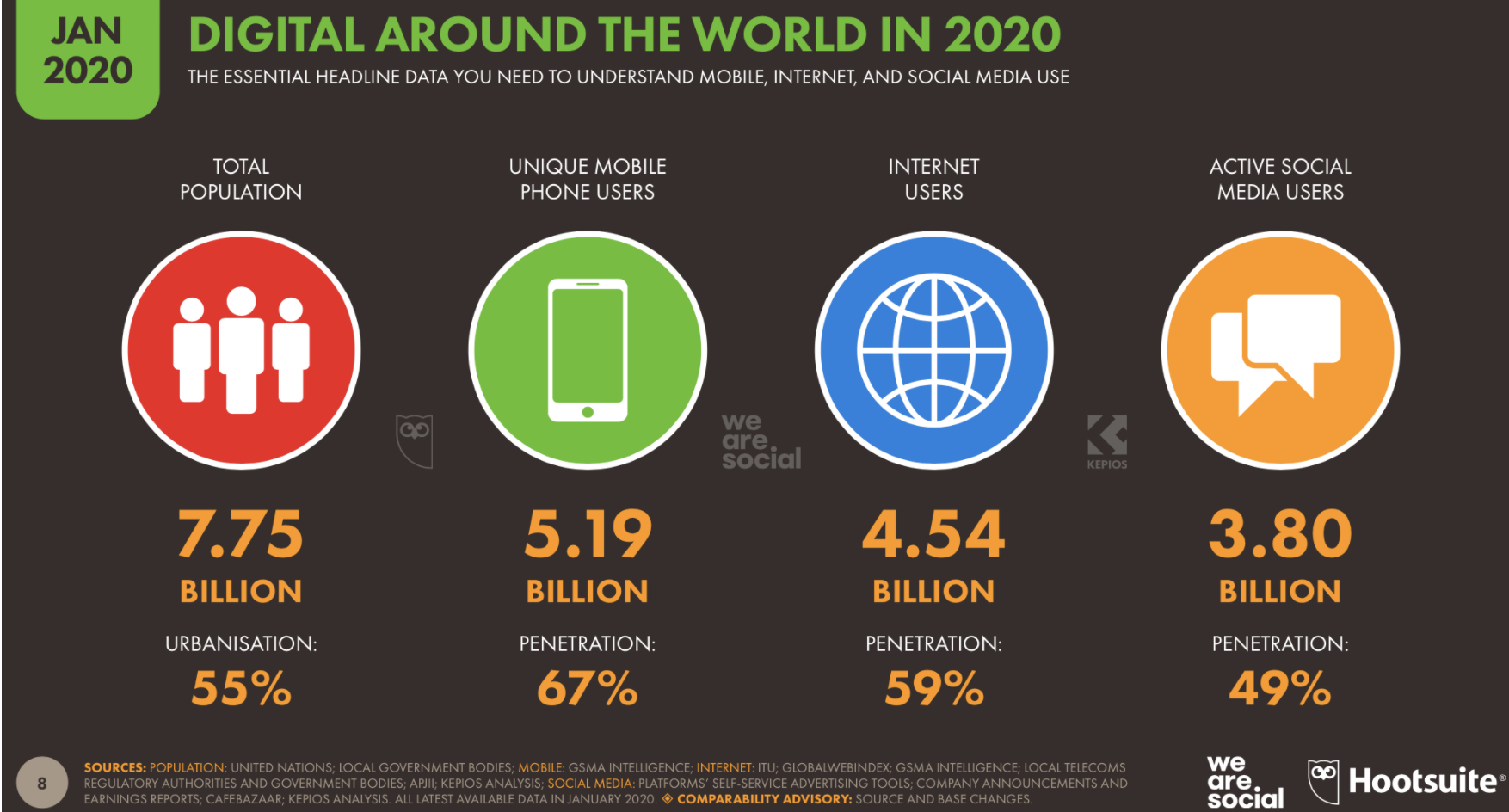 Despite all of its security and fake news problems, Facebook is still the number-one used social media platform. YouTube is just shy of 2 billion users–another reason to invest in video content.
Understanding how different visitors behave on social media is also important. Research by GlobalWebIndex show that Gen Z is relying more heavily on online brand discovery and research than any other age group, followed closely by (the majority of) the Millennial generation.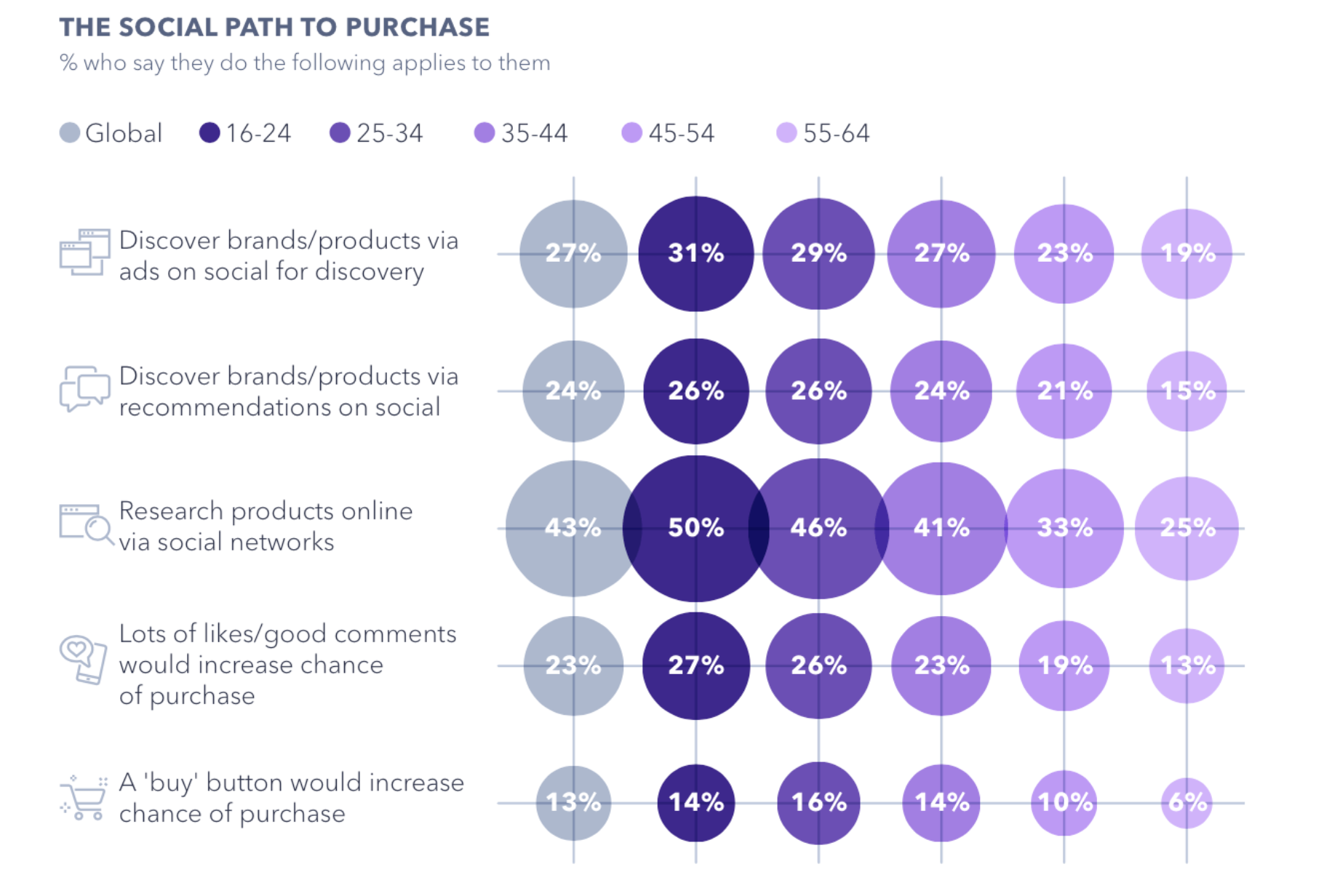 There is also a major shift from in-person product sales to digital sales, with as little-to-no contact as possible. This translates to local stores adapting to sell products on informative, relevant websites. This is a great opportunity for publishers in a specific niche to work with local or nationwide niche businesses on ad deals; they get to advertise directly on a site that will have potential customers and you can make money on any clicks or sales.
For publishers with a team, keeping that team on the same page during complete remote work may be difficult. After a month and a half of remote work, many businesses working remote have questions regarding the following:
How to ensure creativity and productivity is maintained
How different teams work – some may work better in-person while others may work better remotely
How to maintain the culture and engagement with the the company from a distance
How to remain secure, as more sensitive information and passwords are being shared online during the pandemic
How recruiting is different or will change in the future with no physical office
How to best use the office space once the pandemic has passed
How travel and entertainment will change
These are questions business owners, including publishers with teams, should consider as we work through the pandemic and start to imagine what life will be like afterwards.
Payment to publishers gets dragged out further
All across the internet, many publishers have experienced a delay in payment from advertisers since the beginning of the pandemic. While many agencies already have lengthy payment terms, data by invoicing and capital company, FastPay, shows that delays on payments to publishers and media agencies have increased by 20%. It is likely these terms will continue to get worse, as the data was only from a few weeks' of data during the pandemic.
This may come as a surprise, as FastPay also reports that FastPay loan requests have increased three-fold and ad spending has increased 40%.
Ezoic customers will never experience late payments, as we follow Google payment terms and always pay on time.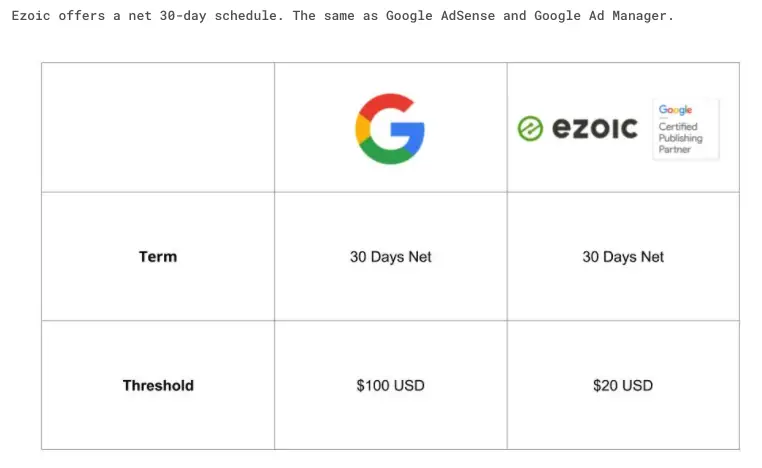 See Ezoic's free and paid features here and see the payment terms on our FAQ page under Monetization.
— April 20, 6:54pm PDT —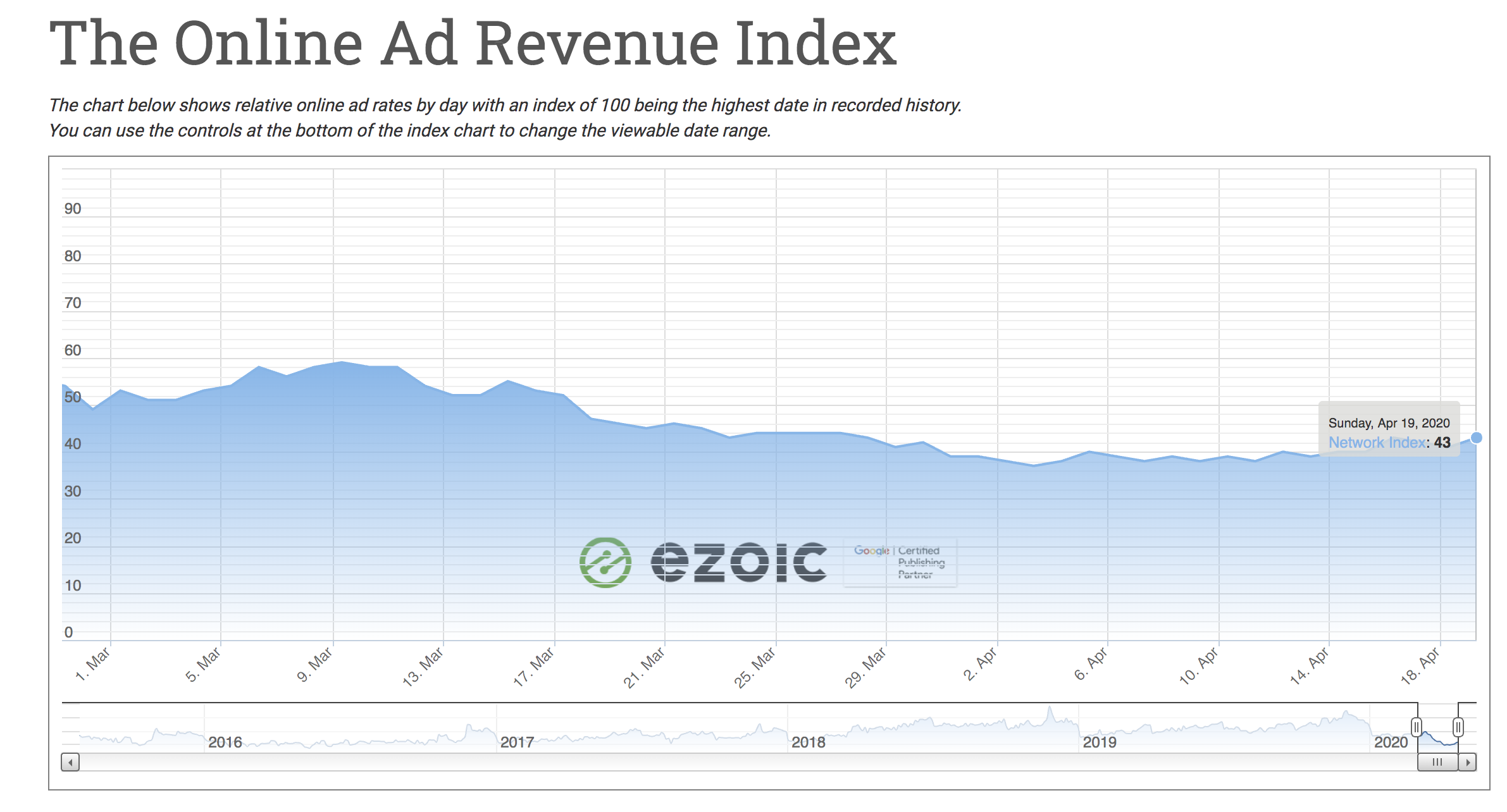 The ad revenue index is seeing a slight recovery after the low of 37 we saw on April 3, 2020. There is still not enough data to confirm, but it is possible we are coming up out of a valley.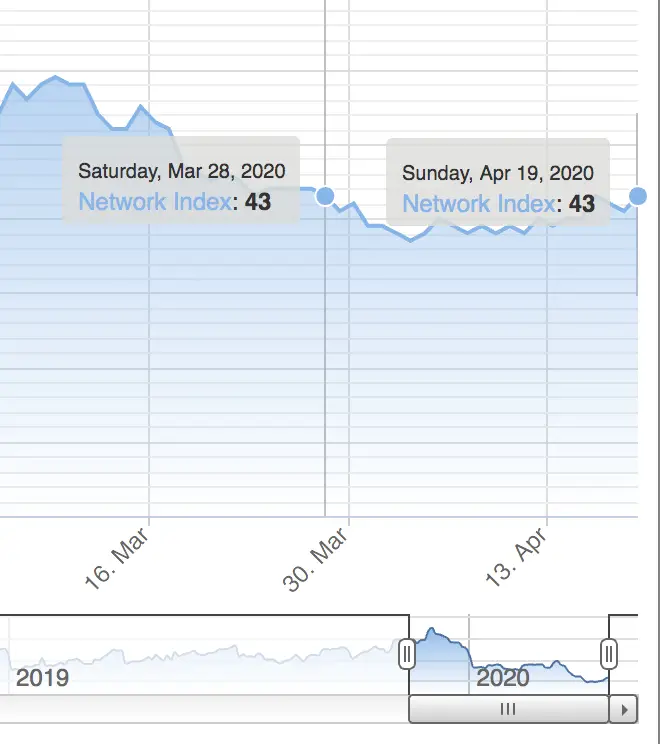 Since March 28, 2020, ad rates have averaged at 39.82, so this average is likely to rise over 40 in the next few days.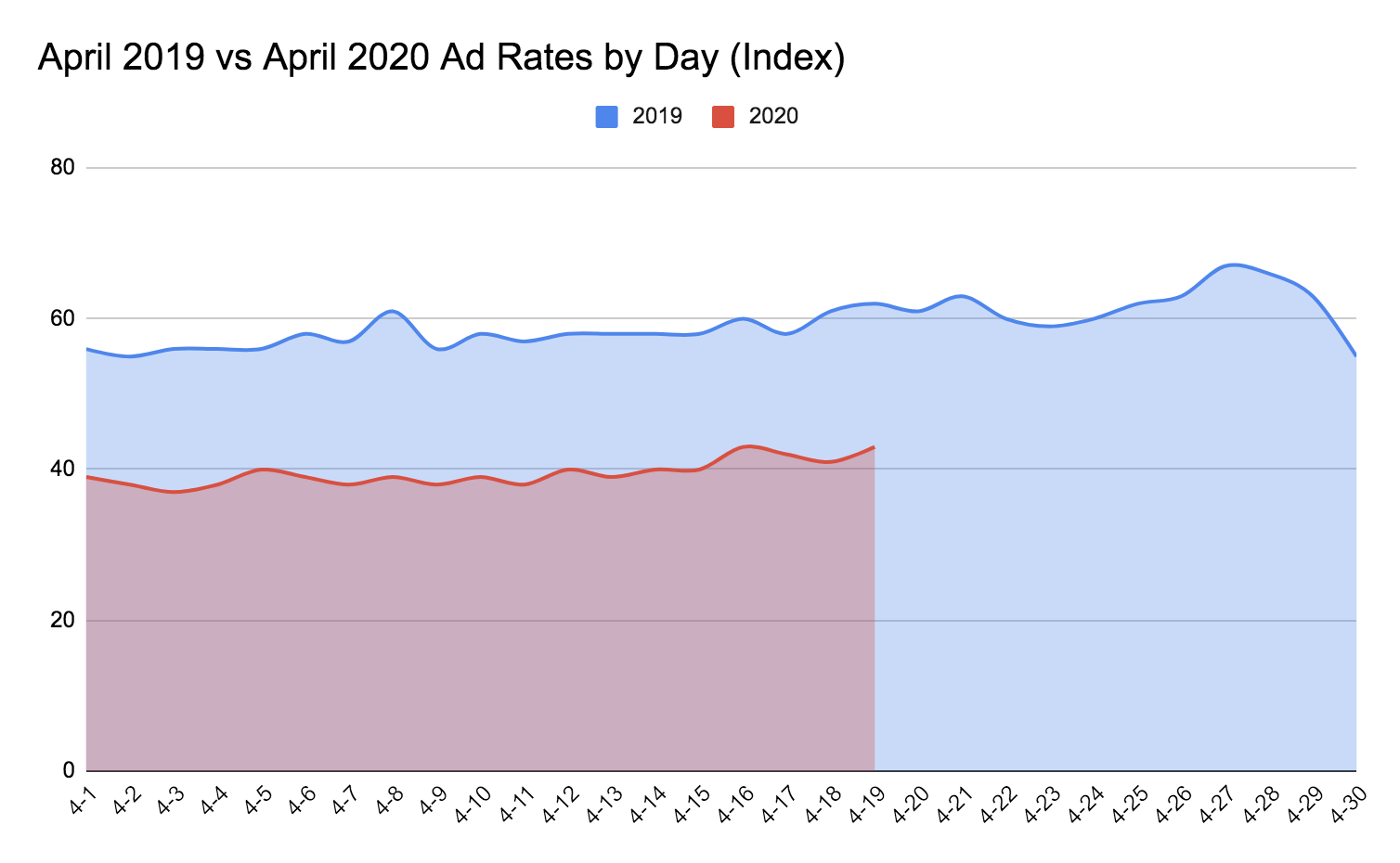 As we reported last week, Amazon slashed its affiliate rates, in many cases, by over 50%. This comes as a blow to many publishers, who are still struggling to make revenue from display advertising.
Publishers will remember back in 2017 when Facebook made some major algorithm updates. Those who suffered most were the publishers who relied heavily on Facebook rather than strengthening their own website or other platforms. Many publishers were hit hard and had to learn the hard way that you shouldn't put all of your eggs in one basket. A lot of publishers responded by strategiziing appropriately through more diversified revenue.
While some publishers may have learned their lesson, many publishers took diversifying revenue and simply changed it to diversifying dependence on other platforms, namely Amazon affiliates.
COVID-19 has increased traffic to many publishers' sites and has also led to greater traffic to ecommerce sites, such as Amazon. However, coronavirus has also caused a great disruption in the supply chain and unease in the economy. Amazon has been working to decrease traffic and demand from non-essential products since mid-March and  even directed its top publishers to stop sending them affiliate traffic. This has now trickled down to affiliate rates.

Sites that offer affiliate deals—including Walmart, ULTA, and Best Buy—are adapting similarly to the economic uncertainity by decreasing traffic to non-essentials and either pausing or cut their rates. Publishers looking to switch their affiliate links and products to other categories risks losing relationships in their current categories and waiting months to see turn around.
Additionally, retailers may see Amazon and other large ecommerce sites cutting their rates and follow suit. Amazon—and other major platforms—do not need the affiliate relationships; cutting them is in no way a risk for them.
The risks of relying on other platforms is something we have discussed in Ezoic blogs and videos before—by relying on others heavily, you are running the risk of losing what you can control. We always encourage our publishers to be as independent as possible and only use other platforms for enhancing or boosting an experience.
— April 15, 3:11pm PDT —
About a week ago, we interviewed Robert Diamond of BroadwayWorld.com on how his website, which covers everything from local to the global theater, has found ways to keep producing content, stay afloat, and remain sane during the COVID-19 pandemic.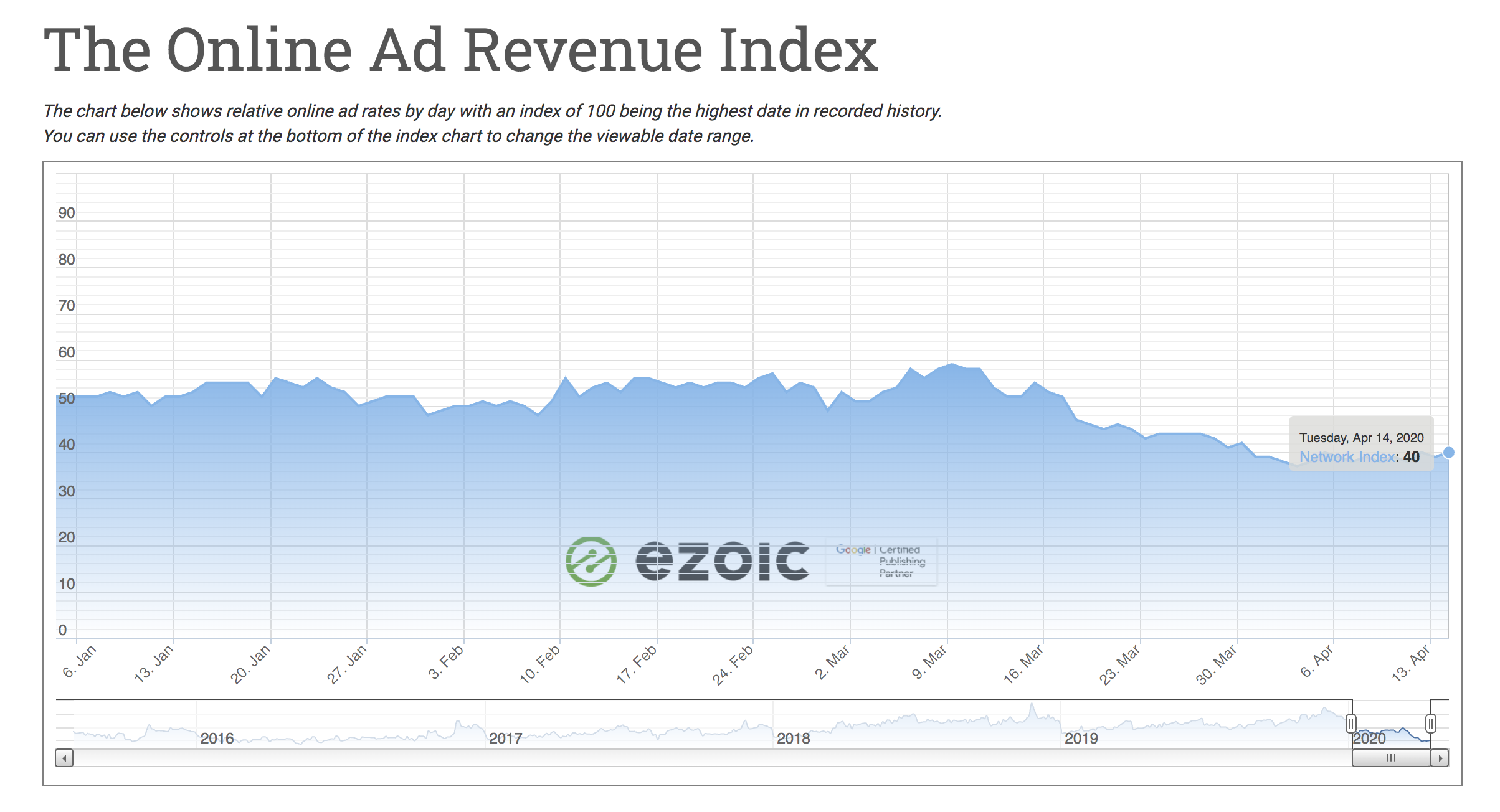 Ad rates are hovering around 40 since the beginning of April. For those unfamiliar with our Ad Revenue Index or how it works, it is comprised of ad rates publishers are being paid for their ad inventory across the web and then is normalized and modeled on a scale from 1 to 100.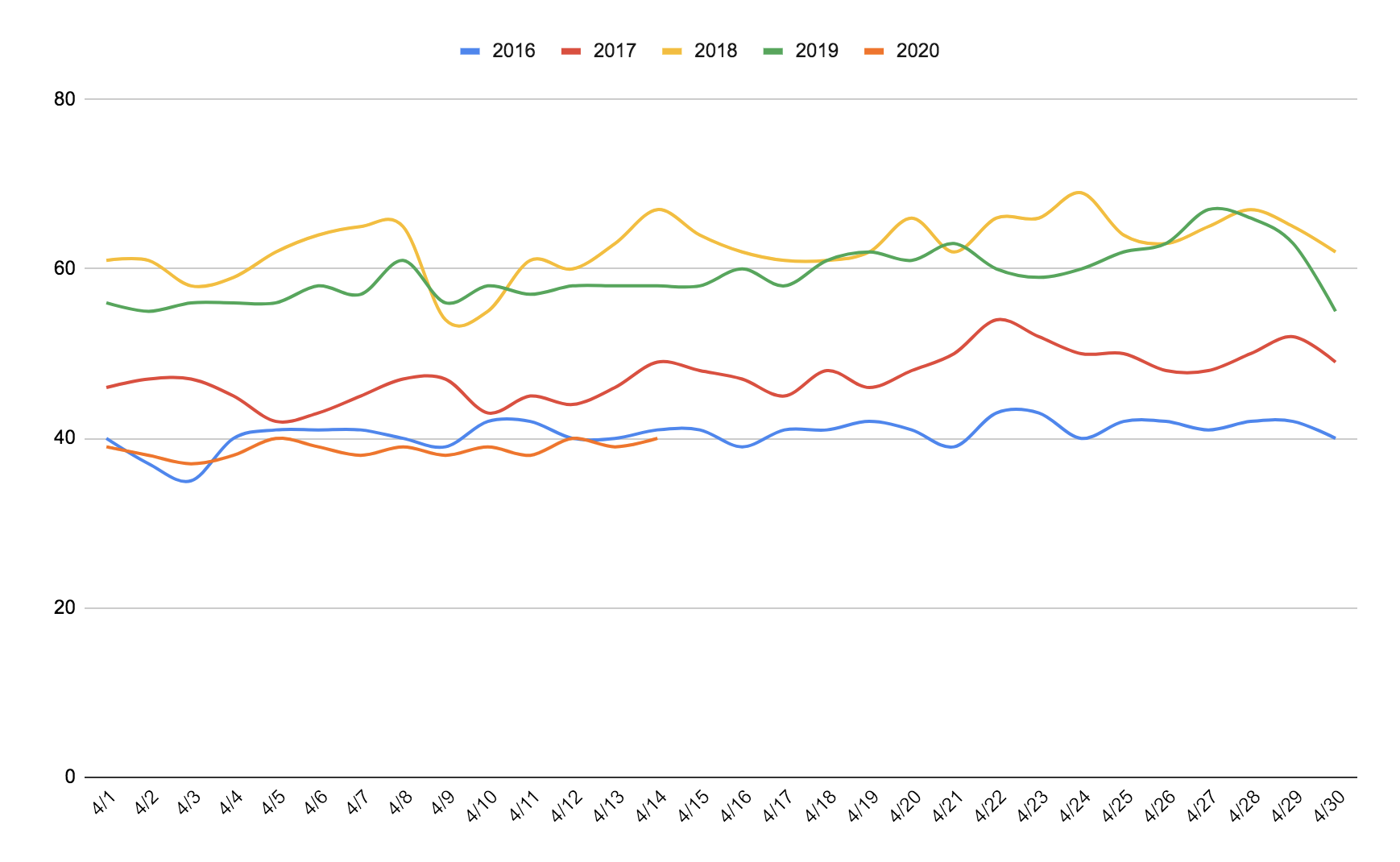 Economies are beginning to rustle in countries where COVID-19 has peaked and many other countries are better adjusted to the changes coronavirus has caused, creating a bit of stability in an otherwise unstable time. These ad rates are still very similar to rates in April 2016 and it is likely that pattern will continue as economies recover, with slightly higher ad rates at the end of the month.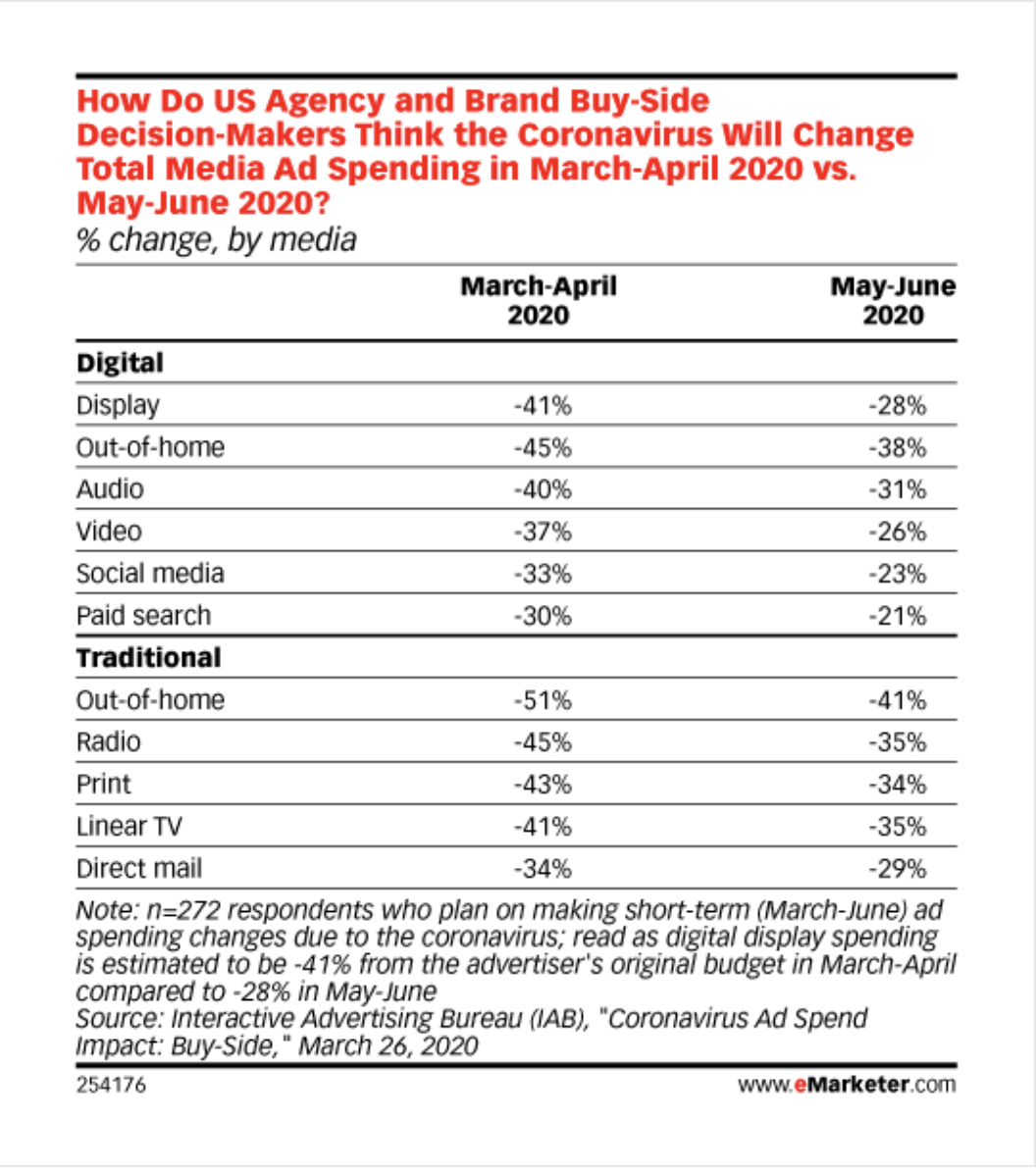 However, a study by eMarketer predicts that display advertising spend will be down 41% for March-April 2020 and 28% less than in May-June 2020. Other forms of advertising are also experiencing declines.
Additionally, search ad spending (or advertisements at the top of web searches that mirror how search results look) will decline between 20% and nearly 40% in Q2 on a year-over-year basis. This drop is mostly due to how the nature of search budgets is noncommittal and that most search is geared towards conversions, usually to stores, which aren't operating at normal capacity or at all.
Perhaps the most recent blow to publishers is Amazon's recent announcement that it is changing its Amazon Associates Program Operating Agreement and Program Policies on April 21, 2020, though there was no comment on whether it was pandemic-related.
Below, we can see what the rates were before and how they will change on April 21st.
This means that product commissions will decrease, on average, 50% or more. As many publishers were attempting to balance the revenue loss from programmatic with affiliate deals, this could have a big effect on revenue.
When can we expect a positive turn for advertising?
A study from the University of Washington shows approximately when each US state will reach its coronavirus peak; many smaller states have peaked or are peaking now while others won't peak until the end of April or May.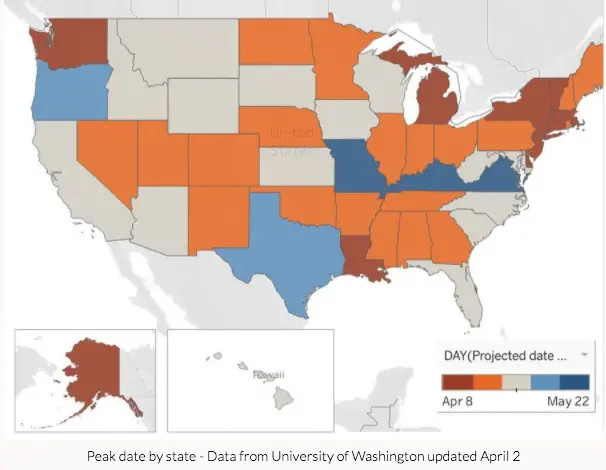 These trends are important for everyone, including publishers, to follow because it will determine when markets begin opening up again and advertisers will increase spending.
As stated before, digital advertising is one of the most flexible things to cut or increase, so it is likely companies will begin advertising as soon as financially and strategically feasible, especially while everyone is still on the internet during these slow transitions. It is impossible to really know how advertisers will act since they are relying heavily on the rest of the market and shelter-in-place mandates, so it is still in publishers' best interest to diversify where ads show on their website, how many, what size, and what kinds.
Tyler Bishop, Ezoic's CMO, was recently published by DCN (Digital Content Next) and discusses ad optimization's importance.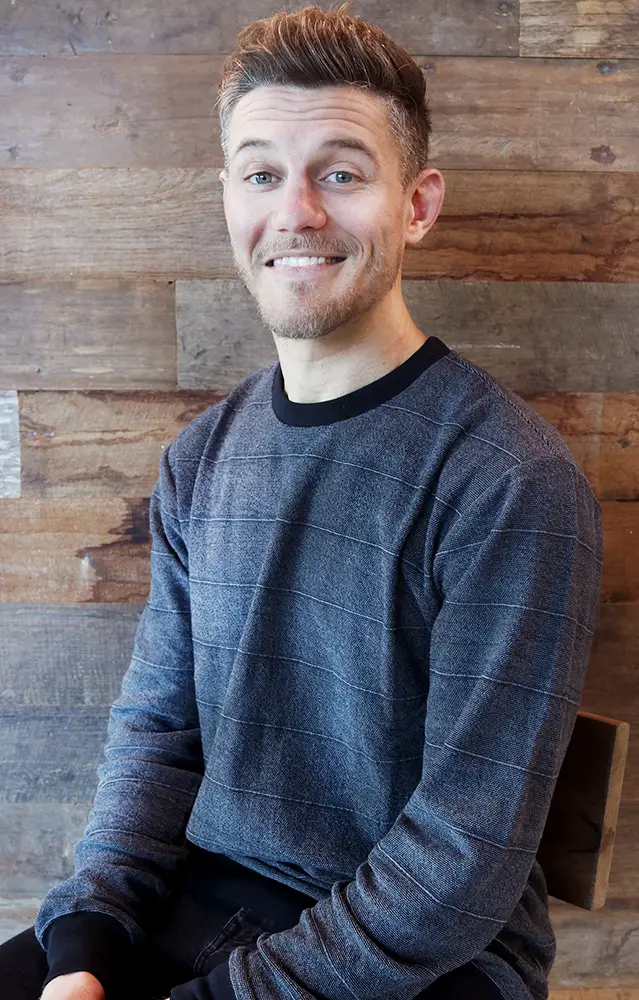 "Until then, publishers really need to be focusing on optimizing the number of ads on the page, their sizes, and locations. Ultimately, this is the only leverage they have to restrict the supply as the demand continues to diminish. This is especially true of sites that are in travel or other niches whose advertisers are most drastically impacted."
Ezoic's Ad Tester uses artificial intelligence to make thousands of these decisions every second a user is on Ezoic publishers' web pages. We encourage our publishers to focus on making their site as optimized as possible to get the best out of any scenario (including negative ones).
While website ad revenue is still down, what is increasing for some is newsletter ad revenue.
Newsletters are particularly popular right now because people have more downtime than ever to read and learn. Many of our own publishers have created new newsletters or ramped up their old ones, such as CultofMac.com, who we recently interviewed for our video series, Ezoic Explains.
An analysis by PowerInbox, a service for publishers to monetize their newsletter, of over 500 publishers showed that their publishers saw a 24% increase in revenue from their newsletters than a few weeks before.
Though it is true ad rates are still lower, even in newsletters, the rate at which these newsletters were opened had increased by 20% and the click-through rate 22%, resulting in higher overall revenue. While this isn't a fail-safe or even a guarantee for all publishers, it is a strategy to consider if they have a successful newsletter.
Another medium of media experiencing revenue growth during this time is podcasts. As with newsletters, people have more time on their hands sitting at home, looking for entertainment or ways to learn. While this may only benefit larger brands with reputation, publishers who currently have podcasts with advertisements should consider how they may make more money from the advertisements.
This is especially true for niche publishers. Ad buyers are more likely to spend money on targeted advertising, such as in podcasts, because most podcasts have a singular focus and interest that is widely known–an advertiser's dream.
How the internet is changing during the coronavirus pandemic
Everyone is consuming more media right now, but where, how, and how much media is consumed varies by age group. In a survey by Global Web Index of 4,000 internet users, 87% of US respondents said they were reading, watching, and listening to more content and media than before the pandemic; 80% of UK respondents are consuming more. The survey ran March 25-30, 2020 for users between ages 16 and 64.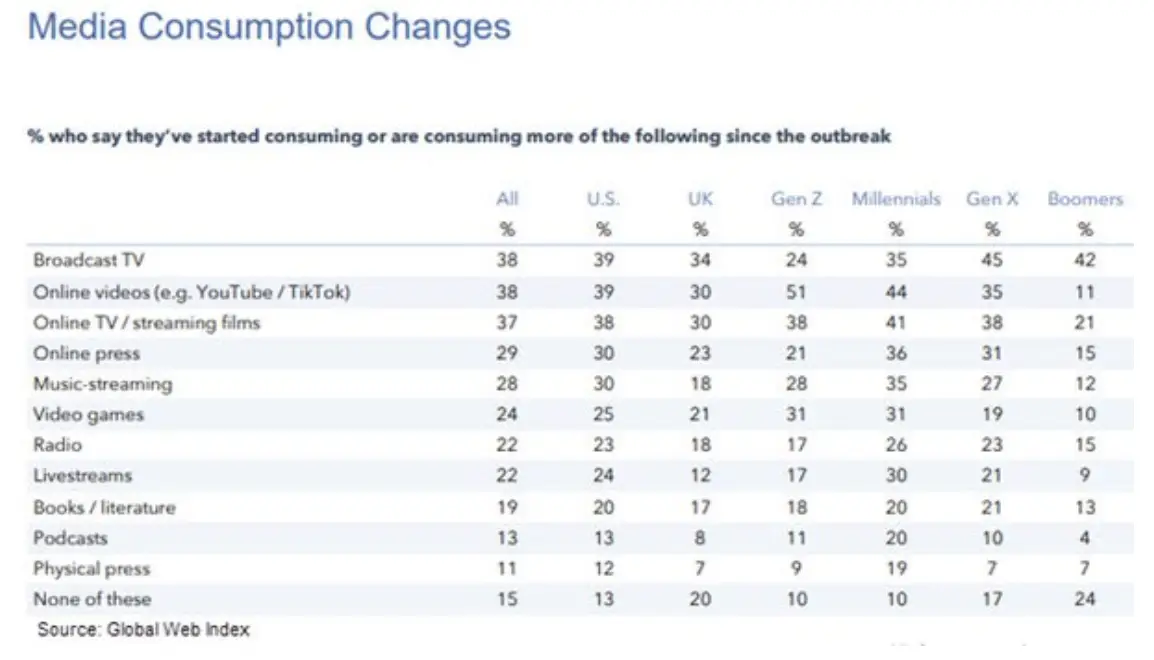 51% of Gen-Zers, 44% of Millennials, and 35% of Gen X are watching more online video, with only 11% of Boomers consuming more. This means that video is one of the most important mediums to focus on, especially as 76% of US and 58% of UK video consumers plan to watch videos at the same rate when the pandemic is finished.
Looking at a graph of Google desktop SERP fluctuations for the past 30 days, we can see that between March 10 through April 9, there was high fluctuation, which hasn't happened for many years.
There are multiple factors that can be contributing to this, one being that people's search behaviors have drastically changed in the last 30 days. Since Google has many algorithms for every industry, it is likely to respond to all of this changing behavior and is updating the SERPs to provide different results.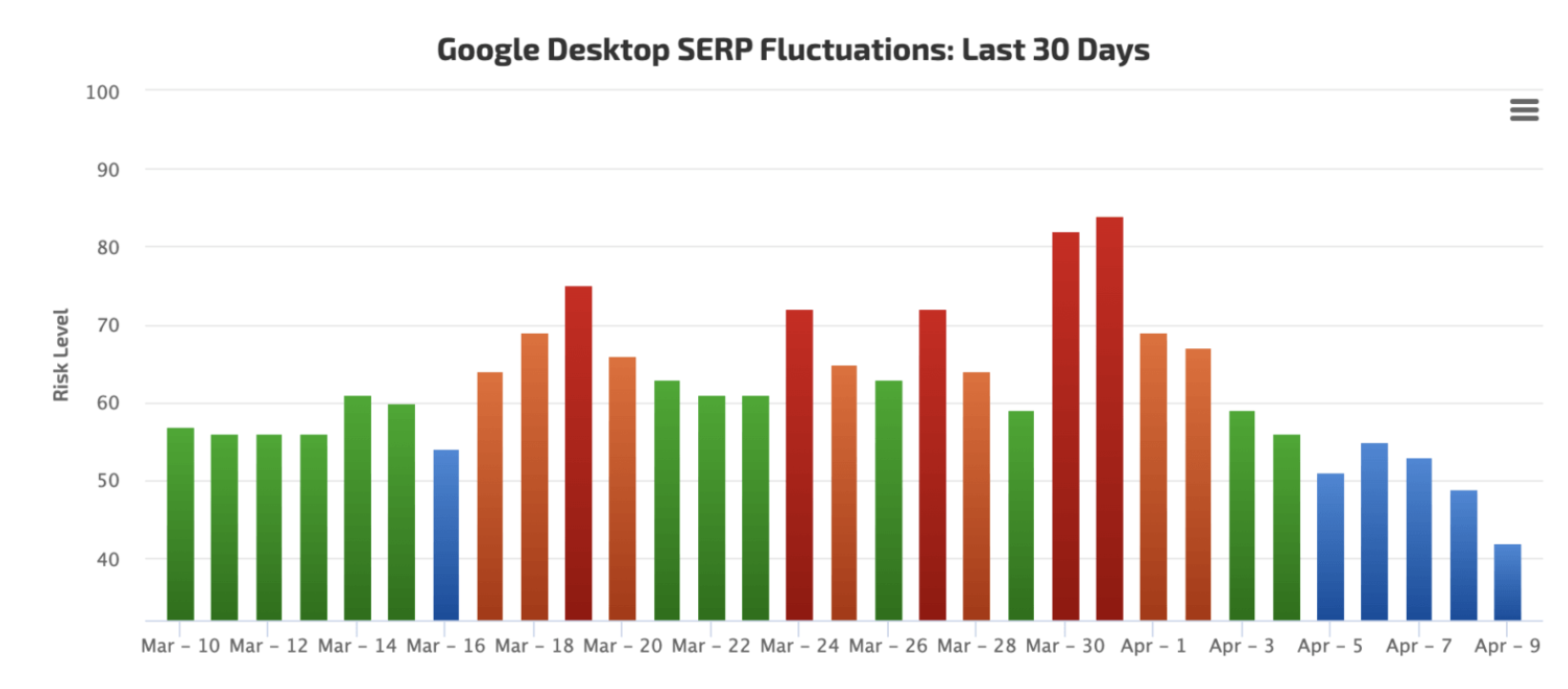 Additionally, many websites have changed in this time period as well. Ecommerce has shot up and many of these stores are running out of product and nearly everyone is writing content related to COVID-19–news on the pandemic, WFH (work from home) tips and products, staying healthy, and remaining sane while stuck inside for weeks. Ad buyers have responded to the pandemic by shifting revenue goals for 2020 and restricting their advertising budgets.
Google is also helping legit and trustworthy health and government sites rank better and recently came out with a best practices guide for these industries' websites, as well as implementing a 'Help and information' alert at the top of health-related search results. While Google is not making specific algorithms for this, these algorithms are always adapting to how the world is searching the internet.
As with any major influencers or changes in the digital publishing ecosystem, including Google, publishers need to stay aware of what is happening and try to understand it as much as possible.
Ezoic's Big Data Analytics goes more in-depth and is more publisher-focused than Google Analytics. You can see which authors are making you the most money, what your most lucrative article word count is, look at stats by specific landing pages, and overall better understand how users interact with your content.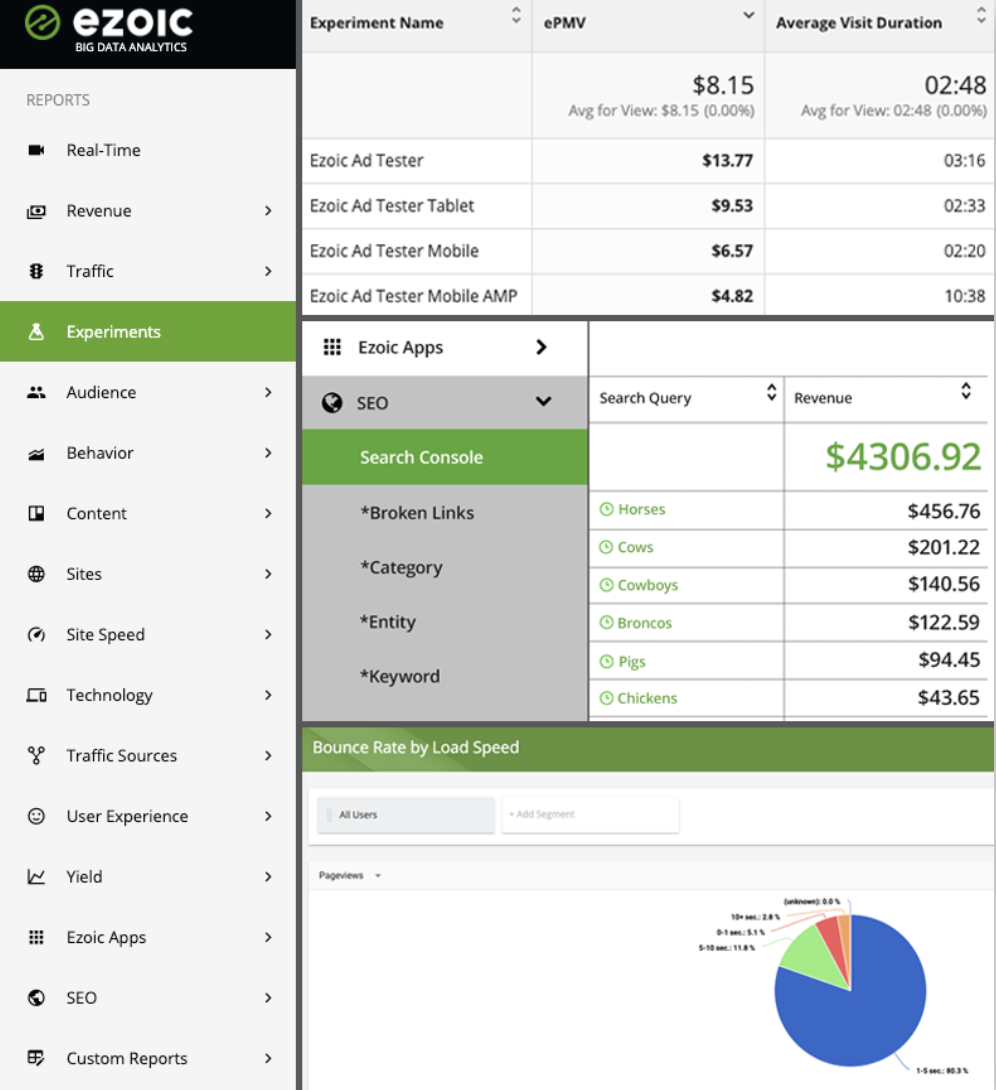 We cannot stress enough how it is both extremely important to truly understand your contents' performance so you know and to optimize your advertisements so you can best strategize through these uncertain times.
— April 14, 12:47pm PDT —
We recently had a chance to discuss the impact of the pandemic and the strategies necessary to mitigate the negative effects of it on digital publishing with Leander Kahney of CultofMac.com.
— April 10, 7:14pm PDT —
Ad rates continue to hover in the upper 30s this week, which is likely to carry through the weekend into next week.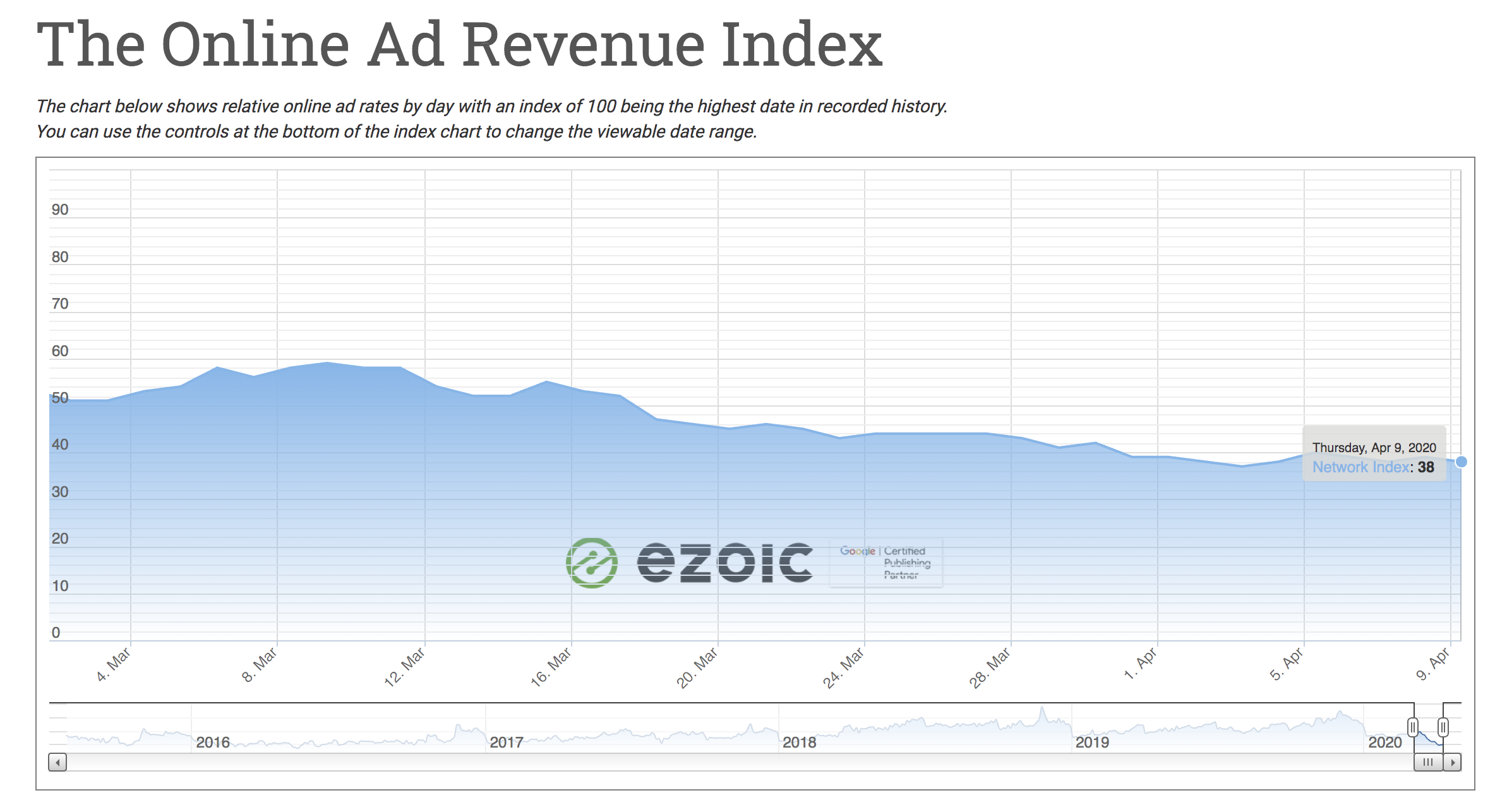 The big decline in ad rates in mid-March is likely the worst drop we will see during this pandemic. If ad rates drop anymore, it won't be as drastic or disruptive.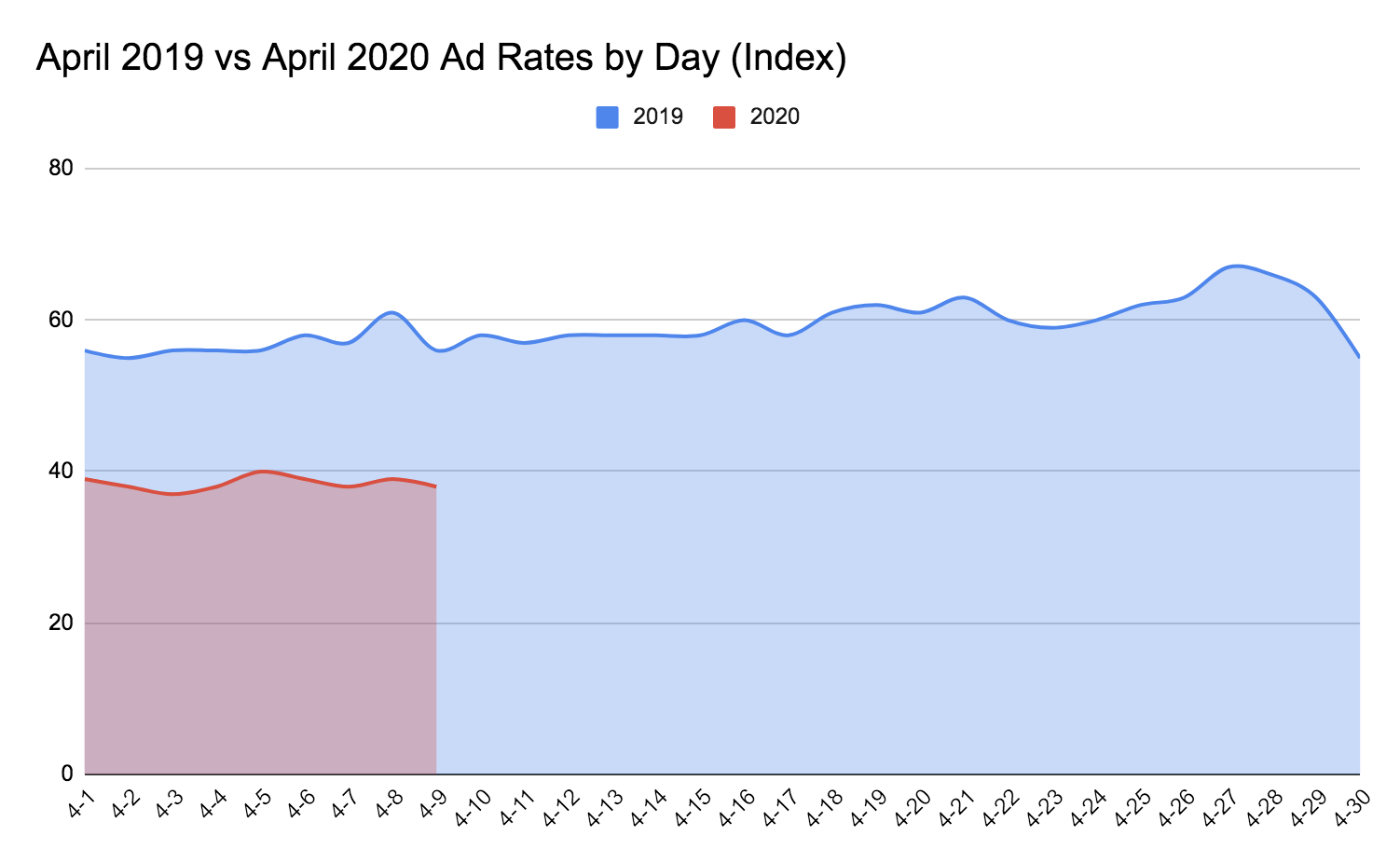 Ad rates have stayed roughly between 37-43 points for the last two and a half weeks. While we are currently seeing the lowest ad rates we've had since May 2016, the rates are just now hovering below 2016's.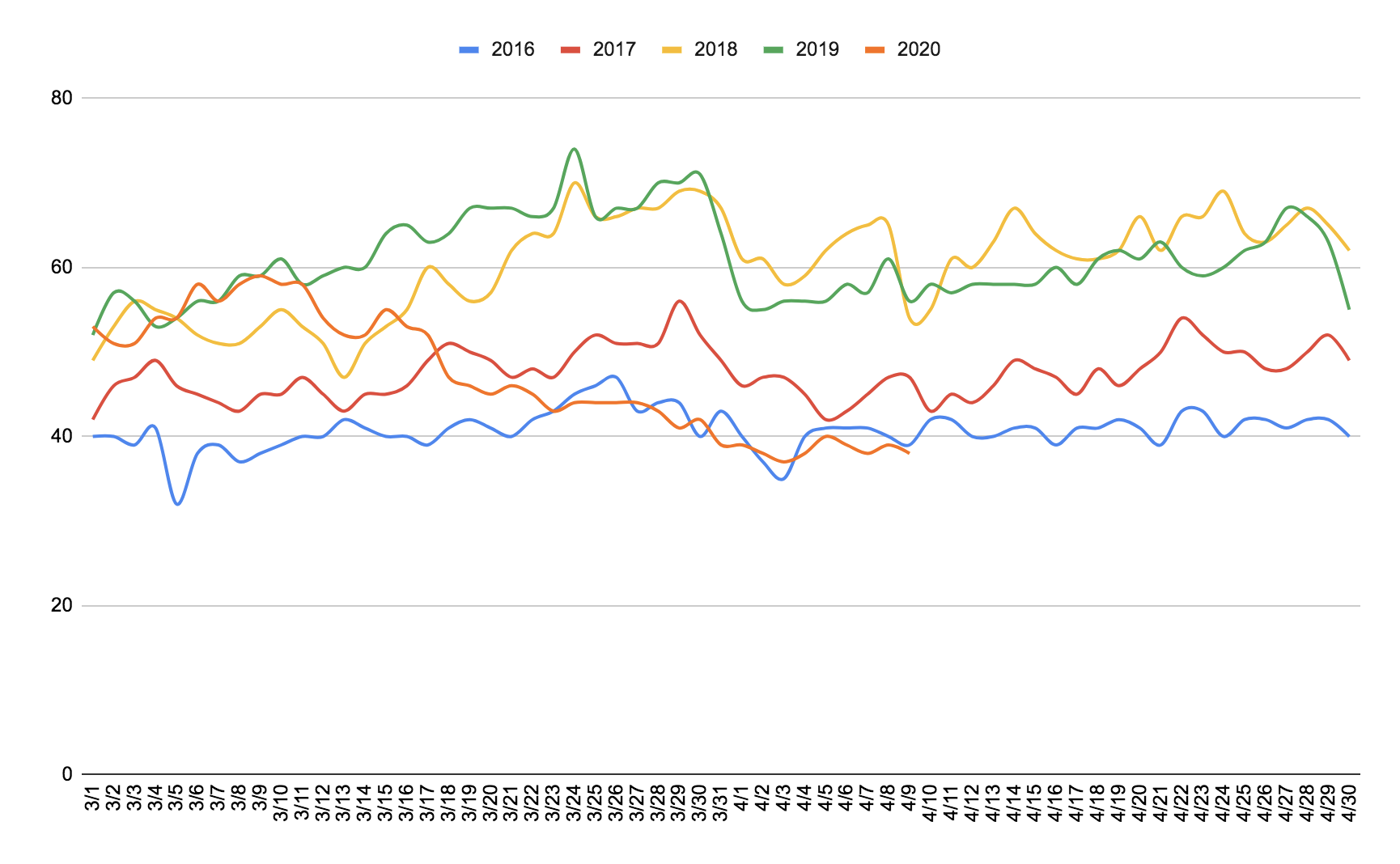 As discussed in the post before this, in countries hit by COVID-19 first–such as China–economies are in the beginning stages of recovery. Brands are pushing new product and digital advertising is slowly picking back up. Additionally, a decrease in ad inventory may not be as dramatic as we may anticipate.
A recent survey by Conductor, a search and content marketing tech company, shows that though marketing budgets have decreased with COVID-19, most only decreased their marketing budget slightly. Respondents were from a broad spectrum of industries, including B2B, retail, healthcare, media, travel and hospitality, consumer technology, financial services, insurance, automotive, e-commerce, and manufacturing.
While the US is still not quite at peak infection rates, there is a light at the end of the tunnel – the economy will start stirring and advertisements will resume.
By now, we are all familiar with the increase in traffic during the pandemic, as everyone is increasingly required to work from home and shelter-in-place. However, how and where people are spending their time online is changing from usual trends, as shown in these graphs from the New York Times.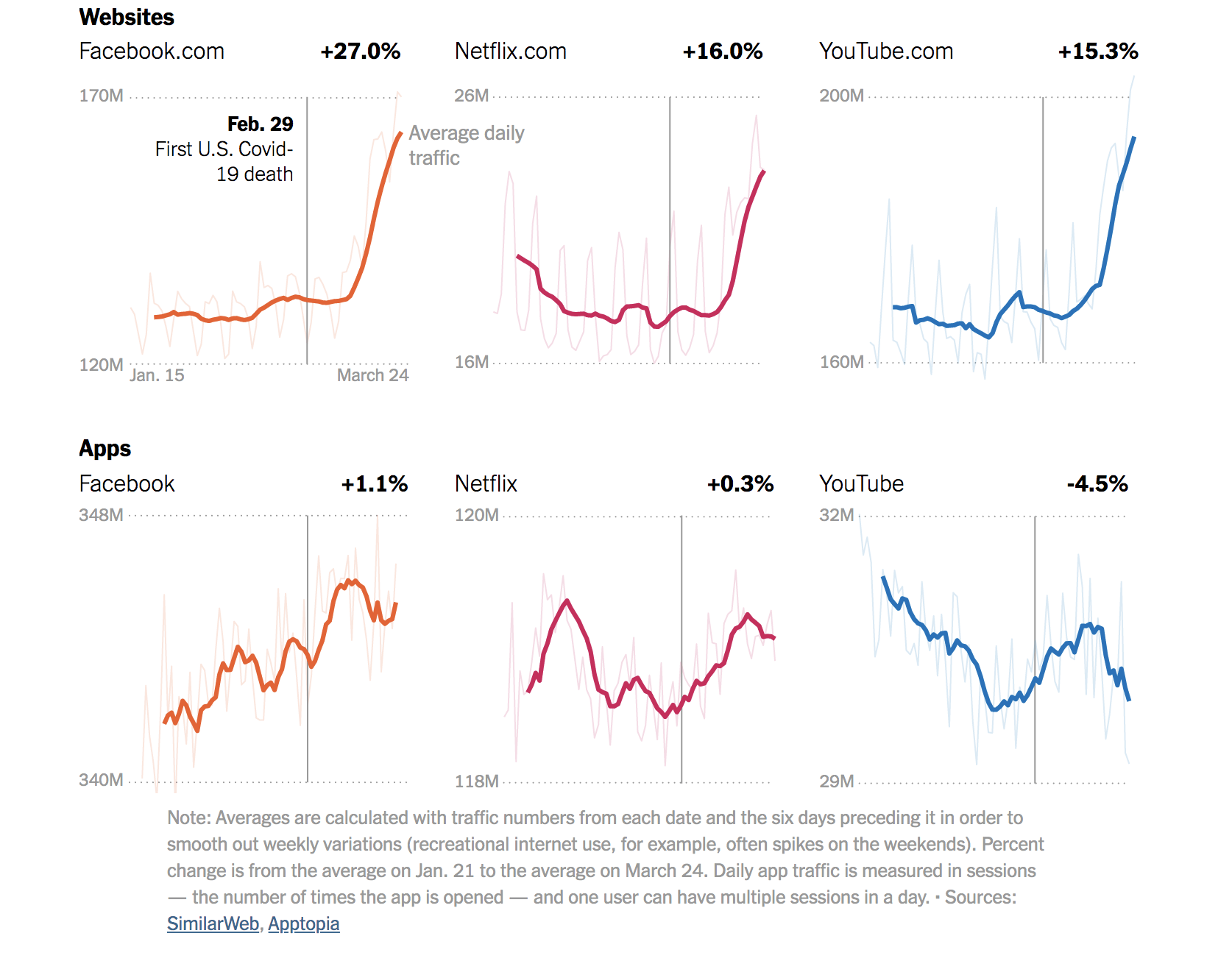 Before the pandemic, streaming services like Hulu and Netflix were experiencing increases on mobile device apps. But, as soon as people were required to stay home, the use of these streaming services once again was dominated by non-mobile means. This same trend is true for Facebook and YouTube; when people are on the go, they are willing to engage with these mediums on their small phone screens. Now, everyone is back at home and prefer to use larger devices to enjoy these services.
Many publishers are wondering when things will be more stable again and get back to the way they used to be. It is important to note that things are not going to return 'to normal,' as this will change not only companies' upcoming strategies but also how the online space functions as a whole.
Coronavirus is a long-term concern, not a short-term one. While there are certainly going to be short-term results and changes within the next few months, and even more promising normalcies in Q3 and Q4, the economic fallout of the pandemic will be felt in years to come. Behaviors and expectations in the online world are changing and many of these changes will continue after the pandemic.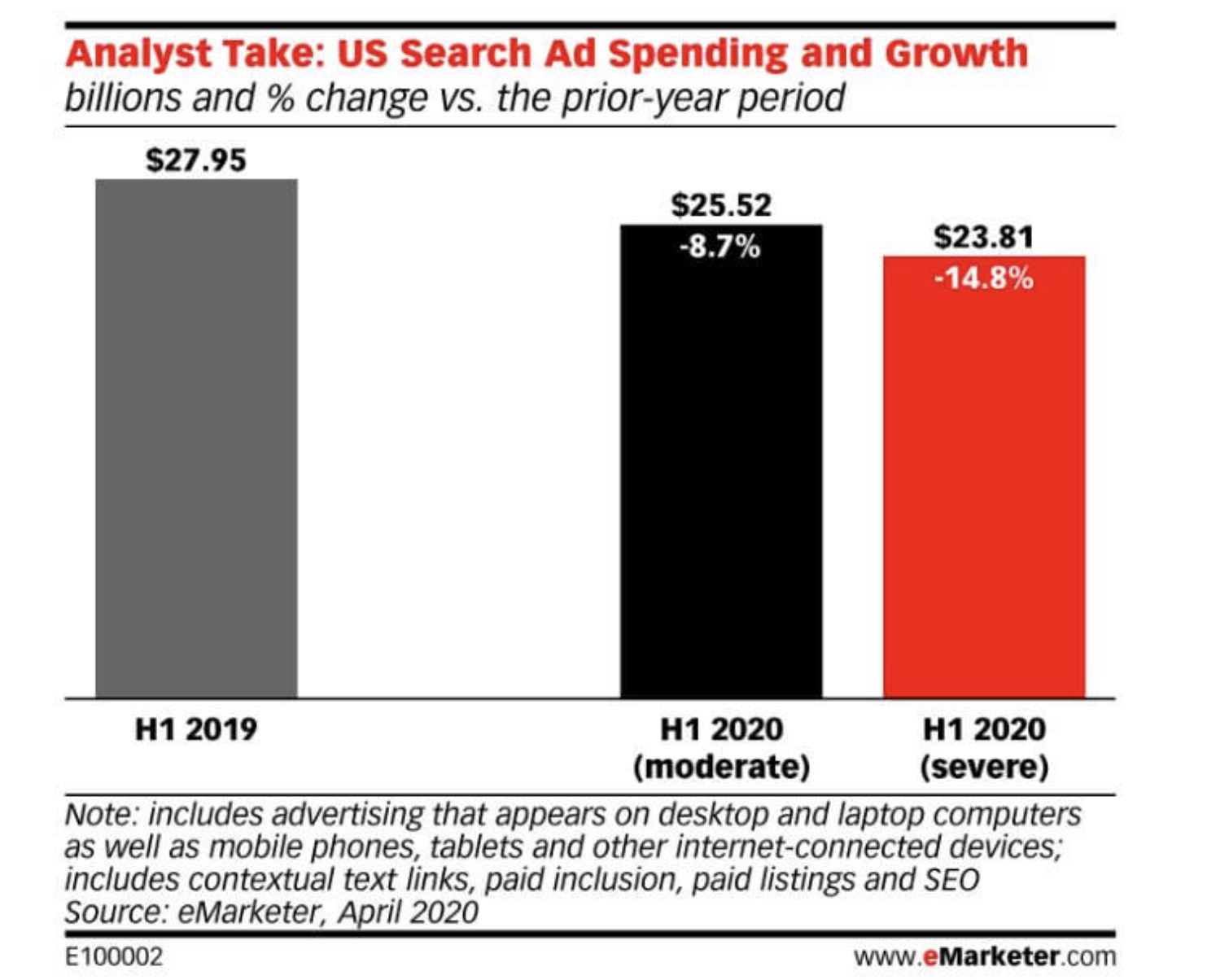 What publishers should know right now is that advertisers are spending billions of dollars less on paid search. Additionally, it is still predicted that organic search is still going to be the top-performing online channel in 2020, as it was in 2019; some even believe SEO will increase in importance this year.
Since larger brands and publishers will not show up in as ads in search results, this means your content has a higher chance of being noticed. This also further drives home the point that SEO is more important than ever so your content has a better chance of showing up on the first page. Make sure and spend time understanding how your content is performing and focus on SEO efforts so you can get the most out of a trying situation.
— April 6, 7:41pm PDT —
Over the weekend, ad rates dipped to 37, though they rose back up to 40 by today. Fluctuations in ad rates are normal for weekends, even in more stable environments.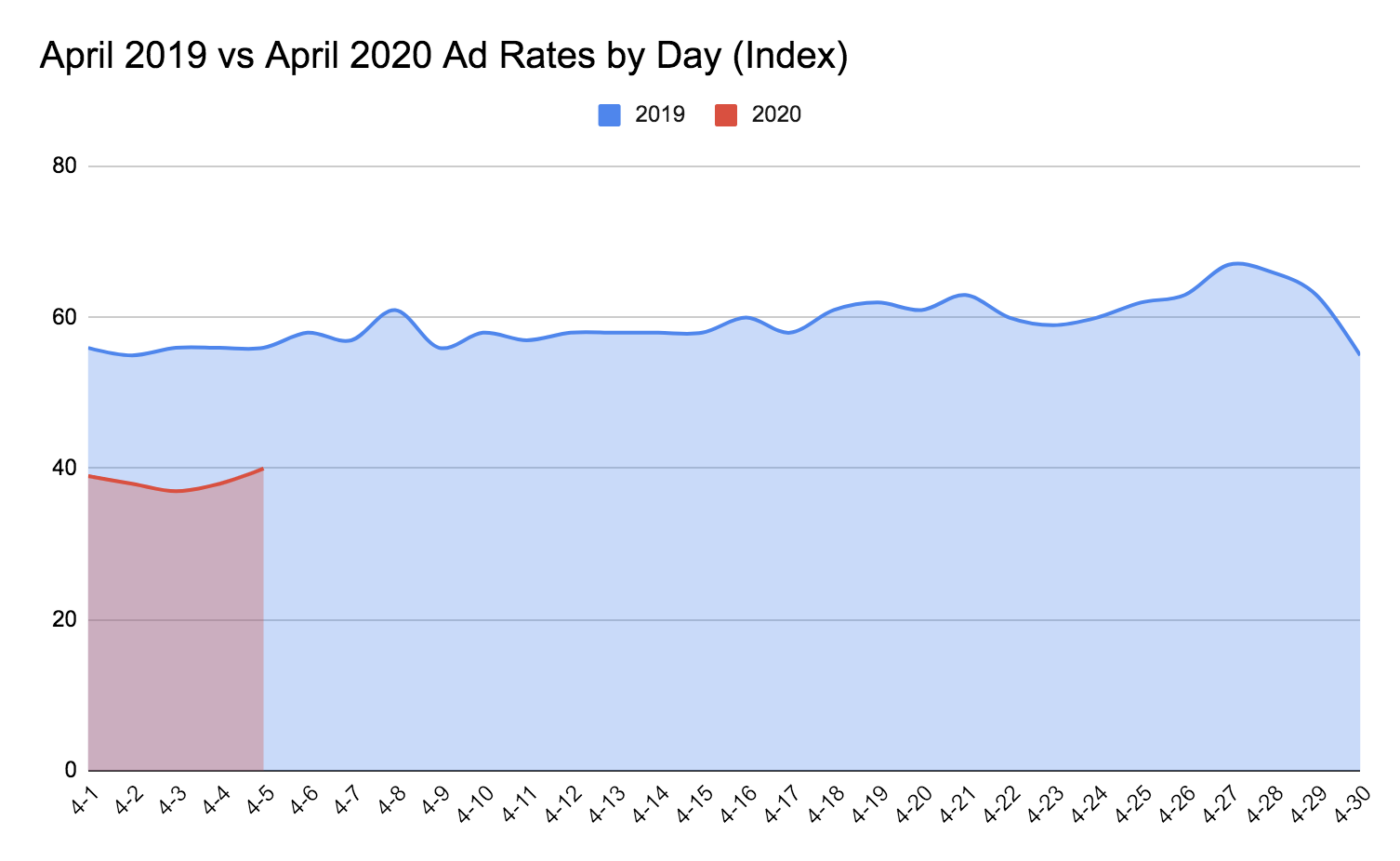 Many publishers are still feeling the financial effects of coronavirus on their ad revenue, some of which is content related to coronavirus; many advertisers are blocking their advertisements from showing on content or websites about coronavirus. In a recent poll of 50 publishers by Digiday, 86% of publishers responded that advertising was negatively affected by COVID-19 while another study found that 88% of publishers do not expect to reach their original 2020 goals.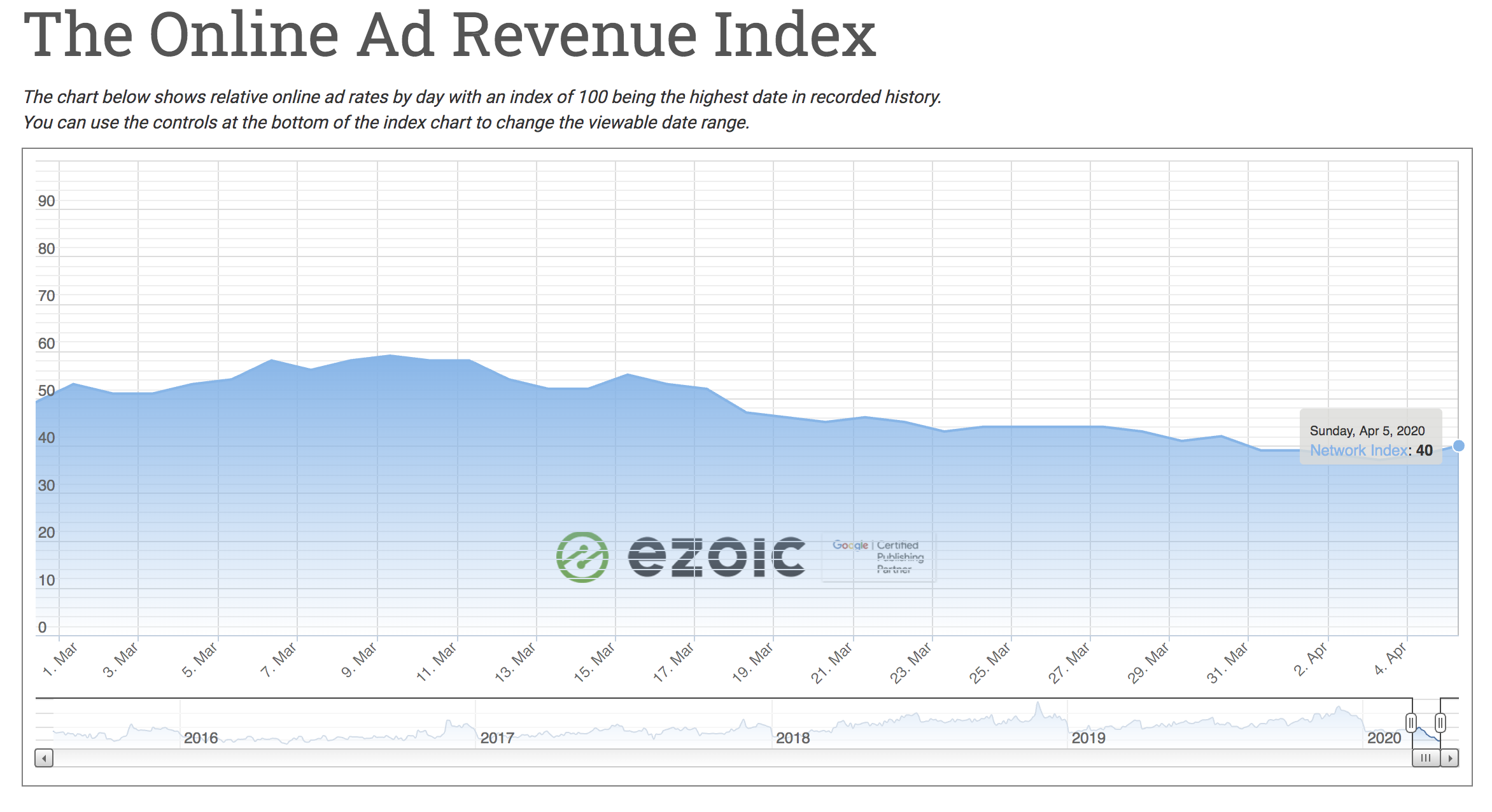 However, there is one place ravaged by coronavirus that is now experiencing a resurgence in ad activity: China.
China, the origin and initial hotspot for COVID-19, has gone through the worst and recently began seeing improvements in coronavirus case numbers and decreases in death. Following this movement towards stability, major media brands are seeing ad activity in China and nearby Asian countries effected by coronavirus that are now coming out on the other side; some brands are even signing contracts with Chinese ad buyers. Other indications of the Chinese economy recovering has also been observed–companies are launching new products that were put on hold during the worst of the outbreak.
China's coronavirus peaked around mid-to-late February, with initial concerns announced in December and January. It is currently predicted that the US is just now approaching the worst of the pandemic nationally.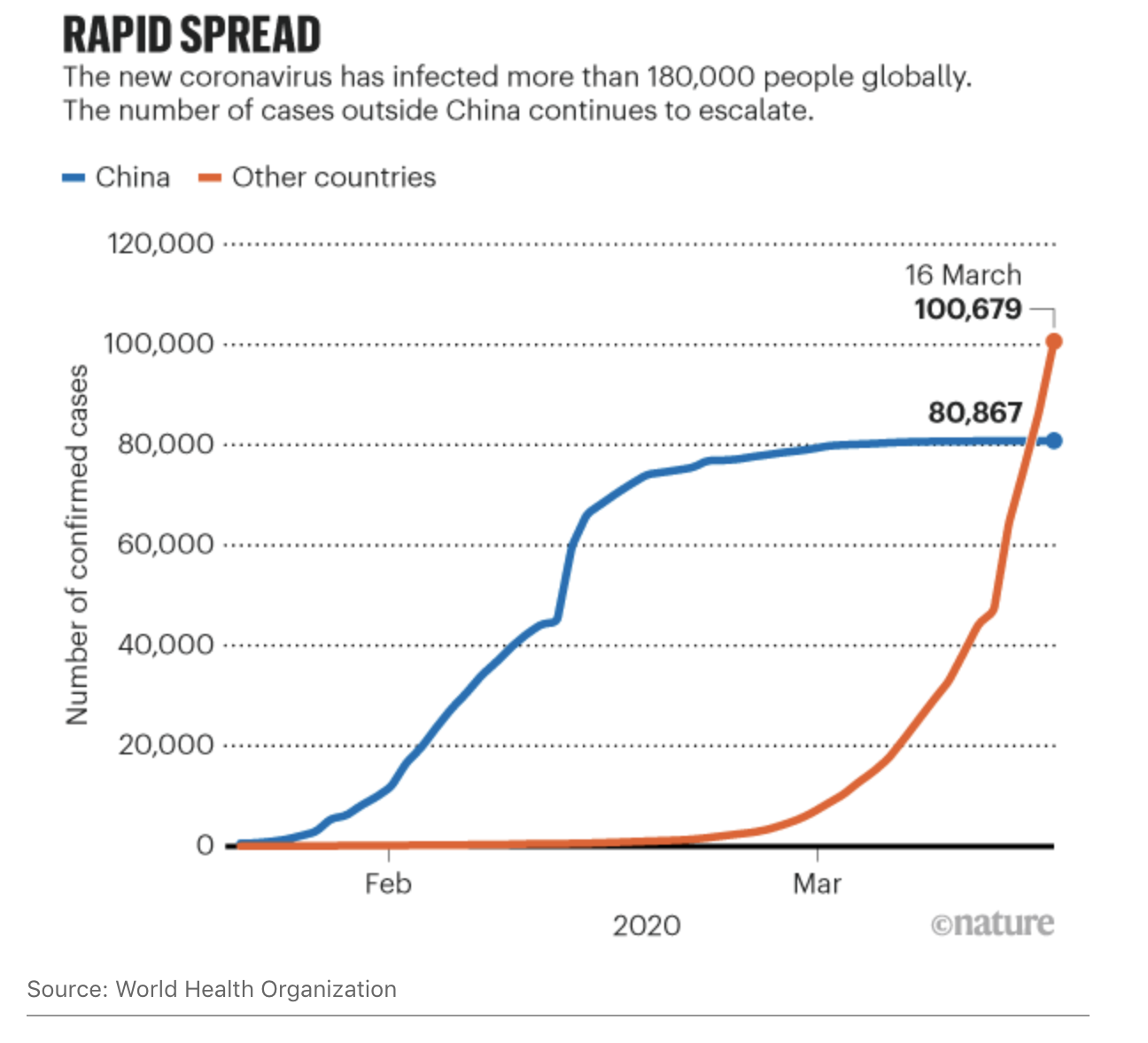 This means that if the US is following in China's footsteps, it could be at least another month and a half before any economic upturns begin, including in the digital publishing space.
However, as we saw at the beginning of the pandemic, ad rates are quick to react–they were the first to decline initially but that also means they will be one of the first parts of the economy that begin turning around once the worst of coronavirus is over.
[/et_pb_text][et_pb_text admin_label="April 2 Updates" _builder_version="4.4.2″ header_3_font="Open Sans||||||||" custom_padding="||0px|||"]
— April 2, 2:11pm PDT —
Ad rates from our Ad Revenue Index did not show a significant drop as we anticipated; instead, the ad revenue rate stayed at 39.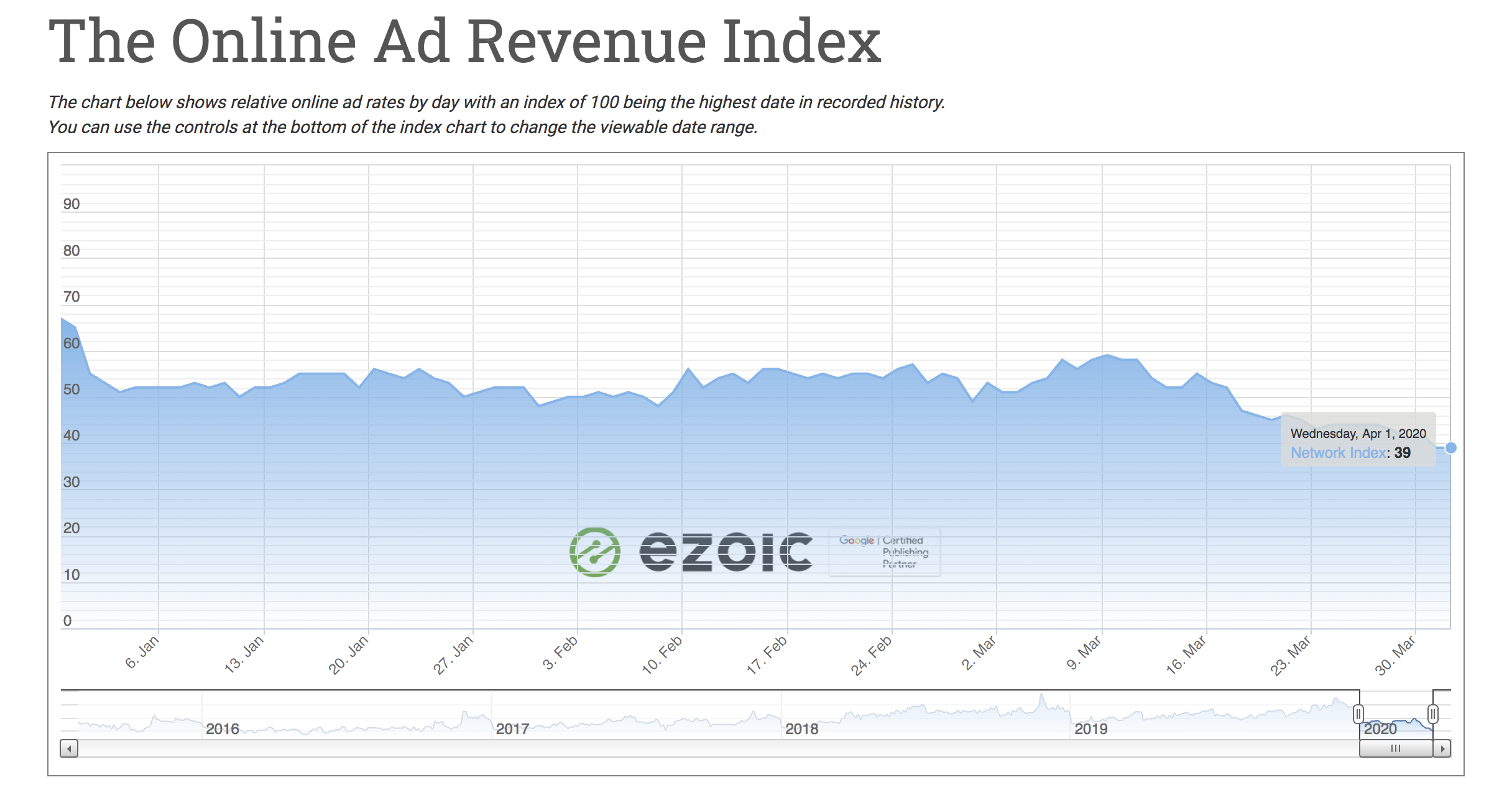 Looking at ad rates from the start of the year, we can see right at the beginning of the graph the steep decline from December 31, 2019 to January 1, 2020, as we have come to expect seasonally. Then, throughout January, February, and half of March, ad rates were stable and following the anticipated pattern for a typical March/end of Q1.
Looking at this Dow Jones Industrial Average graph, we can see that the market began decreasing back in February, with a slight peak and then a downwards trajectory. Looking more closely at the Ad Revenue Index, ad rates took a couple days to react and have been in decline ever since.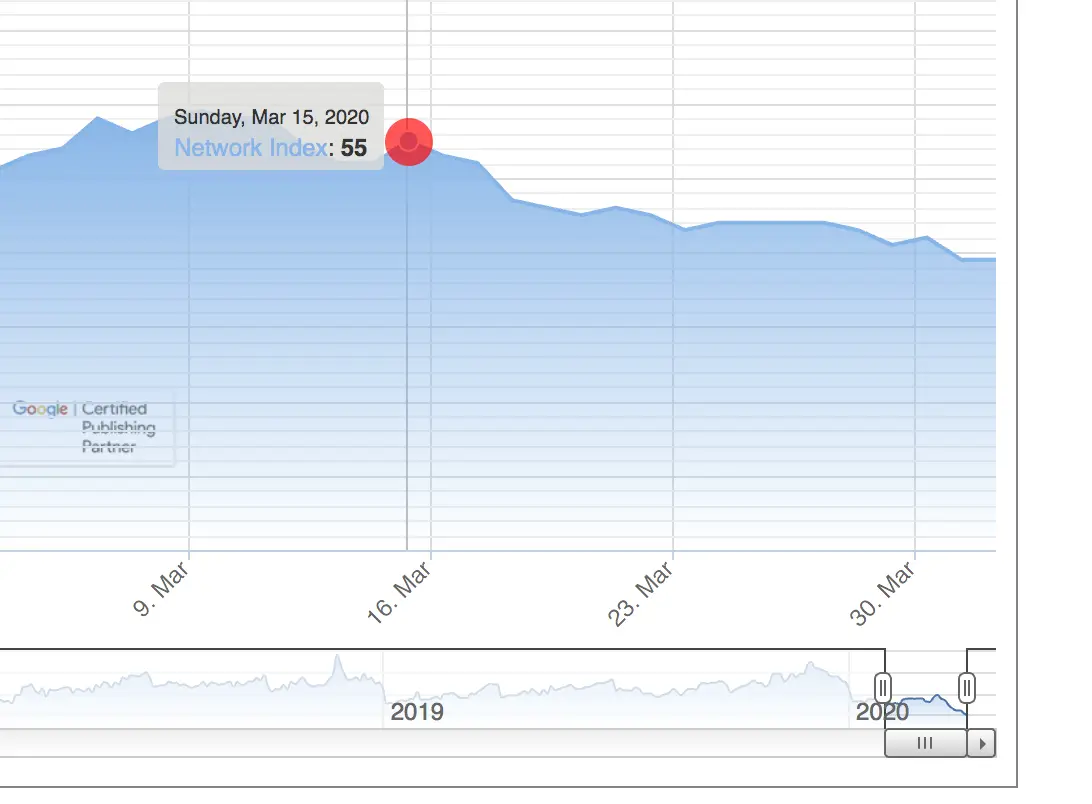 The first major falls in the market did not much affect ad rates. Why is this?
It's likely brands and ad buyers were waiting to see what happened with coronavirus, especially in the United States; no one wanted to make any rash decisions about ad spending or budgets until there was more clarity.
It was right around March 15, 2020, however, that many states began implementing social distancing measures, limiting social gatherings, and Connecticut issued its shelter-in-place initiative on March 10. Many companies saw the writing on the wall, bringing the market drastically down, and brands and ad buyers quickly followed when they realized this was not going to blow over.
We are still predicting Q2 to be difficult for ad rates, especially as Q2 marketing strategies historically begin to ramp up ad spending.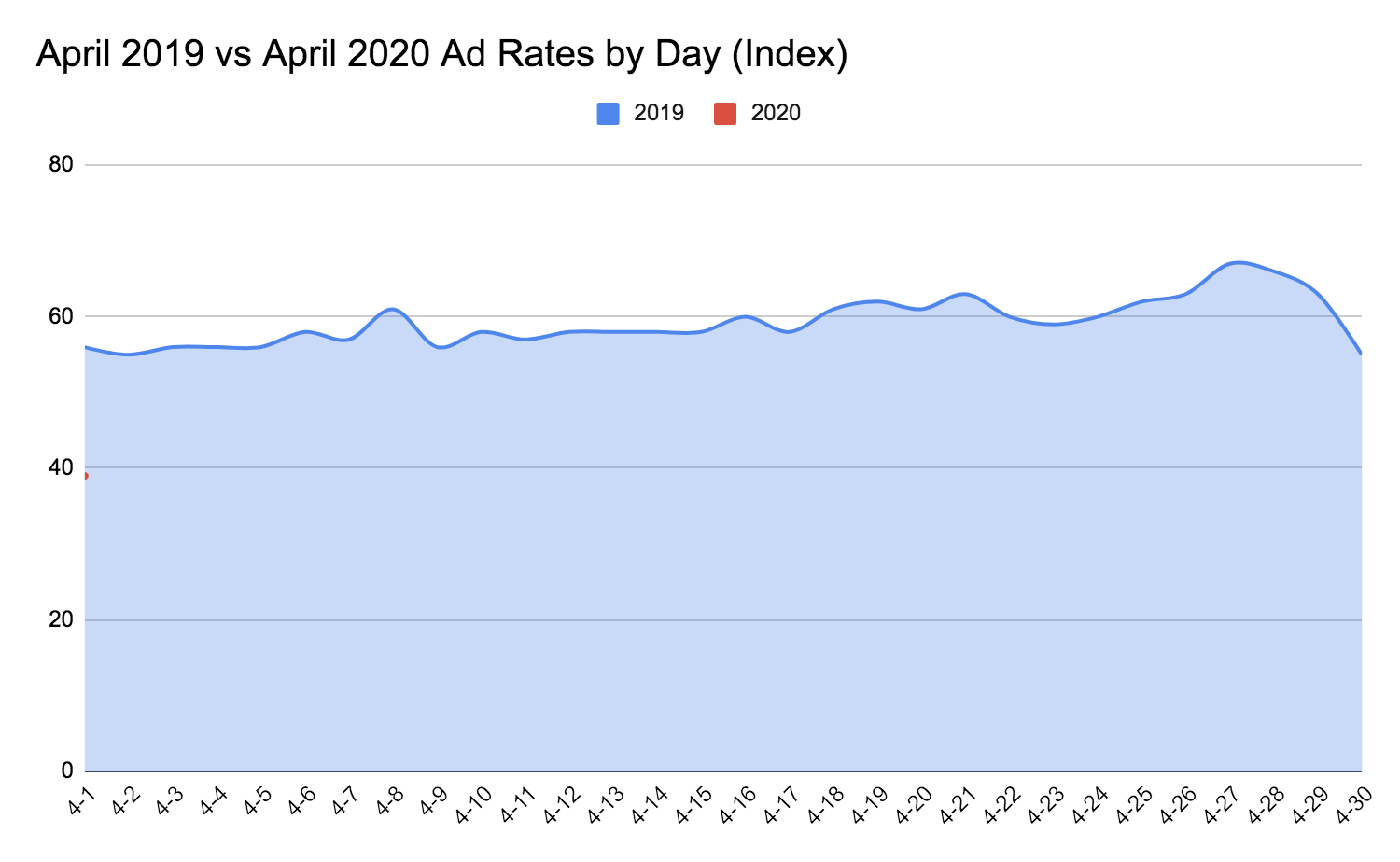 Despite the Ad Revenue Index not changing, publishers across the web are reporting that their RPMs fell by over 50% yesterday. It is anticipated Q2 will continue this way.
It is more important than ever to make sure your ad inventory is high-quality and you are not affected by malvertising (malware + advertising). Clean.io, a malvertising protection company, reported that what they call the "Global Threat Level" (percentage of the amount of malvertisements Clean.io blocked to pageviews analyzed), was 50 times higher in the back half of March than at the beginning of March.
Malvertising Techniques to Watch Out For
Malvertisers know how to avoid being detected in the approval stages of advertising
They then  sideload malware JavaScript that is only served on a user's device, thus avoiding detection by the marketplace and you
Many of these fraudulents are posing as large brands, like Nike, by using real Nike creatives and advertisements
Click-jacking: tricking a user into visiting a fake landing page and auto-redirecting ads that tell a visitor they have won a gift card in a bid to get the user's personal data)
Video stuffing: packing file requests into one ad (800 vs the usual 10-150), one of which is a video player that implements a secondary auction behind the real ad
Pixel stuffing: stuffing ads into a single pixel, making it seem as if these ads are getting impressions even though one single pixel is impossible to see
Cryptojacking: malware that hides on devices to steal its computing resources to mine for online currencies (like Bitcoin)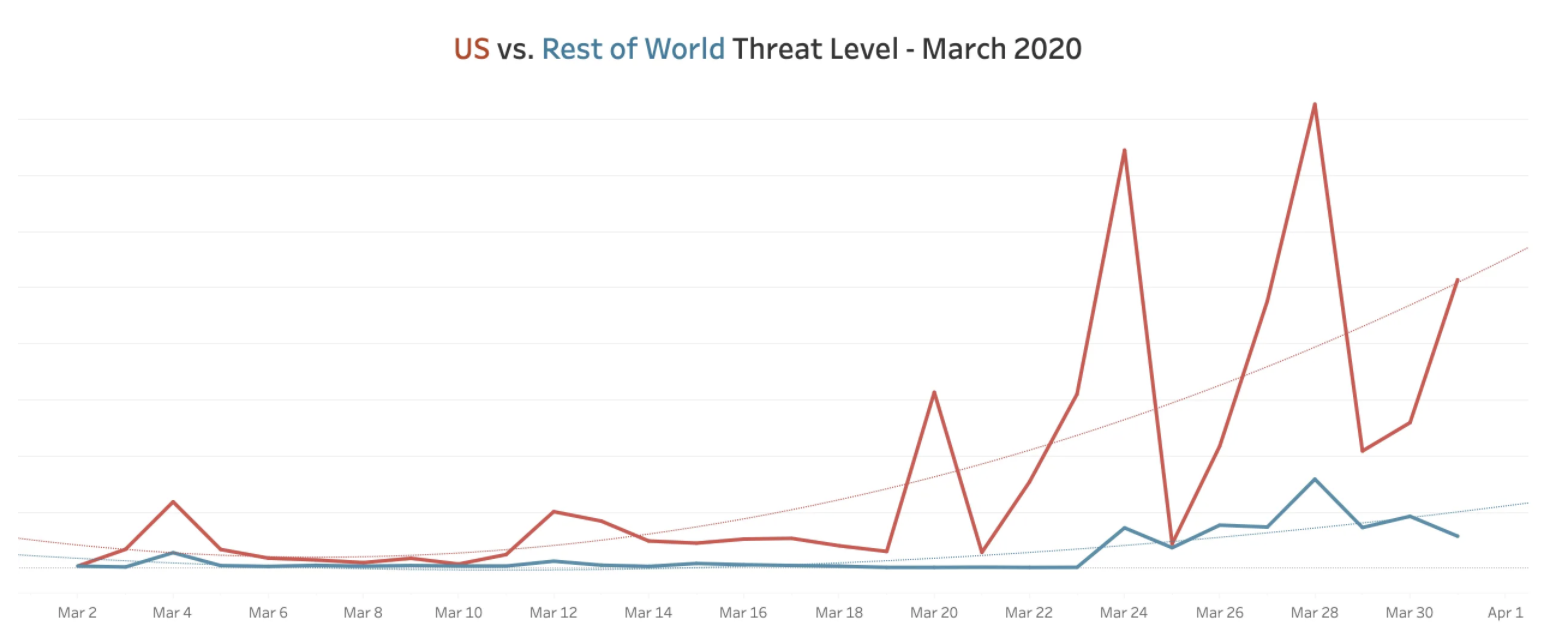 How Digital Publishers Can Get through Coronavirus
In our previous posts for this blog, we've been giving tips on what to do in this tumultuous time. Below, we have summarized them for you so you can best strategize and navigate the unknowns.
Many ad buyers and brands are blocking words that either is or related to coronavirus and COVID-19, as they don't want their image to be associated with the virus. Don't flood your content with reference to the pandemic to test this theory out for yourself and avoid an even greater shortage of ad revenue.
While overall ad spending is down, mobile and tablet device targeting and programmatic buying are expected to increase. Make sure your site is optimized for these devices.
Facebook and Google are giving out ad credits and grants for small businesses and ad buyers. The grants will assist small businesses while the ad credits can be used to participate in the advertising marketplace. When these credits will be sent out is still unknown but should happen in the next few months. Look for announcements on this to take advantage of these ad credits and/or to keep up on ad buyers' behavior. Some ad buyers may use those credits immediately to try to increase consumer awareness and spending and you will want to make sure your website is optimized and of quality, so you can earn ad revenue.
Additionally, Google created a best practices guide to help health organizations with SEO, including content accessibility, good page content and titles, how to check how their site looks on COVID-19 queries, how to analyze coronavirus-focused queries, and how to include structured data for FAQ pages. A lot of what their suggestions work for all websites, however.
Focus on keywords that are popular right now; many people are stuck at home and are likely to pick up cooking, crafting, reading the news, playing games, starting new hobbies, etc. Additionally, keep up-to-date on news and reports about what verticals are doing poorly, what ones are growing, and any companies or brands laying off employees, freezing hiring, or hiring. This will give you a good idea of what companies have money to spend.
Categories of sites that are generally seeing lower traffic:
Housing and DIY sites
Business-related topics
Sports
Educational references
Wiki's and referential sites
Coupon and money-saving sites
Travel sites
Categories of sites that are generally seeing higher traffic:
Productivity tools and web applications
Entertainment sites
Religious sites
Gaming sites
Ideal time resources
Ecommerce is quickly rising as more people are stuck at home and buying everything online (toilet paper, milk, clothes, dog food, etc). Many brands are either creating their own ecommerce platform or have begun to invest in third-party ecommerce platforms, like Shopify or Pinterest. If you are a publisher with something to sell, now is a great time to focus on ecommerce.
Ensure your website is in top shape; advertisers have the ability to be extremely picky about what types of sites they advertise on right now because of the large decrease in ad buying, and you will want yours to be at its best.
Make sure your ad inventory is high-quality. With competition low and many publishers desperate for revenue, low quality ads and malvertisements (malware + advertisements) are infiltrating the ad market.
Keep tabs on COVID-19. Look at shelter-in-place trends, infection rates, and the global economy. Once there is a slowdown in new cases, some of the restrictions are relaxed, and countries' economies begin to recover from the pandemic, spending will resume and so will advertising.
Business as usual. Now is not the time to make panicked, short-term decisions that could hurt your website in the long run. Focus on quality and relevant content.
Ad rates are expected to improve in Q3 and Q4, especially as this is a US presidential election year, which will require a lot of advertising.
We have multiple blogs and videos specifically covering how digital publishers are acclimating in this time:
How these Publishers, Hit Hard by, Coronavirus, Have Weathered the Storm (recorded interview to be released tomorrow on our YouTube channel)
Digital Publishing Experts' Advice on Managing Changes from Coronavirus
The Impact of Coronavirus on Ad Rates Webinar & Discussion
How Coronavirus / COVID-19 and the Global Economy are Affecting Ad Rates
We will continue updating this blog every two or three days, so continue to check in for more information for publishers on coronavirus / COVID-19, ad rates, content, and news.
[/et_pb_text][et_pb_text admin_label="April 1 Updates" _builder_version="4.4.1″ header_3_font="Open Sans||||||||" custom_padding="||0px|||"]
— April 1 5:43pm PDT —
The first quarter of 2020 ends with ad rates below 40, which we will likely see steeply drop for April 1.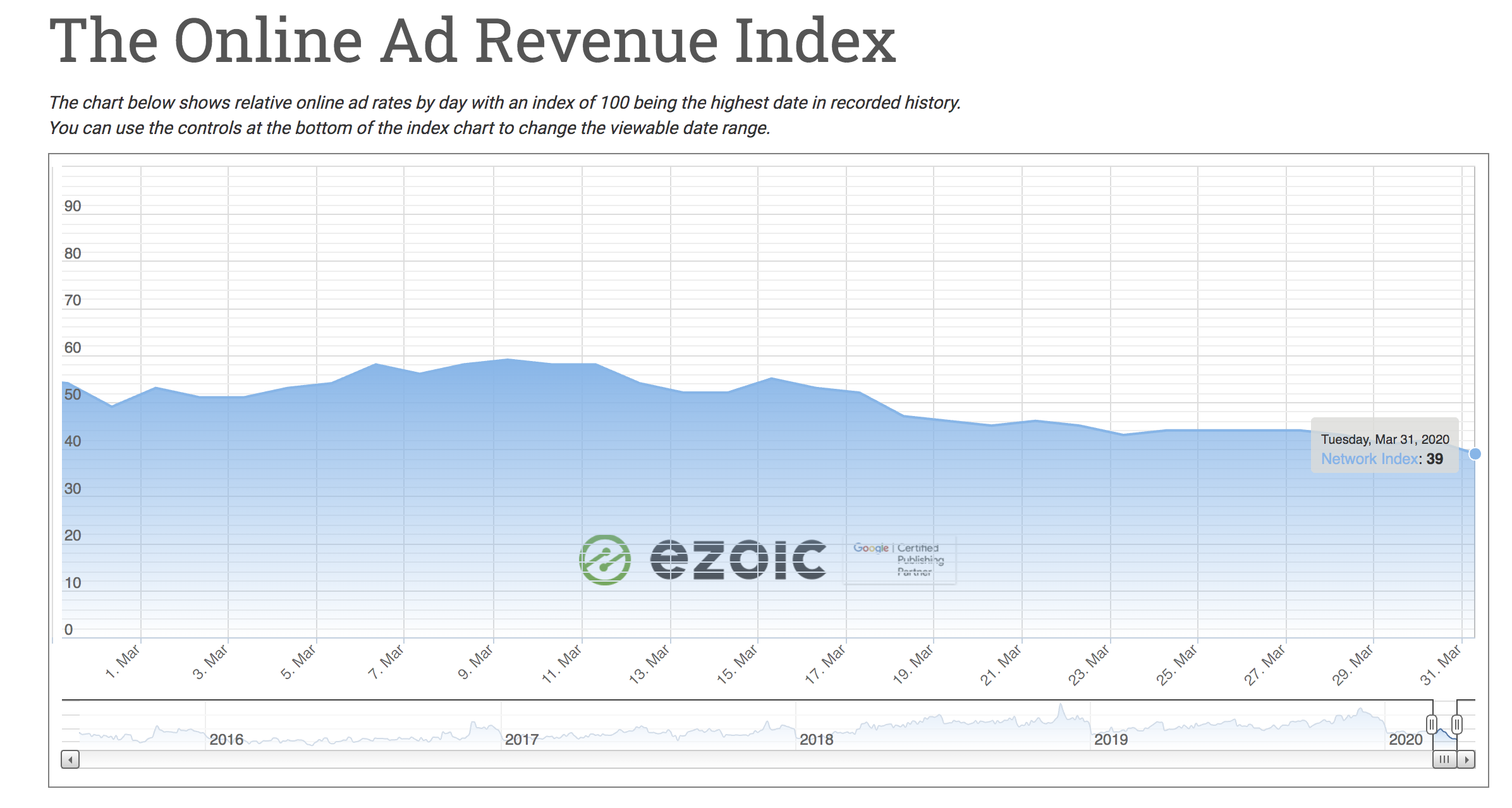 A quarter of ad brands paused all ad spend in Q1 and Q2 and 74% believe that coronavirus will have a greater impact on US ad spend than the 2008-2009 financial crisis.
For Q2, brands are planning to spend 33% less on digital media, and as we reported in an earlier post, the majority of ad buyers anticipate that coronavirus will affect their Q3, Q4, and Q1 2021 strategies.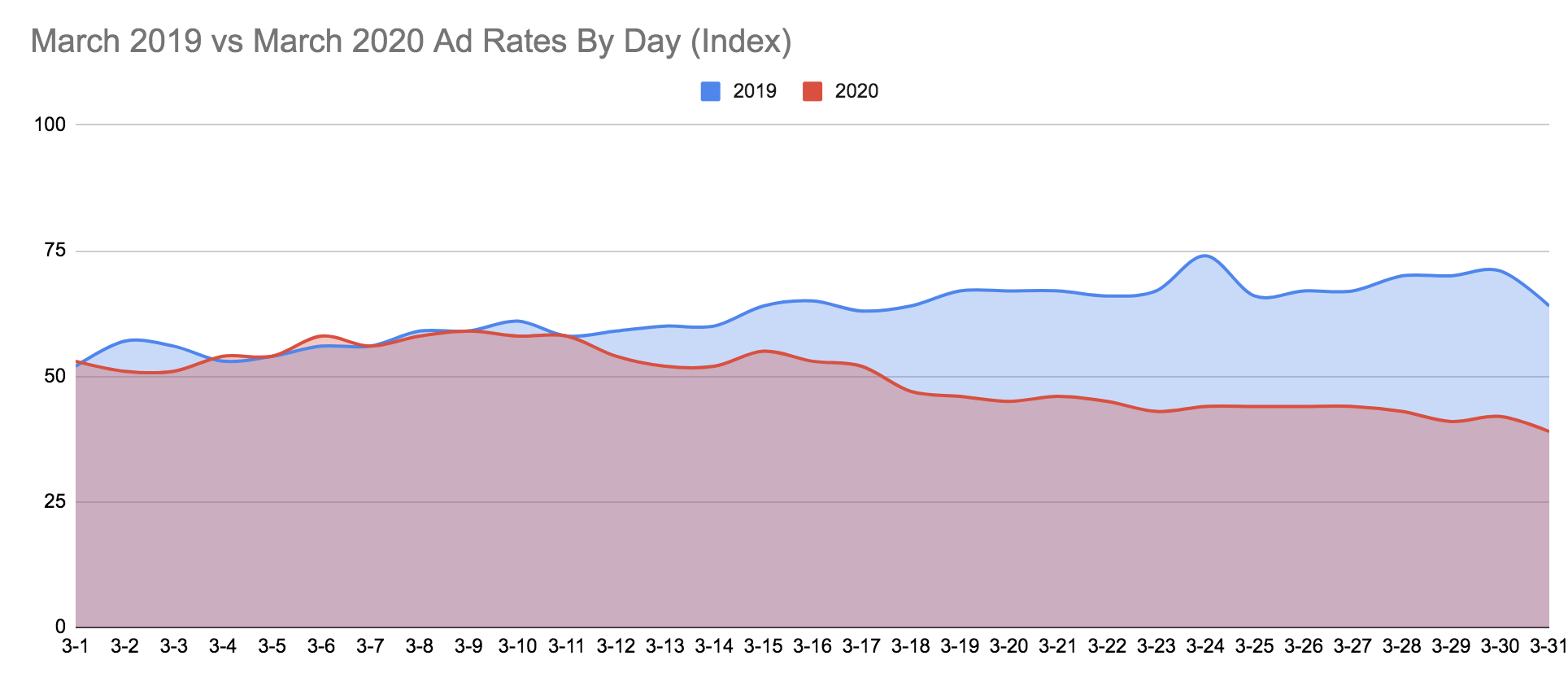 Regardless of how soon things will 'get back to normal,' there is new behavior developing as a result of coronavirus lockdowns that has the momentum to continue after the pandemic has passed—an increase in ecommerce, rise in video chatting, and more information being consumed.
For publishers who are grasping at straws, keeping up with these new behaviors and realities can help point you in the right direction. It's important to go about your digital publishing as usual but just as important to capitalize on the new trends emerging, as well as any movements or changes in ad buying.
Facebook announced on March 30, 2020 that it would be investing $100 million to assist the news industry during coronavirus. This is in addition to the $100 million it pledged to 30,000 small business in over 30 countries affected by the COVID-19 pandemic. Only a quarter of that $100 million for news companies will function as grants; the other three-quarters will be only for ad buying.
Google reported today in its Webmaster Central blog that it has created a best practices article to help health organizations with SEO. The article focuses on assisting these health organizations with content accessibility, good page content and titles, how to check how their site looks on COVID-19 queries, how to analyze coronavirus-focused queries, and how to include structured data for FAQ pages. Though their best practices guide focuses on health, most of what they say is helpful for all publishers.
Tomorrow we will have the first Q2 ad revenue index numbers in and will update the blog immediately.
[/et_pb_text][et_pb_text admin_label="March 31 Updates" _builder_version="4.4.1″ header_3_font="Open Sans||||||||" custom_padding="||0px|||"]
— March 31th 5:38pm PDT —
The Ad Revenue Index has increased by one point, but today being the last day of Q1, we expect that today's rate will be the last day it is level.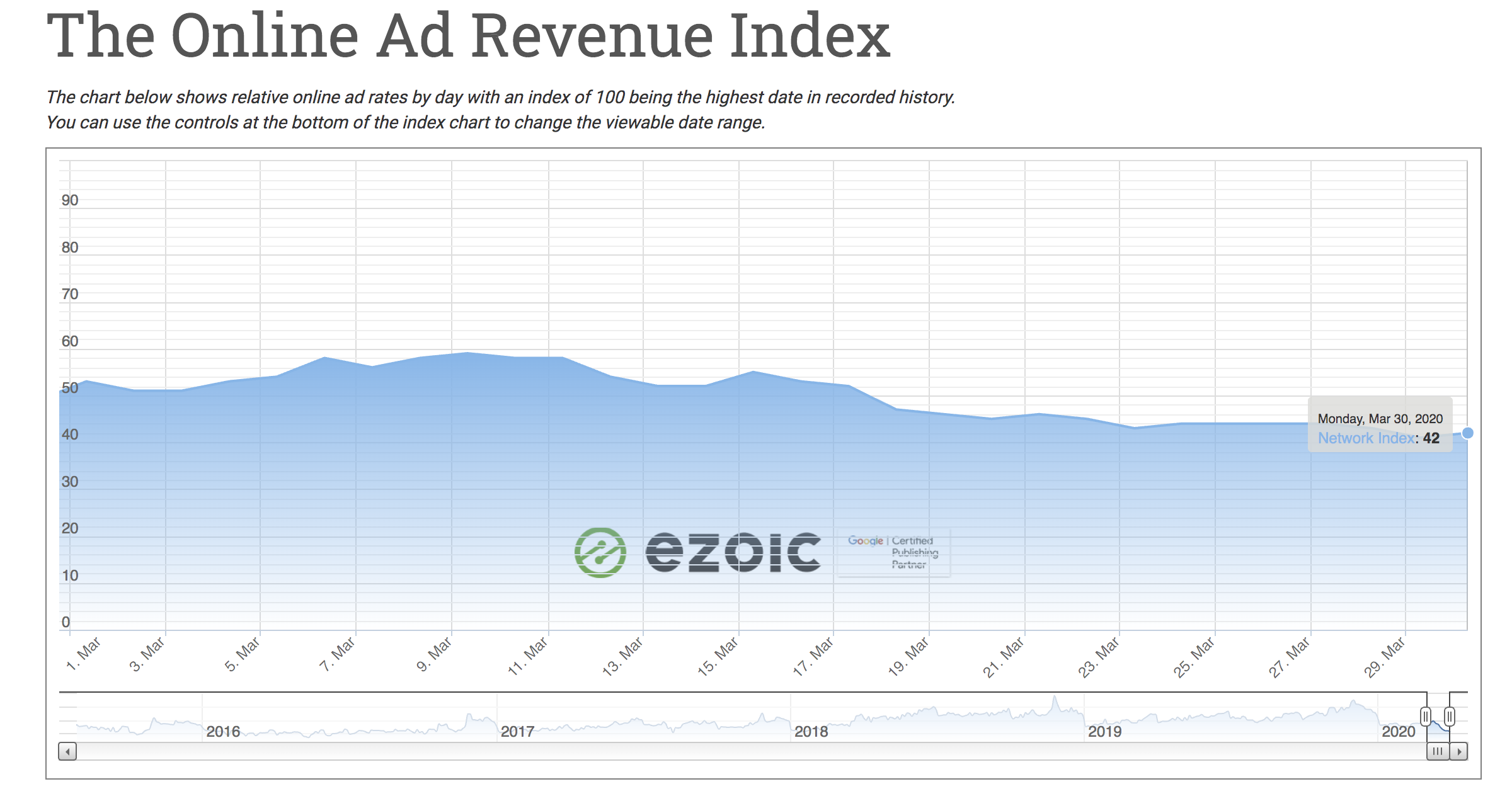 Today is the last day of the first quarter, so check back in on our Ad Revenue Index updates the next few days to see how Q1 ended and how Q2 began.
Google announced on Friday, March 27 that it will be committing over $800 million for small and medium businesses, health organizations and government, and health workers because of the financial impact of COVID-19.
$340 million of that will be given to small and medium-sized businesses who have been active advertisers since the beginning of 2019 as credit in Google Ads. These credits can be used any time before December 31, 2020 on any Google Ad platform. Those who qualify will receive a credit notification in their Google Ads account in the next few months, though Google has not offered any other information on how to tell if you will be receiving credits.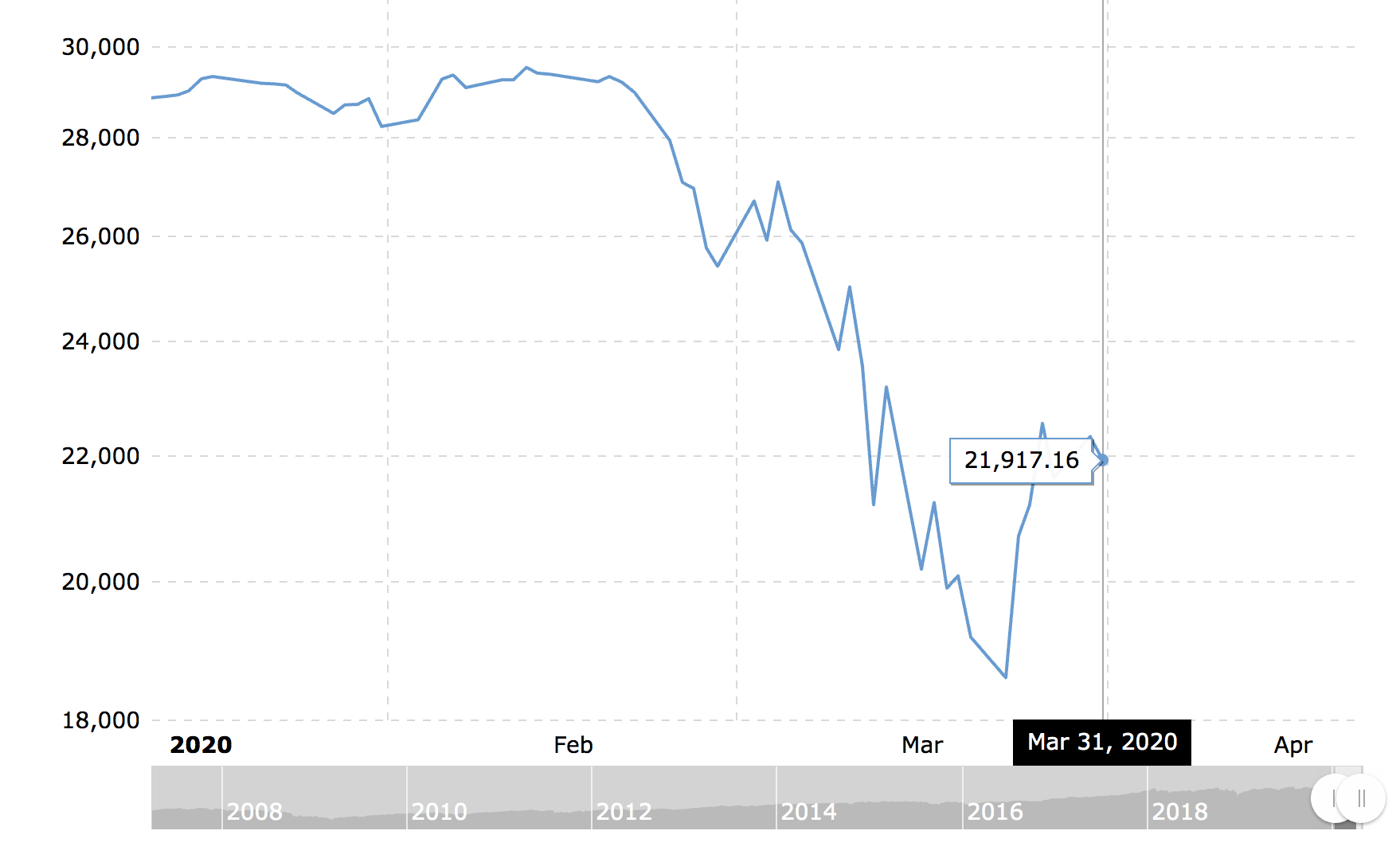 Chart displaying Dow Jones Industrial Average performance over the past ten years
A lot of small and medium-sized businesses are struggling through the declining economy right now and have likely decreased ad spending or even paused it completely. While advertising isn't the end-all-be-all solution to these businesses surviving, many of them rely on advertising because they don't have brand recognition like some larger brands and businesses. One of the top ways for these businesses to get their name out there is to advertise.
When these businesses receive their ad credits, it is likely they will begin using them immediately. Some businesses may choose to use them all at once to get their name out there quickly, though we predict they will spread them out over this period of uncertainty until the economy is more stable.
For publishers that advertise, keep your eyes peeled for notifications in your Google Ads account for ad credits that can be used until the end of the year.
For those who have ad space, there will be more demand from ad buyers once these ad credits are released, so it is just as important to keep up on when these ad credits are released.
[/et_pb_text][et_pb_text admin_label="March 28, 29, & 30 Updates" _builder_version="4.4.1″ header_3_font="Open Sans||||||||" custom_padding="||0px|||"]
— March 30th 7:04pm PDT —
Ad rates have declined slightly once more and we very well might see it dip just below 40 before Q2 starts in one day.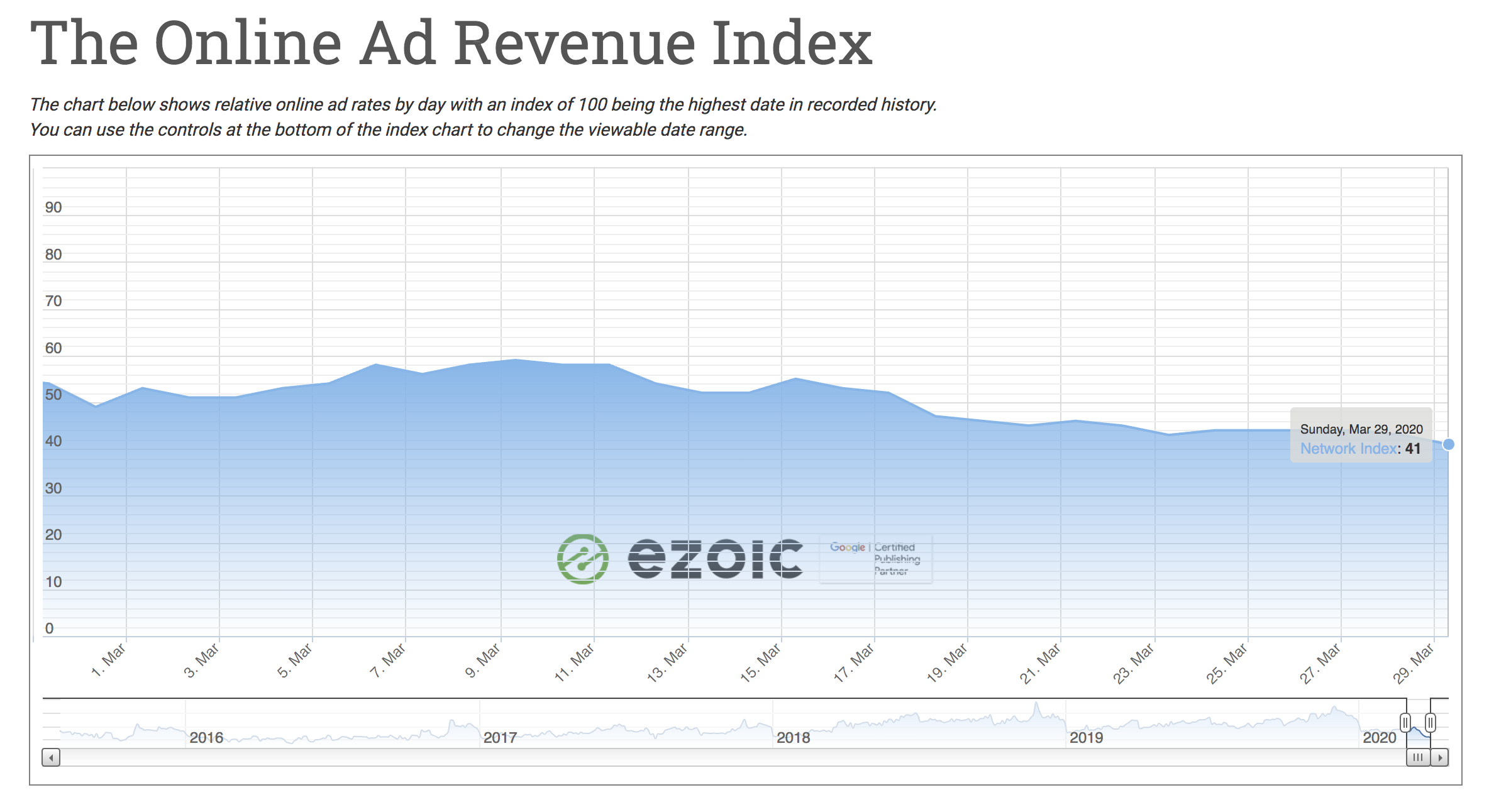 We are currently entering into uncharted territory. Rishad Tovaccowala of Publicis Groupe (a French advertising and public relations company) described what may be ahead of us as "9/11, plus the financial crisis, times two." While almost all publishers are affected financially by coronavirus, some publishers reported they are expecting 30% decrease in revenue.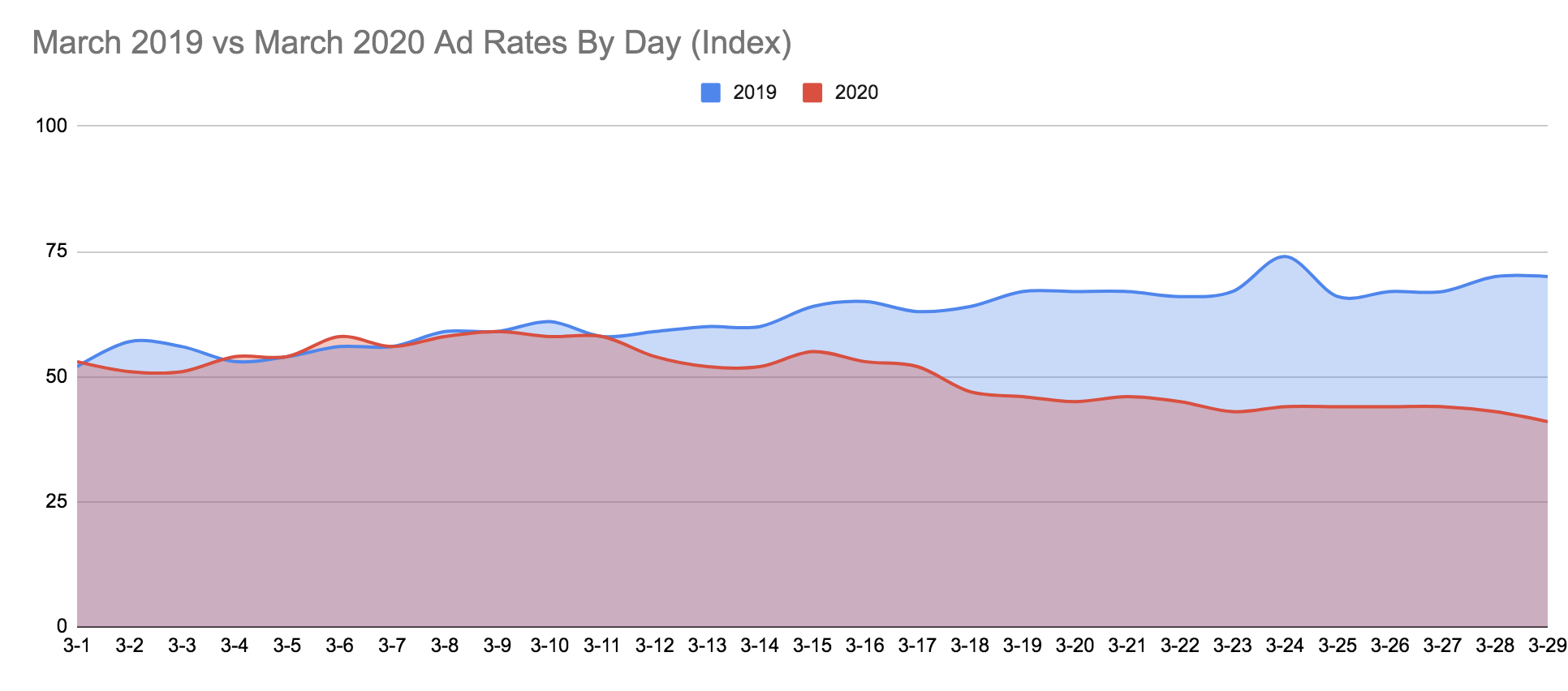 This revenue loss will mean even more big cuts, from anything like employee lay-offs to spending.
In a study using crowdsourced data, Candor, a company focused on tech workers, found that 267 companies have stopped hiring, 44 had layoffs, and 36 rescinded offers. Business software was the largest vertical to submit to Candor with 81 submissions; 41 of these submissions indicated they were implementing a hiring freeze.
Unsurprisingly, travel and transportation are being hit the hardest; 83% of respondents within the travel and transportation industry have either freezed hiring or laid off employees. Retail is also experiencing difficulties, with 77% freezing hiring or laying employees off.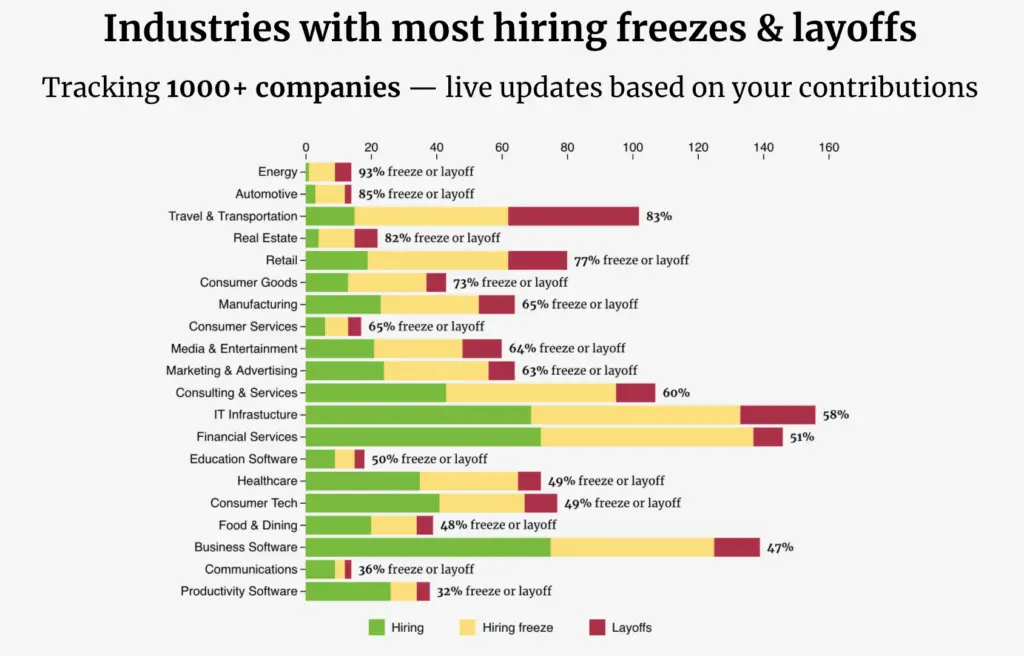 Other industries are a mixed bag–IT infrastructure, financial services, education software, business software, food and dining, consumer tech, and healthcare are nearly split down the middle, with half of responding companies freezing hiring/laying off employees and the other half currently hiring.
The only verticals that are hiring more are those in productivity software and communications. Since many companies have switched to WFH (work from home) structures, it is not surprising that productivity and communications companies are doing better than others. The Candor study has live updates.
In today's previous post, we suggested publishers keep tabs on brands/ad buyers' behavior and which verticals are doing well in order to better strategize during this tumultuous time. In addition to the advertising industry, publishers should also stay on top of what is happening to companies from all industries.
If the productivity software industry is actually hiring more than they are laying off employees, they are probably doing well and are more willing to spend on advertising. If a publisher were to write a really good article about productivity, their content might be a desirable location for a productivity and organization company, like Asana, to advertise on.
It is important to bear in mind that many ad buyers and companies are blocking words like coronavirus and COVID-19, so if you can avoid those words and ones related to them, you may be in better shape to get advertisers interested in your content.
— March 30th 11:39am PDT —
Ad rates stayed around 44 through Saturday, though we expect this number to begin trending downwards Sunday-Tuesday, March 31, 2020.
Looking at previous years, we can see that these last few days of Q1 do typically level out, with one last spike at the end. It is unlikely we will see that last big spend at the end of this first quarter.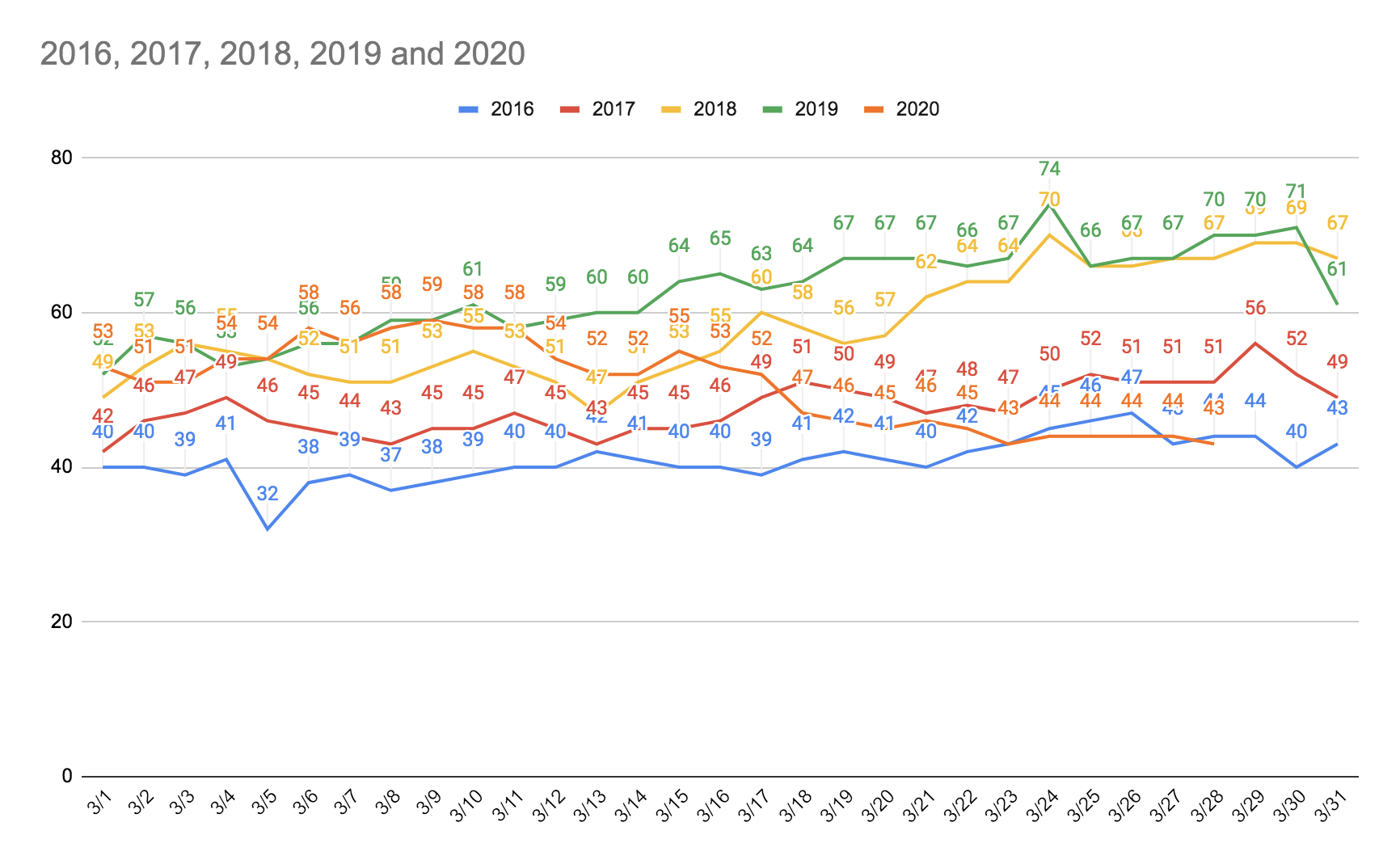 Many ad buyers, from all different verticals, are reporting that Q1 ad buying has been halted or reduced and that this will carry through Q2. They also reported that Q3 and Q4 buying will be affected, though not as substantially, and even 2021 budgets. We can see below how ad rates, compared to 2019, are getting worse.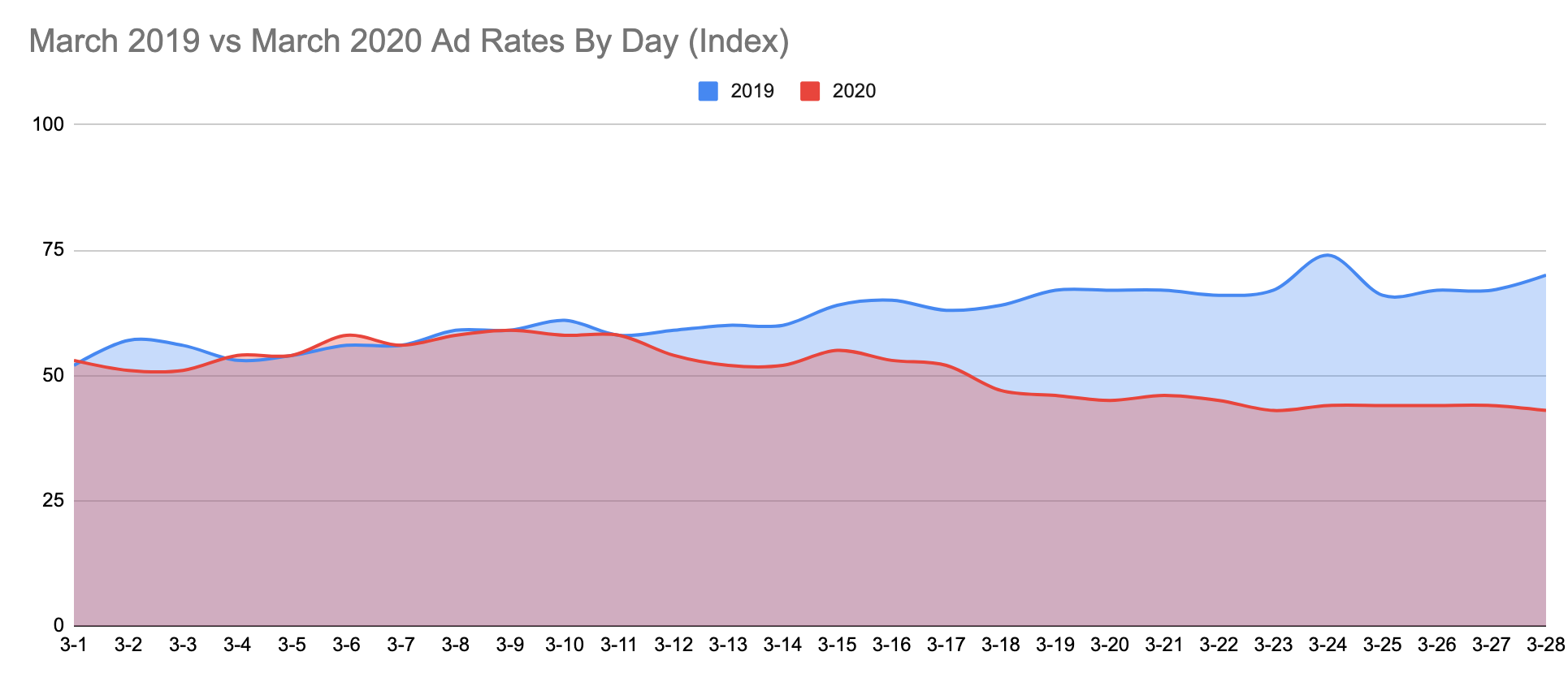 A survey by the Interactive Advertising Bureau (IAB) reported that 74% of ad buyers believe COVID-19 will impact U.S. ad spend more than the Great Recession's 2008-2009 financial crisis.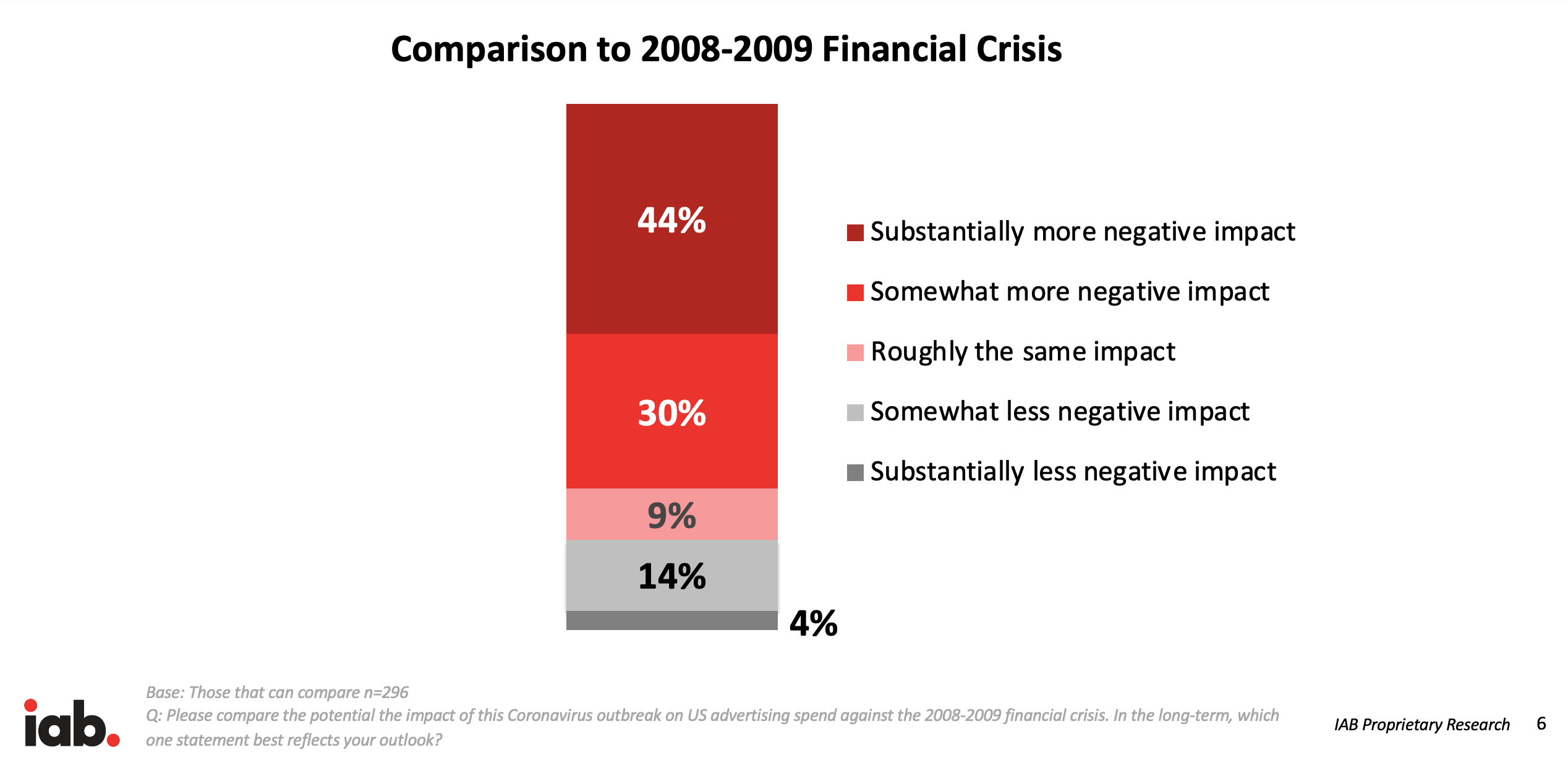 In the report, IAB announced that digital ad spend is down 33% and traditional media is down 39%.
Respondents to the survey were a variety of buy-side decision makers from media planning, media buying, or brands. The majority of decision-makers were SVP/VP/Directors (43%), while 29% were C-Level/Presidents and 24% were Managers/Planners.
Industries surveyed were from a variety of verticals, with the majority comprised of travel and tourism.
Based on their answers, we learned that:
24% paused advertising spend while 46% adjusted it for the remainder of Q1 and Q2
73% will adjust their 2020 and 2021 upfront spend plans, with 20% decreasing that upfront spend versus their original plans
respondents expect that there will be a slightly less negative impact on digital than on traditional spend in Q1 and Q2
many believe digital will experience a quicker recovery in Q2 than traditional
the impact on spending for Q3 and Q4 is likely to be less drastic
46% of respondents are making short-term changes to ad spend from March-June 2020.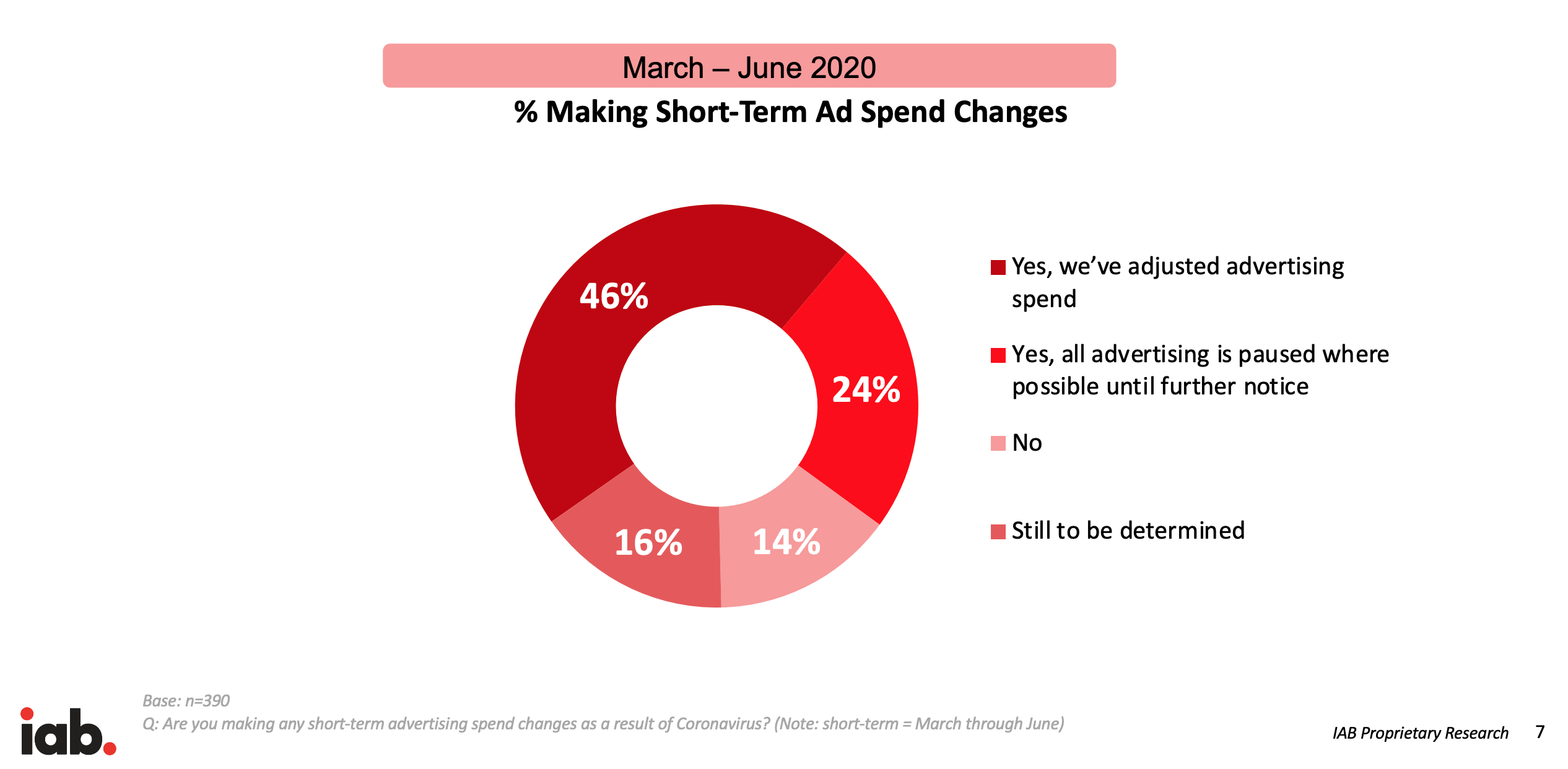 Where we are likely to see the most change in ad spend for March/April that will impact digital publishers is Digital Display; during these two months, Digital Display spending will decrease by 41%. For May/June, there is still a projected decrease, but only at 28%.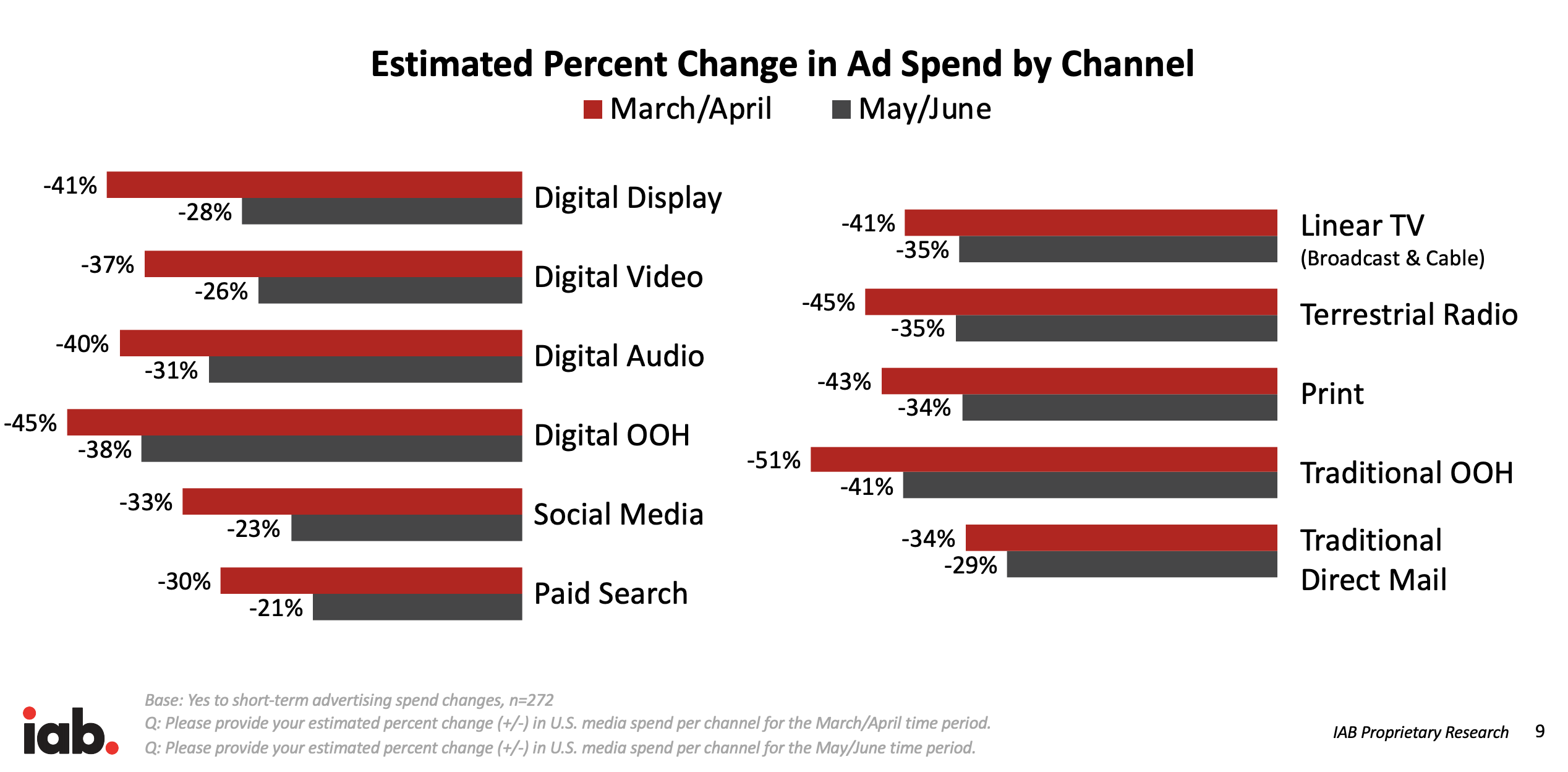 42% of respondents are making entire tactical changes to advertising for the same time period.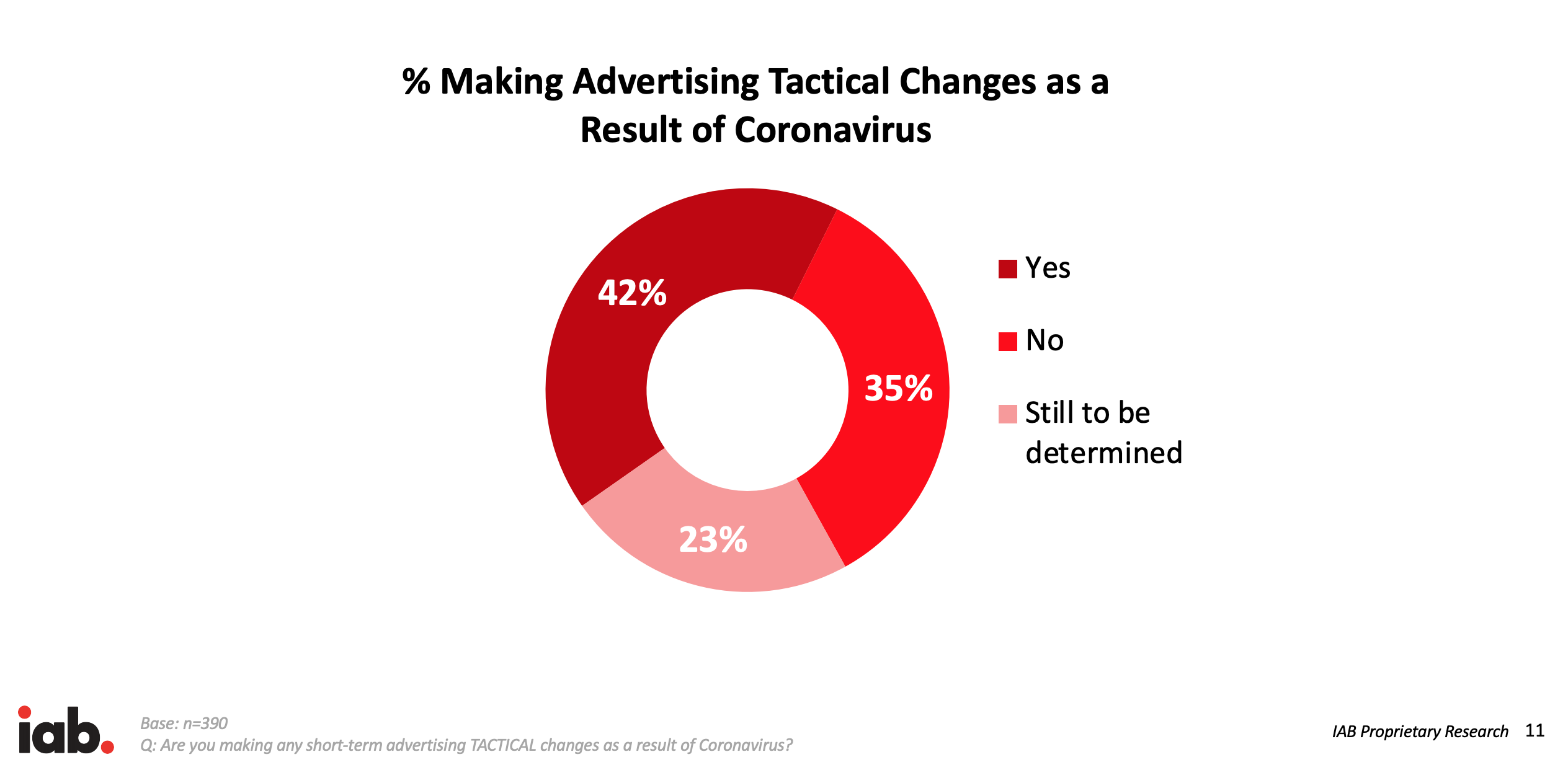 30% of respondents indicated that they will decrease direct buys with premium publishers during these tactical changes, followed by 27% of respondents that will decrease news publishers and/or news content targeting. However, mobile/tablet device targeting and programmatic buying is expected to see increases.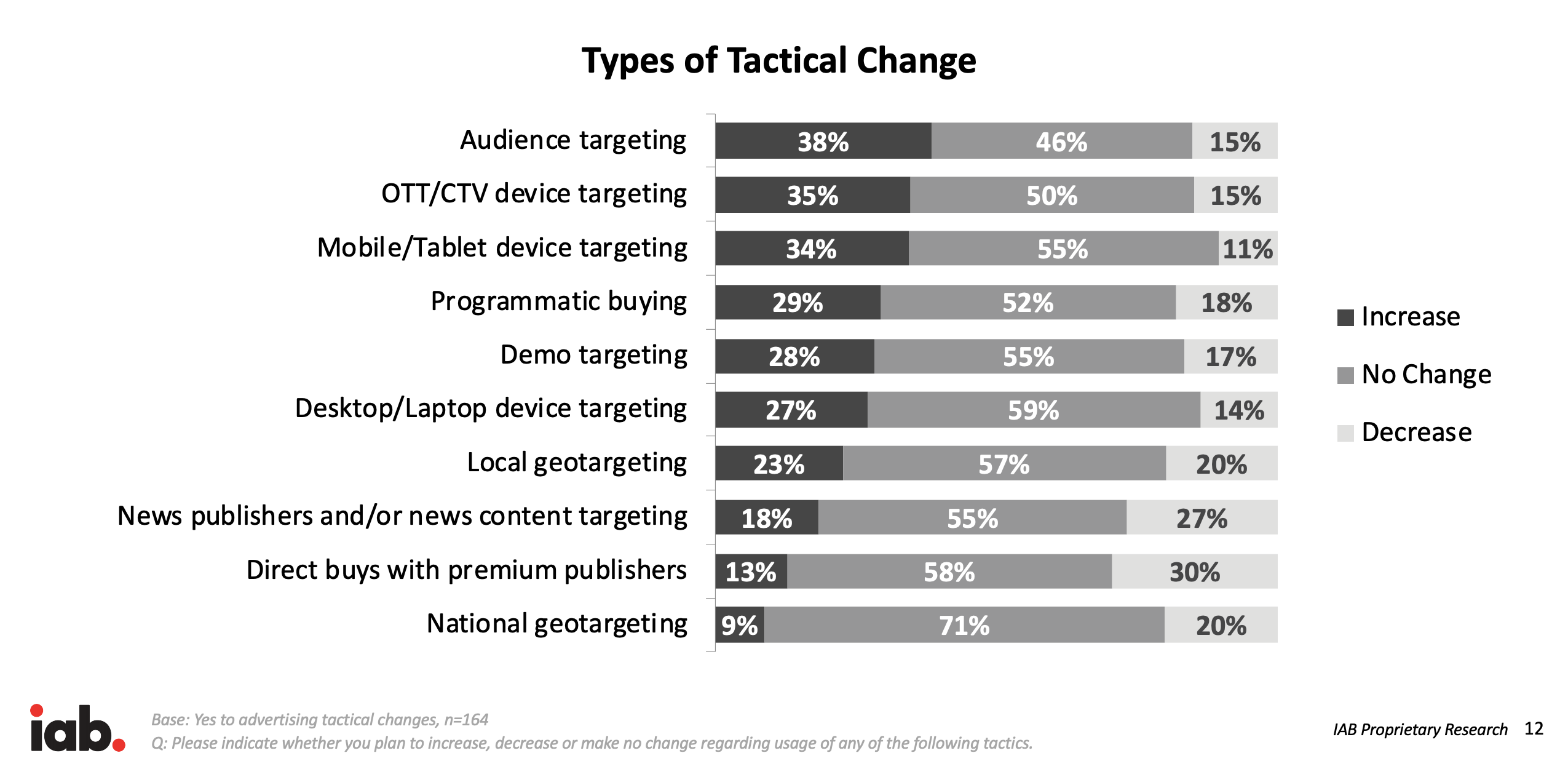 While many ad buyers believe that there will be impacts from Q1 an Q2 that bleed into Q3 and Q4, nearly 70% of respondents have not decided if that means ad spending will be affected. Most ad buyers are waiting to see what happens before making big future decisions.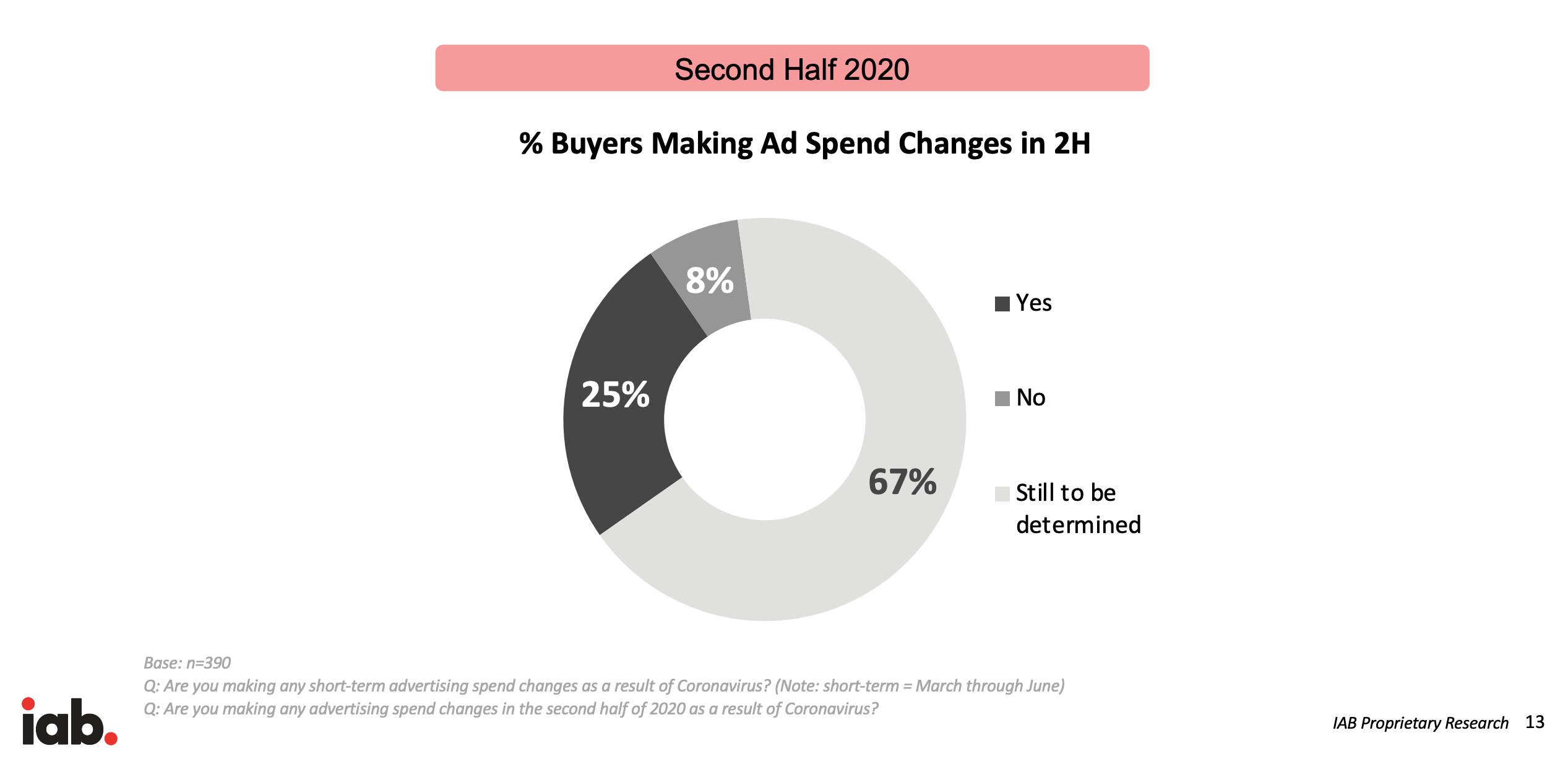 Breaking down the 25% of respondents that said 'yes' to ad spending changes, there will be an estimated 75% change versus what they originally planned for Q3 and an 88% change for Q4. It is likely Q4 will experience more drastic changes than Q3 because Black Friday is usually the highest ad spend all year; while it will still likely be the highest ad spending of 2020, it is likely brands and ad buyers will need to substantially cut back from their usual Black Friday spend because of the impact from Q1 and Q2 revenue.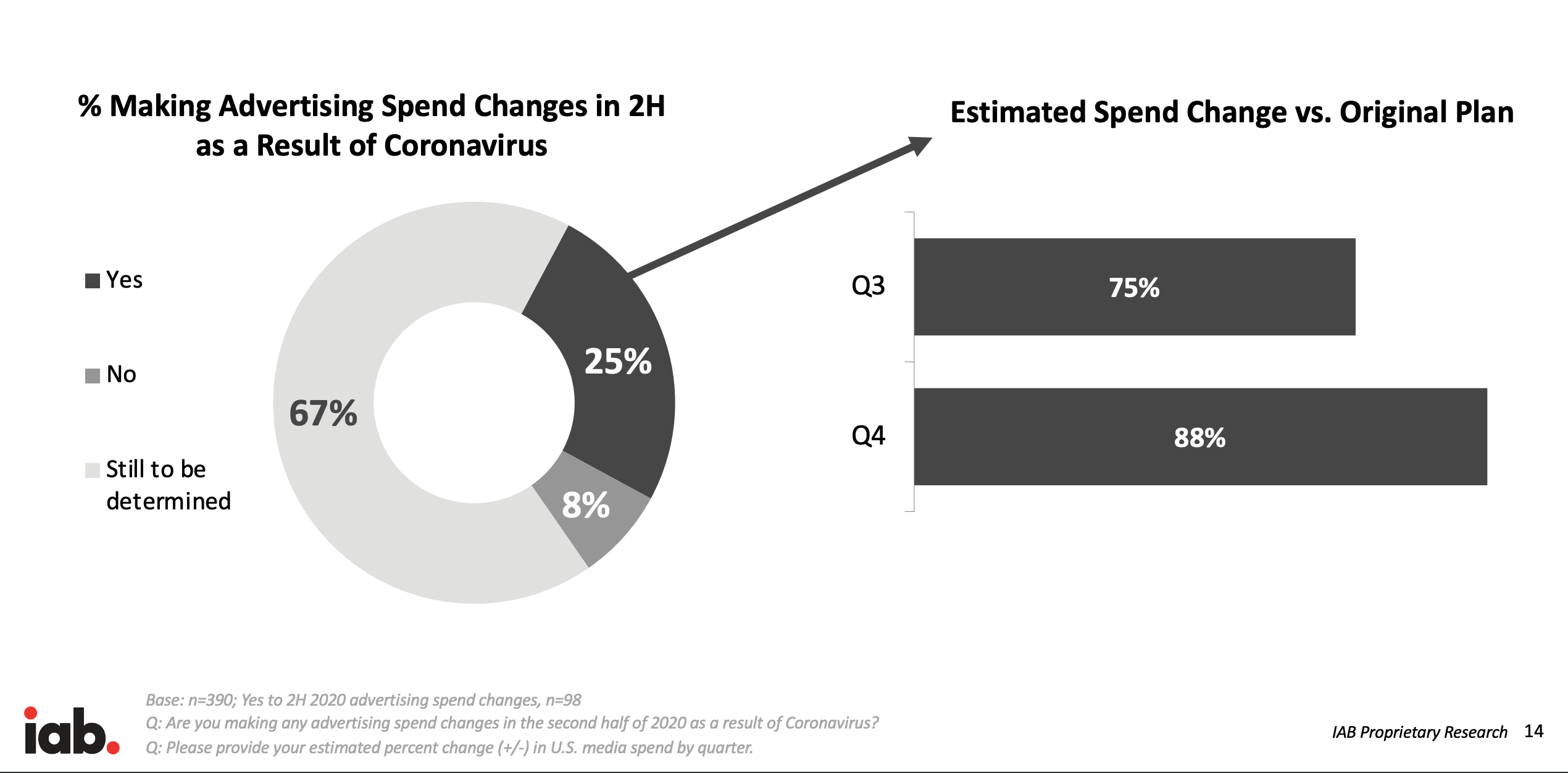 Respondents are making decisions, both for the short-term and long-term, based on what is going on around the world, which can help publishers have a better idea of what they should be watching as well. 65% are watching quarantine statuses and nearly the same number are watching worldwide shelter-in-place initiatives. These two directly affect the other events, including the number of coronavirus cases, businesses opening/closing, and the stock market performance (all of which 44-49% of respondents are watching).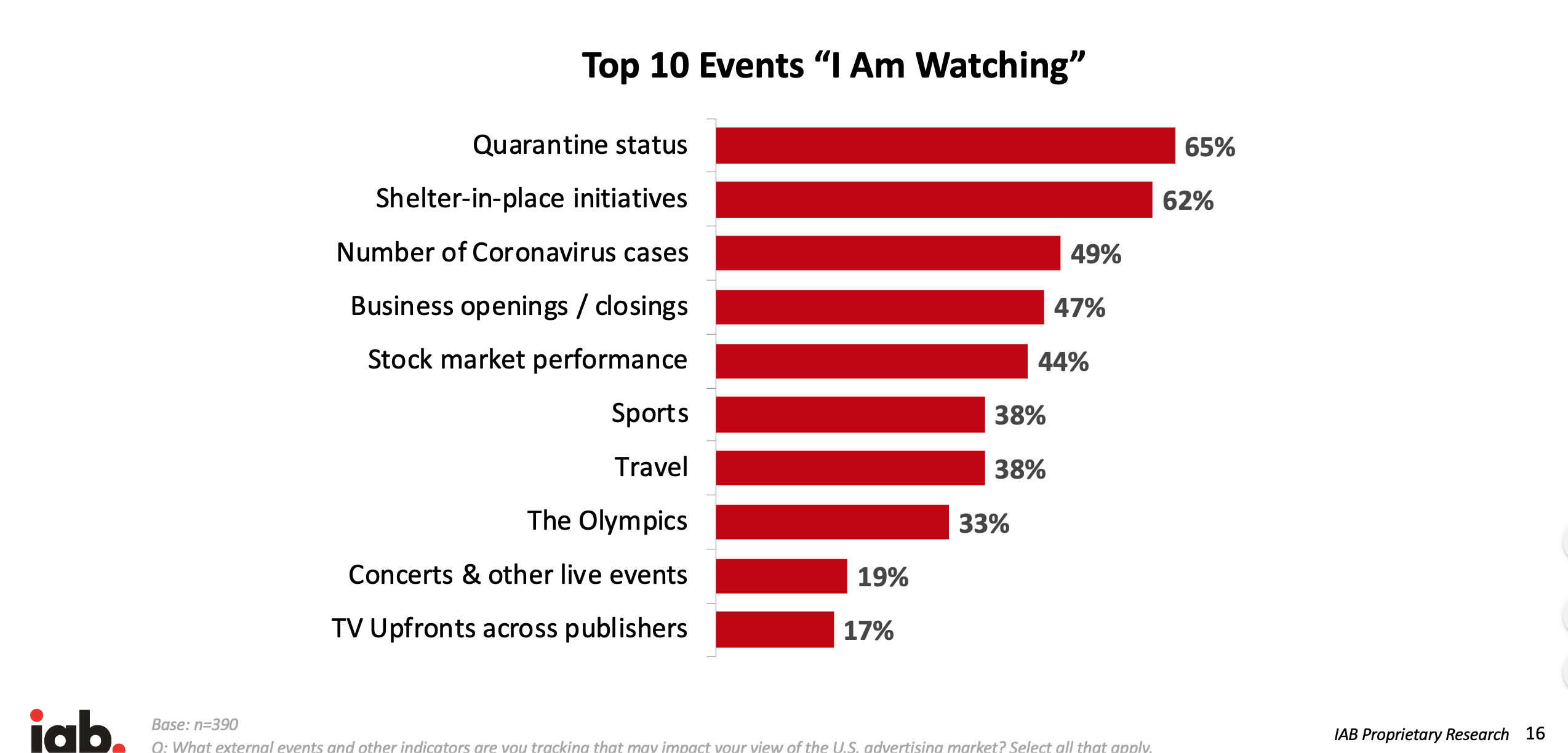 Ad buying and brands are severely cutting back on advertising for the first half of the year, which many publishers are feeling right now. Additionally, since publishers are struggling to get advertisers to buy spots on their sites, supply is very high; this means advertisers can be as picky as they like about where those ads show and what price they'll pay for them.
Publishers should follow what brands and ad buyers are focusing on as to get a better idea of what to strategize for–mobile and tablet advertising is likely to increase, so optimizing your content and website for those devices and focusing on increasing traffic to them could be beneficial for when ad buyers are looking to purchase space. When more businesses open and the number of coronavirus cases decrease, ad buyers will feel safer about pushing advertisements; publishers should ensure their website is the best it can be and that they are ready to begin working with advertisers at a higher rate as this happens.
Things are changing daily, sometimes even multiple times a day. Check this blog for live updates and more information on ad rates and digital publishing trends during this time.
For our Ezoic publishers, this continues to validate the importance of personalized experiences for visitors. With so much changing so quickly, it can be nearly impossible to keep up with what is going to make you the most money through this pandemic.
Ezoic's artificial intelligence within Ad Tester is going to constantly be making slight changes, per visitor, to give your users the best experience. Simultaneously, Ad Tester optimizing where those ad show, how many show, and what sizes show so you can make the most money possible, no matter what is happening in the economy or online. If you are struggling through this time, keep up with our blogs, podcasts, and videos, and reach out to your account manager with questions or concerns.
[/et_pb_text][et_pb_text admin_label="March 27 Updates" _builder_version="4.4.1″ header_3_font="Open Sans||||||||" custom_padding="||0px|||"]
— March 27th 8:31pm PDT —
For the third day in a row, ad rates are at 44 and the gap between this year and last year continues to grow.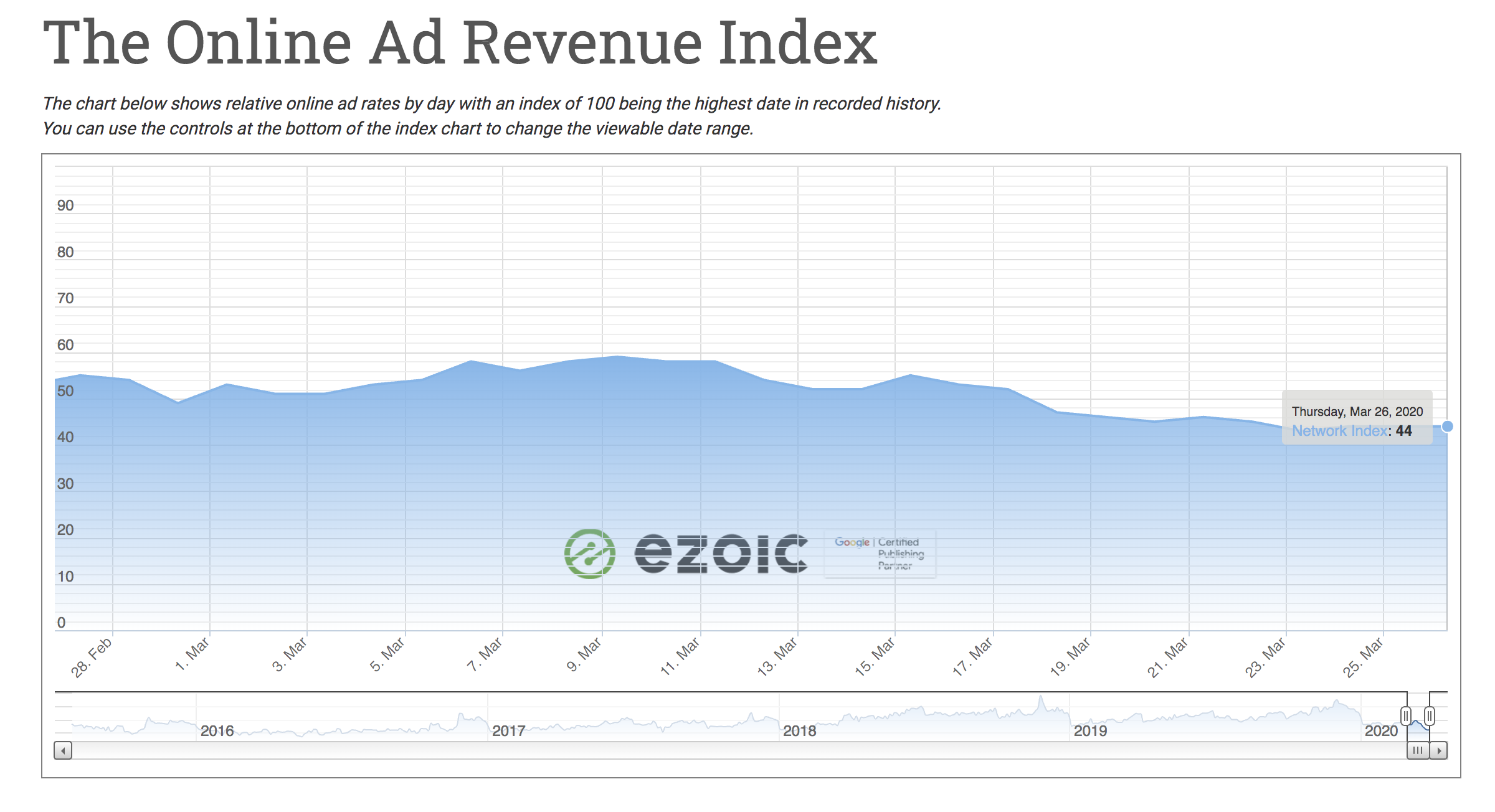 March 2020 will continue to flat line over the next four days while we will see it rise slightly in 2019's ad rates. Currently, March 2020's average ad rates are 10 points below 2019's, as show in the graph at the beginning of the post.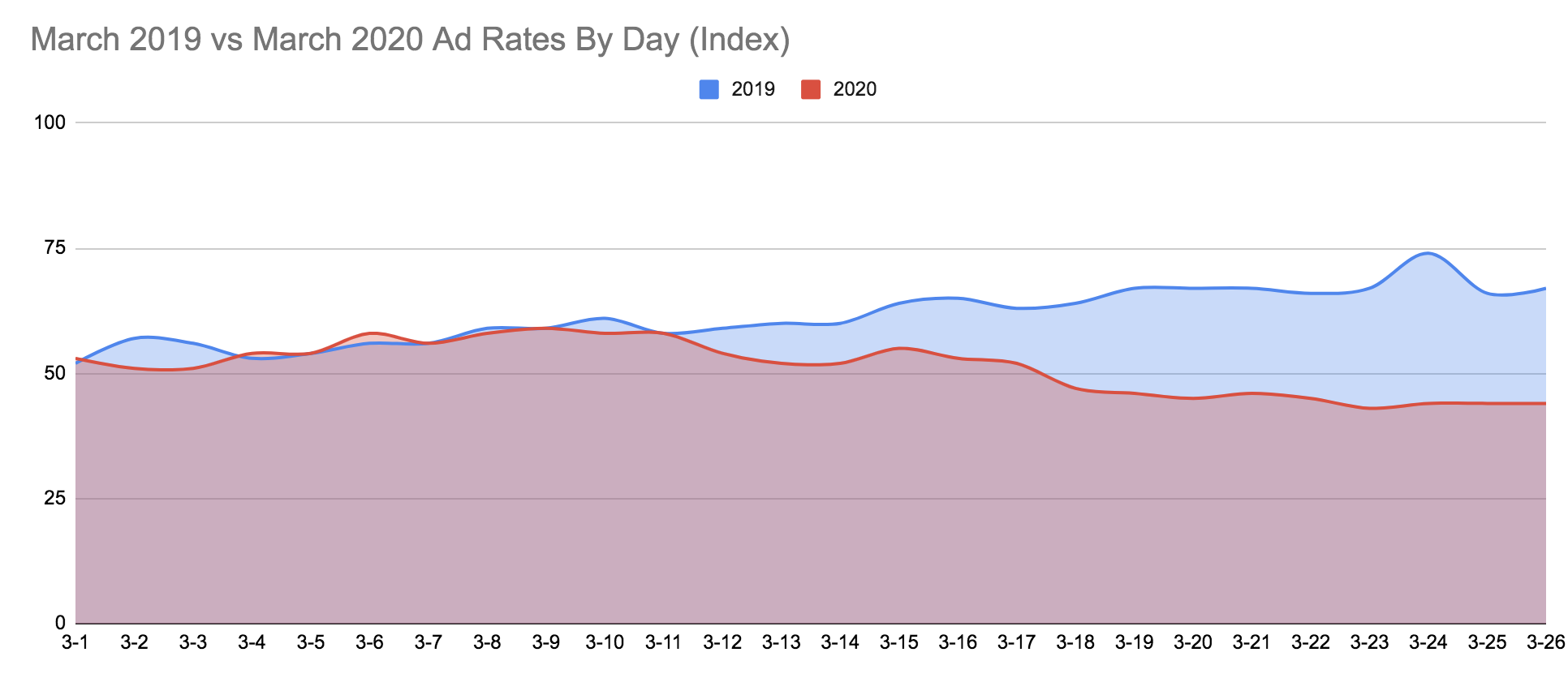 Additionally, ad rates for 2020 have officially dropped below 2016's, though since ad rates will likely stay around 44 until the end of Q1, it is likely March 2020's will end on a little better note than 2016. But this is likely to change significantly at the start of Q2.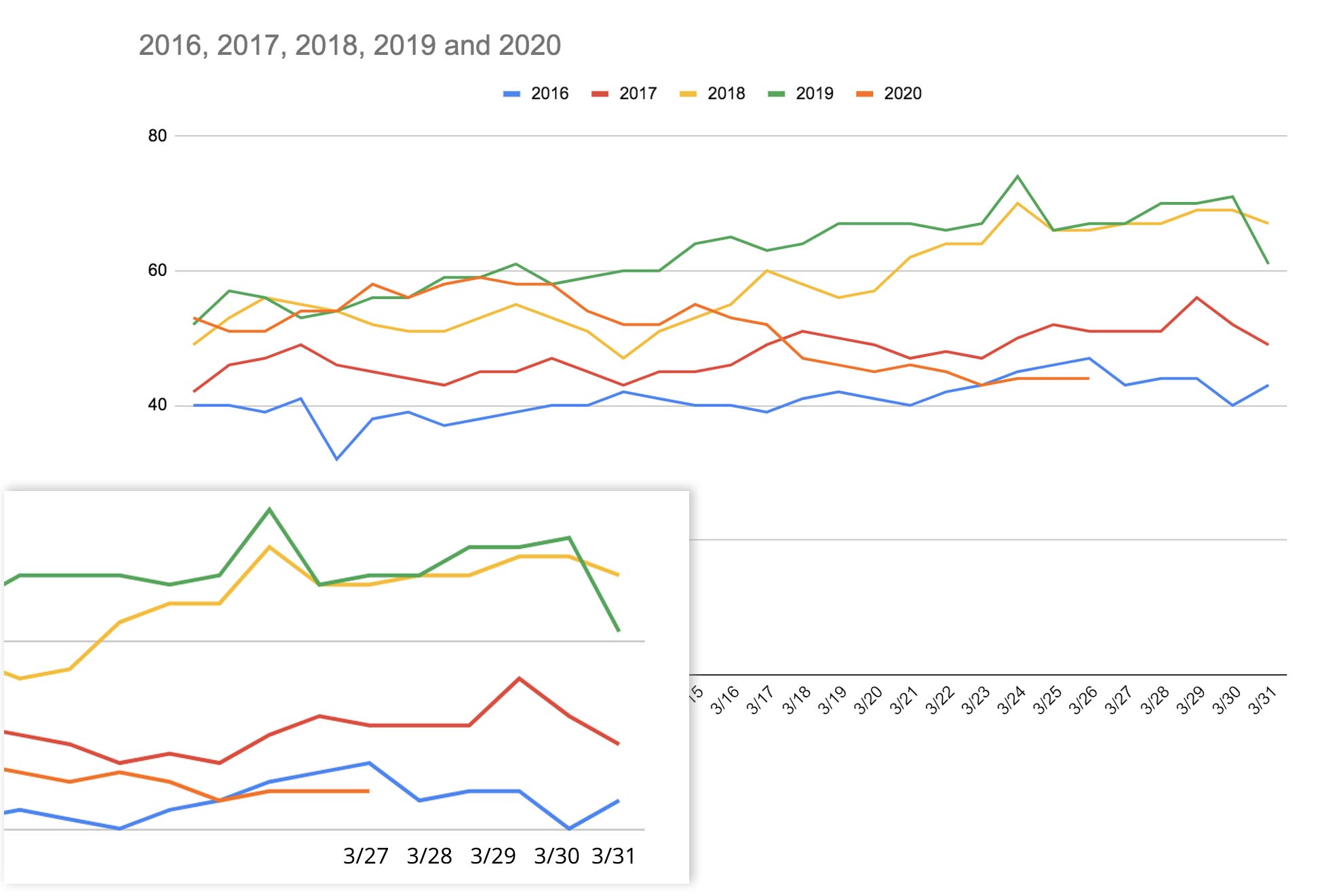 Traffic will continue increasing in Q2 as there are more states (in the US) and countries on lockdown. The gap between revenue and traffic will almost certainly grow much wider beginning on April 1st; any campaigns that carried out through the first quarter will end and it is unlikely that many brands are going to invest in much advertising in Q2.
Additionally, many advertisers don't want anything to do with coronavirus content and often block words associated with it. Unfortunately, that is also the hottest and most relevant topic right now.
"According to ad tech vendor Browsi analysis of CPMs across three news and sports publishers between 10. Feb and 10. Mar, those impressions that had a viewability score of 70% or more had CPMs of more than 30% than those impressions that had a viewability score below 70%."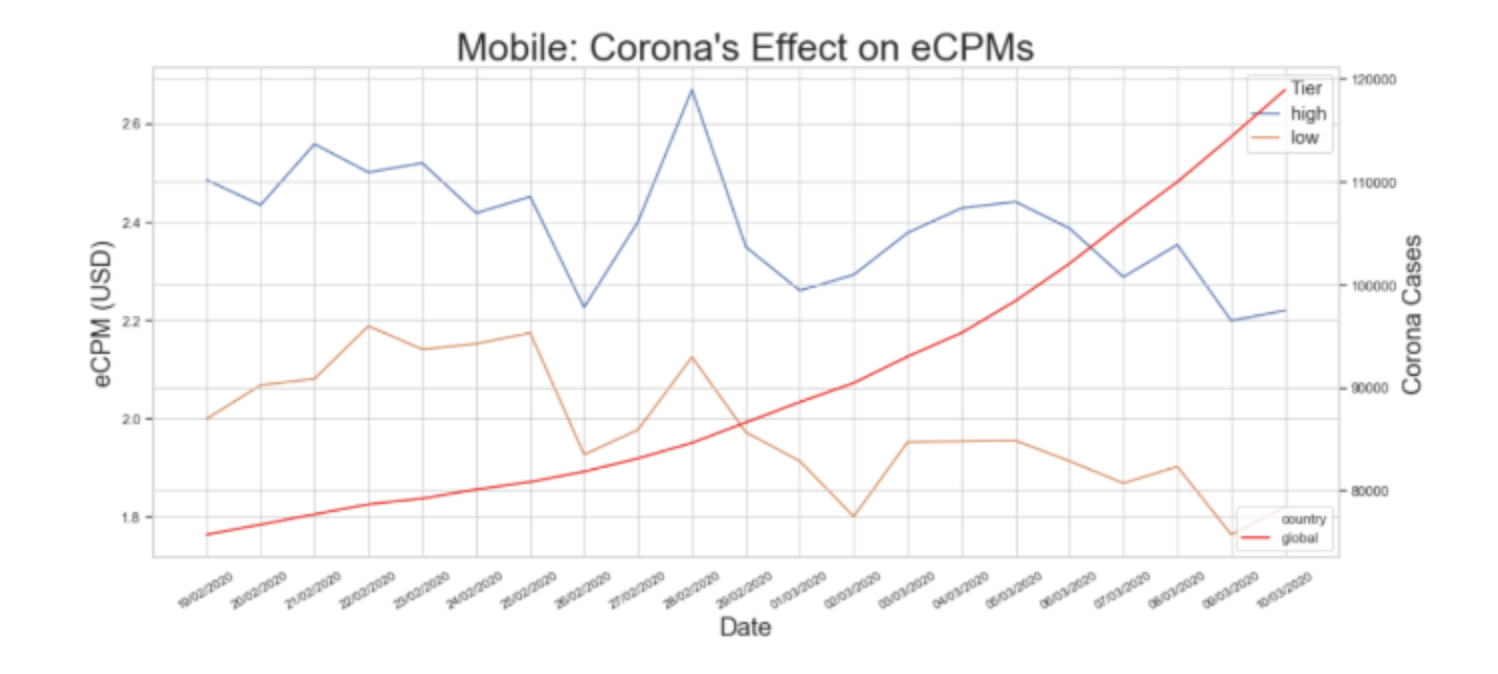 While traffic is up for some sites as high as 70%, Snopes is having similar traffic/revenue balancing issues and also trouble keeping up with demand.
Snopes, a fact-checking site, has experienced a 44% increase in traffic over the previous month, which translates to about 36 million unique visitors. Snopes' VP of Operations, Vinny Green, recently stated that the site's CPMs are decreasing and likely to get worse right at the beginning of Q2. Even though traffic is increasing, as undoubtedly visitors are looking to debunk coronavirus misinformation, Snopes can't afford to hire more employees to keep up with fact-checking and refuses to work its current employees to the bone.
Ecommerce still growing
Something we mentioned in a previous post was the rise of ecommerce during this time, especially third-party ecommerce like Shopify. Pinterest is taking advantage of the ecommerce evolution through the roll out of new features to help with the rising search volume.
Now, retailers can become a part of the Verified Merchant Program. This will allow verified merchants' products to be distributed throughout Pinterest through features like "Shop the Look," and gain eligibility for additional metrics like conversion reporting. Pinterest Catalogs and dynamic retargeting have also experienced upgrades.
[/et_pb_text][et_pb_text admin_label="March 26 Updates" _builder_version="4.4.1″ header_3_font="Open Sans||||||||" custom_padding="||0px|||"]
 — March 26th 3:46pm PDT —
Ad rates have not budged since yesterday and remain at 44. For the rest of Q1, we can assume this will likely be the trend for the Ad Revenue Index. These rates will likely not remain, however.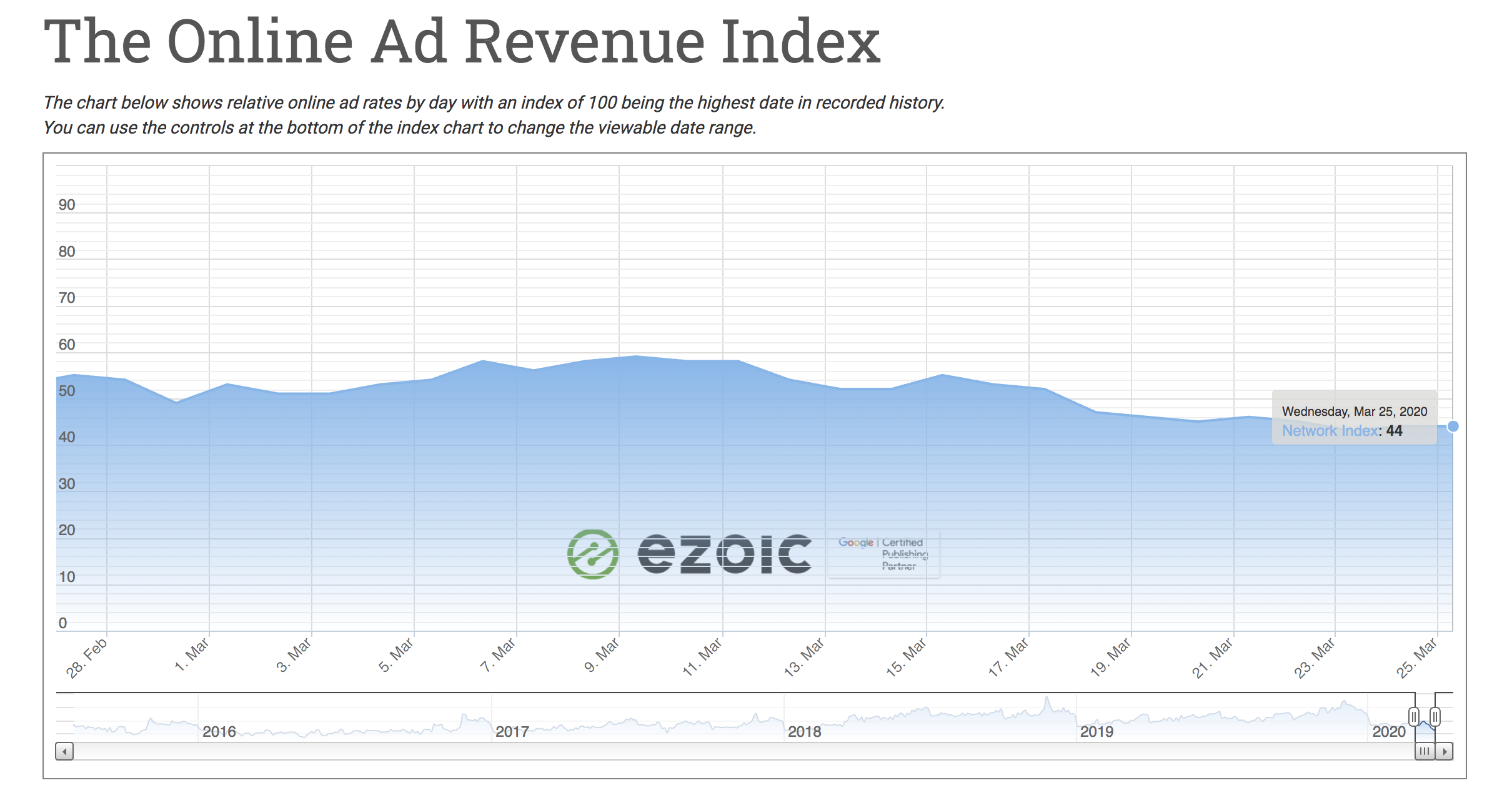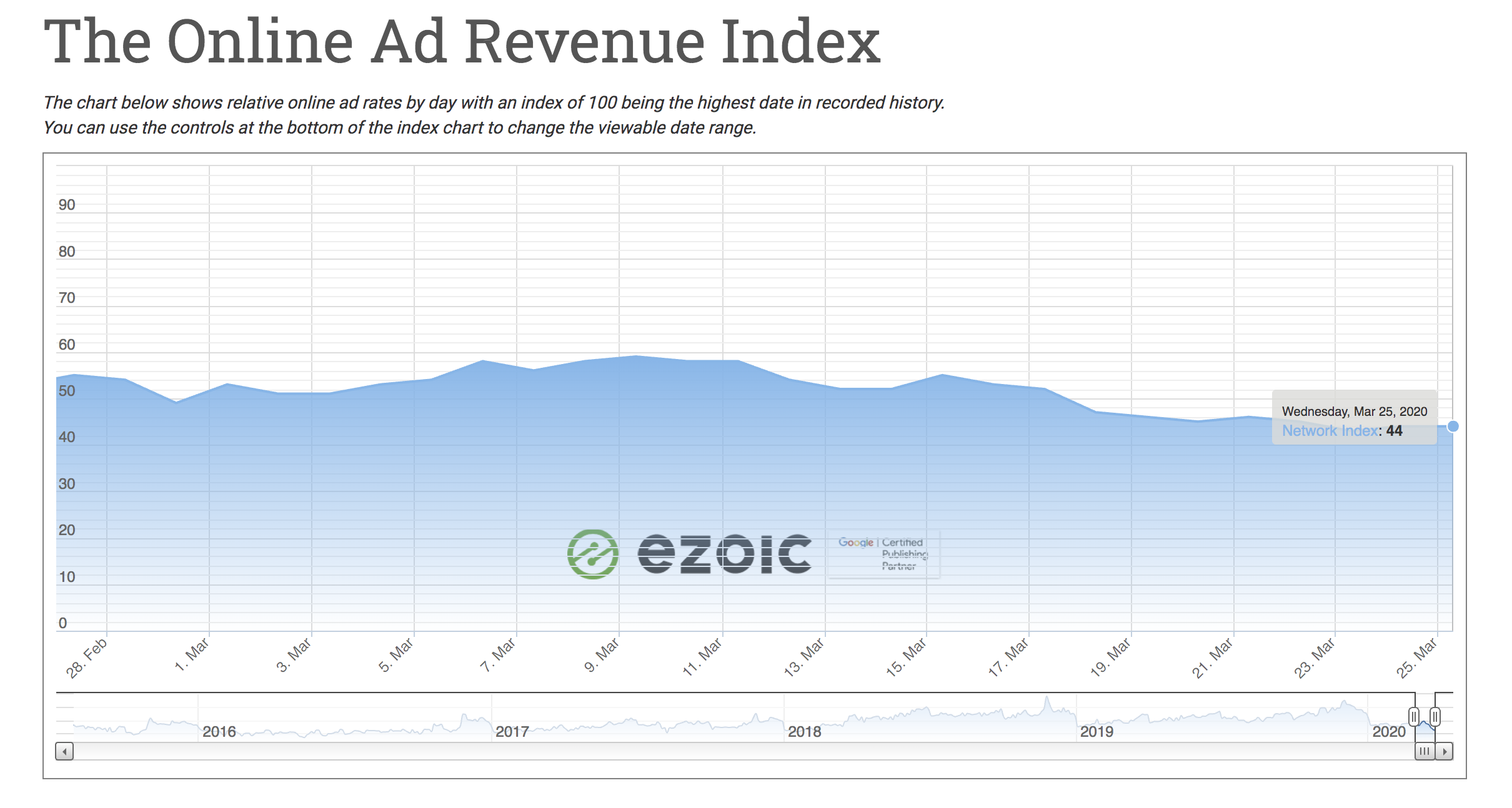 As we can see, last year there was a large splurge of spending on March 24 as companies began their last, week-long campaign before the first quarter ended. What we can expect to be similar this year is that ad rates will drop on the first day of Q2, or April 1st, as well.
What will be different is just how big that drop is.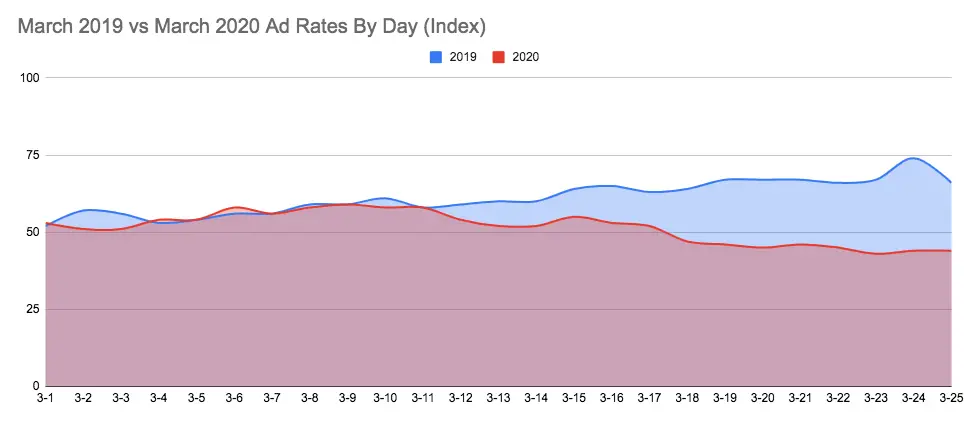 As mentioned in a previous update, some ad campaigns are contractual; despite the current financial climate, some companies were unable to get out of those contracts. So, though companies are losing money, they may technically still be spending significantly on ad campaigns. This will likely come to a screeching halt on April 1st, when Q2 begins.
As a result, publishers should expect a very significant drop in ad rates on April 1st and, in general, the second quarter.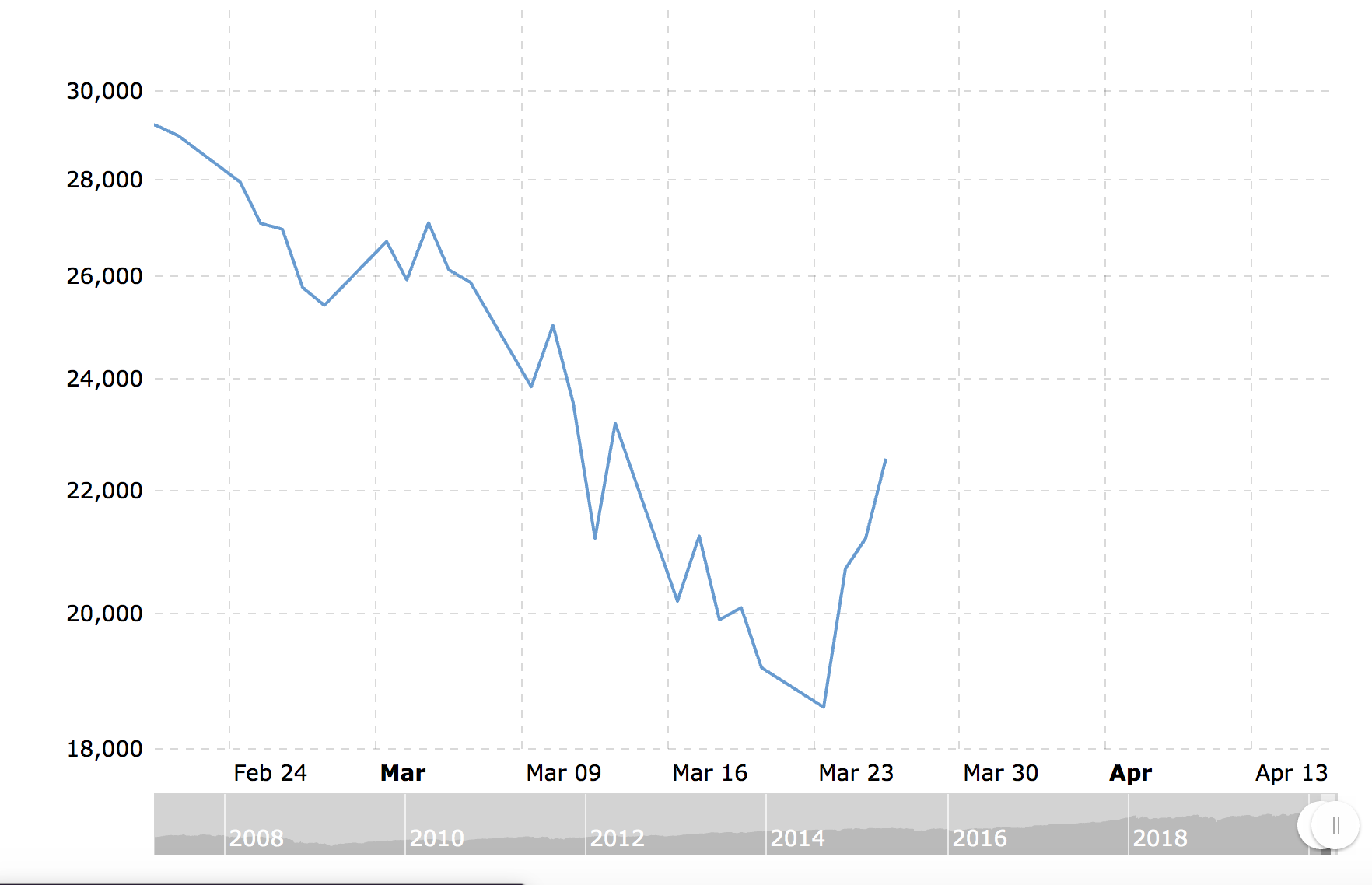 Though the stock market is recovering, many companies will have greatly adjusted their Q2 goals, strategies, and predictions from whatever they had planned at the beginning of 2020. They will be pinching pennies to avoid mass revenue losses, layoffs, and potentially bankruptcy, with the hopes that things will begin to behave with some normalcy on the far side of the coronavirus pandemic.
Facebook and Twitter have both reported steep revenue declines, even though traffic has increased on both platforms. Publishers have also likely seen this on their own websites; many of our publishers have reported that their traffic has increased in the past month but that revenue continues to decline simultaneously.
Publishers can expect this to continue in Q2 to a greater extent. Though more people will be in lockdown and using the internet at a higher rate, the ad revenue won't be there because ad spending is so low.
While publishers may be struggling to make ends meet, ecommerce is experiencing a huge surge right now. Typically, companies who have brick-and-mortar stores may have their own online store set up, but choose to really drive sales through third-party ecommerce sites that are specifically designed to sell items. While ecommerce has already been climbing, it still only makes up a small percentage of online sales and traditional retail still brings in the majority of revenue.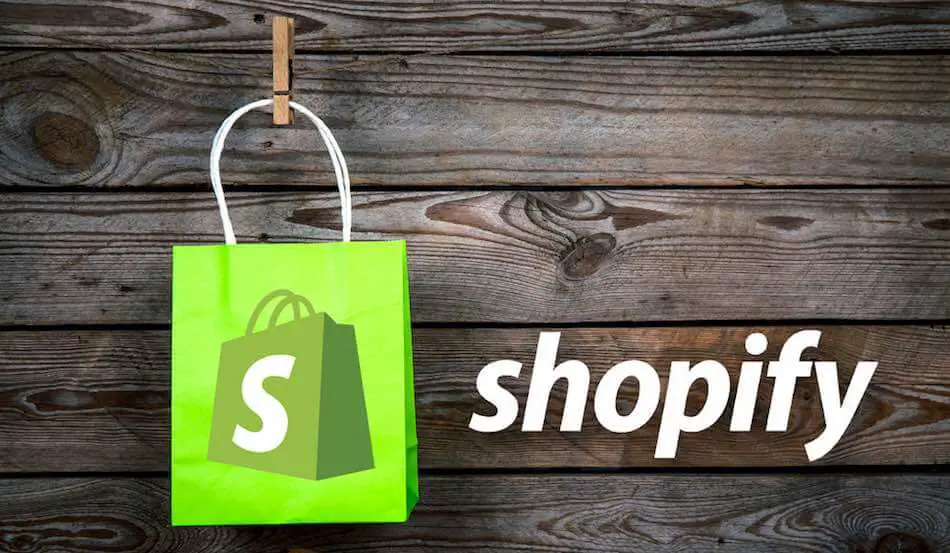 However, for the first time, people need to buy even just basic needs solely online, not to mention non-essentials as well. Many companies are beginning to catch on and either develop their own ecommerce site or use third-party ecommerce services.
If there are publishers who also have items to sell, this may be the best time to invest in ecommerce.
Publishers giving publishers advice
This week, we interviewed two publishers on how they are coping during the COVID-19 pandemic. Those videos will be posting next week and we will link to them here.
In the meantime, publishers should prepare for the coming big ad revenue drop that we can say, with near certainty, will appear on April 1st.
The best thing publishers can do right now is to ensure their ad inventory is high-quality and that their website is optimized to its best in order to make the most of what ad spend is out there.
Ezoic users are able to do this through Ad Tester, which always optimizes for the best revenue and user experience balance. Though earnings may be lower than usual, Ad Tester users can rest assured they're getting the best ad inventory and the best of this situation.
[/et_pb_text][et_pb_text admin_label="March 25 Updates" _builder_version="4.4.1″ header_3_font="Open Sans||||||||" custom_padding="||0px|||"]
— March 25th 3:11pm PDT —
The Ad Revenue Index is now updated through Tuesday, March 24, 2020. As predicted, numbers have stayed stagnant in the mid-40s.
Around this time last year, ad rates began increasing quickly, as yesterday was the one-week mark until the end of the first quarter. Ad rates always drop April 1st, and we don't doubt this year will be the same, if not more drastic.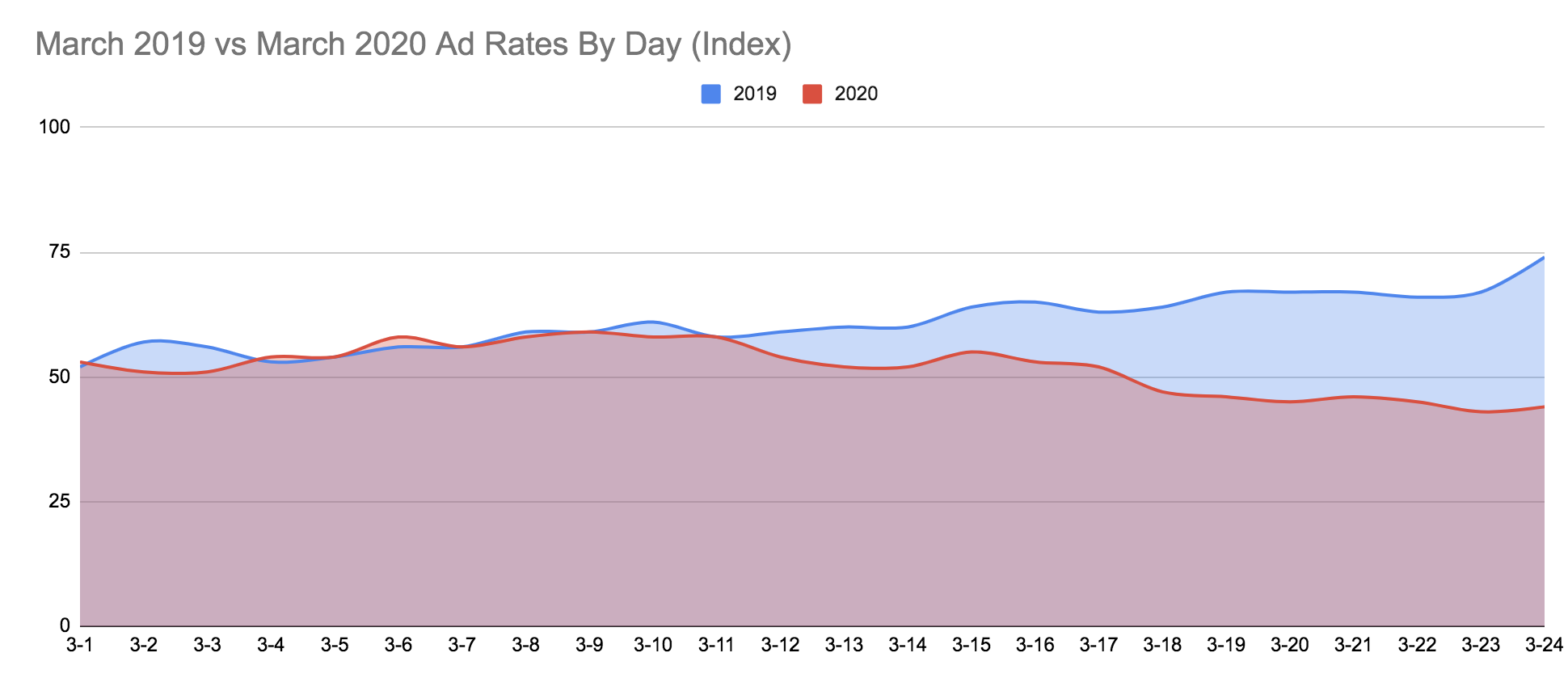 As suspected, people around the globe are on their computers and phones increasingly. In a media consumption report by Kantar Media (a data, insights, and consulting group) of 25,000 consumers from 30 different markets between March 14-23, internet usage was up by 71%. This was before the United Kingdom and India enforced their lockdowns.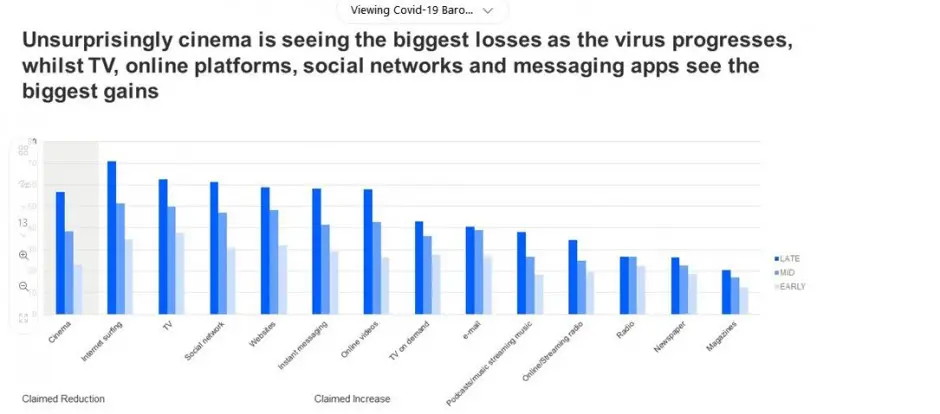 Graphs from The Drum show how viewing percentages have changed across mediums and within social media networks.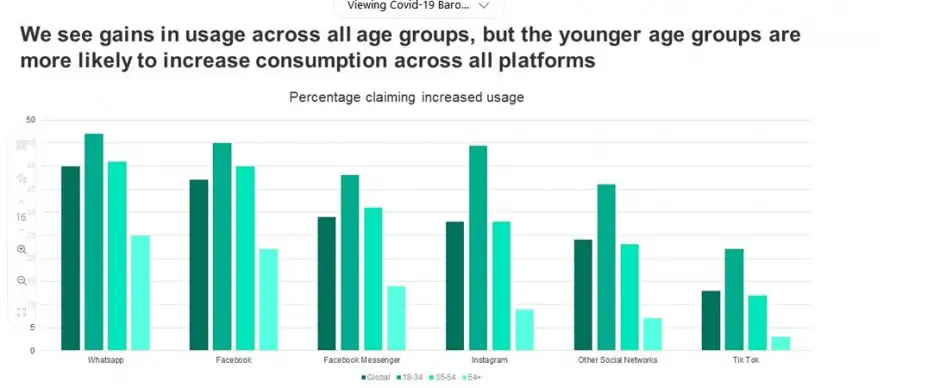 Globally, all mediums of media consumption are up except for cinema. As more countries initiate lockdowns, WhatsApp usage has seen the most growth in 18-34 year-olds, who are likely checking in with family. 18-34 year-olds are leading the social media usage increases, and they are using higher than the global average on every platform.
Many Gen-Zers and Millennials will be on social media off-and-on all day and online most of the day. Publishers who use social networks can use this as an opportunity to reach your audience through social media more than in the past. If it makes sense for your brand, consider how you can get in front of and connect with your audience on a more personal level through social media, which can then convert to website visitors.
[/et_pb_text][et_pb_text admin_label="March 24 Updates" _builder_version="4.4.1″ header_3_font="Open Sans||||||||" custom_padding="||0px|||"]
— March 24th 2:43pm PDT —
Ad rates in the Ad Revenue Index are now up-to-date through Monday, March 23, 2020. Since Sunday, there was a slight decrease but it is still within the mid-40s.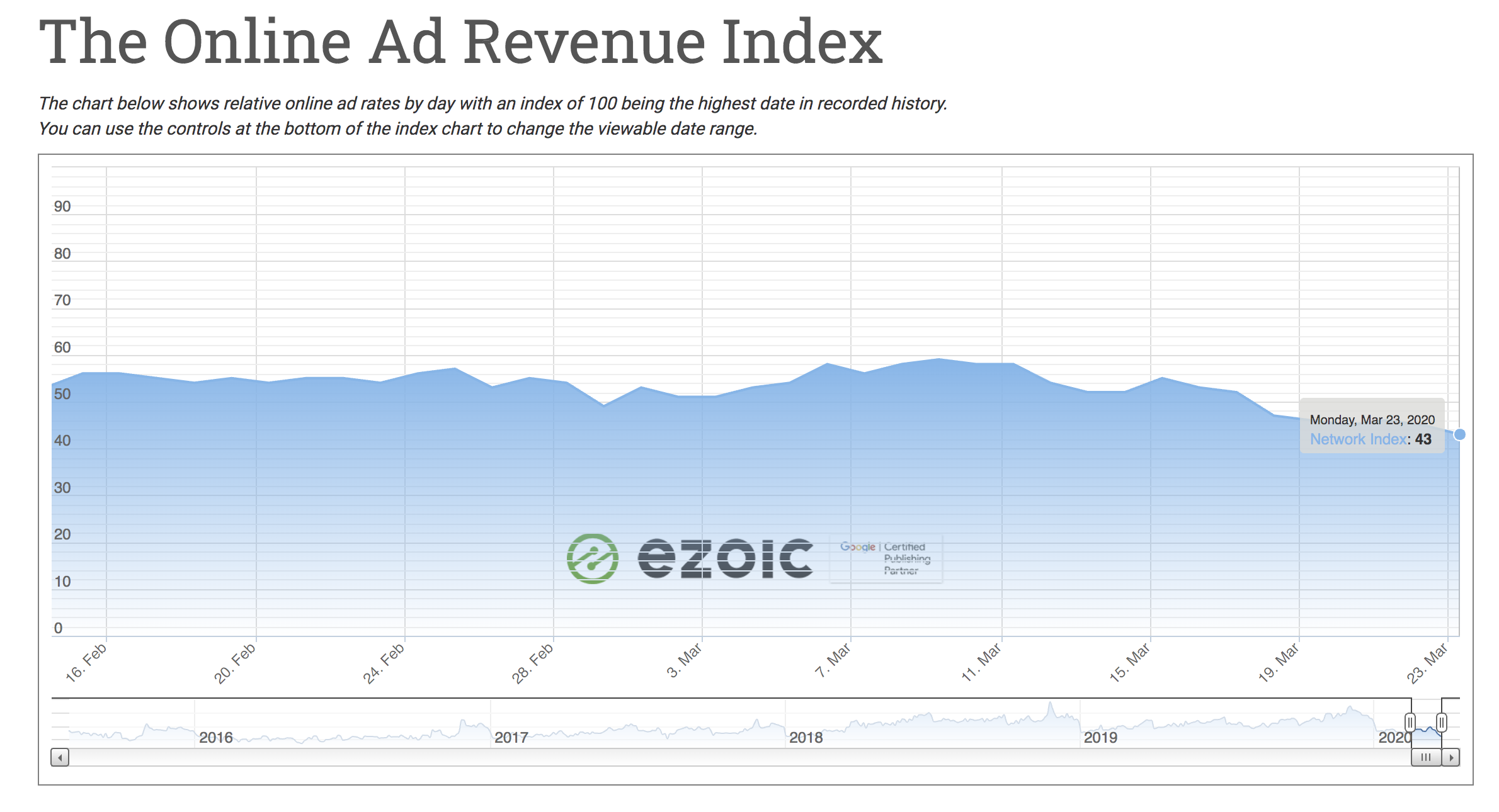 The ad revenue index is still roughly 20 points below this time last year.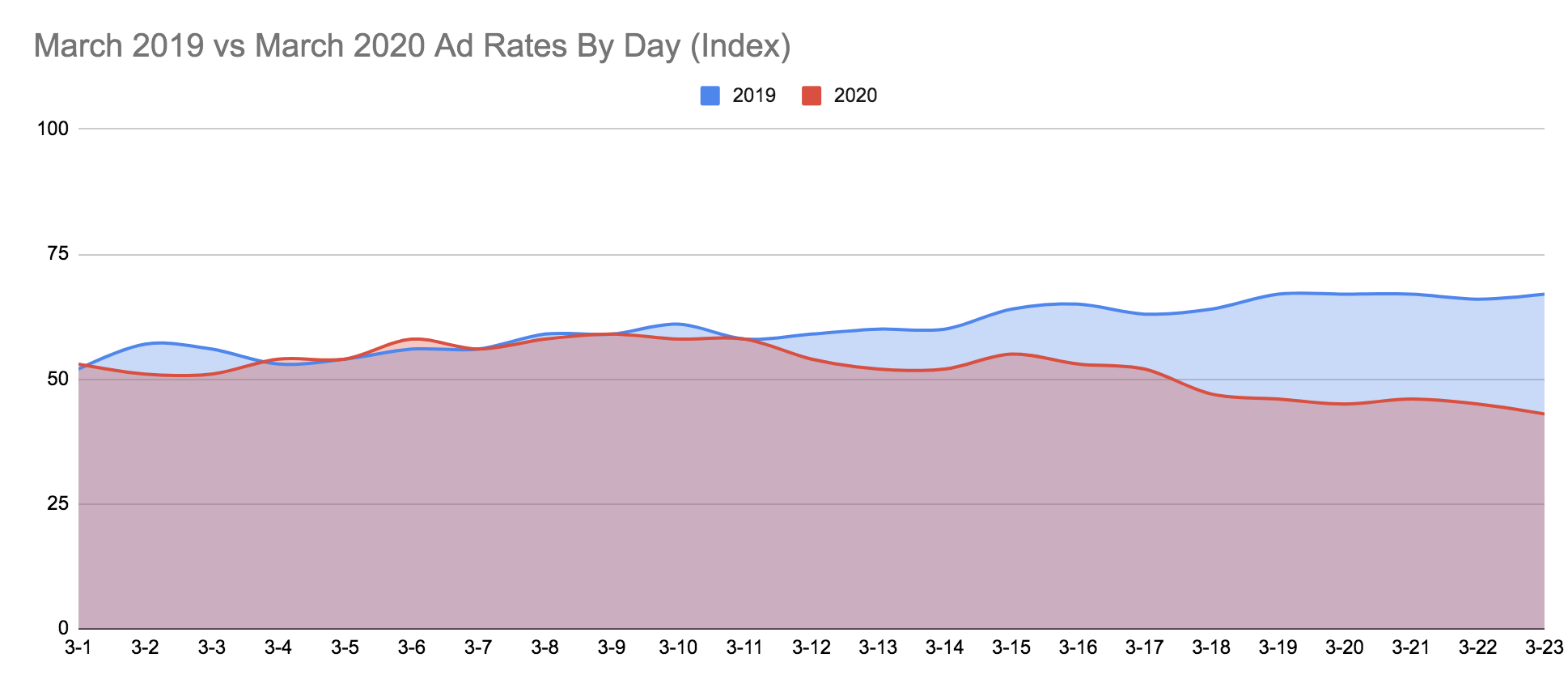 We will likely see this gap stretch farther, however, in the last few days of Q1. Typically, marketers usually spend more money at the end of a quarter to use up the last of the marketing budget and attempt to finish up some quarterly goals.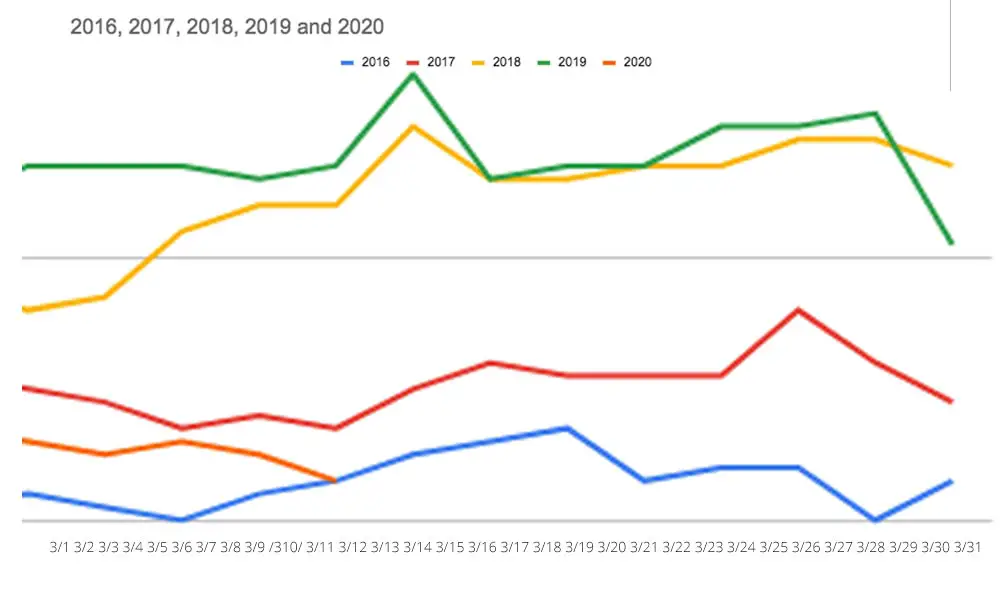 The end of 2020's first quarter may follow this upwards trend a bit, followed by a drop April 1, due to contractual advertising campaigns. Publishers and companies may be stuck in quarterly advertising contracts they can't get out of, regardless of their financial crisis. But it is likely the increase will not be as steep.
However, on the first day of Q2, there will likely be a significant decline due to those Q1 campaigns ending and pinched purses for Q2 and maybe Q3.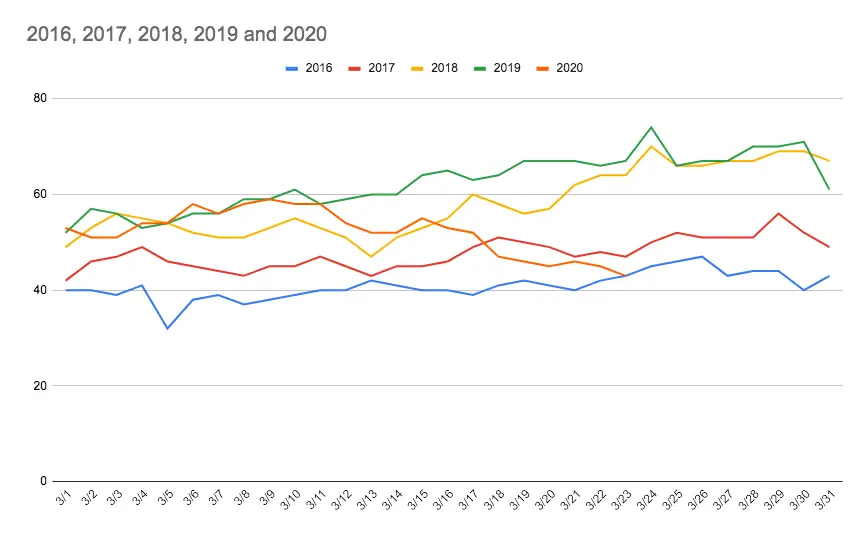 A little bit of comfort should be that though the market is surely in decline and ad rates are dipping, we can see in this graph that 2020 ad rates have still been better throughout March than in 2016.
[/et_pb_text][et_pb_text admin_label="March 23 Updates" _builder_version="4.4.1″ header_3_font="Open Sans||||||||" custom_padding="||0px|||"]
— March 23rd 3:16pm PDT —
As discussed in a previous update, the ad revenue index is staying level now that the initial impact of coronavirus has passed. Since Thursday, March 18, 2020, the ad revenue index has fluctuated between 45 and 47.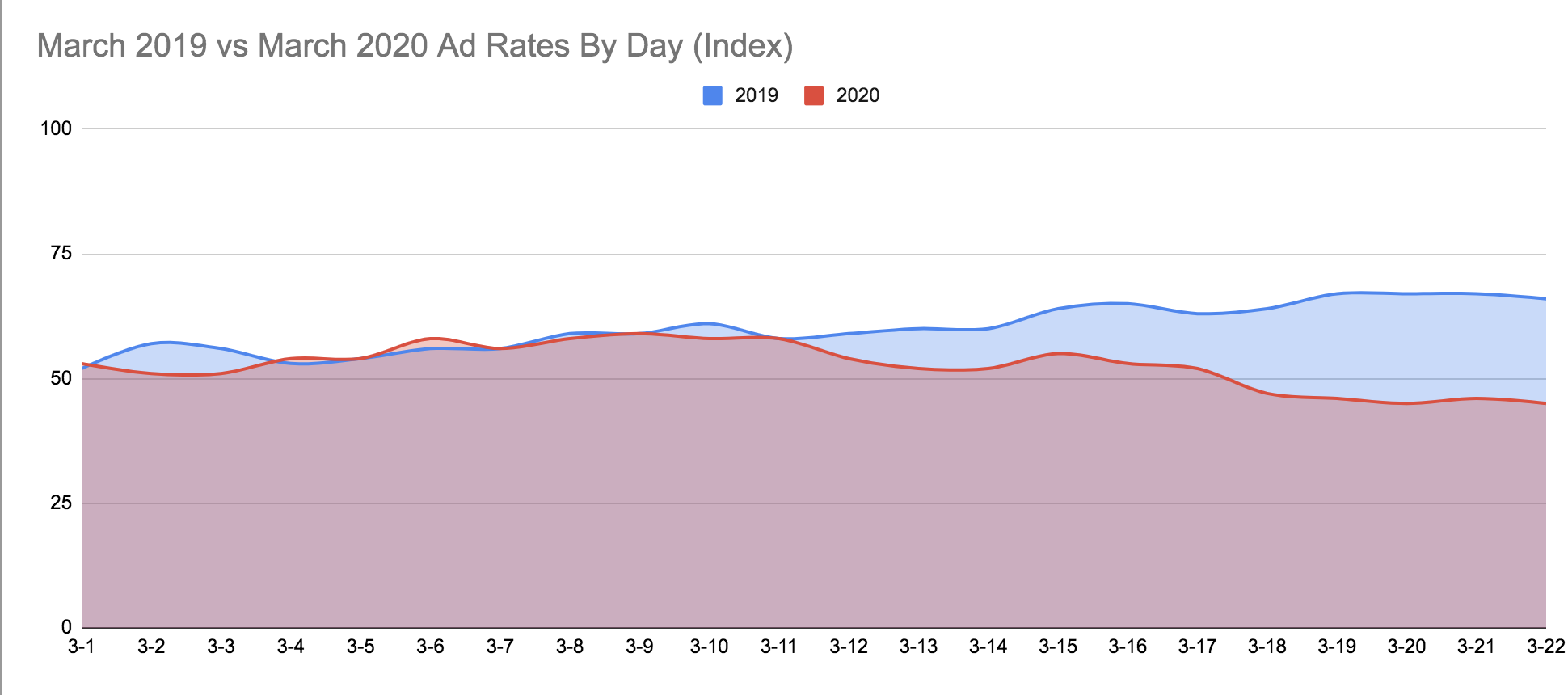 Though this is still roughly 20 points lower than this time last year, this steadiness should give publishers a moment to collect themselves.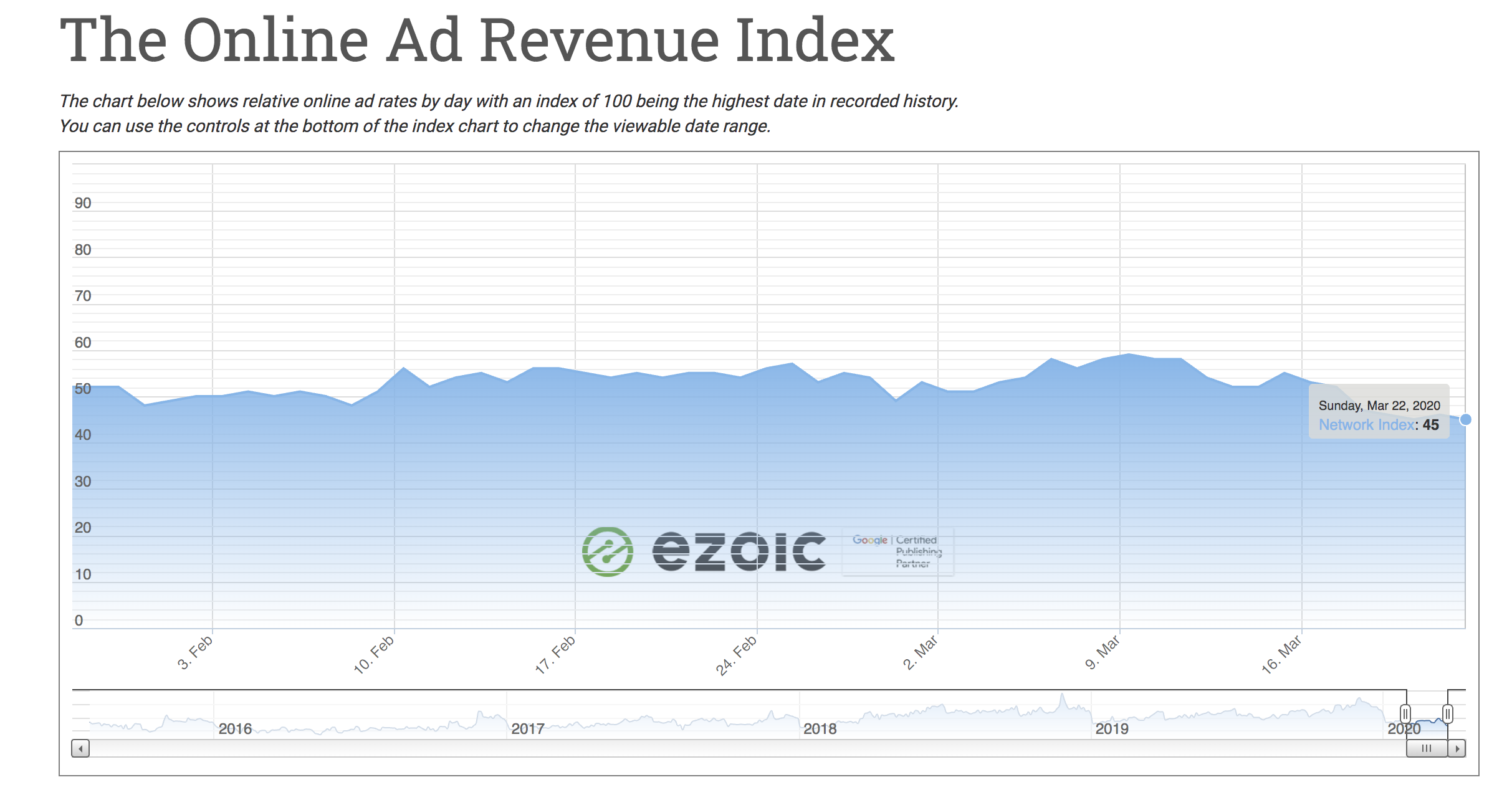 Below, we can see from this sample cross-section of different categories of publishers that pageviews are altogether higher today than they were last week or yesterday, but follow the same daily decline around this time of day. This daily decline is normal ad rates, even in ordinary circumstances.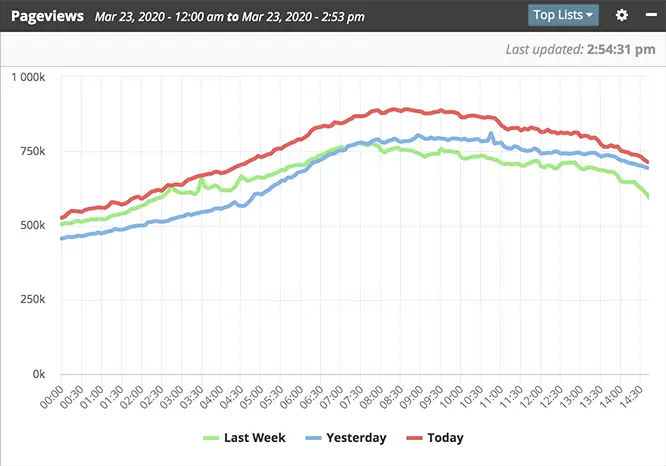 In light of the impact of COVID-19 on the market, many publishers and media companies are reporting they will hit much below their Q1 goals and are revising their Q2 and even Q3 goals.
This volatile time requires flexibility and creative thinking, as much of this is changing day-by-day. It's important to not get involved in quick-fixes and scams, as there are plenty of people who will capitalize on the fear and uncertainty. As always, but especially now, do not make any major changes without data to back up why the change is necessary or beneficial.
The more intimately you know your site, the better off you will be. Ezoic's Big Data Analytics gets even deeper than other analytics and is specifically designed for publishers to understand minute details about their content, traffic, and revenue.
Regardless of what you use, ensure that you're making data-driven decisions, not emotional, fearful, or reckless ones. This won't last forever, and it is important that publishers don't make short-term and desperate decisions now that will jeopardize their site long-term.
— March 23rd 08:12am PDT —
Ad rates continue to diverge in a downward trend from 2019 as we get more data from last week about the impact of the cornonavirus on publisher ad inventory. Our update from yesterday includes a nice roundup of news and information related to this impact.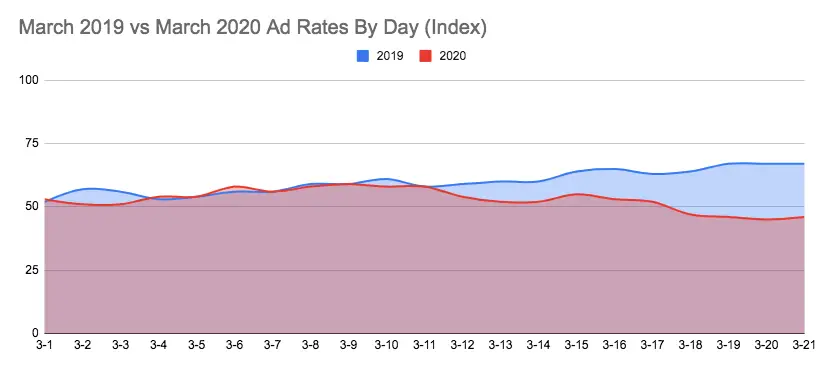 In positive news, many publishers may note that traffic volatility has curbed slightly week over week. In the previous Monday, we were seeing week over week losses in pageviews for publishers as a whole (we discussed below which types saw gains and which types saw losses); however, this week it appears that user-behavior has shifted — for the short-term at least — in a favorable direction.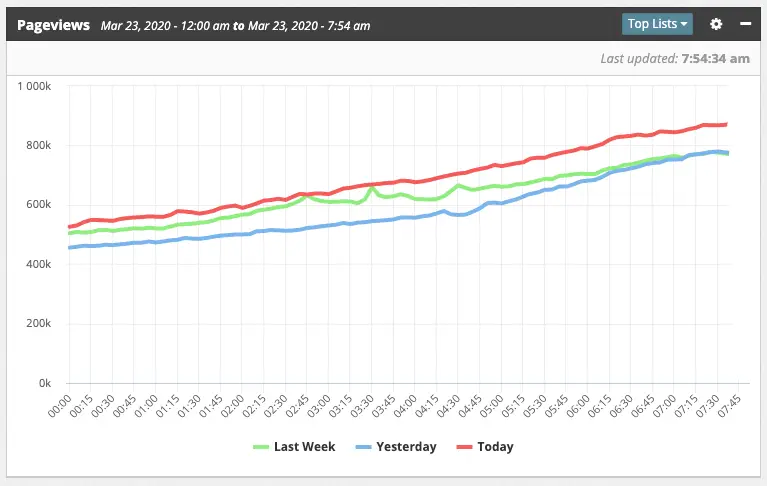 This shows nearly a 15-20% increase in pageviews week over week across the large spectrum of publishers we're including in our live updates. This may some of the bleeding of pageviews to site categories hit the worse may be seeing a a stop to the gradual decline in traffic that they were perpetually seeing last week.
[/et_pb_text][et_pb_text admin_label="March 21 & 22 Updates" _builder_version="4.4.1″ header_3_font="Open Sans||||||||" custom_padding="||0px|||"]
— March 22nd 1:23pm PDT —
Ad rates are now up-to-date through March 21, 2020. Ad rates are currently about 20 points below where they were this time a year ago; on March 21st, 2019, the ad rate was 67. This year, it is 46.
However, ad rates have stayed steady since about Wednesday, March 18.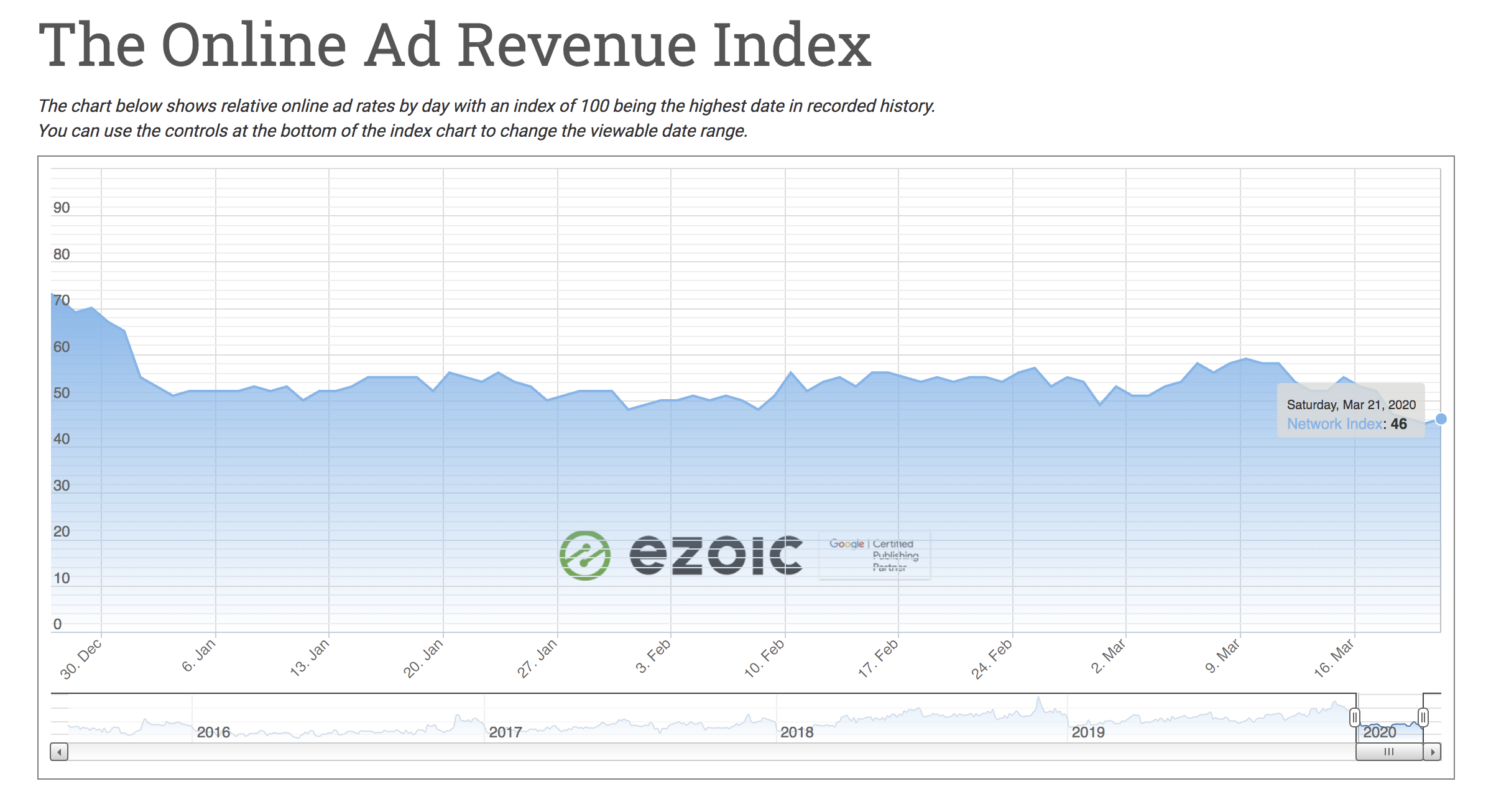 The following ad rates may have fluctuated by one or two points from earlier blog updates, as the ad rate may have been reported earlier that day. The following results are the final, end-of-day rate and are fully updated now.
3/18/20: 47
3/19/20: 46
3/20/20: 45
3/21/20: 45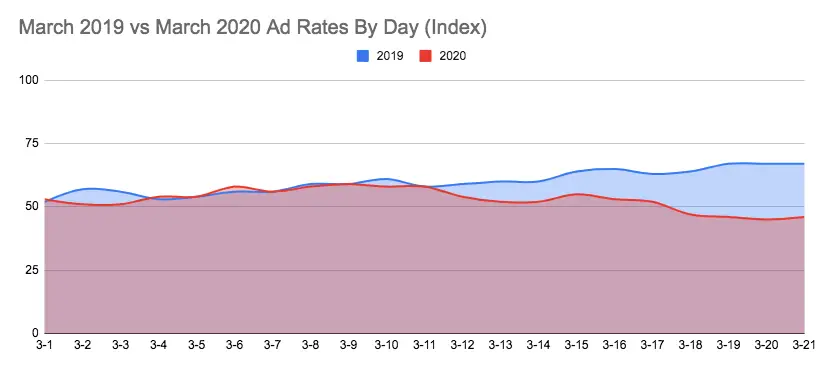 In recent news, CNN recently reported that coronavirus is speeding up the death of local newsrooms. News stations and publications, like The Detroit Metro Times, went from celebrating its 40th anniversary at the beginning of 2020 to laying off half of its employees and decreasing paychecks for the remaining.
Additionally, since most of the city is shut down–restaurants, concerts, events–there is a lack of content variety. On top of this, the revenue from these events' advertisements is also gone.
Other publishers are having to make a difficult decision: either lift paywalls for coronavirus-related articles or keep it walled.
Pros of lifting the paywall are increased readership and exposure. Cons of providing that free content is a major loss on ad revenue, as many advertisers are blocking keywords associated with the virus.
Pros of keeping the paywall is that valuable content about the virus could be indispensable, grow subscriptions, and thus grow revenue. Cons of keeping the paywall include visitors finding the information free elsewhere and subscribers leaving after coronavirus is less relevant.
Some publications, like Tribune Publishing, The Wall Street Journal, and The New York Times are doing some sort of combination of both. This can mean subscription-based content except for specified content about coronavirus; keeping its limit on free articles, with articles about coronavirus counting towards that limit, but still allowing free coronavirus content after the visitor has maxed out that limit; and creating an entirely new section for free coronavirus content and live updates.
Other publishers in this space should take advantage of larger publications' uncertainty and strategize how they might fill in the gaps or follow these large news publications' lead.
[/et_pb_text][et_pb_text admin_label="March 20 Updates" _builder_version="4.4.1″ header_3_font="Open Sans||||||||" custom_padding="||0px|||"]
— March 20th 2:16pm PST —
Though ad rates experienced a slight incline yesterday, it decreased later in the day even lower than before. This comes as stricter regulations concerning coronavirus are becoming more widespread, particularly in California; California Governor Gavin Newsom ordered Californias to stay home except for necessities in the evening of March 19 and high-risk countries, like Italy, are experiencing more COVID-19 positive cases and deaths.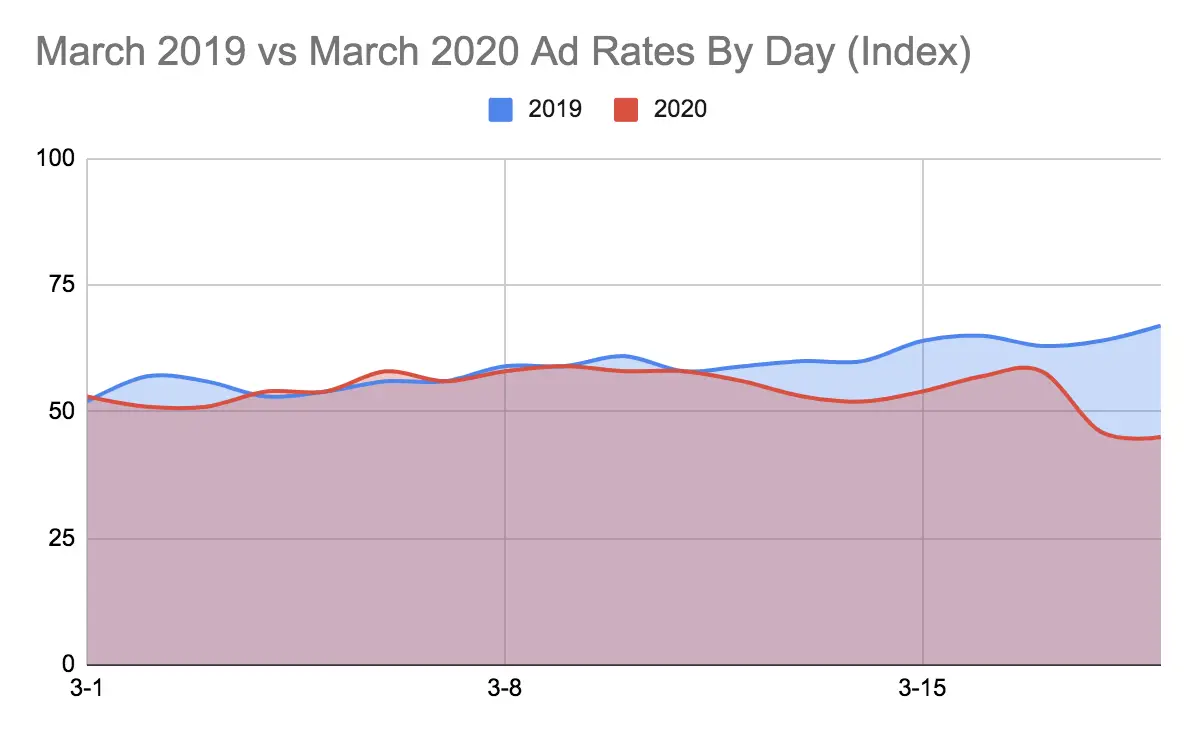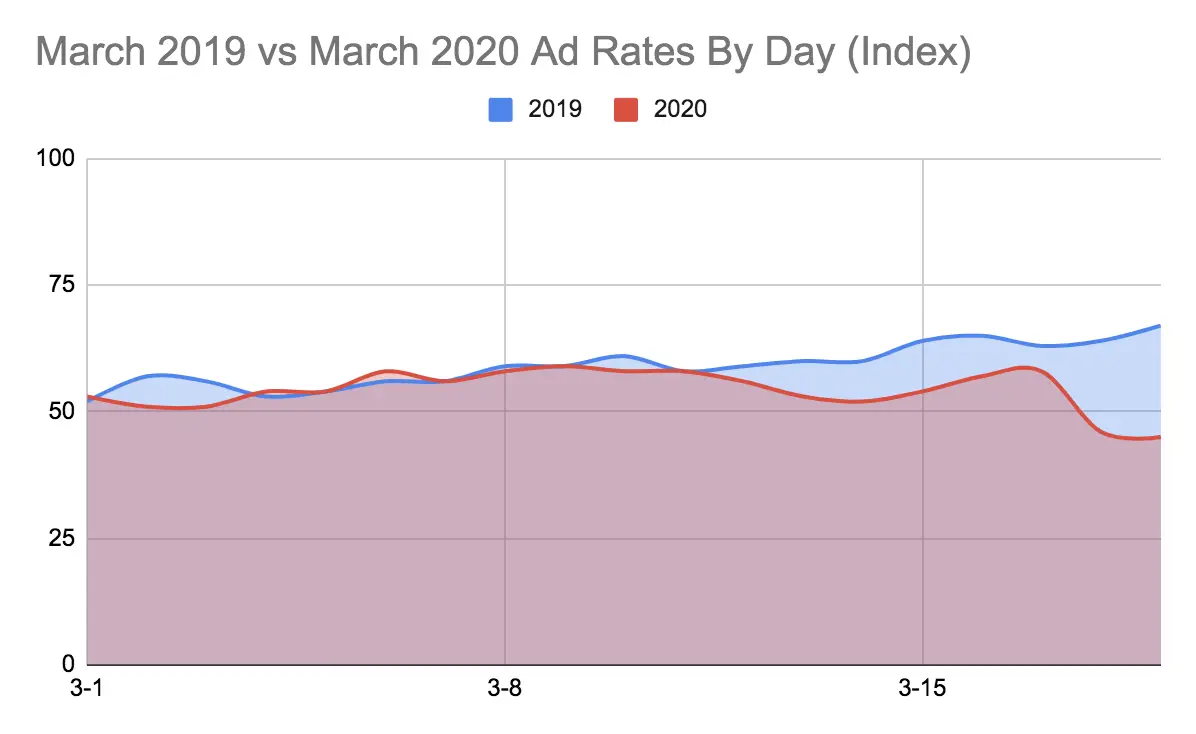 It is likely a fluctuation in ad rates will continue, as businesses adjust their ad spending and more updates about the virus are released.
Earlier this morning, we posted a graph on how each vertical in ad impressions has experienced changes due to the virus. See the graph directly below.
— March 20th 10:53am PST —
Through Ezoic's network, we have collected data on a sum of ad impressions by vertical. As stated below in our earlier updates, certain niches are seeing a steep decline in revenue and traffic during this pandemic while others are experiencing increases.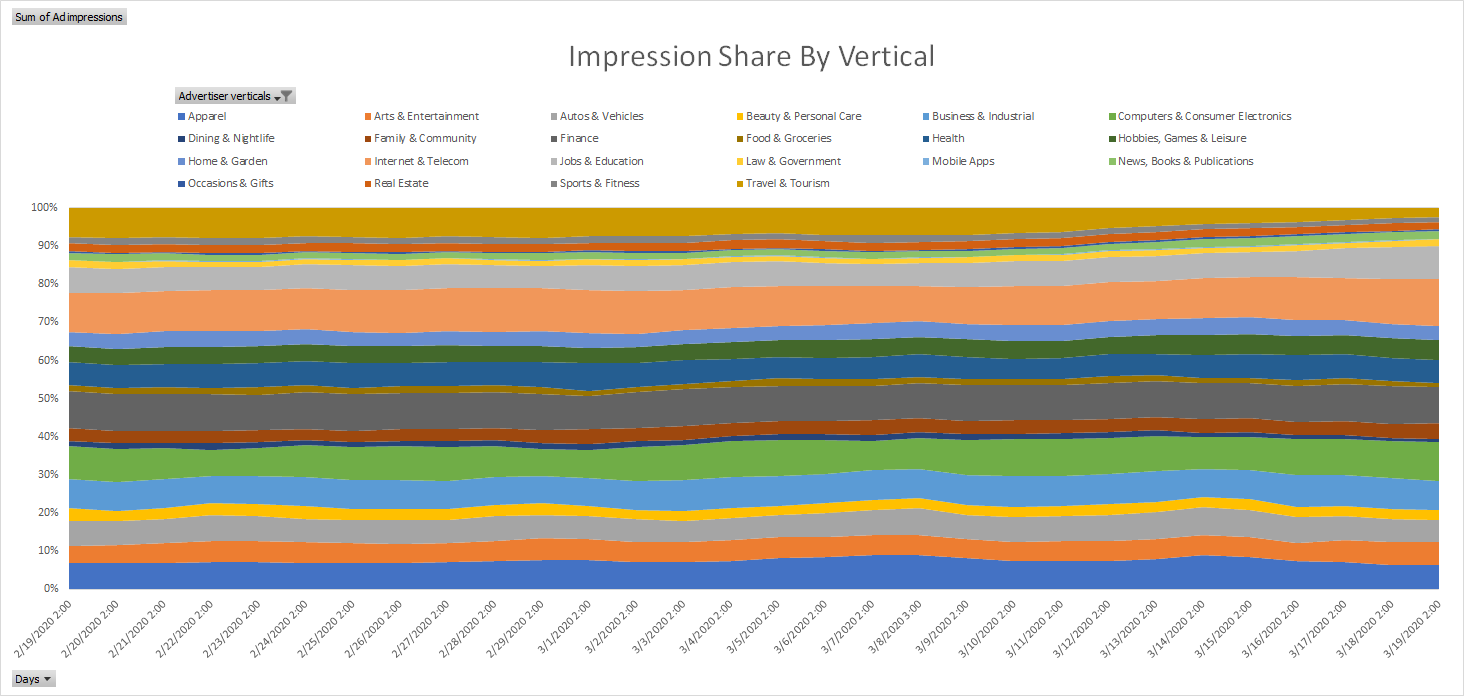 About one month ago, Travel and Tourism's impression share was roughly 8%. This graph shows us that around March 11, Travel & Tourism began quickly losing impression shares and that the trend is continual. Now, the vertical has shrunk to 2.5%. Dining and Nightlife has also experienced decline.
The 5.5% has been absorbed by Jobs and Education, Hobbies and Leisure, and Arts and Entertainment.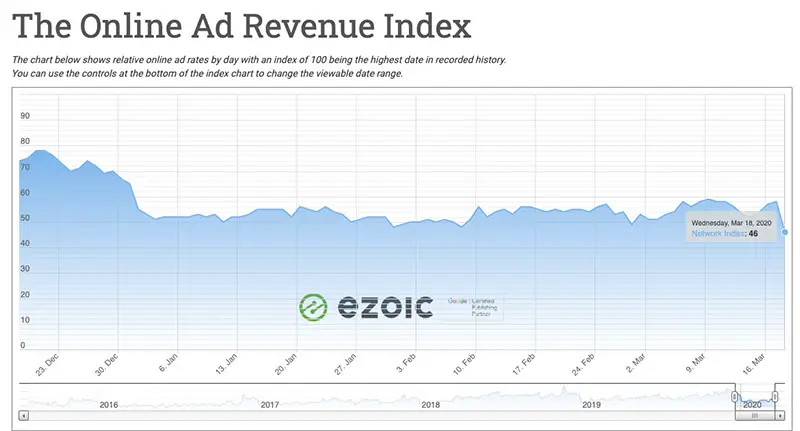 The Ad Revenue Index now has data through the middle of the week that further reflects some of the advertiser data we shared yesterday evening. We are finally seeing ad rates drop in line with the decreased advertiser spending. This has resulted in the lowest March index score in the last two years. In 2019, this is when rates really started trending upward, so it's likely that the seasonal impact of this will be magnified for publishers when they look at year over year EPMV (revenue per session) data.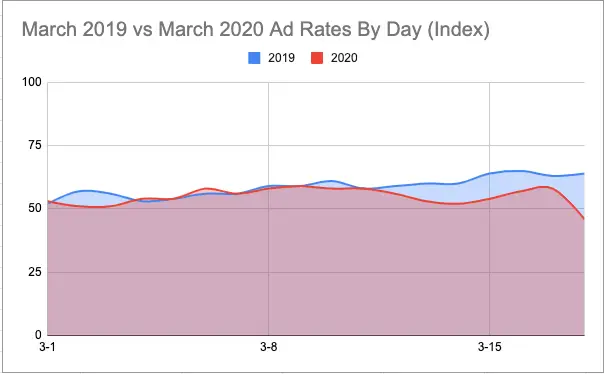 As we mentioned before, traffic has really varied based on website categories and site audiences. Overall, pageviews have been slightly down week over week across all types of publishers this week; however today that trend seems to have ended. Although last Friday was when Coronavirus info really started picking up steam, we are seeing traffic overall head in an upward direction across all types of publishers.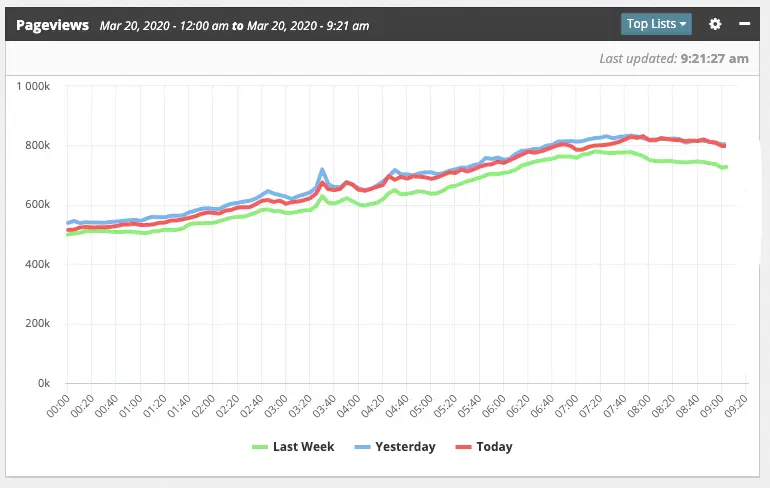 News, gaming, and other sites you would imagine people using right now are seeing big jumps in traffic (that is likely skewing some ability to see the impact of lower ad rates on their revenue).
On the flipside, sites focused on topics like sports, events, education or workplace references, and topical subjects (professional wrestling is a good example) that are seeing less content opportunites as a result of the Coronavirus are seein big losses in week over week pageviews alongside reduced ad rates.
[/et_pb_text][et_pb_text admin_label="March 19 Updates" _builder_version="4.3.2″ header_3_font="Open Sans||||||||" custom_padding="||0px|||"]
— March 19th 7:45pm PDT —
Part of the reason ad rates are remaining flat despite the typical upward trend at the end of Q2 is the behavior of big brand advertisers.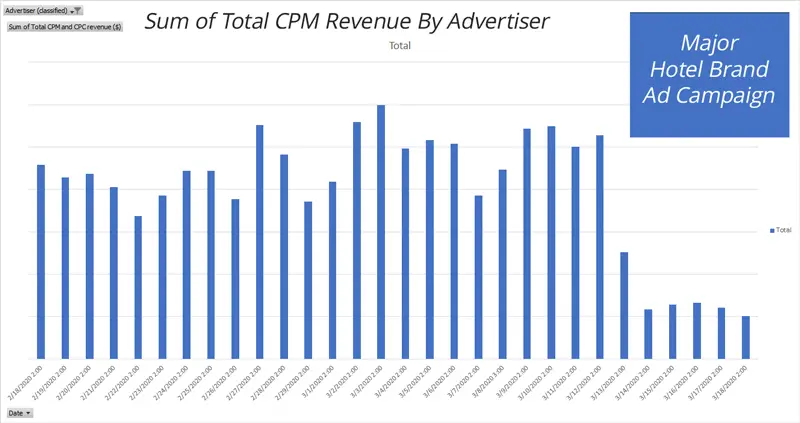 Public companies and large advertisers often have the greatest marketing budget agility with digital spending. Thus, digital ad rates will often be the first sign of advertising spending being curtailed.
This recent data from ad campaigns our team has been analysing paints a picture as to how this happens.
— March 19th 12:35pm PST —
As of Thursday, we can see the Ad Revenue Index is showing a increase compared to the end of last week and last weekend. With data up until Tuesday (March 16th), the index is down only 8% year over year. This is slightly less than what has been predicted so far; however, may be slightly skewed at the moment from some of the sites seeing major improvements in traffic. Advertisers may stiill be tryign to capitalize on initial opportunities in the crisis as well. As the economy is further impacted globally, the index will likely reflect how many public companies will inevitably dial back advertising.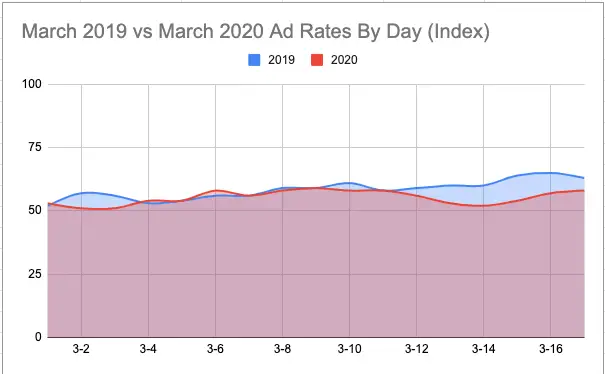 Traffic continues to evolve slightly each with various sites types seeing big gains and others seeing significant declines in overall web traffic. Google Analytics trends for publishers will be really dependent on the site and site category for the next 10 days.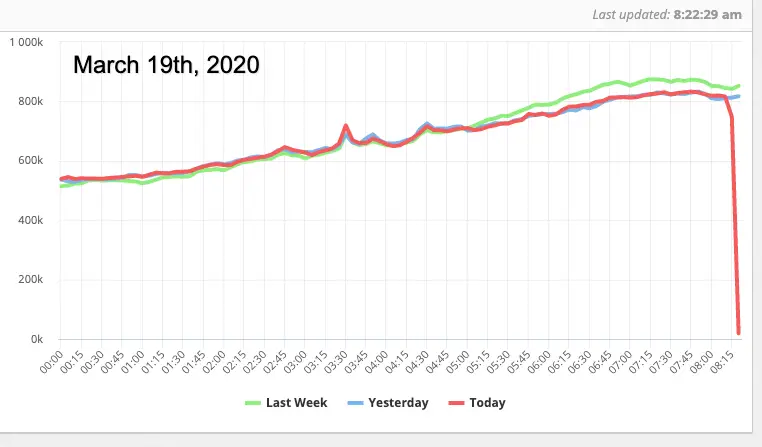 —March 19th 8:40am PDT—
Thursday, overall web traffic so far looks to be trending slightly above Wednesday. Government/municipality-related sites, games (think, Scrabble and crosswords), and sites specializing in current news and information are seeing massive booms in web traffic. Educational sites and sites that would often be referenced by people at work (Think, coding and part numbers) are seeing some of the steepest declines in overall pageviews.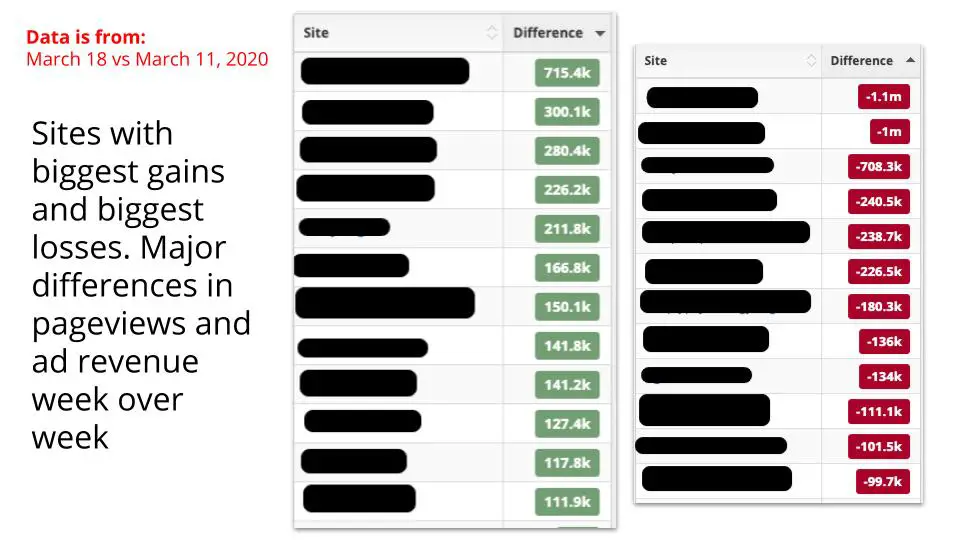 Results from our recent webinar poll on the topic…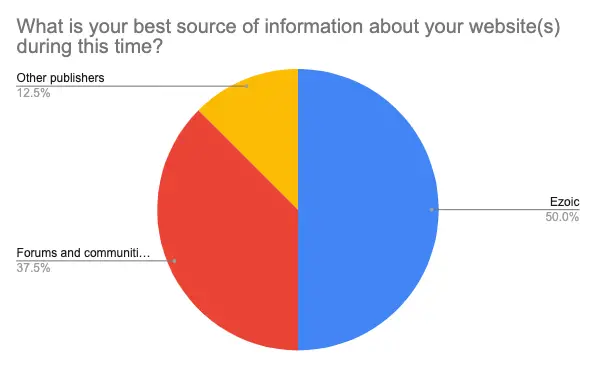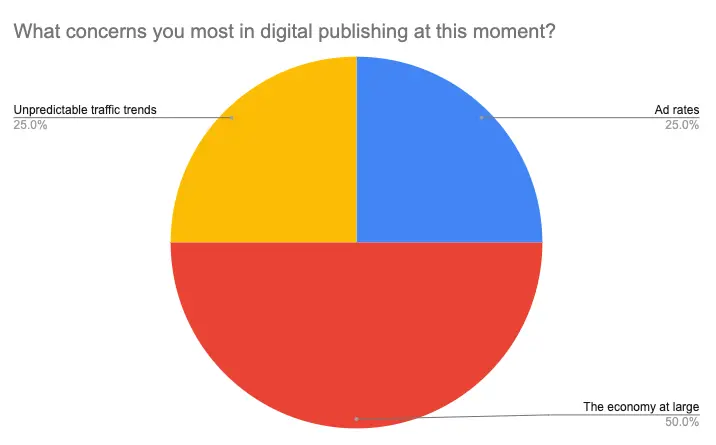 [/et_pb_text][et_pb_text admin_label="March 18 Updates" _builder_version="4.3.2″ header_3_font="Open Sans||||||||" header_6_line_height="1.5em" background_size="initial" background_position="top_left" background_repeat="repeat"]
— March 18th 9:00pm PDT —
Wednesday, web traffic across all types of site categories looks to align with the data collected from Tuesday. So far, trends look nearly identical.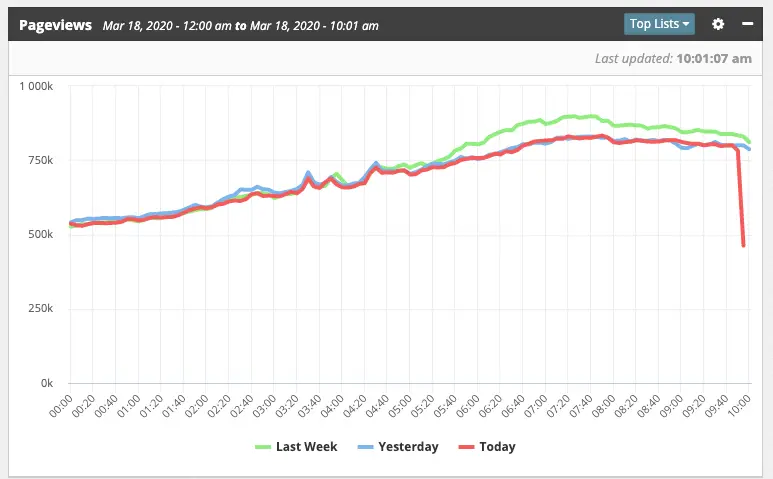 Ad rates have started to flatten day over day, but we are seeing a rise up Monday compared to the weekend. It's important to note that many of the worst impacts of the recent global shifts are not yet felt programmatically yet.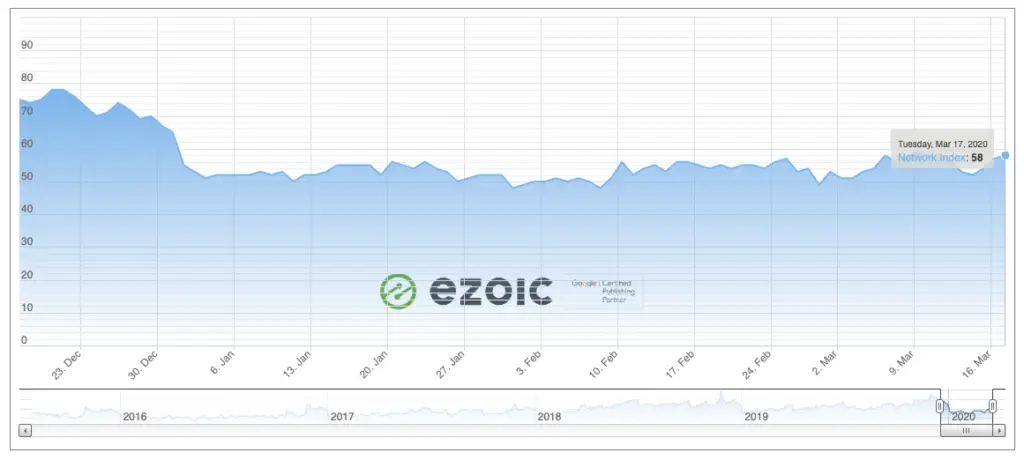 Looking at data from Ezoic users, as competition for ad space is decreased — due to advertisers lowering budgets and bids — it has been interesting to see machines optimize the value of inventory by constricting ad denisty to increase the value of the publisher inventory supply (ad space).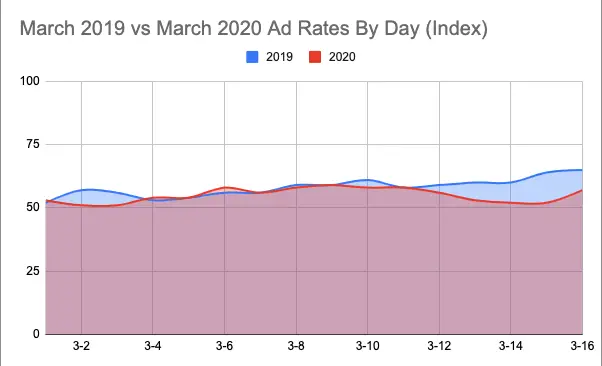 i.e. Ezoic's A.I. shows fewer ads and is driving up the ad rates for publishers many are earning more by showing fewer ads during this time period.
This is especially true for publishers that have seen big declines in web traffic and have also been most affected by advertisers that have needed to pull the plug — travel categories, event-based catebories, etc.
Neil Patel has some interesting traffic data to share as well.
Our recent webinar touched on what this entire shake-up means for publishers, who's most affected, and featured a live Q&A with our CMO, Tyler Bishop, who's been in the media sharing more recently about the impact of the coronavirus on website ad rates.
[/et_pb_text][et_pb_text admin_label="March 17 Updates" _builder_version="4.3.2″]
—March 17th, 8:00pm PDT—
Tuesday, we saw traffic normalize a bit from the day before. As globally things continue to shift, internet traffic across all types of web properties week over week have begun to stabilize.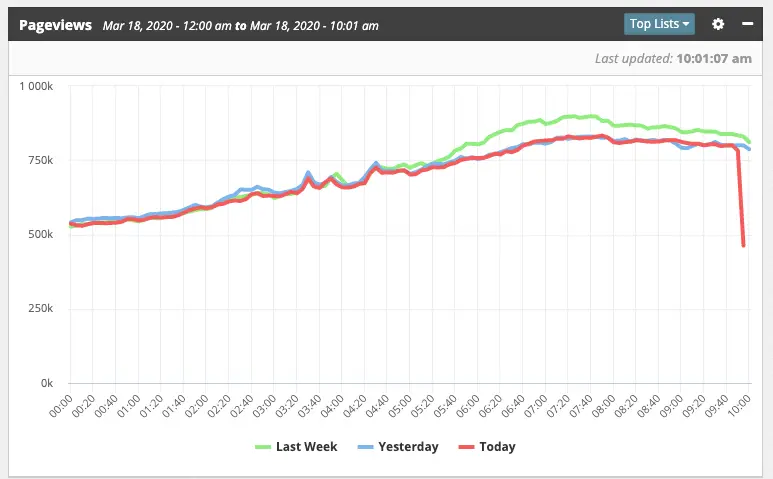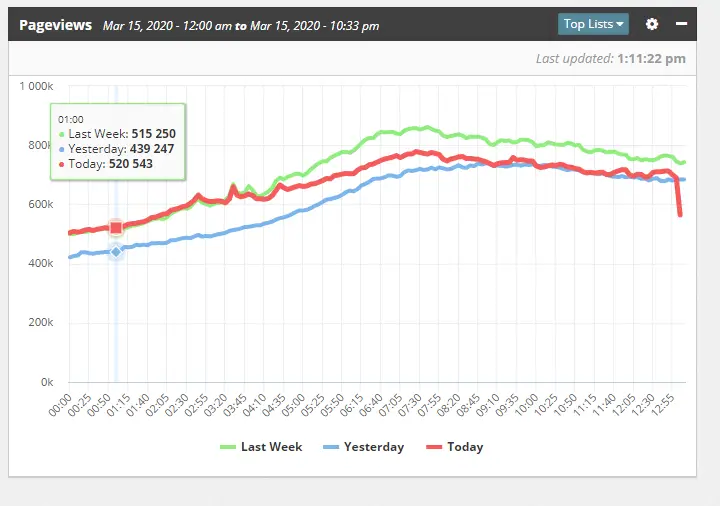 Ad rates also are proving to be flat compared to the begginging of the year on average; however, this probably isn't immediately apparent to most sites since many are seeing either declines or increases in traffic alongside major changes in advertiser behavior.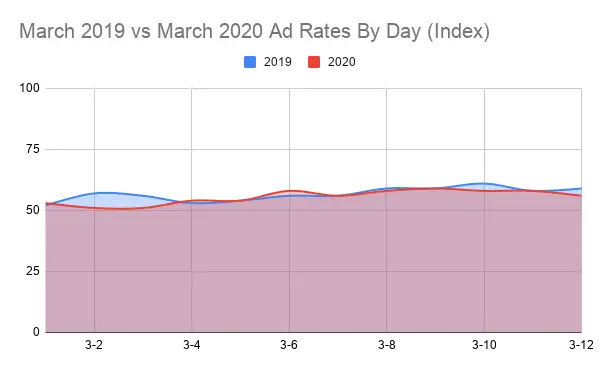 Typically ad rates have risen during the back part of Q2 by now; yet that hasn't shown to be happening in this environment. This will likely be more pronounced at the end of the month; where the Ad Revenue Index hit 71 at the end of March in 2019.
[/et_pb_text][et_pb_text admin_label="March 16 Updates" _builder_version="4.3.2″]
—March 16th, 8:10pm PDT—
On Monday, we saw overall traffic across many publishers properties finish the day down about 10-15% on average; however, sites that are primarily used for school, work, travel, retail, real estate, sports, saw the steepest steep declines. Sites in the categories: entertainment (games, etc), cooking, video, etc. saw the highest increases in traffic.
Ad rates have shown a decline year over year and so far the news of the COVID-19 outbreak has led to a flattening that we typically don't see in this part of March. Traditionally, ad rates start to rise as the end of Q1 approaches.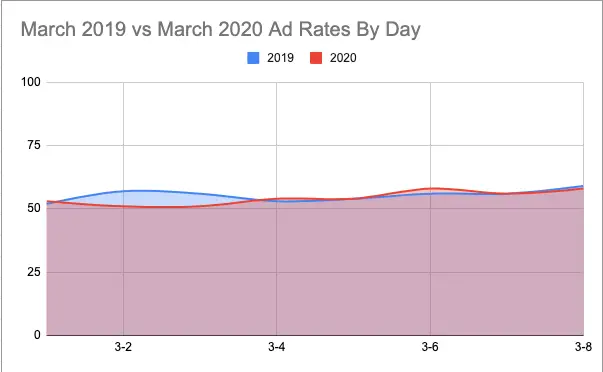 Categories of sites that are generally seeing lower traffic:
Housing and DIY sites
Business-related topics
Sports
Educational references
Wiki's and referential sites
Coupon and money-saving sites
Travel sites
Categories of sites that are generally  seeing higher traffic:
Productivity tools and web applications
Entertainment sites
Religious sites
Gaming sites
Ideal time resources
Video consumption trends and information
Video adtech provider, Primis, shared a recent graph the suggests an increase in the number of videos watched and video content consumed in the United States starting in late February.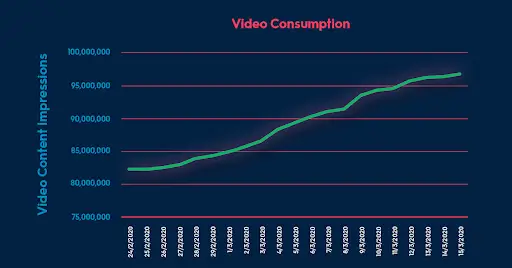 [/et_pb_text][/et_pb_column][/et_pb_row][et_pb_row _builder_version="4.3.2″][et_pb_column type="4_4″ _builder_version="4.3.2″][et_pb_text admin_label="Original article content (does not need updates)" _builder_version="4.3.2″]
How Ad rates Are Impacted By The CoronaVirus
Original Article Published March 16th
The global crisis and events surrounding the spread of COVID-19 due to a novel coronavirus are having major rippling effects across entertainment, health, and global economies. What was once an isolated event in one part of the world has had far-reaching impacts across the globe that have brought many cities and countries to a screeching halt. The impact of a major global event like this is long-reaching and multi-dimensional. Below, we'll provide live — and regular updates — regarding the digital impact this is having on publishers and advertisers.
Publishers worldwide are wondering what coronavirus / COVID-19 means for ad rates and their website traffic. Given our unique proximity to tens of thousands of sites worth of pageview data, we wanted to do our best to provide regular updates and information to publishers struggling for clarity regarding the impact of these events on their businesses.
Initially, there was speculation that ad rates would increase as quarantine numbers skyrocketed, as people are more likely to be on their phones and computers consuming content. However, it has become overwhelmingly clear that the coronavirus's impact on the global economy will likely have widespread effects on both website traffic and ad rates for the foreseeable future.
Online ad rates typically follow the general economy. Given the current situation around the world, countless companies will be suspending their online ad buys (DisneyWorld, airlines, travel, retail, gyms, events, local advertisers, etc). Not only does this remove their money from the market, but it also decreases competition in ad auctions, depressing prices for everyone.
While website traffic has far more variability — depending on the website category or niche — global advertising budgets are being throttled each day. This leads to overall lower global ad rates; although some of this may not be fully-realized just yet.
HOW THE STOCK MARKET AFFECTS AD RATES
The market initially saw a big dip earlier this year in mid-February, as the virus spread over China and parts of southeast Asia. Many companies worldwide, including the United States, use China for manufacturing or assembling. For example, Coca-Cola grows their corn in the US, ships it to China to be made into corn syrup, and then China sends it back so it can be used to make Coca-Cola.
Ironically, Purell is behind in production because they, too, work with China. But, since that piece of the 'production line' is missing, many companies cannot hit projected 2020 goals and fulfill demand.
Now, the stock market is seeing some of its worst numbers since the 2008 recession. These drops are largely due to big sell-offs during the day, which can be attributed to coronavirus fears and the current oil market. On March 9, 2020, stock prices dropped significantly during after-hours; the Dow logged its biggest point-drop in history and had its worst day since October 2008.
Additionally, the S&P and the Nasdeq declined and both had their worst days since December 2008. To fix this, the stock exchange implemented a fifteen-minute delay on trading the next morning. This was only a temporary fix, however, because the next day, halt stocks decreased again. The stock market carried out a halt once more, but the market declined again. We are likely to continue to see these ups-and-downs as economies are further hit.
If we look at ad rates over the past couple of years during Q1, they all tend to follow the same pattern–this time of year is typically a bit slow because holiday ad campaigns have ended and companies are slow to get their 2020 strategies rolling.
We have come to expect this seasonal change and a dip in ad rates after the holidays. Then, it typically sees a bit of up and down, with February-March seeing it rise once more, especially as marketing departments in companies need to finish out their Q1 budget. But we aren't seeing that happen this year.
Digital ad budgets are the fastest and easiest to pull when the market drops and revenue forecasts for public companies (the ones that advertise the most) change; digital ad campaigns rarely involve any sort of contract, and it's pretty simple to cut a campaign or add one back in quickly. Businesses who advertise, particularly public companies, want to keep their company in or near the black as much as possible, especially as they have to report their earnings at the end of Q1 (March 31st). If they can easily cut an expenditure, they will.
THE NEAR FUTURE OF 2020 AD RATES
As companies pull their ad campaigns and money from the market (DisneyWorld, airlines/travel, retail, gyms, events, local advertisers, etc) competition in ad auctions will decrease, depressing prices for everyone.
Each site is going to be affected differently by these massive changes to the ad market. Sites whose niche is for travel, sports, retail, etc. are likely to have steep declines, as travel halts, sporting events are canceled, and governments continue to implement mandatory, but temporary, closes.
Sites that focus on online entertainment, cooking, health, and science might see increases, as people have more time on their hands and want information about the virus. It all depends on the keywords you optimize for.
In instances such as this, it is most important to have quality ad inventory over quantity and to continue to create valuable content. Your content has the opportunity to get a lot of exposure right now because more people will be online.
That being said, there will be also be increased competition to get eyes on websites. If your content is higher-quality, it is more likely to be found and read, increasing the value of the ads on your pages. Since there are many companies pulling digital ad spending, it is more important than ever to ensure that the ads that do show on your site are still good quality and that you know how many and what sizes those ads should be.
What is good to know is that most of these changes to marketing and advertising strategies are for the short-term until there is more of a handle on COVID-19 and the global economy.
Additionally, the other side of all this is that when the economy is doing really well, ad rates follow. In Bull markets, ad rates increase and publishers are likely to make more money. Around Black Friday and through the holidays, companies are spending more money and ad rates soar. This is true for the current state of ad rates. As the economy recovers, companies will increase their digital ad spending and ad rates will increase.
In the United States, we also have an election to look forward to. Election years usually have higher ad rates because political advertising continually increases as the election comes closer. So while the next few months may be a bit tumultuous, we are likely to see ad rates recover more quickly due to the presidential election. And while the election is for the US, the American economy and politics generally have an effect globally as well, so non-American publishers and economies will be positively affected.
FOR EZOIC PLATFORM CUSTOMERS:
With all of this volatility and the decline of the ad market, it's more important than ever to make sure your content and inventory are valuable. It's a quality over quantity situation. The good news is that Ezoic's machine learning systems are constantly monitoring making adjustments to ad positions, sizes and densities to DO EXACTLY THIS.
Adapting ad placements, density, and ad sizes to manage supply and demand the way Ezoic does is the number one thing you can do to ensure your ad rates stay as high as possible during this time. A decline in ad budgets means less competition for publisher ad space. This means supply and demand will change each day. Ezoic automatically adapts all sites to the changing conditions to maximize performance. This means our machines are learning in real-time from tens of thousands of websites and understanding how to adjust ad sizes and ad locations for every visitor to ensure the best possible revenue performance. Ezoic was built for fluctuating supply and demand to help publishers with revenue. For sites that don't leverage our machine learning, there's a strong chance they'll be even more negatively impacted as ad competition continues to decline over the next several months.
If you haven't already, we'd encourage you to check out our support article on EPMV optimization best practices during this time. It includes methods that maximize Ezoic's ability to help during this time.
WHAT TO TAKE FROM THIS
Digital ad rates are directly affected by the stock market, for better or worse
Digital ad budgets are the fastest and easiest to pull when the market drops and revenue forecasts for public companies (the ones that advertise the most) change
This will impact digital ad rates in the short-term and indefinitely until there is more clarity on the virus and thus the economy
With lower ad budgets, it's more important to have more valuable inventory (quality over quantity) and to understand how to optimize ad size and location
OUR ADVICE TO PUBLISHERS…
Focus on keywords that are likely to be of interest right now. More people will be cooking, crafting, playing games, reading news, starting new hobbies, etc. Additionally, if you are able to create content that is more relevant for the current circumstances, do it
With all of this volatility and the decline of the ad market, it's more important than ever to make sure your content and ad inventory is valuable. It's a quality over quantity situation. You will be competing with many others for the attention of readers who will likely be online more.
If your site is doing well or has not changed, it's still important to stay on top of things. The economy and ad rates could change at any moment, so you, too, should be focusing on quality and relevant content, valuable ad inventory, and staying on top of keyword optimization