Since the Coronavirus spread around the globe and negatively affected ad rates, many publishers' priorities have shifted to survival-mode and figuring out how to weather the storm financially.
Not only that, but the pandemic has also caused some to lose focus on user privacy concerns. 18.9% of respondents on an IAB survey said the CCPA  would cause issues for their organizations in 2020; this is a large decrease from 52.7% in late 2018. Even the EU is loosening restrictions with data privacy due to preoccupation with the economic downturn from the virus. An example of this is with changes with GDPR on the processing of what the EU law calls "special categories" of personal information.
For example: France now allows the transfer of personal health data to "any partner involved in the control, prevention and evaluation of the epidemic, in particular the General Directorate of Health."  In a similar fashion, Italy issued an ordinance permitting the processing of any personal health data "necessary for the performance of the civil protection function."
Does this mean that just because the EU has loosened restrictions, publishers should not worry about users' data consent and privacy? Absolutely not. Gartner has predicted that by 2023, 65% of the world's population will have its personal data and information covered under tough privacy regulations, up from 10% currently.
So, what tool can publishers use to easily comply with user privacy rights laws like the GDPR and the CCPA? Ezoic's GDPR and Consent Management App has been something we've offered Ezoic publishers for free. But for publishers who want total control over their consent management, there's a German company named Borlabs whose Borlabs Cookie offers an intelligent solution to e-privacy in the form of a WordPress plugin.
Who is Borlabs?


Borlabs is a German-based technology company that designs products for eCommerce platforms as well as fully-customized WordPress systems and xt:commerce systems.
Since 2016, they develop Premium Plugins for WordPress. And before that, they created customized tools to optimize their clients' processes since 2006, including APIs for ERPs and PSPs.
What is Borlabs Cookie?
Borlabs Cookie is an easy-to-use tool for WordPress that allows publishers to integrate a variety of cookies, such as retargeting cookies like Google AdSense via opt-in.
How does this work? JavaScript is activated and the cookie is sent only after your visitor gives their consent.
Simply put, it's a WordPress plugin that helps publishers comply with the GDPR and E-privacy with over 129,000 active Installations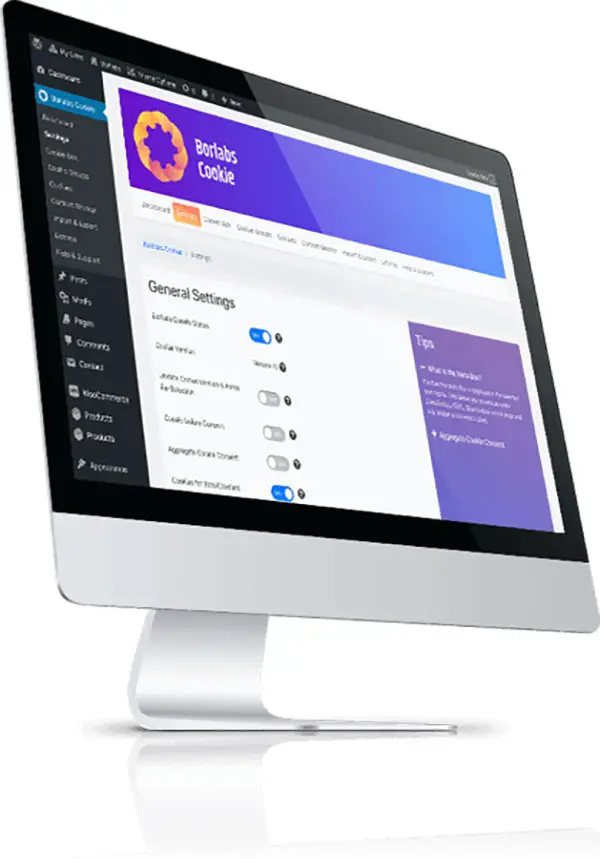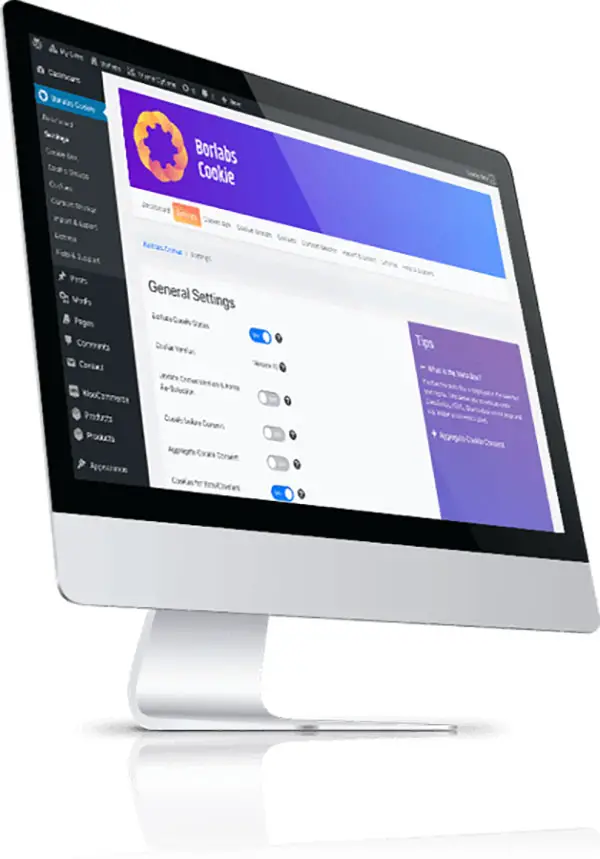 Additionally, Borlabs has two other products for publishers: Borlabs Cache and Borlabs Opt-In.
Borlabs Cookie Main Features
1. Cookie Opt-In for GDPR
With GDPR, Borlabs Cookie takes a proactive approach to consent management. The previously used and popular  "opt-out" procedures aren't permitted. The visitor has to actively opt-in for the activation of cookies.
2. Cookie Group Management
Gives you the ability to manage individual Cookies in Cookie Groups.
Publishers can then provide a clear list in their Privacy Policy with detailed information such as name, duration, purpose, origin, etc.
Create as many Cookie Groups and Cookies as you like and give your visitors the choice to which they consent. Below is an example of what that would look like if you were a user coming to a site using Borlabs Cookie.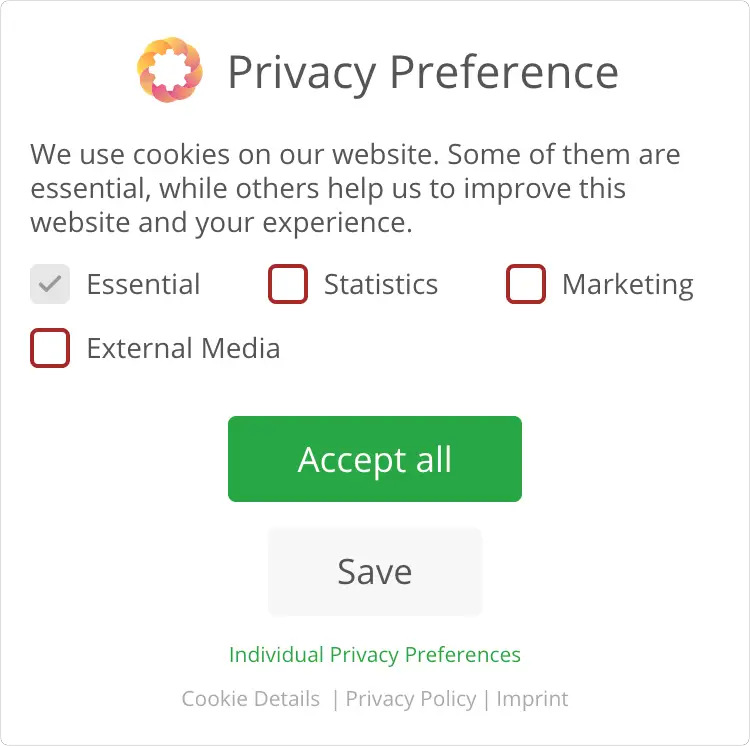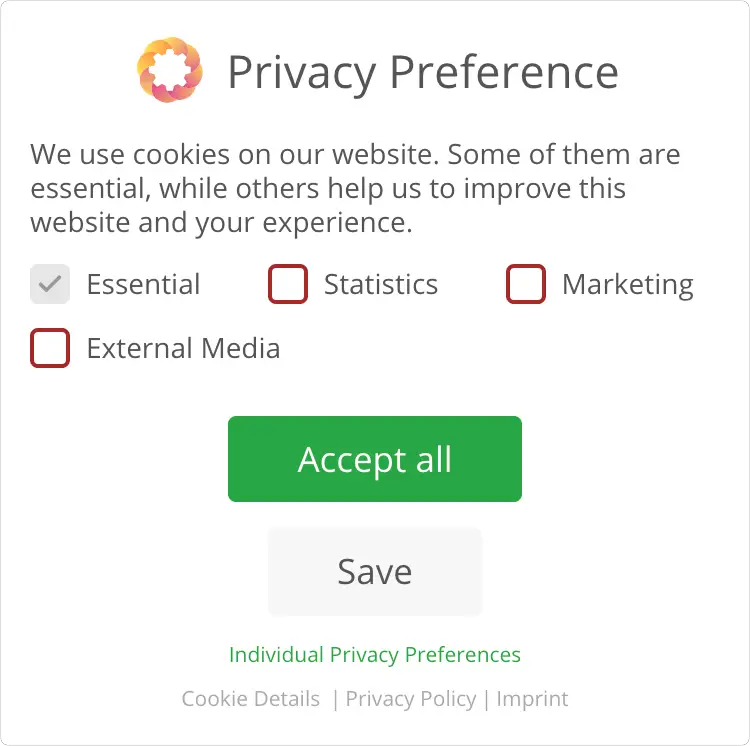 3. Google Analytics, AdSense, Tag Manager, and Facebook tag compatibility
Right out of the box, Borlabs Cookie already contains all the necessary tracking codes for Google Analytics and Facebook Pixel.
Simply enter your tracking IDs and once visitors opt-in, the necessary code reloads without the full website having to reload.
4. Multi-Language Support
When used in conjunction with the WordPress plugins WPML or Polylang, publishers can configure Borlabs Cookie individually for each language.
Borlabs Cookie is available in Dutch, English, French, German, Italian, Polish, and Spanish. All displayed text to the visitor can be personally customized.
5. WordPress Theme Compatibility
Borlabs Cookie is designed to work with any WordPress theme. The following themes and PageBuilders were used for the tests: Avada, Beaver Builder, Divi, Elementor Pro, The7, WPBakery Visual Composer.
6. WordPress Caching Plugin Compatibility
For publishers wanting speed and optimization, Borlabs Cookie has been developed to be compatible with all WordPress caching plugins. Just activate it and get started.
How does Borlabs Cookie differ from other consent management tools?
One of the primary features that makes Borlabs Cookie unique is the ability to block external content (i.e. YouTube or Twitter). While other consent management tools might offer a similar version of this, Borlabs' Content Blocker performs better than other solutions. It also allows you to keep using your preferred plugins like MonsterInsights, WP Google Maps or PixelYourSite thanks to its Script Blocker which has the ability to block any JavaScript until your user gives their consent.
Borlabs Cookie is also independent of caching systems like Borlabs Cache or WP Rocket. Also, with Borlabs Cookies Cross-Domain Cookie function you can automatically transfer your users' consent to other WordPress websites. For example: Opting-in on example.com can also set the consent cookie for my-example-shop.com.
Another standout feature is the detailed statistics of the given consents from users. Using a unique ID Publishers using Borlabs Cookie can see the Consent History of every visitor.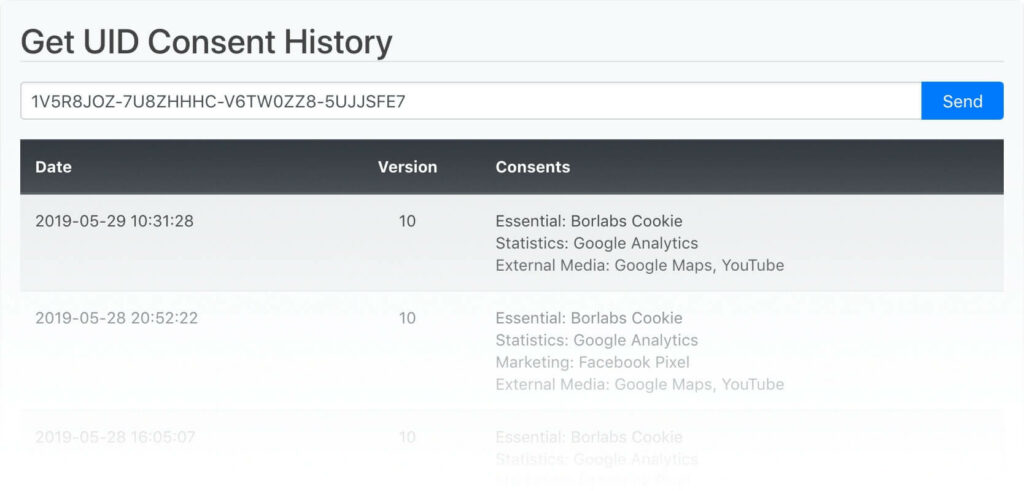 Additionally, publishers can see detailed consent statistics all in one place.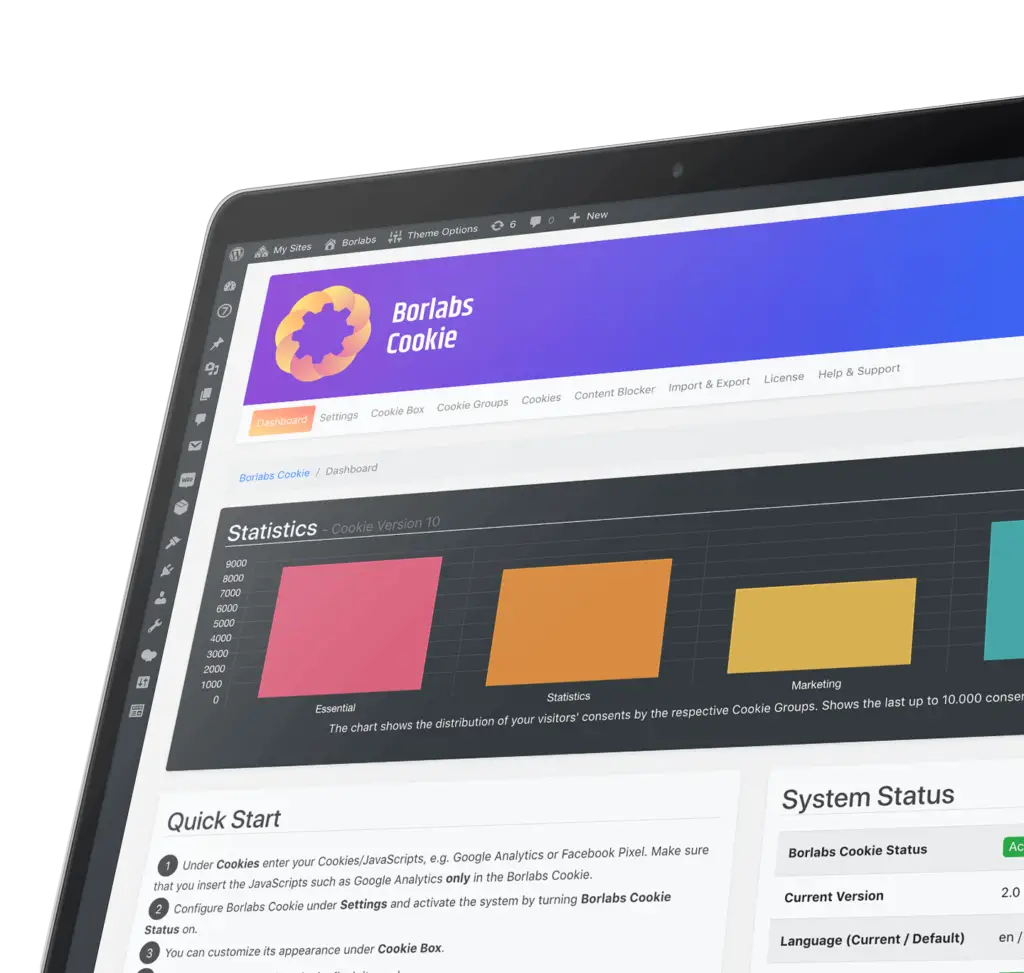 Note: Borlabs is a self-hosted consent management tool. What this means is that not even Borlabs "sees" the visitor IP and does not collect any data from the visitors. Self-hosted consent management systems are super rare in the publishing ecosystem, and Borlabs is proud to offer the highest level of privacy possible for the visitors of publishers who use its tool.
Upcoming Borlabs Cookie Features

Cookie Scanner to automatically scan your website for active cookies
TCF v2.0 support
Additionally, one of the major benefits for Ezoic publishers is that Borlabs Cookie is fully compatible with Ezoic. Ezoic publishers can follow this guide to connect Borlabs Cookie in the consent management section of your dashboard.

Wrapping up Borlabs Cookie and how you can protect your users' data in 2020 and beyond
While it seems some governments around the world have hit the pause button on certain elements of privacy legislation, that won't last for long.
Plus, given how user data privacy is a growing topic of importance over the years, publishers should strive to be good stewards of their users' data. And for WordPress users, Borlabs offers a no subscription-service solution that comes in an easy-to-use plugin with a suite of intelligent features. On top of that, Borlabs Cookie includes one of year free updates, and one year of free support.
Do you use Borlabs Cookie or have any questions about the plugin? Let us know in the comments.