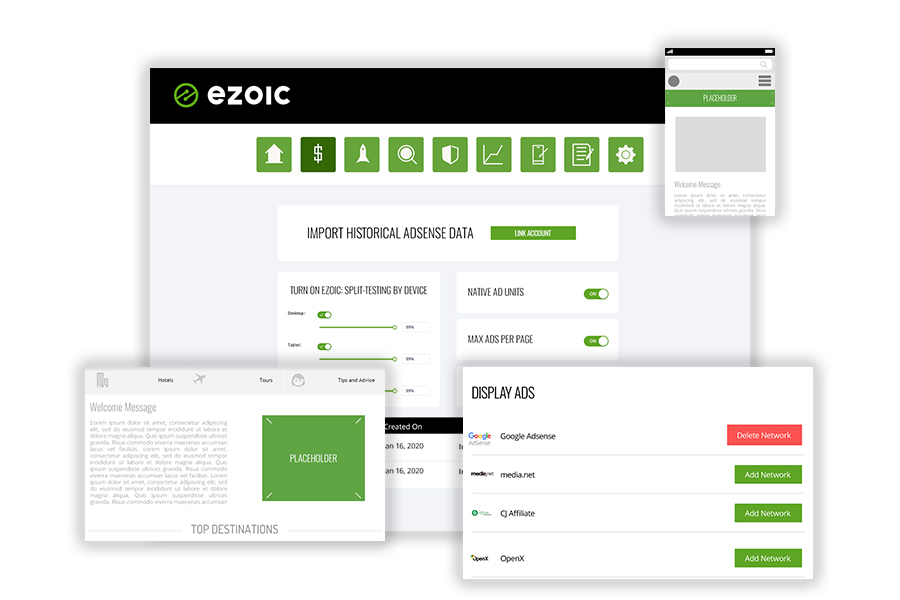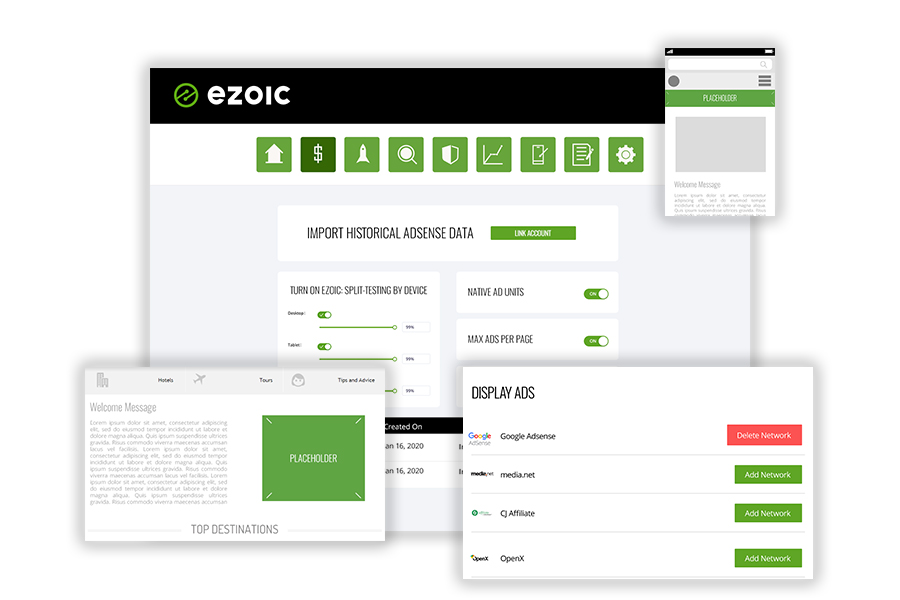 Ad Tester
Intelligently Manage & Optimize Ads End-to-End
Unlock the value of each website visit by allowing machines to test and change ad placements, networks, types, and sizes when Ezoic knows it will provide more revenue and a better experience.
Be Certain That Ads Are Managed Perfectly
USE MACHINE LEARNING FOR FAST OPTIMIZATION
Use artificial intelligence to implement optimizations on each page faster than humans could do working 24 hours a day.
Stay in Control & avoid outsourcing monetization
Easily set rules, control experiments, manage preferences, monitor optimizations, and split-test to compare results.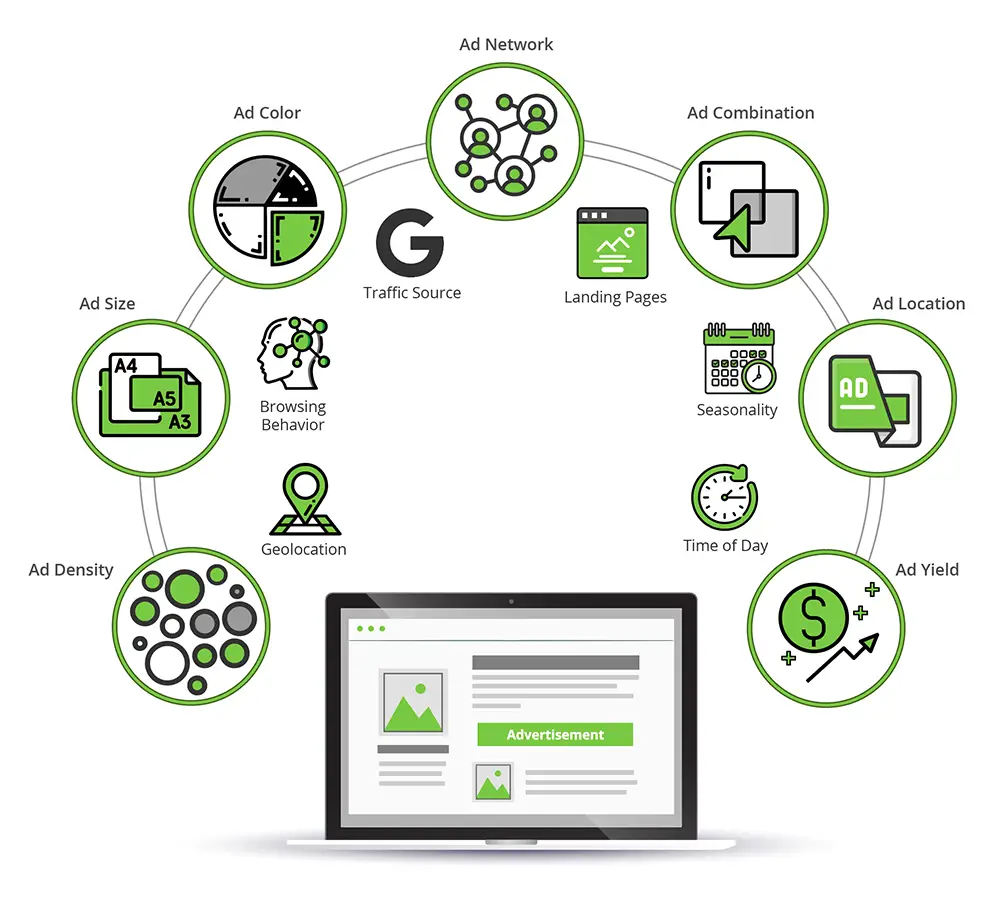 Test Ads While Ezoic Optimizes For Thousands of Visitor Variables
Control and Test Ads
The number of ads, their locations, and the sizes of each ad on the page plays a role in the revenue it generates from ads. Advertisers bid on each visitor differently and all visitors have unique responses to ads. Ezoic will optimize for advertiser revenue and UX for every visitor on every page according to what tests you allow.
Optimize for Every Variable
Websites cannot control what devices, geo-locations, times of day, referral sources, or other visitor attributes of visitors. Yet, these variables determine a large portion of what advertisers pay for ad space. Ezoic will use ad testing to control supply-and-demand to increase the ad rates websites are paid for all visitors.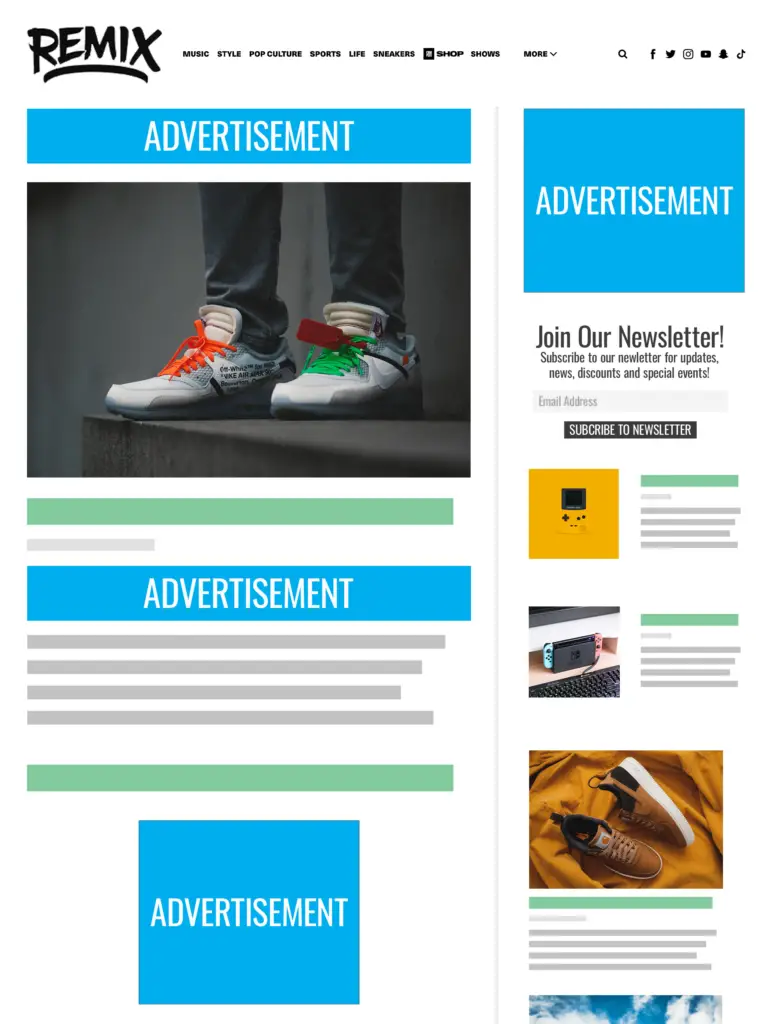 Built to Maximize the Untapped Potential of Every Website Visit
The best way to maximize revenue and improve UX is different for each visitor. Ad Tester was designed to help websites stay in control of how they manage and optimize their ad inventory while providing easy tools for testing and automating the improvement of ad revenue at scale.
Control Ad Density
Ads dilute the value of other ads. Ezoic automatically alters ad density to avoid this.
Find The Best Ad Locations
Control potential ad locations and let Ezoic determine which ones deliver the most revenue on each page and for different types of visitors.
Optimize Ad Sizes
Ezoic will adapt ad sizes based on how advertisers compete for visitors from different locations, on different devices, and much more…
Display Highest Paying Ad Types
Ezoic tests and inserts the highest paying partners and ad types on each page based on how they perform for different visitors.
Key AD Tester Features
---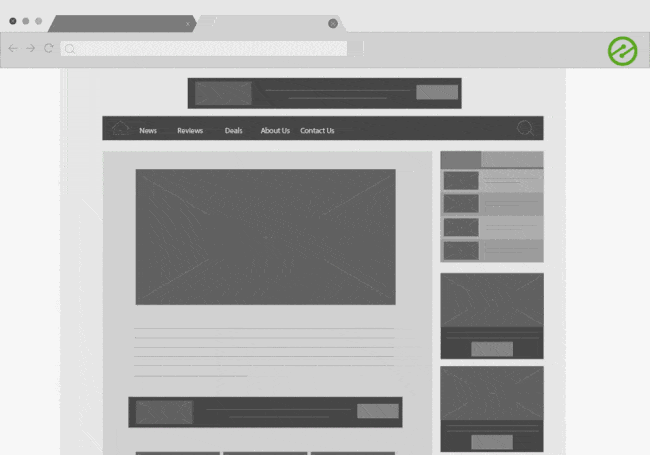 Enable Easy Drag-and-Drop Optimization on Any Site
Test Thousands of Ad Combinations
Virtually add ad placeholders using the Ezoic Chrome Extension
Automatically Optimize Based on Results
Ezoic learns how ad sizes, locations, and ad partners perform and automatically optimizes combinations
Use A.I to Maximize Performance
Ezoic learns how ad placements and density impact different visitors and changes combinations to on a per visitor basis. Learn More.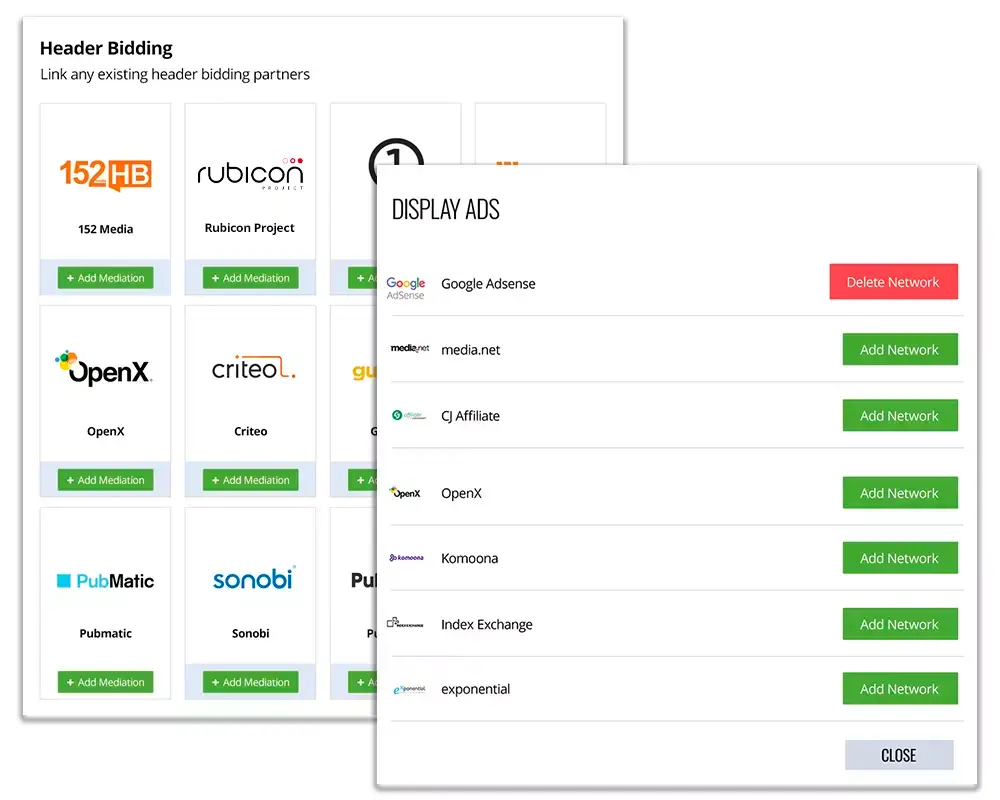 Access Premium Ad Networks, Exchanges, Deals, & Link existing Ad Partners
Access Google Ad Exchange
Access Google's premium ad exchange that includes thousands of networks and partners competing to ensure higher ad rates.
Implement Header Bidding
Ad Tester provides sophisticated header bidding and yield optimization automatically to increase the value of website ad space. Learn More.
Keep Existing Partners, Have Them Compete
Mediation allows sites to link existing ad networks, like Google AdSense, to compete with thousands of Ezoic premium ad partners. Learn more.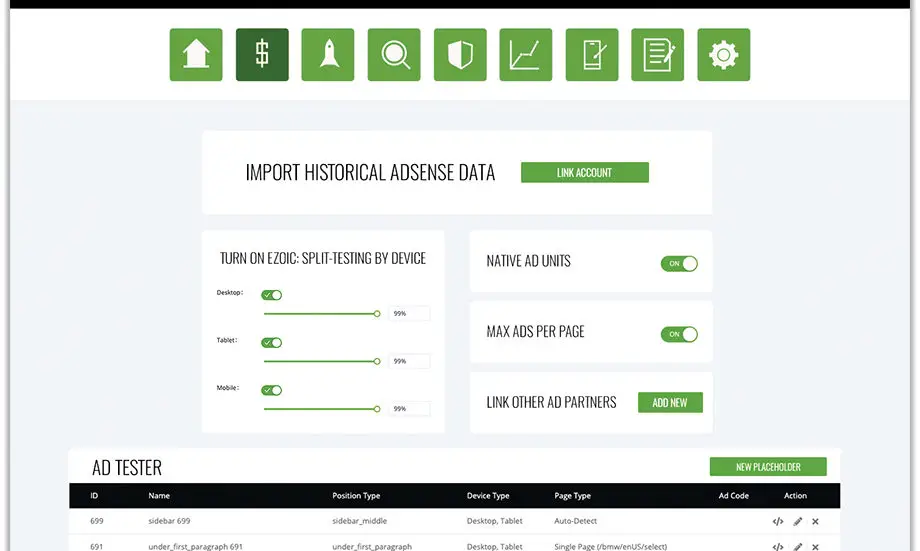 Balance Revenue & UX By Taking Control
No Outsourcing, Stay in Control
Set goals for optimization, choose where ads show, and evaluate the data to determine the best balance between improved UX and revenue.
Split-Test Ezoic vs. Current Site
Split-test Ezoic's optimizations by device. Choose the percentages of traffic and compare true apples-to-apples performance.
Set Ad Types & Personal Preferences
Assert total control over the density, types, and locations of ads. Set dozens of personal preferences for Ad Tester to optimize around.
Fewer Ads, More Money
Learn how the lead of digital mergers and acquisitions of a successful marketing solutions company first began using Ezoic to manage ad revenue and user experience on a recently-acquired site. See how an increase in EPMV, engaged pageviews per visit, and engaged time per visit, and a decrease in navigation bounces, allowed him to better focus on the future—growing and improving the company's portfolio of high-quality content sites.
76%
INCREASE EARNING
1K VISITORS
100%
IMPROVEMENT
IN BOUNCE RATE
27%
INCREASE IN TIME
ENGAGE
COMMON AD TESTER QUESTIONS
Does Ad Tester include premium advertisers or does it only work with existing AdSense or ad networks?
What is the pricing model for Ad Tester and Ezoic Monetization?
What are Ezoic payment terms?
Does Ezoic really use machine learning?
HOW TO START
Setup is easy, secure, and requires no technical experience.
1. Create an Account
No credit card, no contract. Always starts with 30 days free.
2. Integrate with Ezoic
Three integration options & real humans available 24/7 to help.
3. Configure Features
This is where you get to play with settings & Ezoic's advanced testing.