How Does Ezoic Ad Tester Work?
Smart Ad Testing
Ezoic Ad Tester is an easy-to-use application that automatically tests millions of ad combinations for you without altering any other elements of your site. Using a chrome extension, you are able to drag-and-drop ad placeholders on to your website from right inside your browser.  Get started in three simple steps:
Join the Ezoic platform for free
Configure Ad Tester according to your exact preferences
Ezoic automatically tests millions of personalized ad combinations using artificial intelligence
Automated Using Artificial Intelligence
Ezoic utilizes artificial intelligence to learn about user behavior and ad interactions on your website to do two things…
Automatically increase ad revenue by optimizing ad positions, sizes, types, and more for individual users depending on dozens of factors.
Improve user experience metrics based on how things like bounce rate, time on site, and pageviews are affected by ad combinations.
Ezoic gives users complete control of the locations and sizes on all devices — including native ads — and even provides the ability to completely customize display rules for different types of users.
Ezoic is free to use and is a Google Certified Publishing Partner.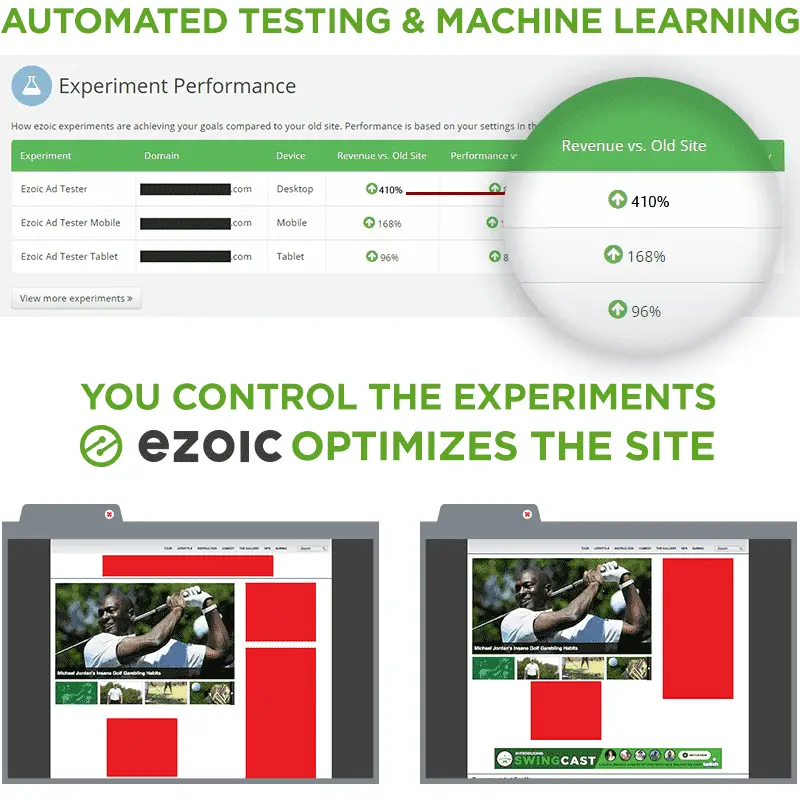 Use Ad Tester On Your Site
Scientifically proven to reduce bounce rates, improve time on site, & increases pageviews per visit; resulting in more revenue
Start Ad Testing Now
How Ad Testing Works
The Ezoic machine learning system tests different combinations of ad locations and sizes and measures the results.  It uses the data collected to make smart decisions about what will be shown when and to whom. Ezoic does the ad testing for you.
Ezoic optimizes your site to achieve both your ad earnings and user experience goals. The Ezoic system collects hundreds of billions of data points and uses advanced machine learning systems to identify patterns that can be used to predict future behavior.
Ezoic goes beyond rudimentary CPM optimization. Our artificial intelligence maximizes EPMV (earnings per thousand visitors) which looks at site revenue on a per session basis and takes into account things like bounce rate and pageviews per visit.
Scenario One
Page eCPM: $10.00
Pageviews per visit: 1.5
10,000 visits * 1.5 pv/visit
= 15,000 pageviews
15,000 pageviews * $10.00 ecpm
= $150.00 income
Scenario Two
Page eCPM: $8.00
Pageviews per visit: 2.5
10,000 visits * 2.5 pv/visit
= 25,000 pageviews
25,000 pageviews * $8.00 ecpm
= $200.00 income
Create Ad Competition
Ezoic is ad demand agnostic; meaning, Ezoic Ad Tester works with your existing ad networks, exchanges, native ads, and header bidding partners.  In addition, Ezoic has partnerships with many ad networks, such as Google Adsense, Google Ad Exchange, Outbrain, Media.net, OpenX and +300 more that you can easily access through our platform.
A feature we call Mediation enables all of your own ad networks to complete with Ezoic's own ad partnerships for your website's inventory.  This increased competition increases cpm rates. This means every ad on your site is competing to get you the best deal.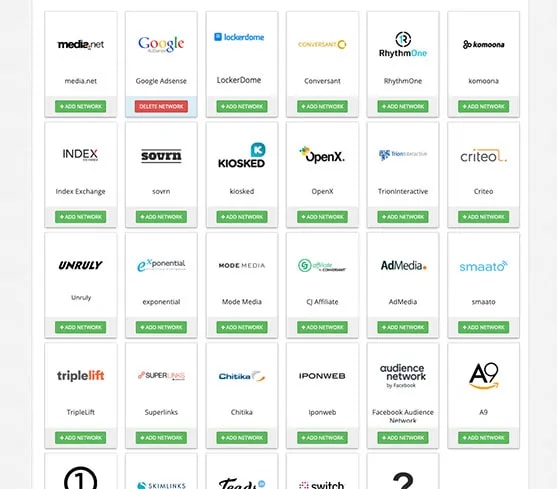 Ad testing just makes sense, and our publishers experience major improvements in ad earnings and things like bounce rate and time on site. The average revenue increase of ad tester varies based upon the level of optimization already applied to the website and the type of content.  None-the-less, we have found a correlation between the size of the existing dedicated ad operations or revenue teams and the percentage gain realized by using Ezoic Ad Tester.
Ad testing takes time but we see publishers realizing results within weeks. The more time the system has to test, the greater improvements site owners will see.
The only way to see if it will help your site is to test Ad tester.