Ad Network Mediation
Using Ezoic doesn't mean giving up on your existing ad relationships – the Ezoic ad mediation platform works with existing ad partners on your site and helps make them bid more for your ad inventory!
Make the ad networks compete!
Using ad mediation you can easily link up your current ad networks, ad exchanges, native ads and header bidding partners to the Ezoic platform.  Your mediation ad partners will then compete with the over 1,500 ad partners that Ezoic works with – driving up the CPMs on your inventory. Join the Google Ad Exchange and more… all through Ezoic.
As a Google Certified Publisher Partner, Google Adsense Partner, and first network partner of Outbrain, the Ezoic ad mediation platform is able maximize your sites and revenue and unlock CPM ads from the Google Ad Exchange — and many other partners — that many publishers may not be able to access any other way.
Keep existing ad relationships
Best of all, when using ad network mediation on the Ezoic platform, you can track and report the revenue earned from your ad mediation partners in the Ezoic reporting interface.  This means that you'll be able to see all your site's ad revenue in one place and be able to better determine how your decisions are affecting increases in ad revenue.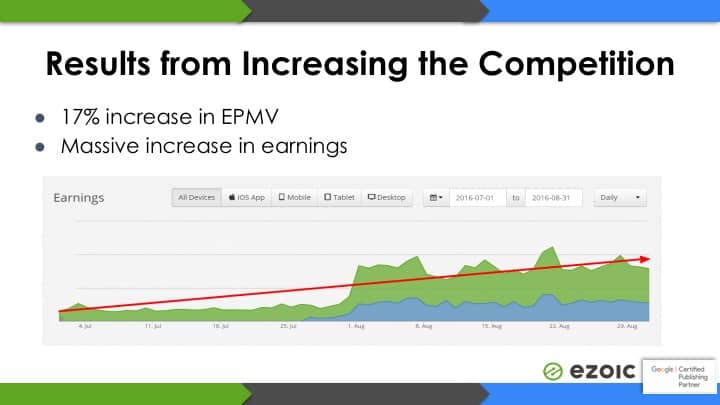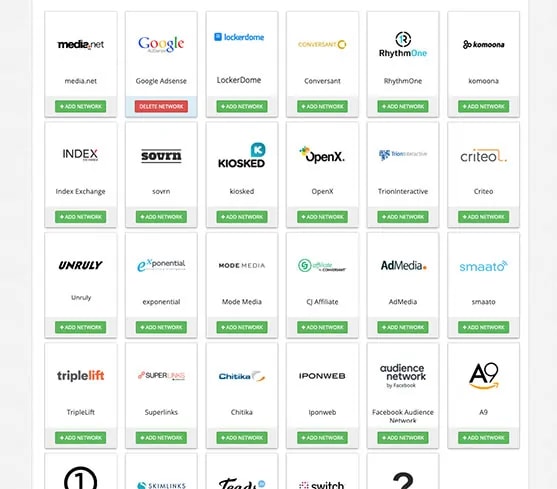 Below is both a list of the supported Mediation ad companies and the partners that Ezoic works with directly.
Supported Ad Mediation Partners
Google Adsense
Media.net
Conversant
RhythmOne
Komoona
Index Exchange
Sovrn
Kiosked
OpenX
Trion Interactive
Criteo
The Trade Desk
Exponential
Mode Media
CJ Affiliate
AdMedia
Smaato
Triple Lift
Super Links
Chitika
AOL
AppNexus
Pubmatic
Rubicon
Sonobi
Yieldbot
PulsePoint
Adform
bRealTime
SpringServe
NginAd
ALL OTHERS – JUST ASK!!
Ezoic Ad Partners
1000 Mercis (FR) w/AppNexus
12 Digit Media w/AppNexus
2 Accuen DE w/ Invite Media
33Across
A&N Media w/ AppNexus
AGrant CN
AHBelo – DBM
AJ Advisers
AKQA w/ DBM
AMNET (IT) w/TURN
AMNET (SA) w/DBM
AMNET (TR) w/ DBM
AMNET (UAE) w. DBM
AMNET (UAE) w/ MediaMath
AMNET CN w/DBM
AMNET SEA w/ Mediamath
AOL w/Cobalt
AOL: AdLearn Open Platform
AOL: Advertising.com (JP)
AOL: Advertising.com (US)
Accealor Europe Ltd w/DBM
Accordant Media
Accordant Media (mobile)
Accordant Media w/ Invite Media
Accuen (AE) w/DBM
Accuen (FR) w/DBM
Accuen (IT) w/DBM
Accuen (IT) w/TTD
Accuen (PL) w/DBM
Accuen (TR) w/DBM
Accuen AT w/DBM
Accuen AU w/ DBM
Accuen BE w/DBM
Accuen CN GZ w/ DBM
Accuen Canada w/ DBM
Accuen Canada w/ Trade Desk
Accuen Canada w/ Trade Desk *USD (MAIN SEAT)
Accuen EMEA w/DBM
Accuen FI
Accuen HK w/DBM
Accuen NL w/Invite (Legacy)
Accuen NO w/ DBM
Accuen OMD NZ w/ DBM
Accuen PHD NZ w/ DBM
Accuen w/ AdLearn
Accuen w/ Adelphic
Accuen w/ Invite Media
Accuen w/ MediaMath
Accuen w/ The Trade Desk
Accuen- Optimum (ES) w/ DBM
ActionX
ActionX w/ Adelphic
ActionX w/AppNexus
Active Agent
Acuity Ads w/ DBM
Ad Mixer
Ad Perium
AdExchanger
AdExpert w/ AppNexus
AdGear
AdLabs.ru
AdLantic w/DBM
AdLook
AdMaxim EMEA
AdReady
AdRiver
AdRoll.com 3
AdSame
AdScience
AdSniper.ru
AdTaily w/ DBM
AdTradr w/ DBM
AdWerx, Inc. w/AppNexus
AdWerx, Inc. w/AppNexus (2)
AdZcentral w/ DBM
Adara DBM Adx
Adara Media
Adbrain
Adconion (AU) w/ TTD
Adconion DBM-N
Adelement – INR
Adello Group AG
Adelphic Mobile
Adform
Adgorithms (IL) w/AppNexus
Adhesive, LLC
Adizio w/ Iponweb (BS)
Admatic w/DBM (AU)
Adnboost 2 (TR) w/ Appnexus
Adroit Digital Solutions
Adsfactor
Adtarget.me
Adtegrity BPN AdX Account
Adtegrity.com 2
Advance Internet
Advance Media
Adverline w/ Turn
Advertise.com
Aegis Media Network UK w/Appnexus
Aegis Media Network UK w/DBM
Aegis Media Network UK w/Mediamath
Aegis Media Network w/ AppNexus AU
Aegis Media Network w/ Invite Media
Aegis Media Network w/ Invite Media (AU)
Aegis Media Network w/ Invite Media (Europe)
Aegis Media Network w/ MediaMath
Aegis Media Network w/ MediaMath (Europe)
Aegis Media Network w/ Turn
Aegis Media Network w/ Turn (AU)
Aegis Media Network w/ Turn (Europe)
Affec.tv
AffiPerf (EMEA) w/ DBM (EUR)
AffiPerf (US) w/ DBM (USD)
AffiPerf w/ AppNexus (USD)
AffiPerf w/ MediaMath (USD)
After download w/ AppNexus
Agency M w/ AppNexus
Alcance Media Group
Amazon APAC
Amazon.com
Amazon.com (Europe)
Amnet (IT) w/AdForm EMEA
Amnet (IT) w/DBM
Amnet Canada w/ Invite
Amnet Canada w/ MediaMath
Amnet Canada w/ Turn
Amnet DE w/ Amazon
Amnet DE w/ DBM
Amnet ES w/ DBM
Amnet Nordics w/DBM
Amnet SEA w/ DBM
Amnet SEA w/ Turn
Amnet w/ Adelphic
Amnet w/ The Trade Desk
Amobee (ES) w/AppNexus
Amobee Adx DBM Seat
Amobee DSP
Annalect Media India Private Limited
AppNexus
Appier PC
Appier TW
Applovin
Arrivalist w/ AppNexus
Audience2Media w/DBM
Auditorius
Avazu (HK)
Azameo w/ AppNexus
BBN Solutions w/AppNexus
BPNWW (UAE) w/ DBM
Babycenter – DBM
Bannerconnect
Batanga
Bazaarvoice-DBM
Behe TJ
Bering Media 1292 w/AppNexus
BidTheatre
Big Lens LLC
Big Mobile w/ AppNexus
Bizo
Blue Mango Interactive
Blue449 Vivaki UK w/DBM
Bonnier
Boost w/DBM
Brick Inc w/AppNexus
BrideClick-DBM
Bridgewell
BuckSense
BuzzCity Pte Ltd
CCI w/ DBM JP
Cacafly
Cadreon (MENA) w/DBM
Cadreon BE w/ DBM
Cadreon CEE w/ DBM
Cadreon DK w/DBM
Cadreon MY w/ DBM
Cadreon NL w/ DBM
Cadreon dba Orion Trading w/ DBM (AU)
Cadreon w/Bid Manager
Camelot Marketing & Media
Camelot w/ AOL AOP
Cappture (The Edge Initiative) w/AppNexus
Captify Media w/DBM
Captify Medial w/ AppNexus
CarGurus LLC
Centro
Centrois w/ AppNexus
Chango
ChargeAds Mediacafe
ChoiceStream Bidder
Choicestream
Choozle w/ AppNexus
Clickagy
CliqueMedia (AE) w/ AppNexus
Cogo Labs
Collective Bidder Pilot
Collective Media
Collective Media UK w/DBM
Compare Group
Comune S.A. w/ Efficient Frontier
Connexity DBM
Conversant
Conversant MS – DBM
Conversant w/ AppNexus
ConverteDSP (BR)
Crimson Tangerine
Crimtan (AU)
Crimtan (EU)
Crimtan (US)
Crimtan w/DBM
Criteo (AU)
Criteo (BR)
Criteo (CN)
Criteo (IT)
Criteo (JP)
Criteo (MEA)
Criteo (RU)
Criteo (SG)
Criteo (TR)
Criteo (UK)
Criteo (US)
Criteo Europe
Crunch DMC w/AppNexus
CyberAgent DSP
CyberAgent Dynalyst
DBM AUNZ
DBM India
DBM Japan
DBM SEA
DBi Istanbul (TR) w/DBM
DQ&A w/DBM
DTravel
DXPMedia
Daftcode w/ AppNexus
DataLogix
DataPoint Media
DataXu
DataXu EU
Datawrkz Pte Ltd
Dedicated DBM AdX
Dedicated Media w/ AppNexus
Delta Projects AB
Densou w/Adform
DigiLowCost w/ MediaMath
Digilant
Digilant (MX)
Digilant w/ AppNexus
Digital Niche AU w/AppNexus
Digital Reach Group
Digitize/Medialink – US Account
Digitouch / Adnomia (TR) w/DBM
District M
DoubleClick Bid Manager (BR)
DoubleClick Bid Manager (Europe)
Downstream Marketing
EBay Audience Platform DBM
EXEBID
Easy-Media
Ebuzzing w/DBM
EchoSearch
Efficient Frontier (US)
El Toro, LLC
Emego GmbH w/DBM
Euroads w/ Adform
Everyday Health, Inc.
Exact Drive
Exebid (es)
Exponential: Tribal Fusion
F@N Communications
FCB NZ w/ DBM
Fairfax Media
Fairfax Media w/ Invite Media
Family Powered Networks LLC
Fast Pay – Nanigans
FastG8 Inc w/ IPONWEB
Fiksu
Flaminem – Savoir Web (FR)
Flow Digital w/ Invite Media
Flow Digital w/ TTD
Foursquare w/ Beeswax
Foursquare-DBM
FreakOut
Fullsix (FR) w/ AppNexus
FunBox w/ DBM (AU)
Future Ads DBM
GDM Digital w/Invite
Gamned (FR) w/ AppNexus
Gamned (FR) w/ DBM
GetIntent USA
Global Digital Markets
Go2mobi
Goldbach Audience w/ DBM
Goodway Group
Goodway Group w/ DBM
Google AdWords
Google Ad Exchange
Google Adsense
Google Bid Manager – Canada
Google: Contributor
Google: DCLK Bid Manager
Google: DCLK Bid Manager (China)
Google: Invite Media (2)
Google: Invite Media Direct Marketers
Gravity4
GroupM (FR) w/ AppNexus
GroupM (FR) w/ DBM
GroupM (IT) w/DBM
GroupM (MENA) w/DBM
GroupM BE w/AppNexus
GroupM Connect (TR) w/ AppNexus
GroupM DE w/AppNexus
GroupM DE w/The Trade Desk
GroupM NO w/AppNexus
GroupM w/AppNexus
HTTPool AN US
Harren Media
Headway Mexico
Headway_Argentina w/mm
Healthgrades-DBM
Hearst w/ AppNexus
Hi-Media (FR) 3 w/AppNexus
Hi-Media (FR) 4 w/AppNexus
Hi-Media (FR) w/AppNexus
Hispavista 2 (ES) w/ Dataxu
Hitch Digital Media (SA)
HockeyCurve
Hoopla Digital
Housing.com
Hybrid
Hype Istanbul (TR) w/DBM
IDG Communications Media w/ DBM
IMS Inc.
Ignite Video
IgnitionOne
IgnitionOne BR
IgnitionOne UK
IgnitionOne w/DBM
Incisive Media
Independent Traveler
Infectious Media IDB
Infectious Media w/DBM
InflectionPointMedia
Infolinks
Iniciativas Virtuales (ES) w/DBM
Iniciativas de Meios (PT) w/DBM
Innity
Innogames w/DBM
Integrate
Intency w/BidSwitch
Interactive Media Sales
Interactivemedia CCSP
Invertise
Investing Channel
Invite for ATT
Jampp/Devego S.A.
Jellyfish DBM
Jumpstart Automotive Media
Kakaku.com w/ DBM-N
Kavanga Media
Kepler Group
Kitara Media
Klikki w/DBM
Knorex
Komli Media
Kupona w/ DBM
LBi Vivaki UK w/DBM
Lemonfree
LiMei China
Liftoff
LiquidM
Live Nation Entertainment Inc.
Local Response, Inc.
LocalResponse
Longtail
Lotame
Madison Logic
Magnet Intell w/ BLOOM Digital
Magnet Intell w/ Invite Media
Magnetic
Magnetic w/ AppNexus
Magnetic w/DBM
Main AdV (IT) – UI Buying
Main AdV (IT) w/ AppNexus
Main AdV (IT) w/ DBM
Manta Media
Marin Display Bidder
Marin Display w/AppNexus
Mark 1 Media w/AppNexus
Matomy Media
MaxPoint Interactive
McCann (Sekindo) w/ AppNexus
McClatchy – DBM
Media Eyes Company Limited
Media IQ Digital w/ AppNexus
Media IQ Digital w/ MediaMath
Media IQ Digital w/DBM
Media Investment (RO) w/ DBM
Media White (UAE) w/ DBM
Media.net
MediaCrossing w/ DBM
MediaMath
MediaMath (EMEA)
MediaMath – 800flwrs
MediaMath – FWRD
MediaMath – Publicitas
MediaMath APAC
MediaMath – Coles
MediaMath, on behalf of eBay (DE)
MediaMath2
MediaMind w/ AppNexus
MediaMind w/ The Trade Desk
MediaNews Group
MediaTraderZ (IL) w/ DBM
Mediahead w/Appnexus
Mediamind w/ Mediamath
Mediarithmics
Mediaschneider AG w/DBM
Mediasmart
Mediative – DBM
Medula Network LLC
Merkle
Merkle w/ Invite Media
Micro
MicroAd
MicroAd (China)
MicroAd APAC 2
MicroAd Korea
MicroAd Mobile
Mighty Hive w/ DBM
MindAd Media w/AppNexus
MobileFuse w/AppNexus
Mobusi ES
Mogo Marketing w/ DBM
Moloco Ads
MyWebGrocer w/ DBM
Nano Interactive w/ DBM
NeoPerf (FR) w/ AppNexus
Netmining
Netmining (Yen)
Netmining Reach
Newsquest w/DBM
Next Performance
Next Performance (US)
Next Performance Brazil
Nine Entertainment Co. (ninemsn)
Novem w/DBM
Ogilvy One (ES) w/ DBM
Oliro
Omnicom Media Group w/ DBM (DK)
Omnicom Media Group w/ Invite Media (Europe)
Omnicom Media Group w/ MediaMath (DK)
Omnicom Media Group w/ Turn (NL)
Omnicom Media Group w/Adform (DK)
Onebird LLC
Online Media Partners
Online Media Partners w/ DBM
Online Media Solutions (IL) w/ AppNexus
Open Bidder Testing Network
Optus (Amobee) w/ DBM
Orange (FR) w/AppNexus
Orange142 w/AppNexus
Otto Group Media w/ DBM
Outsourced Ad Ops – DBM
OwnerIQ
PGPub – DBM
PaperG
PayPerSale.ru
Performance Advertising w/ AppNexus
Performance Advertising w/Active Agent
Performance Media PL w/DBM
Permodo
Pixidis (FR) w/ DBM
PlannTo Technologies
Platform161
Plethora Mobile w/AppNexus
Postmedia – DBM
Priceline w/ DBM
Proclivity
ProgrammAds w/DBM
Programmatic Mechanics w/ DBM
Programmatic Mechanics w/AppNexus
Programmatic s.r.o. w/ AppNexus
Programmatic s.r.o. 2 w/AppNexus
Programmatic s.r.o. w/DBM
Public-Idées (FR) w/ AppNexus
Publicis Digitas w/ DBM
Publicis Mediavest w/ DBM
Publicis Mediavest w/ The Trade Desk
Publicis Moxie w/ DBM
Publicis OptiMedia w/ The Trade Desk
Publicis Optimedia w/ Adelphic
Publicis Optimedia w/ DBM
Publicis Performics w/ AOL
Publicis Performics w/ DBM
Publicis Razorfish w/ The Trade Desk
Publicis Rosetta w/ The Trade Desk
Publicis Spark w/ DBM
Publicis Spark w/ The Trade Desk
Publicis Starcom w/ DBM
Publicis Starcom w/ Mediamath
Publicis Starcom w/ The Trade Desk
Publicis Zenith Verizon w/ AOL
Publicis Zenith w/ DBM
Publicis non-AOD SMG w/ DBM
PushSpring w/AppNexus
Qantas w/ DBM
Quantcast
Quantcast EMEA
Quantone Mobile
Quid Digital (ES) w/DBM
Quisma
Quisma 2
ROI Media Consultants – DBM
ROIx – DBM
RTB Baltic SIA
RTB House
RTB House (RU)
RU TARGET
RadiumOne
RadiumOne (APAC)
RadiumOne (AU)
RadiumOne (DK)
RadiumOne (FR)
RadiumOne (IT)
RadiumOne (NL)
RadiumOne (UK)
RadiumOne Canada
Rakuten US
Rakuten w/ MediaMath
Rakuten w/ appnexus
Rakuten w/ mediamath US
ReTargeter
Realzeit GmbH
Red Aril
Reklam Store
Reklamport (TR) w/ AppNexus
RevenueMantra
ReverbNation
ReverbNation 1602 w/AppNexus
Ritorno.ru
Rockerbox
Rocket Fuel
Rocket Fuel (2)
Rogers – DBM
Rontar EE
Rozetka
Run DSP
Russ Media w/DBM
SEM (TR) w/ DBM
SMG Vivaki UK w/DBM
ST Digital Arg
Say Media w/ AppNexus
Schibsted 2 w/AppNexus USD
Schnaeppchenjagd 2
SelectMedia w/ AppNexus
SelectMedia w/AppNexus 3377
ShareThis-DBM
Shunfei
Simpli.fi
Sirdata w/AppNexus
So-net Media Networks
SoLocal (FR) w/ AppNexus
Social Reality w/ AppNexus
Sociomantic (APAC 2)
Sociomantic (Americas 2)
Sociomantic (BR)
Sociomantic (EMEA 2)
Sodel Solutions New
Sojern DBM Adx
Sokrati
Sonobi
SourceKnowledge
Sovrn
Specific Media – bidder
Specific Media UK w/DBM
Spiceworks
Spotad.co (UK)
StarTribune_DBM
StrikeAd Zetta
StubHub – DBMn
Styleho LLC w/ DBM
Suite 66
Swelen France
TLV Media (IL) w/AppNexus
TVTY for DBM
Taboola
Tagtoo
Tailwind w/AppNexus
Taobao Software Co. (China) 浙江淘宝网络有限公司
TapCommerce
TapTap Networks
Tapped Networks_DBM
Tapsense
Tech53 Media BV w/ AppNexus
TellApart
The Bridge
The Economist Group w/ DBM
The Edge Initiative
The Edge Initiative 1968 w/AppNexus
The Edge Initiative 3343 w/AppNexus
The Exchange Lab w/ Invite Media
The Financial Times w/ DBM
The Programmatic Company (FR) w/ AppNexus
The Reach Group
The Reach Group w/ Turn
The Trade Desk
Ticketek w/ DBM
Tirkel S.A.
Tradelab (FR) w/ DBM
Tradelab (FR) w/AppNexus
Trademob USD
Tradespotting (FR) w/AppNexus
Traffic Media Solutions, SL (T2O) w/DBM
TravelClick
TravelClick EU
TravelClick w/DBM
TripAdvisor w/DBM
Trovit
TruEffect BPN
TruSignal
TubeMogul-APAC
TubeMogul-EU
Turbo (IT) w/AppNexus
Turn
Turn APAC
Turn BR
Turn EMEA
Twenga
US Media Consulting
Underdog Media
Undertone – bidder
Unique w/Adform
United Creative Kingdom
Universal Mc Cann (IL) w/ DBM
Up-Value w/ DBM
Up-value
VPON
Valassis Adx DBM Seat
Value Media (PL) w/ DBM
Varick Media w/ AppNexus
Varick Media w/ Invite Media
Varick Media w/ The Trade Desk
Vertical Scope – DBM
Veruta
Vice Media Inc. w/ DBM
Video Amp w/ DBM
Videology (UK)
VivaKi US w/ AOL AOP
VivaKi w/ Amazon AAP
VivaKi w/ Invite Media
VivaKi w/ Turn
Vivaki (TR) w/DBM
Vivaki (UAE) w/ TheTradeDesk
Vivaki (UAE) w/DBM
Vivaki BE w/DBM
Vivaki DE w/DBM
Vivaki DK w/DBM
Vivaki ES w/DBM
Vivaki FR w/DBM
Vivaki Fuel UK w/DBM
Vivaki GR w/DBM
Vivaki NO w/Adform
Vivaki PL w/DBM
Vivaki RU w/DBM
Vivaki SEA w/ Invite
Vivaki Sweden w/DBM
Vivaki UK w/DBM
Vizury
Vizury India
Vizury India Mobile
WapStart
Wavenet
Way2traffic
Wayfair w/ AppNexus
We Design LA
WebAds (IT)
Weborama (ES) w/ DBM
Weborama Connection (FR) w/AppNexus
Wider Planet
Wise Media
Xaxis (BR)
Xaxis (CZ) w/AppNexus
Xaxis (ES) w/ AppNexus
Xaxis (HongKong) w/ AppNexus
Xaxis (IT) w/AppNexus
Xaxis (KR) w/AppNexus New
Xaxis (MENA) w/ AppNexus
Xaxis (MY) w/ AppNexus
Xaxis (NL)
Xaxis (PH) w/ AppNexus
Xaxis (PL) w/AppNexus
Xaxis (PT) w/AppNexus
Xaxis (SA) w/ AppNexus
Xaxis (SG)
Xaxis (SK) w/AppNexus
Xaxis (TR) w/AppNexus
Xaxis AU w/ AppNexus
Xaxis AU w/ The Trade Desk
Xaxis BE w/AppNexus
Xaxis Colombia
Xaxis DK w/AppNexus
Xaxis EMEA w/ Appnexus
Xaxis Light Reaction (IT) w/AppNexus
Xaxis Light Reaction (MENA) w/ AppNexus
Xaxis Light Reaction NL w/Appnexus
Xaxis MIA w/ Appnexus
Xaxis Mexico
Xaxis NO w/AppNexus
Xaxis RO w/AppNexus
Xaxis SE w/AppNexus
Xaxis w/ AppNexus
Xaxis w/ AppNexus (CA)
Xaxis w/ The Trade Desk
Xelsion
Xplosion
YCmedia
YDigital Media
YOC w/DBM
Yieldr UK (Direct)
Yieldr UK w/Bidswitch
YoYo
Yoptima – INR
ZER Advertising (TR) w/DBM
Zalando w/ Invite Media
Zalando w/ Metrigo
Zamplus
Zamplus Mobile
ZeBestOf w/ MediaMath
Zenith Optimedia (IL) w/ DBM
Ziff Davis w/ MediaMath
Ziff Davis_DBM
ad2games w/ AppNexus
adnanny ES
adnologies
advanced STORE
advanced STORE w/ DBM
d3media w/ Turn 2
d3media w/AppNexus
eBay w/ Adelphic
eBay w/ Turn
eRate (IL) w/ DBM
eprofessional
explido w/ DBM
extend.tv
eyeReturn
iMarker.ru
iPinYou
iPinYou Mobile
inPowered – DBMv2
masterplan media w/ Adform
mbr-targeting
morequalifiedleads w/AppNexus
myThings
myThings (Americas)
myThings (Prospecting)
netADge
onesixty2 (FR) w/ AppNexus
pilot w/ Adform
pilot w/ DBM
remerge
target performance
target performance w/ Adform
target performance w/ DBM
travelaudience
travelaudience 2
twiago
webtrekk
wywy w/DBM
xaxisw/appnexus_arg
xplosion interactive Bidder w/Appnexus
1000 Mercis (FR) w/AppNexus
12 Digit Media w/AppNexus
2 Accuen DE w/ Invite Media
33Across
A&N Media w/ AppNexus
AGrant CN
AHBelo – DBM
AJ Advisers
AKQA w/ DBM
AMNET (IT) w/TURN
AMNET (SA) w/DBM
AMNET (TR) w/ DBM
AMNET (UAE) w. DBM
AMNET (UAE) w/ MediaMath
AMNET CN w/DBM
AMNET SEA w/ Mediamath
AOL w/Cobalt
AOL: AdLearn Open Platform
AOL: Advertising.com (JP)
AOL: Advertising.com (US)
Accealor Europe Ltd w/DBM
Accordant Media
Accordant Media (mobile)
Accordant Media w/ Invite Media
Accuen (AE) w/DBM
Accuen (FR) w/DBM
Accuen (IT) w/DBM
Accuen (IT) w/TTD
Accuen (PL) w/DBM
Accuen (TR) w/DBM
Accuen AT w/DBM
Accuen AU w/ DBM
Accuen BE w/DBM
Accuen CN GZ w/ DBM
Accuen Canada w/ DBM
Accuen Canada w/ Trade Desk
Accuen Canada w/ Trade Desk *USD (MAIN SEAT)
Accuen EMEA w/DBM
Accuen FI
Accuen HK w/DBM
Accuen NL w/Invite (Legacy)
Accuen NO w/ DBM
Accuen OMD NZ w/ DBM
Accuen PHD NZ w/ DBM
Accuen w/ AdLearn
Accuen w/ Adelphic
Accuen w/ Invite Media
Accuen w/ MediaMath
Accuen w/ The Trade Desk
Accuen- Optimum (ES) w/ DBM
ActionX
ActionX w/ Adelphic
ActionX w/AppNexus
Active Agent
Acuity Ads w/ DBM
Ad Mixer
Ad Perium
AdExchanger
AdExpert w/ AppNexus
AdGear
AdLabs.ru
AdLantic w/DBM
AdLook
AdMaxim EMEA
AdReady
AdRiver
AdRoll.com 3
AdSame
AdScience
AdSniper.ru
AdTaily w/ DBM
AdTradr w/ DBM
AdWerx, Inc. w/AppNexus
AdWerx, Inc. w/AppNexus (2)
AdZcentral w/ DBM
Adara DBM Adx
Adara Media
Adbrain
Adconion (AU) w/ TTD
Adconion DBM-N
Adelement – INR
Adello Group AG
Adelphic Mobile
Adform
Adgorithms (IL) w/AppNexus
Adhesive, LLC
Adizio w/ Iponweb (BS)
Admatic w/DBM (AU)
Adnboost 2 (TR) w/ Appnexus
Adroit Digital Solutions
Adsfactor
Adtarget.me
Adtegrity BPN AdX Account
Adtegrity.com 2
Advance Internet
Advance Media
Adverline w/ Turn
Advertise.com
Aegis Media Network UK w/Appnexus
Aegis Media Network UK w/DBM
Aegis Media Network UK w/Mediamath
Aegis Media Network w/ AppNexus AU
Aegis Media Network w/ Invite Media
Aegis Media Network w/ Invite Media (AU)
Aegis Media Network w/ Invite Media (Europe)
Aegis Media Network w/ MediaMath
Aegis Media Network w/ MediaMath (Europe)
Aegis Media Network w/ Turn
Aegis Media Network w/ Turn (AU)
Aegis Media Network w/ Turn (Europe)
Affec.tv
AffiPerf (EMEA) w/ DBM (EUR)
AffiPerf (US) w/ DBM (USD)
AffiPerf w/ AppNexus (USD)
AffiPerf w/ MediaMath (USD)
After download w/ AppNexus
Agency M w/ AppNexus
Alcance Media Group
Amazon APAC
Amazon.com
Amazon.com (Europe)
Amnet (IT) w/AdForm EMEA
Amnet (IT) w/DBM
Amnet Canada w/ Invite
Amnet Canada w/ MediaMath
Amnet Canada w/ Turn
Amnet DE w/ Amazon
Amnet DE w/ DBM
Amnet ES w/ DBM
Amnet Nordics w/DBM
Amnet SEA w/ DBM
Amnet SEA w/ Turn
Amnet w/ Adelphic
Amnet w/ The Trade Desk
Amobee (ES) w/AppNexus
Amobee Adx DBM Seat
Amobee DSP
Annalect Media India Private Limited
AppNexus
Appier PC
Appier TW
Applovin
Arrivalist w/ AppNexus
Audience2Media w/DBM
Auditorius
Avazu (HK)
Azameo w/ AppNexus
BBN Solutions w/AppNexus
BPNWW (UAE) w/ DBM
Babycenter – DBM
Bannerconnect
Batanga
Bazaarvoice-DBM
Behe TJ
Bering Media 1292 w/AppNexus
BidTheatre
Big Lens LLC
Big Mobile w/ AppNexus
Bizo
Blue Mango Interactive
Blue449 Vivaki UK w/DBM
Bonnier
Boost w/DBM
Brick Inc w/AppNexus
BrideClick-DBM
Bridgewell
BuckSense
BuzzCity Pte Ltd
CCI w/ DBM JP
Cacafly
Cadreon (MENA) w/DBM
Cadreon BE w/ DBM
Cadreon CEE w/ DBM
Cadreon DK w/DBM
Cadreon MY w/ DBM
Cadreon NL w/ DBM
Cadreon dba Orion Trading w/ DBM (AU)
Cadreon w/Bid Manager
Camelot Marketing & Media
Camelot w/ AOL AOP
Cappture (The Edge Initiative) w/AppNexus
Captify Media w/DBM
Captify Medial w/ AppNexus
CarGurus LLC
Centro
Centrois w/ AppNexus
Chango
ChargeAds Mediacafe
ChoiceStream Bidder
Choicestream
Choozle w/ AppNexus
Clickagy
CliqueMedia (AE) w/ AppNexus
Cogo Labs
Collective Bidder Pilot
Collective Media
Collective Media UK w/DBM
Compare Group
Comune S.A. w/ Efficient Frontier
Connexity DBM
Conversant
Conversant MS – DBM
Conversant w/ AppNexus
ConverteDSP (BR)
Crimson Tangerine
Crimtan (AU)
Crimtan (EU)
Crimtan (US)
Crimtan w/DBM
Criteo (AU)
Criteo (BR)
Criteo (CN)
Criteo (IT)
Criteo (JP)
Criteo (MEA)
Criteo (RU)
Criteo (SG)
Criteo (TR)
Criteo (UK)
Criteo (US)
Criteo Europe
Crunch DMC w/AppNexus
CyberAgent DSP
CyberAgent Dynalyst
DBM AUNZ
DBM India
DBM Japan
DBM SEA
DBi Istanbul (TR) w/DBM
DQ&A w/DBM
DTravel
DXPMedia
Daftcode w/ AppNexus
DataLogix
DataPoint Media
DataXu
DataXu EU
Datawrkz Pte Ltd
Dedicated DBM AdX
Dedicated Media w/ AppNexus
Delta Projects AB
Densou w/Adform
DigiLowCost w/ MediaMath
Digilant
Digilant (MX)
Digilant w/ AppNexus
Digital Niche AU w/AppNexus
Digital Reach Group
Digitize/Medialink – US Account
Digitouch / Adnomia (TR) w/DBM
District M
DoubleClick Bid Manager (BR)
DoubleClick Bid Manager (Europe)
Downstream Marketing
EBay Audience Platform DBM
EXEBID
Easy-Media
Ebuzzing w/DBM
EchoSearch
Efficient Frontier (US)
El Toro, LLC
Emego GmbH w/DBM
Euroads w/ Adform
Everyday Health, Inc.
Exact Drive
Exebid (es)
Exponential: Tribal Fusion
F@N Communications
FCB NZ w/ DBM
Fairfax Media
Fairfax Media w/ Invite Media
Family Powered Networks LLC
Fast Pay – Nanigans
FastG8 Inc w/ IPONWEB
Fiksu
Flaminem – Savoir Web (FR)
Flow Digital w/ Invite Media
Flow Digital w/ TTD
Foursquare w/ Beeswax
Foursquare-DBM
FreakOut
Fullsix (FR) w/ AppNexus
FunBox w/ DBM (AU)
Future Ads DBM
GDM Digital w/Invite
Gamned (FR) w/ AppNexus
Gamned (FR) w/ DBM
GetIntent USA
Global Digital Markets
Go2mobi
Goldbach Audience w/ DBM
Goodway Group
Goodway Group w/ DBM
Google AdWords
Google Bid Manager – Canada
Google: Contributor
Google: DCLK Bid Manager
Google: DCLK Bid Manager (China)
Google: Invite Media (2)
Google: Invite Media Direct Marketers
Gravity4
GroupM (FR) w/ AppNexus
GroupM (FR) w/ DBM
GroupM (IT) w/DBM
GroupM (MENA) w/DBM
GroupM BE w/AppNexus
GroupM Connect (TR) w/ AppNexus
GroupM DE w/AppNexus
GroupM DE w/The Trade Desk
GroupM NO w/AppNexus
GroupM w/AppNexus
HTTPool AN US
Harren Media
Headway Mexico
Headway_Argentina w/mm
Healthgrades-DBM
Hearst w/ AppNexus
Hi-Media (FR) 3 w/AppNexus
Hi-Media (FR) 4 w/AppNexus
Hi-Media (FR) w/AppNexus
Hispavista 2 (ES) w/ Dataxu
Hitch Digital Media (SA)
HockeyCurve
Hoopla Digital
Housing.com
Hybrid
Hype Istanbul (TR) w/DBM
IDG Communications Media w/ DBM
IMS Inc.
Ignite Video
IgnitionOne
IgnitionOne BR
IgnitionOne UK
IgnitionOne w/DBM
Incisive Media
Independent Traveler
Infectious Media IDB
Infectious Media w/DBM
InflectionPointMedia
Iniciativas Virtuales (ES) w/DBM
Iniciativas de Meios (PT) w/DBM
Innity
Innogames w/DBM
Integrate
Intency w/BidSwitch
Interactive Media Sales
Interactivemedia CCSP
Invertise
Investing Channel
Invite for ATT
Jampp/Devego S.A.
Jellyfish DBM
Jumpstart Automotive Media
Kakaku.com w/ DBM-N
Kavanga Media
Kepler Group
Kitara Media
Klikki w/DBM
Knorex
Komli Media
Kupona w/ DBM
LBi Vivaki UK w/DBM
Lemonfree
LiMei China
Liftoff
LiquidM
Live Nation Entertainment Inc.
Local Response, Inc.
LocalResponse
Longtail
Lotame
Madison Logic
Magnet Intell w/ BLOOM Digital
Magnet Intell w/ Invite Media
Magnetic
Magnetic w/ AppNexus
Magnetic w/DBM
Main AdV (IT) – UI Buying
Main AdV (IT) w/ AppNexus
Main AdV (IT) w/ DBM
Manta Media
Marin Display Bidder
Marin Display w/AppNexus
Mark 1 Media w/AppNexus
Matomy Media
MaxPoint Interactive
McCann (Sekindo) w/ AppNexus
McClatchy – DBM
Media Eyes Company Limited
Media IQ Digital w/ AppNexus
Media IQ Digital w/ MediaMath
Media IQ Digital w/DBM
Media Investment (RO) w/ DBM
Media White (UAE) w/ DBM
MediaCrossing w/ DBM
MediaMath
MediaMath (EMEA)
MediaMath – 800flwrs
MediaMath – FWRD
MediaMath – Publicitas
MediaMath APAC
MediaMath – Coles
MediaMath, on behalf of eBay (DE)
MediaMath2
MediaMind w/ AppNexus
MediaMind w/ The Trade Desk
MediaNews Group
MediaTraderZ (IL) w/ DBM
Mediahead w/Appnexus
Mediamind w/ Mediamath
Mediarithmics
Mediaschneider AG w/DBM
Mediasmart
Mediative – DBM
Medula Network LLC
Merkle
Merkle w/ Invite Media
Micro
MicroAd
MicroAd (China)
MicroAd APAC 2
MicroAd Korea
MicroAd Mobile
Mighty Hive w/ DBM
MindAd Media w/AppNexus
MobileFuse w/AppNexus
Mobusi ES
Mogo Marketing w/ DBM
Moloco Ads
MyWebGrocer w/ DBM
Nano Interactive w/ DBM
NeoPerf (FR) w/ AppNexus
Netmining
Netmining (Yen)
Netmining Reach
Newsquest w/DBM
Next Performance
Next Performance (US)
Next Performance Brazil
Nine Entertainment Co. (ninemsn)
Novem w/DBM
Ogilvy One (ES) w/ DBM
Oliro
Omnicom Media Group w/ DBM (DK)
Omnicom Media Group w/ Invite Media (Europe)
Omnicom Media Group w/ MediaMath (DK)
Omnicom Media Group w/ Turn (NL)
Omnicom Media Group w/Adform (DK)
Onebird LLC
Online Media Partners
Online Media Partners w/ DBM
Online Media Solutions (IL) w/ AppNexus
Open Bidder Testing Network
Optus (Amobee) w/ DBM
Orange (FR) w/AppNexus
Orange142 w/AppNexus
Otto Group Media w/ DBM
OpenX
Outbrain
Outsourced Ad Ops – DBM
OwnerIQ
PGPub – DBM
PaperG
PayPerSale.ru
Performance Advertising w/ AppNexus
Performance Advertising w/Active Agent
Performance Media PL w/DBM
Permodo
Pixidis (FR) w/ DBM
PlannTo Technologies
Platform161
Plethora Mobile w/AppNexus
Postmedia – DBM
Priceline w/ DBM
Proclivity
ProgrammAds w/DBM
Programmatic Mechanics w/ DBM
Programmatic Mechanics w/AppNexus
Programmatic s.r.o. w/ AppNexus
Programmatic s.r.o. 2 w/AppNexus
Programmatic s.r.o. w/DBM
Public-Idées (FR) w/ AppNexus
Publicis Digitas w/ DBM
Publicis Mediavest w/ DBM
Publicis Mediavest w/ The Trade Desk
Publicis Moxie w/ DBM
Publicis OptiMedia w/ The Trade Desk
Publicis Optimedia w/ Adelphic
Publicis Optimedia w/ DBM
Publicis Performics w/ AOL
Publicis Performics w/ DBM
Publicis Razorfish w/ The Trade Desk
Publicis Rosetta w/ The Trade Desk
Publicis Spark w/ DBM
Publicis Spark w/ The Trade Desk
Publicis Starcom w/ DBM
Publicis Starcom w/ Mediamath
Publicis Starcom w/ The Trade Desk
Publicis Zenith Verizon w/ AOL
Publicis Zenith w/ DBM
Publicis non-AOD SMG w/ DBM
PushSpring w/AppNexus
Qantas w/ DBM
Quantcast
Quantcast EMEA
Quantone Mobile
Quid Digital (ES) w/DBM
Quisma
Quisma 2
ROI Media Consultants – DBM
ROIx – DBM
RTB Baltic SIA
RTB House
RTB House (RU)
RU TARGET
RadiumOne
RadiumOne (APAC)
RadiumOne (AU)
RadiumOne (DK)
RadiumOne (FR)
RadiumOne (IT)
RadiumOne (NL)
RadiumOne (UK)
RadiumOne Canada
Rakuten US
Rakuten w/ MediaMath
Rakuten w/ appnexus
Rakuten w/ mediamath US
ReTargeter
Realzeit GmbH
Red Aril
Reklam Store
Reklamport (TR) w/ AppNexus
RevenueMantra
ReverbNation
ReverbNation 1602 w/AppNexus
Ritorno.ru
Rockerbox
Rocket Fuel
Rocket Fuel (2)
Rogers – DBM
Rontar EE
Rozetka
Run DSP
Russ Media w/DBM
SEM (TR) w/ DBM
SMG Vivaki UK w/DBM
ST Digital Arg
Say Media w/ AppNexus
Schibsted 2 w/AppNexus USD
Schnaeppchenjagd 2
SelectMedia w/ AppNexus
SelectMedia w/AppNexus 3377
ShareThis-DBM
Shunfei
Simpli.fi
Sirdata w/AppNexus
So-net Media Networks
SoLocal (FR) w/ AppNexus
Social Reality w/ AppNexus
Sociomantic (APAC 2)
Sociomantic (Americas 2)
Sociomantic (BR)
Sociomantic (EMEA 2)
Sodel Solutions New
Sojern DBM Adx
Sokrati
SourceKnowledge
Specific Media – bidder
Specific Media UK w/DBM
Spiceworks
Spotad.co (UK)
StarTribune_DBM
StrikeAd Zetta
StubHub – DBMn
Styleho LLC w/ DBM
Suite 66
Swelen France
TLV Media (IL) w/AppNexus
TVTY for DBM
Tagtoo
Tailwind w/AppNexus
Taobao Software Co. (China) 浙江淘宝网络有限公司
TapCommerce
TapTap Networks
Tapped Networks_DBM
Tapsense
Tech53 Media BV w/ AppNexus
TellApart
The Bridge
The Economist Group w/ DBM
The Edge Initiative
The Edge Initiative 1968 w/AppNexus
The Edge Initiative 3343 w/AppNexus
The Exchange Lab w/ Invite Media
The Financial Times w/ DBM
The Programmatic Company (FR) w/ AppNexus
The Reach Group
The Reach Group w/ Turn
The Trade Desk
Ticketek w/ DBM
Tirkel S.A.
Tradelab (FR) w/ DBM
Tradelab (FR) w/AppNexus
Trademob USD
Tradespotting (FR) w/AppNexus
Traffic Media Solutions, SL (T2O) w/DBM
TravelClick
TravelClick EU
TravelClick w/DBM
TripAdvisor w/DBM
Trovit
TruEffect BPN
TruSignal
TubeMogul-APAC
TubeMogul-EU
Turbo (IT) w/AppNexus
Turn
Turn APAC
Turn BR
Turn EMEA
Twenga
US Media Consulting
Underdog Media
Undertone – bidder
Unique w/Adform
United Creative Kingdom
Universal Mc Cann (IL) w/ DBM
Up-Value w/ DBM
Up-value
VPON
Valassis Adx DBM Seat
Value Media (PL) w/ DBM
Varick Media w/ AppNexus
Varick Media w/ Invite Media
Varick Media w/ The Trade Desk
Vertical Scope – DBM
Veruta
Vice Media Inc. w/ DBM
Video Amp w/ DBM
Videology (UK)
VivaKi US w/ AOL AOP
VivaKi w/ Amazon AAP
VivaKi w/ Invite Media
VivaKi w/ Turn
Vivaki (TR) w/DBM
Vivaki (UAE) w/ TheTradeDesk
Vivaki (UAE) w/DBM
Vivaki BE w/DBM
Vivaki DE w/DBM
Vivaki DK w/DBM
Vivaki ES w/DBM
Vivaki FR w/DBM
Vivaki Fuel UK w/DBM
Vivaki GR w/DBM
Vivaki NO w/Adform
Vivaki PL w/DBM
Vivaki RU w/DBM
Vivaki SEA w/ Invite
Vivaki Sweden w/DBM
Vivaki UK w/DBM
Vizury
Vizury India
Vizury India Mobile
WapStart
Wavenet
Way2traffic
Wayfair w/ AppNexus
We Design LA
WebAds (IT)
Weborama (ES) w/ DBM
Weborama Connection (FR) w/AppNexus
Wider Planet
Wise Media
Xaxis (BR)
Xaxis (CZ) w/AppNexus
Xaxis (ES) w/ AppNexus
Xaxis (HongKong) w/ AppNexus
Xaxis (IT) w/AppNexus
Xaxis (KR) w/AppNexus New
Xaxis (MENA) w/ AppNexus
Xaxis (MY) w/ AppNexus
Xaxis (NL)
Xaxis (PH) w/ AppNexus
Xaxis (PL) w/AppNexus
Xaxis (PT) w/AppNexus
Xaxis (SA) w/ AppNexus
Xaxis (SG)
Xaxis (SK) w/AppNexus
Xaxis (TR) w/AppNexus
Xaxis AU w/ AppNexus
Xaxis AU w/ The Trade Desk
Xaxis BE w/AppNexus
Xaxis Colombia
Xaxis DK w/AppNexus
Xaxis EMEA w/ Appnexus
Xaxis Light Reaction (IT) w/AppNexus
Xaxis Light Reaction (MENA) w/ AppNexus
Xaxis Light Reaction NL w/Appnexus
Xaxis MIA w/ Appnexus
Xaxis Mexico
Xaxis NO w/AppNexus
Xaxis RO w/AppNexus
Xaxis SE w/AppNexus
Xaxis w/ AppNexus
Xaxis w/ AppNexus (CA)
Xaxis w/ The Trade Desk
Xelsion
Xplosion
YCmedia
YDigital Media
YOC w/DBM
Yieldr UK (Direct)
Yieldr UK w/Bidswitch
YoYo
Yoptima – INR
ZER Advertising (TR) w/DBM
Zalando w/ Invite Media
Zalando w/ Metrigo
Zamplus
Zamplus Mobile
ZeBestOf w/ MediaMath
Zenith Optimedia (IL) w/ DBM
Ziff Davis w/ MediaMath
Ziff Davis_DBM
ad2games w/ AppNexus
adnanny ES
adnologies
advanced STORE
advanced STORE w/ DBM
d3media w/ Turn 2
d3media w/AppNexus
eBay w/ Adelphic
eBay w/ Turn
eRate (IL) w/ DBM
eprofessional
explido w/ DBM
extend.tv
eyeReturn
iMarker.ru
iPinYou
iPinYou Mobile
inPowered – DBMv2
masterplan media w/ Adform
mbr-targeting
morequalifiedleads w/AppNexus
myThings
myThings (Americas)
myThings (Prospecting)
netADge
onesixty2 (FR) w/ AppNexus
pilot w/ Adform
pilot w/ DBM
remerge
target performance
target performance w/ Adform
target performance w/ DBM
travelaudience
travelaudience 2
twiago
webtrekk
wywy w/DBM
xaxisw/appnexus_arg
xplosion interactive Bidder w/Appnexus