PUBLISHED 2/3/23 at 7:30AM
Welcome back to another ad rate update!
Ad rates have remained stagnant as we arrive one-third of the way through Q1. US ad rates are currently down 22% compared to last January.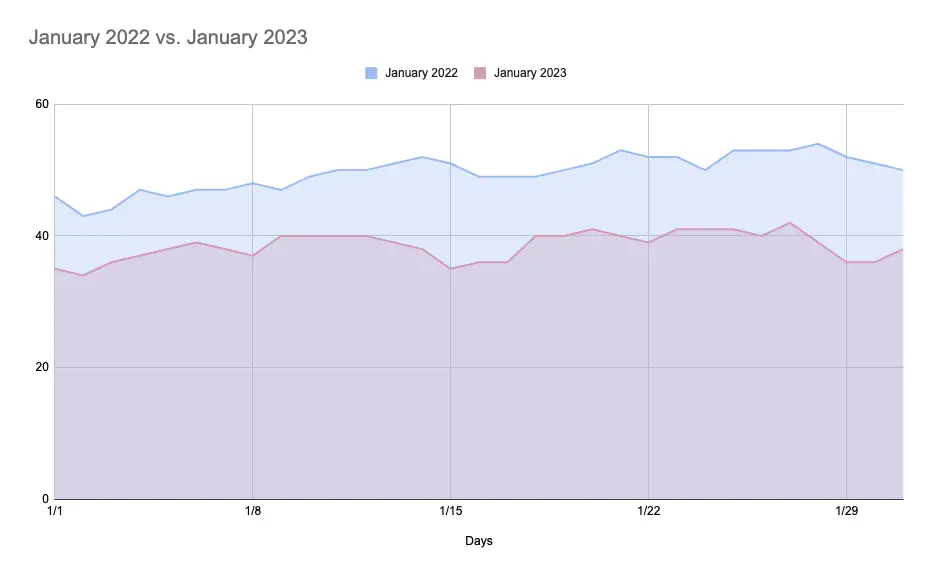 What's important to remember about January 2022, however, is that it started off riding the high of the end of 2021. It then dipped starting around August and stayed level for most of the rest of the year.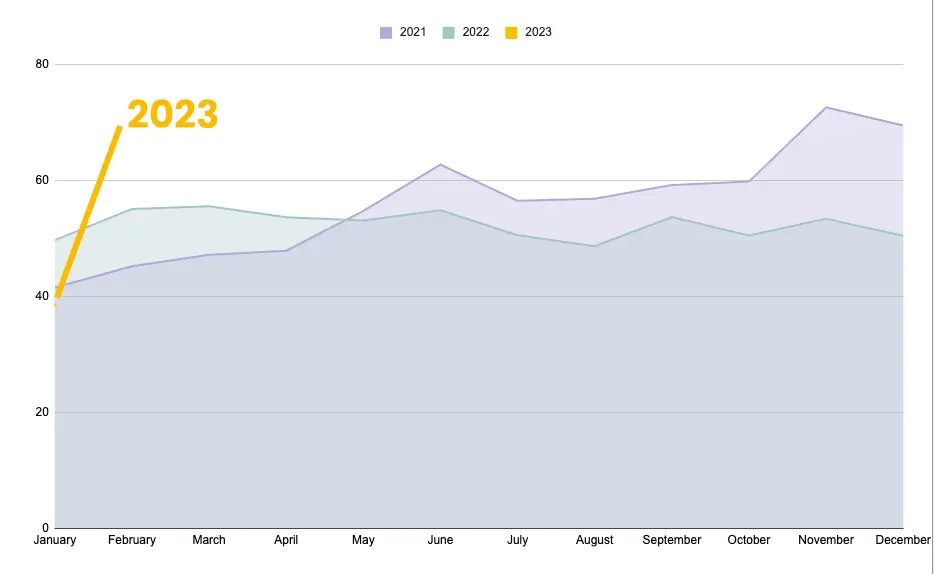 All that said, it is likely ad rates will remain where they are for most of Q1, as advertisers are playing it safe. Ad rates are currently higher than in all years prior to 2021.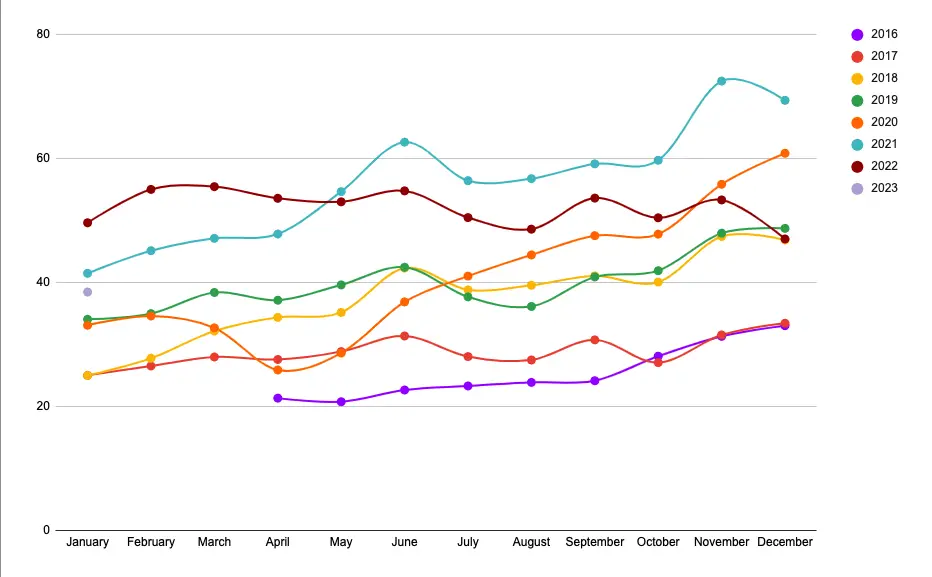 If you were hoping for a '2021 effect' this year to make up for lower ad rates in 2022 just like after 2020, you're unlikely to see it. 2021 was an outlier and a result of the world opening up once more, not just as a way to make up for poor ad rates in 2020.
2022 was then the year everyone watched as the economy slowly became worse and worse, and people began pinching pennies increasingly more. By the end of 2022, it was obvious things were likely to get worse before they get better, and ad rates dropped off.
We are still living in the aftermath of that, and it is likely that advertisers are going to continue to be conservative in spending, as consumers are likely to spend less in general while we all wait to see if a recession is imminent.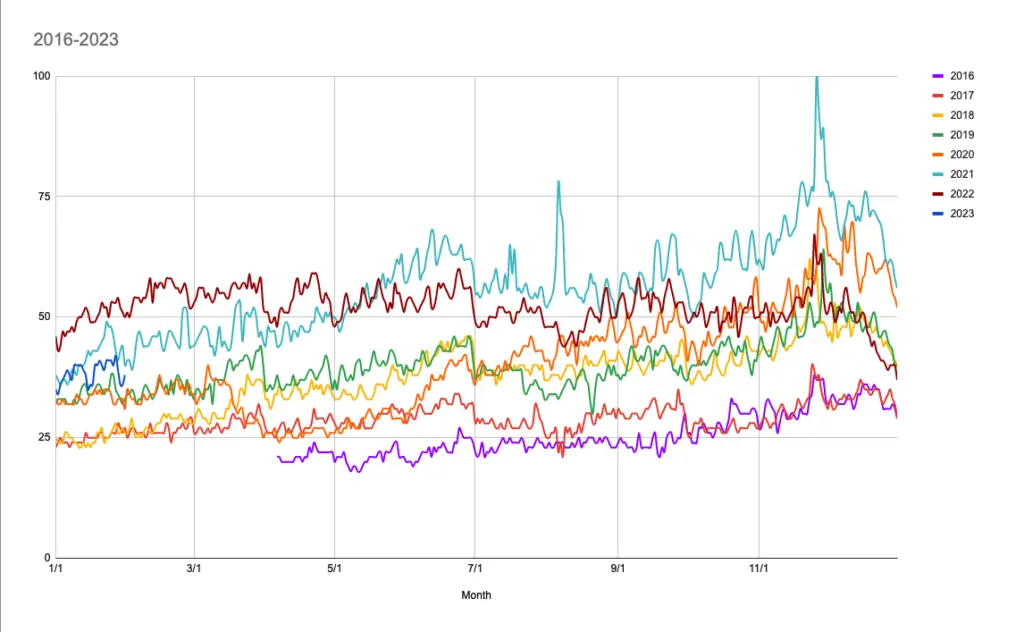 Which niches saw improved, decreased ad rates
The trend 'Dry January' has ad spend for non-alcoholic beverages up the week of January 9, 2023, compared to the week prior. According to MediaRadar, advertisers spent $7.5mm, which is a more than 40% increase WoW. Specifically, advertising spending for soft drinks rose 1,000% WoW.
Tech advertising saw barely any changes in ad spending, though telecommunication companies (Verizon, T-Mobile, etc.) reduced their ad spending by nearly 20% WoW. This shouldn't be surprising, as many telecommunication companies do big ad spend pushes around the holidays. Information technology, however, like GoDaddy and Wix, was up 150% WoW with over $25mm spent on advertising.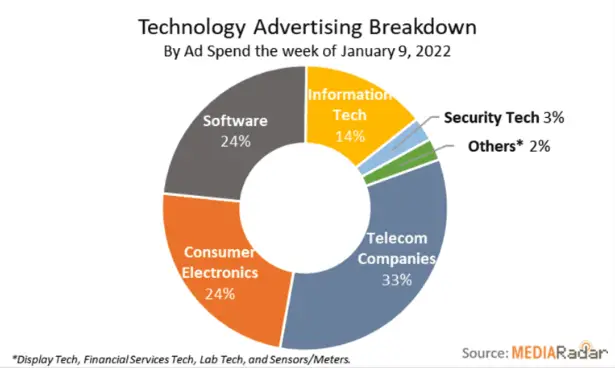 Beauty advertising spending has been in decline since right after Christmas; the week of December 26, 2022, ad spend was down 30%; the following week, it experienced another 20% decline. The week of January 9, 2023, saw another 5% decrease. Interestingly, ad spending on cosmetics was up over 1,000% WoW, amounting to nearly $10mm.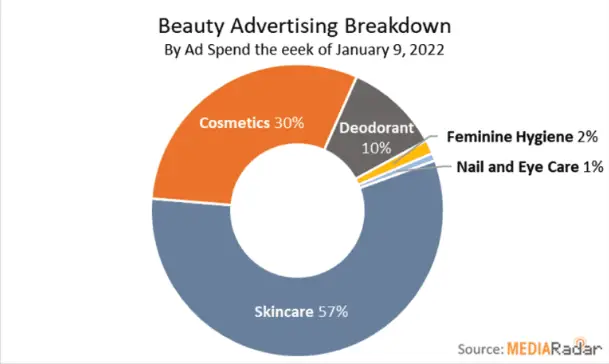 The most interesting ad spend trend was that Athletics experienced a decline, which is not typical for this time of year since this is a popular time of year for health-related ads, as many people set New Year Resolutions to be healthier. Ad spending was down 50% WoW.
Publishers in these niches may have noticed their EPMV and/or revenue drop or rise, depending on which category their website falls in. If you're a recipe site, Dry January is officially over, so it may be advantageous to make some fresh content on alcoholic beverages; don't abandon articles on non-alcoholic beverages, however, as there are still plenty of people who extend Dry January past the end of the month.
If you're an information technology site, it's possible to get in on this ad revenue by creating good content on products and tools to create websites, possibly a 'pros and cons' article. It seems as if these companies are doing big pushes right now, as it's likely people will pick up new hobbies and set new goals for 2023; one of them may be starting a website.
By following ad spend trends, you can look to see how your niche's ad spend is looking, and make content that is more likely to receive ad dollars.
Social media will be hit hardest by decrease in digital ad spend
Speaking of ad dollars, the channel seeing the biggest decrease in ad spending during this downturn is social media.
An eMarketer report shows that the social media ad spending forecast has been reduced by $16.21 billion.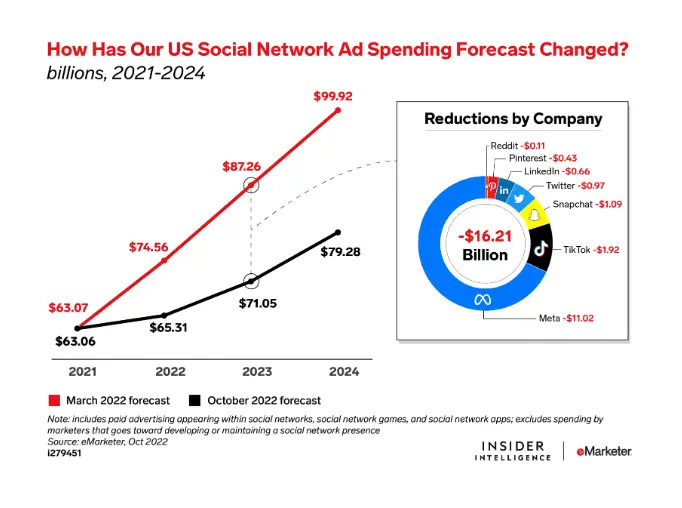 The biggest ad spend decline is coming from Meta, or Facebook, at $11.02 billion.
Some of this decline has to do with privacy changes, with Apple leading the way. Additionally, the possible coming recession, inflation, supply chain disruption, and geopolitical instability are making advertisers reconsider how they're spending their money.
Site redesigns can affect your rankings
Speaking of ad dollars, something that may cause your site to lose ranking, and thus traffic and revenue, is redesigning your site.
Gary Illyes from the Google Search Relations team recently posted on LinkedIn that a site redesign may make search engines "go nuts." 
An article by Search Engine Roundtable says this happens because search engines use the HTML of pages to make sense of the content, i.e. when you break up paragraphs or remove H-tags because of some CSS styling you want, you change the HTML parser's output. In basic terms, changing the core HTML can cause these ranking changes.
Instead, it's suggested that publishers should try using semantically similar HTML when redesigning their site and avoid adding tags where they aren't needed.
If you're wondering why you're losing ranking and you've recently completed a redesign, it may be that the search engine doesn't recognize the site the way it used to. Redesigns can be beneficial, but only if they're executed properly.
How marketers are responding to Google versus the DOJ
Marketers are reconsidering their relationship with Google after the DOJ recently filed an antitrust lawsuit against them. It's the most serious antitrust challenge against the company to date.
If you are unfamiliar with the lawsuit, check out The Publisher Lab's recent podcast.
Basically, the lawsuit targets Google's sell-side tools and demands the break up of Google Ad Manager suite. Much of the suit is about how Google has been able to maintain a 20% revenue share fee that it has charged on its ad exchange since 2009. It does not, however, call for the break up of any buy-side items like paid search or YouTube, or demand-side platforms like Display and Video 360.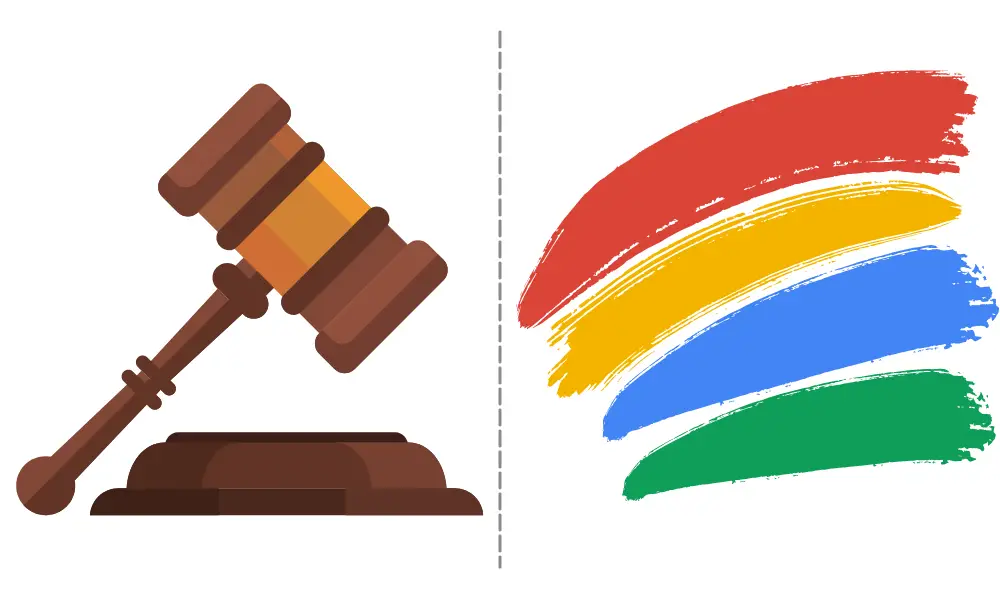 Even before the lawsuit, some advertisers had moved away from Google, like British Gas, and moved to independent ad servers, though this is certainly the exception.
At least at this point in time, there are few that can completely abandon Google; they are still the major player in this industry, and there won't be any significant changes for years, especially as Google will fight the lawsuit. However, it is becoming increasingly easier to distance oneself from them, as more alternatives are being introduced into the space all of the time. Marketers will have to consider the cost of switching and learning other platforms against the value that Google currently brings them until things become more clear.
If you are connected to other platforms outside of Google to earn money from ads, you may see an increase in revenue trickling in from these platforms as more and more advertisers shift their time and money elsewhere to stay out of the crossfire of the lawsuit.
The changing atmosphere of the open programmatic market
The open programmatic market is in a time of transition.
There has been an increasing amount of programmatic auctions initiated by mostly lower-quality publishers—mostly those who only operate the site to make a buck—beginning to clog the ad tech pipeline. These publishers are running auctions for the same impressions as ad tech vendors simultaneously, who are attempting to reduce the number of auctions they're a part of. While this makes publishers a lot of money, this is bad for advertisers because they could unknowingly bid against themselves.
As stated in the article, "…the lowest quality supply is occupying a growing share of programmatic inventory on the market as a result of auction duplication."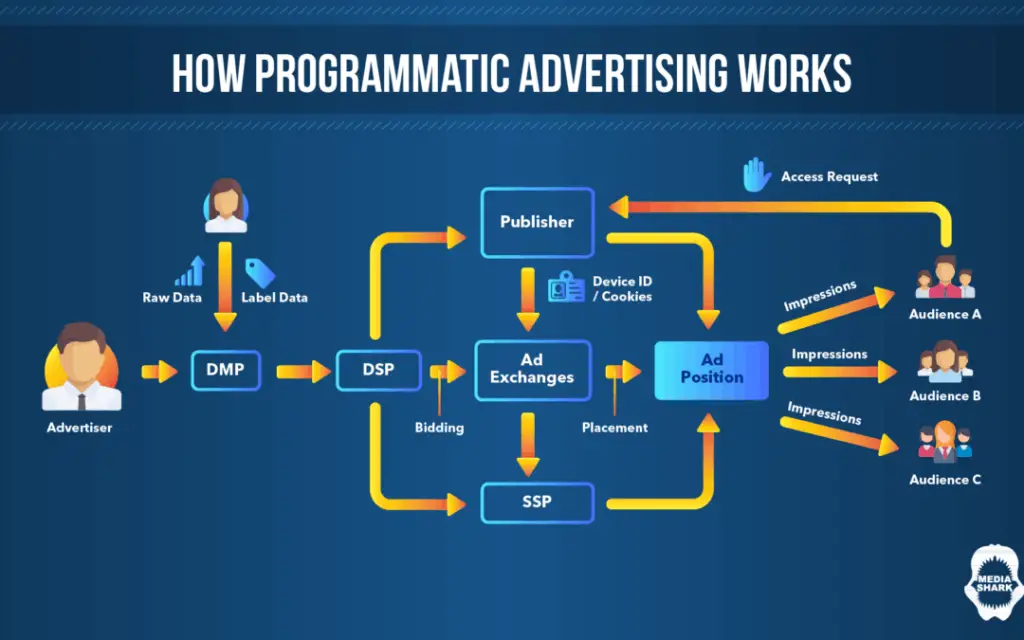 While these publishers' ads.txt files are growing as they allow an increasing amount of advertisers to bid on their ad space, advertisers have been slowly moving away from the open market and into private marketplaces. Of course, the open market is still dominant as of right now, so it is hard to completely move away from due to ease and the low cost of buying.
Instead of a premium programmatic marketplace that builds on many one-to-one deals with publishers, agencies are trying to keep their own supply of curated inventory that builds on many lookalike deals with multiple publishers, using supply-side platforms to do it.
Basically, these new 'curated marketplaces' could become the agency's own 'open auction.'
As stated, the open auction is still the most popular. There are ways to weed out the low-quality inventory and the number of auctions each programmatic marketplace can issue, but it can only do so much with the practices currently in place. As time goes on, filtering lower-quality inventory is becoming more and more sophisticated.
High-quality publishers who aren't trying to game the system don't have anything to worry about, but it is worth knowing that some agencies are looking to keep a closer watch on how their inventory is used and by whom.
What might the rest of Q1 ad rates look like?
With January 2023 in the rearview mirror, what have we learned about what the rest of Q1 might look like?
Advertisers are being cautious about spending and that doesn't look to be changing anytime soon, which means ad rates are likely to be stagnant for most of Q1

Certain niches are going to perform better at various parts of the quarter, depending on holidays (Valentine's Day, Black History Month), social trends (health and Dry January after the turn of the New Year), and how much money was spent in the niche previously

Social media ad rates are falling below forecast, but it's not to be completely ignored, especially with the rising popularity of TikTok; consider how advertisers may be reallocating some ad spend to social media and how you can use social media's popularity to your advantage
That's it for this update and we'll see you again the week of February 13, 2023.
PUBLISHED 1/19/23 at 12:16PM
Welcome to the New Year!
Ad rates are still certainly below this time last year, but overall are better than January 2016, 2017, 2018, and 2020.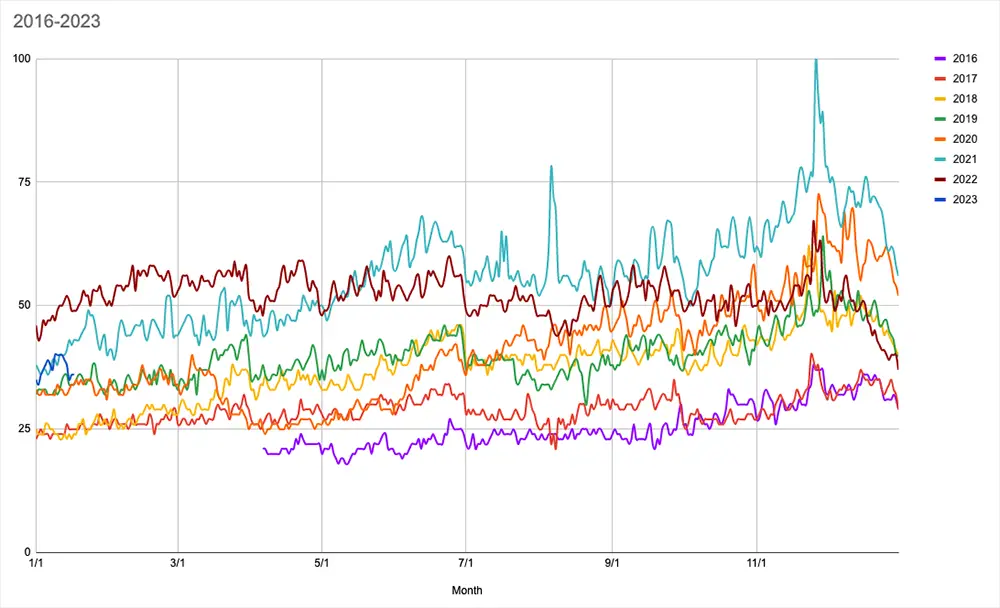 As you can see, ad rates in 2021 were a bit unprecedented for the whole year, as many businesses pushed advertising hard after the beginning of 2020 halted many businesses' advertising efforts.
2022 started out strong but by May, it became evident that a recession may be on the horizon, and businesses pulled back.  By the end of December, the big holiday drive was over and the financial downturn was eminent, so advertisers once again pulled their inventory.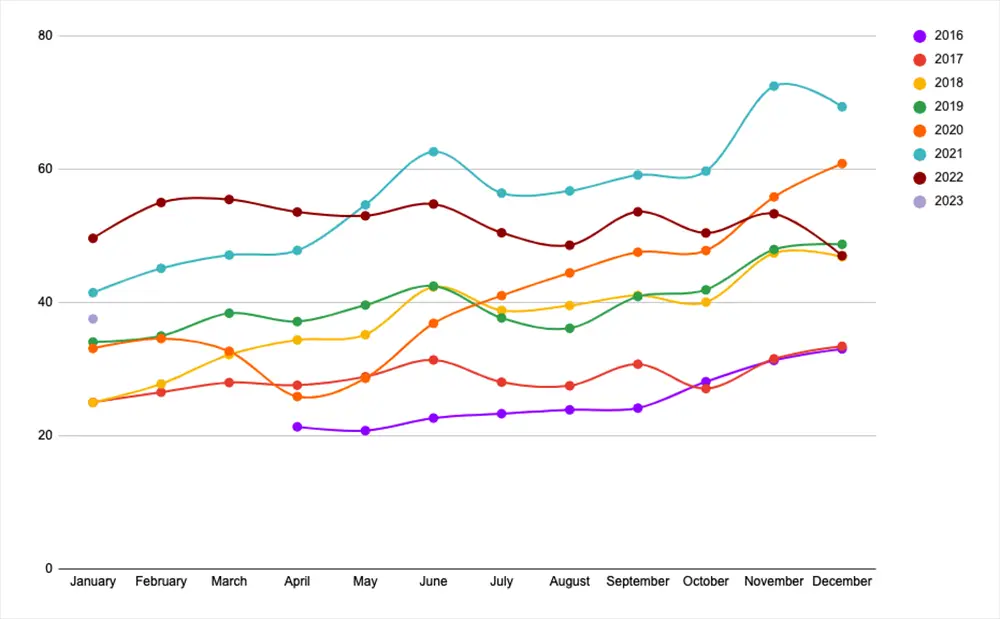 Now, at the beginning of January 2023, we are still feeling that hesitancy while the economy is still in flux. This January is certainly less optimistic than last January.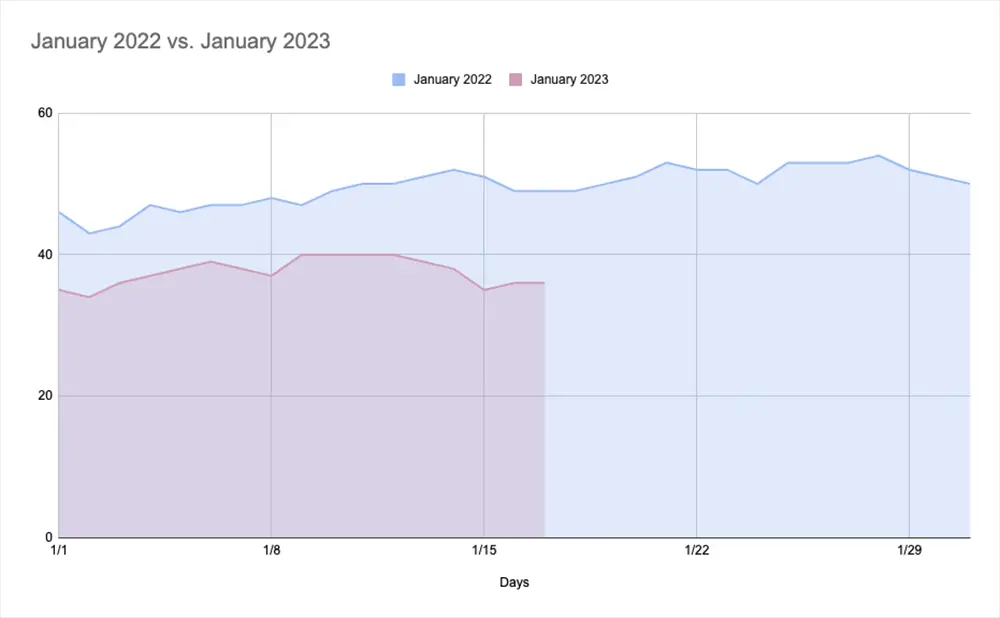 So what has been happening so far and what is predicted for 2023 Q? Let's take a look at what information is available to us.
Traffic and ad revenue trends in social media
Unless you've been living under a rock, you're probably well aware of Elon Musk acquiring Twitter and the radical changes he has made. Many of these changes have led to a decline in Twitter traffic referral to some publishers' sites. Some of these websites include major news sources like CNN, The New York Times, and BBC, amongst others. Drops in referral traffic varied from 10-18% month over month. Most of this can be attributed to the removal of Twitter Moments in December 2022.
However, web publishing tech provider Automattic found that in a subset of 21 large and small publishers, website traffic from Twitter in 2022 Q4 fell by an average of 13%, though of the data set, 71% of publishers saw a traffic decline. Musk took over Twitter in late October, so not all can be attributed to the changes he has implemented.
Where Twitter stands with publishers in the future is currently undetermined. When people surveyed from nearly 50 newsrooms were asked, the majority said they would use Twitter about the same, while 20.5% said they plan to use it less. The rest said they would use it sparingly, more, stop using it, or take it day by day.

On the flipside, TikTok ad revenue is up, defying the general advertising slowdown and possibly adding to tension between the US and China. Currently, TikTok takes up about 25% of social ad budgets and has grown 50% year over year since 2020.
It's anticipated that many advertisers will continue to test TikTok in Q1 and then scale throughout 2023. While other social media platforms are slowing in advertising growth or in decline, TikTok is picking up what those other platforms are losing. Additionally, it's been proven that sound-on, full screen video ads are the most effectful ads (when they're tolerated) and since this is the entire premise of TikTok, these ads do well.
Even with the promise of TikTok, predictions for social network ad spending are significantly down from original forecasts.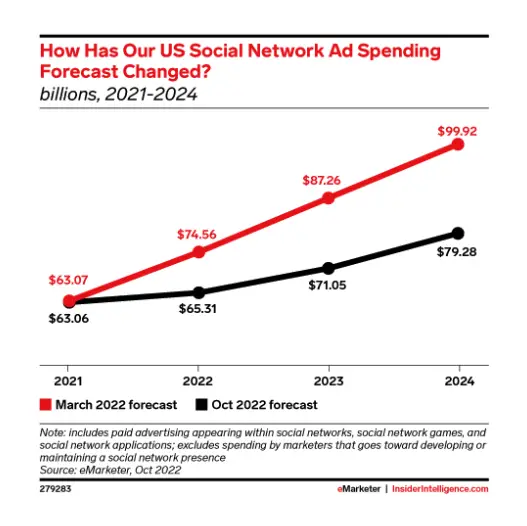 Advertisers cut overall spending, but some categories see increase
In an article published by eMarketer, it was reported that almost 30% of major advertisers are planning to cut their ad budgets into this year, and 74% of those advertisers point to the economic turndown as an influence in that decision.
While that may be daunting, it was also reported that 30% said their advertising budget will increase and 40% said it would stay the same as last year. 
What categories will we see the majority of this money? There are a few key takeaways from Mediaradar's weekly report, published the week of January 9, 2023.
Restaurant advertising and Health and Fitness both saw 400% increases in ad spend WoW. Restaurant advertising may have seen a spike because people were more likely to be out and about doing holiday returns. It probably comes as no surprise that Health and Fitness ad spend soared in the new year, as many people set new health and fitness goals as new year resolutions. Publishers in the categories may have seen an uptick in their ad revenue.
A category that experienced a decrease in ad spend was Food, specifically Snacks/Desserts and Meat; the former saw a 50% decrease WoW while the latter saw a nearly 100% decrease WoW. Now that the holidays are over, demand for these items has gone down, and the need to advertise for them has as well.
Travel specifically is seeing a great amount of growth, despite the fact that the economy is down. Even though travel is not a necessity but a luxury, according to a sample by MediaRadar, U.S. tourism organizations had already invested almost $623 million through April 2022, which is a 43% YoY increase from the same time period in 2021.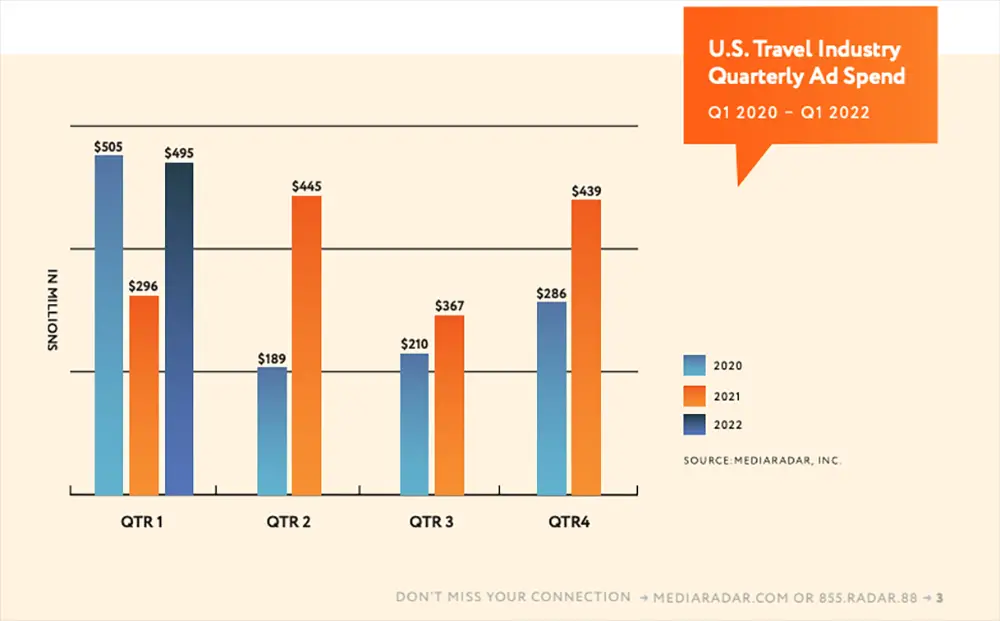 Why is this? It's a combination of two things: something called a 'booking curve' and an increase in nomadic lifestyles.
A booking curve refers to consumers spending in advance of the actual use date; advertisers in the travel industry try to predict when people will book vacations by studying data on how far out consumers tend to book their travels. Families booking vacations four to six months out would want to book sometime in Q4, which is why travel is doing so well right now.
Additionally, as aforementioned, more people are working remotely than ever before, thanks to job trends still leftover from the pandemic. Many companies have become more flexible with their work-from-home/remote work policies and so many people are taking advantage of this and traveling more, as they are able to simply take their work with them. According to eMarketer, US travel's digital ad spending reached roughly $5.23 billion in 2022.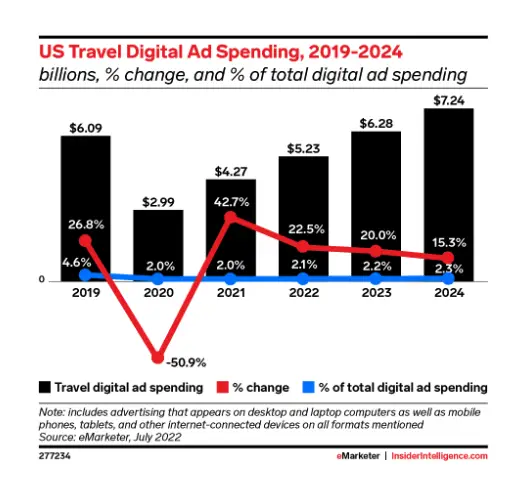 Predictions for Q1 2023
As most publishers have already experienced, ad spending in Q1 2023 does not look especially promising or a hopeful indication of the rest of the year. A recent Digiday article notes that marketers did not see the kind of sales they had hoped for in Q4 and so are approaching 2023 more cautiously.
Marketers are not tying themselves down to ad spending plans like in other years and are instead trying to stay more agile, much like during the pandemic, as consumer sentiment and the economy can change at seemingly any moment. Not to mention that there are still supply and labor shortages that are aftershocks of the pandemic, which slows down production and makes it more difficult to anticipate products' availability.
It's not all bad news, however. It's predicted that CPG (Consumer Packaged Goods) ad spending is likely to be steady in 2023. This includes subcategories like skincare advertisers, increased their investment by 8% YoY.
Overall, it's predicted that ad spending won't bottom out, though the most recent forecast for US ad spending indicates that it's down $5.51 billion from what was originally anticipated for 2023.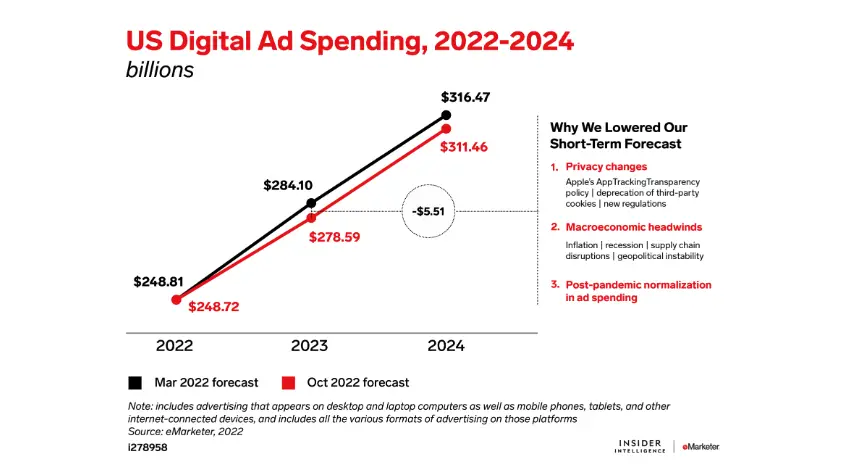 2023 is certainly going to be a year different from any other and it all seems dependent on how we weather the economic downturn and possible recession. We'll be back with another update in a few weeks.
---
PUBLISHED 12/29/22 at 7:00AM
To say it's been an unprecedented Q4 for ad rates is an understatement. Many publishers are feeling the pain this quarter as revenue is far below what is typical for this time of year, even though according to our data, visits have continually increased MoM and YoY for most niches we recently sampled.
Ad rates are down for multiple reasons, and it's hard to pinpoint anything specific. If you were keeping up with Ezoic during the pandemic, you may remember our ongoing blog we updated regularly with ad rate and traffic changes, trends in niches and e-commerce, and more. Since ad rates are not following the typical pattern of previous years, it can be hard to know what exactly is happening in the ad space and what to expect.
This blog will be similar to that of our COVID-19 blog in that we will update it periodically with valuable information from the digital publishing space to help you better understand how to stabilize or grow your site and plan for the future.
Ad rates before and after the pandemic
We recently pulled data from January 1, 2019-December 19, 2022 on Ezoic publishers in specific categories to see how ad rates have changed over time. To better see the trends, we've broken them up into two different graphs. Data was pulled on December 19, 2022, so our December data ends there.
EPMV (earning per thousand visitors) is a more accurate way to gauge website revenue, as it considers everything on your site that relates to and affects revenue—number of visits, ads shown during each user session, bounce rate, pageviews per visit, etc. This is a better way to understand your site's revenue than RPM (revenue per thousand visitors), as it only includes revenue per page per thousand visitors, and is entirely dependent on the number of ads and their static placement.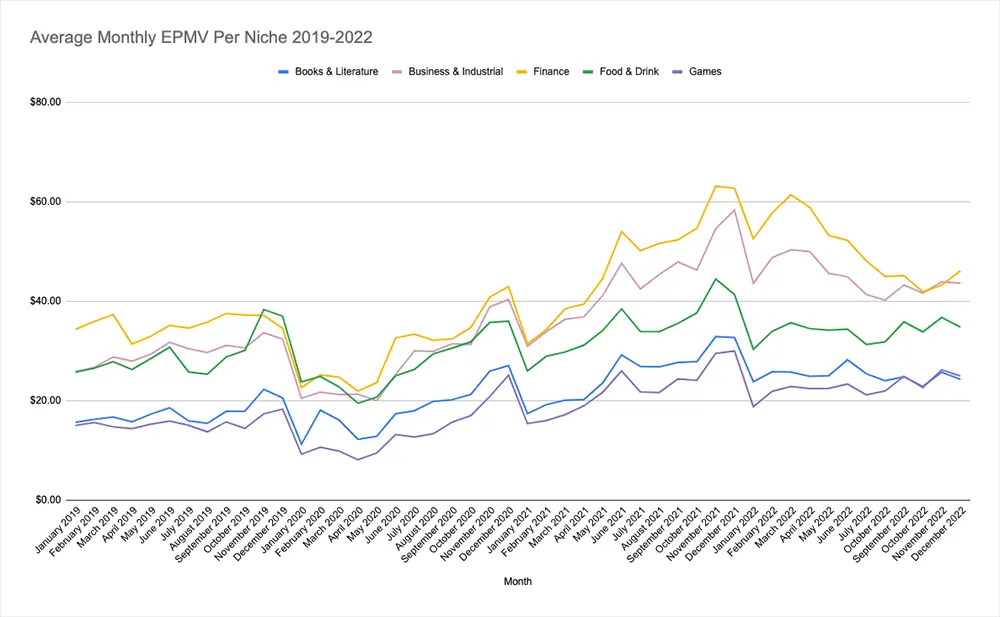 Ad rates were stable in 2019 but then all niches on this graph took a dip during the beginning of the pandemic. Almost all ad rates for these niches climbed back up in 2021, only to steadily fall in 2022.
As you will read later in this article, the Finance and Business/Industrial niche fared well during the pandemic more so than other niches because people were looking for financial and business advice during such unpredictable times, when many people could not work due to the nature of their job, experienced layoffs and furloughs, or just a general slowdown of consumers.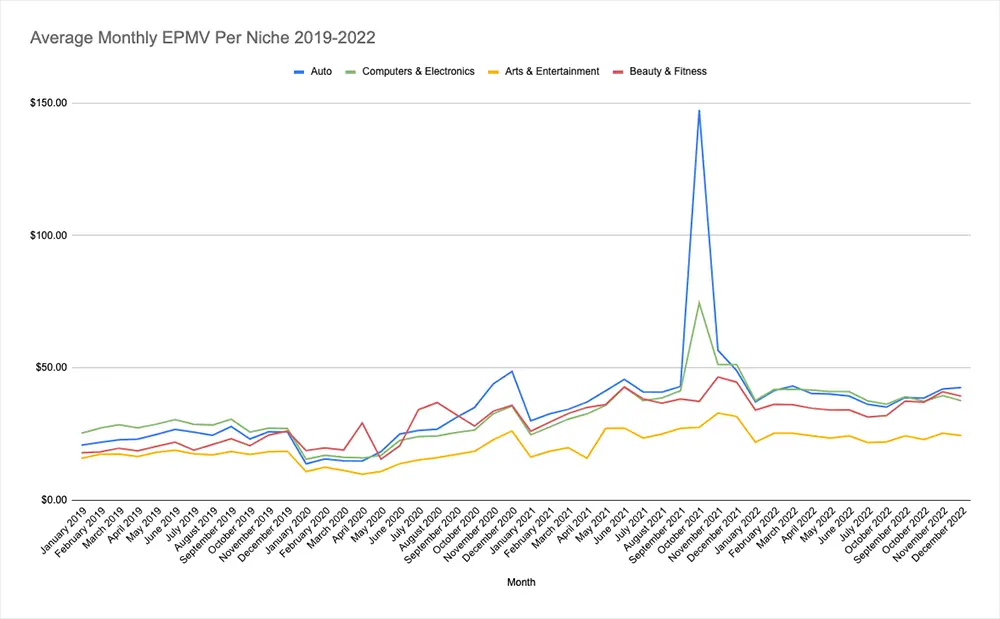 For some niches, like Beauty/Fitness, ad rates did not see as much of a decline in the pandemic compared to other categories, as many people stuck at home during the pandemic were looking up beauty, make-up, and fitness trends and ways to stay preoccupied.
Looking at the Auto niche, we can see a major spike in October 2021. Though not nearly as dramatic, Computers/Electronics also saw a big hike in EPMV. While there is still a microchip shortage, it was an especially hot topic in 2021. This caused ad rates, and thus EPMV, for these niches to see big, positive changes, as both computers and electronics were trending. If you look up 'microchip shortage,' 'chip shortage,' or 'computer chip shortage' in Google Trends for the end of October 2021, you will see that the 'interest over time' rate around October 15th, 16th, 25th, and 26th have peaks.
Ad spend in 2022
As aforementioned, ad rates are not following typical patterns as in previous years. 2020 and 2021 disrupted the ad space and 2022 is feeling the aftermath. In the coronavirus blog, we noted that the Ad Revenue Index, an ongoing chart that shows relative online ad rates by the day, typically follows the stock market. If you look at the NASDAQ, which is tech-heavy, it has continually been in decline this year.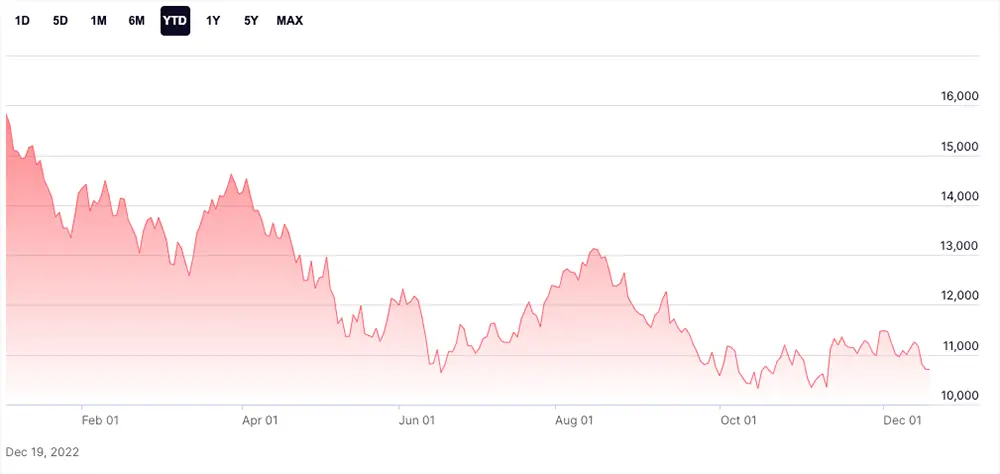 Looking at the Ad Revenue Index for the US through the pandemic, we can see the dip at the end of March 2020 when COVID-19 hit the United States on a larger scale, but then climbed and dipped like past years. Then, in 2021, we had an unprecedented Q3, with high ad rates in July and then a major incline at Black Friday.
However, as you can see, ad rates have not recovered much since, and have stayed pretty stagnant all year, with only a slight spark on Black Friday.
Comparing the NASDAQ to the Ad Revenue Index, we can see both charts are showing rates unlike most years.
Why are ad rates down?
So why is ad spend down?
Firstly, as mentioned, the economy is down. If you followed along with our coronavirus blog, you know that one of the first things companies will do when money is tight is cut ad spending, especially digital ad spending. Digital advertising often does not require contracts, so it's easy to simply cut back on ad spending. Big advertisers may still be spending a decent amount right now and be more likely to be in contracts, but most advertisers are smaller and can simply drop their advertising efforts.
Additionally, if marketers put more effort into ads in the beginning of the year—looking at the Ad Revenue Index, we can see ad rates were pretty level until the start of Q3 in July 2022, where it then drops off for a month or so before stabilizing once more—they may not have had as much to spend the rest of the year as inflation rises and the economy gets worse.
When the economy is down, it is major commodity-type companies that tend to hold the power in advertising, for example Coca-Cola. Even though there may be a recession on the horizon, people are not likely to cut back on their Coca-Cola intake as a result, but decrease their spending in other ways; therefore, Coca-Cola has no reason to decrease its ad spending. This makes it easy for these larger companies to throttle ad budgets and work it to their advantage, as there is less competition. Things that aren't considered a commodity are the ones that cut their budgets down.
Not all major brands were safe in 2022, however. Major brands not considered a commodity all saw revenue fall at the end of Q3 and are still in recovery, such as media brands like Disney (-2%), Comcast (-5%), Paramount Global (-12%), Meta (-2%), and Google (-13%).
Ad spend and revenue in 2022
In general, ad rates are lower than expected for Q4, and definitely lower than anyone anticipated for 2022 when forecasting back before the pandemic.
There are certain categories and niches that did better in 2022 than during the pandemic and others that are seeing a decline as a recession seems more imminent.
In 2022, retail saw the highest ad spend, according to data by Statista, followed by CPG (Consumer Packaged Goods, i.e. food, makeup, household items, etc.), and financial services.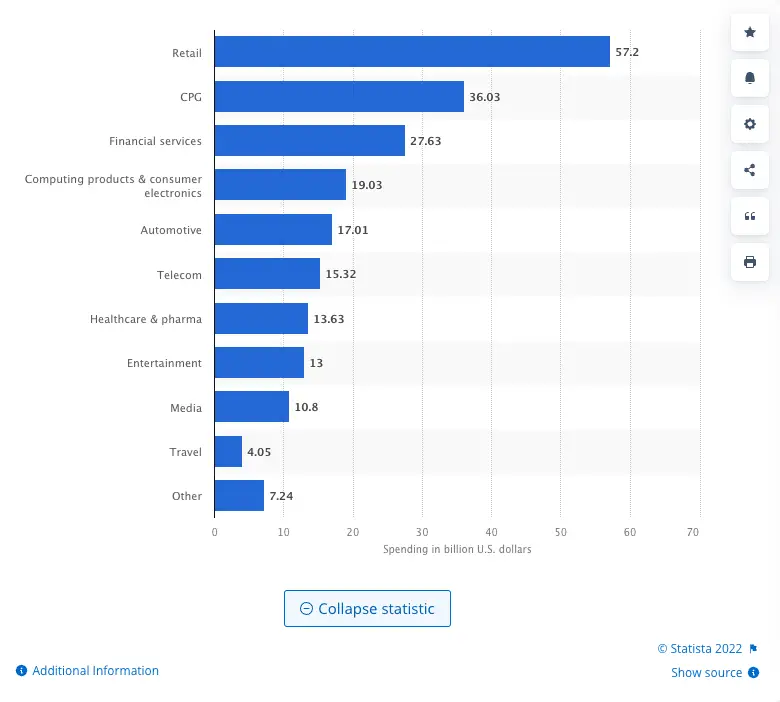 Retail was the category that saw the most ad spending growth in 2022, followed by travel and telecom, as shown by an eMarketer report.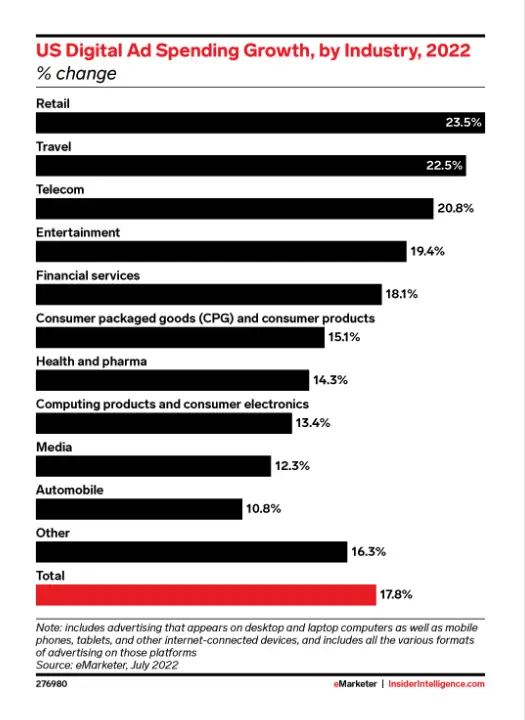 As a lot of these categories seen above were the most volatile at the start of the pandemic, it makes sense that their growth is substantial.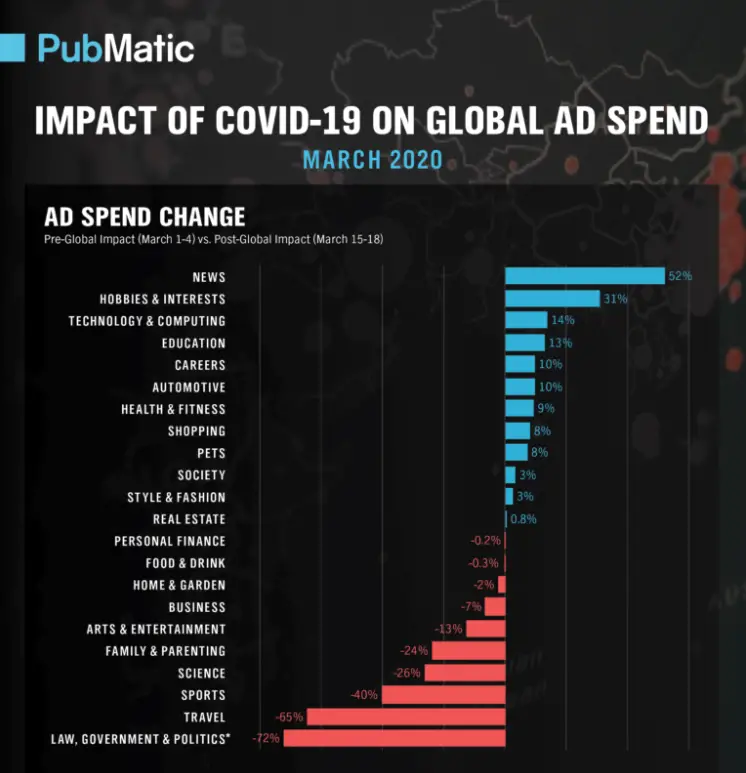 As for categories that haven't faired as well this year, information from a Q2 report by MediaRadar shows that Finance, Home Furniture, Restaurants/Bars, Alcohol, and Pet Supplies have seen decreases in ad spend.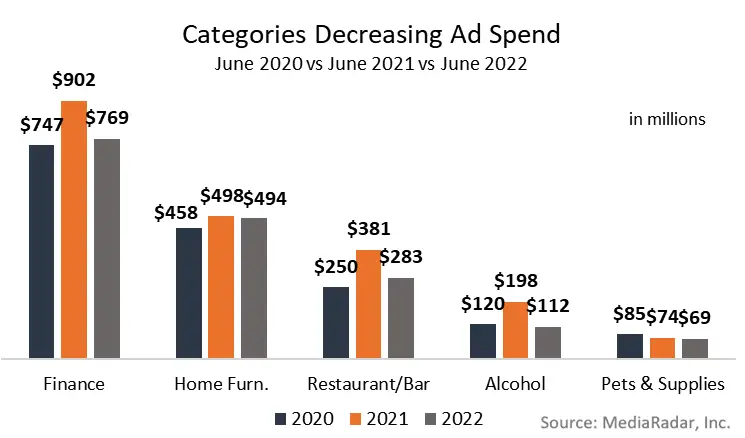 Finance and Real Estate saw the biggest hits this year. In 2021, a lot of ad money was spent on these groups because, during the pandemic, many people were buying homes and making important financial decisions as belts had to remain tight. Home furniture is also down because many people had to furnish these homes or buy work-from-home furniture; now that this wave has passed, advertisers are spending less money.
Restaurants and bars also decreased in ad spend this year. It is likely that as these institutions opened back up more regularly in 2021 after being closed or limited in 2020, they spent a lot more on advertising to encourage people to come in. Now that most everything is back to normal, restaurants and bars need to advertise less and have pulled back.
Many websites were also hit with one of many Google updates in September of this year, which may be affecting their ad revenue for Q4, as these sites might not be ranking as well as earlier in the year. According to data from SEMrush, the industries that saw the most rank volatility during the update are Communities, Hobbies & Leisure, Pets & Animals, Beauty & Fitness, and Games.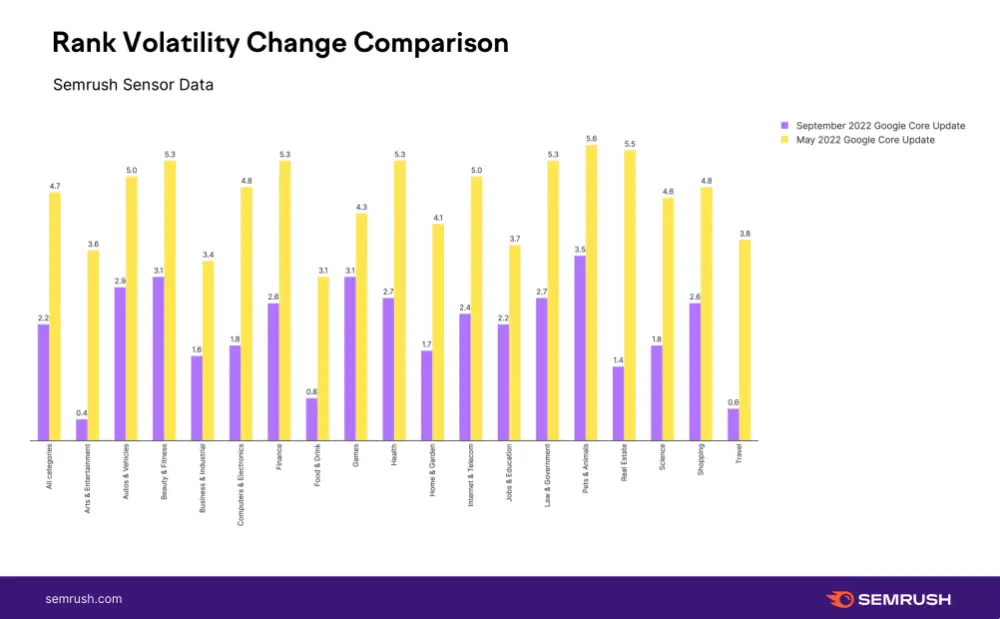 Websites that cover these topics may have noticed ranking, traffic, and ad revenue are down for them.
What can I do to improve my ad revenue?
If you're looking for some advice on how you can make it through this tumultuous time in ad rates, there are a few things we can take from the pandemic that can be of service in surviving or even thriving during this period.
Quality over quantity ad inventory
It is important at this moment to keep your ad inventory stocked with quality advertisers and not just plug any advertiser that will give you money into your inventory. This includes avoiding something called malvertisers, or malware advertisers. They are likely to take advantage of publishers more in times of need than when ad rates are high. If you are dealing with malvertisers and aren't getting paid, this article from clean.io discusses malvertising and how to protect yourself.
Ezoic is a great tool for publishers to keep their ad inventory full of quality advertisers. We have relationships with thousands of advertisers, all of which are vetted. By linking your site to Ezoic, you have access to all of your current advertising partnerships and all of Ezoic's advertising partners. Furthermore, using an ads.txt file helps ensure that your digital ad inventory is only from authorized sellers.
Dynamic over static ad placements
Testing ad placement and performance is vital to earning the most money you possibly can during this time. Static ad placements, even if they are typically high-earning, can only get you so far, because they serve the same ad experience to everyone. Even if 80% of users react well to the ad experience, that is still leaving 20% of people dissatisfied that you could have earned revenue from.
By using dynamic ad placements through testing, like what Ezoic provides, you are guaranteed to earn the most from your ads because it is always accommodating for the ad and user experience based on visitor behavior and look-alike qualities. Through testing, the right ad size, placement, color, etc. are determined for each user based on previous results, constantly becoming more accurate to earn you the most money while also considering user experience.
Content is still King
Quality content still rules all. Don't get so caught up on configuring your ads or designing your website that you slack off on your content. High-quality content is more likely to be consumed than content that isn't unique or well-constructed.
Also, consider how you can use current trends in content that are earning high EPMV to your benefit. Retail and travel are popular right now. Are you a camping website? Write an article on the best places to travel for camping in the winter and spring. Do you have a finance website? Think about retail trends related to money, like the growing popularity in paying in installments rather than all at once and what this might mean for consumers.
Video is growing quickly
According to a report by Cisco, video now makes up over 82% of all internet traffic. Additionally, a Channel Factory report discovered that 41% of Gen Zers use video to boost their mood and a Think with Google piece found that half of Gen Zers and Millennials "don't know how to get through life without video."
Are you prepared for the continuing growth of video? Adding video to your content not only engages users more but benefits SEO, as you're more likely to rank higher with video content on your landing pages. If you're not comfortable being on camera, products like Humix allow you to use other publishers' videos on your site and earn you revenue immediately—unlike other major video platforms, no wait time is necessary. Or, if you're a video creator, you can allow your videos to be shared across the Humix network for other publishers to use, and you get a cut of the revenue.
In addition to Humix is Flickify, which can easily be used in conjunction with Humix. Plugging your content into Flickify allows the tool to 'read' your content and it quickly creates a video that can be added to your website. You can customize the video as much or as little as you want, and then easily upload it to the Humix network to be used on your website or shared with other publishers to use.
For ideas on how to boost your revenue with video, check out our blog.
What will be 2023 digital publishing trends?
Digital publishing is changing faster than ever, and it's important to remain informed and agile.
We hope this has begun to paint a picture for you of what has been happening in digital publishing recently and the historical context behind it. We will be continuing to update this article with publishing trends and news, ad rate changes, and predictions for 2023. Stay tuned for the next update after the new year.
Happy Holidays and have a great New Year! See you in 2023.