SXSW Publisher Meet-Up
A Publishers-Only Meet-Up The Night Before SXSW
Thursday, March 7th, 2019

SXSW Publisher Meet-Up
Austin, Texas on March 7th, 2019

The South By Southwest Publisher Meet-up is an evening event that takes place the day before SXSW begins in Austin, TX.
The event is a collaboration between industry-leading digital publishers, Google, and Ezoic.  It is a rapid-fire engagement for digital publishers designed to highlight industry SEO & monetization trends, emerging strategies, and to facilitate rare networking opportunities.
The SXSW Publisher Meet-Up is a publishers-only engagement that requires an application to attend to ensure the best possible quality of networking and information sharing between publishers.
Apply to attend the SXS Publisher Meet-Up Below.
Apply To Attend The SXSW Publisher Meet-Up
(Only 30 spots available. Previous meet-ups reached capacity quickly)
What To Expect At The Meet-Up
Digital publishers, major media brands, bloggers, and website owners of all shapes and sizes are invited to apply to the meet-up.
The meet-up starts with an open networking reception, features two short sessions from world-leading experts in SEO and content monetization, and ends with an opportunity to openly collaborate and network with experts and publishers in attendance.
Past collaborative event speakers have been thought leaders from Google, the New York Times,  Hearst UK, and Ezoic.
It is an evening of learning and networking devoid of vendors and solicitors.
Attendees receive complimentary dinner and drink courtesy of our event organizers.
SXSW Publisher Meet-Up
Date: March 7th, 2019
Time: 6:00pm-9:00pm
Location: Second Bar + Kitchen
The Green Room
200 Congress Avenue
Austin, Texas  78701
SXSW Publisher Meet-Up Agenda
5:45pm-6:30pm - Networking Reception (w/ Food)
Drinks will be served as publishers arrive. This short period gives publishers an early opportunity to network and connect with each other. Starting at 6:30 pm, food will be served to all attendees.
6:45pm-7:15pm - "SEO Is Changing. Here's How..." - Tyler Bishop, Host / Award-winning marketer
(This session occurs as food is served to guests)
Tyler Bishop kicks off the event with a deep dive into what is actually moving the needle in Google Search in 2019.
Tyler will present case studies of individual websites, and aggregate data from of thousands of sites, that will paint a picture of what types of actions and strategies are driving organic traffic growth.
Tyler will dive into the trends that are likely to continue and highlight what common practices and types of sites are at the most risk as search engines, like Google, continue to evolve.
Speakers: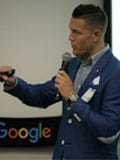 Tyler Bishop, Award-winning marketer
SEO Expert Consultant for Arch Grants & Connectria
Head of Marketing @ Ezoic
7:15pm-7:45pm - Monetization in 2019 & Beyond - TBA
A major digital publisher will share trends and insights on how website monetization has changed and what strategies provide the best ROI.
Learn how revenue can be diversified and how the programmatic ecosystem is changing for the better.
Speaker
TBA
7:45pm-9:00pm - Open Collaboration & Networking
The bar remains open until 9 pm and all publishers are invited to engage in conversations with our speakers and other publishers in attendance. This is an opportunity to ask questions, talk shop, and make important connections.
Apply To Attend The SXSW Publisher Meet-Up
(Only 30 spots available. Previous meet-ups reached capacity quickly)