Pubtelligence
Stay tuned for upcoming events 
Click here to see Pubtelligence London Page
Pubtelligence San Francisco
At Google in San Francisco on October 11, 2019

Pubtelligence is a Google Certified Publishing Partner event organized by Ezoic that is designed exclusively for digital publishers, content creators, niche website owners, media brands, and bloggers.
Pubtelligence started out as an invite-only event hosted at Google offices but has grown into one of the largest publisher-only events in the world.
The event is free but space is limited and restricted to only digital publishers, so it requires an approved application to attend. Pubtelligence is a single-day engagement designed to highlight industry trends, emerging strategies, actionable insights, and to facilitate rare networking opportunities.
Apply to attend Pubtelligence below.
Apply To Attend Pubtelligence San Francisco
EVENT IS COMPLETELY FULL. PLEASE KEEP AN EYE OUT FOR FUTURE EVENTS
Who Attends Pubtelligence?
Digital publishers, major media brands, bloggers, and website owners of all shapes and sizes are invited to apply to Pubtelligence.
Pubtelligence features speakers and sessions led by world-leading experts in digital publishing, SEO, online content creation, and content monetization. Past speakers include executive and thought leaders from Google, the New York Times, The Telegraph, Hearst UK, CBSi, & many more.
It is a day of learning devoid of vendors and solicitors. 100% of previous attendees said what they learned at Pubtelligence was helpful and 99.8% have asked to be invited again.
Pubtelligence  Details
 Must have approved application to attend
Date: October 11, 2019
Time: 9:00am-4:30pm
Google San Francisco Campus
121 Spear St. San Francisco, CA 
6th Floor Auditorium
Post-Event Happy Hour: 
5:00pm-7:00pm
(hosted at Google immediately following the event)
Pubtelligence San Francisco Agenda
9-10am - Registration / Breakfast Networking
All attendees must check-in before 9:30 am
Attendees will need to be badged by Google staff at check-in and then escorted to the main auditorium.
Starting at 9 am, there will be an open networking reception for all attendees, speakers, and staff members outside of the auditorium. Complimentary food and coffee are provided.
10:00-10:30am - "the mistakes you're making and how to fix them" - Tyler Bishop, Host
Tyler Bishop kicks off the event with a look at several case studies that highlight mistakes that are easily correctable but missed by +90% of all publishers because they are missing the data needed to understand the nature of their problems.
Tyler demonstrates where common intuition about user experiences, revenue, and SEO can lead to dramatic consequences if data isn't applied in the right ways
The session will include an intro to Pubtelligence and actionable takeaways about how publishers can benefit from certain types of data that they likely aren't collecting or looking at properly.
Speakers: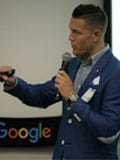 Tyler Bishop, Award-winning marketer
10:30-11:00am - Google team - TBA
A presentation from a member of Google's team.
Speaker:
TBD, Google 
11:00-11:30am - balancing creativity & SEO - Lariza quintero, complex
How do you create trust and a great work flow with your editorial team? What kind of support and data do writers need to support a better SEO strategy? How do you balance SEO with overall creativity? Can you be creative when you're targeting evergreen content?
Lariza will explain how these questions can all be answered using strategies and techniques she has directly employed personally and professionally working at Complex Media. 
Speaker
Lariza Quintero, SEO Manager @ Complex Media
11:30am-12:00pm - DIGITAL TRENDS PUBLISHERS Have To Understand - sara jerde, ADWEEK
A look at digital ecosystem trends; including a look at how the major platforms are evolving and how user behavior is changing. Learn where publishers may have blind spots and how to adapt your business as the industry changes.
Speaker:
Sara Jerde, Digital Media Report, AdWeek
Break For Lunch
Complimentary lunch will be provided on site to all in attendance
12:00-1:00pm - Lunch
Complimentary lunch will be provided to all attendees.
1:00pm-1:30pm - How To Sell sponsored Content to brands (that audiences love) - Tyler Benedict, BikeRumor.com
Bikerumor.com CEO and founder, Tyler Benedict, shows how he turned "sponsored content" from a naughty word into something the top cycling brands were thrilled to partner on.
Tyler dives deep into why his approach flipped the script on brand and reader expectations of what paid content partnerships could be, creating highly sought after opportunities that not only deliver amazing responses and value for his advertisers, but his audience is actually clamoring for more of the type of sponsored content Bikerumor produces!
Prepare to learn interesting new strategies around selling and creating sponsored content.
Speaker
Tyler Benedict, Founder, BikeRumor.com
1:30pm-2:00pm - Navigating SEO Advice In 2019 - Carolyn Shelby , ESPN / Disney
Learn how to apply true SEO advice in 2019. Discover how to aPply no-index and no-follow attributes in an era where GOOGLE IS CHANGING EVERYTHING.
Speaker
Carolyn Shelby, Sr. SEO @ ESPN 
2:00pm-2:15pm Break
Scheduled break
2:15pm-2:45pm - Why making more money starts with more control- piper lofrano, ezoic
Piper will show several case studies of sites that have successfully used data-driven strategies to increase the value of their content. She'll also look at industry-wide data to suggest how all sites might have a major blindspot on how they approach revenue optimization and where most have an opportunity to improve user experience and revenue — no matter what their revenue model looks like.
Speaker
Piper Lofrano, U.S. Publisher Team Lead, Ezoic
2:45pm-3:15pm - Doing seo day-to-day At The Wall Street Journal - Richard Nazarewicz, WSJ
 A look at what the day-to-day of an SEO looks like in practice.

1. What's it like to work on SEO for one of the biggest publications in the world?
2. How do I organize my day, although no day is the same?
3. What are the most commonly asked questions I get about SEO?
4. What data and reporting tools do I think are best?
Richard has a depth of knowledge and will be digging into the above questions as well as accepting questions from the audience.
Speaker:
Richard Nazarewicz, SEO Manager, The Wall Street Journal
3:15pm-3:30pm - BREAK
The last scheduled break of the day
3:30pm-4:30pm - End of The Day expert Panel with Q&A
The end of the day Q&A is an opportunity for all attendees to ask questions (town hall format) about anything that was discussed during the event — or anything else related to digital publishing — to a conglomeration of industry experts and speakers from the day.
The panel will also engage in a rapid-fire "thumbs up or thumbs down" series of debates in which popular subjects or topics about SEO, monetization, and website infrastructure will be discussed.
Panel Members:
Tyler Benedict, Bike Rumor
Sara Jerde, ADWEEK
Tyler Bishop, CMO, Ezoic
Carolyn Shelby, ESPN
News & Announcements - 4:30pm
Closing announcements and opportunities.
Happy Hour - 5pm
Happy hour on-site at Google from 5pm- 6:45pm
Countdown Until Pubtelligence San Francisco
Why Attend Pubtelligence?
Pubtelligence San Francisco is an exclusive publishers-only event that features access to world-leading experts.
It is free to attend, includes lunch, and is hosted at Google's offices in San Francisco.
Pubtelligence San Francisco will feature expert-led sessions, live data-sharing, and interactive Q&A's.
The event theme will focus on trends in digital publishing and actionable ways to impact monetization, SEO, audience growth, and digital infrastructure.
Past attendees have raved about the networking opportunities. It is one of few places where publishers can connect without the influence of lots of vendors and 3rd parties.
Do Publishers Have To Pay To Attend Pubtelligence?
There is no cost to attend Pubtelligence whatsoever.
The event is application-only (but anyone can apply to attend). If your application is approved, you will receive a full access pass to the full event agenda.
Once an application is approved, you must still finalize your registration.
Breakfast, lunch, and happy hour are all complimentary for attendees as well.
The event is provided to publishers cost-free by Google & Ezoic (purely as organizers, not sponsors) and is designed to be a day of learning for a diverse group of digital publishers of all sizes and niches.
Attendees will be responsible for their own travel and lodging.
Where Should We Stay For The Event?
The event is being held at the Google Campus in San Francisco.
Below are some nearby hotel options that are within walking distance or a short UBER ride of the event location. There are not group rates for the event.
Recommended Nearby Hotels:
Why Applications To Attend?
Pubtelligence is an extremely popular event and we typically reach capacity quickly.
Previous events have been held at Google offices in San Francisco, London, Los Angeles, and New York. All have reached capacity.
While we are trying to increase the number of these events — and diversify where they are held — we are committed to maintaining an extremely diverse and high-quality audience to ensure that the value of the event remains up to the standard we have set at previous events.
Pubtelligence is designed to bring smart publishers, experts, and thought leaders together in one place for the expressed purpose of learning and growing.
We want to bring together as many different kinds of publishers and website owners as possible to ensure that the event is rich and enlightening for everyone. To do this, we have to have an application process.
We know that's not fun, but we promise the approval process happens really fast, so you won't have to wait to find out 
Is Pubtelligence Worth My Time?
We sure hope so!
Our exit surveys from previous events show a 100% "yes" rating on the question "Did you receive valuable information at the event today?"
Pubtelligence was very thoughtfully crafted by teams at Google and  Ezoic. 99.8% of past event attendees have asked to be invited again and 94.6% said they would be willing to travel across the globe just to join!
The event is designed to be informative, enlightening, and interactive for publishers and website owners of all shapes and sizes.
We've collected feedback from every event and use that to improve Pubtelligence. For example, last time we heard that publishers wanted to see more case studies, expert discussion on SEO, and opportunities to network informally. We have worked to incorporate all of this feedback.
We think this combination of education, insights, and interactivity will give all attendees the ability to dive deep into new discoveries about their digital properties.
We believe this will result in unprecedented opportunities to develop growth strategies and discover new techniques for developing your business.
Can I See A Preview of What To Expect?
Sure.
This is a video recorded at Pubtelligence London last year at Google in London,UK.
Can I Bring A Guest?
Potentially, yes. During the application process, there is an opportunity to request guest access.
If your application is approved, you will be guided through the process of registering any guests.
Why is the event just for publishers?
We've found that this is what makes Pubtelligence so great.
Our experts and speakers can address topics specific to one unified audience. Webmaster, SEO, and other web-related topics are often broadly addressed.
Pubtelligence is specific to online content creators and publishing brands. This makes the information more actionable and much more helpful to those that attend.
This also makes networking much more enticing and beneficial for everyone. No one has to navigate around vendors, B2B businesses, or other non-publishers. It makes for a very friendly and helpful environment.
We've had publishers tell us that the event's networking opportunities transformed their brand/business.